How far will roadside assistance tow a car?
How far will roadside assistance tow a car?
Your car breaking down by the side of the road can be an incredibly unfortunate incident especially when you're in a hurry and need to get somewhere fast. Roadside assistance, in such cases, can get you back on the road as early as possible. 
In most cases, roadside assistance is covered in the vehicle insurance policy but you can also purchase a membership of a roadside assistance service or simply pay peruse in the time of need. Each of these options has its own costs and benefits and you can select one of these according to what suits you the best. You can also opt for roadside assistance and towing services by Alpha Tow Truck in case you can't decide what option to go for.
Read on to get an understanding of some basics on what a roadside assistance service covers, how much it costs, and specifically, how far it tow your car.
What does roadside assistance cover?
Roadside assistance typically includes all the services i.e. repairs, maintenance operations, and safety checks required to get you back on the road if your vehicle breaks down. Here are some of these services,
Towing your car to the nearest or a designated workshop in case there is a mechanical breakdown and your car is not in a condition to be driven on its own.

Repairing or replacing your flat tire in case it gets punctured or blown out.

Unlocking your car if you've misplaced your set of keys or locked them inside the car.

Jump-start your car if the battery is weak and the car doesn't start on its own.
You can avail of all of these services at Alpha Tow Truck Services either through the website or by simply giving us a call.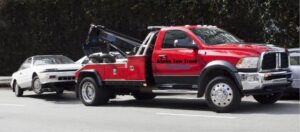 How much does roadside assistance cost?
Roadside assistance cost varies according to the services you require and the company you use for the service. If you purchase an average costing vehicle insurance policy, the total cost must be somewhere between $20 and $30 per year per car. For need-based services, the charges vary. If you require a simple jump-start or fuel delivery service, the charges will be around $50 to $70. Tire changes and repair would also be priced in a similar range.
Is there a limit on towing miles?
Roadside maintenance services such as Alpha Tow Truck Services normally do not have an upper bound on the miles it tows a vehicle. The difference lies in how much the service costs on average. There will be a fixed cost that covers a fixed number of miles. For the sake of an example, let's say a 10-mile tow would cost $100. Above this limit, the cost adds up in terms of the miles towed. Most services charge under $5 a mile for additional miles but this also varies depending on the type of your vehicle and the company that is towing your vehicle.