Flat Tire Change
Are you looking for a quick flat tire change by the roadside? Let the certified professional team of Alpha Tow Truck Services come to your service. Our group of vehicle experts will fix your flat tire and get you back on the road in no time. With years and years of experience in emergency on-site maintenance and towing services, we offer 24/7 roadside assistance at extremely affordable prices.
Changing a flat tire by the side of the road is usually not much of an issue. But in cases where you're extremely short of time, out of tires to replace, or are facing extreme weather conditions, this small job can get really difficult. In such situations, seasoned professionals of Alpha Tow Truck Services can pull the damaged tire off with no sweat! Our staff can work under all sorts of hazardous conditions since we're a group of professionally trained roadside professionals. Once you've called us for your service, you do not need to worry about anything at all.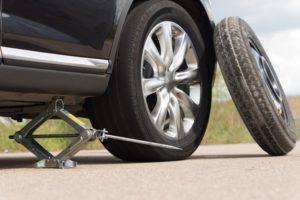 Our towing fleets and technician teams are spread across the town 24 hours a day. You can summon our experts by a quick phone call. Once you've gotten in touch with us, we'll ensure that we get to you as soon as we can. As soon as our workers reach your vehicle, they will ensure that your vehicle is moved to the shoulder of the road. This part prevents any potential accidents or collisions with the traffic on the road. Then, we set up our emergency roadside equipment and initiate the tire change. We'll get the job done in a couple of minutes and then we'll then give you the thumbs up to get your wheels back on the road!
Other Services We Offer 
Besides our flat tire change services, our company offers a wide range of roadside assistance services as well. All of these services are provided by skilled professionals who know their field more than anyone else and put in a lot of effort to make sure that you get back on the road as soon as possible. Here's a list of services we provide in case you get into an unfortunate situation while on the road,
Long and short distance towing services

Wrecker Services
24 hours towing
RV towing Service

Battery jump-start services to start the car

Fuel delivery in case your car runs out of fuel in a remote location or when you're unable to reach a fuel station

Car unlocking services when you've misplaced the keys or locked them inside the car