RV Towing in Dallas areas 
RVs are not a simple piece of machinery. Due to the fact that they are designed for ultimate comfort and convenience on recreational trips, they are heavy-duty vehicles that require extra care. Moving them around is definitely now a simple task and requires a good level of skill and expertise. Also, due to their massive size, towing them around on narrow roads twisting roads, and maneuvering with a lot of traffic around can be really difficult. 
It is always recommended that instead of trying to tow your RV around on your own, you ask for help from the experts who know how to take care of them. Not only do they have the right tools and equipment to do the job but they are also aware of the rules and regulations of towing an RV and do the job in a safe and secure manner.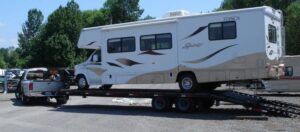 This is exactly where Alpha Tow Truck Services comes in. With Alpha Tow Truck Services, you can relax and enjoy your recreational adventure while we take care of your RV for the time being. No RV is too difficult to tow for Alpha Tow Truck Services. We have a dedicated team of experts ready to provide you with all kinds of roadside assistance; no matter where you are, we are always available to get to you and help you out. Our fleet of towing trucks uses the latest tools and techniques to tow vehicles in a completely secure manner. Not only are our services quick and safe, but are also very affordable. In fact, we are the cheapest towing company in town.
Our Expert Staff
Our staff consists of a team of highly skilled and dedicated individuals who are ever ready to provide you with their services. Each person on the fleet has years of experience with towing and has complete command over all the tools and machinery we use. On top of that, our staff is very friendly and cooperative so they will make sure that they listen to all your queries and then help you out in a manner that is convenient for you. You can put complete trust in our staff and they will not disappoint you ever.
Other Services We Offer 
Besides our top-notch RV towing services, our company offers a wide range of roadside assistance services as well. All of these services are provided by skilled professionals who know their field more than anyone else and put in a lot of effort to make sure that you get back on the road as soon as possible. Here's a list of services we provide in case you get into an unfortunate situation while on the road,
Flat tire change and repair services

Long and short distance towing services

Emergency towing

Battery jump-start services to start the car

Fuel delivery in case your car runs out of fuel in a remote location or when you're unable to reach a fuel station

Car unlocking services when you've misplaced the keys or locked them inside the car