Jump Start Battery in Dallas Texas Area
If your battery dies out in the middle of a road trip, there isn't a lot you can do on your own to get your car started once again. Either you can wait by the side of the road for some good Samaritan to stop by and help you get back on the road, and that too if either of you, fortunately, has a set of jumper cables on them. Or you can call up a friend who lives nearby who can come to your rescue with their vehicle and a set of jumper cables. If you know how to operate with these cables and get your car started, there is no better option out there other than these two. But in cases where you're simply not sure on how to go about it, it is better that you call in the experts and let them take care of the situation.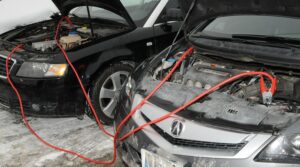 Alpha Tow Truck Services provides the highest quality jump start battery services in town. No matter where you are located, our crew will get to you and take care of the situation all by themselves. We have been providing roadside assistance to drivers in need for a very long time now and our years of experience allows us to jump start any car without any issues. Our staff works day and night to make sure that you get the best of service and are able to get back on the road as early as possible.
When you call our phone you will be greeted by a very friendly and cooperative person from our staff who will listen to your problem and note down all the technical details there are to the issue. The next step will be to assign the task to the relevant fleet who will be available at all times. Once they get to your vehicle, they will unload all the equipment and then, with full caution and care, attach the cables to the car. In a matter of minutes, your engine will be up and running and you'll be off for your destination.
Besides jump start battery services, Alpha Tow Truck Services provides all kinds of road assistance services that you may require when you're out on the road all by yourself. These services include towing for all kinds of vehicles, delivery for all kinds of car fuels, flat tire repair and replacement, and unlocking a locked vehicle. All of our services have passed the test of the market as we have been operating in this field for years. Our thousands of satisfied customers attest to the high level of quality we have and our success rate in restoring the vehicles of our customers. If you require a jump start battery service, or any other roadside assistance service for that matter, feel free to reach out to us through a phone call. Once you've communicated your problem to us, it will be our responsibility to get to you and help you out on the road.