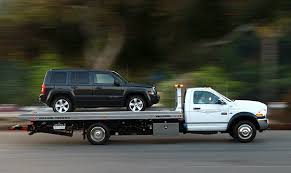 There is nothing worse than your car breaking down far from home, in the middle of nowhere. When you're not familiar with the place you're in and feel completely helpless. In such situations, you do not need to worry a single bit since Alpha Tow Truck Service will be there to help you no matter where you end up being.
In such cases, you'll be needing the assistance of a long-distance towing company, which is exactly what Alpha Tow Truck Services offers. Our towing fleet has a number of flatbed tow trucks which specialize in long-distance transportation. Our trucks secure all four wheels on the bed, preventing any and all damage to the vehicle's transmissions, its drive chains, and the tires. Our workers take all the measures required to completely secure the vehicle before they start the transport since the risk of the vehicle getting damaged during towing is way higher over longer distances.
Availability and service quality are two of the most important aspects of a successful tow company. Which is why we make sure that at Alpha Truck Tow Services, we have each type of truck to be available in order to avoid delays for customers. Besides that, all our staff members are skilled and well-equipped with all the tools required to execute a safe and successful towing. This allows us to not only complete the job in a timely manner but also make sure that you're completely satisfied with the service throughout the process.
If you and your car are stranded somewhere far away from your hometown, stay calm and do not panic! Just give us a call and we'll get a tow truck out to you as soon as possible. We will use everything in our control to ensure you get out of the bad situation in a timely manner. We'll do this through our preparation, guidance, customer service, and years of experience.