');mask-image:url('data:image/svg+xml;utf8,');mask-mode:alpha;-webkit-mask-position:center;mask-position:center;-webkit-mask-repeat:no-repeat;mask-repeat:no-repeat;-webkit-mask-size:contain;mask-size:contain}}.wp-block-image :where(.has-border-color){border-style:solid}.wp-block-image :where([style*=border-top-color]){border-top-style:solid}.wp-block-image :where([style*=border-right-color]){border-right-style:solid}.wp-block-image :where([style*=border-bottom-color]){border-bottom-style:solid}.wp-block-image :where([style*=border-left-color]){border-left-style:solid}.wp-block-image :where([style*=border-width]){border-style:solid}.wp-block-image :where([style*=border-top-width]){border-top-style:solid}.wp-block-image :where([style*=border-right-width]){border-right-style:solid}.wp-block-image :where([style*=border-bottom-width]){border-bottom-style:solid}.wp-block-image :where([style*=border-left-width]){border-left-style:solid}.wp-block-image figure{margin:0}.wp-lightbox-container .img-container{position:relative}.wp-lightbox-container button{background:0 0;border:none;cursor:zoom-in;height:100%;position:absolute;width:100%;z-index:100}.wp-lightbox-container button:focus-visible{outline:5px auto #212121;outline:5px auto -webkit-focus-ring-color;outline-offset:5px}.wp-lightbox-overlay{height:100vh;left:0;overflow:hidden;position:fixed;top:0;visibility:hidden;width:100vw;z-index:100000}.wp-lightbox-overlay .close-button{cursor:pointer;padding:0;position:absolute;right:12.5px;top:12.5px;z-index:5000000}.wp-lightbox-overlay .wp-block-image{align-items:center;box-sizing:border-box;display:flex;flex-direction:column;height:100%;justify-content:center;position:absolute;width:100%;z-index:3000000}.wp-lightbox-overlay .wp-block-image figcaption{display:none}.wp-lightbox-overlay .wp-block-image img{max-height:100%;max-width:100%;width:auto}.wp-lightbox-overlay button{background:0 0;border:none}.wp-lightbox-overlay .scrim{background-color:#fff;height:100%;opacity:.9;position:absolute;width:100%;z-index:2000000}.wp-lightbox-overlay.fade.active{animation:turn-on-visibility .25s both;visibility:visible}.wp-lightbox-overlay.fade.active img{animation:turn-on-visibility .3s both}.wp-lightbox-overlay.fade.hideanimationenabled:not(.active){animation:turn-off-visibility .3s both}.wp-lightbox-overlay.fade.hideanimationenabled:not(.active) img{animation:turn-off-visibility .25s both}.wp-lightbox-overlay.zoom img{height:var(--lightbox-image-max-height);position:absolute;transform-origin:top left;width:var(--lightbox-image-max-width)}.wp-lightbox-overlay.zoom.active{opacity:1;visibility:visible}.wp-lightbox-overlay.zoom.active .wp-block-image img{animation:lightbox-zoom-in .4s forwards}@media (prefers-reduced-motion){.wp-lightbox-overlay.zoom.active .wp-block-image img{animation:turn-on-visibility .4s both}}.wp-lightbox-overlay.zoom.active .scrim{animation:turn-on-visibility .4s forwards}.wp-lightbox-overlay.zoom.hideanimationenabled:not(.active) .wp-block-image img{animation:lightbox-zoom-out .4s forwards}@media (prefers-reduced-motion){.wp-lightbox-overlay.zoom.hideanimationenabled:not(.active) .wp-block-image img{animation:turn-off-visibility .4s both}}.wp-lightbox-overlay.zoom.hideanimationenabled:not(.active) .scrim{animation:turn-off-visibility .4s forwards}html.has-lightbox-open{overflow:hidden}@keyframes turn-on-visibility{0%{opacity:0}to{opacity:1}}@keyframes turn-off-visibility{0%{opacity:1;visibility:visible}99%{opacity:0;visibility:visible}to{opacity:0;visibility:hidden}}@keyframes lightbox-zoom-in{0%{left:var(--lightbox-initial-left-position);top:var(--lightbox-initial-top-position);transform:scale(var(--lightbox-scale-width),var(--lightbox-scale-height))}to{left:var(--lightbox-target-left-position);top:var(--lightbox-target-top-position);transform:scale(1)}}@keyframes lightbox-zoom-out{0%{left:var(--lightbox-target-left-position);top:var(--lightbox-target-top-position);transform:scale(1);visibility:visible}99%{visibility:visible}to{left:var(--lightbox-initial-left-position);top:var(--lightbox-initial-top-position);transform:scale(var(--lightbox-scale-width),var(--lightbox-scale-height))}}ol.wp-block-latest-comments{box-sizing:border-box;margin-left:0}:where(.wp-block-latest-comments:not([style*=line-height] .wp-block-latest-comments__comment)){line-height:1.1}:where(.wp-block-latest-comments:not([style*=line-height] .wp-block-latest-comments__comment-excerpt p)){line-height:1.8}.has-dates :where(.wp-block-latest-comments:not([style*=line-height])),.has-excerpts :where(.wp-block-latest-comments:not([style*=line-height])){line-height:1.5}.wp-block-latest-comments .wp-block-latest-comments{padding-left:0}.wp-block-latest-comments__comment{list-style:none;margin-bottom:1em}.has-avatars .wp-block-latest-comments__comment{list-style:none;min-height:2.25em}.has-avatars .wp-block-latest-comments__comment .wp-block-latest-comments__comment-excerpt,.has-avatars .wp-block-latest-comments__comment .wp-block-latest-comments__comment-meta{margin-left:3.25em}.wp-block-latest-comments__comment-excerpt p{font-size:.875em;margin:.36em 0 1.4em}.wp-block-latest-comments__comment-date{display:block;font-size:.75em}.wp-block-latest-comments .avatar,.wp-block-latest-comments__comment-avatar{border-radius:1.5em;display:block;float:left;height:2.5em;margin-right:.75em;width:2.5em}.wp-block-latest-comments[class*=-font-size] a,.wp-block-latest-comments[style*=font-size] a{font-size:inherit}.wp-block-latest-posts{box-sizing:border-box}.wp-block-latest-posts.alignleft{margin-right:2em}.wp-block-latest-posts.alignright{margin-left:2em}.wp-block-latest-posts.wp-block-latest-posts__list{list-style:none;padding-left:0}.wp-block-latest-posts.wp-block-latest-posts__list li{clear:both}.wp-block-latest-posts.is-grid{display:flex;flex-wrap:wrap;padding:0}.wp-block-latest-posts.is-grid li{margin:0 1.25em 1.25em 0;width:100%}@media (min-width:600px){.wp-block-latest-posts.columns-2 li{width:calc(50% - .625em)}.wp-block-latest-posts.columns-2 li:nth-child(2n){margin-right:0}.wp-block-latest-posts.columns-3 li{width:calc(33.33333% - .83333em)}.wp-block-latest-posts.columns-3 li:nth-child(3n){margin-right:0}.wp-block-latest-posts.columns-4 li{width:calc(25% - .9375em)}.wp-block-latest-posts.columns-4 li:nth-child(4n){margin-right:0}.wp-block-latest-posts.columns-5 li{width:calc(20% - 1em)}.wp-block-latest-posts.columns-5 li:nth-child(5n){margin-right:0}.wp-block-latest-posts.columns-6 li{width:calc(16.66667% - 1.04167em)}.wp-block-latest-posts.columns-6 li:nth-child(6n){margin-right:0}}.wp-block-latest-posts__post-author,.wp-block-latest-posts__post-date{display:block;font-size:.8125em}.wp-block-latest-posts__post-excerpt{margin-bottom:1em;margin-top:.5em}.wp-block-latest-posts__featured-image a{display:inline-block}.wp-block-latest-posts__featured-image img{height:auto;max-width:100%;width:auto}.wp-block-latest-posts__featured-image.alignleft{float:left;margin-right:1em}.wp-block-latest-posts__featured-image.alignright{float:right;margin-left:1em}.wp-block-latest-posts__featured-image.aligncenter{margin-bottom:1em;text-align:center}ol,ul{box-sizing:border-box}ol.has-background,ul.has-background{padding:1.25em 2.375em}.wp-block-media-text{box-sizing:border-box;direction:ltr;display:grid;grid-template-columns:50% 1fr;grid-template-rows:auto}.wp-block-media-text.has-media-on-the-right{grid-template-columns:1fr 50%}.wp-block-media-text.is-vertically-aligned-top .wp-block-media-text__content,.wp-block-media-text.is-vertically-aligned-top .wp-block-media-text__media{align-self:start}.wp-block-media-text .wp-block-media-text__content,.wp-block-media-text .wp-block-media-text__media,.wp-block-media-text.is-vertically-aligned-center .wp-block-media-text__content,.wp-block-media-text.is-vertically-aligned-center .wp-block-media-text__media{align-self:center}.wp-block-media-text.is-vertically-aligned-bottom .wp-block-media-text__content,.wp-block-media-text.is-vertically-aligned-bottom .wp-block-media-text__media{align-self:end}.wp-block-media-text .wp-block-media-text__media{grid-column:1;grid-row:1;margin:0}.wp-block-media-text .wp-block-media-text__content{direction:ltr;grid-column:2;grid-row:1;padding:0 8%;word-break:break-word}.wp-block-media-text.has-media-on-the-right .wp-block-media-text__media{grid-column:2;grid-row:1}.wp-block-media-text.has-media-on-the-right .wp-block-media-text__content{grid-column:1;grid-row:1}.wp-block-media-text__media img,.wp-block-media-text__media video{height:auto;max-width:unset;vertical-align:middle;width:100%}.wp-block-media-text.is-image-fill .wp-block-media-text__media{background-size:cover;height:100%;min-height:250px}.wp-block-media-text.is-image-fill .wp-block-media-text__media>a{display:block;height:100%}.wp-block-media-text.is-image-fill .wp-block-media-text__media img{clip:rect(0,0,0,0);border:0;height:1px;margin:-1px;overflow:hidden;padding:0;position:absolute;width:1px}@media (max-width:600px){.wp-block-media-text.is-stacked-on-mobile{grid-template-columns:100%!important}.wp-block-media-text.is-stacked-on-mobile .wp-block-media-text__media{grid-column:1;grid-row:1}.wp-block-media-text.is-stacked-on-mobile .wp-block-media-text__content{grid-column:1;grid-row:2}}.wp-block-navigation{--navigation-layout-justification-setting:flex-start;--navigation-layout-direction:row;--navigation-layout-wrap:wrap;--navigation-layout-justify:flex-start;--navigation-layout-align:center;position:relative}.wp-block-navigation ul{margin-bottom:0;margin-left:0;margin-top:0;padding-left:0}.wp-block-navigation ul,.wp-block-navigation ul li{list-style:none;padding:0}.wp-block-navigation .wp-block-navigation-item{align-items:center;display:flex;position:relative}.wp-block-navigation .wp-block-navigation-item .wp-block-navigation__submenu-container:empty{display:none}.wp-block-navigation .wp-block-navigation-item__content{display:block}.wp-block-navigation .wp-block-navigation-item__content.wp-block-navigation-item__content{color:inherit}.wp-block-navigation.has-text-decoration-underline .wp-block-navigation-item__content,.wp-block-navigation.has-text-decoration-underline .wp-block-navigation-item__content:active,.wp-block-navigation.has-text-decoration-underline .wp-block-navigation-item__content:focus{text-decoration:underline}.wp-block-navigation.has-text-decoration-line-through .wp-block-navigation-item__content,.wp-block-navigation.has-text-decoration-line-through .wp-block-navigation-item__content:active,.wp-block-navigation.has-text-decoration-line-through .wp-block-navigation-item__content:focus{text-decoration:line-through}.wp-block-navigation:where(:not([class*=has-text-decoration])) a{text-decoration:none}.wp-block-navigation:where(:not([class*=has-text-decoration])) a:active,.wp-block-navigation:where(:not([class*=has-text-decoration])) a:focus{text-decoration:none}.wp-block-navigation .wp-block-navigation__submenu-icon{align-self:center;background-color:inherit;border:none;color:currentColor;display:inline-block;font-size:inherit;height:.6em;line-height:0;margin-left:.25em;padding:0;width:.6em}.wp-block-navigation .wp-block-navigation__submenu-icon svg{stroke:currentColor;display:inline-block;height:inherit;margin-top:.075em;width:inherit}.wp-block-navigation.is-vertical{--navigation-layout-direction:column;--navigation-layout-justify:initial;--navigation-layout-align:flex-start}.wp-block-navigation.no-wrap{--navigation-layout-wrap:nowrap}.wp-block-navigation.items-justified-center{--navigation-layout-justification-setting:center;--navigation-layout-justify:center}.wp-block-navigation.items-justified-center.is-vertical{--navigation-layout-align:center}.wp-block-navigation.items-justified-right{--navigation-layout-justification-setting:flex-end;--navigation-layout-justify:flex-end}.wp-block-navigation.items-justified-right.is-vertical{--navigation-layout-align:flex-end}.wp-block-navigation.items-justified-space-between{--navigation-layout-justification-setting:space-between;--navigation-layout-justify:space-between}.wp-block-navigation .has-child .wp-block-navigation__submenu-container{align-items:normal;background-color:inherit;color:inherit;display:flex;flex-direction:column;height:0;left:-1px;opacity:0;overflow:hidden;position:absolute;top:100%;transition:opacity .1s linear;visibility:hidden;width:0;z-index:2}.wp-block-navigation .has-child .wp-block-navigation__submenu-container>.wp-block-navigation-item>.wp-block-navigation-item__content{display:flex;flex-grow:1}.wp-block-navigation .has-child .wp-block-navigation__submenu-container>.wp-block-navigation-item>.wp-block-navigation-item__content .wp-block-navigation__submenu-icon{margin-left:auto;margin-right:0}.wp-block-navigation .has-child .wp-block-navigation__submenu-container .wp-block-navigation-item__content{margin:0}@media (min-width:782px){.wp-block-navigation .has-child .wp-block-navigation__submenu-container .wp-block-navigation__submenu-container{left:100%;top:-1px}.wp-block-navigation .has-child .wp-block-navigation__submenu-container .wp-block-navigation__submenu-container:before{background:0 0;content:"";display:block;height:100%;position:absolute;right:100%;width:.5em}.wp-block-navigation .has-child .wp-block-navigation__submenu-container .wp-block-navigation__submenu-icon{margin-right:.25em}.wp-block-navigation .has-child .wp-block-navigation__submenu-container .wp-block-navigation__submenu-icon svg{transform:rotate(-90deg)}}.wp-block-navigation .has-child:not(.open-on-click):hover>.wp-block-navigation__submenu-container{height:auto;min-width:200px;opacity:1;overflow:visible;visibility:visible;width:auto}.wp-block-navigation .has-child:not(.open-on-click):not(.open-on-hover-click):focus-within>.wp-block-navigation__submenu-container{height:auto;min-width:200px;opacity:1;overflow:visible;visibility:visible;width:auto}.wp-block-navigation .has-child .wp-block-navigation-submenu__toggle[aria-expanded=true]~.wp-block-navigation__submenu-container{height:auto;min-width:200px;opacity:1;overflow:visible;visibility:visible;width:auto}.wp-block-navigation.has-background .has-child .wp-block-navigation__submenu-container{left:0;top:100%}@media (min-width:782px){.wp-block-navigation.has-background .has-child .wp-block-navigation__submenu-container .wp-block-navigation__submenu-container{left:100%;top:0}}.wp-block-navigation-submenu{display:flex;position:relative}.wp-block-navigation-submenu .wp-block-navigation__submenu-icon svg{stroke:currentColor}button.wp-block-navigation-item__content{background-color:transparent;border:none;color:currentColor;font-family:inherit;font-size:inherit;font-style:inherit;font-weight:inherit;line-height:inherit;text-align:left;text-transform:inherit}.wp-block-navigation-submenu__toggle{cursor:pointer}.wp-block-navigation-item.open-on-click .wp-block-navigation-submenu__toggle{padding-right:.85em}.wp-block-navigation-item.open-on-click .wp-block-navigation-submenu__toggle+.wp-block-navigation__submenu-icon{margin-left:-.6em;pointer-events:none}.wp-block-navigation .wp-block-page-list,.wp-block-navigation__container,.wp-block-navigation__responsive-close,.wp-block-navigation__responsive-container,.wp-block-navigation__responsive-container-content,.wp-block-navigation__responsive-dialog{gap:inherit}:where(.wp-block-navigation.has-background .wp-block-navigation-item a:not(.wp-element-button)),:where(.wp-block-navigation.has-background .wp-block-navigation-submenu a:not(.wp-element-button)){padding:.5em 1em}:where(.wp-block-navigation .wp-block-navigation__submenu-container .wp-block-navigation-item a:not(.wp-element-button)),:where(.wp-block-navigation .wp-block-navigation__submenu-container .wp-block-navigation-submenu a:not(.wp-element-button)),:where(.wp-block-navigation .wp-block-navigation__submenu-container .wp-block-navigation-submenu button.wp-block-navigation-item__content),:where(.wp-block-navigation .wp-block-navigation__submenu-container .wp-block-pages-list__item button.wp-block-navigation-item__content){padding:.5em 1em}.wp-block-navigation.items-justified-right .wp-block-navigation__container .has-child .wp-block-navigation__submenu-container,.wp-block-navigation.items-justified-right .wp-block-page-list>.has-child .wp-block-navigation__submenu-container,.wp-block-navigation.items-justified-space-between .wp-block-page-list>.has-child:last-child .wp-block-navigation__submenu-container,.wp-block-navigation.items-justified-space-between>.wp-block-navigation__container>.has-child:last-child .wp-block-navigation__submenu-container{left:auto;right:0}.wp-block-navigation.items-justified-right .wp-block-navigation__container .has-child .wp-block-navigation__submenu-container .wp-block-navigation__submenu-container,.wp-block-navigation.items-justified-right .wp-block-page-list>.has-child .wp-block-navigation__submenu-container .wp-block-navigation__submenu-container,.wp-block-navigation.items-justified-space-between .wp-block-page-list>.has-child:last-child .wp-block-navigation__submenu-container .wp-block-navigation__submenu-container,.wp-block-navigation.items-justified-space-between>.wp-block-navigation__container>.has-child:last-child .wp-block-navigation__submenu-container .wp-block-navigation__submenu-container{left:-1px;right:-1px}@media (min-width:782px){.wp-block-navigation.items-justified-right .wp-block-navigation__container .has-child .wp-block-navigation__submenu-container .wp-block-navigation__submenu-container,.wp-block-navigation.items-justified-right .wp-block-page-list>.has-child .wp-block-navigation__submenu-container .wp-block-navigation__submenu-container,.wp-block-navigation.items-justified-space-between .wp-block-page-list>.has-child:last-child .wp-block-navigation__submenu-container .wp-block-navigation__submenu-container,.wp-block-navigation.items-justified-space-between>.wp-block-navigation__container>.has-child:last-child .wp-block-navigation__submenu-container .wp-block-navigation__submenu-container{left:auto;right:100%}}.wp-block-navigation:not(.has-background) .wp-block-navigation__submenu-container{background-color:#fff;border:1px solid rgba(0,0,0,.15);color:#000}.wp-block-navigation__container{align-items:var(--navigation-layout-align,initial);display:flex;flex-direction:var(--navigation-layout-direction,initial);flex-wrap:var(--navigation-layout-wrap,wrap);justify-content:var(--navigation-layout-justify,initial);list-style:none;margin:0;padding-left:0}.wp-block-navigation__container .is-responsive{display:none}.wp-block-navigation__container:only-child,.wp-block-page-list:only-child{flex-grow:1}@keyframes overlay-menu__fade-in-animation{0%{opacity:0;transform:translateY(.5em)}to{opacity:1;transform:translateY(0)}}.wp-block-navigation__responsive-container{bottom:0;display:none;left:0;position:fixed;right:0;top:0}.wp-block-navigation__responsive-container .wp-block-navigation-link a{color:inherit}.wp-block-navigation__responsive-container .wp-block-navigation__responsive-container-content{align-items:var(--navigation-layout-align,initial);display:flex;flex-direction:var(--navigation-layout-direction,initial);flex-wrap:var(--navigation-layout-wrap,wrap);justify-content:var(--navigation-layout-justify,initial)}.wp-block-navigation__responsive-container:not(.is-menu-open.is-menu-open){background-color:inherit!important;color:inherit!important}.wp-block-navigation__responsive-container.is-menu-open{animation:overlay-menu__fade-in-animation .1s ease-out;animation-fill-mode:forwards;background-color:inherit;display:flex;flex-direction:column;overflow:auto;padding:var(--wp--style--root--padding-top,2rem) var(--wp--style--root--padding-right,2rem) var(--wp--style--root--padding-bottom,2rem) var(--wp--style--root--padding-left,2rem);z-index:100000}@media (prefers-reduced-motion:reduce){.wp-block-navigation__responsive-container.is-menu-open{animation-delay:0s;animation-duration:1ms}}.wp-block-navigation__responsive-container.is-menu-open .wp-block-navigation__responsive-container-content{align-items:var(--navigation-layout-justification-setting,inherit);display:flex;flex-direction:column;flex-wrap:nowrap;overflow:visible;padding-top:calc(2rem + 24px)}.wp-block-navigation__responsive-container.is-menu-open .wp-block-navigation__responsive-container-content,.wp-block-navigation__responsive-container.is-menu-open .wp-block-navigation__responsive-container-content .wp-block-navigation__container,.wp-block-navigation__responsive-container.is-menu-open .wp-block-navigation__responsive-container-content .wp-block-page-list{justify-content:flex-start}.wp-block-navigation__responsive-container.is-menu-open .wp-block-navigation__responsive-container-content .wp-block-navigation__submenu-icon{display:none}.wp-block-navigation__responsive-container.is-menu-open .wp-block-navigation__responsive-container-content .has-child .wp-block-navigation__submenu-container{border:none;height:auto;min-width:200px;opacity:1;overflow:initial;padding-left:2rem;padding-right:2rem;position:static;visibility:visible;width:auto}.wp-block-navigation__responsive-container.is-menu-open .wp-block-navigation__responsive-container-content .wp-block-navigation__container,.wp-block-navigation__responsive-container.is-menu-open .wp-block-navigation__responsive-container-content .wp-block-navigation__submenu-container{gap:inherit}.wp-block-navigation__responsive-container.is-menu-open .wp-block-navigation__responsive-container-content .wp-block-navigation__submenu-container{padding-top:var(--wp--style--block-gap,2em)}.wp-block-navigation__responsive-container.is-menu-open .wp-block-navigation__responsive-container-content .wp-block-navigation-item__content{padding:0}.wp-block-navigation__responsive-container.is-menu-open .wp-block-navigation__responsive-container-content .wp-block-navigation-item,.wp-block-navigation__responsive-container.is-menu-open .wp-block-navigation__responsive-container-content .wp-block-navigation__container,.wp-block-navigation__responsive-container.is-menu-open .wp-block-navigation__responsive-container-content .wp-block-page-list{align-items:var(--navigation-layout-justification-setting,initial);display:flex;flex-direction:column}.wp-block-navigation__responsive-container.is-menu-open .wp-block-navigation-item,.wp-block-navigation__responsive-container.is-menu-open .wp-block-navigation-item .wp-block-navigation__submenu-container,.wp-block-navigation__responsive-container.is-menu-open .wp-block-page-list{background:transparent!important;color:inherit!important}.wp-block-navigation__responsive-container.is-menu-open .wp-block-navigation__submenu-container.wp-block-navigation__submenu-container.wp-block-navigation__submenu-container.wp-block-navigation__submenu-container{left:auto;right:auto}@media (min-width:600px){.wp-block-navigation__responsive-container:not(.hidden-by-default):not(.is-menu-open){background-color:inherit;display:block;position:relative;width:100%;z-index:auto}.wp-block-navigation__responsive-container:not(.hidden-by-default):not(.is-menu-open) .wp-block-navigation__responsive-container-close{display:none}.wp-block-navigation__responsive-container.is-menu-open .wp-block-navigation__submenu-container.wp-block-navigation__submenu-container.wp-block-navigation__submenu-container.wp-block-navigation__submenu-container{left:0}}.wp-block-navigation:not(.has-background) .wp-block-navigation__responsive-container.is-menu-open{background-color:#fff;color:#000}.wp-block-navigation__toggle_button_label{font-size:1rem;font-weight:700}.wp-block-navigation__responsive-container-close,.wp-block-navigation__responsive-container-open{background:0 0;border:none;color:currentColor;cursor:pointer;margin:0;padding:0;text-transform:inherit;vertical-align:middle}.wp-block-navigation__responsive-container-close svg,.wp-block-navigation__responsive-container-open svg{fill:currentColor;display:block;height:24px;pointer-events:none;width:24px}.wp-block-navigation__responsive-container-open{display:flex}.wp-block-navigation__responsive-container-open.wp-block-navigation__responsive-container-open.wp-block-navigation__responsive-container-open{font-family:inherit;font-size:inherit;font-weight:inherit}@media (min-width:600px){.wp-block-navigation__responsive-container-open:not(.always-shown){display:none}}.wp-block-navigation__responsive-container-close{position:absolute;right:0;top:0;z-index:2}.wp-block-navigation__responsive-container-close.wp-block-navigation__responsive-container-close.wp-block-navigation__responsive-container-close{font-family:inherit;font-size:inherit;font-weight:inherit}.wp-block-navigation__responsive-close{width:100%}.has-modal-open .wp-block-navigation__responsive-close{margin-left:auto;margin-right:auto;max-width:var(--wp--style--global--wide-size,100%)}.wp-block-navigation__responsive-close:focus{outline:none}.is-menu-open .wp-block-navigation__responsive-close,.is-menu-open .wp-block-navigation__responsive-container-content,.is-menu-open .wp-block-navigation__responsive-dialog{box-sizing:border-box}.wp-block-navigation__responsive-dialog{position:relative}.has-modal-open .admin-bar .is-menu-open .wp-block-navigation__responsive-dialog{margin-top:46px}@media (min-width:782px){.has-modal-open .admin-bar .is-menu-open .wp-block-navigation__responsive-dialog{margin-top:32px}}html.has-modal-open{overflow:hidden}.wp-block-navigation .wp-block-navigation-item__label{overflow-wrap:break-word;word-break:normal}.wp-block-navigation .wp-block-navigation-item__description{display:none}.wp-block-navigation .wp-block-page-list{align-items:var(--navigation-layout-align,initial);background-color:inherit;display:flex;flex-direction:var(--navigation-layout-direction,initial);flex-wrap:var(--navigation-layout-wrap,wrap);justify-content:var(--navigation-layout-justify,initial)}.wp-block-navigation .wp-block-navigation-item{background-color:inherit}.is-small-text{font-size:.875em}.is-regular-text{font-size:1em}.is-large-text{font-size:2.25em}.is-larger-text{font-size:3em}.has-drop-cap:not(:focus):first-letter {float:left;font-size:8.4em;font-style:normal;font-weight:100;line-height:.68;margin:.05em .1em 0 0;text-transform:uppercase}body.rtl .has-drop-cap:not(:focus):first-letter {float:none;margin-left:.1em}p.has-drop-cap.has-background{overflow:hidden}p.has-background{padding:1.25em 2.375em}:where(p.has-text-color:not(.has-link-color)) a{color:inherit}.wp-block-post-author{display:flex;flex-wrap:wrap}.wp-block-post-author__byline{font-size:.5em;margin-bottom:0;margin-top:0;width:100%}.wp-block-post-author__avatar{margin-right:1em}.wp-block-post-author__bio{font-size:.7em;margin-bottom:.7em}.wp-block-post-author__content{flex-basis:0;flex-grow:1}.wp-block-post-author__name{margin:0}.wp-block-post-comments-form{box-sizing:border-box}.wp-block-post-comments-form[style*=font-weight] :where(.comment-reply-title){font-weight:inherit}.wp-block-post-comments-form[style*=font-family] :where(.comment-reply-title){font-family:inherit}.wp-block-post-comments-form[class*=-font-size] :where(.comment-reply-title),.wp-block-post-comments-form[style*=font-size] :where(.comment-reply-title){font-size:inherit}.wp-block-post-comments-form[style*=line-height] :where(.comment-reply-title){line-height:inherit}.wp-block-post-comments-form[style*=font-style] :where(.comment-reply-title){font-style:inherit}.wp-block-post-comments-form[style*=letter-spacing] :where(.comment-reply-title){letter-spacing:inherit}.wp-block-post-comments-form input[type=submit]{box-shadow:none;cursor:pointer;display:inline-block;overflow-wrap:break-word;text-align:center}.wp-block-post-comments-form input:not([type=submit]),.wp-block-post-comments-form textarea{border:1px solid #949494;font-family:inherit;font-size:1em}.wp-block-post-comments-form input:not([type=submit]):not([type=checkbox]),.wp-block-post-comments-form textarea{padding:calc(.667em + 2px)}.wp-block-post-comments-form .comment-form input:not([type=submit]):not([type=checkbox]):not([type=hidden]),.wp-block-post-comments-form .comment-form textarea{box-sizing:border-box;display:block;width:100%}.wp-block-post-comments-form .comment-form-author label,.wp-block-post-comments-form .comment-form-email label,.wp-block-post-comments-form .comment-form-url label{display:block;margin-bottom:.25em}.wp-block-post-comments-form .comment-form-cookies-consent{display:flex;gap:.25em}.wp-block-post-comments-form .comment-form-cookies-consent #wp-comment-cookies-consent{margin-top:.35em}.wp-block-post-comments-form .comment-reply-title{margin-bottom:0}.wp-block-post-comments-form .comment-reply-title :where(small){font-size:var(--wp--preset--font-size--medium,smaller);margin-left:.5em}.wp-block-post-date{box-sizing:border-box}:where(.wp-block-post-excerpt){margin-bottom:var(--wp--style--block-gap);margin-top:var(--wp--style--block-gap)}.wp-block-post-excerpt__excerpt{margin-bottom:0;margin-top:0}.wp-block-post-excerpt__more-text{margin-bottom:0;margin-top:var(--wp--style--block-gap)}.wp-block-post-excerpt__more-link{display:inline-block}.wp-block-post-featured-image{margin-left:0;margin-right:0}.wp-block-post-featured-image a{display:block;height:100%}.wp-block-post-featured-image img{box-sizing:border-box;height:auto;max-width:100%;vertical-align:bottom;width:100%}.wp-block-post-featured-image.alignfull img,.wp-block-post-featured-image.alignwide img{width:100%}.wp-block-post-featured-image .wp-block-post-featured-image__overlay.has-background-dim{background-color:#000;inset:0;position:absolute}.wp-block-post-featured-image{position:relative}.wp-block-post-featured-image .wp-block-post-featured-image__overlay.has-background-gradient{background-color:transparent}.wp-block-post-featured-image .wp-block-post-featured-image__overlay.has-background-dim-0{opacity:0}.wp-block-post-featured-image .wp-block-post-featured-image__overlay.has-background-dim-10{opacity:.1}.wp-block-post-featured-image .wp-block-post-featured-image__overlay.has-background-dim-20{opacity:.2}.wp-block-post-featured-image .wp-block-post-featured-image__overlay.has-background-dim-30{opacity:.3}.wp-block-post-featured-image .wp-block-post-featured-image__overlay.has-background-dim-40{opacity:.4}.wp-block-post-featured-image .wp-block-post-featured-image__overlay.has-background-dim-50{opacity:.5}.wp-block-post-featured-image .wp-block-post-featured-image__overlay.has-background-dim-60{opacity:.6}.wp-block-post-featured-image .wp-block-post-featured-image__overlay.has-background-dim-70{opacity:.7}.wp-block-post-featured-image .wp-block-post-featured-image__overlay.has-background-dim-80{opacity:.8}.wp-block-post-featured-image .wp-block-post-featured-image__overlay.has-background-dim-90{opacity:.9}.wp-block-post-featured-image .wp-block-post-featured-image__overlay.has-background-dim-100{opacity:1}.wp-block-post-navigation-link .wp-block-post-navigation-link__arrow-previous{display:inline-block;margin-right:1ch}.wp-block-post-navigation-link .wp-block-post-navigation-link__arrow-previous:not(.is-arrow-chevron){transform:scaleX(1)}.wp-block-post-navigation-link .wp-block-post-navigation-link__arrow-next{display:inline-block;margin-left:1ch}.wp-block-post-navigation-link .wp-block-post-navigation-link__arrow-next:not(.is-arrow-chevron){transform:scaleX(1)}.wp-block-post-terms{box-sizing:border-box}.wp-block-post-terms .wp-block-post-terms__separator{white-space:pre-wrap}.wp-block-post-time-to-read,.wp-block-post-title{box-sizing:border-box}.wp-block-post-title{word-break:break-word}.wp-block-post-title a{display:inline-block}.wp-block-preformatted{white-space:pre-wrap}.wp-block-preformatted.has-background{padding:1.25em 2.375em}.wp-block-pullquote{box-sizing:border-box;overflow-wrap:break-word;padding:3em 0;text-align:center}.wp-block-pullquote blockquote,.wp-block-pullquote cite,.wp-block-pullquote p{color:inherit}.wp-block-pullquote.alignleft,.wp-block-pullquote.alignright{max-width:420px}.wp-block-pullquote cite,.wp-block-pullquote footer{position:relative}.wp-block-pullquote .has-text-color a{color:inherit}:where(.wp-block-pullquote){margin:0 0 1em}.wp-block-pullquote.has-text-align-left blockquote{text-align:left}.wp-block-pullquote.has-text-align-right blockquote{text-align:right}.wp-block-pullquote.is-style-solid-color{border:none}.wp-block-pullquote.is-style-solid-color blockquote{margin-left:auto;margin-right:auto;max-width:60%}.wp-block-pullquote.is-style-solid-color blockquote p{font-size:2em;margin-bottom:0;margin-top:0}.wp-block-pullquote.is-style-solid-color blockquote cite{font-style:normal;text-transform:none}.wp-block-pullquote cite{color:inherit}.wp-block-post-template{list-style:none;margin-bottom:0;margin-top:0;max-width:100%;padding:0}.wp-block-post-template.wp-block-post-template{background:0 0}.wp-block-post-template.is-flex-container{display:flex;flex-direction:row;flex-wrap:wrap;gap:1.25em}.wp-block-post-template.is-flex-container>li{margin:0;width:100%}@media (min-width:600px){.wp-block-post-template.is-flex-container.is-flex-container.columns-2>li{width:calc(50% - .625em)}.wp-block-post-template.is-flex-container.is-flex-container.columns-3>li{width:calc(33.33333% - .83333em)}.wp-block-post-template.is-flex-container.is-flex-container.columns-4>li{width:calc(25% - .9375em)}.wp-block-post-template.is-flex-container.is-flex-container.columns-5>li{width:calc(20% - 1em)}.wp-block-post-template.is-flex-container.is-flex-container.columns-6>li{width:calc(16.66667% - 1.04167em)}}@media (max-width:600px){.wp-block-post-template-is-layout-grid.wp-block-post-template-is-layout-grid.wp-block-post-template-is-layout-grid.wp-block-post-template-is-layout-grid{grid-template-columns:1fr}}.wp-block-query-pagination>.wp-block-query-pagination-next,.wp-block-query-pagination>.wp-block-query-pagination-numbers,.wp-block-query-pagination>.wp-block-query-pagination-previous{margin-bottom:.5em;margin-right:.5em}.wp-block-query-pagination>.wp-block-query-pagination-next:last-child,.wp-block-query-pagination>.wp-block-query-pagination-numbers:last-child,.wp-block-query-pagination>.wp-block-query-pagination-previous:last-child{margin-right:0}.wp-block-query-pagination.is-content-justification-space-between>.wp-block-query-pagination-next:last-of-type{margin-inline-start:auto}.wp-block-query-pagination.is-content-justification-space-between>.wp-block-query-pagination-previous:first-child{margin-inline-end:auto}.wp-block-query-pagination .wp-block-query-pagination-previous-arrow{display:inline-block;margin-right:1ch}.wp-block-query-pagination .wp-block-query-pagination-previous-arrow:not(.is-arrow-chevron){transform:scaleX(1)}.wp-block-query-pagination .wp-block-query-pagination-next-arrow{display:inline-block;margin-left:1ch}.wp-block-query-pagination .wp-block-query-pagination-next-arrow:not(.is-arrow-chevron){transform:scaleX(1)}.wp-block-query-pagination.aligncenter{justify-content:center}.wp-block-query-title,.wp-block-quote{box-sizing:border-box}.wp-block-quote{overflow-wrap:break-word}.wp-block-quote.is-large:where(:not(.is-style-plain)),.wp-block-quote.is-style-large:where(:not(.is-style-plain)){margin-bottom:1em;padding:0 1em}.wp-block-quote.is-large:where(:not(.is-style-plain)) p,.wp-block-quote.is-style-large:where(:not(.is-style-plain)) p{font-size:1.5em;font-style:italic;line-height:1.6}.wp-block-quote.is-large:where(:not(.is-style-plain)) cite,.wp-block-quote.is-large:where(:not(.is-style-plain)) footer,.wp-block-quote.is-style-large:where(:not(.is-style-plain)) cite,.wp-block-quote.is-style-large:where(:not(.is-style-plain)) footer{font-size:1.125em;text-align:right}.wp-block-read-more{display:block;width:-moz-fit-content;width:fit-content}.wp-block-read-more:not([style*=text-decoration]),.wp-block-read-more:not([style*=text-decoration]):active,.wp-block-read-more:not([style*=text-decoration]):focus{text-decoration:none}ul.wp-block-rss{list-style:none;padding:0}ul.wp-block-rss.wp-block-rss{box-sizing:border-box}ul.wp-block-rss.alignleft{margin-right:2em}ul.wp-block-rss.alignright{margin-left:2em}ul.wp-block-rss.is-grid{display:flex;flex-wrap:wrap;list-style:none;padding:0}ul.wp-block-rss.is-grid li{margin:0 1em 1em 0;width:100%}@media (min-width:600px){ul.wp-block-rss.columns-2 li{width:calc(50% - 1em)}ul.wp-block-rss.columns-3 li{width:calc(33.33333% - 1em)}ul.wp-block-rss.columns-4 li{width:calc(25% - 1em)}ul.wp-block-rss.columns-5 li{width:calc(20% - 1em)}ul.wp-block-rss.columns-6 li{width:calc(16.66667% - 1em)}}.wp-block-rss__item-author,.wp-block-rss__item-publish-date{display:block;font-size:.8125em}.wp-block-search__button{margin-left:10px;word-break:normal}.wp-block-search__button.has-icon{line-height:0}.wp-block-search__button svg{fill:currentColor;min-height:24px;min-width:24px;vertical-align:text-bottom}:where(.wp-block-search__button){border:1px solid #ccc;padding:6px 10px}.wp-block-search__inside-wrapper{display:flex;flex:auto;flex-wrap:nowrap;max-width:100%}.wp-block-search__label{width:100%}.wp-block-search__input{-webkit-appearance:initial;appearance:none;border:1px solid #949494;flex-grow:1;margin-left:0;margin-right:0;min-width:3rem;padding:8px;text-decoration:unset!important}.wp-block-search.wp-block-search__button-only .wp-block-search__button{margin-left:0}:where(.wp-block-search__button-inside .wp-block-search__inside-wrapper){border:1px solid #949494;box-sizing:border-box;padding:4px}:where(.wp-block-search__button-inside .wp-block-search__inside-wrapper) .wp-block-search__input{border:none;border-radius:0;padding:0 4px}:where(.wp-block-search__button-inside .wp-block-search__inside-wrapper) .wp-block-search__input:focus{outline:none}:where(.wp-block-search__button-inside .wp-block-search__inside-wrapper) :where(.wp-block-search__button){padding:4px 8px}.wp-block-search.aligncenter .wp-block-search__inside-wrapper{margin:auto}.wp-block-search__button-behavior-expand .wp-block-search__inside-wrapper{min-width:0!important;transition-property:width}.wp-block-search__button-behavior-expand .wp-block-search__input{flex-basis:100%;transition-duration:.3s}.wp-block-search__button-behavior-expand.wp-block-search__searchfield-hidden,.wp-block-search__button-behavior-expand.wp-block-search__searchfield-hidden .wp-block-search__inside-wrapper{overflow:hidden}.wp-block-search__button-behavior-expand.wp-block-search__searchfield-hidden .wp-block-search__input{border-left-width:0!important;border-right-width:0!important;flex-basis:0;flex-grow:0;margin:0;min-width:0!important;padding-left:0!important;padding-right:0!important;width:0!important}.wp-block[data-align=right] .wp-block-search__button-behavior-expand .wp-block-search__inside-wrapper{float:right}.wp-block-separator{border:1px solid;border-left:none;border-right:none}.wp-block-separator.is-style-dots{background:none!important;border:none;height:auto;line-height:1;text-align:center}.wp-block-separator.is-style-dots:before{color:currentColor;content:"···";font-family:serif;font-size:1.5em;letter-spacing:2em;padding-left:2em}.wp-block-site-logo{box-sizing:border-box;line-height:0}.wp-block-site-logo a{display:inline-block}.wp-block-site-logo.is-default-size img{height:auto;width:120px}.wp-block-site-logo img{height:auto;max-width:100%}.wp-block-site-logo a,.wp-block-site-logo img{border-radius:inherit}.wp-block-site-logo.aligncenter{margin-left:auto;margin-right:auto;text-align:center}.wp-block-site-logo.is-style-rounded{border-radius:9999px}.wp-block-site-title a{color:inherit}.wp-block-social-links{background:0 0;box-sizing:border-box;margin-left:0;padding-left:0;padding-right:0;text-indent:0}.wp-block-social-links .wp-social-link a,.wp-block-social-links .wp-social-link a:hover{border-bottom:0;box-shadow:none;text-decoration:none}.wp-block-social-links .wp-social-link a{padding:.25em}.wp-block-social-links .wp-social-link svg{height:1em;width:1em}.wp-block-social-links .wp-social-link span:not(.screen-reader-text){font-size:.65em;margin-left:.5em;margin-right:.5em}.wp-block-social-links.has-small-icon-size{font-size:16px}.wp-block-social-links,.wp-block-social-links.has-normal-icon-size{font-size:24px}.wp-block-social-links.has-large-icon-size{font-size:36px}.wp-block-social-links.has-huge-icon-size{font-size:48px}.wp-block-social-links.aligncenter{display:flex;justify-content:center}.wp-block-social-links.alignright{justify-content:flex-end}.wp-block-social-link{border-radius:9999px;display:block;height:auto;transition:transform .1s ease}@media (prefers-reduced-motion:reduce){.wp-block-social-link{transition-delay:0s;transition-duration:0s}}.wp-block-social-link a{align-items:center;display:flex;line-height:0;transition:transform .1s ease}.wp-block-social-link:hover{transform:scale(1.1)}.wp-block-social-links .wp-block-social-link .wp-block-social-link-anchor,.wp-block-social-links .wp-block-social-link .wp-block-social-link-anchor svg,.wp-block-social-links .wp-block-social-link .wp-block-social-link-anchor:active,.wp-block-social-links .wp-block-social-link .wp-block-social-link-anchor:hover,.wp-block-social-links .wp-block-social-link .wp-block-social-link-anchor:visited{fill:currentColor;color:currentColor}.wp-block-social-links:not(.is-style-logos-only) .wp-social-link{background-color:#f0f0f0;color:#444}.wp-block-social-links:not(.is-style-logos-only) .wp-social-link-amazon{background-color:#f90;color:#fff}.wp-block-social-links:not(.is-style-logos-only) .wp-social-link-bandcamp{background-color:#1ea0c3;color:#fff}.wp-block-social-links:not(.is-style-logos-only) .wp-social-link-behance{background-color:#0757fe;color:#fff}.wp-block-social-links:not(.is-style-logos-only) .wp-social-link-codepen{background-color:#1e1f26;color:#fff}.wp-block-social-links:not(.is-style-logos-only) .wp-social-link-deviantart{background-color:#02e49b;color:#fff}.wp-block-social-links:not(.is-style-logos-only) .wp-social-link-dribbble{background-color:#e94c89;color:#fff}.wp-block-social-links:not(.is-style-logos-only) .wp-social-link-dropbox{background-color:#4280ff;color:#fff}.wp-block-social-links:not(.is-style-logos-only) .wp-social-link-etsy{background-color:#f45800;color:#fff}.wp-block-social-links:not(.is-style-logos-only) .wp-social-link-facebook{background-color:#1778f2;color:#fff}.wp-block-social-links:not(.is-style-logos-only) .wp-social-link-fivehundredpx{background-color:#000;color:#fff}.wp-block-social-links:not(.is-style-logos-only) .wp-social-link-flickr{background-color:#0461dd;color:#fff}.wp-block-social-links:not(.is-style-logos-only) .wp-social-link-foursquare{background-color:#e65678;color:#fff}.wp-block-social-links:not(.is-style-logos-only) .wp-social-link-github{background-color:#24292d;color:#fff}.wp-block-social-links:not(.is-style-logos-only) .wp-social-link-goodreads{background-color:#eceadd;color:#382110}.wp-block-social-links:not(.is-style-logos-only) .wp-social-link-google{background-color:#ea4434;color:#fff}.wp-block-social-links:not(.is-style-logos-only) .wp-social-link-instagram{background-color:#f00075;color:#fff}.wp-block-social-links:not(.is-style-logos-only) .wp-social-link-lastfm{background-color:#e21b24;color:#fff}.wp-block-social-links:not(.is-style-logos-only) .wp-social-link-linkedin{background-color:#0d66c2;color:#fff}.wp-block-social-links:not(.is-style-logos-only) .wp-social-link-mastodon{background-color:#3288d4;color:#fff}.wp-block-social-links:not(.is-style-logos-only) .wp-social-link-medium{background-color:#02ab6c;color:#fff}.wp-block-social-links:not(.is-style-logos-only) .wp-social-link-meetup{background-color:#f6405f;color:#fff}.wp-block-social-links:not(.is-style-logos-only) .wp-social-link-patreon{background-color:#ff424d;color:#fff}.wp-block-social-links:not(.is-style-logos-only) .wp-social-link-pinterest{background-color:#e60122;color:#fff}.wp-block-social-links:not(.is-style-logos-only) .wp-social-link-pocket{background-color:#ef4155;color:#fff}.wp-block-social-links:not(.is-style-logos-only) .wp-social-link-reddit{background-color:#ff4500;color:#fff}.wp-block-social-links:not(.is-style-logos-only) .wp-social-link-skype{background-color:#0478d7;color:#fff}.wp-block-social-links:not(.is-style-logos-only) .wp-social-link-snapchat{stroke:#000;background-color:#fefc00;color:#fff}.wp-block-social-links:not(.is-style-logos-only) .wp-social-link-soundcloud{background-color:#ff5600;color:#fff}.wp-block-social-links:not(.is-style-logos-only) .wp-social-link-spotify{background-color:#1bd760;color:#fff}.wp-block-social-links:not(.is-style-logos-only) .wp-social-link-telegram{background-color:#2aabee;color:#fff}.wp-block-social-links:not(.is-style-logos-only) .wp-social-link-tiktok{background-color:#000;color:#fff}.wp-block-social-links:not(.is-style-logos-only) .wp-social-link-tumblr{background-color:#011835;color:#fff}.wp-block-social-links:not(.is-style-logos-only) .wp-social-link-twitch{background-color:#6440a4;color:#fff}.wp-block-social-links:not(.is-style-logos-only) .wp-social-link-twitter{background-color:#1da1f2;color:#fff}.wp-block-social-links:not(.is-style-logos-only) .wp-social-link-vimeo{background-color:#1eb7ea;color:#fff}.wp-block-social-links:not(.is-style-logos-only) .wp-social-link-vk{background-color:#4680c2;color:#fff}.wp-block-social-links:not(.is-style-logos-only) .wp-social-link-wordpress{background-color:#3499cd;color:#fff}.wp-block-social-links:not(.is-style-logos-only) .wp-social-link-whatsapp{background-color:#25d366;color:#fff}.wp-block-social-links:not(.is-style-logos-only) .wp-social-link-yelp{background-color:#d32422;color:#fff}.wp-block-social-links:not(.is-style-logos-only) .wp-social-link-youtube{background-color:red;color:#fff}.wp-block-social-links.is-style-logos-only .wp-social-link{background:0 0}.wp-block-social-links.is-style-logos-only .wp-social-link a{padding:0}.wp-block-social-links.is-style-logos-only .wp-social-link svg{height:1.25em;width:1.25em}.wp-block-social-links.is-style-logos-only .wp-social-link-amazon{color:#f90}.wp-block-social-links.is-style-logos-only .wp-social-link-bandcamp{color:#1ea0c3}.wp-block-social-links.is-style-logos-only .wp-social-link-behance{color:#0757fe}.wp-block-social-links.is-style-logos-only .wp-social-link-codepen{color:#1e1f26}.wp-block-social-links.is-style-logos-only .wp-social-link-deviantart{color:#02e49b}.wp-block-social-links.is-style-logos-only .wp-social-link-dribbble{color:#e94c89}.wp-block-social-links.is-style-logos-only .wp-social-link-dropbox{color:#4280ff}.wp-block-social-links.is-style-logos-only .wp-social-link-etsy{color:#f45800}.wp-block-social-links.is-style-logos-only .wp-social-link-facebook{color:#1778f2}.wp-block-social-links.is-style-logos-only .wp-social-link-fivehundredpx{color:#000}.wp-block-social-links.is-style-logos-only .wp-social-link-flickr{color:#0461dd}.wp-block-social-links.is-style-logos-only .wp-social-link-foursquare{color:#e65678}.wp-block-social-links.is-style-logos-only .wp-social-link-github{color:#24292d}.wp-block-social-links.is-style-logos-only .wp-social-link-goodreads{color:#382110}.wp-block-social-links.is-style-logos-only .wp-social-link-google{color:#ea4434}.wp-block-social-links.is-style-logos-only .wp-social-link-instagram{color:#f00075}.wp-block-social-links.is-style-logos-only .wp-social-link-lastfm{color:#e21b24}.wp-block-social-links.is-style-logos-only .wp-social-link-linkedin{color:#0d66c2}.wp-block-social-links.is-style-logos-only .wp-social-link-mastodon{color:#3288d4}.wp-block-social-links.is-style-logos-only .wp-social-link-medium{color:#02ab6c}.wp-block-social-links.is-style-logos-only .wp-social-link-meetup{color:#f6405f}.wp-block-social-links.is-style-logos-only .wp-social-link-patreon{color:#ff424d}.wp-block-social-links.is-style-logos-only .wp-social-link-pinterest{color:#e60122}.wp-block-social-links.is-style-logos-only .wp-social-link-pocket{color:#ef4155}.wp-block-social-links.is-style-logos-only .wp-social-link-reddit{color:#ff4500}.wp-block-social-links.is-style-logos-only .wp-social-link-skype{color:#0478d7}.wp-block-social-links.is-style-logos-only .wp-social-link-snapchat{stroke:#000;color:#fff}.wp-block-social-links.is-style-logos-only .wp-social-link-soundcloud{color:#ff5600}.wp-block-social-links.is-style-logos-only .wp-social-link-spotify{color:#1bd760}.wp-block-social-links.is-style-logos-only .wp-social-link-telegram{color:#2aabee}.wp-block-social-links.is-style-logos-only .wp-social-link-tiktok{color:#000}.wp-block-social-links.is-style-logos-only .wp-social-link-tumblr{color:#011835}.wp-block-social-links.is-style-logos-only .wp-social-link-twitch{color:#6440a4}.wp-block-social-links.is-style-logos-only .wp-social-link-twitter{color:#1da1f2}.wp-block-social-links.is-style-logos-only .wp-social-link-vimeo{color:#1eb7ea}.wp-block-social-links.is-style-logos-only .wp-social-link-vk{color:#4680c2}.wp-block-social-links.is-style-logos-only .wp-social-link-whatsapp{color:#25d366}.wp-block-social-links.is-style-logos-only .wp-social-link-wordpress{color:#3499cd}.wp-block-social-links.is-style-logos-only .wp-social-link-yelp{color:#d32422}.wp-block-social-links.is-style-logos-only .wp-social-link-youtube{color:red}.wp-block-social-links.is-style-pill-shape .wp-social-link{width:auto}.wp-block-social-links.is-style-pill-shape .wp-social-link a{padding-left:.66667em;padding-right:.66667em}.wp-block-social-links:not(.has-icon-color):not(.has-icon-background-color) .wp-social-link-snapchat .wp-block-social-link-label{color:#000}.wp-block-spacer{clear:both}.wp-block-tag-cloud{box-sizing:border-box}.wp-block-tag-cloud.aligncenter{justify-content:center;text-align:center}.wp-block-tag-cloud.alignfull{padding-left:1em;padding-right:1em}.wp-block-tag-cloud a{display:inline-block;margin-right:5px}.wp-block-tag-cloud span{display:inline-block;margin-left:5px;text-decoration:none}.wp-block-tag-cloud.is-style-outline{display:flex;flex-wrap:wrap;gap:1ch}.wp-block-tag-cloud.is-style-outline a{border:1px solid;font-size:unset!important;margin-right:0;padding:1ch 2ch;text-decoration:none!important}.wp-block-table{overflow-x:auto}.wp-block-table table{border-collapse:collapse;width:100%}.wp-block-table thead{border-bottom:3px solid}.wp-block-table tfoot{border-top:3px solid}.wp-block-table td,.wp-block-table th{border:1px solid;padding:.5em}.wp-block-table .has-fixed-layout{table-layout:fixed;width:100%}.wp-block-table .has-fixed-layout td,.wp-block-table .has-fixed-layout th{word-break:break-word}.wp-block-table.aligncenter,.wp-block-table.alignleft,.wp-block-table.alignright{display:table;width:auto}.wp-block-table.aligncenter td,.wp-block-table.aligncenter th,.wp-block-table.alignleft td,.wp-block-table.alignleft th,.wp-block-table.alignright td,.wp-block-table.alignright th{word-break:break-word}.wp-block-table .has-subtle-light-gray-background-color{background-color:#f3f4f5}.wp-block-table .has-subtle-pale-green-background-color{background-color:#e9fbe5}.wp-block-table .has-subtle-pale-blue-background-color{background-color:#e7f5fe}.wp-block-table .has-subtle-pale-pink-background-color{background-color:#fcf0ef}.wp-block-table.is-style-stripes{background-color:transparent;border-bottom:1px solid #f0f0f0;border-collapse:inherit;border-spacing:0}.wp-block-table.is-style-stripes tbody tr:nth-child(odd){background-color:#f0f0f0}.wp-block-table.is-style-stripes.has-subtle-light-gray-background-color tbody tr:nth-child(odd){background-color:#f3f4f5}.wp-block-table.is-style-stripes.has-subtle-pale-green-background-color tbody tr:nth-child(odd){background-color:#e9fbe5}.wp-block-table.is-style-stripes.has-subtle-pale-blue-background-color tbody tr:nth-child(odd){background-color:#e7f5fe}.wp-block-table.is-style-stripes.has-subtle-pale-pink-background-color tbody tr:nth-child(odd){background-color:#fcf0ef}.wp-block-table.is-style-stripes td,.wp-block-table.is-style-stripes th{border-color:transparent}.wp-block-table .has-border-color td,.wp-block-table .has-border-color th,.wp-block-table .has-border-color tr,.wp-block-table .has-border-color>*{border-color:inherit}.wp-block-table table[style*=border-top-color] tr:first-child,.wp-block-table table[style*=border-top-color] tr:first-child td,.wp-block-table table[style*=border-top-color] tr:first-child th,.wp-block-table table[style*=border-top-color]>*,.wp-block-table table[style*=border-top-color]>* td,.wp-block-table table[style*=border-top-color]>* th{border-top-color:inherit}.wp-block-table table[style*=border-top-color] tr:not(:first-child){border-top-color:currentColor}.wp-block-table table[style*=border-right-color] td:last-child,.wp-block-table table[style*=border-right-color] th,.wp-block-table table[style*=border-right-color] tr,.wp-block-table table[style*=border-right-color]>*{border-right-color:inherit}.wp-block-table table[style*=border-bottom-color] tr:last-child,.wp-block-table table[style*=border-bottom-color] tr:last-child td,.wp-block-table table[style*=border-bottom-color] tr:last-child th,.wp-block-table table[style*=border-bottom-color]>*,.wp-block-table table[style*=border-bottom-color]>* td,.wp-block-table table[style*=border-bottom-color]>* th{border-bottom-color:inherit}.wp-block-table table[style*=border-bottom-color] tr:not(:last-child){border-bottom-color:currentColor}.wp-block-table table[style*=border-left-color] td:first-child,.wp-block-table table[style*=border-left-color] th,.wp-block-table table[style*=border-left-color] tr,.wp-block-table table[style*=border-left-color]>*{border-left-color:inherit}.wp-block-table table[style*=border-style] td,.wp-block-table table[style*=border-style] th,.wp-block-table table[style*=border-style] tr,.wp-block-table table[style*=border-style]>*{border-style:inherit}.wp-block-table table[style*=border-width] td,.wp-block-table table[style*=border-width] th,.wp-block-table table[style*=border-width] tr,.wp-block-table table[style*=border-width]>*{border-style:inherit;border-width:inherit}:where(.wp-block-term-description){margin-bottom:var(--wp--style--block-gap);margin-top:var(--wp--style--block-gap)}.wp-block-term-description p{margin-bottom:0;margin-top:0}.wp-block-text-columns,.wp-block-text-columns.aligncenter{display:flex}.wp-block-text-columns .wp-block-column{margin:0 1em;padding:0}.wp-block-text-columns .wp-block-column:first-child{margin-left:0}.wp-block-text-columns .wp-block-column:last-child{margin-right:0}.wp-block-text-columns.columns-2 .wp-block-column{width:50%}.wp-block-text-columns.columns-3 .wp-block-column{width:33.33333%}.wp-block-text-columns.columns-4 .wp-block-column{width:25%}pre.wp-block-verse{overflow:auto;white-space:pre-wrap}:where(pre.wp-block-verse){font-family:inherit}.wp-block-video{box-sizing:border-box}.wp-block-video video{width:100%}@supports (position:sticky){.wp-block-video [poster]{object-fit:cover}}.wp-block-video.aligncenter{text-align:center}.wp-block-video figcaption{margin-bottom:1em;margin-top:.5em}.editor-styles-wrapper,.entry-content{counter-reset:footnotes}a[data-fn].fn{counter-increment:footnotes;display:inline-flex;font-size:smaller;text-decoration:none;text-indent:-9999999px;vertical-align:super}a[data-fn].fn:after{content:"[" counter(footnotes) "]";float:left;text-indent:0}.wp-element-button{cursor:pointer}:root{--wp--preset--font-size--normal:16px;--wp--preset--font-size--huge:42px}:root .has-very-light-gray-background-color{background-color:#eee}:root .has-very-dark-gray-background-color{background-color:#313131}:root .has-very-light-gray-color{color:#eee}:root .has-very-dark-gray-color{color:#313131}:root .has-vivid-green-cyan-to-vivid-cyan-blue-gradient-background{background:linear-gradient(135deg,#00d084,#0693e3)}:root .has-purple-crush-gradient-background{background:linear-gradient(135deg,#34e2e4,#4721fb 50%,#ab1dfe)}:root .has-hazy-dawn-gradient-background{background:linear-gradient(135deg,#faaca8,#dad0ec)}:root .has-subdued-olive-gradient-background{background:linear-gradient(135deg,#fafae1,#67a671)}:root .has-atomic-cream-gradient-background{background:linear-gradient(135deg,#fdd79a,#004a59)}:root .has-nightshade-gradient-background{background:linear-gradient(135deg,#330968,#31cdcf)}:root .has-midnight-gradient-background{background:linear-gradient(135deg,#020381,#2874fc)}.has-regular-font-size{font-size:1em}.has-larger-font-size{font-size:2.625em}.has-normal-font-size{font-size:var(--wp--preset--font-size--normal)}.has-huge-font-size{font-size:var(--wp--preset--font-size--huge)}.has-text-align-center{text-align:center}.has-text-align-left{text-align:left}.has-text-align-right{text-align:right}#end-resizable-editor-section{display:none}.aligncenter{clear:both}.items-justified-left{justify-content:flex-start}.items-justified-center{justify-content:center}.items-justified-right{justify-content:flex-end}.items-justified-space-between{justify-content:space-between}.screen-reader-text{clip:rect(1px,1px,1px,1px);word-wrap:normal!important;border:0;-webkit-clip-path:inset(50%);clip-path:inset(50%);height:1px;margin:-1px;overflow:hidden;padding:0;position:absolute;width:1px}.screen-reader-text:focus{clip:auto!important;background-color:#ddd;-webkit-clip-path:none;clip-path:none;color:#444;display:block;font-size:1em;height:auto;left:5px;line-height:normal;padding:15px 23px 14px;text-decoration:none;top:5px;width:auto;z-index:100000}html :where(.has-border-color){border-style:solid}html :where([style*=border-top-color]){border-top-style:solid}html :where([style*=border-right-color]){border-right-style:solid}html :where([style*=border-bottom-color]){border-bottom-style:solid}html :where([style*=border-left-color]){border-left-style:solid}html :where([style*=border-width]){border-style:solid}html :where([style*=border-top-width]){border-top-style:solid}html :where([style*=border-right-width]){border-right-style:solid}html :where([style*=border-bottom-width]){border-bottom-style:solid}html :where([style*=border-left-width]){border-left-style:solid}html :where(img[class*=wp-image-]){height:auto;max-width:100%}:where(figure){margin:0 0 1em}html :where(.is-position-sticky){--wp-admin--admin-bar--position-offset:var(--wp-admin--admin-bar--height,0px)}@media screen and (max-width:600px){html :where(.is-position-sticky){--wp-admin--admin-bar--position-offset:0px}}.wp-block-audio figcaption{color:#555;font-size:13px;text-align:center}.is-dark-theme .wp-block-audio figcaption{color:hsla(0,0%,100%,.65)}.wp-block-audio{margin:0 0 1em}.wp-block-code{border:1px solid #ccc;border-radius:4px;font-family:Menlo,Consolas,monaco,monospace;padding:.8em 1em}.wp-block-embed figcaption{color:#555;font-size:13px;text-align:center}.is-dark-theme .wp-block-embed figcaption{color:hsla(0,0%,100%,.65)}.wp-block-embed{margin:0 0 1em}.blocks-gallery-caption{color:#555;font-size:13px;text-align:center}.is-dark-theme .blocks-gallery-caption{color:hsla(0,0%,100%,.65)}.wp-block-image figcaption{color:#555;font-size:13px;text-align:center}.is-dark-theme .wp-block-image figcaption{color:hsla(0,0%,100%,.65)}.wp-block-image{margin:0 0 1em}.wp-block-pullquote{border-bottom:4px solid;border-top:4px solid;color:currentColor;margin-bottom:1.75em}.wp-block-pullquote cite,.wp-block-pullquote footer,.wp-block-pullquote__citation{color:currentColor;font-size:.8125em;font-style:normal;text-transform:uppercase}.wp-block-quote{border-left:.25em solid;margin:0 0 1.75em;padding-left:1em}.wp-block-quote cite,.wp-block-quote footer{color:currentColor;font-size:.8125em;font-style:normal;position:relative}.wp-block-quote.has-text-align-right{border-left:none;border-right:.25em solid;padding-left:0;padding-right:1em}.wp-block-quote.has-text-align-center{border:none;padding-left:0}.wp-block-quote.is-large,.wp-block-quote.is-style-large,.wp-block-quote.is-style-plain{border:none}.wp-block-search .wp-block-search__label{font-weight:700}.wp-block-search__button{border:1px solid #ccc;padding:.375em .625em}:where(.wp-block-group.has-background){padding:1.25em 2.375em}.wp-block-separator.has-css-opacity{opacity:.4}.wp-block-separator{border:none;border-bottom:2px solid;margin-left:auto;margin-right:auto}.wp-block-separator.has-alpha-channel-opacity{opacity:1}.wp-block-separator:not(.is-style-wide):not(.is-style-dots){width:100px}.wp-block-separator.has-background:not(.is-style-dots){border-bottom:none;height:1px}.wp-block-separator.has-background:not(.is-style-wide):not(.is-style-dots){height:2px}.wp-block-table{margin:0 0 1em}.wp-block-table td,.wp-block-table th{word-break:normal}.wp-block-table figcaption{color:#555;font-size:13px;text-align:center}.is-dark-theme .wp-block-table figcaption{color:hsla(0,0%,100%,.65)}.wp-block-video figcaption{color:#555;font-size:13px;text-align:center}.is-dark-theme .wp-block-video figcaption{color:hsla(0,0%,100%,.65)}.wp-block-video{margin:0 0 1em}.wp-block-template-part.has-background{margin-bottom:0;margin-top:0;padding:1.25em 2.375em} /*! This file is auto-generated */ .wp-block-button__link{color:#fff;background-color:#32373c;border-radius:9999px;box-shadow:none;text-decoration:none;padding:calc(.667em + 2px) calc(1.333em + 2px);font-size:1.125em}.wp-block-file__button{background:#32373c;color:#fff;text-decoration:none}body{--wp--preset--color--black:#000;--wp--preset--color--cyan-bluish-gray:#abb8c3;--wp--preset--color--white:#fff;--wp--preset--color--pale-pink:#f78da7;--wp--preset--color--vivid-red:#cf2e2e;--wp--preset--color--luminous-vivid-orange:#ff6900;--wp--preset--color--luminous-vivid-amber:#fcb900;--wp--preset--color--light-green-cyan:#7bdcb5;--wp--preset--color--vivid-green-cyan:#00d084;--wp--preset--color--pale-cyan-blue:#8ed1fc;--wp--preset--color--vivid-cyan-blue:#0693e3;--wp--preset--color--vivid-purple:#9b51e0;--wp--preset--gradient--vivid-cyan-blue-to-vivid-purple:linear-gradient(135deg,rgba(6,147,227,1) 0%,#9b51e0 100%);--wp--preset--gradient--light-green-cyan-to-vivid-green-cyan:linear-gradient(135deg,#7adcb4 0%,#00d082 100%);--wp--preset--gradient--luminous-vivid-amber-to-luminous-vivid-orange:linear-gradient(135deg,rgba(252,185,0,1) 0%,rgba(255,105,0,1) 100%);--wp--preset--gradient--luminous-vivid-orange-to-vivid-red:linear-gradient(135deg,rgba(255,105,0,1) 0%,#cf2e2e 100%);--wp--preset--gradient--very-light-gray-to-cyan-bluish-gray:linear-gradient(135deg,#eee 0%,#a9b8c3 100%);--wp--preset--gradient--cool-to-warm-spectrum:linear-gradient(135deg,#4aeadc 0%,#9778d1 20%,#cf2aba 40%,#ee2c82 60%,#fb6962 80%,#fef84c 100%);--wp--preset--gradient--blush-light-purple:linear-gradient(135deg,#ffceec 0%,#9896f0 100%);--wp--preset--gradient--blush-bordeaux:linear-gradient(135deg,#fecda5 0%,#fe2d2d 50%,#6b003e 100%);--wp--preset--gradient--luminous-dusk:linear-gradient(135deg,#ffcb70 0%,#c751c0 50%,#4158d0 100%);--wp--preset--gradient--pale-ocean:linear-gradient(135deg,#fff5cb 0%,#b6e3d4 50%,#33a7b5 100%);--wp--preset--gradient--electric-grass:linear-gradient(135deg,#caf880 0%,#71ce7e 100%);--wp--preset--gradient--midnight:linear-gradient(135deg,#020381 0%,#2874fc 100%);--wp--preset--font-size--small:13px;--wp--preset--font-size--medium:20px;--wp--preset--font-size--large:36px;--wp--preset--font-size--x-large:42px;--wp--preset--spacing--20:.44rem;--wp--preset--spacing--30:.67rem;--wp--preset--spacing--40:1rem;--wp--preset--spacing--50:1.5rem;--wp--preset--spacing--60:2.25rem;--wp--preset--spacing--70:3.38rem;--wp--preset--spacing--80:5.06rem;--wp--preset--shadow--natural:6px 6px 9px rgba(0,0,0,.2);--wp--preset--shadow--deep:12px 12px 50px rgba(0,0,0,.4);--wp--preset--shadow--sharp:6px 6px 0px rgba(0,0,0,.2);--wp--preset--shadow--outlined:6px 6px 0px -3px rgba(255,255,255,1),6px 6px rgba(0,0,0,1);--wp--preset--shadow--crisp:6px 6px 0px rgba(0,0,0,1)}:where(.is-layout-flex){gap:.5em}:where(.is-layout-grid){gap:.5em}body .is-layout-flow>.alignleft{float:left;margin-inline-start:0;margin-inline-end:2em}body .is-layout-flow>.alignright{float:right;margin-inline-start:2em;margin-inline-end:0}body .is-layout-flow>.aligncenter{margin-left:auto !important;margin-right:auto !important}body .is-layout-constrained>.alignleft{float:left;margin-inline-start:0;margin-inline-end:2em}body .is-layout-constrained>.alignright{float:right;margin-inline-start:2em;margin-inline-end:0}body .is-layout-constrained>.aligncenter{margin-left:auto !important;margin-right:auto !important}body .is-layout-constrained>:where(:not(.alignleft):not(.alignright):not(.alignfull)){max-width:var(--wp--style--global--content-size);margin-left:auto !important;margin-right:auto !important}body .is-layout-constrained>.alignwide{max-width:var(--wp--style--global--wide-size)}body .is-layout-flex{display:flex}body .is-layout-flex{flex-wrap:wrap;align-items:center}body .is-layout-flex>*{margin:0}body .is-layout-grid{display:grid}body .is-layout-grid>*{margin:0}:where(.wp-block-columns.is-layout-flex){gap:2em}:where(.wp-block-columns.is-layout-grid){gap:2em}:where(.wp-block-post-template.is-layout-flex){gap:1.25em}:where(.wp-block-post-template.is-layout-grid){gap:1.25em}.has-black-color{color:var(--wp--preset--color--black) !important}.has-cyan-bluish-gray-color{color:var(--wp--preset--color--cyan-bluish-gray) !important}.has-white-color{color:var(--wp--preset--color--white) !important}.has-pale-pink-color{color:var(--wp--preset--color--pale-pink) !important}.has-vivid-red-color{color:var(--wp--preset--color--vivid-red) !important}.has-luminous-vivid-orange-color{color:var(--wp--preset--color--luminous-vivid-orange) !important}.has-luminous-vivid-amber-color{color:var(--wp--preset--color--luminous-vivid-amber) !important}.has-light-green-cyan-color{color:var(--wp--preset--color--light-green-cyan) !important}.has-vivid-green-cyan-color{color:var(--wp--preset--color--vivid-green-cyan) !important}.has-pale-cyan-blue-color{color:var(--wp--preset--color--pale-cyan-blue) !important}.has-vivid-cyan-blue-color{color:var(--wp--preset--color--vivid-cyan-blue) !important}.has-vivid-purple-color{color:var(--wp--preset--color--vivid-purple) !important}.has-black-background-color{background-color:var(--wp--preset--color--black) !important}.has-cyan-bluish-gray-background-color{background-color:var(--wp--preset--color--cyan-bluish-gray) !important}.has-white-background-color{background-color:var(--wp--preset--color--white) !important}.has-pale-pink-background-color{background-color:var(--wp--preset--color--pale-pink) !important}.has-vivid-red-background-color{background-color:var(--wp--preset--color--vivid-red) !important}.has-luminous-vivid-orange-background-color{background-color:var(--wp--preset--color--luminous-vivid-orange) !important}.has-luminous-vivid-amber-background-color{background-color:var(--wp--preset--color--luminous-vivid-amber) !important}.has-light-green-cyan-background-color{background-color:var(--wp--preset--color--light-green-cyan) !important}.has-vivid-green-cyan-background-color{background-color:var(--wp--preset--color--vivid-green-cyan) !important}.has-pale-cyan-blue-background-color{background-color:var(--wp--preset--color--pale-cyan-blue) !important}.has-vivid-cyan-blue-background-color{background-color:var(--wp--preset--color--vivid-cyan-blue) !important}.has-vivid-purple-background-color{background-color:var(--wp--preset--color--vivid-purple) !important}.has-black-border-color{border-color:var(--wp--preset--color--black) !important}.has-cyan-bluish-gray-border-color{border-color:var(--wp--preset--color--cyan-bluish-gray) !important}.has-white-border-color{border-color:var(--wp--preset--color--white) !important}.has-pale-pink-border-color{border-color:var(--wp--preset--color--pale-pink) !important}.has-vivid-red-border-color{border-color:var(--wp--preset--color--vivid-red) !important}.has-luminous-vivid-orange-border-color{border-color:var(--wp--preset--color--luminous-vivid-orange) !important}.has-luminous-vivid-amber-border-color{border-color:var(--wp--preset--color--luminous-vivid-amber) !important}.has-light-green-cyan-border-color{border-color:var(--wp--preset--color--light-green-cyan) !important}.has-vivid-green-cyan-border-color{border-color:var(--wp--preset--color--vivid-green-cyan) !important}.has-pale-cyan-blue-border-color{border-color:var(--wp--preset--color--pale-cyan-blue) !important}.has-vivid-cyan-blue-border-color{border-color:var(--wp--preset--color--vivid-cyan-blue) !important}.has-vivid-purple-border-color{border-color:var(--wp--preset--color--vivid-purple) !important}.has-vivid-cyan-blue-to-vivid-purple-gradient-background{background:var(--wp--preset--gradient--vivid-cyan-blue-to-vivid-purple) !important}.has-light-green-cyan-to-vivid-green-cyan-gradient-background{background:var(--wp--preset--gradient--light-green-cyan-to-vivid-green-cyan) !important}.has-luminous-vivid-amber-to-luminous-vivid-orange-gradient-background{background:var(--wp--preset--gradient--luminous-vivid-amber-to-luminous-vivid-orange) !important}.has-luminous-vivid-orange-to-vivid-red-gradient-background{background:var(--wp--preset--gradient--luminous-vivid-orange-to-vivid-red) !important}.has-very-light-gray-to-cyan-bluish-gray-gradient-background{background:var(--wp--preset--gradient--very-light-gray-to-cyan-bluish-gray) !important}.has-cool-to-warm-spectrum-gradient-background{background:var(--wp--preset--gradient--cool-to-warm-spectrum) !important}.has-blush-light-purple-gradient-background{background:var(--wp--preset--gradient--blush-light-purple) !important}.has-blush-bordeaux-gradient-background{background:var(--wp--preset--gradient--blush-bordeaux) !important}.has-luminous-dusk-gradient-background{background:var(--wp--preset--gradient--luminous-dusk) !important}.has-pale-ocean-gradient-background{background:var(--wp--preset--gradient--pale-ocean) !important}.has-electric-grass-gradient-background{background:var(--wp--preset--gradient--electric-grass) !important}.has-midnight-gradient-background{background:var(--wp--preset--gradient--midnight) !important}.has-small-font-size{font-size:var(--wp--preset--font-size--small) !important}.has-medium-font-size{font-size:var(--wp--preset--font-size--medium) !important}.has-large-font-size{font-size:var(--wp--preset--font-size--large) !important}.has-x-large-font-size{font-size:var(--wp--preset--font-size--x-large) !important}.wp-block-navigation a:where(:not(.wp-element-button)){color:inherit}:where(.wp-block-post-template.is-layout-flex){gap:1.25em}:where(.wp-block-post-template.is-layout-grid){gap:1.25em}:where(.wp-block-columns.is-layout-flex){gap:2em}:where(.wp-block-columns.is-layout-grid){gap:2em}.wp-block-pullquote{font-size:1.5em;line-height:1.6} /*! * Font Awesome Free 5.0.10 by @fontawesome - https://fontawesome.com * License - https://fontawesome.com/license (Icons: CC BY 4.0, Fonts: SIL OFL 1.1, Code: MIT License) */ .fa,.fas,.far,.fal,.fab{-moz-osx-font-smoothing:grayscale;-webkit-font-smoothing:antialiased;display:inline-block;font-style:normal;font-variant:normal;text-rendering:auto;line-height:1}.fa-lg{font-size:1.33333em;line-height:.75em;vertical-align:-.0667em}.fa-xs{font-size:.75em}.fa-sm{font-size:.875em}.fa-1x{font-size:1em}.fa-2x{font-size:2em}.fa-3x{font-size:3em}.fa-4x{font-size:4em}.fa-5x{font-size:5em}.fa-6x{font-size:6em}.fa-7x{font-size:7em}.fa-8x{font-size:8em}.fa-9x{font-size:9em}.fa-10x{font-size:10em}.fa-fw{text-align:center;width:1.25em}.fa-ul{list-style-type:none;margin-left:2.5em;padding-left:0}.fa-ul>li{position:relative}.fa-li{left:-2em;position:absolute;text-align:center;width:2em;line-height:inherit}.fa-border{border:solid .08em #eee;border-radius:.1em;padding:.2em .25em .15em}.fa-pull-left{float:left}.fa-pull-right{float:right}.fa.fa-pull-left,.fas.fa-pull-left,.far.fa-pull-left,.fal.fa-pull-left,.fab.fa-pull-left{margin-right:.3em}.fa.fa-pull-right,.fas.fa-pull-right,.far.fa-pull-right,.fal.fa-pull-right,.fab.fa-pull-right{margin-left:.3em}.fa-spin{-webkit-animation:fa-spin 2s infinite linear;animation:fa-spin 2s infinite linear}.fa-pulse{-webkit-animation:fa-spin 1s infinite steps(8);animation:fa-spin 1s infinite steps(8)}@-webkit-keyframes fa-spin{0%{-webkit-transform:rotate(0deg);transform:rotate(0deg)}100%{-webkit-transform:rotate(360deg);transform:rotate(360deg)}}@keyframes fa-spin{0%{-webkit-transform:rotate(0deg);transform:rotate(0deg)}100%{-webkit-transform:rotate(360deg);transform:rotate(360deg)}}.fa-rotate-90{-ms-filter:"progid:DXImageTransform.Microsoft.BasicImage(rotation=1)";-webkit-transform:rotate(90deg);transform:rotate(90deg)}.fa-rotate-180{-ms-filter:"progid:DXImageTransform.Microsoft.BasicImage(rotation=2)";-webkit-transform:rotate(180deg);transform:rotate(180deg)}.fa-rotate-270{-ms-filter:"progid:DXImageTransform.Microsoft.BasicImage(rotation=3)";-webkit-transform:rotate(270deg);transform:rotate(270deg)}.fa-flip-horizontal{-ms-filter:"progid:DXImageTransform.Microsoft.BasicImage(rotation=0, mirror=1)";-webkit-transform:scale(-1,1);transform:scale(-1,1)}.fa-flip-vertical{-ms-filter:"progid:DXImageTransform.Microsoft.BasicImage(rotation=2, mirror=1)";-webkit-transform:scale(1,-1);transform:scale(1,-1)}.fa-flip-horizontal.fa-flip-vertical{-ms-filter:"progid:DXImageTransform.Microsoft.BasicImage(rotation=2, mirror=1)";-webkit-transform:scale(-1,-1);transform:scale(-1,-1)}:root .fa-rotate-90,:root .fa-rotate-180,:root .fa-rotate-270,:root .fa-flip-horizontal,:root .fa-flip-vertical{-webkit-filter:none;filter:none}.fa-stack{display:inline-block;height:2em;line-height:2em;position:relative;vertical-align:middle;width:2em}.fa-stack-1x,.fa-stack-2x{left:0;position:absolute;text-align:center;width:100%}.fa-stack-1x{line-height:inherit}.fa-stack-2x{font-size:2em}.fa-inverse{color:#fff}.fa-500px:before{content:"\f26e"}.fa-accessible-icon:before{content:"\f368"}.fa-accusoft:before{content:"\f369"}.fa-address-book:before{content:"\f2b9"}.fa-address-card:before{content:"\f2bb"}.fa-adjust:before{content:"\f042"}.fa-adn:before{content:"\f170"}.fa-adversal:before{content:"\f36a"}.fa-affiliatetheme:before{content:"\f36b"}.fa-algolia:before{content:"\f36c"}.fa-align-center:before{content:"\f037"}.fa-align-justify:before{content:"\f039"}.fa-align-left:before{content:"\f036"}.fa-align-right:before{content:"\f038"}.fa-allergies:before{content:"\f461"}.fa-amazon:before{content:"\f270"}.fa-amazon-pay:before{content:"\f42c"}.fa-ambulance:before{content:"\f0f9"}.fa-american-sign-language-interpreting:before{content:"\f2a3"}.fa-amilia:before{content:"\f36d"}.fa-anchor:before{content:"\f13d"}.fa-android:before{content:"\f17b"}.fa-angellist:before{content:"\f209"}.fa-angle-double-down:before{content:"\f103"}.fa-angle-double-left:before{content:"\f100"}.fa-angle-double-right:before{content:"\f101"}.fa-angle-double-up:before{content:"\f102"}.fa-angle-down:before{content:"\f107"}.fa-angle-left:before{content:"\f104"}.fa-angle-right:before{content:"\f105"}.fa-angle-up:before{content:"\f106"}.fa-angrycreative:before{content:"\f36e"}.fa-angular:before{content:"\f420"}.fa-app-store:before{content:"\f36f"}.fa-app-store-ios:before{content:"\f370"}.fa-apper:before{content:"\f371"}.fa-apple:before{content:"\f179"}.fa-apple-pay:before{content:"\f415"}.fa-archive:before{content:"\f187"}.fa-arrow-alt-circle-down:before{content:"\f358"}.fa-arrow-alt-circle-left:before{content:"\f359"}.fa-arrow-alt-circle-right:before{content:"\f35a"}.fa-arrow-alt-circle-up:before{content:"\f35b"}.fa-arrow-circle-down:before{content:"\f0ab"}.fa-arrow-circle-left:before{content:"\f0a8"}.fa-arrow-circle-right:before{content:"\f0a9"}.fa-arrow-circle-up:before{content:"\f0aa"}.fa-arrow-down:before{content:"\f063"}.fa-arrow-left:before{content:"\f060"}.fa-arrow-right:before{content:"\f061"}.fa-arrow-up:before{content:"\f062"}.fa-arrows-alt:before{content:"\f0b2"}.fa-arrows-alt-h:before{content:"\f337"}.fa-arrows-alt-v:before{content:"\f338"}.fa-assistive-listening-systems:before{content:"\f2a2"}.fa-asterisk:before{content:"\f069"}.fa-asymmetrik:before{content:"\f372"}.fa-at:before{content:"\f1fa"}.fa-audible:before{content:"\f373"}.fa-audio-description:before{content:"\f29e"}.fa-autoprefixer:before{content:"\f41c"}.fa-avianex:before{content:"\f374"}.fa-aviato:before{content:"\f421"}.fa-aws:before{content:"\f375"}.fa-backward:before{content:"\f04a"}.fa-balance-scale:before{content:"\f24e"}.fa-ban:before{content:"\f05e"}.fa-band-aid:before{content:"\f462"}.fa-bandcamp:before{content:"\f2d5"}.fa-barcode:before{content:"\f02a"}.fa-bars:before{content:"\f0c9"}.fa-baseball-ball:before{content:"\f433"}.fa-basketball-ball:before{content:"\f434"}.fa-bath:before{content:"\f2cd"}.fa-battery-empty:before{content:"\f244"}.fa-battery-full:before{content:"\f240"}.fa-battery-half:before{content:"\f242"}.fa-battery-quarter:before{content:"\f243"}.fa-battery-three-quarters:before{content:"\f241"}.fa-bed:before{content:"\f236"}.fa-beer:before{content:"\f0fc"}.fa-behance:before{content:"\f1b4"}.fa-behance-square:before{content:"\f1b5"}.fa-bell:before{content:"\f0f3"}.fa-bell-slash:before{content:"\f1f6"}.fa-bicycle:before{content:"\f206"}.fa-bimobject:before{content:"\f378"}.fa-binoculars:before{content:"\f1e5"}.fa-birthday-cake:before{content:"\f1fd"}.fa-bitbucket:before{content:"\f171"}.fa-bitcoin:before{content:"\f379"}.fa-bity:before{content:"\f37a"}.fa-black-tie:before{content:"\f27e"}.fa-blackberry:before{content:"\f37b"}.fa-blind:before{content:"\f29d"}.fa-blogger:before{content:"\f37c"}.fa-blogger-b:before{content:"\f37d"}.fa-bluetooth:before{content:"\f293"}.fa-bluetooth-b:before{content:"\f294"}.fa-bold:before{content:"\f032"}.fa-bolt:before{content:"\f0e7"}.fa-bomb:before{content:"\f1e2"}.fa-book:before{content:"\f02d"}.fa-bookmark:before{content:"\f02e"}.fa-bowling-ball:before{content:"\f436"}.fa-box:before{content:"\f466"}.fa-box-open:before{content:"\f49e"}.fa-boxes:before{content:"\f468"}.fa-braille:before{content:"\f2a1"}.fa-briefcase:before{content:"\f0b1"}.fa-briefcase-medical:before{content:"\f469"}.fa-btc:before{content:"\f15a"}.fa-bug:before{content:"\f188"}.fa-building:before{content:"\f1ad"}.fa-bullhorn:before{content:"\f0a1"}.fa-bullseye:before{content:"\f140"}.fa-burn:before{content:"\f46a"}.fa-buromobelexperte:before{content:"\f37f"}.fa-bus:before{content:"\f207"}.fa-buysellads:before{content:"\f20d"}.fa-calculator:before{content:"\f1ec"}.fa-calendar:before{content:"\f133"}.fa-calendar-alt:before{content:"\f073"}.fa-calendar-check:before{content:"\f274"}.fa-calendar-minus:before{content:"\f272"}.fa-calendar-plus:before{content:"\f271"}.fa-calendar-times:before{content:"\f273"}.fa-camera:before{content:"\f030"}.fa-camera-retro:before{content:"\f083"}.fa-capsules:before{content:"\f46b"}.fa-car:before{content:"\f1b9"}.fa-caret-down:before{content:"\f0d7"}.fa-caret-left:before{content:"\f0d9"}.fa-caret-right:before{content:"\f0da"}.fa-caret-square-down:before{content:"\f150"}.fa-caret-square-left:before{content:"\f191"}.fa-caret-square-right:before{content:"\f152"}.fa-caret-square-up:before{content:"\f151"}.fa-caret-up:before{content:"\f0d8"}.fa-cart-arrow-down:before{content:"\f218"}.fa-cart-plus:before{content:"\f217"}.fa-cc-amazon-pay:before{content:"\f42d"}.fa-cc-amex:before{content:"\f1f3"}.fa-cc-apple-pay:before{content:"\f416"}.fa-cc-diners-club:before{content:"\f24c"}.fa-cc-discover:before{content:"\f1f2"}.fa-cc-jcb:before{content:"\f24b"}.fa-cc-mastercard:before{content:"\f1f1"}.fa-cc-paypal:before{content:"\f1f4"}.fa-cc-stripe:before{content:"\f1f5"}.fa-cc-visa:before{content:"\f1f0"}.fa-centercode:before{content:"\f380"}.fa-certificate:before{content:"\f0a3"}.fa-chart-area:before{content:"\f1fe"}.fa-chart-bar:before{content:"\f080"}.fa-chart-line:before{content:"\f201"}.fa-chart-pie:before{content:"\f200"}.fa-check:before{content:"\f00c"}.fa-check-circle:before{content:"\f058"}.fa-check-square:before{content:"\f14a"}.fa-chess:before{content:"\f439"}.fa-chess-bishop:before{content:"\f43a"}.fa-chess-board:before{content:"\f43c"}.fa-chess-king:before{content:"\f43f"}.fa-chess-knight:before{content:"\f441"}.fa-chess-pawn:before{content:"\f443"}.fa-chess-queen:before{content:"\f445"}.fa-chess-rook:before{content:"\f447"}.fa-chevron-circle-down:before{content:"\f13a"}.fa-chevron-circle-left:before{content:"\f137"}.fa-chevron-circle-right:before{content:"\f138"}.fa-chevron-circle-up:before{content:"\f139"}.fa-chevron-down:before{content:"\f078"}.fa-chevron-left:before{content:"\f053"}.fa-chevron-right:before{content:"\f054"}.fa-chevron-up:before{content:"\f077"}.fa-child:before{content:"\f1ae"}.fa-chrome:before{content:"\f268"}.fa-circle:before{content:"\f111"}.fa-circle-notch:before{content:"\f1ce"}.fa-clipboard:before{content:"\f328"}.fa-clipboard-check:before{content:"\f46c"}.fa-clipboard-list:before{content:"\f46d"}.fa-clock:before{content:"\f017"}.fa-clone:before{content:"\f24d"}.fa-closed-captioning:before{content:"\f20a"}.fa-cloud:before{content:"\f0c2"}.fa-cloud-download-alt:before{content:"\f381"}.fa-cloud-upload-alt:before{content:"\f382"}.fa-cloudscale:before{content:"\f383"}.fa-cloudsmith:before{content:"\f384"}.fa-cloudversify:before{content:"\f385"}.fa-code:before{content:"\f121"}.fa-code-branch:before{content:"\f126"}.fa-codepen:before{content:"\f1cb"}.fa-codiepie:before{content:"\f284"}.fa-coffee:before{content:"\f0f4"}.fa-cog:before{content:"\f013"}.fa-cogs:before{content:"\f085"}.fa-columns:before{content:"\f0db"}.fa-comment:before{content:"\f075"}.fa-comment-alt:before{content:"\f27a"}.fa-comment-dots:before{content:"\f4ad"}.fa-comment-slash:before{content:"\f4b3"}.fa-comments:before{content:"\f086"}.fa-compass:before{content:"\f14e"}.fa-compress:before{content:"\f066"}.fa-connectdevelop:before{content:"\f20e"}.fa-contao:before{content:"\f26d"}.fa-copy:before{content:"\f0c5"}.fa-copyright:before{content:"\f1f9"}.fa-couch:before{content:"\f4b8"}.fa-cpanel:before{content:"\f388"}.fa-creative-commons:before{content:"\f25e"}.fa-credit-card:before{content:"\f09d"}.fa-crop:before{content:"\f125"}.fa-crosshairs:before{content:"\f05b"}.fa-css3:before{content:"\f13c"}.fa-css3-alt:before{content:"\f38b"}.fa-cube:before{content:"\f1b2"}.fa-cubes:before{content:"\f1b3"}.fa-cut:before{content:"\f0c4"}.fa-cuttlefish:before{content:"\f38c"}.fa-d-and-d:before{content:"\f38d"}.fa-dashcube:before{content:"\f210"}.fa-database:before{content:"\f1c0"}.fa-deaf:before{content:"\f2a4"}.fa-delicious:before{content:"\f1a5"}.fa-deploydog:before{content:"\f38e"}.fa-deskpro:before{content:"\f38f"}.fa-desktop:before{content:"\f108"}.fa-deviantart:before{content:"\f1bd"}.fa-diagnoses:before{content:"\f470"}.fa-digg:before{content:"\f1a6"}.fa-digital-ocean:before{content:"\f391"}.fa-discord:before{content:"\f392"}.fa-discourse:before{content:"\f393"}.fa-dna:before{content:"\f471"}.fa-dochub:before{content:"\f394"}.fa-docker:before{content:"\f395"}.fa-dollar-sign:before{content:"\f155"}.fa-dolly:before{content:"\f472"}.fa-dolly-flatbed:before{content:"\f474"}.fa-donate:before{content:"\f4b9"}.fa-dot-circle:before{content:"\f192"}.fa-dove:before{content:"\f4ba"}.fa-download:before{content:"\f019"}.fa-draft2digital:before{content:"\f396"}.fa-dribbble:before{content:"\f17d"}.fa-dribbble-square:before{content:"\f397"}.fa-dropbox:before{content:"\f16b"}.fa-drupal:before{content:"\f1a9"}.fa-dyalog:before{content:"\f399"}.fa-earlybirds:before{content:"\f39a"}.fa-edge:before{content:"\f282"}.fa-edit:before{content:"\f044"}.fa-eject:before{content:"\f052"}.fa-elementor:before{content:"\f430"}.fa-ellipsis-h:before{content:"\f141"}.fa-ellipsis-v:before{content:"\f142"}.fa-ember:before{content:"\f423"}.fa-empire:before{content:"\f1d1"}.fa-envelope:before{content:"\f0e0"}.fa-envelope-open:before{content:"\f2b6"}.fa-envelope-square:before{content:"\f199"}.fa-envira:before{content:"\f299"}.fa-eraser:before{content:"\f12d"}.fa-erlang:before{content:"\f39d"}.fa-ethereum:before{content:"\f42e"}.fa-etsy:before{content:"\f2d7"}.fa-euro-sign:before{content:"\f153"}.fa-exchange-alt:before{content:"\f362"}.fa-exclamation:before{content:"\f12a"}.fa-exclamation-circle:before{content:"\f06a"}.fa-exclamation-triangle:before{content:"\f071"}.fa-expand:before{content:"\f065"}.fa-expand-arrows-alt:before{content:"\f31e"}.fa-expeditedssl:before{content:"\f23e"}.fa-external-link-alt:before{content:"\f35d"}.fa-external-link-square-alt:before{content:"\f360"}.fa-eye:before{content:"\f06e"}.fa-eye-dropper:before{content:"\f1fb"}.fa-eye-slash:before{content:"\f070"}.fa-facebook:before{content:"\f09a"}.fa-facebook-f:before{content:"\f39e"}.fa-facebook-messenger:before{content:"\f39f"}.fa-facebook-square:before{content:"\f082"}.fa-fast-backward:before{content:"\f049"}.fa-fast-forward:before{content:"\f050"}.fa-fax:before{content:"\f1ac"}.fa-female:before{content:"\f182"}.fa-fighter-jet:before{content:"\f0fb"}.fa-file:before{content:"\f15b"}.fa-file-alt:before{content:"\f15c"}.fa-file-archive:before{content:"\f1c6"}.fa-file-audio:before{content:"\f1c7"}.fa-file-code:before{content:"\f1c9"}.fa-file-excel:before{content:"\f1c3"}.fa-file-image:before{content:"\f1c5"}.fa-file-medical:before{content:"\f477"}.fa-file-medical-alt:before{content:"\f478"}.fa-file-pdf:before{content:"\f1c1"}.fa-file-powerpoint:before{content:"\f1c4"}.fa-file-video:before{content:"\f1c8"}.fa-file-word:before{content:"\f1c2"}.fa-film:before{content:"\f008"}.fa-filter:before{content:"\f0b0"}.fa-fire:before{content:"\f06d"}.fa-fire-extinguisher:before{content:"\f134"}.fa-firefox:before{content:"\f269"}.fa-first-aid:before{content:"\f479"}.fa-first-order:before{content:"\f2b0"}.fa-firstdraft:before{content:"\f3a1"}.fa-flag:before{content:"\f024"}.fa-flag-checkered:before{content:"\f11e"}.fa-flask:before{content:"\f0c3"}.fa-flickr:before{content:"\f16e"}.fa-flipboard:before{content:"\f44d"}.fa-fly:before{content:"\f417"}.fa-folder:before{content:"\f07b"}.fa-folder-open:before{content:"\f07c"}.fa-font:before{content:"\f031"}.fa-font-awesome:before{content:"\f2b4"}.fa-font-awesome-alt:before{content:"\f35c"}.fa-font-awesome-flag:before{content:"\f425"}.fa-fonticons:before{content:"\f280"}.fa-fonticons-fi:before{content:"\f3a2"}.fa-football-ball:before{content:"\f44e"}.fa-fort-awesome:before{content:"\f286"}.fa-fort-awesome-alt:before{content:"\f3a3"}.fa-forumbee:before{content:"\f211"}.fa-forward:before{content:"\f04e"}.fa-foursquare:before{content:"\f180"}.fa-free-code-camp:before{content:"\f2c5"}.fa-freebsd:before{content:"\f3a4"}.fa-frown:before{content:"\f119"}.fa-futbol:before{content:"\f1e3"}.fa-gamepad:before{content:"\f11b"}.fa-gavel:before{content:"\f0e3"}.fa-gem:before{content:"\f3a5"}.fa-genderless:before{content:"\f22d"}.fa-get-pocket:before{content:"\f265"}.fa-gg:before{content:"\f260"}.fa-gg-circle:before{content:"\f261"}.fa-gift:before{content:"\f06b"}.fa-git:before{content:"\f1d3"}.fa-git-square:before{content:"\f1d2"}.fa-github:before{content:"\f09b"}.fa-github-alt:before{content:"\f113"}.fa-github-square:before{content:"\f092"}.fa-gitkraken:before{content:"\f3a6"}.fa-gitlab:before{content:"\f296"}.fa-gitter:before{content:"\f426"}.fa-glass-martini:before{content:"\f000"}.fa-glide:before{content:"\f2a5"}.fa-glide-g:before{content:"\f2a6"}.fa-globe:before{content:"\f0ac"}.fa-gofore:before{content:"\f3a7"}.fa-golf-ball:before{content:"\f450"}.fa-goodreads:before{content:"\f3a8"}.fa-goodreads-g:before{content:"\f3a9"}.fa-google:before{content:"\f1a0"}.fa-google-drive:before{content:"\f3aa"}.fa-google-play:before{content:"\f3ab"}.fa-google-plus:before{content:"\f2b3"}.fa-google-plus-g:before{content:"\f0d5"}.fa-google-plus-square:before{content:"\f0d4"}.fa-google-wallet:before{content:"\f1ee"}.fa-graduation-cap:before{content:"\f19d"}.fa-gratipay:before{content:"\f184"}.fa-grav:before{content:"\f2d6"}.fa-gripfire:before{content:"\f3ac"}.fa-grunt:before{content:"\f3ad"}.fa-gulp:before{content:"\f3ae"}.fa-h-square:before{content:"\f0fd"}.fa-hacker-news:before{content:"\f1d4"}.fa-hacker-news-square:before{content:"\f3af"}.fa-hand-holding:before{content:"\f4bd"}.fa-hand-holding-heart:before{content:"\f4be"}.fa-hand-holding-usd:before{content:"\f4c0"}.fa-hand-lizard:before{content:"\f258"}.fa-hand-paper:before{content:"\f256"}.fa-hand-peace:before{content:"\f25b"}.fa-hand-point-down:before{content:"\f0a7"}.fa-hand-point-left:before{content:"\f0a5"}.fa-hand-point-right:before{content:"\f0a4"}.fa-hand-point-up:before{content:"\f0a6"}.fa-hand-pointer:before{content:"\f25a"}.fa-hand-rock:before{content:"\f255"}.fa-hand-scissors:before{content:"\f257"}.fa-hand-spock:before{content:"\f259"}.fa-hands:before{content:"\f4c2"}.fa-hands-helping:before{content:"\f4c4"}.fa-handshake:before{content:"\f2b5"}.fa-hashtag:before{content:"\f292"}.fa-hdd:before{content:"\f0a0"}.fa-heading:before{content:"\f1dc"}.fa-headphones:before{content:"\f025"}.fa-heart:before{content:"\f004"}.fa-heartbeat:before{content:"\f21e"}.fa-hips:before{content:"\f452"}.fa-hire-a-helper:before{content:"\f3b0"}.fa-history:before{content:"\f1da"}.fa-hockey-puck:before{content:"\f453"}.fa-home:before{content:"\f015"}.fa-hooli:before{content:"\f427"}.fa-hospital:before{content:"\f0f8"}.fa-hospital-alt:before{content:"\f47d"}.fa-hospital-symbol:before{content:"\f47e"}.fa-hotjar:before{content:"\f3b1"}.fa-hourglass:before{content:"\f254"}.fa-hourglass-end:before{content:"\f253"}.fa-hourglass-half:before{content:"\f252"}.fa-hourglass-start:before{content:"\f251"}.fa-houzz:before{content:"\f27c"}.fa-html5:before{content:"\f13b"}.fa-hubspot:before{content:"\f3b2"}.fa-i-cursor:before{content:"\f246"}.fa-id-badge:before{content:"\f2c1"}.fa-id-card:before{content:"\f2c2"}.fa-id-card-alt:before{content:"\f47f"}.fa-image:before{content:"\f03e"}.fa-images:before{content:"\f302"}.fa-imdb:before{content:"\f2d8"}.fa-inbox:before{content:"\f01c"}.fa-indent:before{content:"\f03c"}.fa-industry:before{content:"\f275"}.fa-info:before{content:"\f129"}.fa-info-circle:before{content:"\f05a"}.fa-instagram:before{content:"\f16d"}.fa-internet-explorer:before{content:"\f26b"}.fa-ioxhost:before{content:"\f208"}.fa-italic:before{content:"\f033"}.fa-itunes:before{content:"\f3b4"}.fa-itunes-note:before{content:"\f3b5"}.fa-java:before{content:"\f4e4"}.fa-jenkins:before{content:"\f3b6"}.fa-joget:before{content:"\f3b7"}.fa-joomla:before{content:"\f1aa"}.fa-js:before{content:"\f3b8"}.fa-js-square:before{content:"\f3b9"}.fa-jsfiddle:before{content:"\f1cc"}.fa-key:before{content:"\f084"}.fa-keyboard:before{content:"\f11c"}.fa-keycdn:before{content:"\f3ba"}.fa-kickstarter:before{content:"\f3bb"}.fa-kickstarter-k:before{content:"\f3bc"}.fa-korvue:before{content:"\f42f"}.fa-language:before{content:"\f1ab"}.fa-laptop:before{content:"\f109"}.fa-laravel:before{content:"\f3bd"}.fa-lastfm:before{content:"\f202"}.fa-lastfm-square:before{content:"\f203"}.fa-leaf:before{content:"\f06c"}.fa-leanpub:before{content:"\f212"}.fa-lemon:before{content:"\f094"}.fa-less:before{content:"\f41d"}.fa-level-down-alt:before{content:"\f3be"}.fa-level-up-alt:before{content:"\f3bf"}.fa-life-ring:before{content:"\f1cd"}.fa-lightbulb:before{content:"\f0eb"}.fa-line:before{content:"\f3c0"}.fa-link:before{content:"\f0c1"}.fa-linkedin:before{content:"\f08c"}.fa-linkedin-in:before{content:"\f0e1"}.fa-linode:before{content:"\f2b8"}.fa-linux:before{content:"\f17c"}.fa-lira-sign:before{content:"\f195"}.fa-list:before{content:"\f03a"}.fa-list-alt:before{content:"\f022"}.fa-list-ol:before{content:"\f0cb"}.fa-list-ul:before{content:"\f0ca"}.fa-location-arrow:before{content:"\f124"}.fa-lock:before{content:"\f023"}.fa-lock-open:before{content:"\f3c1"}.fa-long-arrow-alt-down:before{content:"\f309"}.fa-long-arrow-alt-left:before{content:"\f30a"}.fa-long-arrow-alt-right:before{content:"\f30b"}.fa-long-arrow-alt-up:before{content:"\f30c"}.fa-low-vision:before{content:"\f2a8"}.fa-lyft:before{content:"\f3c3"}.fa-magento:before{content:"\f3c4"}.fa-magic:before{content:"\f0d0"}.fa-magnet:before{content:"\f076"}.fa-male:before{content:"\f183"}.fa-map:before{content:"\f279"}.fa-map-marker:before{content:"\f041"}.fa-map-marker-alt:before{content:"\f3c5"}.fa-map-pin:before{content:"\f276"}.fa-map-signs:before{content:"\f277"}.fa-mars:before{content:"\f222"}.fa-mars-double:before{content:"\f227"}.fa-mars-stroke:before{content:"\f229"}.fa-mars-stroke-h:before{content:"\f22b"}.fa-mars-stroke-v:before{content:"\f22a"}.fa-maxcdn:before{content:"\f136"}.fa-medapps:before{content:"\f3c6"}.fa-medium:before{content:"\f23a"}.fa-medium-m:before{content:"\f3c7"}.fa-medkit:before{content:"\f0fa"}.fa-medrt:before{content:"\f3c8"}.fa-meetup:before{content:"\f2e0"}.fa-meh:before{content:"\f11a"}.fa-mercury:before{content:"\f223"}.fa-microchip:before{content:"\f2db"}.fa-microphone:before{content:"\f130"}.fa-microphone-slash:before{content:"\f131"}.fa-microsoft:before{content:"\f3ca"}.fa-minus:before{content:"\f068"}.fa-minus-circle:before{content:"\f056"}.fa-minus-square:before{content:"\f146"}.fa-mix:before{content:"\f3cb"}.fa-mixcloud:before{content:"\f289"}.fa-mizuni:before{content:"\f3cc"}.fa-mobile:before{content:"\f10b"}.fa-mobile-alt:before{content:"\f3cd"}.fa-modx:before{content:"\f285"}.fa-monero:before{content:"\f3d0"}.fa-money-bill-alt:before{content:"\f3d1"}.fa-moon:before{content:"\f186"}.fa-motorcycle:before{content:"\f21c"}.fa-mouse-pointer:before{content:"\f245"}.fa-music:before{content:"\f001"}.fa-napster:before{content:"\f3d2"}.fa-neuter:before{content:"\f22c"}.fa-newspaper:before{content:"\f1ea"}.fa-nintendo-switch:before{content:"\f418"}.fa-node:before{content:"\f419"}.fa-node-js:before{content:"\f3d3"}.fa-notes-medical:before{content:"\f481"}.fa-npm:before{content:"\f3d4"}.fa-ns8:before{content:"\f3d5"}.fa-nutritionix:before{content:"\f3d6"}.fa-object-group:before{content:"\f247"}.fa-object-ungroup:before{content:"\f248"}.fa-odnoklassniki:before{content:"\f263"}.fa-odnoklassniki-square:before{content:"\f264"}.fa-opencart:before{content:"\f23d"}.fa-openid:before{content:"\f19b"}.fa-opera:before{content:"\f26a"}.fa-optin-monster:before{content:"\f23c"}.fa-osi:before{content:"\f41a"}.fa-outdent:before{content:"\f03b"}.fa-page4:before{content:"\f3d7"}.fa-pagelines:before{content:"\f18c"}.fa-paint-brush:before{content:"\f1fc"}.fa-palfed:before{content:"\f3d8"}.fa-pallet:before{content:"\f482"}.fa-paper-plane:before{content:"\f1d8"}.fa-paperclip:before{content:"\f0c6"}.fa-parachute-box:before{content:"\f4cd"}.fa-paragraph:before{content:"\f1dd"}.fa-paste:before{content:"\f0ea"}.fa-patreon:before{content:"\f3d9"}.fa-pause:before{content:"\f04c"}.fa-pause-circle:before{content:"\f28b"}.fa-paw:before{content:"\f1b0"}.fa-paypal:before{content:"\f1ed"}.fa-pen-square:before{content:"\f14b"}.fa-pencil-alt:before{content:"\f303"}.fa-people-carry:before{content:"\f4ce"}.fa-percent:before{content:"\f295"}.fa-periscope:before{content:"\f3da"}.fa-phabricator:before{content:"\f3db"}.fa-phoenix-framework:before{content:"\f3dc"}.fa-phone:before{content:"\f095"}.fa-phone-slash:before{content:"\f3dd"}.fa-phone-square:before{content:"\f098"}.fa-phone-volume:before{content:"\f2a0"}.fa-php:before{content:"\f457"}.fa-pied-piper:before{content:"\f2ae"}.fa-pied-piper-alt:before{content:"\f1a8"}.fa-pied-piper-hat:before{content:"\f4e5"}.fa-pied-piper-pp:before{content:"\f1a7"}.fa-piggy-bank:before{content:"\f4d3"}.fa-pills:before{content:"\f484"}.fa-pinterest:before{content:"\f0d2"}.fa-pinterest-p:before{content:"\f231"}.fa-pinterest-square:before{content:"\f0d3"}.fa-plane:before{content:"\f072"}.fa-play:before{content:"\f04b"}.fa-play-circle:before{content:"\f144"}.fa-playstation:before{content:"\f3df"}.fa-plug:before{content:"\f1e6"}.fa-plus:before{content:"\f067"}.fa-plus-circle:before{content:"\f055"}.fa-plus-square:before{content:"\f0fe"}.fa-podcast:before{content:"\f2ce"}.fa-poo:before{content:"\f2fe"}.fa-pound-sign:before{content:"\f154"}.fa-power-off:before{content:"\f011"}.fa-prescription-bottle:before{content:"\f485"}.fa-prescription-bottle-alt:before{content:"\f486"}.fa-print:before{content:"\f02f"}.fa-procedures:before{content:"\f487"}.fa-product-hunt:before{content:"\f288"}.fa-pushed:before{content:"\f3e1"}.fa-puzzle-piece:before{content:"\f12e"}.fa-python:before{content:"\f3e2"}.fa-qq:before{content:"\f1d6"}.fa-qrcode:before{content:"\f029"}.fa-question:before{content:"\f128"}.fa-question-circle:before{content:"\f059"}.fa-quidditch:before{content:"\f458"}.fa-quinscape:before{content:"\f459"}.fa-quora:before{content:"\f2c4"}.fa-quote-left:before{content:"\f10d"}.fa-quote-right:before{content:"\f10e"}.fa-random:before{content:"\f074"}.fa-ravelry:before{content:"\f2d9"}.fa-react:before{content:"\f41b"}.fa-readme:before{content:"\f4d5"}.fa-rebel:before{content:"\f1d0"}.fa-recycle:before{content:"\f1b8"}.fa-red-river:before{content:"\f3e3"}.fa-reddit:before{content:"\f1a1"}.fa-reddit-alien:before{content:"\f281"}.fa-reddit-square:before{content:"\f1a2"}.fa-redo:before{content:"\f01e"}.fa-redo-alt:before{content:"\f2f9"}.fa-registered:before{content:"\f25d"}.fa-rendact:before{content:"\f3e4"}.fa-renren:before{content:"\f18b"}.fa-reply:before{content:"\f3e5"}.fa-reply-all:before{content:"\f122"}.fa-replyd:before{content:"\f3e6"}.fa-resolving:before{content:"\f3e7"}.fa-retweet:before{content:"\f079"}.fa-ribbon:before{content:"\f4d6"}.fa-road:before{content:"\f018"}.fa-rocket:before{content:"\f135"}.fa-rocketchat:before{content:"\f3e8"}.fa-rockrms:before{content:"\f3e9"}.fa-rss:before{content:"\f09e"}.fa-rss-square:before{content:"\f143"}.fa-ruble-sign:before{content:"\f158"}.fa-rupee-sign:before{content:"\f156"}.fa-safari:before{content:"\f267"}.fa-sass:before{content:"\f41e"}.fa-save:before{content:"\f0c7"}.fa-schlix:before{content:"\f3ea"}.fa-scribd:before{content:"\f28a"}.fa-search:before{content:"\f002"}.fa-search-minus:before{content:"\f010"}.fa-search-plus:before{content:"\f00e"}.fa-searchengin:before{content:"\f3eb"}.fa-seedling:before{content:"\f4d8"}.fa-sellcast:before{content:"\f2da"}.fa-sellsy:before{content:"\f213"}.fa-server:before{content:"\f233"}.fa-servicestack:before{content:"\f3ec"}.fa-share:before{content:"\f064"}.fa-share-alt:before{content:"\f1e0"}.fa-share-alt-square:before{content:"\f1e1"}.fa-share-square:before{content:"\f14d"}.fa-shekel-sign:before{content:"\f20b"}.fa-shield-alt:before{content:"\f3ed"}.fa-ship:before{content:"\f21a"}.fa-shipping-fast:before{content:"\f48b"}.fa-shirtsinbulk:before{content:"\f214"}.fa-shopping-bag:before{content:"\f290"}.fa-shopping-basket:before{content:"\f291"}.fa-shopping-cart:before{content:"\f07a"}.fa-shower:before{content:"\f2cc"}.fa-sign:before{content:"\f4d9"}.fa-sign-in-alt:before{content:"\f2f6"}.fa-sign-language:before{content:"\f2a7"}.fa-sign-out-alt:before{content:"\f2f5"}.fa-signal:before{content:"\f012"}.fa-simplybuilt:before{content:"\f215"}.fa-sistrix:before{content:"\f3ee"}.fa-sitemap:before{content:"\f0e8"}.fa-skyatlas:before{content:"\f216"}.fa-skype:before{content:"\f17e"}.fa-slack:before{content:"\f198"}.fa-slack-hash:before{content:"\f3ef"}.fa-sliders-h:before{content:"\f1de"}.fa-slideshare:before{content:"\f1e7"}.fa-smile:before{content:"\f118"}.fa-smoking:before{content:"\f48d"}.fa-snapchat:before{content:"\f2ab"}.fa-snapchat-ghost:before{content:"\f2ac"}.fa-snapchat-square:before{content:"\f2ad"}.fa-snowflake:before{content:"\f2dc"}.fa-sort:before{content:"\f0dc"}.fa-sort-alpha-down:before{content:"\f15d"}.fa-sort-alpha-up:before{content:"\f15e"}.fa-sort-amount-down:before{content:"\f160"}.fa-sort-amount-up:before{content:"\f161"}.fa-sort-down:before{content:"\f0dd"}.fa-sort-numeric-down:before{content:"\f162"}.fa-sort-numeric-up:before{content:"\f163"}.fa-sort-up:before{content:"\f0de"}.fa-soundcloud:before{content:"\f1be"}.fa-space-shuttle:before{content:"\f197"}.fa-speakap:before{content:"\f3f3"}.fa-spinner:before{content:"\f110"}.fa-spotify:before{content:"\f1bc"}.fa-square:before{content:"\f0c8"}.fa-square-full:before{content:"\f45c"}.fa-stack-exchange:before{content:"\f18d"}.fa-stack-overflow:before{content:"\f16c"}.fa-star:before{content:"\f005"}.fa-star-half:before{content:"\f089"}.fa-staylinked:before{content:"\f3f5"}.fa-steam:before{content:"\f1b6"}.fa-steam-square:before{content:"\f1b7"}.fa-steam-symbol:before{content:"\f3f6"}.fa-step-backward:before{content:"\f048"}.fa-step-forward:before{content:"\f051"}.fa-stethoscope:before{content:"\f0f1"}.fa-sticker-mule:before{content:"\f3f7"}.fa-sticky-note:before{content:"\f249"}.fa-stop:before{content:"\f04d"}.fa-stop-circle:before{content:"\f28d"}.fa-stopwatch:before{content:"\f2f2"}.fa-strava:before{content:"\f428"}.fa-street-view:before{content:"\f21d"}.fa-strikethrough:before{content:"\f0cc"}.fa-stripe:before{content:"\f429"}.fa-stripe-s:before{content:"\f42a"}.fa-studiovinari:before{content:"\f3f8"}.fa-stumbleupon:before{content:"\f1a4"}.fa-stumbleupon-circle:before{content:"\f1a3"}.fa-subscript:before{content:"\f12c"}.fa-subway:before{content:"\f239"}.fa-suitcase:before{content:"\f0f2"}.fa-sun:before{content:"\f185"}.fa-superpowers:before{content:"\f2dd"}.fa-superscript:before{content:"\f12b"}.fa-supple:before{content:"\f3f9"}.fa-sync:before{content:"\f021"}.fa-sync-alt:before{content:"\f2f1"}.fa-syringe:before{content:"\f48e"}.fa-table:before{content:"\f0ce"}.fa-table-tennis:before{content:"\f45d"}.fa-tablet:before{content:"\f10a"}.fa-tablet-alt:before{content:"\f3fa"}.fa-tablets:before{content:"\f490"}.fa-tachometer-alt:before{content:"\f3fd"}.fa-tag:before{content:"\f02b"}.fa-tags:before{content:"\f02c"}.fa-tape:before{content:"\f4db"}.fa-tasks:before{content:"\f0ae"}.fa-taxi:before{content:"\f1ba"}.fa-telegram:before{content:"\f2c6"}.fa-telegram-plane:before{content:"\f3fe"}.fa-tencent-weibo:before{content:"\f1d5"}.fa-terminal:before{content:"\f120"}.fa-text-height:before{content:"\f034"}.fa-text-width:before{content:"\f035"}.fa-th:before{content:"\f00a"}.fa-th-large:before{content:"\f009"}.fa-th-list:before{content:"\f00b"}.fa-themeisle:before{content:"\f2b2"}.fa-thermometer:before{content:"\f491"}.fa-thermometer-empty:before{content:"\f2cb"}.fa-thermometer-full:before{content:"\f2c7"}.fa-thermometer-half:before{content:"\f2c9"}.fa-thermometer-quarter:before{content:"\f2ca"}.fa-thermometer-three-quarters:before{content:"\f2c8"}.fa-thumbs-down:before{content:"\f165"}.fa-thumbs-up:before{content:"\f164"}.fa-thumbtack:before{content:"\f08d"}.fa-ticket-alt:before{content:"\f3ff"}.fa-times:before{content:"\f00d"}.fa-times-circle:before{content:"\f057"}.fa-tint:before{content:"\f043"}.fa-toggle-off:before{content:"\f204"}.fa-toggle-on:before{content:"\f205"}.fa-trademark:before{content:"\f25c"}.fa-train:before{content:"\f238"}.fa-transgender:before{content:"\f224"}.fa-transgender-alt:before{content:"\f225"}.fa-trash:before{content:"\f1f8"}.fa-trash-alt:before{content:"\f2ed"}.fa-tree:before{content:"\f1bb"}.fa-trello:before{content:"\f181"}.fa-tripadvisor:before{content:"\f262"}.fa-trophy:before{content:"\f091"}.fa-truck:before{content:"\f0d1"}.fa-truck-loading:before{content:"\f4de"}.fa-truck-moving:before{content:"\f4df"}.fa-tty:before{content:"\f1e4"}.fa-tumblr:before{content:"\f173"}.fa-tumblr-square:before{content:"\f174"}.fa-tv:before{content:"\f26c"}.fa-twitch:before{content:"\f1e8"}.fa-twitter:before{content:"\f099"}.fa-twitter-square:before{content:"\f081"}.fa-typo3:before{content:"\f42b"}.fa-uber:before{content:"\f402"}.fa-uikit:before{content:"\f403"}.fa-umbrella:before{content:"\f0e9"}.fa-underline:before{content:"\f0cd"}.fa-undo:before{content:"\f0e2"}.fa-undo-alt:before{content:"\f2ea"}.fa-uniregistry:before{content:"\f404"}.fa-universal-access:before{content:"\f29a"}.fa-university:before{content:"\f19c"}.fa-unlink:before{content:"\f127"}.fa-unlock:before{content:"\f09c"}.fa-unlock-alt:before{content:"\f13e"}.fa-untappd:before{content:"\f405"}.fa-upload:before{content:"\f093"}.fa-usb:before{content:"\f287"}.fa-user:before{content:"\f007"}.fa-user-circle:before{content:"\f2bd"}.fa-user-md:before{content:"\f0f0"}.fa-user-plus:before{content:"\f234"}.fa-user-secret:before{content:"\f21b"}.fa-user-times:before{content:"\f235"}.fa-users:before{content:"\f0c0"}.fa-ussunnah:before{content:"\f407"}.fa-utensil-spoon:before{content:"\f2e5"}.fa-utensils:before{content:"\f2e7"}.fa-vaadin:before{content:"\f408"}.fa-venus:before{content:"\f221"}.fa-venus-double:before{content:"\f226"}.fa-venus-mars:before{content:"\f228"}.fa-viacoin:before{content:"\f237"}.fa-viadeo:before{content:"\f2a9"}.fa-viadeo-square:before{content:"\f2aa"}.fa-vial:before{content:"\f492"}.fa-vials:before{content:"\f493"}.fa-viber:before{content:"\f409"}.fa-video:before{content:"\f03d"}.fa-video-slash:before{content:"\f4e2"}.fa-vimeo:before{content:"\f40a"}.fa-vimeo-square:before{content:"\f194"}.fa-vimeo-v:before{content:"\f27d"}.fa-vine:before{content:"\f1ca"}.fa-vk:before{content:"\f189"}.fa-vnv:before{content:"\f40b"}.fa-volleyball-ball:before{content:"\f45f"}.fa-volume-down:before{content:"\f027"}.fa-volume-off:before{content:"\f026"}.fa-volume-up:before{content:"\f028"}.fa-vuejs:before{content:"\f41f"}.fa-warehouse:before{content:"\f494"}.fa-weibo:before{content:"\f18a"}.fa-weight:before{content:"\f496"}.fa-weixin:before{content:"\f1d7"}.fa-whatsapp:before{content:"\f232"}.fa-whatsapp-square:before{content:"\f40c"}.fa-wheelchair:before{content:"\f193"}.fa-whmcs:before{content:"\f40d"}.fa-wifi:before{content:"\f1eb"}.fa-wikipedia-w:before{content:"\f266"}.fa-window-close:before{content:"\f410"}.fa-window-maximize:before{content:"\f2d0"}.fa-window-minimize:before{content:"\f2d1"}.fa-window-restore:before{content:"\f2d2"}.fa-windows:before{content:"\f17a"}.fa-wine-glass:before{content:"\f4e3"}.fa-won-sign:before{content:"\f159"}.fa-wordpress:before{content:"\f19a"}.fa-wordpress-simple:before{content:"\f411"}.fa-wpbeginner:before{content:"\f297"}.fa-wpexplorer:before{content:"\f2de"}.fa-wpforms:before{content:"\f298"}.fa-wrench:before{content:"\f0ad"}.fa-x-ray:before{content:"\f497"}.fa-xbox:before{content:"\f412"}.fa-xing:before{content:"\f168"}.fa-xing-square:before{content:"\f169"}.fa-y-combinator:before{content:"\f23b"}.fa-yahoo:before{content:"\f19e"}.fa-yandex:before{content:"\f413"}.fa-yandex-international:before{content:"\f414"}.fa-yelp:before{content:"\f1e9"}.fa-yen-sign:before{content:"\f157"}.fa-yoast:before{content:"\f2b1"}.fa-youtube:before{content:"\f167"}.fa-youtube-square:before{content:"\f431"}.sr-only{border:0;clip:rect(0,0,0,0);height:1px;margin:-1px;overflow:hidden;padding:0;position:absolute;width:1px}.sr-only-focusable:active,.sr-only-focusable:focus{clip:auto;height:auto;margin:0;overflow:visible;position:static;width:auto}@font-face{font-family:'Font Awesome 5 Brands';font-style:normal;font-weight:400;src:url(//alphatowtruckservices.com/wp-content/plugins/accesspress-social-counter/css/../webfonts/fa-brands-400.eot);src:url(//alphatowtruckservices.com/wp-content/plugins/accesspress-social-counter/css/../webfonts/fa-brands-400.eot?#iefix) format("embedded-opentype"),url(//alphatowtruckservices.com/wp-content/plugins/accesspress-social-counter/css/../webfonts/fa-brands-400.woff2) format("woff2"),url(//alphatowtruckservices.com/wp-content/plugins/accesspress-social-counter/css/../webfonts/fa-brands-400.woff) format("woff"),url(//alphatowtruckservices.com/wp-content/plugins/accesspress-social-counter/css/../webfonts/fa-brands-400.ttf) format("truetype"),url(//alphatowtruckservices.com/wp-content/plugins/accesspress-social-counter/css/../webfonts/fa-brands-400.svg#fontawesome) format("svg")}.fab{font-family:'Font Awesome 5 Brands'}@font-face{font-family:'Font Awesome 5 Free';font-style:normal;font-weight:400;src:url(//alphatowtruckservices.com/wp-content/plugins/accesspress-social-counter/css/../webfonts/fa-regular-400.eot);src:url(//alphatowtruckservices.com/wp-content/plugins/accesspress-social-counter/css/../webfonts/fa-regular-400.eot?#iefix) format("embedded-opentype"),url(//alphatowtruckservices.com/wp-content/plugins/accesspress-social-counter/css/../webfonts/fa-regular-400.woff2) format("woff2"),url(//alphatowtruckservices.com/wp-content/plugins/accesspress-social-counter/css/../webfonts/fa-regular-400.woff) format("woff"),url(//alphatowtruckservices.com/wp-content/plugins/accesspress-social-counter/css/../webfonts/fa-regular-400.ttf) format("truetype"),url(//alphatowtruckservices.com/wp-content/plugins/accesspress-social-counter/css/../webfonts/fa-regular-400.svg#fontawesome) format("svg")}.far{font-family:'Font Awesome 5 Free';font-weight:400}@font-face{font-family:'Font Awesome 5 Free';font-style:normal;font-weight:900;src:url(//alphatowtruckservices.com/wp-content/plugins/accesspress-social-counter/css/../webfonts/fa-solid-900.eot);src:url(//alphatowtruckservices.com/wp-content/plugins/accesspress-social-counter/css/../webfonts/fa-solid-900.eot?#iefix) format("embedded-opentype"),url(//alphatowtruckservices.com/wp-content/plugins/accesspress-social-counter/css/../webfonts/fa-solid-900.woff2) format("woff2"),url(//alphatowtruckservices.com/wp-content/plugins/accesspress-social-counter/css/../webfonts/fa-solid-900.woff) format("woff"),url(//alphatowtruckservices.com/wp-content/plugins/accesspress-social-counter/css/../webfonts/fa-solid-900.ttf) format("truetype"),url(//alphatowtruckservices.com/wp-content/plugins/accesspress-social-counter/css/../webfonts/fa-solid-900.svg#fontawesome) format("svg")}.fa,.fas{font-family:'Font Awesome 5 Free';font-weight:900}.wpcf7-form-control-signature-wrap{position:relative}.wpcf7-form-control-signature-body{position:absolute;left:0;right:0;top:0;bottom:0}.wpcf7-form-control-signature-body canvas{position:absolute;left:0;top:0;width:100%;height:100%}.wpcf7 .screen-reader-response{position:absolute;overflow:hidden;clip:rect(1px,1px,1px,1px);clip-path:inset(50%);height:1px;width:1px;margin:-1px;padding:0;border:0;word-wrap:normal !important}.wpcf7 form .wpcf7-response-output{margin:2em .5em 1em;padding:.2em 1em;border:2px solid #00a0d2}.wpcf7 form.init .wpcf7-response-output,.wpcf7 form.resetting .wpcf7-response-output,.wpcf7 form.submitting .wpcf7-response-output{display:none}.wpcf7 form.sent .wpcf7-response-output{border-color:#46b450}.wpcf7 form.failed .wpcf7-response-output,.wpcf7 form.aborted .wpcf7-response-output{border-color:#dc3232}.wpcf7 form.spam .wpcf7-response-output{border-color:#f56e28}.wpcf7 form.invalid .wpcf7-response-output,.wpcf7 form.unaccepted .wpcf7-response-output,.wpcf7 form.payment-required .wpcf7-response-output{border-color:#ffb900}.wpcf7-form-control-wrap{position:relative}.wpcf7-not-valid-tip{color:#dc3232;font-size:1em;font-weight:400;display:block}.use-floating-validation-tip .wpcf7-not-valid-tip{position:relative;top:-2ex;left:1em;z-index:100;border:1px solid #dc3232;background:#fff;padding:.2em .8em;width:24em}.wpcf7-list-item{display:inline-block;margin:0 0 0 1em}.wpcf7-list-item-label:before,.wpcf7-list-item-label:after{content:" "}.wpcf7-spinner{visibility:hidden;display:inline-block;background-color:#23282d;opacity:.75;width:24px;height:24px;border:none;border-radius:100%;padding:0;margin:0 24px;position:relative}form.submitting .wpcf7-spinner{visibility:visible}.wpcf7-spinner:before{content:'';position:absolute;background-color:#fbfbfc;top:4px;left:4px;width:6px;height:6px;border:none;border-radius:100%;transform-origin:8px 8px;animation-name:spin;animation-duration:1s;animation-timing-function:linear;animation-iteration-count:infinite}@media (prefers-reduced-motion:reduce){.wpcf7-spinner:before{animation-name:blink;animation-duration:2s}}@keyframes spin{from{transform:rotate(0deg)}to{transform:rotate(360deg)}}@keyframes blink{from{opacity:0}50%{opacity:1}to{opacity:0}}.wpcf7 input[type=file]{cursor:pointer}.wpcf7 input[type=file]:disabled{cursor:default}.wpcf7 .wpcf7-submit:disabled{cursor:not-allowed}.wpcf7 input[type=url],.wpcf7 input[type=email],.wpcf7 input[type=tel]{direction:ltr}.wpcf7-reflection>output{display:list-item;list-style:none}.wpcf7-reflection>output[hidden]{display:none}.rs-p-wp-fix{display:none !important;margin:0 !important;height:0 !important}#debungcontrolls{z-index:100000;position:fixed;bottom:0;width:100%;height:auto;background:rgba(0,0,0,.6);padding:10px;box-sizing:border-box}rs-debug{z-index:100000;position:fixed;top:0;width:300px;height:300px;background:rgba(0,0,0,.6);padding:10px;box-sizing:border-box;color:#fff;font-size:10px;line-height:13px;overflow:scroll}rs-modal{position:fixed !important;z-index:9999999 !important;pointer-events:none !important}rs-modal.rs-modal-auto{top:auto;bottom:auto;left:auto;right:auto}rs-modal.rs-modal-fullwidth,rs-modal.rs-modal-fullscreen{top:0;left:0;width:100%;height:100%}rs-modal rs-fullwidth-wrap{position:absolute;top:0;left:0;height:100%}rs-module-wrap.rs-modal{display:none;max-height:100% !important;overflow:auto !important;pointer-events:auto !important}rs-modal-cover{width:100%;height:100%;z-index:0;background:0 0;position:absolute;top:0;left:0;cursor:pointer;pointer-events:auto}body>rs-modal-cover{position:fixed;z-index:9999995 !important}rs-sbg-px{pointer-events:none}.rs-forcehidden *{visibility:hidden !important}.rs_splitted_lines{display:block;white-space:nowrap !important}.debugtimeline{width:100%;height:10px;position:relative;display:block;margin-bottom:3px;display:none;white-space:nowrap;box-sizing:border-box}.debugtimeline:hover{height:15px}.the_timeline_tester{background:#e74c3c;position:absolute;top:0;left:0;height:100%;width:0}.rs-go-fullscreen{position:fixed !important;width:100% !important;height:100% !important;top:0 !important;left:0 !important;z-index:9999999 !important;background:#fff}.debugtimeline.tl_slide .the_timeline_tester{background:#f39c12}.debugtimeline.tl_frame .the_timeline_tester{background:#3498db}.debugtimline_txt{color:#fff;font-weight:400;font-size:7px;position:absolute;left:10px;top:0;white-space:nowrap;line-height:10px}.rtl{direction:rtl}@font-face{font-family:'revicons';src:url(//alphatowtruckservices.com/wp-content/plugins/rev-slider/public/assets/css/../fonts/revicons/revicons.eot?5510888);src:url(//alphatowtruckservices.com/wp-content/plugins/rev-slider/public/assets/css/../fonts/revicons/revicons.eot?5510888#iefix) format('embedded-opentype'),url(//alphatowtruckservices.com/wp-content/plugins/rev-slider/public/assets/css/../fonts/revicons/revicons.woff?5510888) format('woff'),url(//alphatowtruckservices.com/wp-content/plugins/rev-slider/public/assets/css/../fonts/revicons/revicons.ttf?5510888) format('truetype'),url(//alphatowtruckservices.com/wp-content/plugins/rev-slider/public/assets/css/../fonts/revicons/revicons.svg?5510888#revicons) format('svg');font-weight:400;font-style:normal}[class^=revicon-]:before,[class*=" revicon-"]:before{font-family:"revicons";font-style:normal;font-weight:400;speak:none;display:inline-block;text-decoration:inherit;width:1em;margin-right:.2em;text-align:center;font-variant:normal;text-transform:none;line-height:1em;margin-left:.2em}rs-module i[class^=fa-],rs-module i[class*=" fa-"],.rb-modal-wrapper i[class^=fa-],.rb-modal-wrapper i[class*=" fa-"],#waitaminute i[class^=fa-],#waitaminute i[class*=" fa-"],#objectlibrary i[class^=fa-],#objectlibrary i[class*=" fa-"],#rs_overview i[class^=fa-],#rs_overview i[class*=" fa-"],#rs_overview_menu i[class^=fa-],#rs_overview_menu i[class*=" fa-"],#builderView i[class^=fa-],#builderView i[class*=" fa-"]{display:inline-block;font:normal normal normal 14px/1 FontAwesome;font-size:inherit;text-rendering:auto;-webkit-font-smoothing:antialiased;-moz-osx-font-smoothing:grayscale}rs-module [class^=fa-]:before,rs-module [class*=" fa-"]:before,.rb-modal-wrapper [class^=fa-]:before,.rb-modal-wrapper [class*=" fa-"]:before,#rs_overview [class^=fa-]:before,#rs_overview [class*=" fa-"]:before,#objectlibrary [class^=fa-]:before,#objectlibrary [class*=" fa-"]:before,#waitaminute [class^=fa-]:before,#waitaminute [class*=" fa-"]:before,#rs_overview_menu [class^=fa-]:before,#rs_overview_menu [class*=" fa-"]:before,#builderView [class^=fa-]:before,#builderView [class*=" fa-"]:before{font-family:FontAwesome;font-style:normal;font-weight:400;speak:none;display:inline-block;text-decoration:inherit;width:auto;margin-right:0;text-align:center;font-variant:normal;text-transform:none;line-height:inherit;margin-left:0}rs-module .sr-only,#objectlibrary .sr-only,#waitaminute .sr-only,#rs_overview .sr-only,#rs_overview_menu .sr-only,.rb-modal-wrapper .sr-only,#builderView .sr-only{position:absolute;width:1px;height:1px;padding:0;margin:-1px;overflow:hidden;clip:rect(0,0,0,0);border:0}rs-module .sr-only-focusable:active,rs-module .sr-only-focusable:focus,#waitaminute .sr-only-focusable:active,#waitaminute .sr-only-focusable:focus,#objectlibrary .sr-only-focusable:active,#objectlibrary .sr-only-focusable:focus,#rs_overview .sr-only-focusable:active,#rs_overview .sr-only-focusable:focus,#rs_overview_menu .sr-only-focusable:active,#rs_overview_menu .sr-only-focusable:focus,.rb-modal-wrapper .sr-only-focusable:active,.rb-modal-wrapper .sr-only-focusable:focus,#builderView .sr-only-focusable:active,#builderView .sr-only-focusable:focus{position:static;width:auto;height:auto;margin:0;overflow:visible;clip:auto}.revicon-search-1:before{content:'\e802'}.revicon-pencil-1:before{content:'\e831'}.revicon-picture-1:before{content:'\e803'}.revicon-cancel:before{content:'\e80a'}.revicon-info-circled:before{content:'\e80f'}.revicon-trash:before{content:'\e801'}.revicon-left-dir:before{content:'\e817'}.revicon-right-dir:before{content:'\e818'}.revicon-down-open:before{content:'\e83b'}.revicon-left-open:before{content:'\e819'}.revicon-right-open:before{content:'\e81a'}.revicon-angle-left:before{content:'\e820'}.revicon-angle-right:before{content:'\e81d'}.revicon-left-big:before{content:'\e81f'}.revicon-right-big:before{content:'\e81e'}.revicon-magic:before{content:'\e807'}.revicon-picture:before{content:'\e800'}.revicon-export:before{content:'\e80b'}.revicon-cog:before{content:'\e832'}.revicon-login:before{content:'\e833'}.revicon-logout:before{content:'\e834'}.revicon-video:before{content:'\e805'}.revicon-arrow-combo:before{content:'\e827'}.revicon-left-open-1:before{content:'\e82a'}.revicon-right-open-1:before{content:'\e82b'}.revicon-left-open-mini:before{content:'\e822'}.revicon-right-open-mini:before{content:'\e823'}.revicon-left-open-big:before{content:'\e824'}.revicon-right-open-big:before{content:'\e825'}.revicon-left:before{content:'\e836'}.revicon-right:before{content:'\e826'}.revicon-ccw:before{content:'\e808'}.revicon-arrows-ccw:before{content:'\e806'}.revicon-palette:before{content:'\e829'}.revicon-list-add:before{content:'\e80c'}.revicon-doc:before{content:'\e809'}.revicon-left-open-outline:before{content:'\e82e'}.revicon-left-open-2:before{content:'\e82c'}.revicon-right-open-outline:before{content:'\e82f'}.revicon-right-open-2:before{content:'\e82d'}.revicon-equalizer:before{content:'\e83a'}.revicon-layers-alt:before{content:'\e804'}.revicon-popup:before{content:'\e828'}.tp-fullwidth-forcer{z-index:0;pointer-events:none}rs-module-wrap,rs-module-wrap *{box-sizing:border-box;-webkit-tap-highlight-color:rgba(0,0,0,0)}rs-module-wrap{position:relative;z-index:1;width:100%;display:block}.rs-fixedscrollon rs-module-wrap{position:fixed !important;top:0 !important;z-index:1000}rs-fw-forcer{display:block;width:100%;pointer-events:none}rs-module{position:relative;overflow:hidden;display:block}rs-pzimg-wrap,rs-sbg-effectwrap,rs-sbg{display:block;pointer-events:none}rs-sbg-effectwrap{position:absolute;top:0;left:0;width:100%;height:100%}rs-sbg-px,rs-sbg-wrap{position:absolute;top:0;left:0;z-index:0;width:100%;height:100%;display:block}a.rs-layer,a.rs-layer:-webkit-any-link{text-decoration:none}a[x-apple-data-detectors]{color:inherit !important;text-decoration:none !important;font-size:inherit !important;font-family:inherit !important;font-weight:inherit !important;line-height:inherit !important}.entry-content rs-module a,rs-module a{box-shadow:none}.rs-ov-hidden{overflow:hidden !important}.rs-forceoverflow,.rs-forceoverflow rs-module-wrap,.rs-forceoverflow rs-module,.rs-forceoverflow rs-slides,.rs-forceoverflow rs-slide{overflow:visible !important}.tp-simpleresponsive img,rs-module img{max-width:none !important;transition:none;margin:0;padding:0;border:none}rs-module .no-slides-text{font-weight:700;text-align:center;padding-top:80px}rs-slides,rs-slide,rs-slide:before{position:absolute;text-indent:0em;top:0;left:0}rs-slide,rs-slide:before{display:block;visibility:hidden}.rs-layer .rs-untoggled-content{display:block}.rs-layer .rs-toggled-content{display:none}.rs-tc-active.rs-layer .rs-toggled-content{display:block}.rs-tc-active.rs-layer .rs-untoggled-content{display:none}.rs-layer-video{overflow:hidden}rs-module rs-layer,rs-module .rs-layer{opacity:0;position:relative;visibility:hidden;white-space:nowrap;display:block;-webkit-font-smoothing:antialiased !important;-webkit-tap-highlight-color:rgba(0,0,0,0);-moz-osx-font-smoothing:grayscale;z-index:1}rs-layer-wrap,rs-mask,rs-module-wrap,rs-module .rs-layer,rs-module img{-moz-user-select:none;-khtml-user-select:none;-webkit-user-select:none;-o-user-select:none}rs-module rs-mask-wrap .rs-layer,rs-module rs-mask-wrap *:last-child,.wpb_text_column rs-module rs-mask-wrap .rs-layer,.wpb_text_column rs-module rs-mask-wrap *:last-child{margin-bottom:0}.rs-svg svg{width:100%;height:100%;position:relative;vertical-align:top}rs-layer,.rs-layer,rs-alyer *,.rs-layer *{outline:none !important}rs-carousel-wrap{cursor:url(//alphatowtruckservices.com/wp-content/plugins/rev-slider/public/assets/css/openhand.cur),move}rs-carousel-wrap.dragged{cursor:url(//alphatowtruckservices.com/wp-content/plugins/rev-slider/public/assets/css/closedhand.cur),move}rs-carousel-wrap{position:absolute;overflow:hidden;width:100%;height:100%;top:0;left:0}rs-carousel-space{clear:both;display:block;width:100%;height:1px;position:relative;margin-bottom:-1px}.tp_inner_padding{box-sizing:border-box;max-height:none !important}.rs-layer.rs-selectable{-moz-user-select:all;-khtml-user-select:all;-webkit-user-select:all;-o-user-select:all}rs-px-mask{overflow:hidden;display:block;width:100%;height:100%;position:relative}rs-module embed,rs-module iframe,rs-module object,rs-module audio,rs-module video{max-width:none !important;border:none}rs-bg-elem{position:absolute;top:0;left:0;width:100%;height:100%;z-index:0;display:block;pointer-events:none}.tp-blockmask,.tp-blockmask_in,.tp-blockmask_out{position:absolute;top:0;left:0;width:100%;height:100%;background:#fff;z-index:1000;transform:scaleX(0) scaleY(0)}rs-zone{position:absolute;width:100%;left:0;box-sizing:border-box;min-height:50px;font-size:0px}rs-layer-wrap,rs-row-wrap,rs-column,rs-parallax-wrap,rs-mask-wrap,rs-cbg-mask-wrap,rs-loop-wrap{display:block;visibility:hidden}rs-column-wrap>rs-loop-wrap{z-index:1}rs-layer-wrap,rs-mask-wrap,rs-cbg-mask-wrap{transform-style:flat;perspective:10000px}@-moz-document url-prefix(){rs-layer-wrap,rs-mask-wrap,rs-cbg-mask-wrap{filter:blur(0px)}}.rs-fixedscrollon rs-module-wrap{left:0 !important}rs-mask-wrap{overflow:hidden}rs-fullwidth-wrap{position:relative;width:100%;height:auto;display:block}.rev_row_zone_top{top:0}.rev_row_zone_bottom{bottom:0}rs-column-wrap .rs-parallax-wrap{vertical-align:top}.rs-layer img,rs-layer img{vertical-align:top}rs-row,rs-row.rs-layer{display:table;position:relative;width:100% !important;table-layout:fixed;box-sizing:border-box;vertical-align:top;height:auto;font-size:0px}rs-column-wrap{display:table-cell;position:relative;vertical-align:top;height:auto;box-sizing:border-box;font-size:0px}rs-column{box-sizing:border-box;display:block;position:relative;width:100% !important;height:auto !important;white-space:normal !important}rs-cbg-mask-wrap{position:absolute;z-index:0;box-sizing:border-box}rs-column-bg{position:absolute;z-index:0;box-sizing:border-box;width:100%;height:100%}.rs-pelock *{pointer-events:none !important}rs-column .rs-parallax-wrap,rs-column rs-loop-wrap,rs-column rs-mask-wrap{text-align:inherit}rs-column rs-mask-wrap{display:inline-block}rs-column .rs-parallax-wrap rs-loop-wrap,rs-column .rs-parallax-wrap rs-mask-wrap,rs-column .rs-parallax-wrap{position:relative !important;left:auto !important;top:auto !important;line-height:0}rs-column .rs-parallax-wrap rs-loop-wrap,rs-column .rs-parallax-wrap rs-mask-wrap,rs-column .rs-parallax-wrap,rs-column .rev_layer_in_column{vertical-align:top}.rev_break_columns{display:block !important}.rev_break_columns rs-column-wrap.rs-parallax-wrap{display:block !important;width:100% !important}.rev_break_columns rs-column-wrap.rs-parallax-wrap.rs-layer-hidden,.tp-forcenotvisible,.tp-hide-revslider,rs-row-wrap.rs-layer-hidden,rs-column-wrap.rs-layer-hidden,.rs-layer.rs-layer-hidden,.rs-layer-audio.rs-layer-hidden,.rs-parallax-wrap.rs-layer-hidden{visibility:hidden !important;display:none !important}rs-layer.rs-nointeraction,.rs-layer.rs-nointeraction{pointer-events:none !important}rs-static-layers{position:absolute;z-index:101;top:0;left:0;display:block;width:100%;height:100%;pointer-events:none}rs-static-layers.rs-stl-back{z-index:0}.rs-layer rs-fcr{width:0;height:0;border-left:40px solid transparent;border-right:0 solid transparent;border-top:40px solid #00a8ff;position:absolute;right:100%;top:0}.rs-layer rs-fcrt{width:0;height:0;border-left:40px solid transparent;border-right:0 solid transparent;border-bottom:40px solid #00a8ff;position:absolute;right:100%;top:0}.rs-layer rs-bcr{width:0;height:0;border-left:0 solid transparent;border-right:40px solid transparent;border-bottom:40px solid #00a8ff;position:absolute;left:100%;top:0}.rs-layer rs-bcrt{width:0;height:0;border-left:0 solid transparent;border-right:40px solid transparent;border-top:40px solid #00a8ff;position:absolute;left:100%;top:0}.tp-layer-inner-rotation{position:relative !important}img.tp-slider-alternative-image{width:100%;height:auto}.noFilterClass{filter:none !important}rs-bgvideo{position:absolute;top:0;left:0;width:100%;height:100%;visibility:hidden;z-index:0;display:block}.rs-layer.coverscreenvideo{width:100%;height:100%;top:0;left:0;position:absolute}.rs-layer.rs-fsv{left:0;top:0;position:absolute;width:100%;height:100%}.rs-layer.rs-fsv audio,.rs-layer.rs-fsv video,.rs-layer.rs-fsv iframe,.rs-layer.rs-fsv iframe audio,.rs-layer.rs-fsv iframe video{width:100%;height:100%;display:none}.fullcoveredvideo audio,.rs-fsv audio .fullcoveredvideo video,.rs-fsv video{background:#000}.fullcoveredvideo rs-poster{background-position:center center;background-size:cover;width:100%;height:100%;top:0;left:0}.videoisplaying .html5vid rs-poster{display:none}.tp-video-play-button{background:#000;background:rgba(0,0,0,.3);border-radius:5px;position:absolute;top:50%;left:50%;color:#fff;z-index:3;margin-top:-25px;margin-left:-25px;line-height:50px !important;text-align:center;cursor:pointer;width:50px;height:50px;box-sizing:border-box;display:inline-block;vertical-align:top;z-index:4;opacity:0;transition:opacity .3s ease-out !important}.rs-audio .tp-video-play-button{display:none !important}.rs-layer .html5vid{width:100% !important;height:100% !important}.tp-video-play-button i{width:50px;height:50px;display:inline-block;text-align:center !important;vertical-align:top;line-height:50px !important;font-size:30px !important}.rs-layer:hover .tp-video-play-button{opacity:1;display:block}.rs-layer .tp-revstop{display:none;width:15px;border-right:5px solid #fff !important;border-left:5px solid #fff !important;transform:translateX(50%) translateY(50%);height:20px;margin-left:11px !important;margin-top:5px !important}.videoisplaying .revicon-right-dir{display:none}.videoisplaying .tp-revstop{display:block}.videoisplaying .tp-video-play-button{display:none}.fullcoveredvideo .tp-video-play-button{display:none !important}.rs-fsv .rs-fsv audio{object-fit:contain !important}.rs-fsv .rs-fsv video{object-fit:contain !important}@supports not (-ms-high-contrast:none){.rs-fsv .fullcoveredvideo audio{object-fit:cover !important}.rs-fsv .fullcoveredvideo video{object-fit:cover !important}}.rs-fullvideo-cover{width:100%;height:100%;top:0;left:0;position:absolute;background:0 0;z-index:5}.rs-nolc .tp-video-play-button,rs-bgvideo video::-webkit-media-controls-start-playback-button,rs-bgvideo video::-webkit-media-controls,rs-bgvideo audio::-webkit-media-controls{display:none !important}.rs-audio .tp-video-controls{opacity:1 !important;visibility:visible !important}rs-module h1.rs-layer,rs-module h2.rs-layer,rs-module h3.rs-layer,rs-module h4.rs-layer,rs-module h5.rs-layer,rs-module h6.rs-layer,rs-module div.rs-layer,rs-module span.rs-layer,rs-module p.rs-layer{margin:0;padding:0;margin-block-start:0;margin-block-end:0;margin-inline-start:0;margin-inline-end:0}rs-module h1.rs-layer:before,rs-module h2.rs-layer:before,rs-module h3.rs-layer:before,rs-module h4.rs-layer:before,rs-module h5.rs-layer:before,rs-module h6.rs-layer:before{content:none}rs-dotted{background-repeat:repeat;width:100%;height:100%;position:absolute;top:0;left:0;z-index:3;display:block;pointer-events:none}rs-sbg-wrap rs-dotted{z-index:31}rs-dotted.twoxtwo{background:url(data:image/png;base64,iVBORw0KGgoAAAANSUhEUgAAAAIAAAACCAQAAADYv8WvAAAADUlEQVR42mNg+M8AAQAIAgEAloXiqwAAAABJRU5ErkJggg==)}rs-dotted.twoxtwowhite{background:url(data:image/png;base64,iVBORw0KGgoAAAANSUhEUgAAAAIAAAACCAQAAADYv8WvAAAADUlEQVR4AWP4/58BAgAQ+QH/eU1QjQAAAABJRU5ErkJggg==)}rs-dotted.threexthree{background:url(data:image/png;base64,iVBORw0KGgoAAAANSUhEUgAAAAMAAAADCAQAAAD8IX00AAAADUlEQVR4AWNg+M+AAQATAgEAtKVJJQAAAABJRU5ErkJggg==)}rs-dotted.threexthreewhite{background:url(data:image/png;base64,iVBORw0KGgoAAAANSUhEUgAAAAMAAAADCAQAAAD8IX00AAAADklEQVR42mP4/58BAwAAJu4B/7J4cV8AAAAASUVORK5CYII=)}.tp-shadowcover{width:100%;height:100%;top:0;left:0;background:#fff;position:absolute;z-index:-1}.tp-shadow1{box-shadow:0 10px 6px -6px rgba(0,0,0,.8)}.tp-shadow2:before,.tp-shadow2:after,.tp-shadow3:before,.tp-shadow4:after{z-index:-2;position:absolute;content:"";bottom:10px;left:10px;width:50%;top:85%;max-width:300px;background:0 0;box-shadow:0 15px 10px rgba(0,0,0,.8);transform:rotate(-3deg)}.tp-shadow2:after,.tp-shadow4:after{transform:rotate(3deg);right:10px;left:auto}.tp-shadow5{position:relative;box-shadow:0 1px 4px rgba(0,0,0,.3),0 0 40px rgba(0,0,0,.1) inset}.tp-shadow5:before,.tp-shadow5:after{content:"";position:absolute;z-index:-2;box-shadow:0 0 25px 0px rgba(0,0,0,.6);top:30%;bottom:0;left:20px;right:20px;border-radius:100px/20px}.rev-btn,.rev-btn:visited{outline:none !important;box-shadow:none;text-decoration:none !important;box-sizing:border-box;cursor:pointer}.rev-btn.rev-uppercase,.rev-btn.rev-uppercase:visited{text-transform:uppercase}.rev-btn i{font-size:inherit;font-weight:400;position:relative;top:0;transition:opacity .2s ease-out,margin .2s ease-out;margin-left:0;line-height:inherit}.rev-btn.rev-hiddenicon i{font-size:inherit;font-weight:400;position:relative;top:0;transition:opacity .2s ease-out,margin .2s ease-out;opacity:0;margin-left:0 !important;width:0 !important}.rev-btn.rev-hiddenicon:hover i{opacity:1 !important;margin-left:10px !important;width:auto !important}.rev-burger{position:relative;box-sizing:border-box;padding:22px 14px;border-radius:50%;border:1px solid rgba(51,51,51,.25);-webkit-tap-highlight-color:rgba(0,0,0,0);-webkit-tap-highlight-color:transparent;cursor:pointer}.rev-burger span{display:block;width:30px;height:3px;background:#333;transition:.7s;pointer-events:none;transform-style:flat !important}.rev-burger span:nth-child(2){margin:3px 0}.quick_style_example_wrap .rev-burger:hover :first-child,#dialog_addbutton .rev-burger:hover :first-child,.open .rev-burger :first-child,.open.rev-burger :first-child{transform:translateY(6px) rotate(-45deg)}.quick_style_example_wrap .rev-burger:hover :nth-child(2),#dialog_addbutton .rev-burger:hover :nth-child(2),.open .rev-burger :nth-child(2),.open.rev-burger :nth-child(2){transform:rotate(-45deg);opacity:0}.quick_style_example_wrap .rev-burger:hover :last-child,#dialog_addbutton .rev-burger:hover :last-child,.open .rev-burger :last-child,.open.rev-burger :last-child{transform:translateY(-6px) rotate(-135deg)}.rev-burger.revb-white{border:2px solid rgba(255,255,255,.2)}.rev-b-span-light span,.rev-burger.revb-white span{background:#fff}.rev-burger.revb-whitenoborder{border:0}.rev-burger.revb-whitenoborder span{background:#fff}.rev-burger.revb-darknoborder{border:0}.rev-b-span-dark span,.rev-burger.revb-darknoborder span{background:#333}.rev-burger.revb-whitefull{background:#fff;border:none}.rev-burger.revb-whitefull span{background:#333}.rev-burger.revb-darkfull{background:#333;border:none}.rev-burger.revb-darkfull span{background:#fff}@keyframes rev-ani-mouse{0%{opacity:1;top:29%}15%{opacity:1;top:70%}50%{opacity:0;top:70%}100%{opacity:0;top:29%}}.rev-scroll-btn{display:inline-block;position:relative;left:0;right:0;text-align:center;cursor:pointer;width:35px;height:55px;box-sizing:border-box;border:3px solid #fff;border-radius:23px}.rev-scroll-btn>*{display:inline-block;line-height:18px;font-size:13px;font-weight:400;color:#7f8c8d;color:#fff;font-family:"proxima-nova","Helvetica Neue",Helvetica,Arial,sans-serif;letter-spacing:2px}.rev-scroll-btn>*:hover,.rev-scroll-btn>*:focus,.rev-scroll-btn>*.active{color:#fff}.rev-scroll-btn>*:hover,.rev-scroll-btn>*:focus,.rev-scroll-btn>*:active,.rev-scroll-btn>*.active{opacity:.8}.rev-scroll-btn.revs-fullwhite{background:#fff}.rev-scroll-btn.revs-fullwhite span{background:#333}.rev-scroll-btn.revs-fulldark,{background:#333;border:none}.rev-scroll-btn.revs-fulldark span{background:#fff}.rev-scroll-btn span{position:absolute;display:block;top:29%;left:50%;width:8px;height:8px;margin:-4px 0 0 -4px;border-radius:50%;animation:rev-ani-mouse 2.5s linear infinite;background:#fff}.rev-scroll-btn.rev-b-span-dark{border-color:#333}.rev-scroll-btn.rev-b-span-dark span,.rev-scroll-btn.revs-dark span{background:#333}.rev-control-btn{position:relative;display:inline-block;z-index:5;color:#fff;font-size:20px;line-height:60px;font-weight:400;font-style:normal;font-family:Raleway;text-decoration:none;text-align:center;background-color:#000;border-radius:50px;text-shadow:none;background-color:rgba(0,0,0,.5);width:60px;height:60px;box-sizing:border-box;cursor:pointer}.rev-cbutton-dark-sr{border-radius:3px}.rev-cbutton-light{color:#333;background-color:rgba(255,255,255,.75)}.rev-cbutton-light-sr{color:#333;border-radius:3px;background-color:rgba(255,255,255,.75)}.rev-sbutton{line-height:37px;width:37px;height:37px}.rev-sbutton-blue{background-color:#3b5998}.rev-sbutton-lightblue{background-color:#00a0d1}.rev-sbutton-red{background-color:#dd4b39}rs-progress{visibility:hidden;width:100%;height:5px;background:#000;background:rgba(0,0,0,.15);position:absolute;z-index:200;top:0}rs-progress.rs-bottom{top:auto;bottom:0 !important;height:5px}.rs-layer img{background:0 0;-ms-filter:"progid:DXImageTransform.Microsoft.gradient(startColorstr=#00FFFFFF,endColorstr=#00FFFFFF)";filter:progid:DXImageTransform.Microsoft.gradient(startColorstr=#00FFFFFF,endColorstr=#00FFFFFF);zoom:1}.rs-layer.slidelink{cursor:pointer;width:100%;height:100%}.rs-layer.slidelink a{width:100%;height:100%;display:block}.rs-layer.slidelink a div{width:3000px;height:1500px;background:url(data:image/png;base64,iVBORw0KGgoAAAANSUhEUgAAAAUAAAAFCAIAAAACDbGyAAAABnRSTlMARwBwAEyv7uYjAAAAD0lEQVR4AWNwL/BBRpTyAfO4GUwbPa/4AAAAAElFTkSuQmCC) repeat}.rs-layer.slidelink a span{background:url(data:image/png;base64,iVBORw0KGgoAAAANSUhEUgAAAAUAAAAFCAIAAAACDbGyAAAABnRSTlMARwBwAEyv7uYjAAAAD0lEQVR4AWNwL/BBRpTyAfO4GUwbPa/4AAAAAElFTkSuQmCC) repeat;width:100%;height:100%;display:block}.rs-layer .rs-starring{display:inline-block}.rs-layer .rs-starring .star-rating{float:none;display:inline-block;vertical-align:top;color:#ffc321 !important}.rs-layer .rs-starring .star-rating,.rs-layer .rs-starring-page .star-rating{position:relative;height:1em;width:5.4em;font-family:star;font-size:1em !important}.rs-layer .rs-starring .star-rating:before,.rs-layer .rs-starring-page .star-rating:before{content:"\73\73\73\73\73";color:#e0dadf;float:left;top:0;left:0;position:absolute}.rs-layer .rs-starring .star-rating span{overflow:hidden;float:left;top:0;left:0;position:absolute;padding-top:1.5em;font-size:1em !important}.rs-layer .rs-starring .star-rating span:before,.rs-layer .rs-starring .star-rating span:before{content:"\53\53\53\53\53";top:0;position:absolute;left:0}rs-loader{top:50%;left:50%;z-index:10000;position:absolute}rs-loader.off{display:none !important}rs-loader.spinner0{width:40px;height:40px;background-color:#fff;background-image:url(data:image/gif;base64,R0lGODlhGAAYAPQAAP///wAAAM7Ozvr6+uDg4LCwsOjo6I6OjsjIyJycnNjY2KioqMDAwPLy8nZ2doaGhri4uGhoaAAAAAAAAAAAAAAAAAAAAAAAAAAAAAAAAAAAAAAAAAAAAAAAAAAAAAAAACH+GkNyZWF0ZWQgd2l0aCBhamF4bG9hZC5pbmZvACH5BAAHAAAAIf8LTkVUU0NBUEUyLjADAQAAACwAAAAAGAAYAAAFriAgjiQAQWVaDgr5POSgkoTDjFE0NoQ8iw8HQZQTDQjDn4jhSABhAAOhoTqSDg7qSUQwxEaEwwFhXHhHgzOA1xshxAnfTzotGRaHglJqkJcaVEqCgyoCBQkJBQKDDXQGDYaIioyOgYSXA36XIgYMBWRzXZoKBQUMmil0lgalLSIClgBpO0g+s26nUWddXyoEDIsACq5SsTMMDIECwUdJPw0Mzsu0qHYkw72bBmozIQAh+QQABwABACwAAAAAGAAYAAAFsCAgjiTAMGVaDgR5HKQwqKNxIKPjjFCk0KNXC6ATKSI7oAhxWIhezwhENTCQEoeGCdWIPEgzESGxEIgGBWstEW4QCGGAIJEoxGmGt5ZkgCRQQHkGd2CESoeIIwoMBQUMP4cNeQQGDYuNj4iSb5WJnmeGng0CDGaBlIQEJziHk3sABidDAHBgagButSKvAAoyuHuUYHgCkAZqebw0AgLBQyyzNKO3byNuoSS8x8OfwIchACH5BAAHAAIALAAAAAAYABgAAAW4ICCOJIAgZVoOBJkkpDKoo5EI43GMjNPSokXCINKJCI4HcCRIQEQvqIOhGhBHhUTDhGo4diOZyFAoKEQDxra2mAEgjghOpCgz3LTBIxJ5kgwMBShACREHZ1V4Kg1rS44pBAgMDAg/Sw0GBAQGDZGTlY+YmpyPpSQDiqYiDQoCliqZBqkGAgKIS5kEjQ21VwCyp76dBHiNvz+MR74AqSOdVwbQuo+abppo10ssjdkAnc0rf8vgl8YqIQAh+QQABwADACwAAAAAGAAYAAAFrCAgjiQgCGVaDgZZFCQxqKNRKGOSjMjR0qLXTyciHA7AkaLACMIAiwOC1iAxCrMToHHYjWQiA4NBEA0Q1RpWxHg4cMXxNDk4OBxNUkPAQAEXDgllKgMzQA1pSYopBgonCj9JEA8REQ8QjY+RQJOVl4ugoYssBJuMpYYjDQSliwasiQOwNakALKqsqbWvIohFm7V6rQAGP6+JQLlFg7KDQLKJrLjBKbvAor3IKiEAIfkEAAcABAAsAAAAABgAGAAABbUgII4koChlmhokw5DEoI4NQ4xFMQoJO4uuhignMiQWvxGBIQC+AJBEUyUcIRiyE6CR0CllW4HABxBURTUw4nC4FcWo5CDBRpQaCoF7VjgsyCUDYDMNZ0mHdwYEBAaGMwwHDg4HDA2KjI4qkJKUiJ6faJkiA4qAKQkRB3E0i6YpAw8RERAjA4tnBoMApCMQDhFTuySKoSKMJAq6rD4GzASiJYtgi6PUcs9Kew0xh7rNJMqIhYchACH5BAAHAAUALAAAAAAYABgAAAW0ICCOJEAQZZo2JIKQxqCOjWCMDDMqxT2LAgELkBMZCoXfyCBQiFwiRsGpku0EshNgUNAtrYPT0GQVNRBWwSKBMp98P24iISgNDAS4ipGA6JUpA2WAhDR4eWM/CAkHBwkIDYcGiTOLjY+FmZkNlCN3eUoLDmwlDW+AAwcODl5bYl8wCVYMDw5UWzBtnAANEQ8kBIM0oAAGPgcREIQnVloAChEOqARjzgAQEbczg8YkWJq8nSUhACH5BAAHAAYALAAAAAAYABgAAAWtICCOJGAYZZoOpKKQqDoORDMKwkgwtiwSBBYAJ2owGL5RgxBziQQMgkwoMkhNqAEDARPSaiMDFdDIiRSFQowMXE8Z6RdpYHWnEAWGPVkajPmARVZMPUkCBQkJBQINgwaFPoeJi4GVlQ2Qc3VJBQcLV0ptfAMJBwdcIl+FYjALQgimoGNWIhAQZA4HXSpLMQ8PIgkOSHxAQhERPw7ASTSFyCMMDqBTJL8tf3y2fCEAIfkEAAcABwAsAAAAABgAGAAABa8gII4k0DRlmg6kYZCoOg5EDBDEaAi2jLO3nEkgkMEIL4BLpBAkVy3hCTAQKGAznM0AFNFGBAbj2cA9jQixcGZAGgECBu/9HnTp+FGjjezJFAwFBQwKe2Z+KoCChHmNjVMqA21nKQwJEJRlbnUFCQlFXlpeCWcGBUACCwlrdw8RKGImBwktdyMQEQciB7oACwcIeA4RVwAODiIGvHQKERAjxyMIB5QlVSTLYLZ0sW8hACH5BAAHAAgALAAAAAAYABgAAAW0ICCOJNA0ZZoOpGGQrDoOBCoSxNgQsQzgMZyIlvOJdi+AS2SoyXrK4umWPM5wNiV0UDUIBNkdoepTfMkA7thIECiyRtUAGq8fm2O4jIBgMBA1eAZ6Knx+gHaJR4QwdCMKBxEJRggFDGgQEREPjjAMBQUKIwIRDhBDC2QNDDEKoEkDoiMHDigICGkJBS2dDA6TAAnAEAkCdQ8ORQcHTAkLcQQODLPMIgIJaCWxJMIkPIoAt3EhACH5BAAHAAkALAAAAAAYABgAAAWtICCOJNA0ZZoOpGGQrDoOBCoSxNgQsQzgMZyIlvOJdi+AS2SoyXrK4umWHM5wNiV0UN3xdLiqr+mENcWpM9TIbrsBkEck8oC0DQqBQGGIz+t3eXtob0ZTPgNrIwQJDgtGAgwCWSIMDg4HiiUIDAxFAAoODwxDBWINCEGdSTQkCQcoegADBaQ6MggHjwAFBZUFCm0HB0kJCUy9bAYHCCPGIwqmRq0jySMGmj6yRiEAIfkEAAcACgAsAAAAABgAGAAABbIgII4k0DRlmg6kYZCsOg4EKhLE2BCxDOAxnIiW84l2L4BLZKipBopW8XRLDkeCiAMyMvQAA+uON4JEIo+vqukkKQ6RhLHplVGN+LyKcXA4Dgx5DWwGDXx+gIKENnqNdzIDaiMECwcFRgQCCowiCAcHCZIlCgICVgSfCEMMnA0CXaU2YSQFoQAKUQMMqjoyAglcAAyBAAIMRUYLCUkFlybDeAYJryLNk6xGNCTQXY0juHghACH5BAAHAAsALAAAAAAYABgAAAWzICCOJNA0ZVoOAmkY5KCSSgSNBDE2hDyLjohClBMNij8RJHIQvZwEVOpIekRQJyJs5AMoHA+GMbE1lnm9EcPhOHRnhpwUl3AsknHDm5RN+v8qCAkHBwkIfw1xBAYNgoSGiIqMgJQifZUjBhAJYj95ewIJCQV7KYpzBAkLLQADCHOtOpY5PgNlAAykAEUsQ1wzCgWdCIdeArczBQVbDJ0NAqyeBb64nQAGArBTt8R8mLuyPyEAOwAAAAAAAAAAAA==);background-repeat:no-repeat;background-position:center center;box-shadow:0px 0px 20px 0px rgba(0,0,0,.15);margin-top:-20px;margin-left:-20px;animation:tp-rotateplane 1.2s infinite ease-in-out;border-radius:3px}rs-loader.spinner1{width:40px;height:40px;background-color:#fff;box-shadow:0px 0px 20px 0px rgba(0,0,0,.15);margin-top:-20px;margin-left:-20px;animation:tp-rotateplane 1.2s infinite ease-in-out;border-radius:3px}rs-loader.spinner5{background-image:url(data:image/gif;base64,R0lGODlhGAAYAPQAAP///wAAAM7Ozvr6+uDg4LCwsOjo6I6OjsjIyJycnNjY2KioqMDAwPLy8nZ2doaGhri4uGhoaAAAAAAAAAAAAAAAAAAAAAAAAAAAAAAAAAAAAAAAAAAAAAAAAAAAAAAAACH+GkNyZWF0ZWQgd2l0aCBhamF4bG9hZC5pbmZvACH5BAAHAAAAIf8LTkVUU0NBUEUyLjADAQAAACwAAAAAGAAYAAAFriAgjiQAQWVaDgr5POSgkoTDjFE0NoQ8iw8HQZQTDQjDn4jhSABhAAOhoTqSDg7qSUQwxEaEwwFhXHhHgzOA1xshxAnfTzotGRaHglJqkJcaVEqCgyoCBQkJBQKDDXQGDYaIioyOgYSXA36XIgYMBWRzXZoKBQUMmil0lgalLSIClgBpO0g+s26nUWddXyoEDIsACq5SsTMMDIECwUdJPw0Mzsu0qHYkw72bBmozIQAh+QQABwABACwAAAAAGAAYAAAFsCAgjiTAMGVaDgR5HKQwqKNxIKPjjFCk0KNXC6ATKSI7oAhxWIhezwhENTCQEoeGCdWIPEgzESGxEIgGBWstEW4QCGGAIJEoxGmGt5ZkgCRQQHkGd2CESoeIIwoMBQUMP4cNeQQGDYuNj4iSb5WJnmeGng0CDGaBlIQEJziHk3sABidDAHBgagButSKvAAoyuHuUYHgCkAZqebw0AgLBQyyzNKO3byNuoSS8x8OfwIchACH5BAAHAAIALAAAAAAYABgAAAW4ICCOJIAgZVoOBJkkpDKoo5EI43GMjNPSokXCINKJCI4HcCRIQEQvqIOhGhBHhUTDhGo4diOZyFAoKEQDxra2mAEgjghOpCgz3LTBIxJ5kgwMBShACREHZ1V4Kg1rS44pBAgMDAg/Sw0GBAQGDZGTlY+YmpyPpSQDiqYiDQoCliqZBqkGAgKIS5kEjQ21VwCyp76dBHiNvz+MR74AqSOdVwbQuo+abppo10ssjdkAnc0rf8vgl8YqIQAh+QQABwADACwAAAAAGAAYAAAFrCAgjiQgCGVaDgZZFCQxqKNRKGOSjMjR0qLXTyciHA7AkaLACMIAiwOC1iAxCrMToHHYjWQiA4NBEA0Q1RpWxHg4cMXxNDk4OBxNUkPAQAEXDgllKgMzQA1pSYopBgonCj9JEA8REQ8QjY+RQJOVl4ugoYssBJuMpYYjDQSliwasiQOwNakALKqsqbWvIohFm7V6rQAGP6+JQLlFg7KDQLKJrLjBKbvAor3IKiEAIfkEAAcABAAsAAAAABgAGAAABbUgII4koChlmhokw5DEoI4NQ4xFMQoJO4uuhignMiQWvxGBIQC+AJBEUyUcIRiyE6CR0CllW4HABxBURTUw4nC4FcWo5CDBRpQaCoF7VjgsyCUDYDMNZ0mHdwYEBAaGMwwHDg4HDA2KjI4qkJKUiJ6faJkiA4qAKQkRB3E0i6YpAw8RERAjA4tnBoMApCMQDhFTuySKoSKMJAq6rD4GzASiJYtgi6PUcs9Kew0xh7rNJMqIhYchACH5BAAHAAUALAAAAAAYABgAAAW0ICCOJEAQZZo2JIKQxqCOjWCMDDMqxT2LAgELkBMZCoXfyCBQiFwiRsGpku0EshNgUNAtrYPT0GQVNRBWwSKBMp98P24iISgNDAS4ipGA6JUpA2WAhDR4eWM/CAkHBwkIDYcGiTOLjY+FmZkNlCN3eUoLDmwlDW+AAwcODl5bYl8wCVYMDw5UWzBtnAANEQ8kBIM0oAAGPgcREIQnVloAChEOqARjzgAQEbczg8YkWJq8nSUhACH5BAAHAAYALAAAAAAYABgAAAWtICCOJGAYZZoOpKKQqDoORDMKwkgwtiwSBBYAJ2owGL5RgxBziQQMgkwoMkhNqAEDARPSaiMDFdDIiRSFQowMXE8Z6RdpYHWnEAWGPVkajPmARVZMPUkCBQkJBQINgwaFPoeJi4GVlQ2Qc3VJBQcLV0ptfAMJBwdcIl+FYjALQgimoGNWIhAQZA4HXSpLMQ8PIgkOSHxAQhERPw7ASTSFyCMMDqBTJL8tf3y2fCEAIfkEAAcABwAsAAAAABgAGAAABa8gII4k0DRlmg6kYZCoOg5EDBDEaAi2jLO3nEkgkMEIL4BLpBAkVy3hCTAQKGAznM0AFNFGBAbj2cA9jQixcGZAGgECBu/9HnTp+FGjjezJFAwFBQwKe2Z+KoCChHmNjVMqA21nKQwJEJRlbnUFCQlFXlpeCWcGBUACCwlrdw8RKGImBwktdyMQEQciB7oACwcIeA4RVwAODiIGvHQKERAjxyMIB5QlVSTLYLZ0sW8hACH5BAAHAAgALAAAAAAYABgAAAW0ICCOJNA0ZZoOpGGQrDoOBCoSxNgQsQzgMZyIlvOJdi+AS2SoyXrK4umWPM5wNiV0UDUIBNkdoepTfMkA7thIECiyRtUAGq8fm2O4jIBgMBA1eAZ6Knx+gHaJR4QwdCMKBxEJRggFDGgQEREPjjAMBQUKIwIRDhBDC2QNDDEKoEkDoiMHDigICGkJBS2dDA6TAAnAEAkCdQ8ORQcHTAkLcQQODLPMIgIJaCWxJMIkPIoAt3EhACH5BAAHAAkALAAAAAAYABgAAAWtICCOJNA0ZZoOpGGQrDoOBCoSxNgQsQzgMZyIlvOJdi+AS2SoyXrK4umWHM5wNiV0UN3xdLiqr+mENcWpM9TIbrsBkEck8oC0DQqBQGGIz+t3eXtob0ZTPgNrIwQJDgtGAgwCWSIMDg4HiiUIDAxFAAoODwxDBWINCEGdSTQkCQcoegADBaQ6MggHjwAFBZUFCm0HB0kJCUy9bAYHCCPGIwqmRq0jySMGmj6yRiEAIfkEAAcACgAsAAAAABgAGAAABbIgII4k0DRlmg6kYZCsOg4EKhLE2BCxDOAxnIiW84l2L4BLZKipBopW8XRLDkeCiAMyMvQAA+uON4JEIo+vqukkKQ6RhLHplVGN+LyKcXA4Dgx5DWwGDXx+gIKENnqNdzIDaiMECwcFRgQCCowiCAcHCZIlCgICVgSfCEMMnA0CXaU2YSQFoQAKUQMMqjoyAglcAAyBAAIMRUYLCUkFlybDeAYJryLNk6xGNCTQXY0juHghACH5BAAHAAsALAAAAAAYABgAAAWzICCOJNA0ZVoOAmkY5KCSSgSNBDE2hDyLjohClBMNij8RJHIQvZwEVOpIekRQJyJs5AMoHA+GMbE1lnm9EcPhOHRnhpwUl3AsknHDm5RN+v8qCAkHBwkIfw1xBAYNgoSGiIqMgJQifZUjBhAJYj95ewIJCQV7KYpzBAkLLQADCHOtOpY5PgNlAAykAEUsQ1wzCgWdCIdeArczBQVbDJ0NAqyeBb64nQAGArBTt8R8mLuyPyEAOwAAAAAAAAAAAA==);background-repeat:no-repeat;background-position:10px 10px;background-color:#fff;margin:-22px;width:44px;height:44px;border-radius:3px}@keyframes tp-rotateplane{0%{transform:perspective(120px) rotateX(0deg) rotateY(0deg)}50%{transform:perspective(120px) rotateX(-180.1deg) rotateY(0deg)}100%{transform:perspective(120px) rotateX(-180deg) rotateY(-179.9deg)}}rs-loader.spinner2{width:40px;height:40px;margin-top:-20px;margin-left:-20px;background-color:red;box-shadow:0px 0px 20px 0px rgba(0,0,0,.15);border-radius:100%;animation:tp-scaleout 1s infinite ease-in-out}@keyframes tp-scaleout{0%{transform:scale(0)}100%{transform:scale(1);opacity:0}}rs-loader.spinner3{margin:-9px 0 0 -35px;width:70px;text-align:center}rs-loader.spinner3 .bounce1,rs-loader.spinner3 .bounce2,rs-loader.spinner3 .bounce3{width:18px;height:18px;background-color:#fff;box-shadow:0px 0px 20px 0px rgba(0,0,0,.15);border-radius:100%;display:inline-block;animation:tp-bouncedelay 1.4s infinite ease-in-out;animation-fill-mode:both}rs-loader.spinner3 .bounce1{animation-delay:-.32s}rs-loader.spinner3 .bounce2{animation-delay:-.16s}@keyframes tp-bouncedelay{0%,80%,100%{transform:scale(0)}40%{transform:scale(1)}}rs-loader.spinner4{margin:-20px 0 0 -20px;width:40px;height:40px;text-align:center;animation:tp-rotate 2s infinite linear}rs-loader.spinner4 .dot1,rs-loader.spinner4 .dot2{width:60%;height:60%;display:inline-block;position:absolute;top:0;background-color:#fff;border-radius:100%;animation:tp-bounce 2s infinite ease-in-out;box-shadow:0px 0px 20px 0px rgba(0,0,0,.15)}rs-loader.spinner4 .dot2{top:auto;bottom:0;animation-delay:-1s}@keyframes tp-rotate{100%{transform:rotate(360deg)}}@keyframes tp-bounce{0%,100%{transform:scale(0)}50%{transform:scale(1)}}rs-layer iframe{visibility:hidden}rs-layer.rs-ii-o iframe{visibility:visible}rs-layer input[type=text],rs-layer input[type=email],rs-layer input[type=url],rs-layer input[type=password],rs-layer input[type=search],rs-layer input[type=number],rs-layer input[type=tel],rs-layer input[type=range],rs-layer input[type=date],rs-layer input[type=month],rs-layer input[type=week],rs-layer input[type=time],rs-layer input[type=datetime],rs-layer input[type=datetime-local]{display:inline-block}rs-thumbs-wrap,rs-tabs-wrap,rs-thumbs,rs-thumb,rs-tab,rs-bullet,rs-bullets,rs-navmask,rs-tabs,rs-arrow{display:block}.tp-thumbs.navbar,.tp-bullets.navbar,.tp-tabs.navbar{border:none;min-height:0;margin:0;border-radius:0}.tp-tabs,.tp-thumbs,.tp-bullets{position:absolute;display:block;z-index:1000;top:0;left:0}.tp-tab,.tp-thumb{cursor:pointer;position:absolute;opacity:.5;box-sizing:border-box}.tp-arr-imgholder,rs-poster,.tp-thumb-image,.tp-tab-image{background-position:center center;background-size:cover;width:100%;height:100%;display:block;position:absolute;top:0;left:0}rs-poster{cursor:pointer;z-index:3}.tp-tab:hover,.tp-tab.selected,.tp-thumb:hover,.tp-thumb.selected{opacity:1}.tp-tab-mask,.tp-thumb-mask{box-sizing:border-box !important}.tp-tabs,.tp-thumbs{box-sizing:content-box !important}.tp-bullet{width:15px;height:15px;position:absolute;background:#fff;background:rgba(255,255,255,.3);cursor:pointer}.tp-bullet.selected,.tp-bullet:hover{background:#fff}.tparrows{cursor:pointer;background:#000;background:rgba(0,0,0,.5);width:40px;height:40px;position:absolute;display:block;z-index:1000}.tparrows:hover{background:#000}.tparrows:before{font-family:"revicons";font-size:15px;color:#fff;display:block;line-height:40px;text-align:center}.tparrows.tp-leftarrow:before{content:'\e824'}.tparrows.tp-rightarrow:before{content:'\e825'}.rs-layer [class^=pe-7s-]:before,.rs-layer [class*=" pe-7s-"]:before{width:auto;margin:0;line-height:inherit;box-sizing:inherit}rs-pzimg-wrap{display:block}body.rtl .rs-pzimg{left:0 !important}.dddwrappershadow{box-shadow:0 45px 100px rgba(0,0,0,.4)}.dddwrapper{transform-style:flat;perspective:10000px}.rs_error_message_box{background:#111;width:800px;margin:40px auto;padding:40px 20px;text-align:center;font-family:"Open Sans",sans-serif}.rs_error_message_oops{margin:0 0 20px;line-height:60px;font-size:34px;color:#fff}.rs_error_message_content{margin:0 0 20px;line-height:25px;font-size:17px;color:#fff}.rs_error_message_button{color:#fff !important;background:#333;display:inline-block;padding:10px 15px;text-align:right;border-radius:5px;cursor:pointer;text-decoration:none !important}.rs_error_message_button:hover{background:#5e35b1}.hglayerinfo{position:fixed;bottom:0;left:0;color:#fff;font-size:12px;line-height:20px;font-weight:600;background:rgba(0,0,0,.75);padding:5px 10px;z-index:2000;white-space:normal}.hginfo{position:absolute;top:-2px;left:-2px;color:#e74c3c;font-size:12px;font-weight:600;background:#000;padding:2px 5px}.indebugmode .rs-layer:hover{border:1px dashed #c0392b !important}.helpgrid{border:2px dashed #c0392b;position:absolute;top:0;left:0;z-index:0}#revsliderlogloglog{padding:15px;color:#fff;position:fixed;top:0;left:0;width:200px;height:150px;background:rgba(0,0,0,.7);z-index:100000;font-size:10px;overflow:scroll}.aden{filter:hue-rotate(-20deg) contrast(.9) saturate(.85) brightness(1.2)}.aden:after{background:linear-gradient(to right,rgba(66,10,14,.2),transparent);mix-blend-mode:darken}.perpetua:after,.reyes:after{mix-blend-mode:soft-light;opacity:.5}.inkwell{filter:sepia(.3) contrast(1.1) brightness(1.1) grayscale(1)}.perpetua:after{background:linear-gradient(to bottom,#005b9a,#e6c13d)}.reyes{filter:sepia(.22) brightness(1.1) contrast(.85) saturate(.75)}.reyes:after{background:#efcdad}.gingham{filter:brightness(1.05) hue-rotate(-10deg)}.gingham:after{background:linear-gradient(to right,rgba(66,10,14,.2),transparent);mix-blend-mode:darken}.toaster{filter:contrast(1.5) brightness(.9)}.toaster:after{background:radial-gradient(circle,#804e0f,#3b003b);mix-blend-mode:screen}.walden{filter:brightness(1.1) hue-rotate(-10deg) sepia(.3) saturate(1.6)}.walden:after{background:#04c;mix-blend-mode:screen;opacity:.3}.hudson{filter:brightness(1.2) contrast(.9) saturate(1.1)}.hudson:after{background:radial-gradient(circle,#a6b1ff 50%,#342134);mix-blend-mode:multiply;opacity:.5}.earlybird{filter:contrast(.9) sepia(.2)}.earlybird:after{background:radial-gradient(circle,#d0ba8e 20%,#360309 85%,#1d0210 100%);mix-blend-mode:overlay}.mayfair{filter:contrast(1.1) saturate(1.1)}.mayfair:after{background:radial-gradient(circle at 40% 40%,rgba(255,255,255,.8),rgba(255,200,200,.6),#111 60%);mix-blend-mode:overlay;opacity:.4}.lofi{filter:saturate(1.1) contrast(1.5)}.lofi:after{background:radial-gradient(circle,transparent 70%,#222 150%);mix-blend-mode:multiply}._1977{filter:contrast(1.1) brightness(1.1) saturate(1.3)}._1977:after{background:rgba(243,106,188,.3);mix-blend-mode:screen}.brooklyn{filter:contrast(.9) brightness(1.1)}.brooklyn:after{background:radial-gradient(circle,rgba(168,223,193,.4) 70%,#c4b7c8);mix-blend-mode:overlay}.xpro2{filter:sepia(.3)}.xpro2:after{background:radial-gradient(circle,#e6e7e0 40%,rgba(43,42,161,.6) 110%);mix-blend-mode:color-burn}.nashville{filter:sepia(.2) contrast(1.2) brightness(1.05) saturate(1.2)}.nashville:after{background:rgba(0,70,150,.4);mix-blend-mode:lighten}.nashville:before{background:rgba(247,176,153,.56);mix-blend-mode:darken}.lark{filter:contrast(.9)}.lark:after{background:rgba(242,242,242,.8);mix-blend-mode:darken}.lark:before{background:#22253f;mix-blend-mode:color-dodge}.moon{filter:grayscale(1) contrast(1.1) brightness(1.1)}.moon:before{background:#a0a0a0;mix-blend-mode:soft-light}.moon:after{background:#383838;mix-blend-mode:lighten}.clarendon{filter:contrast(1.2) saturate(1.35)}.clarendon:before{background:rgba(127,187,227,.2);mix-blend-mode:overlay}.willow{filter:grayscale(.5) contrast(.95) brightness(.9)}.willow:before{background-color:radial-gradient(40%,circle,#d4a9af 55%,#000 150%);mix-blend-mode:overlay}.willow:after{background-color:#d8cdcb;mix-blend-mode:color}.rise{filter:brightness(1.05) sepia(.2) contrast(.9) saturate(.9)}.rise:after{background:radial-gradient(circle,rgba(232,197,152,.8),transparent 90%);mix-blend-mode:overlay;opacity:.6}.rise:before{background:radial-gradient(circle,rgba(236,205,169,.15) 55%,rgba(50,30,7,.4));mix-blend-mode:multiply}._1977:after,._1977:before,rs-pzimg-wrap.aden:after,.aden:before,.brooklyn:after,.brooklyn:before,.clarendon:after,.clarendon:before,.earlybird:after,.earlybird:before,.gingham:after,.gingham:before,.hudson:after,.hudson:before,.inkwell:after,.inkwell:before,.lark:after,.lark:before,.lofi:after,.lofi:before,.mayfair:after,.mayfair:before,.moon:after,.moon:before,.nashville:after,.nashville:before,.perpetua:after,.perpetua:before,.reyes:after,.reyes:before,.rise:after,.rise:before,.slumber:after,.slumber:before,.toaster:after,.toaster:before,.walden:after,.walden:before,.willow:after,.willow:before,.xpro2:after,.xpro2:before{content:'';display:block;height:100%;width:100%;top:0;left:0;position:absolute;pointer-events:none}._1977,.aden,.brooklyn,.clarendon,.earlybird,.gingham,.hudson,.inkwell,.lark,.lofi,.mayfair,.moon,.nashville,.perpetua,.reyes,.rise,.slumber,.toaster,.walden,.willow,.xpro2{position:relative}._1977 img,.aden img,.brooklyn img,.clarendon img,.earlybird img,.gingham img,.hudson img,.inkwell img,.lark img,.lofi img,.mayfair img,.moon img,.nashville img,.perpetua img,.reyes img,.rise img,.slumber img,.toaster img,.walden img,.willow img,.xpro2 img{width:100%;z-index:1}._1977:before,.aden:before,.brooklyn:before,.clarendon:before,.earlybird:before,.gingham:before,.hudson:before,.inkwell:before,.lark:before,.lofi:before,.mayfair:before,.moon:before,.nashville:before,.perpetua:before,.reyes:before,.rise:before,.slumber:before,.toaster:before,.walden:before,.willow:before,.xpro2:before{z-index:2}._1977:after,.aden:after,.brooklyn:after,.clarendon:after,.earlybird:after,.gingham:after,.hudson:after,.inkwell:after,.lark:after,.lofi:after,.mayfair:after,.moon:after,.nashville:after,.perpetua:after,.reyes:after,.rise:after,.slumber:after,.toaster:after,.walden:after,.willow:after,.xpro2:after{z-index:3}.slumber{filter:saturate(.66) brightness(1.05)}.slumber:after{background:rgba(125,105,24,.5);mix-blend-mode:soft-light}.slumber:before{background:rgba(69,41,12,.4);mix-blend-mode:lighten}rs-pzimg-wrap.perpetua:before,rs-pzimg-wrap.perpetua:after,rs-pzimg-wrap.nashville:before,rs-pzimg-wrap.nashville:after,rs-pzimg-wrap.xpro2:before,rs-pzimg-wrap.xpro2:after,rs-pzimg-wrap._1977:after,rs-pzimg-wrap._1977:before,rs-pzimg-wrap.aden:after,rs-pzimg-wrap.aden:before,rs-pzimg-wrap.brooklyn:after,rs-pzimg-wrap.brooklyn:before,rs-pzimg-wrap.clarendon:after,rs-pzimg-wrap.clarendon:before,rs-pzimg-wrap.earlybird:after,rs-pzimg-wrap.earlybird:before,rs-pzimg-wrap.gingham:after,rs-pzimg-wrap.gingham:before,rs-pzimg-wrap.hudson:after,rs-pzimg-wrap.hudson:before,rs-pzimg-wrap.inkwell:after,rs-pzimg-wrap.inkwell:before,rs-pzimg-wrap.lark:after,rs-pzimg-wrap.lark:before,rs-pzimg-wrap.lofi:after,rs-pzimg-wrap.lofi:before,rs-pzimg-wrap.mayfair:after,rs-pzimg-wrap.mayfair:before,rs-pzimg-wrap.moon:after,rs-pzimg-wrap.moon:before,rs-pzimg-wrap.reyes:after,rs-pzimg-wrap.reyes:before,rs-pzimg-wrap.rise:after,rs-pzimg-wrap.rise:before,rs-pzimg-wrap.slumber:after,rs-pzimg-wrap.slumber:before,rs-pzimg-wrap.toaster:after,rs-pzimg-wrap.toaster:before,rs-pzimg-wrap.walden:after,rs-pzimg-wrap.walden:before,rs-pzimg-wrap.willow:after,rs-pzimg-wrap.willow:before,rs-pzimg-wrap:before,rs-pzimg-wrap:after{height:500%;width:500%}rs-loader.spinner6{width:40px;height:40px;-webkit-transform:translate(-50%,-50%);transform:translate(-50%,-50%)}rs-loader.spinner6 .rs-spinner-inner{width:100%;height:100%;display:inline-block;-webkit-animation:rs-revealer-6 1.4s linear infinite;animation:rs-revealer-6 1.4s linear infinite}rs-loader.spinner6 .rs-spinner-inner span{position:absolute;vertical-align:top;border-radius:100%;display:inline-block;width:8px;height:8px;margin-left:16px;transform-origin:center 20px;-webkit-transform-origin:center 20px}rs-loader.spinner6 .rs-spinner-inner span:nth-child(2){transform:rotate(36deg);-webkit-transform:rotate(36deg);opacity:.1}rs-loader.spinner6 .rs-spinner-inner span:nth-child(3){transform:rotate(72deg);-webkit-transform:rotate(72deg);opacity:.2}rs-loader.spinner6 .rs-spinner-inner span:nth-child(4){transform:rotate(108deg);-webkit-transform:rotate(108deg);opacity:.3}rs-loader.spinner6 .rs-spinner-inner span:nth-child(5){transform:rotate(144deg);-webkit-transform:rotate(144deg);opacity:.4}rs-loader.spinner6 .rs-spinner-inner span:nth-child(6){transform:rotate(180deg);-webkit-transform:rotate(180deg);opacity:.5}rs-loader.spinner6 .rs-spinner-inner span:nth-child(7){transform:rotate(216deg);-webkit-transform:rotate(216deg);opacity:.6}rs-loader.spinner6 .rs-spinner-inner span:nth-child(8){transform:rotate(252deg);-webkit-transform:rotate(252deg);opacity:.7}rs-loader.spinner6 .rs-spinner-inner span:nth-child(9){transform:rotate(288deg);-webkit-transform:rotate(288deg);opacity:.8}rs-loader.spinner6 .rs-spinner-inner span:nth-child(10){transform:rotate(324deg);-webkit-transform:rotate(324deg);opacity:.9}@keyframes rs-revealer-6{from{transform:rotate(0)}to{transform:rotate(360deg)}}@-webkit-keyframes rs-revealer-6{from{-webkit-transform:rotate(0)}to{-webkit-transform:rotate(360deg)}}rs-loader.spinner7{width:35px;height:35px;-webkit-transform:translate(-50%,-50%);transform:translate(-50%,-50%)}rs-loader.spinner7 .rs-spinner-inner{width:100%;height:100%;display:inline-block;padding:0;border-radius:100%;border:2px solid;-webkit-animation:rs-revealer-7 .8s linear infinite;animation:rs-revealer-7 .8s linear infinite}@keyframes rs-revealer-7{from{transform:rotate(0)}to{transform:rotate(360deg)}}@-webkit-keyframes rs-revealer-7{from{-webkit-transform:rotate(0)}to{-webkit-transform:rotate(360deg)}}rs-loader.spinner8{width:50px;height:50px;-webkit-transform:translate(-50%,-50%);transform:translate(-50%,-50%)}rs-loader.spinner8 .rs-spinner-inner{width:100%;height:100%;display:inline-block;padding:0;text-align:left}rs-loader.spinner8 .rs-spinner-inner span{position:absolute;display:inline-block;width:100%;height:100%;border-radius:100%;-webkit-animation:rs-revealer-8 1.6s linear infinite;animation:rs-revealer-8 1.6s linear infinite}rs-loader.spinner8 .rs-spinner-inner span:last-child{animation-delay:-.8s;-webkit-animation-delay:-.8s}@keyframes rs-revealer-8{0%{transform:scale(0,0);opacity:.5}100%{transform:scale(1,1);opacity:0}}@-webkit-keyframes rs-revealer-8{0%{-webkit-transform:scale(0,0);opacity:.5}100%{-webkit-transform:scale(1,1);opacity:0}}rs-loader.spinner9{width:40px;height:40px;-webkit-transform:translate(-50%,-50%);transform:translate(-50%,-50%)}rs-loader.spinner9 .rs-spinner-inner span{display:block;width:100%;height:100%;border-radius:50%;opacity:.6;position:absolute;top:0;left:0;-webkit-animation:rs-revealer-9 2s infinite ease-in-out;animation:rs-revealer-9 2s infinite ease-in-out}rs-loader.spinner9 .rs-spinner-inner span:last-child{-webkit-animation-delay:-1s;animation-delay:-1s}@-webkit-keyframes rs-revealer-9{0%,100%{-webkit-transform:scale(0)}50%{-webkit-transform:scale(1)}}@keyframes rs-revealer-9{0%,100%{transform:scale(0);-webkit-transform:scale(0)}50%{transform:scale(1);-webkit-transform:scale(1)}}rs-loader.spinner10{width:54px;height:40px;-webkit-transform:translate(-50%,-50%);transform:translate(-50%,-50%)}rs-loader.spinner10 .rs-spinner-inner{width:100%;height:100%;text-align:center;font-size:10px}rs-loader.spinner10 .rs-spinner-inner span{display:block;height:100%;width:6px;display:inline-block;-webkit-animation:rs-revealer-10 1.2s infinite ease-in-out;animation:rs-revealer-10 1.2s infinite ease-in-out}rs-loader.spinner10 .rs-spinner-inner span:nth-child(2){-webkit-animation-delay:-1.1s;animation-delay:-1.1s}rs-loader.spinner10 .rs-spinner-inner span:nth-child(3){-webkit-animation-delay:-1s;animation-delay:-1s}rs-loader.spinner10 .rs-spinner-inner span:nth-child(4){-webkit-animation-delay:-.9s;animation-delay:-.9s}rs-loader.spinner10 .rs-spinner-inner span:nth-child(5){-webkit-animation-delay:-.8s;animation-delay:-.8s}@-webkit-keyframes rs-revealer-10{0%,100%,40%{-webkit-transform:scaleY(.4)}20%{-webkit-transform:scaleY(1)}}@keyframes rs-revealer-10{0%,100%,40%{transform:scaleY(.4);-webkit-transform:scaleY(.4)}20%{transform:scaleY(1);-webkit-transform:scaleY(1)}}rs-loader.spinner11{width:40px;height:40px;-webkit-transform:translate(-50%,-50%);transform:translate(-50%,-50%)}rs-loader.spinner11 .rs-spinner-inner{width:100%;height:100%}rs-loader.spinner11 .rs-spinner-inner span{display:block;width:33%;height:33%;background-color:#333;float:left;-webkit-animation:rs-revealer-11 1.3s infinite ease-in-out;animation:rs-revealer-11 1.3s infinite ease-in-out}rs-loader.spinner11 .rs-spinner-inner span:nth-child(1){-webkit-animation-delay:.2s;animation-delay:.2s}rs-loader.spinner11 .rs-spinner-inner span:nth-child(2){-webkit-animation-delay:.3s;animation-delay:.3s}rs-loader.spinner11 .rs-spinner-inner span:nth-child(3){-webkit-animation-delay:.4s;animation-delay:.4s}rs-loader.spinner11 .rs-spinner-inner span:nth-child(4){-webkit-animation-delay:.1s;animation-delay:.1s}rs-loader.spinner11 .rs-spinner-inner span:nth-child(5){-webkit-animation-delay:.2s;animation-delay:.2s}rs-loader.spinner11 .rs-spinner-inner span:nth-child(6){-webkit-animation-delay:.3s;animation-delay:.3s}rs-loader.spinner11 .rs-spinner-inner span:nth-child(7){-webkit-animation-delay:0s;animation-delay:0s}rs-loader.spinner11 .rs-spinner-inner span:nth-child(8){-webkit-animation-delay:.1s;animation-delay:.1s}rs-loader.spinner11 .rs-spinner-inner span:nth-child(9){-webkit-animation-delay:.2s;animation-delay:.2s}@-webkit-keyframes rs-revealer-11{0%,100%,70%{-webkit-transform:scale3D(1,1,1);transform:scale3D(1,1,1)}35%{-webkit-transform:scale3D(0,0,1);transform:scale3D(0,0,1)}}@keyframes rs-revealer-11{0%,100%,70%{-webkit-transform:scale3D(1,1,1);transform:scale3D(1,1,1)}35%{-webkit-transform:scale3D(0,0,1);transform:scale3D(0,0,1)}}rs-loader.spinner12{width:35px;height:35px;-webkit-transform:translate(-50%,-50%);transform:translate(-50%,-50%)}rs-loader.spinner12 .rs-spinner-inner{width:100%;height:100%;-webkit-animation:rs-revealer-12 1s infinite linear;animation:rs-revealer-12 1s infinite linear}@-webkit-keyframes rs-revealer-12{0%{-webkit-transform:rotate(0)}100%{-webkit-transform:rotate(360deg)}}@keyframes rs-revealer-12{0%{transform:rotate(0)}100%{transform:rotate(360deg)}}rs-loader.spinner13{width:40px;height:40px;-webkit-transform:translate(-50%,-50%);transform:translate(-50%,-50%)}rs-loader.spinner13 .rs-spinner-inner{width:100%;height:100%}rs-loader.spinner13 .rs-spinner-inner span{display:block;width:40%;height:40%;position:absolute;border-radius:50%;-webkit-animation:rs-revealer-13 2s ease infinite;animation:rs-revealer-13 2s ease infinite}rs-loader.spinner13 .rs-spinner-inner span:nth-child(1){animation-delay:-1.5s;-webkit-animation-delay:-1.5s}rs-loader.spinner13 .rs-spinner-inner span:nth-child(2){animation-delay:-1s;-webkit-animation-delay:-1s}rs-loader.spinner13 .rs-spinner-inner span:nth-child(3){animation-delay:-.5s;-webkit-animation-delay:-.5s}@keyframes rs-revealer-13{0%,100%{transform:translate(0)}25%{transform:translate(160%)}50%{transform:translate(160%,160%)}75%{transform:translate(0,160%)}}@-webkit-keyframes rs-revealer-13{0%,100%{-webkit-transform:translate(0)}25%{-webkit-transform:translate(160%)}50%{-webkit-transform:translate(160%,160%)}75%{-webkit-transform:translate(0,160%)}}rs-loader.spinner14{width:40px;height:40px;-webkit-transform:translate(-50%,-50%);transform:translate(-50%,-50%)}rs-loader.spinner14 .rs-spinner-inner{width:100%;height:100%;animation:rs-revealer-14 1s infinite linear}rs-loader.spinner14 .rs-spinner-inner span{display:block;position:absolute;top:50%;left:50%;width:16px;height:16px;border-radius:50%;margin:-8px}rs-loader.spinner14 .rs-spinner-inner span:nth-child(1){-webkit-animation:rs-revealer-14-1 2s infinite;animation:rs-revealer-14-1 2s infinite}rs-loader.spinner14 .rs-spinner-inner span:nth-child(2){-webkit-animation:rs-revealer-14-2 2s infinite;animation:rs-revealer-14-2 2s infinite}rs-loader.spinner14 .rs-spinner-inner span:nth-child(3){-webkit-animation:rs-revealer-14-3 2s infinite;animation:rs-revealer-14-3 2s infinite}rs-loader.spinner14 .rs-spinner-inner span:nth-child(4){-webkit-animation:rs-revealer-14-4 2s infinite;animation:rs-revealer-14-4 2s infinite}@-webkit-keyframes rs-revealer-14-1{0%{-webkit-transform:rotate3d(0,0,1,0deg) translate3d(0,0,0)}20%{-webkit-transform:rotate3d(0,0,1,0deg) translate3d(80%,80%,0)}80%{-webkit-transform:rotate3d(0,0,1,360deg) translate3d(80%,80%,0)}100%{-webkit-transform:rotate3d(0,0,1,360deg) translate3d(0,0,0)}}@-webkit-keyframes rs-revealer-14-2{0%{-webkit-transform:rotate3d(0,0,1,0deg) translate3d(0,0,0)}20%{-webkit-transform:rotate3d(0,0,1,0deg) translate3d(80%,-80%,0)}80%{-webkit-transform:rotate3d(0,0,1,360deg) translate3d(80%,-80%,0)}100%{-webkit-transform:rotate3d(0,0,1,360deg) translate3d(0,0,0)}}@-webkit-keyframes rs-revealer-14-3{0%{-webkit-transform:rotate3d(0,0,1,0deg) translate3d(0,0,0)}20%{-webkit-transform:rotate3d(0,0,1,0deg) translate3d(-80%,-80%,0)}80%{-webkit-transform:rotate3d(0,0,1,360deg) translate3d(-80%,-80%,0)}100%{-webkit-transform:rotate3d(0,0,1,360deg) translate3d(0,0,0)}}@-webkit-keyframes rs-revealer-14-4{0%{-webkit-transform:rotate3d(0,0,1,0deg) translate3d(0,0,0)}20%{-webkit-transform:rotate3d(0,0,1,0deg) translate3d(-80%,80%,0)}80%{-webkit-transform:rotate3d(0,0,1,360deg) translate3d(-80%,80%,0)}100%{-webkit-transform:rotate3d(0,0,1,360deg) translate3d(0,0,0)}}@keyframes rs-revealer-14-1{0%{transform:rotate3d(0,0,1,0deg) translate3d(0,0,0)}20%{transform:rotate3d(0,0,1,0deg) translate3d(80%,80%,0)}80%{transform:rotate3d(0,0,1,360deg) translate3d(80%,80%,0)}100%{transform:rotate3d(0,0,1,360deg) translate3d(0,0,0)}}@keyframes rs-revealer-14-2{0%{transform:rotate3d(0,0,1,0deg) translate3d(0,0,0)}20%{transform:rotate3d(0,0,1,0deg) translate3d(80%,-80%,0)}80%{transform:rotate3d(0,0,1,360deg) translate3d(80%,-80%,0)}100%{transform:rotate3d(0,0,1,360deg) translate3d(0,0,0)}}@keyframes rs-revealer-14-3{0%{transform:rotate3d(0,0,1,0deg) translate3d(0,0,0)}20%{transform:rotate3d(0,0,1,0deg) translate3d(-80%,-80%,0)}80%{transform:rotate3d(0,0,1,360deg) translate3d(-80%,-80%,0)}100%{transform:rotate3d(0,0,1,360deg) translate3d(0,0,0)}}@keyframes rs-revealer-14-4{0%{transform:rotate3d(0,0,1,0deg) translate3d(0,0,0)}20%{transform:rotate3d(0,0,1,0deg) translate3d(-80%,80%,0)}80%{transform:rotate3d(0,0,1,360deg) translate3d(-80%,80%,0)}100%{transform:rotate3d(0,0,1,360deg) translate3d(0,0,0)}}rs-loader.spinner15{width:40px;height:40px;margin-top:-4px;-webkit-transform:translate(-50%,-50%);transform:translate(-50%,-50%)}rs-loader.spinner15 .rs-spinner-inner{width:100%;height:100%}rs-loader.spinner15 .rs-spinner-inner span{display:block;width:20px;height:20px;position:absolute;top:0;left:0;-webkit-animation:rs-revealer-15 1.8s infinite ease-in-out;animation:rs-revealer-15 1.8s infinite ease-in-out}rs-loader.spinner15 .rs-spinner-inner:last-child{-webkit-animation-delay:-.9s;animation-delay:-.9s}@-webkit-keyframes rs-revealer-15{25%{-webkit-transform:translateX(30px) rotate(-90deg) scale(.5)}50%{-webkit-transform:translateX(30px) translateY(30px) rotate(-180deg)}75%{-webkit-transform:translateX(0) translateY(30px) rotate(-270deg) scale(.5)}100%{-webkit-transform:rotate(-360deg)}}@keyframes rs-revealer-15{25%{transform:translateX(30px) rotate(-90deg) scale(.5);-webkit-transform:translateX(30px) rotate(-90deg) scale(.5)}50%{transform:translateX(30px) translateY(30px) rotate(-179deg);-webkit-transform:translateX(30px) translateY(30px) rotate(-179deg)}50.1%{transform:translateX(30px) translateY(30px) rotate(-180deg);-webkit-transform:translateX(30px) translateY(30px) rotate(-180deg)}75%{transform:translateX(0) translateY(30px) rotate(-270deg) scale(.5);-webkit-transform:translateX(0) translateY(30px) rotate(-270deg) scale(.5)}100%{transform:rotate(-360deg);-webkit-transform:rotate(-360deg)}}.bgcanvas{display:none;position:absolute;oveflow:hidden}@keyframes ppress-dual-ring{0%{transform:rotate(0deg)}to{transform:rotate(360deg)}}.ppress-hint-wrap[class*=hint--]{position:relative;display:inline-block}.ppress-hint-wrap[class*=hint--]:after,.ppress-hint-wrap[class*=hint--]:before{position:absolute;-webkit-transform:translate3d(0,0,0);-moz-transform:translate3d(0,0,0);transform:translate3d(0,0,0);visibility:hidden;opacity:0;z-index:1000000;pointer-events:none;-webkit-transition:.3s ease;-moz-transition:.3s ease;transition:.3s ease;-webkit-transition-delay:0s;-moz-transition-delay:0s;transition-delay:0s}.ppress-hint-wrap[class*=hint--]:before{content:"";background:0 0;border:6px solid transparent;z-index:1000001}.ppress-hint-wrap[class*=hint--]:hover:after,.ppress-hint-wrap[class*=hint--]:hover:before{visibility:visible;opacity:1;-webkit-transition-delay:.1s;-moz-transition-delay:.1s;transition-delay:.1s}.ppress-hint-wrap[class*=hint--]:after{background:#383838;color:#fff;padding:8px 10px;font-size:12px;font-family:"Helvetica Neue",Helvetica,Arial,sans-serif;line-height:12px;white-space:nowrap;text-shadow:0-1px 0#000;box-shadow:4px 4px 8px rgba(0,0,0,.3)}.ppress-hint-wrap[class*=hint--][aria-label]:after{content:attr(aria-label)}.ppress-hint-wrap[class*=hint--][data-hint]:after{content:attr(data-hint)}.ppress-hint-wrap[aria-label=""]:after,.ppress-hint-wrap[aria-label=""]:before,[data-hint=""]:after,[data-hint=""]:before{display:none!important}.ppress-hint-wrap.hint--top-left:before,.ppress-hint-wrap.hint--top-right:before,.ppress-hint-wrap.hint--top:before{border-top-color:#383838}.ppress-hint-wrap.hint--bottom-left:before,.ppress-hint-wrap.hint--bottom-right:before,.ppress-hint-wrap.hint--bottom:before{border-bottom-color:#383838}.ppress-hint-wrap.hint--top:after,.ppress-hint-wrap.hint--top:before{bottom:100%;left:50%}.ppress-hint-wrap.hint--top:before{margin-bottom:-11px;left:calc(50% - 6px)}.ppress-hint-wrap.hint--top:after{-webkit-transform:translateX(-50%);-moz-transform:translateX(-50%);transform:translateX(-50%)}.ppress-hint-wrap.hint--top:hover:before{-webkit-transform:translateY(-8px);-moz-transform:translateY(-8px);transform:translateY(-8px)}.ppress-hint-wrap.hint--top:hover:after{-webkit-transform:translateX(-50%) translateY(-8px);-moz-transform:translateX(-50%) translateY(-8px);transform:translateX(-50%) translateY(-8px)}.ppress-hint-wrap.hint--bottom:after,.ppress-hint-wrap.hint--bottom:before{top:100%;left:50%}.ppress-hint-wrap.hint--bottom:before{margin-top:-11px;left:calc(50% - 6px)}.ppress-hint-wrap.hint--bottom:after{-webkit-transform:translateX(-50%);-moz-transform:translateX(-50%);transform:translateX(-50%)}.ppress-hint-wrap.hint--bottom:hover:before{-webkit-transform:translateY(8px);-moz-transform:translateY(8px);transform:translateY(8px)}.ppress-hint-wrap.hint--bottom:hover:after{-webkit-transform:translateX(-50%) translateY(8px);-moz-transform:translateX(-50%) translateY(8px);transform:translateX(-50%) translateY(8px)}.ppress-hint-wrap.hint--right:before{border-right-color:#383838;margin-left:-11px;margin-bottom:-6px}.ppress-hint-wrap.hint--right:after{margin-bottom:-14px;left:100%;bottom:50%}.ppress-hint-wrap.hint--right:before{left:100%;bottom:50%}.ppress-hint-wrap.hint--right:hover:after,.ppress-hint-wrap.hint--right:hover:before{-webkit-transform:translateX(8px);-moz-transform:translateX(8px);transform:translateX(8px)}.ppress-hint-wrap.hint--left:before{border-left-color:#383838;margin-right:-11px;margin-bottom:-6px}.ppress-hint-wrap.hint--left:after{margin-bottom:-14px;right:100%;bottom:50%}.ppress-hint-wrap.hint--left:before{right:100%;bottom:50%}.ppress-hint-wrap.hint--left:hover:after,.ppress-hint-wrap.hint--left:hover:before{-webkit-transform:translateX(-8px);-moz-transform:translateX(-8px);transform:translateX(-8px)}.ppress-hint-wrap.hint--top-left:after,.ppress-hint-wrap.hint--top-left:before{bottom:100%;left:50%}.ppress-hint-wrap.hint--top-left:before{margin-bottom:-11px;left:calc(50% - 6px)}.ppress-hint-wrap.hint--top-left:after{-webkit-transform:translateX(-100%);-moz-transform:translateX(-100%);transform:translateX(-100%);margin-left:12px}.ppress-hint-wrap.hint--top-left:hover:before{-webkit-transform:translateY(-8px);-moz-transform:translateY(-8px);transform:translateY(-8px)}.ppress-hint-wrap.hint--top-left:hover:after{-webkit-transform:translateX(-100%) translateY(-8px);-moz-transform:translateX(-100%) translateY(-8px);transform:translateX(-100%) translateY(-8px)}.ppress-hint-wrap.hint--top-right:after,.ppress-hint-wrap.hint--top-right:before{bottom:100%;left:50%}.ppress-hint-wrap.hint--top-right:before{margin-bottom:-11px;left:calc(50% - 6px)}.ppress-hint-wrap.hint--top-right:after{-webkit-transform:translateX(0);-moz-transform:translateX(0);transform:translateX(0);margin-left:-12px}.ppress-hint-wrap.hint--top-right:hover:after,.ppress-hint-wrap.hint--top-right:hover:before{-webkit-transform:translateY(-8px);-moz-transform:translateY(-8px);transform:translateY(-8px)}.ppress-hint-wrap.hint--bottom-left:after,.ppress-hint-wrap.hint--bottom-left:before{top:100%;left:50%}.ppress-hint-wrap.hint--bottom-left:before{margin-top:-11px;left:calc(50% - 6px)}.ppress-hint-wrap.hint--bottom-left:after{-webkit-transform:translateX(-100%);-moz-transform:translateX(-100%);transform:translateX(-100%);margin-left:12px}.ppress-hint-wrap.hint--bottom-left:hover:before{-webkit-transform:translateY(8px);-moz-transform:translateY(8px);transform:translateY(8px)}.ppress-hint-wrap.hint--bottom-left:hover:after{-webkit-transform:translateX(-100%) translateY(8px);-moz-transform:translateX(-100%) translateY(8px);transform:translateX(-100%) translateY(8px)}.ppress-hint-wrap.hint--bottom-right:after,.ppress-hint-wrap.hint--bottom-right:before{top:100%;left:50%}.ppress-hint-wrap.hint--bottom-right:before{margin-top:-11px;left:calc(50% - 6px)}.ppress-hint-wrap.hint--bottom-right:after{-webkit-transform:translateX(0);-moz-transform:translateX(0);transform:translateX(0);margin-left:-12px}.ppress-hint-wrap.hint--bottom-right:hover:after,.ppress-hint-wrap.hint--bottom-right:hover:before{-webkit-transform:translateY(8px);-moz-transform:translateY(8px);transform:translateY(8px)}.ppress-hint-wrap.hint--large:after,.ppress-hint-wrap.hint--medium:after,.ppress-hint-wrap.hint--small:after{white-space:normal;line-height:1.4em;word-wrap:break-word}.ppress-hint-wrap.hint--small:after{width:80px}.ppress-hint-wrap.hint--medium:after{width:150px}.ppress-hint-wrap.hint--large:after{width:300px}.ppress-hint-wrap.hint--error:after{background-color:#b34e4d;text-shadow:0-1px 0#592726}.ppress-hint-wrap.hint--error.ppress-hint-wrap.hint--top-left:before,.ppress-hint-wrap.hint--error.ppress-hint-wrap.hint--top-right:before,.ppress-hint-wrap.hint--error.ppress-hint-wrap.hint--top:before{border-top-color:#b34e4d}.ppress-hint-wrap.hint--error.ppress-hint-wrap.hint--bottom-left:before,.ppress-hint-wrap.hint--error.ppress-hint-wrap.hint--bottom-right:before,.ppress-hint-wrap.hint--error.ppress-hint-wrap.hint--bottom:before{border-bottom-color:#b34e4d}.ppress-hint-wrap.hint--error.ppress-hint-wrap.hint--left:before{border-left-color:#b34e4d}.ppress-hint-wrap.hint--error.ppress-hint-wrap.hint--right:before{border-right-color:#b34e4d}.ppress-hint-wrap.hint--warning:after{background-color:#c09854;text-shadow:0-1px 0#6c5328}.ppress-hint-wrap.hint--warning.ppress-hint-wrap.hint--top-left:before,.ppress-hint-wrap.hint--warning.ppress-hint-wrap.hint--top-right:before,.ppress-hint-wrap.hint--warning.ppress-hint-wrap.hint--top:before{border-top-color:#c09854}.ppress-hint-wrap.hint--warning.ppress-hint-wrap.hint--bottom-left:before,.ppress-hint-wrap.hint--warning.ppress-hint-wrap.hint--bottom-right:before,.ppress-hint-wrap.hint--warning.ppress-hint-wrap.hint--bottom:before{border-bottom-color:#c09854}.ppress-hint-wrap.hint--warning.ppress-hint-wrap.hint--left:before{border-left-color:#c09854}.ppress-hint-wrap.hint--warning.ppress-hint-wrap.hint--right:before{border-right-color:#c09854}.ppress-hint-wrap.hint--info:after{background-color:#3986ac;text-shadow:0-1px 0#1a3c4d}.ppress-hint-wrap.hint--info.ppress-hint-wrap.hint--top-left:before,.ppress-hint-wrap.hint--info.ppress-hint-wrap.hint--top-right:before,.ppress-hint-wrap.hint--info.ppress-hint-wrap.hint--top:before{border-top-color:#3986ac}.ppress-hint-wrap.hint--info.ppress-hint-wrap.hint--bottom-left:before,.ppress-hint-wrap.hint--info.ppress-hint-wrap.hint--bottom-right:before,.ppress-hint-wrap.hint--info.ppress-hint-wrap.hint--bottom:before{border-bottom-color:#3986ac}.ppress-hint-wrap.hint--info.ppress-hint-wrap.hint--left:before{border-left-color:#3986ac}.ppress-hint-wrap.hint--info.ppress-hint-wrap.hint--right:before{border-right-color:#3986ac}.ppress-hint-wrap.hint--success:after{background-color:#458746;text-shadow:0-1px 0#1a321a}.ppress-hint-wrap.hint--success.ppress-hint-wrap.hint--top-left:before,.ppress-hint-wrap.hint--success.ppress-hint-wrap.hint--top-right:before,.ppress-hint-wrap.hint--success.ppress-hint-wrap.hint--top:before{border-top-color:#458746}.ppress-hint-wrap.hint--success.ppress-hint-wrap.hint--bottom-left:before,.ppress-hint-wrap.hint--success.ppress-hint-wrap.hint--bottom-right:before,.ppress-hint-wrap.hint--success.ppress-hint-wrap.hint--bottom:before{border-bottom-color:#458746}.ppress-hint-wrap.hint--success.ppress-hint-wrap.hint--left:before{border-left-color:#458746}.ppress-hint-wrap.hint--success.ppress-hint-wrap.hint--right:before{border-right-color:#458746}.ppress-hint-wrap.hint--always:after,.ppress-hint-wrap.hint--always:before{opacity:1;visibility:visible}.ppress-hint-wrap.hint--always.ppress-hint-wrap.hint--top:before{-webkit-transform:translateY(-8px);-moz-transform:translateY(-8px);transform:translateY(-8px)}.ppress-hint-wrap.hint--always.ppress-hint-wrap.hint--top:after{-webkit-transform:translateX(-50%) translateY(-8px);-moz-transform:translateX(-50%) translateY(-8px);transform:translateX(-50%) translateY(-8px)}.ppress-hint-wrap.hint--always.ppress-hint-wrap.hint--top-left:before{-webkit-transform:translateY(-8px);-moz-transform:translateY(-8px);transform:translateY(-8px)}.ppress-hint-wrap.hint--always.ppress-hint-wrap.hint--top-left:after{-webkit-transform:translateX(-100%) translateY(-8px);-moz-transform:translateX(-100%) translateY(-8px);transform:translateX(-100%) translateY(-8px)}.ppress-hint-wrap.hint--always.ppress-hint-wrap.hint--top-right:after,.ppress-hint-wrap.hint--always.ppress-hint-wrap.hint--top-right:before{-webkit-transform:translateY(-8px);-moz-transform:translateY(-8px);transform:translateY(-8px)}.ppress-hint-wrap.hint--always.ppress-hint-wrap.hint--bottom:before{-webkit-transform:translateY(8px);-moz-transform:translateY(8px);transform:translateY(8px)}.ppress-hint-wrap.hint--always.ppress-hint-wrap.hint--bottom:after{-webkit-transform:translateX(-50%) translateY(8px);-moz-transform:translateX(-50%) translateY(8px);transform:translateX(-50%) translateY(8px)}.ppress-hint-wrap.hint--always.ppress-hint-wrap.hint--bottom-left:before{-webkit-transform:translateY(8px);-moz-transform:translateY(8px);transform:translateY(8px)}.ppress-hint-wrap.hint--always.ppress-hint-wrap.hint--bottom-left:after{-webkit-transform:translateX(-100%) translateY(8px);-moz-transform:translateX(-100%) translateY(8px);transform:translateX(-100%) translateY(8px)}.ppress-hint-wrap.hint--always.ppress-hint-wrap.hint--bottom-right:after,.ppress-hint-wrap.hint--always.ppress-hint-wrap.hint--bottom-right:before{-webkit-transform:translateY(8px);-moz-transform:translateY(8px);transform:translateY(8px)}.ppress-hint-wrap.hint--always.ppress-hint-wrap.hint--left:after,.ppress-hint-wrap.hint--always.ppress-hint-wrap.hint--left:before{-webkit-transform:translateX(-8px);-moz-transform:translateX(-8px);transform:translateX(-8px)}.ppress-hint-wrap.hint--always.ppress-hint-wrap.hint--right:after,.ppress-hint-wrap.hint--always.ppress-hint-wrap.hint--right:before{-webkit-transform:translateX(8px);-moz-transform:translateX(8px);transform:translateX(8px)}.ppress-hint-wrap.hint--rounded:after{border-radius:4px}.ppress-hint-wrap.hint--no-animate:after,.ppress-hint-wrap.hint--no-animate:before{-webkit-transition-duration:0s;-moz-transition-duration:0s;transition-duration:0s}.ppress-hint-wrap.hint--bounce:after,.ppress-hint-wrap.hint--bounce:before{-webkit-transition:opacity .3s ease,visibility .3s ease,-webkit-transform .3s cubic-bezier(.71,1.7,.77,1.24);-moz-transition:opacity .3s ease,visibility .3s ease,-moz-transform .3s cubic-bezier(.71,1.7,.77,1.24);transition:opacity .3s ease,visibility .3s ease,transform .3s cubic-bezier(.71,1.7,.77,1.24)}.ppress-hint-wrap.hint--no-shadow:after,.ppress-hint-wrap.hint--no-shadow:before{text-shadow:initial;box-shadow:initial}.ppress-checkout__form *{--ppress-heading-fs:22px;--ppress-body-fs:16px;--ppress-btn-color:#2563eb;-webkit-box-sizing:border-box;-moz-box-sizing:border-box;box-sizing:border-box;font-size:var(--ppress-body-fs)}.ppress-checkout__form{margin:1px auto 10px;max-width:100%;width:100%;line-height:20px;position:relative}.ppress-checkout__form p{margin:0 0 5px}.ppress-checkout__form .ppress-main-checkout-form__block .ppress-main-checkout-form__social_login_wrap{padding:5px}.ppress-checkout__form,.ppress-checkout__form .ppress-main-checkout-form__block .ppress-main-checkout-form__login_form_wrap{display:flex;flex-wrap:wrap}.ppress-checkout__form .ppress-main-checkout-form__block .ppress-main-checkout-form__logged_in_text_wrap{margin:5px 0 10px}.ppress-checkout__form .ppress-main-checkout-form__block .ppress-main-checkout-form__logged_in_text_wrap .ppress-main-checkout-form__block__item{border-radius:6px;background-color:#eff6ff;padding:14px 16px}.ppress-checkout__form .ppress-main-checkout-form__block .ppress-main-checkout-form__logged_in_text_wrap .ppress-main-checkout-form__block__item a,.ppress-checkout__form .ppress-main-checkout-form__block .ppress-main-checkout-form__logged_in_text_wrap .ppress-main-checkout-form__block__item p{font-size:14px;margin:0;line-height:20px}.ppress-checkout__form .ppress-main-checkout-form__block .ppress-main-checkout-form__login_form_wrap .ppress-main-checkout-form__block__item{margin-bottom:5px}.ppress-checkout__form .ppress-main-checkout-form__block .ppress-main-checkout-form__login_form_wrap .ppress-main-checkout-form__block__item:last-of-type{margin-bottom:15px}.ppress-checkout__form .ppress-main-checkout-form__block .ppress-main-checkout-form__login_form_wrap .ppress-main-checkout-form__block__item.ppress-login-submit-btn p{padding:0;margin:10px 0}.ppress-checkout__form .ppress-checkout-section.ppress-checkout_side_section{width:35%;order:2}.ppress-checkout__form .ppress-checkout-section.ppress-checkout_main{width:65%;order:1;padding:0 30px 0 0}.ppress-checkout__form .ppress-checkout_order_summary{border:1px solid #e5e7eb;border-radius:5px}.ppress-checkout__form .ppress-checkout_order_summary__plan_name{padding:10px 20px;font-size:var(--ppress-body-fs);font-weight:700;border-bottom:1px solid #e4e4e4}.ppress-checkout__form .ppress-checkout_order_summary__plan_price{font-weight:500;font-size:14px}.ppress-checkout__form .ppress-checkout_order_summary__bottom_details *{font-size:var(--ppress-body-fs)}.ppress-checkout__form .ppress-checkout_order_summary__bottom_details .checkout_order_summary__fee_structure__item dd a{font-size:14px;display:block;text-decoration:none;margin:0;padding:0}.ppress-checkout__form .checkout_order_summary__fee_structure__item dt .checkout_order_summary__fee_structure__item__trial_term{display:block;background:unset;margin-left:0;font-weight:600;padding-left:0}.ppress-checkout__form .ppress-checkout_order_summary__bottom_details{padding:10px 20px}.ppress-checkout__form .ppress-checkout_order_summary__plan_description{padding:20px;border-bottom:1px solid #e5e7eb;line-height:1.7;font-size:var(--ppress-body-fs)}.ppress-checkout__form .checkout_order_summary__fee_structure__item{display:flex;flex-wrap:nowrap;padding:5px 0;font-size:var(--ppress-body-fs)}.ppress-checkout__form .checkout_order_summary__fee_structure__item dt{width:60%;text-align:left}.ppress-checkout__form .checkout_order_summary__fee_structure__item dd{width:40%;text-align:right}.ppress-checkout__form .checkout_order_summary__fee_structure__item dt span{color:#4b5563;background-color:#e5e7eb;margin-left:5px;border-radius:9999px;letter-spacing:.35px;padding:2px 6px;font-size:12px}.ppress-checkout__form .ppress-main-checkout-form__block fieldset{margin:0;padding:0;border:0}.ppress-checkout__form .ppress-main-checkout-form__block .ppress-main-checkout-form__block__fieldset{border:0;margin:10px 0 0;padding:20px 0 0}.ppress-checkout__form .ppress-main-checkout-form__block .ppress-main-checkout-form__block__fieldset:first-of-type{border:0;margin-top:10px;padding-top:0}.ppress-checkout__form .ppress-main-checkout-form__block legend{border:0;color:#000;font-size:var(--ppress-heading-fs);font-weight:700;line-height:1.7;margin:0 0 15px;padding:0 5px;width:100%}.ppress-checkout__form .ppress-main-checkout-form__block a.ppress-checkout-show-login-form,.ppress-checkout__form a.ppress-checkout-show-login-form{cursor:pointer;float:right;font-size:14px;font-weight:400;line-height:35px;margin:0;padding:0;text-decoration:none;vertical-align:baseline}.ppress-checkout__form .ppress-checkout_order_summary__discount{margin:0 0 5px}.ppress-checkout__form .ppress-checkout_order_summary__discount p{font-size:14px}.ppress-checkout__form .ppress-checkout__link{cursor:pointer;font-size:14px;font-weight:400;line-height:35px;margin:10px 0;padding:0;text-decoration:none}.ppress-checkout__form .ppress-main-checkout-form__block .ppress-main-checkout-form__block__item{width:calc(100% - 5px);display:inline-block;padding:5px;margin-bottom:15px}.ppress-checkout__form .ppress-main-checkout-form__block__fieldset .ppress-main-checkout-form__login_form_wrap .ppress-main-checkout-form__block__item{margin-bottom:10px}.ppress-checkout-form__payment_method__content_wrap .ppress-main-checkout-form__block__item:first-of-type{margin-top:15px}.ppress-checkout__form .ppress-main-checkout-form__block__fieldset .ppress-main-checkout-form__block__item:last-of-type{margin-bottom:0}.ppress-checkout__form .ppress-required{color:#ef}.ppress-checkout__form .ppress-main-checkout-form__block__item.ppress-co-half{width:calc(50% - 5px)}.ppress-checkout__form .ppress-main-checkout-form__block__item.ppress-two-third{width:calc(66.6666666667% - 5px)}.ppress-checkout__form .ppress-main-checkout-form__block__item.ppress-one-third{width:calc(33.3333333333% - 5px)}.ppress-checkout__form .ppress-main-checkout-form__block__item.ppress-expiry-date{width:calc(40% - 5px)}.ppress-checkout__form .ppress-main-checkout-form__block__item.ppress-cc-cvc{width:calc(60% - 5px)}.ppress-checkout__form .press-main-checkout-form__block__item__cc_expiry_date{display:flex;flex-wrap:wrap;width:100%}.ppress-checkout__form .press-main-checkout-form__block__item__cc_expiry_date select{width:calc(50% - 5px)!important;margin:0 5px 0 0;background-image:url(data:image/png;base64,iVBORw0KGgoAAAANSUhEUgAAADIAAAAyCAYAAAAeP4ixAAAAGXRFWHRTb2Z0d2FyZQBBZG9iZSBJbWFnZVJlYWR5ccllPAAAA4ZpVFh0WE1MOmNvbS5hZG9iZS54bXAAAAAAADw/eHBhY2tldCBiZWdpbj0i77u/IiBpZD0iVzVNME1wQ2VoaUh6cmVTek5UY3prYzlkIj8+IDx4OnhtcG1ldGEgeG1sbnM6eD0iYWRvYmU6bnM6bWV0YS8iIHg6eG1wdGs9IkFkb2JlIFhNUCBDb3JlIDUuNi1jMTM4IDc5LjE1OTgyNCwgMjAxNi8wOS8xNC0wMTowOTowMSAgICAgICAgIj4gPHJkZjpSREYgeG1sbnM6cmRmPSJodHRwOi8vd3d3LnczLm9yZy8xOTk5LzAyLzIyLXJkZi1zeW50YXgtbnMjIj4gPHJkZjpEZXNjcmlwdGlvbiByZGY6YWJvdXQ9IiIgeG1sbnM6eG1wTU09Imh0dHA6Ly9ucy5hZG9iZS5jb20veGFwLzEuMC9tbS8iIHhtbG5zOnN0UmVmPSJodHRwOi8vbnMuYWRvYmUuY29tL3hhcC8xLjAvc1R5cGUvUmVzb3VyY2VSZWYjIiB4bWxuczp4bXA9Imh0dHA6Ly9ucy5hZG9iZS5jb20veGFwLzEuMC8iIHhtcE1NOk9yaWdpbmFsRG9jdW1lbnRJRD0ieG1wLmRpZDo4MjgzNGQzMC03MmY4LTRkM2MtYTU4NC1lNzMzZDE1YjU2NzYiIHhtcE1NOkRvY3VtZW50SUQ9InhtcC5kaWQ6NzJGMzNGODgwRkI5MTFFN0E3NzQ5QUE3QTdEMENEQjEiIHhtcE1NOkluc3RhbmNlSUQ9InhtcC5paWQ6NzJGMzNGODcwRkI5MTFFN0E3NzQ5QUE3QTdEMENEQjEiIHhtcDpDcmVhdG9yVG9vbD0iQWRvYmUgUGhvdG9zaG9wIENDIDIwMTcgKE1hY2ludG9zaCkiPiA8eG1wTU06RGVyaXZlZEZyb20gc3RSZWY6aW5zdGFuY2VJRD0ieG1wLmlpZDowMzAzN2MxMy01N2VhLTRiN2UtYjg3Yi04OGZhODk2NDYzZTgiIHN0UmVmOmRvY3VtZW50SUQ9ImFkb2JlOmRvY2lkOnBob3Rvc2hvcDplMTI0MmMzNy1mZTljLTExNzktYWE3NC1kYzYxZWJhMDdhNDAiLz4gPC9yZGY6RGVzY3JpcHRpb24+IDwvcmRmOlJERj4gPC94OnhtcG1ldGE+IDw/eHBhY2tldCBlbmQ9InIiPz7ItaH1AAABFklEQVR42uzZuw3CMBAG4NhiAFiDAsahp0sqJOaghQ5mIkgwBmwQzlJAoLz8OCe29Z90urMb65MfjUVVVVkKIbNEAhBAAAEEEEAAoZjdyseG6olyEanhSZmL8npXzTzyDXnJRI6XVIhdApCdXK2XF2qKiBGFMojPiO5KTuUYIUI9VJn4nY0M80U0IBFh/hCtkAgwDUQnJGBMK6IXEiCmEzEICQjTi9CCBIAZRGhDJsRoIYwgE2C0EcaQETFGCCvICBhjhDXEI8YK4QTxgLFGOEMYMU4IFggDxhnBBnHAsCBYIRYYNgQ7xADDivAC0cCwI7xBejBeEF4hNWZL5VAP94Q4+1pL4FcXEEAAAQQQQAABxFu8BRgA2gaBhwO0rwAAAAAASUVORK5CYII=);background-position:right 20px center;background-repeat:no-repeat;background-size:10px auto}.ppress-checkout__form .press-main-checkout-form__block__item__cc_expiry_date select:last-of-type{margin-right:0}.ppress-checkout__form label.checkout_order_summary__discount__label{width:100%;line-height:20px}.ppress-checkout__form .checkout_order_summary__discount__field_wrap{margin-bottom:20px}.ppress-checkout__form .ppress-checkout-section .ppress-checkout-form__place_order_wrap{margin:20px 0 10px}.ppress-checkout__form .ppress-checkout-section #ppress-paypal-button-element{margin:16px 0 0}.ppress-checkout__form .ppress-checkout-section #ppress-stripe-card-element,.ppress-checkout__form .ppress-checkout-section input:not([type=checkbox]):not([type=radio]),.ppress-checkout__form .ppress-checkout-section select,.ppress-checkout__form .ppress-checkout-section textarea{width:100%;background-color:#fff;border:1px solid #d1d5db;padding:8px 12px;line-height:20px;border-radius:6px;box-shadow:0 0#0000,0 0#0000,0 1px 2px 0 rgba(0,0,0,.05);height:auto}.ppress-checkout__form .ppress-checkout-section #ppress-stripe-card-element{padding-top:10px;padding-bottom:10px}.ppress-checkout__form .ppress-checkout-section textarea{min-height:100px}.ppress-checkout__form .ppress-checkout-section.ppress-checkout_main input[type=submit]{padding:12px 16px;border-color:transparent;background:var(--ppress-btn-color);background-color:var(--ppress-btn-color);color:#fff;box-shadow:none;font-weight:500;text-align:center;-webkit-appearance:none;width:100%;height:auto;display:block}.ppress-checkout__form .ppress-checkout-section.ppress-checkout_main input[type=submit]:disabled{opacity:.65}.ppress-checkout__form .ppress-checkout-section input[type=checkbox],.ppress-checkout__form .ppress-checkout-section input[type=radio]{display:inline-block;vertical-align:middle;border:1px solid #d1d5db;height:16px;width:16px;color:#4f46e5;padding:0 5px}.ppress-checkout__form .ppress-checkout-section input[type=radio]{border-radius:100%}.ppress-checkout__form .ppress-checkout-section input[type=checkbox]{border-radius:0;cursor:pointer}.ppress-checkout__form .ppress-checkout-section #ppress-stripe-card-element:focus,.ppress-checkout__form .ppress-checkout-section input:not([type=checkbox]):not([type=radio]):focus,.ppress-checkout__form .ppress-checkout-section textarea:focus{outline:2px solid transparent;outline-offset:2px;box-shadow:0 0 0 0#fff,0 0 0 calc(1px + 0px) var(--ppress-btn-color),0 0#0000;border-color:#2563eb}.ppress-checkout__form .ppress-checkout-section input[type=submit]:hover{filter:brightness(85%)}.ppress-checkout__form .ppress-checkout-section label{font-weight:500;display:block;line-height:25px;vertical-align:baseline}.ppress-checkout__form .ppress-checkout-section .pp-checkbox-wrap label,.ppress-checkout__form .ppress-checkout-section .pp-radio-wrap label{display:inline-block}.ppress-checkout__form .ppress-checkout-section .pp-checkbox-wrap .ppress-checkout-field__input,.ppress-checkout__form .ppress-checkout-section .pp-radio-wrap .ppress-checkout-field__input{margin-right:5px}.ppress-checkout__form .checkout_order_summary__discount__field_wrap input[type=text].checkout_order_summary__discount__input{width:68%;display:inline-block}.ppress-checkout__form .ppress-checkout-section input[type=submit].ppress-apply-discount-btn{width:25%;margin-left:10px;border:0;border-radius:6px;padding:8px 15px;font-size:14px;line-height:20px;font-weight:500;display:inline-block;color:#4b5563;background-color:#d1d5db}.ppress-checkout__form .ppress-checkout_charge_details{padding:10px 20px}.ppress-checkout__form .ppress-checkout_charge_details span{font-weight:700}.ppress-checkout__form .ppress-checkout-form__payment_methods_wrap{border:1px solid #ddd;border-radius:5px;line-height:1;list-style:none;overflow:visible;padding:0;margin:5px 0 0}.ppress-checkout__form .ppress-checkout-form__payment_method{border-top:1px solid #ddd;padding:0}.ppress-checkout__form .ppress-checkout-form__payment_method:first-of-type{border-top:none;border-bottom:none}.ppress-checkout__form .ppress-checkout-form__payment_method__title_wrap{background:#fff;margin:0;padding:16px 8px}.ppress-checkout__form .ppress-checkout-form__payment_method__title_wrap:first-of-type{border-top-left-radius:5px;border-top-right-radius:5px}.ppress-checkout__form .ppress-checkout-form__payment_method:last-of-type .ppress-checkout-form__payment_method__content_wrap,.ppress-checkout__form .ppress-checkout-form__payment_method:last-of-type .ppress-checkout-form__payment_method__title_wrap{border-bottom-left-radius:5px;border-bottom-right-radius:5px}.ppress-checkout__form .ppress-checkout-section .ppress-checkout-form__payment_method__title_wrap label{display:inline-block;padding-left:5px;padding-top:2px;position:relative;cursor:pointer;width:calc(100% - 30px);line-height:1}.ppress-checkout__form .ppress-checkout-form__payment_method__icons{position:absolute;right:20px;top:-5px}.ppress-checkout__form .ppress-checkout-form__payment_method__icons img,.ppress-checkout__form .ppress-checkout-form__payment_method__icons svg{max-height:22px}.ppress-checkout__form .ppress-checkout-form__payment_method .ppress-checkout-form__payment_method__content_wrap p{padding:0 5px;font-size:14px;line-height:1.25;margin:0!important}.ppress-checkout__form .ppress-checkout-form__payment_method .ppress-checkout-form__payment_method__content_wrap{background:#f4f4f4;border-top:1px solid #ddd;margin:0!important;padding:20px 10px;display:none}.ppress-checkout__form .ppress-checkout-form__payment_method .ppress-checkout-form__payment_method__title_wrap input[type=radio]{vertical-align:bottom}.ppress-checkout__form .ppress-checkout-form__payment_method.ppress-active .ppress-checkout-form__payment_method__content_wrap{display:block}.pp-form-wrapper.ppress-default-profile .pp-user-post-item h3.pp-post-item-head,.ppress-checkout__form .ppress-checkout-form__payment_method__content_wrap label{line-height:20px}.ppress-checkout__form .ppress-checkout-form__payment_method__content_wrap .ppress-checkout-form__payment_method__heading{padding:10px 5px;margin:15px 0;font-size:var(--ppress-body-fs);font-weight:700;border-bottom:1px solid #e4e4e4}.ppress-checkout__form .ppress-checkout-form__before_button_wrap,.ppress-checkout__form .ppress-checkout-form__terms_condition_wrap{margin:0;border:0;padding:40px 0 0}.ppress-checkout__form .ppress-checkout-form__terms_condition_wrap+.ppress-checkout-form__before_button_wrap{padding-top:0}.ppress-checkout__form .ppress-checkout-form__before_button_wrap .ppress-checkout-form__before_button__checkbox__label span,.ppress-checkout__form .ppress-checkout-form__terms_condition_wrap .ppress-checkout-form__terms_condition__checkbox__label span{vertical-align:middle}.ppress-checkout__form .ppress-checkout-form__terms_condition__content{border:1px solid #e5e7eb;padding:20px;max-height:200px;overflow:auto;border-radius:6px;display:none;margin:0 0 20px}.ppress-checkout__form .ppress-checkout-form__before_button__checkbox_wrap,.ppress-checkout__form .ppress-checkout-form__terms_condition__checkbox_wrap{margin:0 0 20px}.ppress-checkout__form .ppress-checkout__form__preloader{position:absolute;top:0;width:100%;height:100%;background:rgba(250,250,250,.9);z-index:99995}.ppress-checkout__form .ppress-checkout__form__spinner{display:block;width:85px;height:85px;top:40%;right:50%;text-align:center;margin:auto;position:fixed}.ppress-checkout__form .ppress-checkout__form__spinner:after{content:" ";display:block;width:70px;height:70px;margin:8px;border-radius:50%;border:6px solid #212529;border-color:#212529 transparent;animation:ppress-dual-ring 1.2s linear infinite}.ppress-checkout__form .ppress-alert,.ppress-checkout__form .ppress-checkout-alert{width:100%;padding:12px 16px;border-radius:6px;margin:10px 0}.ppress-checkout__form .ppress-alert ul,.ppress-checkout__form .ppress-checkout-alert ul{margin:0 0 0 16px;padding:0;list-style-type:disc}.ppress-checkout__form .ppress-alert li,.ppress-checkout__form .ppress-checkout-alert li{font-size:var(--ppress-body-fs);font-weight:400;margin:0!important;padding:0!important;line-height:22px}.ppress-checkout__form .ppress-alert li strong,.ppress-checkout__form .ppress-alert p,.ppress-checkout__form .ppress-checkout-alert li strong,.ppress-checkout__form .ppress-checkout-alert p{font-size:var(--ppress-body-fs);margin:0!important;padding:0!important;line-height:22px}.ppress-checkout__form .ppress-alert li strong,.ppress-checkout__form .ppress-checkout-alert li strong{font-weight:700}.ppress-checkout__form .ppress-alert.ppress-error,.ppress-checkout__form .ppress-checkout-alert.ppress-error{background-color:#fef2f2;color:#b91c1c}.ppress-checkout__form .ppress-alert.ppress-success,.ppress-checkout__form .ppress-checkout-alert.ppress-success{background-color:#ecfdf5;color:#065f46}.ppress-alert.ppress-warning,.ppress-checkout-alert.ppress-warning{border-left:4px solid #fa;border-radius:0;background-color:#fe;color:#a1}.ppress-checkout__form .ppress-alert p,.ppress-checkout__form .ppress-checkout-alert p{font-weight:500}.pp-form-container .pp-form-wrapper.ppBuildScratch .pp-form-field-wrap.fda-reveal .pp-form-field-description,.pp-form-container .pp-form-wrapper.ppBuildScratch .pp-form-field-wrap.fda-reveal .ppress-hint-tooltip,.pp-form-container .pp-form-wrapper.ppBuildScratch .pp-form-field-wrap.fda-standard .ppress-hint-tooltip,.pp-form-container .pp-form-wrapper.ppBuildScratch .pp-form-field-wrap.fda-tooltip .pp-form-field-description,.ppress-checkout__form .ppress-checkout_order_summary #ppress-checkout-coupon-code-wrap{display:none}.ppress-main-checkout-form__block__fieldset .ppress-main-checkout-form__block__group_selector_label{display:flex!important;padding:24px;background-color:#fff;border-radius:8px;border:1px solid #e5e7eb;cursor:pointer;box-shadow:0 1px 2px 0 rgba(0,0,0,.05)}.ppress-main-checkout-form__block__fieldset .ppress-main-checkout-form__block__group_selector__span_wrap{display:flex;align-items:center;padding-left:10px}.ppress-main-checkout-form__block__fieldset .ppress-main-checkout-form__block__group_selector__span{display:flex;font-size:1rem;line-height:20px;flex-direction:column}.ppress-main-checkout-form__block__fieldset .ppress-main-checkout-form__block__group_selector__title{font-weight:500}.ppress-main-checkout-form__block__fieldset .ppress-main-checkout-form__block__group_selector__price_wrap{display:flex;margin-top:0;font-size:1rem;line-height:20px;margin-left:auto;order:2}.ppress-main-checkout-form__block__fieldset .ppress-main-checkout-form__block__group_selector__price_amount{font-weight:500}.ppress-main-checkout-form__block__fieldset .ppress-main-checkout-form__block__group_selector__price_duration{margin-left:4px}.ppress-main-checkout-form__block__fieldset .ppress-main-checkout-form__block__group_selector_label:not(:first-child){margin-top:16px;margin-bottom:0}.ppress-main-checkout-form__block__fieldset .ppress-main-checkout-form__block__group_selector_label input[type=radio]{height:auto!important}.ppress-main-checkout-form__block__fieldset .ppress-main-checkout-form__block__group_selector_label:has(input[type=radio]:checked){border-width:2.5px}.ppress-checkout__form.ppressui340 .ppress-checkout-section.ppress-checkout_main,.ppress-checkout__form.ppressui340 .ppress-checkout-section.ppress-checkout_side_section,.ppress-checkout__form.ppressui500 .ppress-checkout-section.ppress-checkout_main,.ppress-checkout__form.ppressui500 .ppress-checkout-section.ppress-checkout_side_section,.ppress-checkout__form.ppressui768 .ppress-checkout-section.ppress-checkout_main,.ppress-checkout__form.ppressui768 .ppress-checkout-section.ppress-checkout_side_section,.ppress-checkout__form.ppressui800 .ppress-checkout-section.ppress-checkout_main,.ppress-checkout__form.ppressui800 .ppress-checkout-section.ppress-checkout_side_section,.ppress-checkout__form.ppressui960 .ppress-checkout-section.ppress-checkout_main,.ppress-checkout__form.ppressui960 .ppress-checkout-section.ppress-checkout_side_section{width:100%}.ppress-checkout__form.ppressui340 .ppress-checkout-section.ppress-checkout_side_section,.ppress-checkout__form.ppressui500 .ppress-checkout-section.ppress-checkout_side_section,.ppress-checkout__form.ppressui768 .ppress-checkout-section.ppress-checkout_side_section,.ppress-checkout__form.ppressui800 .ppress-checkout-section.ppress-checkout_side_section,.ppress-checkout__form.ppressui960 .ppress-checkout-section.ppress-checkout_side_section{order:1;margin-bottom:15px}.ppress-checkout__form.ppressui340 .ppress-checkout-section.ppress-checkout_main,.ppress-checkout__form.ppressui500 .ppress-checkout-section.ppress-checkout_main,.ppress-checkout__form.ppressui768 .ppress-checkout-section.ppress-checkout_main,.ppress-checkout__form.ppressui800 .ppress-checkout-section.ppress-checkout_main,.ppress-checkout__form.ppressui960 .ppress-checkout-section.ppress-checkout_main{order:2;padding-right:0}.ppress-checkout__form.ppressui340 .ppress-main-checkout-form__block .ppress-main-checkout-form__block__item,.ppress-checkout__form.ppressui500 .ppress-main-checkout-form__block .ppress-main-checkout-form__block__item,.ppress-checkout__form.ppressui768 .ppress-main-checkout-form__block .ppress-main-checkout-form__block__item{width:100%}.profilepress-myaccount-orders-subs,.profilepress-myaccount-orders-subs *{font-family:Inter var,ui-sans-serif,system-ui,-apple-system,BlinkMacSystemFont,"Segoe UI",Roboto,"Helvetica Neue",Arial,"Noto Sans",sans-serif,"Apple Color Emoji","Segoe UI Emoji","Segoe UI Symbol","Noto Color Emoji"}.profilepress-myaccount-orders-subs .ppress-my-account-order-sub-wrap{box-shadow:transparent 0 0 0 0,transparent 0 0 0 0,rgba(0,0,0,.05)0 1px 2px 0;border-radius:8px;border:1px solid #e5;margin-top:16px}.ppress-details-table p:first-child,.profilepress-myaccount-orders-subs .ppress-my-account-order-sub-wrap:first-child{margin-top:0}.profilepress-myaccount-orders-subs .profilepress-myaccount-orders-subs-wrap .ppress-my-account-order-sub-body-content-header p{margin-bottom:8px}.profilepress-myaccount-orders-subs .profilepress-myaccount-orders-subs-wrap .ppress-my-account-order-sub-header-wrap{padding:16px;border-color:#e5;display:grid;column-gap:8px;grid-template-columns:repeat(4,minmax(0,1fr));border-bottom:1px solid #e5}.profilepress-myaccount-orders-subs .profilepress-myaccount-orders-subs-wrap .ppress-my-account-order-sub-header--details{display:grid;column-gap:16px;margin:0;font-size:14px;line-height:20px;grid-template-columns:auto auto auto;grid-column:span 2/span 2}.profilepress-myaccount-orders-subs .ppress-my-account-order-sub-header--actions a:not(a:first-child){margin-left:8px}.profilepress-myaccount-orders-subs .profilepress-myaccount-orders-subs-wrap .ppress-my-account-order-sub-header--details dt{margin:0;font-weight:500;font-size:14px}.profilepress-myaccount-orders-subs .profilepress-myaccount-orders-subs-wrap .ppress-my-account-order-sub-header--details dd{margin:4px 0 0}.profilepress-myaccount-orders-subs .profilepress-myaccount-orders-subs-wrap .ppress-my-account-order-sub-header--actions{justify-content:flex-end;display:flex;grid-column:span 2/span 2;align-items:center}.profilepress-myaccount-orders-subs .profilepress-myaccount-orders-subs-wrap .ppress-my-account-order-sub-header--actions a,.profilepress-myaccount-orders-subs a.ppress-myac-action{box-shadow:transparent 0 0 0 0,transparent 0 0 0 0,rgba(0,0,0,.05)0 1px 2px 0;font-weight:500;font-size:14px;padding:6px 8px;border:1px solid #d1;border-radius:6px;justify-content:center;display:flex;align-items:center;text-decoration:inherit}.profilepress-myaccount-orders-subs a.ppress-myac-action{display:inline-block;margin-right:5px}.profilepress-myaccount-orders-subs .profilepress-myaccount-orders-subs-wrap .ppress-my-account-order-sub-body-content{padding:16px;align-items:flex-start;flex:1 1 0%;font-size:14px;line-height:20px}.profilepress-myaccount-orders-subs .profilepress-myaccount-orders-subs-wrap .ppress-my-account-order-sub-body-content-header{font-weight:500;display:flex;justify-content:space-between}.profilepress-myaccount-orders-subs .profilepress-myaccount-orders-subs-wrap .ppress-my-account-order-sub-product-name{font-weight:500;font-size:14px}.profilepress-myaccount-orders-subs .profilepress-myaccount-orders-subs-wrap p.ppress-my-account-order-sub-product-price{margin-top:0!important}.profilepress-myaccount-orders-subs .profilepress-myaccount-orders-subs-wrap .ppress-my-account-order-sub-body-content p{margin:8px 0 0;display:block}.profilepress-myaccount-orders-subs .profilepress-myaccount-orders-subs-wrap .ppress-my-account-order-sub-body-wrap{display:flex;align-items:flex-start}.profilepress-myaccount-orders-subs .profilepress-myaccount-orders-subs-wrap .ppress-my-account-order-sub-header--details dd span{border-radius:6px;color:#1f;background-color:#f3;padding:4px 8px;margin:0;font-weight:500;font-size:12px}.profilepress-myaccount-orders-subs .profilepress-myaccount-orders-subs-wrap .ppress-my-account-order-sub-header--details .active span,.profilepress-myaccount-orders-subs .profilepress-myaccount-orders-subs-wrap .ppress-my-account-order-sub-header--details .completed span,.profilepress-myaccount-orders-subs .profilepress-myaccount-orders-subs-wrap .ppress-my-account-order-sub-header--details .trialling span{background-color:#dc;color:#16}.profilepress-myaccount-orders-subs .profilepress-myaccount-orders-subs-wrap .ppress-my-account-order-sub-header--details .cancelled span,.profilepress-myaccount-orders-subs .profilepress-myaccount-orders-subs-wrap .ppress-my-account-order-sub-header--details .expired span,.profilepress-myaccount-orders-subs .profilepress-myaccount-orders-subs-wrap .ppress-my-account-order-sub-header--details .refunded span{background-color:#fe;color:#99}.profilepress-myaccount-orders-subs .ppress-myac-pagination-wrap{padding:10px 0;text-align:right}.profilepress-myaccount-orders-subs .ppress-myac-pagination-wrap .page-numbers{border:1px solid #d1;padding:8px 16px;font-size:14px;line-height:20px}.profilepress-myaccount-orders-subs .ppress-myac-pagination-wrap .page-numbers.current{background-color:#eeeeec;color:#6b}.profilepress-myaccount-orders-subs .ppress-myac-pagination-wrap .ppress-material-icons{vertical-align:middle;margin:0}table.ppress-details-table{text-indent:0;border-color:inherit;border-collapse:collapse;border-spacing:0;width:100%;table-layout:fixed;box-shadow:transparent 0 0 0 0,transparent 0 0 0 0,rgba(0,0,0,.05)0 1px 2px 0}.ppress-details-table thead{background-color:#f9}.ppress-details-table thead tr th{padding:14px 12px;text-align:left;font-size:16px;line-height:20px;font-weight:600;background-color:#f9}.ppress-details-table thead th,.ppress-details-table tr td{padding:16px;border:1px solid #e5}.ppress-details-table thead th{text-align:left;background:#e5;vertical-align:bottom}.ppress-details-table-wrap .ppress-details-table tr:nth-of-type(odd){background-color:#f9}.ppress-details-table tr td:first-child{font-weight:700}.ppress-details-table td:last-child{width:70%}.ppress-details-table p{margin:5px 0 0}.ppress-details-table .ppress-billing-title{font-weight:500}.ppress-details-table .ppress-sub-info{color:#4b5563;background-color:#e5e7eb;margin-left:5px;border-radius:9999px;padding:4px 8px;font-size:14px}@font-face{font-family:"Material Icons";font-style:normal;font-weight:400;src:local("Material Icons"),local("MaterialIcons-Regular"),url(//alphatowtruckservices.com/wp-content/plugins/wp-user-avatar/assets/css/./material-icons/MaterialIcons-Regular.woff2)format("woff2"),url(//alphatowtruckservices.com/wp-content/plugins/wp-user-avatar/assets/css/./material-icons/MaterialIcons-Regular.woff)format("woff")}#profilepress-myaccount-wrapper .ppmyac-icons,.pp-form-field-wrap .pp-form-material-icons,.ppress-material-icons{font-family:"Material Icons"!important;font-weight:400;font-style:normal;font-size:20px;display:inline-block;line-height:1;text-transform:none;letter-spacing:normal;word-wrap:normal;white-space:nowrap;direction:ltr;-webkit-font-smoothing:antialiased;text-rendering:optimizeLegibility;-moz-osx-font-smoothing:grayscale;font-feature-settings:"liga"}.flatpickr-current-month .flatpickr-monthDropdown-months{display:inline-block!important}.pp-tab-widget-avatar img{display:block;border-radius:50%;height:190px;margin:0 auto 10px!important;padding:2px;text-align:center;width:190px;float:none!important}.pp-user-panel{border-radius:6px;text-align:center}.pp-user-panel-title{font-size:20px;margin:0}.pp-user-panel p{font-size:15px;margin-bottom:23px}.pp-tabbed-btn{border:0;font-size:15px;font-weight:400;line-height:1.4;border-radius:4px;padding:10px 15px;-webkit-font-smoothing:subpixel-antialiased;-webkit-transition:border .25s linear,color .25s linear,background-color .25s linear;transition:border .25s linear,color .25s linear,background-color .25s linear}.pp-tabbed-btn-inverse{color:#fff!important;background-color:#34495e}.pp-password-reset-handler-wrap .pp-reset-password-form{padding:40px;max-width:500px;margin-top:5px;margin-bottom:5px}.pp-password-reset-handler-wrap .pp-reset-password-form h3{color:#444;font-weight:300;margin:0 auto 40px}.pp-password-reset-handler-wrap .pp-reset-password-form label{color:#444;font-size:15px}.pp-password-reset-handler-wrap .pp-reset-password-form label .req{margin:2px;color:red}.pp-password-reset-handler-wrap .pp-reset-password-form label.active .req{opacity:0}.pp-password-reset-handler-wrap .pp-reset-password-form input{font-size:22px;display:block;width:100%;box-sizing:border-box;height:auto;padding:5px 10px;background:0 0;margin-bottom:40px;border:1px solid #a0b3b0;border-radius:0;-webkit-transition:border-color .25s ease,box-shadow .25s ease;transition:border-color .25s ease,box-shadow .25s ease}.pp-password-reset-handler-wrap .pp-reset-password-form input:focus{outline:0;border-color:#1ab188}.pp-password-reset-handler-wrap .pp-reset-password-form .pp-reset-button{border:0;outline:0;border-radius:0;padding:15px 0;font-size:20px;font-weight:600;text-transform:uppercase;letter-spacing:.1em;background:#1ab188;color:#fff;-webkit-transition:all .5s ease;transition:all .5s ease;-webkit-appearance:none;text-shadow:none;box-shadow:none}.pp-password-reset-handler-wrap .pp-reset-password-form .pp-reset-button:focus,.pp-password-reset-handler-wrap .pp-reset-password-form .pp-reset-button:hover{background:#179b77}.pp-password-reset-handler-wrap .pp-reset-password-form .pp-reset-button-block{display:block;width:100%}.pp-password-reset-handler-wrap .profilepress-reset-status{margin-left:40px;max-width:420px}#pp-pass-strength-result{background-color:#eee;border:1px solid #ddd;color:#23282d;padding:3px 5px;text-align:center;width:100%;-webkit-box-sizing:border-box;-moz-box-sizing:border-box;box-sizing:border-box}#pp-pass-strength-result.short{background-color:#f1adad;border-color:#e35b5b;opacity:1}#pp-pass-strength-result.bad{background-color:#fbc5a9;border-color:#f78b53;opacity:1}#pp-pass-strength-result.good{background-color:#ffe399;border-color:#ffc733;opacity:1}#pp-pass-strength-result.strong{background-color:#c1e1b9;border-color:#83c373;opacity:1}.pp-form-wrapper .pp-form-label-wrap .pp-form-required-label{color:red;font-weight:400}.pp-form-wrapper input[type=checkbox],.pp-form-wrapper input[type=radio]{cursor:pointer}.pp-form-wrapper p{margin:0 0 5px!important;padding:0!important}.pp-form-wrapper input[type=datetime],.pp-form-wrapper input[type=email],.pp-form-wrapper input[type=number],.pp-form-wrapper input[type=password],.pp-form-wrapper input[type=search],.pp-form-wrapper input[type=tel],.pp-form-wrapper input[type=text],.pp-form-wrapper input[type=url],.pp-form-wrapper select,.pp-form-wrapper textarea{-webkit-appearance:none;width:100%;background:#fff;border:1px solid #dedee5;padding:13px 15px;outline:0;line-height:1}.pp-form-wrapper select{background-image:url(data:image/png;base64,iVBORw0KGgoAAAANSUhEUgAAADIAAAAyCAMAAAAp4XiDAAAAG1BMVEVHcEzT0NXS0NbS0dbS0dbR0dXS0tTQ0NXS0NX2MUcyAAAACXRSTlMAV+7/7/FhaWJRFEe5AAAAY0lEQVR42u3LKRLAMBDEwPG5/v+LAwVdQiFu3nkepfWh9JY5pJlly8q2ZSflRiVJycERgyMG5z7EYXDE4IjBEYMjBkcMjhgcMTj3gRKDIwZHDI4YHIY7jPthuFNRzpwnz/OPD2xcCh3x3gzqAAAAAElFTkSuQmCC)!important;background-position:right 20px center!important;background-repeat:no-repeat!important;background-size:10px auto!important;-webkit-appearance:none!important;-moz-appearance:none!important;appearance:none!important}.pp-form-wrapper .pp-form-label-wrap{margin:0 0 4px;padding:0}.pp-form-wrapper .pp-form-label{font-size:14px;text-transform:none;text-align:left;font-weight:400;font-style:normal;float:none;line-height:1.3;margin:0;padding:0;width:auto;display:inline;cursor:pointer}.pp-form-wrapper .pp-checkbox-wrap,.pp-form-wrapper .pp-radio-wrap{display:block;text-align:left;line-height:normal;margin:5px 0;padding:0}.pp-form-wrapper .pp-checkbox-wrap label,.pp-form-wrapper .pp-radio-wrap label{margin-left:5px}.pp-form-wrapper input[type=checkbox],.pp-form-wrapper input[type=radio]{border:1px solid #ccc;background-color:#fff;width:14px!important;height:14px!important;display:inline-block;vertical-align:baseline}.pp-form-wrapper .ppress-pf-profile-connect{padding:5px 0 10px}.pp-form-wrapper a.ppress-pf-social-icon{width:100%;height:100%;display:inline}.pp-form-wrapper .ppress-pf-social-icon svg{vertical-align:middle;width:40px;height:40px}.pp-form-wrapper .ppress-pf-social-icon.dpf-github svg,.pp-form-wrapper .ppress-pf-social-icon.dpf-instagram svg,.pp-form-wrapper .ppress-pf-social-icon.dpf-pinterest svg{padding:3px}a.pp-button-social-login:focus{outline-color:transparent}a.pp-button-social-login:focus .ppsc,a.pp-button-social-login:hover .ppsc{background-color:rgba(255,255,255,.75)}a.pp-button-social-login:visited{color:#fff}a.pp-button-social-login,a.pp-button-social-login .ppsc{display:inline-block;font-size:100%;height:2.5em;padding:0}a.pp-button-social-login{position:relative;vertical-align:middle;line-height:2.5em;font-family:inherit;font-weight:700;overflow:hidden;white-space:nowrap;border:1px solid #333;color:#fff!important;background:#333;margin:6px 0;border-radius:2px;box-sizing:content-box;cursor:pointer;box-shadow:0 1px 2px rgba(0,0,0,.1);text-decoration:none!important;min-width:220px}a.pp-button-social-login .ppsc{font-style:normal;font-weight:400;text-decoration:none;text-transform:none;vertical-align:top;text-align:center;width:2.5em;background-color:#fff;background-repeat:no-repeat;background-position:50%;background-size:1.8em 1.8em;border-top-left-radius:1px;border-bottom-left-radius:1px;-moz-font-smoothing:antialiased;-webkit-font-smoothing:antialiased;font-smoothing:antialiased;position:absolute;left:0;margin:0}a.pp-button-social-login span.ppsc-text{margin-left:40px;padding:.5em;color:#fff!important}a.pp-button-social-login .ppsc-google{background-image:url(//alphatowtruckservices.com/wp-content/plugins/wp-user-avatar/assets/css/../images/social-login/google.svg)}a.pp-button-social-login.pp-button-social-login-google{background:#4285f4;border-color:#4285f4}a.pp-button-social-login.pp-button-social-login-facebook{background:#3b5998;border-color:#3b5998}a.pp-button-social-login.pp-button-social-login-twitter{background:#55acee;border-color:#55acee}a.pp-button-social-login.pp-button-social-login-linkedin{background:#0077b5;border-color:#0077b5}a.pp-button-social-login.pp-button-social-login-microsoft{background:#404040;border-color:#404040}a.pp-button-social-login.pp-button-social-login-amazon{background:#f9991d;border-color:#f9991d}a.pp-button-social-login.pp-button-social-login-vk{background:#4a76a8;border-color:#4a76a8}a.pp-button-social-login.pp-button-social-login-wordpresscom{background:#0675c4;border-color:#0675c4}a.pp-button-social-login.pp-button-social-login-yahoo{background:#430297;border-color:#430297}a.pp-button-social-login.pp-button-social-login-github{background:#24292e;border-color:#24292e}a.pp-button-social-login .ppsc-vk{background-image:url(//alphatowtruckservices.com/wp-content/plugins/wp-user-avatar/assets/css/../images/social-login/vk-fa.svg)}a.pp-button-social-login .ppsc-microsoft{background-image:url(//alphatowtruckservices.com/wp-content/plugins/wp-user-avatar/assets/css/../images/social-login/microsoft.svg)}a.pp-button-social-login .ppsc-amazon{background-image:url(//alphatowtruckservices.com/wp-content/plugins/wp-user-avatar/assets/css/../images/social-login/amazon.svg)}a.pp-button-social-login .ppsc-yahoo{background-image:url(//alphatowtruckservices.com/wp-content/plugins/wp-user-avatar/assets/css/../images/social-login/yahoo.svg)}a.pp-button-social-login .ppsc-wordpresscom{background-image:url(//alphatowtruckservices.com/wp-content/plugins/wp-user-avatar/assets/css/../images/social-login/wpcom.svg)}a.pp-button-social-login .ppsc-facebook{background-image:url(//alphatowtruckservices.com/wp-content/plugins/wp-user-avatar/assets/css/../images/social-login/facebook.svg)}a.pp-button-social-login .ppsc-twitter{background-image:url(//alphatowtruckservices.com/wp-content/plugins/wp-user-avatar/assets/css/../images/social-login/twitter.svg)}a.pp-button-social-login .ppsc-linkedin{background-image:url(//alphatowtruckservices.com/wp-content/plugins/wp-user-avatar/assets/css/../images/social-login/linkedin.svg)}a.pp-button-social-login .ppsc-github{background-image:url(//alphatowtruckservices.com/wp-content/plugins/wp-user-avatar/assets/css/../images/social-login/github-fa.svg)}#profilepress-myaccount-wrapper,#profilepress-myaccount-wrapper *,#profilepress-myaccount-wrapper :after,#profilepress-myaccount-wrapper :before,.pp-form-container *,.pp-form-container .pp-form-wrapper,.pp-form-container .pp-form-wrapper *{-webkit-box-sizing:border-box;-moz-box-sizing:border-box;box-sizing:border-box}.pp-form-container .pp-form-wrapper.ppBuildScratch.ppfl-material .pp-form-field-wrap span.select2-selection.select2-selection--multiple,html .pp-form-container .select2 input.select2-search__field{border:0!important}.pp-form-container form input[type=submit]{-webkit-appearance:none!important;cursor:pointer;text-shadow:none}.pp-form-container form{margin:0;padding:0;background-color:transparent}.woocommerce .woocommerce-MyAccount-content .pp-form-container{margin-right:0!important;margin-left:0!important}.pp-form-container form input,.pp-form-container form select,.pp-form-container form textarea{outline:0;background-image:none;height:auto;float:none;position:static;box-shadow:none;text-shadow:none;text-transform:none;text-decoration:none;resize:vertical}.pp-form-container form p{margin:0 0 .5em}.pp-form-container form input[type=submit]:focus{outline:0}.pp-form-container .pp-user-avatar{border-radius:50%!important;display:block!important;margin:0 auto 10px!important;text-align:center!important}.pp-form-container img.pp-user-cover-image{width:100%!important;height:auto!important}#profilepress-myaccount-wrapper .profilepress-myaccount-content input[type=checkbox],#profilepress-myaccount-wrapper .profilepress-myaccount-content input[type=radio],.pp-form-container .pp-form-wrapper .pp-form-field-wrap input[type=checkbox],.pp-form-container .pp-form-wrapper .pp-form-field-wrap input[type=radio]{border:1px solid #7e8993!important;border-radius:4px!important;background:#fff!important;color:#555!important;clear:none!important;cursor:pointer!important;display:inline-block!important;line-height:0!important;margin:0!important;outline:0!important;padding:0!important;text-align:center!important;vertical-align:middle!important;-webkit-appearance:none!important;box-shadow:inset 0 1px 2px rgba(0,0,0,.1)!important;transition:.05s border-color ease-in-out!important;width:16px!important;height:16px!important}#profilepress-myaccount-wrapper .profilepress-myaccount-content input[type=radio],.pp-form-container .pp-form-wrapper .pp-form-field-wrap input[type=checkbox],.pp-form-container .pp-form-wrapper .pp-form-field-wrap input[type=radio]{border-radius:50%!important}.pp-form-container .pp-form-wrapper .pp-form-field-wrap input[type=checkbox],.pp-form-container .pp-form-wrapper .pp-form-field-wrap input[type=radio]{border-radius:4px!important}.pp-form-container .pp-form-wrapper .pp-form-field-wrap input[type=radio]{border-radius:50%!important}#profilepress-myaccount-wrapper .profilepress-myaccount-content input[type=checkbox]:checked:before,.pp-form-container .pp-form-wrapper .pp-form-field-wrap input[type=checkbox]:checked:before{content:url(data:image/svg+xml;utf8,%3Csvg%20xmlns%3D%27http%3A%2F%2Fwww.w3.org%2F2000%2Fsvg%27%20viewBox%3D%270%200%2020%2020%27%3E%3Cpath%20d%3D%27M14.83%204.89l1.34.94-5.81%208.38H9.02L5.78%209.67l1.34-1.25%202.57%202.4z%27%20fill%3D%27%23000000%27%2F%3E%3C%2Fsvg%3E)!important;margin:-3px 0 0-4px!important;width:20px!important;height:20px!important;position:static}#profilepress-myaccount-wrapper .profilepress-myaccount-content input[type=radio]:checked:before,.pp-form-container .pp-form-wrapper .pp-form-field-wrap input[type=radio]:checked:before{content:"";border-radius:50%!important;margin:3px!important;background-color:#000!important;line-height:1.14285714!important;width:8px!important;height:8px!important}#profilepress-myaccount-wrapper .profilepress-myaccount-content input[type=checkbox]:checked:before,#profilepress-myaccount-wrapper .profilepress-myaccount-content input[type=radio]:checked:before,.pp-form-container .pp-form-wrapper .pp-form-field-wrap input[type=checkbox]:checked:before,.pp-form-container .pp-form-wrapper .pp-form-field-wrap input[type=radio]:checked:before{float:left!important;display:inline-block!important;vertical-align:middle!important;speak:none;-webkit-font-smoothing:antialiased;-moz-osx-font-smoothing:grayscale}.pp-form-container .pp-form-wrapper.ppBuildScratch,.pp-form-container .pp-form-wrapper.ppBuildScratch *{font-family:"Merriweather",sans-serif}.pp-form-container .pp-form-wrapper.ppBuildScratch .ppbs-headline{font-weight:700;font-size:20px;margin-bottom:1em;margin-top:0;text-align:center;margin-right:6.387%}.pp-form-container .pp-form-wrapper.ppBuildScratch h1,.pp-form-container .pp-form-wrapper.ppBuildScratch h2,.pp-form-container .pp-form-wrapper.ppBuildScratch h3,.pp-form-container .pp-form-wrapper.ppBuildScratch h4{font-weight:700;font-size:20px;margin-bottom:1em;margin-top:1em}.pp-form-container .pp-form-wrapper.ppBuildScratch input:disabled{opacity:.5}.pp-form-container .pp-form-wrapper.ppBuildScratch{max-width:100%;width:100%;padding:6%0 6% 6%;background:#fff;color:#222;font-size:14px;position:relative;box-shadow:0 0 0 .5px rgba(0,20,40,.1),0 2px 8px 0 rgba(50,55,90,.2);border-radius:3px;margin:0 auto}.pp-form-container .pp-form-wrapper.ppBuildScratch.ppf-remove-frame{box-shadow:none;border-radius:0}.pp-form-container .pp-form-wrapper.ppBuildScratch .pp-form-field-wrap{padding:0 6.387% 4%0;display:inline-block;width:100%;vertical-align:top}.pp-form-container .pp-form-wrapper.ppBuildScratch .pp-form-submit-button-wrap{display:inline-block;width:100%;vertical-align:top;padding:0 6.387%0 0}.pp-form-container .pp-form-wrapper.ppBuildScratch .pp-form-field-wrap .pp-form-label-wrap{margin:0 0 5px;padding:0}.pp-form-container .pp-form-wrapper.ppBuildScratch .pp-form-field-wrap.fda-reveal .pp-form-field-input-textarea-wrap .pp-form-field:focus~.pp-form-field-description{display:block}.pp-form-container .pp-form-wrapper.ppBuildScratch .pp-form-field-wrap.fda-tooltip .ppress-hint-tooltip{display:inline;font-weight:400}.pp-form-container .pp-form-wrapper.ppBuildScratch .pp-form-field-wrap.fda-tooltip .ppress-hint-tooltip .pp-form-material-icons{position:relative;margin:0;padding:0;font-size:110%;display:inline;vertical-align:top}.pp-form-container .pp-form-wrapper.ppBuildScratch .pp-form-field-wrap.fld-inside{position:relative}.pp-form-container .pp-form-wrapper.ppBuildScratch .pp-form-field-wrap.fld-inside .pp-form-label-wrap{position:absolute;top:5px;left:15px;z-index:2}.pp-form-container .pp-form-wrapper.ppBuildScratch.ppfl-material .pp-form-field-wrap.fld-inside .pp-form-label-wrap{left:0!important}.pp-form-container .pp-form-wrapper.ppBuildScratch .pp-form-field-wrap.fld-inside .pp-form-field-input-textarea-wrap .pp-form-field{padding-top:18px;padding-bottom:2px}.pp-form-container .pp-form-wrapper.ppBuildScratch.ppfs-medium .pp-form-field-wrap.fld-inside .pp-form-field-input-textarea-wrap .pp-form-field{padding-top:23px;padding-bottom:7px}.pp-form-container .pp-form-wrapper.ppBuildScratch.ppfs-large .pp-form-field-wrap.fld-inside .pp-form-field-input-textarea-wrap .pp-form-field{padding-top:30px;padding-bottom:10px}.pp-form-container .pp-form-wrapper.ppBuildScratch .pp-form-field-wrap.fw-half{width:50%}.pp-form-container .pp-form-wrapper.ppBuildScratch .pp-form-field-wrap.fw-third{width:33.3333333333%}.pp-form-container .pp-form-wrapper.ppBuildScratch .pp-form-field-wrap input:not([type=radio]):not([type=checkbox]),.pp-form-container .pp-form-wrapper.ppBuildScratch .pp-form-field-wrap select,.pp-form-container .pp-form-wrapper.ppBuildScratch .pp-form-field-wrap textarea{border:1px solid #dbdbdb;font-size:14px;padding:10px 15px;-webkit-transition:all .35s;transition:all .35s;background:#fff;color:#69717a;width:100%;border-radius:0;line-height:1.3;min-height:40px;display:inline-block;margin:0}.pp-form-container .pp-form-wrapper.ppBuildScratch .pp-form-field-wrap textarea{height:100px;overflow:auto}.pp-form-field-wrap .pp-form-material-icons{width:24px;height:24px;position:absolute;right:0;top:0;cursor:text;margin:8px 12px 0 0}.pp-form-container .pp-form-wrapper.ppBuildScratch.ppfia-right .pp-form-field-wrap.field-has-icon input,.pp-form-container .pp-form-wrapper.ppBuildScratch.ppfia-right .pp-form-field-wrap.field-has-icon textarea{padding-right:40px}.pp-form-container .pp-form-wrapper.ppBuildScratch.ppfia-left .pp-form-field-wrap.field-has-icon input,.pp-form-container .pp-form-wrapper.ppBuildScratch.ppfia-left .pp-form-field-wrap.field-has-icon textarea{padding-left:40px}.pp-form-container .pp-form-wrapper.ppBuildScratch.ppfl-material.ppfia-left .pp-form-field-wrap.field-has-icon input,.pp-form-container .pp-form-wrapper.ppBuildScratch.ppfl-material.ppfia-left .pp-form-field-wrap.field-has-icon textarea{padding-left:30px!important}.pp-form-container .pp-form-wrapper.ppBuildScratch.ppfl-material.ppfia-right .pp-form-field-wrap.field-has-icon input,.pp-form-container .pp-form-wrapper.ppBuildScratch.ppfl-material.ppfia-right .pp-form-field-wrap.field-has-icon textarea{padding-right:30px!important}.pp-form-container .pp-form-wrapper.ppBuildScratch.ppfia-left .pp-form-field-wrap .pp-form-material-icons{left:0;margin-left:12px}.pp-form-container .pp-form-wrapper.ppBuildScratch.ppfl-material.ppfia-left .pp-form-field-wrap .pp-form-material-icons{left:0!important;margin-left:0!important}.pp-form-container .pp-form-wrapper.ppBuildScratch.ppfl-material.ppfia-right .pp-form-field-wrap .pp-form-material-icons{margin-right:0!important}.pp-form-container .pp-form-wrapper.ppBuildScratch.ppfs-medium .pp-form-field-wrap .pp-form-material-icons{margin-top:10px}.pp-form-container .pp-form-wrapper.ppBuildScratch.ppfs-large .pp-form-field-wrap .pp-form-material-icons{margin-top:18px}.pp-form-container .pp-form-wrapper.ppBuildScratch .has-password-visibility-icon .pp-form-material-icons{cursor:pointer}.pp-form-container .pp-form-wrapper.ppBuildScratch.ppfl-pill .pp-form-field-wrap input:not([type=radio]):not([type=checkbox]),.pp-form-container .pp-form-wrapper.ppBuildScratch.ppfl-pill .pp-form-field-wrap select,.pp-form-container .pp-form-wrapper.ppBuildScratch.ppfl-pill .pp-form-field-wrap textarea{border-radius:25px!important}.pp-form-container .pp-form-wrapper.ppBuildScratch.ppfl-round .pp-form-field-wrap input:not([type=radio]):not([type=checkbox]),.pp-form-container .pp-form-wrapper.ppBuildScratch.ppfl-round .pp-form-field-wrap select,.pp-form-container .pp-form-wrapper.ppBuildScratch.ppfl-round .pp-form-field-wrap textarea{border-radius:6px!important}.pp-form-container .pp-form-wrapper.ppBuildScratch.ppfl-material .pp-form-field-wrap .select2.select2-container,.pp-form-container .pp-form-wrapper.ppBuildScratch.ppfl-material .pp-form-field-wrap input:not([type=radio]):not([type=checkbox]),.pp-form-container .pp-form-wrapper.ppBuildScratch.ppfl-material .pp-form-field-wrap select,.pp-form-container .pp-form-wrapper.ppBuildScratch.ppfl-material .pp-form-field-wrap textarea{border:0!important;border-bottom:1px solid #dbdbdb!important;padding-left:0!important}.pp-form-container .pp-form-wrapper.ppBuildScratch.ppfl-material .pp-form-field-wrap input[type=text]:focus,.pp-form-container .pp-form-wrapper.ppBuildScratch.ppfl-material .pp-form-field-wrap select:focus,.pp-form-container .pp-form-wrapper.ppBuildScratch.ppfl-material .pp-form-field-wrap textarea:focus{border-top:0!important;border-right:0!important;border-left:0!important;box-shadow:none!important}.pp-form-container .pp-form-wrapper.ppBuildScratch.ppfl-flat .pp-form-field-wrap .select2-selection,.pp-form-container .pp-form-wrapper.ppBuildScratch.ppfl-flat .pp-form-field-wrap input:not([type=radio]):not([type=checkbox]),.pp-form-container .pp-form-wrapper.ppBuildScratch.ppfl-flat .pp-form-field-wrap select,.pp-form-container .pp-form-wrapper.ppBuildScratch.ppfl-flat .pp-form-field-wrap textarea{border:0!important;background:#f7f7f7!important}.pp-form-container .pp-form-wrapper.ppBuildScratch.ppfs-medium .pp-form-field-wrap input,.pp-form-container .pp-form-wrapper.ppBuildScratch.ppfs-medium .pp-form-field-wrap select{padding-top:15px;padding-bottom:15px}.pp-form-container .pp-form-wrapper.ppBuildScratch.ppfs-medium .pp-form-field-wrap textarea{height:150px}.pp-form-container .pp-form-wrapper.ppBuildScratch.ppfs-large .pp-form-field-wrap input,.pp-form-container .pp-form-wrapper.ppBuildScratch.ppfs-large .pp-form-field-wrap select{padding-top:20px;padding-bottom:20px}.pp-form-container .pp-form-wrapper.ppBuildScratch.ppfs-large .pp-form-field-wrap textarea{height:200px}.pp-form-container .pp-form-wrapper.ppBuildScratch .pp-form-field-wrap input[type=text]:focus,.pp-form-container .pp-form-wrapper.ppBuildScratch .pp-form-field-wrap select:focus,.pp-form-container .pp-form-wrapper.ppBuildScratch .pp-form-field-wrap textarea:focus{border:1px solid #999}.pp-form-container .pp-form-wrapper.ppBuildScratch .pp-form-field-wrap .pp-form-label-wrap .pp-form-label,.pp-form-container .pp-form-wrapper.ppBuildScratch .pp-form-field-wrap .ppform-remember-label{font-style:normal;background-color:transparent;display:block;font-weight:700;font-size:14px;float:none;line-height:1.3;margin:0;padding:0;color:#444}.pp-form-container .pp-form-wrapper.ppBuildScratch .pp-form-field-wrap .ppform-remember-label{display:inline-block}.pp-field-user-avatar-picture-wrap .pp-profile-avatar-overlay ins,.pp-field-user-cover-image-wrap .pp-cover-image-overlay ins,.pp-form-container .pp-form-wrapper.ppBuildScratch.ppf-hide-asterisk .pp-form-required-label{display:none}.pp-form-container .pp-form-wrapper.ppBuildScratch .pp-form-submit-button-wrap input[type=submit]{background:#000;border:0;color:#fff;font-weight:700;font-size:16px;line-height:1;padding:15px 10px;transition:.15s ease-in-out;width:auto;min-width:110px;text-align:center}.pp-form-container .pp-form-wrapper.ppBuildScratch.ppfs-large .pp-form-submit-button-wrap input[type=submit],.pp-form-container .pp-form-wrapper.ppBuildScratch.ppfs-medium .pp-form-submit-button-wrap input[type=submit]{padding-top:20px;padding-bottom:20px}.pp-form-container .pp-form-wrapper.ppBuildScratch.ppsbl-pill .pp-form-submit-button-wrap input[type=submit]{border-radius:25px!important}.pp-form-container .pp-form-wrapper.ppBuildScratch.ppsbl-round .pp-form-submit-button-wrap input[type=submit]{border-radius:6px!important}.pp-form-container .pp-form-wrapper.ppBuildScratch .pp-form-submit-button-wrap input[type=submit]:focus,.pp-form-container .pp-form-wrapper.ppBuildScratch .pp-form-submit-button-wrap input[type=submit]:hover{background-color:#ededed;color:#000;text-decoration:none}.pp-form-container .pp-form-wrapper.ppBuildScratch .pp-checkbox-wrap,.pp-form-container .pp-form-wrapper.ppBuildScratch .pp-radio-wrap{margin:0 0 5px}.pp-form-container .pp-form-wrapper.ppBuildScratch .pp-checkboxes-container,.ppressmd-new-dropdown ul{margin:0;padding:0}.pp-form-container .pp-form-wrapper.ppBuildScratch .pp-checkbox-wrap:last-of-type,.pp-form-container .pp-form-wrapper.ppBuildScratch .pp-radio-wrap:last-of-type{margin-bottom:0}.pp-form-container .pp-form-wrapper.ppBuildScratch .pp-form-field-description{font-size:12px;font-weight:400;color:#666;line-height:1.3;text-align:left;margin:4px 0 0}.pp-form-container .pp-form-wrapper.ppBuildScratch.ppsbw-wide .pp-form-submit-button-wrap input[type=submit]{width:100%}.pp-form-container .pp-form-wrapper.ppBuildScratch.ppsbw-full-width .pp-form-submit-button-wrap{margin-top:4%;margin-bottom:4%}.pp-form-container .pp-form-wrapper.ppBuildScratch.ppsbw-full-width .pp-form-submit-button-wrap input[type=submit]{width:100%!important;position:absolute!important;bottom:0!important;right:0!important;left:0!important;display:block;border-top-right-radius:0!important;border-top-left-radius:0!important}.pp-form-container .pp-form-wrapper.ppBuildScratch.ppsbw-full-width.ppsbl-pill{border-bottom-right-radius:25px!important;border-bottom-left-radius:25px!important}.pp-form-container .pp-form-wrapper.ppBuildScratch.ppsbw-full-width.ppsbl-round{border-bottom-right-radius:6px!important;border-bottom-left-radius:6px!important}.pp-form-container .pp-form-wrapper.ppBuildScratch a.pp-button-social-login:last-of-type{margin-bottom:1.5em!important}#profilepress-myaccount-wrapper{font-size:16px}#profilepress-myaccount-wrapper .profilepress-myaccount-row{display:flex;flex-wrap:wrap;margin-right:-15px;margin-left:-15px}#profilepress-myaccount-wrapper .profilepress-myaccount-nav{display:flex;flex-direction:column;padding-left:0;margin-bottom:0}#profilepress-myaccount-wrapper .ppmyac-dashboard-item{text-decoration:none!important;position:relative;display:block;padding:.75em 1.25em;margin-bottom:-1px;background-color:#fff;border:1px solid rgba(0,0,0,.125);width:100%;text-align:inherit;box-shadow:none}#profilepress-myaccount-wrapper .ppmyac-dashboard-item.isactive{z-index:2;color:#fff;background-color:#007bff;border-color:#007bff}#profilepress-myaccount-wrapper .ppmyac-dashboard-item:first-child{border-top-left-radius:.25em;border-top-right-radius:.25em}#profilepress-myaccount-wrapper .ppmyac-dashboard-item:last-child{margin-bottom:0;border-bottom-right-radius:.25em;border-bottom-left-radius:.25em}#profilepress-myaccount-wrapper .ppmyac-icons{margin-right:.5em;vertical-align:text-bottom}#profilepress-myaccount-wrapper .profilepress-myaccount-col-sm-3{position:relative;width:100%;padding-right:15px;padding-left:15px}@media (min-width:576px){#profilepress-myaccount-wrapper .profilepress-myaccount-col-sm-3{flex:0 0 25%;max-width:25%}}#profilepress-myaccount-wrapper .profilepress-myaccount-content{position:relative;width:100%;padding-top:30px;padding-right:15px;padding-left:15px}@media (min-width:576px){#profilepress-myaccount-wrapper .profilepress-myaccount-content{flex:0 0 75%;max-width:75%}}#profilepress-myaccount-wrapper .profilepress-myaccount-avatar-wrap{text-align:center;margin-bottom:20px}#profilepress-myaccount-wrapper .profilepress-myaccount-avatar-wrap .profilepress-myaccount-avatar img.pp-user-avatar{margin:0!important;position:static!important;float:none!important;display:inline-block;-moz-border-radius:999px;-webkit-border-radius:999px;border-radius:999px;width:120px;height:120px}#profilepress-myaccount-wrapper .profilepress-myaccount-nav a:focus{outline:0;text-shadow:none;box-shadow:none}#profilepress-myaccount-wrapper .profilepress-myaccount-content h2,#profilepress-myaccount-wrapper .profilepress-myaccount-content h3{margin-top:0!important;margin-bottom:1em!important;font-weight:700!important;line-height:1.2!important;font-size:2em!important}#profilepress-myaccount-wrapper .profilepress-myaccount-content h3{font-weight:500!important;font-size:1.2em!important}#profilepress-myaccount-wrapper .profilepress-myaccount-content .profilepress-myaccount-submenus-wrap{margin-bottom:2em}#profilepress-myaccount-wrapper .profilepress-myaccount-content .profilepress-myaccount-submenu-wrap{display:inline;padding-right:1em}#profilepress-myaccount-wrapper .profilepress-myaccount-content .profilepress-myaccount-submenu-item{color:inherit;padding:0 0 10px}#profilepress-myaccount-wrapper .profilepress-myaccount-content .profilepress-myaccount-submenu-item.ppsubmenu-active{border-bottom:3px solid #6c757d}.profilepress-myaccount-alert,.profilepress-myaccount-edit-profile .profilepress-edit-profile-status{position:relative;padding:.75em 1.25em;margin-bottom:1em;border:1px solid transparent;border-radius:.25em}.profilepress-myaccount-alert.pp-alert-danger,.profilepress-myaccount-edit-profile .profilepress-edit-profile-status{color:#721c24;background-color:#f8d7da;border-color:#f5c6cb}.profilepress-myaccount-alert.pp-alert-success,.profilepress-myaccount-edit-profile .profilepress-edit-profile-status.success{color:#155724;background-color:#d4edda;border-color:#c3e6cb}#profilepress-myaccount-wrapper .profilepress-myaccount-content .profilepress-myaccount-form-field{margin-top:.5em;margin-bottom:1em}#profilepress-myaccount-wrapper .profilepress-myaccount-content .profilepress-myaccount-cover-image-empty{min-height:250px;background-color:#eee}#profilepress-myaccount-wrapper .profilepress-myaccount-content .profilepress-myaccount-delete-cover-image-wrap{padding:.75em;background-color:#fff;border:1px solid rgba(0,0,0,.125);margin-bottom:0;border-radius:.25em}#profilepress-myaccount-wrapper .profilepress-myaccount-content .profilepress-myaccount-delete-cover-image-wrap img{width:100%;height:auto}#profilepress-myaccount-wrapper .profilepress-myaccount-content .profilepress-myaccount-email-notifications-wrap .profilepress-myaccount-form-field{margin-top:.5em;margin-bottom:.5em}#profilepress-myaccount-wrapper .profilepress-myaccount-content .profilepress-myaccount-email-notifications-wrap{margin-bottom:2em}#profilepress-myaccount-wrapper .profilepress-myaccount-content .profilepress-myaccount-form-field label{margin-bottom:.2em;font-weight:500;display:block}#profilepress-myaccount-wrapper .profilepress-myaccount-content .profilepress-myaccount-form-field input[type=checkbox]+label,#profilepress-myaccount-wrapper .profilepress-myaccount-content .profilepress-myaccount-form-field input[type=radio]+label{display:inline}#profilepress-myaccount-wrapper .profilepress-myaccount-content .profilepress-myaccount-form-wrap .profilepress-myaccount-form-control:not([type=radio]):not([type=checkbox]),#profilepress-myaccount-wrapper .profilepress-myaccount-content .profilepress-myaccount-form-wrap input:not([type=radio]):not([type=checkbox]):not([type=submit]),#profilepress-myaccount-wrapper .profilepress-myaccount-content .profilepress-myaccount-form-wrap select,#profilepress-myaccount-wrapper .profilepress-myaccount-content .profilepress-myaccount-form-wrap textarea{display:block;width:100%;height:calc(1.5em + .75em + 2px);padding:.375em .75em;font-size:1em;font-weight:400;line-height:1.5;background-color:#fff;background-clip:padding-box;border:1px solid #ced4da;border-radius:.25em;transition:border-color .15s ease-in-out,box-shadow .15s ease-in-out;overflow:visible;box-shadow:inset 0 1px 1px rgba(0,0,0,.125)}#profilepress-myaccount-wrapper .profilepress-myaccount-content .profilepress-myaccount-form-wrap textarea{height:auto!important;min-height:100px!important;resize:vertical!important}#profilepress-myaccount-wrapper .profilepress-myaccount-content input.profilepress-myaccount-form-control:focus,#profilepress-myaccount-wrapper .profilepress-myaccount-content select.profilepress-myaccount-form-control:focus,#profilepress-myaccount-wrapper .profilepress-myaccount-content textarea.profilepress-myaccount-form-control:focus{background-color:#fff;border-color:#bbb;outline:0;box-shadow:none}#profilepress-myaccount-wrapper .profilepress-myaccount-content .profilepress-myaccount-form-wrap .profilepress-myaccount-form-field input[type=submit]{display:inline-block;cursor:pointer;width:auto}#profilepress-myaccount-wrapper .profilepress-myaccount-content .profilepress-myaccount-form-wrap .profilepress-myaccount-form-field input[type=submit]:hover{color:#fff;background-color:#0069d9;border-color:#0062cc;text-decoration:none}#profilepress-myaccount-wrapper .profilepress-myaccount-content .profilepress-myaccount-form-wrap .ppmyac-custom-file{position:relative;display:inline-block;width:100%;height:calc(1.5em + .75em + 2px);margin-bottom:0}#profilepress-myaccount-wrapper .profilepress-myaccount-content .profilepress-myaccount-form-wrap .ppmyac-custom-file-input{position:relative;z-index:2;width:100%;height:calc(1.5em + .75em + 2px);margin:0;opacity:0}#profilepress-myaccount-wrapper .profilepress-myaccount-content .profilepress-myaccount-form-wrap .ppmyac-custom-file-label{position:absolute;top:0;right:0;left:0;z-index:1;height:calc(1.5em + .75em + 2px);padding:.375em .75em;font-weight:400;line-height:1.5;color:#495057;background-color:#fff;border:1px solid #ced4da;border-radius:.25em}#profilepress-myaccount-wrapper .profilepress-myaccount-content .profilepress-myaccount-form-wrap .ppmyac-custom-file-label:after{position:absolute;top:0;right:0;box-sizing:border-box;bottom:0;z-index:3;display:block;height:calc(1.5em + .75em);padding:.375em .75em;line-height:1.5;color:#495057;content:"Browse";background-color:#e9ecef;border-left:inherit;border-radius:0 .25em .25em 0}#profilepress-myaccount-wrapper .profilepress-myaccount-content .profilepress-myaccount-form-wrap .ppmyac-custom-file-input~.ppmyac-custom-file-label[data-browse]:after{content:attr(data-browse)}#profilepress-myaccount-wrapper .profilepress-myaccount-content .profilepress-myaccount-form-field .pp-checkbox-wrap label.pp-form-label,#profilepress-myaccount-wrapper .profilepress-myaccount-content .profilepress-myaccount-form-field .pp-radio-wrap label.pp-form-label{display:inline-block;margin:0 0 0 .3819820591em}#profilepress-myaccount-wrapper .profilepress-myaccount-content .profilepress-myaccount-delete-avatar-wrap{display:flex;flex-direction:column;margin:1em 0 0;padding-left:0}#profilepress-myaccount-wrapper .profilepress-myaccount-content .profilepress-myaccount-delete-avatar{position:relative;padding:.75em 1.25em;background-color:#fff;border:1px solid rgba(0,0,0,.125);margin-bottom:0;border-radius:.25em;justify-content:space-between!important;display:flex!important}#profilepress-myaccount-wrapper .profilepress-myaccount-content .pp-user-avatar{width:70px;height:70px;min-height:100%;object-fit:cover;object-position:center;border-radius:50%}#profilepress-myaccount-wrapper .profilepress-myaccount-content .ppmyac-remove-avatar{margin-bottom:.5em!important;margin-top:.5em!important;padding:.25em .5em;font-size:.875em;line-height:1.5;border-radius:.2em;color:#fff;height:35px;background-color:#6c757d;display:inline-block;font-weight:400;text-align:center;vertical-align:middle;text-shadow:none;cursor:pointer;user-select:none;border:1px solid #6c757d;transition:color .15s ease-in-out,background-color .15s ease-in-out,border-color .15s ease-in-out,box-shadow .15s ease-in-out}#profilepress-myaccount-wrapper .profilepress-myaccount-content .profilepress-myaccount-delete-cover-image-wrap .ppmyac-remove-avatar{margin-top:.75em!important;margin-bottom:0!important}#profilepress-myaccount-wrapper .profilepress-myaccount-content input.profilepress-myaccount-form-control::-webkit-file-upload-button{background:#fff;border-radius:6px;font-size:14px;border:1px solid #ddd}#profilepress-myaccount-wrapper .profilepress-myaccount-content .select2-selection{border-radius:.25em;transition:border-color .15s ease-in-out,box-shadow .15s ease-in-out;box-shadow:inset 0 1px 1px rgba(0,0,0,.125)}.ppress-2fa-setup-wrap .ppmyac-2fa-recovery-codes-wrap{width:250px;text-align:center}.pp-form-container .pp-field-user-avatar-picture-wrap{width:250px;height:auto;margin:auto;position:relative}.pp-form-container .pp-field-user-cover-image-wrap{margin:auto;position:relative}.pp-field-user-avatar-picture-wrap:hover .pp-profile-avatar-overlay-wrap,.pp-field-user-cover-image-wrap:hover .pp-cover-image-overlay-wrap{position:absolute;top:0;left:0;background:rgba(0,0,0,.5);text-align:center;box-sizing:border-box;padding:0;color:#fff;text-shadow:0 1px #666;line-height:21px;font-size:16px;height:100%;width:100%;border-radius:50%}.pp-field-user-cover-image-wrap:hover .pp-cover-image-overlay-wrap{border-radius:0}.pp-field-user-avatar-picture-wrap:hover .pp-profile-avatar-overlay,.pp-field-user-cover-image-wrap:hover .pp-cover-image-overlay{display:table;height:100%;width:100%}.pp-field-user-avatar-picture-wrap:hover .pp-profile-avatar-overlay ins,.pp-field-user-cover-image-wrap:hover .pp-cover-image-overlay ins{display:table-cell;vertical-align:middle;height:100%;text-decoration:none!important;background:0 0!important;color:#fff!important;border-bottom:none!important}.pp-field-user-avatar-picture-wrap:hover .pp-profile-avatar-overlay-wrap .pp-profile-avatar-overlay .pp-form-material-icons,.pp-field-user-cover-image-wrap:hover .pp-cover-image-overlay-wrap .pp-cover-image-overlay .pp-form-material-icons{font-size:35px!important;display:block!important;position:static!important;right:auto!important;top:auto!important;color:#fff!important;margin:0!important;width:auto!important;height:auto!important;cursor:pointer}html .select2.select2-container .select2-selection.select2-selection--multiple input.select2-search__field{border:0!important;height:auto!important}.select2.select2-container .select2-selection.select2-selection--multiple input.select2-search__field{border:0!important;box-shadow:none!important}.select2.select2-container .select2-selection.select2-selection--multiple li.select2-selection__choice{height:auto;line-height:normal}.pp-form-wrapper.pp-member-directory{opacity:0}.pp-form-wrapper.ppress-default-profile{max-width:1000px;width:100%;box-sizing:border-box;font-size:15px;color:#666;margin-bottom:30px;opacity:0}.pp-form-wrapper.ppress-default-profile *{-webkit-font-smoothing:antialiased;-moz-osx-font-smoothing:grayscale;-webkit-box-sizing:border-box;-moz-box-sizing:border-box;box-sizing:border-box}.pp-form-wrapper.ppress-default-profile a,.pp-form-wrapper.ppress-default-profile a:hover{text-decoration:none!important}.pp-form-wrapper.ppress-default-profile .ppress-default-profile-cover{background-color:#eee;box-sizing:border-box;position:relative}.pp-form-wrapper.ppress-default-profile .ppress-default-profile-cover-e{text-align:center;overflow:hidden}.pp-form-wrapper.ppress-default-profile .ppress-default-profile-cover-e img{width:100%;display:block;overflow:hidden;border-radius:0;margin:0}.pp-form-wrapper.ppress-default-profile .ppress-dpf-header{position:relative;padding:0 0 25px;border-bottom:solid 2px #eee;min-height:85px;box-sizing:content-box}.pp-form-wrapper.ppress-default-profile .ppress-dpf-headericon{position:absolute;top:15px;right:0;vertical-align:middle;font-size:30px;height:30px;line-height:30px;z-index:66;margin-right:10px}.pp-form-wrapper.ppress-default-profile .ppress-dpf-headericon .ppress-dpf-edit-a .ppress-material-icons{font-size:30px}.pp-form-wrapper.ppress-default-profile a.ppress-dpf-edit-a{color:#aaa;text-decoration:none;border-bottom:0}.pp-form-wrapper.ppress-default-profile .ppress-dpf-headericon a:hover,.pp-form-wrapper.ppress-default-profile a.ppress-dpf-edit-a.active{color:#007bff}.pp-form-wrapper.ppress-default-profile .ppress-dpf-profile-photo{float:left;position:absolute;margin:0 0 0 30px;box-sizing:border-box;width:200px;height:200px}.pp-form-wrapper.ppress-default-profile.ppdf-nocover .ppress-dpf-profile-photo{position:relative}.pp-form-wrapper.ppress-default-profile .ppress-dpf-profile-photo img{width:100%;height:auto;-moz-border-radius:100%;-webkit-border-radius:100%;border-radius:100%;display:block;overflow:hidden;margin:0;box-shadow:none;background:#fff;border:5px solid #fff}.pp-form-wrapper.ppress-default-profile .ppress-dpf-profile-meta{padding-right:30px;-ms-word-break:break-all;word-break:break-word;word-wrap:break-word}.pp-form-wrapper.ppress-default-profile .ppress-dpf-main-meta{padding:10px 0 0;color:#999}.pp-form-wrapper.ppress-default-profile .ppress-dpf-name{font-size:24px;font-weight:700;margin-right:30px;color:#555;line-height:1.7em}.pp-form-wrapper.ppress-default-profile .ppress-dpf-clear{clear:both}.pp-form-wrapper.ppress-default-profile .ppress-dpf-meta span{margin:0 5px;font-size:14px;display:inline-block;line-height:.1}.pp-form-wrapper.ppress-default-profile .ppress-dpf-meta span:first-child{margin:0 5px 0 0}.pp-form-wrapper.ppress-default-profile .ppress-dpf-meta-text{margin:5px 0 0;line-height:1.4em;font-size:13px}.pp-form-wrapper.ppress-default-profile .ppress-dpf-profile-nav{padding:10px;background:#444;text-align:center}.pp-form-wrapper.ppress-default-profile .ppress-dpf-profile-nav-item a{color:#fff;font-size:14px;font-weight:600;padding:6px 10px 6px 28px;display:block;float:left;border-radius:4px;margin-left:5px;position:relative;border-bottom:0;text-decoration:none!important}.pp-form-wrapper.ppress-default-profile .ppress-dpf-profile-nav-item a:hover{background:#555}.pp-form-wrapper.ppress-default-profile .ppress-dpf-profile-nav-item .ppress-material-icons{font-size:18px;height:18px;line-height:1.5;position:absolute;display:block;left:10px}.pp-form-wrapper.ppress-default-profile .ppress-dpf-profile-nav-item span.ppress-dpf-nav-title{padding-left:5px}.pp-form-wrapper.ppress-default-profile .ppress-dpf-profile-nav-item.ppress-dpf-active a{background:#007bff}.pp-form-wrapper.ppress-default-profile .ppress-dpf-profile-body{max-width:600px;padding-top:15px;padding-bottom:15px;margin:auto}.pp-form-wrapper.ppress-default-profile .pp-user-comment-no-item,.pp-form-wrapper.ppress-default-profile .ppress-dpf-profile-note{text-align:center;padding-top:20px;color:#666}.pp-form-wrapper.ppress-default-profile .ppress-dpf-profile-note .ppress-material-icons{display:inline-block;font-size:70px;height:70px;line-height:70px}.pp-form-wrapper.ppress-default-profile .pp-user-comment-no-item span,.pp-form-wrapper.ppress-default-profile .ppress-dpf-profile-note span{margin-top:10px;display:block;font-size:16px;color:#888}.pp-form-wrapper.ppress-default-profile .ppress-dpf-profile-note a{border:0!important}.pp-form-wrapper.ppress-default-profile .ppress-dpf-profile-body-items{margin:0 0 30px}.pp-form-wrapper.ppress-default-profile .ppress-dpf-profile-body-item{position:relative;padding:15px 0 0}.pp-form-wrapper.ppress-default-profile .ppress-dpf-item-label{display:block;margin:0 0 8px;border-bottom:solid 2px #eee;padding-bottom:4px;font-size:15px;line-height:22px;font-weight:700}.pp-form-wrapper.ppress-default-profile .ppress-dpf-field-label-icon{float:left;margin:0 8px 0 0;height:22px;line-height:18px;display:inline-block;width:24px;text-align:center}.pp-form-wrapper.ppress-default-profile .ppress-dpf-field-label-icon i{font-size:22px;position:relative;top:1px}.pp-form-wrapper.ppress-default-profile .ppdf-nocover .ppress-dpf-profile-photo{float:none;margin:0 auto;text-align:center;position:relative}.pp-form-wrapper.ppress-default-profile .ppdf-nocover .ppress-dpf-profile-meta{padding-left:0!important;padding-right:0!important;text-align:center!important}.ppress-default-profile.ppressui340 .ppress-dpf-profile-nav{padding:0!important}.ppress-default-profile.ppressui340 .ppress-dpf-profile-nav-item a,.ppress-default-profile.ppressui500 .ppress-dpf-profile-nav-item a{margin-left:0!important;border-radius:0!important}.ppress-dpf-profile-nav-item.ppressui340 .ppress-dpf-profile-body{padding-left:0!important;padding-right:0!important}.ppress-default-profile.ppressui340.ppdf-nocover .ppress-dpf-header .ppress-dpf-profile-photo{position:static!important;top:auto!important;left:auto!important}.ppress-default-profile.ppressui340 .ppress-dpf-header .ppress-dpf-profile-meta{text-align:center!important;padding:0!important;margin-top:-30px!important}.ppress-default-profile.ppressui340.ppdf-nocover .ppress-dpf-header .ppress-dpf-profile-meta{padding-top:0!important}.ppress-default-profile.ppressui340 .ppress-dpf-header .ppress-dpf-name{float:none!important;margin-right:0!important;font-size:18px!important}.ppress-default-profile.ppressui340 .ppress-dpf-header .ppress-dpf-meta-text{padding:0 20px!important}.ppress-default-profile.ppressui340 .ppress-dpf-profile-photo{position:relative!important;width:100px!important;height:100px!important;margin:0 auto!important;float:none!important;left:auto!important;text-align:center!important;top:-40px!important}.ppress-default-profile.ppressui340.ppdf-nocover .ppress-dpf-header .ppress-dpf-profile-photo{width:120px!important;height:120px!important}.ppress-default-profile.ppressui340 .ppress-dpf-nav-title{font-size:12px!important}.ppress-default-profile.ppressui340 .ppress-dpf-profile-nav-item .ppress-material-icons,.ppress-default-profile.ppressui500 .ppress-dpf-profile-nav-item i{display:block!important;position:static!important;top:auto!important;left:auto!important;height:20px!important;line-height:20px!important}.ppress-default-profile.ppressui340.ppdf-nocover .ppress-dpf-header .ppress-dpf-profile-meta{margin-top:0!important}.ppress-default-profile.ppressui500 .ppress-dpf-profile-nav{padding:0!important}.ppress-default-profile.ppressui500 .ppress-dpf-profile-nav-item i{font-size:22px!important;height:22px!important;line-height:22px!important}.ppress-default-profile.ppressui500 .ppress-dpf-profile-body{padding-left:0!important;padding-right:0!important}.ppress-default-profile.ppressui500.ppdf-nocover .ppress-dpf-header .ppress-dpf-profile-photo{position:static!important;top:auto!important;left:auto!important;width:120px!important;height:120px!important}.ppress-default-profile.ppressui500 .ppress-dpf-profile-photo{position:relative!important;width:100px!important;height:100px!important;margin:0 auto!important;float:none!important;display:block!important;top:-40px!important;left:0!important}.ppress-default-profile.ppressui500 .ppress-dpf-header .ppress-dpf-profile-meta{text-align:center!important;padding:0!important;margin-top:-30px!important}.ppress-default-profile.ppressui500 .ppress-dpf-header .ppress-dpf-name{float:none!important;margin-right:0!important;font-size:21px!important}.ppress-default-profile.ppressui500 .ppress-dpf-header .ppress-dpf-meta-text{padding-top:10px!important}.ppress-default-profile.ppressui500 .ppress-dpf-header .ppress-dpf-meta{padding:0 20px!important;display:block!important}.ppress-default-profile.ppressui500 .ppress-dpf-nav-title{font-size:12px!important}.ppress-default-profile.ppressui500 .ppress-dpf-profile-nav-item .ppress-material-icons{display:block!important;position:static!important;top:auto!important;left:auto!important;height:20px!important;line-height:20px!important}.ppress-default-profile.ppressui500.ppdf-nocover .ppress-dpf-header .ppress-dpf-profile-meta{margin-top:0!important}.ppress-default-profile.ppressui800 .ppress-dpf-profile-nav{padding:0!important}.ppress-default-profile.ppressui800 .ppress-dpf-profile-nav-item a{padding:10px 20px!important;margin-left:0!important;border-radius:0!important}.ppress-default-profile.ppressui800 .ppress-dpf-profile-photo{width:140px!important;height:140px!important;top:-70px!important}.ppress-default-profile.ppressui800.ppdf-nocover .ppress-dpf-header .ppress-dpf-profile-photo{top:auto!important}.ppress-default-profile.ppressui800 .ppress-dpf-header .ppress-dpf-meta-text{padding-top:10px!important}.ppress-default-profile.ppressui800 .ppress-dpf-nav-title{font-size:12px!important}.ppress-default-profile.ppressui800 .ppress-dpf-profile-nav-item .ppress-material-icons{display:block!important;position:static!important;top:auto!important;left:auto!important;font-size:20px!important;height:20px!important;line-height:20px!important}.ppress-default-profile.ppressui960 .ppress-dpf-profile-photo{width:140px!important;height:140px!important;top:-70px!important}.ppress-default-profile.ppressui960.ppdf-nocover .ppress-dpf-profile-meta{margin-top:-50px!important}.ppress-default-profile.ppressui340 .ppress-dpf-profile-nav-item a,.ppress-default-profile.ppressui500 .ppress-dpf-profile-nav-item a{padding:5px 11px!important;font-size:12px!important}.ppress-default-profile.ppressui340 .ppress-dpf-profile-nav-item .ppress-material-icons,.ppress-default-profile.ppressui500 .ppress-dpf-profile-nav-item .ppress-material-icons{font-size:14px!important}.ppress-default-profile.ppressui340 span.ppress-dpf-nav-title,.ppress-default-profile.ppressui500 span.ppress-dpf-nav-title{font-size:10px!important}.pp-form-wrapper.ppress-default-profile ul.pp-user-post-list{list-style:none;margin:0;padding:0}.pp-form-wrapper.ppress-default-profile li.pp-user-post-item{padding:20px 0;border-bottom:1px solid #eee}.pp-form-wrapper.ppress-default-profile .pp-user-post-item a,.pp-form-wrapper.ppress-default-profile .pp-user-post-item h3{font-size:16px;font-weight:400;margin:0;text-decoration:none}.pp-form-wrapper.ppress-default-profile .ppress-dpf-more-post-wrap{text-align:center;padding-top:30px}.pp-form-wrapper.ppress-default-profile a.ppress-dpf-more-post-btn{font-size:15px;border:0;display:block;width:100%;line-height:1em;padding:15px;text-decoration:none;text-align:center;text-transform:none;font-weight:400;transition:.25s;border-radius:4px;-webkit-box-shadow:0 4px 6px rgba(50,50,93,.11),0 1px 3px rgba(0,0,0,.08);box-shadow:0 4px 6px rgba(50,50,93,.11),0 1px 3px rgba(0,0,0,.08);max-width:250px;margin:0 auto;color:#fff;background:#007bff}.pp-form-wrapper.ppress-default-profile .pp-user-comment-item{padding:20px 0;border-bottom:1px solid #eee}.pp-form-wrapper.ppress-default-profile .pp-user-comment-item-link a{color:inherit}.pp-form-wrapper.ppress-default-profile .pp-user-comment-no-item+.ppress-dpf-more-post-wrap{display:none}.pp-member-directory .ppressmd-member-directory-header.ppressmd-form{display:flex;flex-direction:column;justify-content:flex-start;align-items:stretch;flex-wrap:nowrap;width:100%}.pp-member-directory .ppressmd-member-directory-header .ppressmd-member-directory-header-row:not(.ppressmd-member-directory-filters-bar){display:flex;flex-direction:row;justify-content:flex-start;align-items:baseline;flex-wrap:nowrap;margin:0 0 10px}.pp-member-directory .ppressmd-member-directory-header .ppressmd-member-directory-header-row.ppressmd-member-directory-search-row{justify-content:flex-end}.pp-member-directory .ppressmd-member-directory-header .ppressmd-member-directory-header-row .ppressmd-member-directory-search-line{display:flex;flex-direction:row;justify-content:flex-start;align-items:center;flex-wrap:nowrap;width:60%}.pp-member-directory .ppressmd-member-directory-header .ppressmd-member-directory-header-row .ppressmd-member-directory-search-line label{flex:1;margin:0 10px 0 0;min-width:90px;max-width:85%}.pp-member-directory .ppressmd-member-directory-header .ppressmd-member-directory-header-row .ppressmd-member-directory-search-line label .ppressmd-search-line{-webkit-appearance:textfield;width:100%;padding:0 12px!important;display:block!important;-moz-border-radius:2px;-webkit-border-radius:2px;border-radius:2px;outline:0!important;cursor:text!important;font-size:15px!important;height:40px!important;box-sizing:border-box!important;box-shadow:none!important;margin:0!important;position:static}.pp-member-directory .ppressmd-member-directory-header .ppressmd-member-directory-header-row .ppressmd-member-directory-search-line .ppressmd-do-search{min-width:15%;width:auto}.pp-member-directory .ppressmd-member-directory-header .ppressmd-member-directory-header-row .ppressmd-member-directory-nav-line{display:flex;flex-direction:row;justify-content:space-between;align-items:center;flex-wrap:nowrap;width:100%}.pp-member-directory .ppressmd-member-directory-header .ppressmd-member-directory-header-row .ppressmd-member-directory-nav-line .ppressmd-member-directory-sorting{display:flex;flex-direction:row;justify-content:flex-start;align-items:baseline;flex-wrap:nowrap;flex:5}.pp-member-directory .ppressmd-member-directory-header .ppressmd-member-directory-header-row .ppressmd-member-directory-nav-line .ppressmd-member-directory-sorting .ppressmd-member-directory-sorting-a{display:flex;flex-direction:row;justify-content:flex-start;align-items:baseline;flex-wrap:nowrap;position:relative;cursor:pointer}.pp-member-directory .ppressmd-member-directory-header a{text-decoration:none;border-bottom:none;box-shadow:none}.pp-member-directory .ppressmd-member-directory-header .ppressmd-member-directory-header-row .ppressmd-member-directory-nav-line .ppress-material-icons{display:inline;vertical-align:middle}.pp-member-directory .ppressmd-member-directory-header .ppressmd-member-directory-header-row .ppressmd-member-directory-nav-line .ppressmd-member-directory-filters{display:flex;flex-direction:row;justify-content:flex-end;align-items:baseline;flex-wrap:nowrap;flex:2;text-align:right}.pp-member-directory .ppressmd-member-directory-header .ppressmd-member-directory-header-row .ppressmd-member-directory-nav-line .ppressmd-member-directory-filters .ppressmd-member-directory-filters-a{display:flex;flex-direction:row;justify-content:flex-start;align-items:baseline;flex-wrap:nowrap;cursor:pointer}.pp-member-directory .ppressmd-member-directory-header .ppressmd-member-directory-header-row .ppressmd-member-directory-nav-line .ppressmd-member-directory-filters .ppressmd-member-directory-filters-a a{margin:0 5px 0 0}.ppressmd-member-directory-header:not(.ppmd-filters-expand) .ppressmd-member-directory-header-row .ppressmd-member-directory-nav-line .ppressmd-member-directory-filters .ppressmd-member-directory-filters-a .ppress-up{display:none}.pp-member-directory .ppressmd-member-directory-header .ppressmd-member-directory-header-row .ppressmd-search.ppressmd-search-invisible,.ppressmd-member-directory-header.ppmd-filters-expand .ppressmd-member-directory-header-row .ppressmd-member-directory-nav-line .ppressmd-member-directory-filters .ppressmd-member-directory-filters-a .ppress-down{display:none}.ppressmd-new-dropdown{font-size:16px;margin:0;position:absolute;height:auto;background:#fff;z-index:10;display:none;border:1px solid #ddd;box-shadow:0 7px 14px 0 rgba(50,50,93,.1),0 3px 6px 0 rgba(0,0,0,.07);-webkit-box-shadow:0 7px 14px 0 rgba(50,50,93,.1),0 3px 6px 0 rgba(0,0,0,.07);box-sizing:border-box;-moz-box-sizing:border-box;-webkit-box-sizing:border-box;border-radius:5px;-moz-border-radius:5px;-webkit-border-radius:5px}.ppressmd-new-dropdown ul li{list-style-type:none;padding:0;margin:0}.pp-member-directory .ppressmd-member-directory-header .ppressmd-member-directory-header-row .ppressmd-member-directory-nav-line .ppressmd-member-directory-sorting .ppressmd-member-directory-sorting-a .ppressmd-new-dropdown{top:24px;width:200px;left:-12px}.ppressmd-new-dropdown ul li a{display:block;padding:8px 12px;line-height:1}.pp-member-directory .ppressmd-member-directory-header .ppressmd-member-directory-header-row.ppressmd-member-directory-filters-bar{padding:0 0 10px}.pp-member-directory .ppressmd-member-directory-header .ppressmd-member-directory-header-row.ppressmd-header-row-invisible{margin:0}.ppressmd-member-directory-header.ppmd-filters-expand .ppressmd-member-directory-header-row .ppressmd-search.ppressmd-search-invisible{display:grid}.pp-member-directory .ppressmd-member-directory-header .ppressmd-member-directory-header-row .ppressmd-search{margin:0;width:100%;display:grid;grid-template-rows:auto 1fr;grid-template-columns:repeat(3,1fr);grid-gap:10px;grid-auto-rows:minmax(max-content,auto);-ms-grid-template-rows:auto 1fr;-ms-grid-template-columns:repeat(3,1fr);-ms-grid-gap:10px;-ms-grid-auto-rows:minmax(max-content,auto);align-items:center}.pp-member-directory .ppressmd-member-directory-header .ppressmd-member-directory-header-row .ppressmd-search .ppressmd-search-filter{display:flex;flex-direction:row;justify-content:flex-start;align-items:baseline;flex-wrap:nowrap;width:100%}.pp-member-directory .ppressmd-member-directory-header .ppressmd-member-directory-header-row .ppressmd-search .ppressmd-search-filter.ppressmd-text-filter-type input{width:100%;padding:10px 30px}.pp-member-directory .ppressmd-member-directory-header .ppressmd-member-directory-header-row .ppressmd-member-directory-search-line label .ppressmd-search-line,.pp-member-directory .ppressmd-member-directory-header .ppressmd-member-directory-header-row .ppressmd-search .ppressmd-search-filter.ppressmd-text-filter-type input:not(.select2-search__field),.pp-member-directory .ppressmd-member-directory-header .select2.select2-container .select2-selection{background-color:transparent;border:1px solid #ddd!important}.pp-member-directory .ppressmd-member-directory-header .ppressmd-member-directory-header-row .ppressmd-member-directory-nav-line .ppress-material-icons,.pp-member-directory .ppressmd-member-directory-header .ppressmd-member-directory-header-row .ppressmd-member-directory-search-line label .ppressmd-search-line,.pp-member-directory .ppressmd-member-directory-header .ppressmd-member-directory-header-row .ppressmd-search .ppressmd-search-filter.ppressmd-text-filter-type input,.pp-member-directory .ppressmd-member-directory-header .select2.select2-container .select2-selection__rendered{color:#666;background-color:transparent}.pp-member-directory .ppressmd-member-directory-header .ppressmd-member-directory-header-row input[type=search]:focus{border:1px solid #bbb!important}.pp-member-directory .ppressmd-member-directory-header .ppressmd-button{border:0!important;display:block;width:100%;line-height:1em!important;padding:16px 20px!important;text-decoration:none!important;text-align:center;text-transform:none!important;font-weight:400!important;overflow:hidden;position:relative;transition:.25s;box-sizing:border-box;-moz-border-radius:4px!important;-webkit-border-radius:4px!important;border-radius:4px!important;box-shadow:none;vertical-align:middle!important;height:auto!important;cursor:pointer!important;text-shadow:none;font-family:inherit;outline:0!important;margin:0;-webkit-appearance:none}.pp-member-directory .ppressmd-members-total-wrap{text-align:center;margin:0 0 10px}.pp-member-directory .ppressmd-members-total{font-size:20px;font-weight:300}.pp-member-directory .ppressmd-member-directory-header .select2.select2-container{width:100%!important}.pp-member-directory .ppressmd-member-directory-header .select2-search.select2-search--inline .select2-search__field{width:auto!important}.pp-member-directory .ppressmd-member-directory-header .select2.select2-container .select2-selection{display:block!important;height:40px;padding:0 0 0 12px!important;overflow:hidden!important;position:relative!important;white-space:nowrap!important;line-height:35px!important;font-size:15px!important;text-align:left!important;text-decoration:none!important;-moz-border-radius:2px!important;-webkit-border-radius:2px!important;border-radius:2px!important;background-clip:padding-box!important;-webkit-touch-callout:none;-webkit-user-select:none;-moz-user-select:none;-ms-user-select:none;user-select:none;background:0 0!important}.pp-member-directory .ppressmd-member-directory-header .select2.select2-container .select2-selection .select2-selection__arrow{display:inline-block!important;width:34px!important;height:100%!important;position:absolute!important;right:0!important;top:0!important;-moz-border-radius:0 2px 2px 0!important;-webkit-border-radius:0 2px 2px 0!important;border-radius:0 2px 2px 0!important;background-clip:padding-box!important;text-align:center!important;background:0 0!important;border-left:0!important}.pp-member-directory .ppressmd-member-directory-header .select2-container.select2-container--open .select2-dropdown{border:1px solid #ddd;border-top:0;border-radius:0}.pp-member-directory .ppressmd-member-directory-header .select2-container.select2-container--open .select2-dropdown .select2-results li{list-style:none;display:list-item;background-image:none;font-size:15px;margin:5px!important;color:#666!important;padding:3px 7px 4px!important;cursor:pointer;min-height:1em!important}.pp-member-directory .ppressmd-member-directory-header .select2.select2-container .select2-selection.select2-selection--multiple{height:auto!important;line-height:.8!important}.pp-member-directory .ppressmd-member-directory-header .select2-container--default .select2-selection--single .select2-selection__rendered{padding-left:0!important;line-height:37px}.pp-member-directory .ppressmd-member-directory-header .select2-container--default .select2-selection--multiple .select2-selection__rendered{line-height:37px;box-sizing:border-box;list-style:none;margin:0;padding-left:0!important;padding-right:30px;width:100%;font-size:13px}.pp-member-directory .ppressmd-member-directory-header .select2-results li.select2-results__option.select2-results__option--highlighted{background:0 0!important;background:#f4f4f4!important;color:#666!important}.pp-member-directory .ppressmd-member-directory-header .select2-container--default .select2-selection--single .select2-selection__clear{right:10px;margin:0!important}.pp-member-directory .ppressmd-member-directory-header .select2-container--default .select2-selection--multiple .select2-selection__clear{right:10px;font-size:30px;margin:0!important}.pp-member-directory .ppressmd-member-directory-header .select2-container--default .select2-selection--multiple .select2-selection__clear,.pp-member-directory .ppressmd-member-directory-header .select2-container--default .select2-selection--single .select2-selection__arrow b,.pp-member-directory .ppressmd-member-directory-header .select2-container--default .select2-selection--single .select2-selection__clear{color:#888!important}.pp-member-directory .ppressmd-member-directory-header .select2-container--default .select2-selection--multiple .select2-selection__clear{position:absolute}.pp-member-directory .ppressmd-member-directory-header .select2-container--default .select2-selection--multiple .select2-selection__choice{padding:3px 3px 3px 5px}.pp-member-directory .ppressmd-member-directory-header .select2-container .select2-search.select2-search--inline>input{border:0!important;padding:0!important;border-radius:0!important}.pp-member-directory .ppressmd-member-directory-header .select2-container--default .select2-selection--multiple .select2-selection__rendered li{overflow-x:hidden;text-overflow:ellipsis;max-width:100%;box-sizing:border-box}.pp-member-directory .ppressmd-member-directory-header .select2-container--default .select2-selection--single .select2-selection__clear{font-size:20px!important}.pp-member-directory .ppmd-pagination-wrap{font-size:16px;width:100%;margin:0 auto 10px;padding:0;text-align:center}.pp-member-directory .ppmd-pagination-wrap .page-numbers{display:inline-block;width:auto;height:34px;line-height:34px;transition:all .2s linear;padding:0 14px;color:#666;font-weight:400}.pp-member-directory .ppmd-pagination-wrap .page-numbers.current{background:#007bff;color:#fff}.pp-member-directory .ppmd-pagination-wrap .page-numbers .ppress-material-icons{vertical-align:middle}.ppress-paywall-message-wrap{position:relative;width:100%;margin:-5em auto 2em;padding:6em 0 0;background:linear-gradient(to bottom,rgba(255,255,255,0),rgba(255,255,255,.5) .5em,#fff 5.5em,#fff 100%)}.ppress-paywall-message{box-shadow:0 0 .5em .25em rgba(0,0,0,.125);padding:1.375em;border:6px solid #fff;-webkit-border-radius:.5em;-moz-border-radius:.5em;border-radius:.5em;background-color:#f4f4f4;color:#333}.ppress-paywall-message p:last-child{margin-bottom:0!important}p:has(+.ppress-paywall-message-wrap){margin-bottom:0}.ppress-main-container{width:100%}.ppress-container-div{margin:3em 0;padding:3em;background-color:#fff;width:100%;text-align:center}@-webkit-keyframes fpFadeInDown{0%{opacity:0;-webkit-transform:translate3d(0,-20px,0);transform:translate3d(0,-20px,0)}to{opacity:1;-webkit-transform:translate3d(0,0,0);transform:translate3d(0,0,0)}}@keyframes fpFadeInDown{0%{opacity:0;-webkit-transform:translate3d(0,-20px,0);transform:translate3d(0,-20px,0)}to{opacity:1;-webkit-transform:translate3d(0,0,0);transform:translate3d(0,0,0)}}.flatpickr-calendar{background:0 0;opacity:0;display:none;text-align:center;visibility:hidden;padding:0;-webkit-animation:none;animation:none;direction:ltr;border:0;font-size:14px;line-height:24px;border-radius:5px;position:absolute;width:307.875px;box-sizing:border-box;touch-action:manipulation;background:#fff;box-shadow:1px 0 0#e6e6e6,-1px 0 0#e6e6e6,0 1px 0#e6e6e6,0-1px 0#e6e6e6,0 3px 13px rgba(0,0,0,.08)}.flatpickr-calendar.inline,.flatpickr-calendar.open{opacity:1;max-height:640px;visibility:visible}.flatpickr-calendar.open{display:inline-block;z-index:99999}.flatpickr-calendar.animate.open{-webkit-animation:fpFadeInDown .3s cubic-bezier(.23,1,.32,1);animation:fpFadeInDown .3s cubic-bezier(.23,1,.32,1)}.flatpickr-calendar.inline{display:block;position:relative;top:2px}.flatpickr-calendar.static{position:absolute;top:calc(100% + 2px)}.flatpickr-calendar.static.open{z-index:999;display:block}.flatpickr-calendar.multiMonth .flatpickr-days .dayContainer:nth-child(n+1) .flatpickr-day.inRange:nth-child(7n+7){box-shadow:none!important}.flatpickr-calendar.multiMonth .flatpickr-days .dayContainer:nth-child(n+2) .flatpickr-day.inRange:nth-child(7n+1){box-shadow:-2px 0 0#e6e6e6,5px 0 0#e6e6e6}.flatpickr-calendar .hasTime .dayContainer,.flatpickr-calendar .hasWeeks .dayContainer{border-bottom:0;border-bottom-right-radius:0;border-bottom-left-radius:0}.flatpickr-calendar .hasWeeks .dayContainer{border-left:0}.flatpickr-calendar.hasTime .flatpickr-time{height:40px;border-top:1px solid #e6e6e6}.flatpickr-calendar.noCalendar.hasTime .flatpickr-time{height:auto}.flatpickr-calendar:after,.flatpickr-calendar:before{position:absolute;display:block;pointer-events:none;border:solid transparent;content:"";height:0;width:0;left:22px}.flatpickr-calendar.arrowRight:after,.flatpickr-calendar.arrowRight:before,.flatpickr-calendar.rightMost:after,.flatpickr-calendar.rightMost:before{left:auto;right:22px}.flatpickr-calendar.arrowCenter:after,.flatpickr-calendar.arrowCenter:before{left:50%;right:50%}.flatpickr-calendar:before{border-width:5px;margin:0-5px}.flatpickr-calendar:after{border-width:4px;margin:0-4px}.flatpickr-calendar.arrowTop:after,.flatpickr-calendar.arrowTop:before{bottom:100%}.flatpickr-calendar.arrowTop:before{border-bottom-color:#e6e6e6}.flatpickr-calendar.arrowTop:after{border-bottom-color:#fff}.flatpickr-calendar.arrowBottom:after,.flatpickr-calendar.arrowBottom:before{top:100%}.flatpickr-calendar.arrowBottom:before{border-top-color:#e6e6e6}.flatpickr-calendar.arrowBottom:after{border-top-color:#fff}.flatpickr-calendar:focus,.flatpickr-current-month input.cur-year:focus{outline:0}.flatpickr-wrapper{position:relative;display:inline-block}.flatpickr-months{display:flex}.flatpickr-months .flatpickr-month,.flatpickr-months .flatpickr-next-month,.flatpickr-months .flatpickr-prev-month{-webkit-user-select:none;-moz-user-select:none;-ms-user-select:none;user-select:none;height:34px;color:rgba(0,0,0,.9);fill:rgba(0,0,0,.9)}.flatpickr-months .flatpickr-month{background:0 0;line-height:1;text-align:center;position:relative;overflow:hidden;flex:1}.flatpickr-months .flatpickr-next-month,.flatpickr-months .flatpickr-prev-month{text-decoration:none;cursor:pointer;position:absolute;top:0;padding:10px;z-index:3}.flatpickr-months .flatpickr-next-month.flatpickr-disabled,.flatpickr-months .flatpickr-prev-month.flatpickr-disabled{display:none}.flatpickr-months .flatpickr-next-month i,.flatpickr-months .flatpickr-prev-month i,.numInputWrapper{position:relative}.flatpickr-months .flatpickr-next-month.flatpickr-prev-month,.flatpickr-months .flatpickr-prev-month.flatpickr-prev-month{left:0}.flatpickr-months .flatpickr-next-month.flatpickr-next-month,.flatpickr-months .flatpickr-prev-month.flatpickr-next-month{right:0}.flatpickr-months .flatpickr-next-month:hover,.flatpickr-months .flatpickr-prev-month:hover{color:#959ea9}.flatpickr-months .flatpickr-next-month:hover svg,.flatpickr-months .flatpickr-prev-month:hover svg{fill:#f64747}.flatpickr-months .flatpickr-next-month svg,.flatpickr-months .flatpickr-prev-month svg{width:14px;height:14px}.flatpickr-months .flatpickr-next-month svg path,.flatpickr-months .flatpickr-prev-month svg path{transition:fill .1s;fill:inherit}.numInputWrapper{height:auto}.numInputWrapper input,.numInputWrapper span{display:inline-block}.numInputWrapper input{width:100%}.numInputWrapper input::-ms-clear{display:none}.numInputWrapper input::-webkit-inner-spin-button,.numInputWrapper input::-webkit-outer-spin-button{margin:0;-webkit-appearance:none}.numInputWrapper span{position:absolute;right:0;width:14px;padding:0 4px 0 2px;height:50%;line-height:50%;opacity:0;cursor:pointer;border:1px solid rgba(57,57,57,.15);box-sizing:border-box}.numInputWrapper span:hover{background:rgba(0,0,0,.1)}.numInputWrapper span:active{background:rgba(0,0,0,.2)}.numInputWrapper span:after{display:block;content:"";position:absolute}.numInputWrapper span.arrowUp{top:0;border-bottom:0}.numInputWrapper span.arrowUp:after{border-left:4px solid transparent;border-right:4px solid transparent;border-bottom:4px solid rgba(57,57,57,.6);top:26%}.numInputWrapper span.arrowDown{top:50%}.numInputWrapper span.arrowDown:after{border-left:4px solid transparent;border-right:4px solid transparent;border-top:4px solid rgba(57,57,57,.6);top:40%}.numInputWrapper span svg{width:inherit;height:auto}.numInputWrapper span svg path{fill:rgba(0,0,0,.5)}.flatpickr-current-month span.cur-month:hover,.numInputWrapper:hover{background:rgba(0,0,0,.05)}.numInputWrapper:hover span{opacity:1}.flatpickr-current-month{font-size:135%;font-weight:300;color:inherit;position:absolute;width:75%;left:12.5%;padding:7.48px 0 0;line-height:1;height:34px;display:inline-block;text-align:center;-webkit-transform:translate3d(0,0,0);transform:translate3d(0,0,0)}.flatpickr-current-month span.cur-month{font-family:inherit;font-weight:700;color:inherit;display:inline-block;margin-left:.5ch;padding:0}.flatpickr-current-month .numInputWrapper{width:6ch;width:7ch\0;display:inline-block}.flatpickr-current-month .numInputWrapper span.arrowUp:after{border-bottom-color:rgba(0,0,0,.9)}.flatpickr-current-month .numInputWrapper span.arrowDown:after{border-top-color:rgba(0,0,0,.9)}.flatpickr-current-month .flatpickr-monthDropdown-months,.flatpickr-current-month input.cur-year{background:0 0;border:0;border-radius:0;box-sizing:border-box;color:inherit;font-size:inherit;font-family:inherit;font-weight:300;height:auto;line-height:inherit;padding:0 0 0 .5ch;vertical-align:initial}.flatpickr-current-month input.cur-year{cursor:text;margin:0;display:inline-block;-webkit-appearance:textfield;-moz-appearance:textfield;appearance:textfield}.flatpickr-current-month input.cur-year[disabled],.flatpickr-current-month input.cur-year[disabled]:hover{font-size:100%;color:rgba(0,0,0,.5);background:0 0;pointer-events:none}.flatpickr-current-month .flatpickr-monthDropdown-months{appearance:menulist;cursor:pointer;margin:-1px 0 0;outline:0;position:relative;-webkit-box-sizing:border-box;-webkit-appearance:menulist;-moz-appearance:menulist;width:auto}.flatpickr-current-month .flatpickr-monthDropdown-months:active,.flatpickr-current-month .flatpickr-monthDropdown-months:focus{outline:0}.flatpickr-current-month .flatpickr-monthDropdown-months:hover{background:rgba(0,0,0,.05)}.flatpickr-current-month .flatpickr-monthDropdown-months .flatpickr-monthDropdown-month{background-color:transparent;outline:0;padding:0}.flatpickr-weekdays{background:0 0;text-align:center;overflow:hidden;width:100%;display:flex;align-items:center;height:28px}.flatpickr-weekdays .flatpickr-weekdaycontainer{display:flex;flex:1}span.flatpickr-weekday{cursor:default;font-size:90%;background:0 0;color:rgba(0,0,0,.54);line-height:1;margin:0;text-align:center;display:block;flex:1;font-weight:bolder}.flatpickr-weeks{padding:1px 0 0}.flatpickr-days{position:relative;overflow:hidden;display:flex;align-items:flex-start;width:307.875px}.flatpickr-days:focus{outline:0}.dayContainer,.flatpickr-day{box-sizing:border-box;display:inline-block}.dayContainer{padding:0;outline:0;text-align:left;width:307.875px;min-width:307.875px;max-width:307.875px;display:flex;flex-wrap:wrap;-ms-flex-wrap:wrap;justify-content:space-around;-webkit-transform:translate3d(0,0,0);transform:translate3d(0,0,0);opacity:1}.dayContainer+.dayContainer{box-shadow:-1px 0 0#e6e6e6}.flatpickr-day{background:0 0;border:1px solid transparent;border-radius:150px;color:#393939;cursor:pointer;font-weight:400;width:14.2857143%;flex-basis:14.2857143%;max-width:39px;height:39px;line-height:39px;margin:0;position:relative;justify-content:center;text-align:center}.flatpickr-day.inRange,.flatpickr-day.nextMonthDay.inRange,.flatpickr-day.nextMonthDay.today.inRange,.flatpickr-day.nextMonthDay:focus,.flatpickr-day.nextMonthDay:hover,.flatpickr-day.prevMonthDay.inRange,.flatpickr-day.prevMonthDay.today.inRange,.flatpickr-day.prevMonthDay:focus,.flatpickr-day.prevMonthDay:hover,.flatpickr-day.today.inRange,.flatpickr-day:focus,.flatpickr-day:hover{cursor:pointer;outline:0;background:#e6e6e6;border-color:#e6e6e6}.flatpickr-day.today{border-color:#959ea9}.flatpickr-day.today:focus,.flatpickr-day.today:hover{border-color:#959ea9;background:#959ea9;color:#fff}.flatpickr-day.endRange,.flatpickr-day.endRange.inRange,.flatpickr-day.endRange.nextMonthDay,.flatpickr-day.endRange.prevMonthDay,.flatpickr-day.endRange:focus,.flatpickr-day.endRange:hover,.flatpickr-day.selected,.flatpickr-day.selected.inRange,.flatpickr-day.selected.nextMonthDay,.flatpickr-day.selected.prevMonthDay,.flatpickr-day.selected:focus,.flatpickr-day.selected:hover,.flatpickr-day.startRange,.flatpickr-day.startRange.inRange,.flatpickr-day.startRange.nextMonthDay,.flatpickr-day.startRange.prevMonthDay,.flatpickr-day.startRange:focus,.flatpickr-day.startRange:hover{background:#569ff7;box-shadow:none;color:#fff;border-color:#569ff7}.flatpickr-day.endRange.startRange,.flatpickr-day.selected.startRange,.flatpickr-day.startRange.startRange{border-radius:50px 0 0 50px}.flatpickr-day.endRange.endRange,.flatpickr-day.selected.endRange,.flatpickr-day.startRange.endRange{border-radius:0 50px 50px 0}.flatpickr-day.endRange.startRange+.endRange:not(:nth-child(7n+1)),.flatpickr-day.selected.startRange+.endRange:not(:nth-child(7n+1)),.flatpickr-day.startRange.startRange+.endRange:not(:nth-child(7n+1)){box-shadow:-10px 0 0#569ff7}.flatpickr-day.endRange.startRange.endRange,.flatpickr-day.selected.startRange.endRange,.flatpickr-day.startRange.startRange.endRange{border-radius:50px}.flatpickr-day.inRange{border-radius:0;box-shadow:-5px 0 0#e6e6e6,5px 0 0#e6e6e6}.flatpickr-day.flatpickr-disabled,.flatpickr-day.flatpickr-disabled:hover{background:0 0;border-color:transparent}.flatpickr-day.nextMonthDay,.flatpickr-day.notAllowed,.flatpickr-day.notAllowed.nextMonthDay,.flatpickr-day.notAllowed.prevMonthDay,.flatpickr-day.prevMonthDay{color:rgba(57,57,57,.3);background:0 0;border-color:transparent;cursor:default}.flatpickr-day.flatpickr-disabled,.flatpickr-day.flatpickr-disabled:hover{cursor:not-allowed;color:rgba(57,57,57,.1)}.flatpickr-day.week.selected{border-radius:0;box-shadow:-5px 0 0#569ff7,5px 0 0#569ff7}.flatpickr-day.hidden{visibility:hidden}.rangeMode .flatpickr-day{margin-top:1px}.flatpickr-weekwrapper{float:left}.flatpickr-weekwrapper .flatpickr-weeks{padding:0 12px;box-shadow:1px 0 0#e6e6e6}.flatpickr-weekwrapper .flatpickr-weekday{float:none;width:100%;line-height:28px}.flatpickr-weekwrapper span.flatpickr-day,.flatpickr-weekwrapper span.flatpickr-day:hover{display:block;width:100%;max-width:none;color:rgba(57,57,57,.3);background:0 0;cursor:default;border:0}.flatpickr-innerContainer{display:block;display:flex;box-sizing:border-box;overflow:hidden}.flatpickr-rContainer{display:inline-block;padding:0;box-sizing:border-box}.flatpickr-time,.flatpickr-time input{text-align:center;box-sizing:border-box}.flatpickr-time{outline:0;display:block;height:0;line-height:40px;max-height:40px;overflow:hidden;display:flex}.flatpickr-time:after{content:"";display:table;clear:both}.flatpickr-time .numInputWrapper{flex:1;width:40%;height:40px;float:left}.flatpickr-time .numInputWrapper span.arrowUp:after{border-bottom-color:#393939}.flatpickr-time .numInputWrapper span.arrowDown:after{border-top-color:#393939}.flatpickr-time.hasSeconds .numInputWrapper{width:26%}.flatpickr-time.time24hr .numInputWrapper{width:49%}.flatpickr-time input{background:0 0;box-shadow:none;border:0;border-radius:0;margin:0;padding:0;height:inherit;line-height:inherit;color:#393939;font-size:14px;position:relative;-webkit-appearance:textfield;-moz-appearance:textfield;appearance:textfield}.flatpickr-time input.flatpickr-hour{font-weight:700}.flatpickr-time input.flatpickr-minute,.flatpickr-time input.flatpickr-second{font-weight:400}.flatpickr-time input:focus{outline:0;border:0}.flatpickr-time .flatpickr-am-pm,.flatpickr-time .flatpickr-time-separator{height:inherit;float:left;line-height:inherit;color:#393939;-webkit-user-select:none;-moz-user-select:none;-ms-user-select:none;user-select:none;align-self:center}.flatpickr-time .flatpickr-time-separator{font-weight:700;width:2%}.flatpickr-time .flatpickr-am-pm{outline:0;width:18%;cursor:pointer;text-align:center;font-weight:400}.flatpickr-time .flatpickr-am-pm:focus,.flatpickr-time .flatpickr-am-pm:hover,.flatpickr-time input:focus,.flatpickr-time input:hover{background:#eee}.flatpickr-input[readonly]{cursor:pointer}.select2-container{box-sizing:border-box;display:inline-block;margin:0;position:relative;vertical-align:middle}.select2-container .select2-selection--single{box-sizing:border-box;cursor:pointer;display:block;height:28px;user-select:none;-webkit-user-select:none}.select2-container .select2-selection--single .select2-selection__rendered{display:block;padding-left:8px;padding-right:20px;overflow:hidden;text-overflow:ellipsis;white-space:nowrap}.select2-container .select2-selection--single .select2-selection__clear{position:relative}.select2-container[dir=rtl] .select2-selection--single .select2-selection__rendered{padding-right:8px;padding-left:20px}.select2-container .select2-selection--multiple{box-sizing:border-box;cursor:pointer;display:block;min-height:32px;user-select:none;-webkit-user-select:none}.select2-container .select2-selection--multiple .select2-selection__rendered{display:inline-block;overflow:hidden;padding-left:8px;text-overflow:ellipsis;white-space:nowrap}.select2-container .select2-search--inline{float:left}.select2-container .select2-search--inline .select2-search__field{box-sizing:border-box;border:none;font-size:100%;margin-top:5px;padding:0}.select2-container .select2-search--inline .select2-search__field::-webkit-search-cancel-button{-webkit-appearance:none}.select2-dropdown{background-color:#fff;border:1px solid #aaa;border-radius:4px;box-sizing:border-box;display:block;position:absolute;left:-100000px;width:100%;z-index:1051}.select2-results{display:block}.select2-results__options{list-style:none;margin:0;padding:0}.select2-results__option{padding:6px;user-select:none;-webkit-user-select:none}.select2-results__option[aria-selected]{cursor:pointer}.select2-container--open .select2-dropdown{left:0}.select2-container--open .select2-dropdown--above{border-bottom:none;border-bottom-left-radius:0;border-bottom-right-radius:0}.select2-container--open .select2-dropdown--below{border-top:none;border-top-left-radius:0;border-top-right-radius:0}.select2-search--dropdown{display:block;padding:4px}.select2-search--dropdown .select2-search__field{padding:4px;width:100%;box-sizing:border-box}.select2-search--dropdown .select2-search__field::-webkit-search-cancel-button{-webkit-appearance:none}.select2-search--dropdown.select2-search--hide{display:none}.select2-close-mask{border:0;margin:0;padding:0;display:block;position:fixed;left:0;top:0;min-height:100%;min-width:100%;height:auto;width:auto;opacity:0;z-index:99;background-color:#fff;filter:alpha(opacity=0)}.select2-hidden-accessible{border:0 !important;clip:rect(0 0 0 0) !important;-webkit-clip-path:inset(50%) !important;clip-path:inset(50%) !important;height:1px !important;overflow:hidden !important;padding:0 !important;position:absolute !important;width:1px !important;white-space:nowrap !important}.select2-container--default .select2-selection--single{background-color:#fff;border:1px solid #aaa;border-radius:4px}.select2-container--default .select2-selection--single .select2-selection__rendered{color:#444;line-height:28px}.select2-container--default .select2-selection--single .select2-selection__clear{cursor:pointer;float:right;font-weight:700}.select2-container--default .select2-selection--single .select2-selection__placeholder{color:#999}.select2-container--default .select2-selection--single .select2-selection__arrow{height:26px;position:absolute;top:1px;right:1px;width:20px}.select2-container--default .select2-selection--single .select2-selection__arrow b{border-color:#888 transparent transparent;border-style:solid;border-width:5px 4px 0;height:0;left:50%;margin-left:-4px;margin-top:-2px;position:absolute;top:50%;width:0}.select2-container--default[dir=rtl] .select2-selection--single .select2-selection__clear{float:left}.select2-container--default[dir=rtl] .select2-selection--single .select2-selection__arrow{left:1px;right:auto}.select2-container--default.select2-container--disabled .select2-selection--single{background-color:#eee;cursor:default}.select2-container--default.select2-container--disabled .select2-selection--single .select2-selection__clear{display:none}.select2-container--default.select2-container--open .select2-selection--single .select2-selection__arrow b{border-color:transparent transparent #888;border-width:0 4px 5px}.select2-container--default .select2-selection--multiple{background-color:#fff;border:1px solid #aaa;border-radius:4px;cursor:text}.select2-container--default .select2-selection--multiple .select2-selection__rendered{box-sizing:border-box;list-style:none;margin:0;padding:0 5px;width:100%}.select2-container--default .select2-selection--multiple .select2-selection__rendered li{list-style:none}.select2-container--default .select2-selection--multiple .select2-selection__clear{cursor:pointer;float:right;font-weight:700;margin-top:5px;margin-right:10px;padding:1px}.select2-container--default .select2-selection--multiple .select2-selection__choice{background-color:#e4e4e4;border:1px solid #aaa;border-radius:4px;cursor:default;float:left;margin-right:5px;margin-top:5px;padding:0 5px}.select2-container--default .select2-selection--multiple .select2-selection__choice__remove{color:#999;cursor:pointer;display:inline-block;font-weight:700;margin-right:2px}.select2-container--default .select2-selection--multiple .select2-selection__choice__remove:hover{color:#333}.select2-container--default[dir=rtl] .select2-selection--multiple .select2-selection__choice,.select2-container--default[dir=rtl] .select2-selection--multiple .select2-search--inline{float:right}.select2-container--default[dir=rtl] .select2-selection--multiple .select2-selection__choice{margin-left:5px;margin-right:auto}.select2-container--default[dir=rtl] .select2-selection--multiple .select2-selection__choice__remove{margin-left:2px;margin-right:auto}.select2-container--default.select2-container--focus .select2-selection--multiple{border:solid #000 1px;outline:0}.select2-container--default.select2-container--disabled .select2-selection--multiple{background-color:#eee;cursor:default}.select2-container--default.select2-container--disabled .select2-selection__choice__remove{display:none}.select2-container--default.select2-container--open.select2-container--above .select2-selection--single,.select2-container--default.select2-container--open.select2-container--above .select2-selection--multiple{border-top-left-radius:0;border-top-right-radius:0}.select2-container--default.select2-container--open.select2-container--below .select2-selection--single,.select2-container--default.select2-container--open.select2-container--below .select2-selection--multiple{border-bottom-left-radius:0;border-bottom-right-radius:0}.select2-container--default .select2-search--dropdown .select2-search__field{border:1px solid #aaa}.select2-container--default .select2-search--inline .select2-search__field{background:0 0;border:none;outline:0;box-shadow:none;-webkit-appearance:textfield}.select2-container--default .select2-results>.select2-results__options{max-height:200px;overflow-y:auto}.select2-container--default .select2-results__option[role=group]{padding:0}.select2-container--default .select2-results__option[aria-disabled=true]{color:#999}.select2-container--default .select2-results__option[aria-selected=true]{background-color:#ddd}.select2-container--default .select2-results__option .select2-results__option{padding-left:1em}.select2-container--default .select2-results__option .select2-results__option .select2-results__group{padding-left:0}.select2-container--default .select2-results__option .select2-results__option .select2-results__option{margin-left:-1em;padding-left:2em}.select2-container--default .select2-results__option .select2-results__option .select2-results__option .select2-results__option{margin-left:-2em;padding-left:3em}.select2-container--default .select2-results__option .select2-results__option .select2-results__option .select2-results__option .select2-results__option{margin-left:-3em;padding-left:4em}.select2-container--default .select2-results__option .select2-results__option .select2-results__option .select2-results__option .select2-results__option .select2-results__option{margin-left:-4em;padding-left:5em}.select2-container--default .select2-results__option .select2-results__option .select2-results__option .select2-results__option .select2-results__option .select2-results__option .select2-results__option{margin-left:-5em;padding-left:6em}.select2-container--default .select2-results__option--highlighted[aria-selected]{background-color:#5897fb;color:#fff}.select2-container--default .select2-results__group{cursor:default;display:block;padding:6px}.select2-container--classic .select2-selection--single{background-color:#f7f7f7;border:1px solid #aaa;border-radius:4px;outline:0;background-image:-webkit-linear-gradient(top,#fff 50%,#eee 100%);background-image:-o-linear-gradient(top,#fff 50%,#eee 100%);background-image:linear-gradient(to bottom,#fff 50%,#eee 100%);background-repeat:repeat-x;filter:progid:DXImageTransform.Microsoft.gradient(startColorstr='#FFFFFFFF',endColorstr='#FFEEEEEE',GradientType=0)}.select2-container--classic .select2-selection--single:focus{border:1px solid #5897fb}.select2-container--classic .select2-selection--single .select2-selection__rendered{color:#444;line-height:28px}.select2-container--classic .select2-selection--single .select2-selection__clear{cursor:pointer;float:right;font-weight:700;margin-right:10px}.select2-container--classic .select2-selection--single .select2-selection__placeholder{color:#999}.select2-container--classic .select2-selection--single .select2-selection__arrow{background-color:#ddd;border:none;border-left:1px solid #aaa;border-top-right-radius:4px;border-bottom-right-radius:4px;height:26px;position:absolute;top:1px;right:1px;width:20px;background-image:-webkit-linear-gradient(top,#eee 50%,#ccc 100%);background-image:-o-linear-gradient(top,#eee 50%,#ccc 100%);background-image:linear-gradient(to bottom,#eee 50%,#ccc 100%);background-repeat:repeat-x;filter:progid:DXImageTransform.Microsoft.gradient(startColorstr='#FFEEEEEE',endColorstr='#FFCCCCCC',GradientType=0)}.select2-container--classic .select2-selection--single .select2-selection__arrow b{border-color:#888 transparent transparent;border-style:solid;border-width:5px 4px 0;height:0;left:50%;margin-left:-4px;margin-top:-2px;position:absolute;top:50%;width:0}.select2-container--classic[dir=rtl] .select2-selection--single .select2-selection__clear{float:left}.select2-container--classic[dir=rtl] .select2-selection--single .select2-selection__arrow{border:none;border-right:1px solid #aaa;border-radius:0;border-top-left-radius:4px;border-bottom-left-radius:4px;left:1px;right:auto}.select2-container--classic.select2-container--open .select2-selection--single{border:1px solid #5897fb}.select2-container--classic.select2-container--open .select2-selection--single .select2-selection__arrow{background:0 0;border:none}.select2-container--classic.select2-container--open .select2-selection--single .select2-selection__arrow b{border-color:transparent transparent #888;border-width:0 4px 5px}.select2-container--classic.select2-container--open.select2-container--above .select2-selection--single{border-top:none;border-top-left-radius:0;border-top-right-radius:0;background-image:-webkit-linear-gradient(top,#fff 0%,#eee 50%);background-image:-o-linear-gradient(top,#fff 0%,#eee 50%);background-image:linear-gradient(to bottom,#fff 0%,#eee 50%);background-repeat:repeat-x;filter:progid:DXImageTransform.Microsoft.gradient(startColorstr='#FFFFFFFF',endColorstr='#FFEEEEEE',GradientType=0)}.select2-container--classic.select2-container--open.select2-container--below .select2-selection--single{border-bottom:none;border-bottom-left-radius:0;border-bottom-right-radius:0;background-image:-webkit-linear-gradient(top,#eee 50%,#fff 100%);background-image:-o-linear-gradient(top,#eee 50%,#fff 100%);background-image:linear-gradient(to bottom,#eee 50%,#fff 100%);background-repeat:repeat-x;filter:progid:DXImageTransform.Microsoft.gradient(startColorstr='#FFEEEEEE',endColorstr='#FFFFFFFF',GradientType=0)}.select2-container--classic .select2-selection--multiple{background-color:#fff;border:1px solid #aaa;border-radius:4px;cursor:text;outline:0}.select2-container--classic .select2-selection--multiple:focus{border:1px solid #5897fb}.select2-container--classic .select2-selection--multiple .select2-selection__rendered{list-style:none;margin:0;padding:0 5px}.select2-container--classic .select2-selection--multiple .select2-selection__clear{display:none}.select2-container--classic .select2-selection--multiple .select2-selection__choice{background-color:#e4e4e4;border:1px solid #aaa;border-radius:4px;cursor:default;float:left;margin-right:5px;margin-top:5px;padding:0 5px}.select2-container--classic .select2-selection--multiple .select2-selection__choice__remove{color:#888;cursor:pointer;display:inline-block;font-weight:700;margin-right:2px}.select2-container--classic .select2-selection--multiple .select2-selection__choice__remove:hover{color:#555}.select2-container--classic[dir=rtl] .select2-selection--multiple .select2-selection__choice{float:right;margin-left:5px;margin-right:auto}.select2-container--classic[dir=rtl] .select2-selection--multiple .select2-selection__choice__remove{margin-left:2px;margin-right:auto}.select2-container--classic.select2-container--open .select2-selection--multiple{border:1px solid #5897fb}.select2-container--classic.select2-container--open.select2-container--above .select2-selection--multiple{border-top:none;border-top-left-radius:0;border-top-right-radius:0}.select2-container--classic.select2-container--open.select2-container--below .select2-selection--multiple{border-bottom:none;border-bottom-left-radius:0;border-bottom-right-radius:0}.select2-container--classic .select2-search--dropdown .select2-search__field{border:1px solid #aaa;outline:0}.select2-container--classic .select2-search--inline .select2-search__field{outline:0;box-shadow:none}.select2-container--classic .select2-dropdown{background-color:#fff;border:1px solid transparent}.select2-container--classic .select2-dropdown--above{border-bottom:none}.select2-container--classic .select2-dropdown--below{border-top:none}.select2-container--classic .select2-results>.select2-results__options{max-height:200px;overflow-y:auto}.select2-container--classic .select2-results__option[role=group]{padding:0}.select2-container--classic .select2-results__option[aria-disabled=true]{color:grey}.select2-container--classic .select2-results__option--highlighted[aria-selected]{background-color:#3875d7;color:#fff}.select2-container--classic .select2-results__group{cursor:default;display:block;padding:6px}.select2-container--classic.select2-container--open .select2-dropdown{border-color:#5897fb} /*! * Font Awesome 4.7.0 by @davegandy - http://fontawesome.io - @fontawesome * License - http://fontawesome.io/license (Font: SIL OFL 1.1, CSS: MIT License) */ @font-face{font-family:'FontAwesome';src:url(//alphatowtruckservices.com/wp-content/plugins/unyson/framework/static/libs/font-awesome/css/../fonts/fontawesome-webfont.eot?v=4.7.0);src:url(//alphatowtruckservices.com/wp-content/plugins/unyson/framework/static/libs/font-awesome/css/../fonts/fontawesome-webfont.eot?#iefix&v=4.7.0) format('embedded-opentype'),url(//alphatowtruckservices.com/wp-content/plugins/unyson/framework/static/libs/font-awesome/css/../fonts/fontawesome-webfont.woff2?v=4.7.0) format('woff2'),url(//alphatowtruckservices.com/wp-content/plugins/unyson/framework/static/libs/font-awesome/css/../fonts/fontawesome-webfont.woff?v=4.7.0) format('woff'),url(//alphatowtruckservices.com/wp-content/plugins/unyson/framework/static/libs/font-awesome/css/../fonts/fontawesome-webfont.ttf?v=4.7.0) format('truetype'),url(//alphatowtruckservices.com/wp-content/plugins/unyson/framework/static/libs/font-awesome/css/../fonts/fontawesome-webfont.svg?v=4.7.0#fontawesomeregular) format('svg');font-weight:400;font-style:normal}.fa{display:inline-block;font:normal normal normal 14px/1 FontAwesome;font-size:inherit;text-rendering:auto;-webkit-font-smoothing:antialiased;-moz-osx-font-smoothing:grayscale}.fa-lg{font-size:1.33333333em;line-height:.75em;vertical-align:-15%}.fa-2x{font-size:2em}.fa-3x{font-size:3em}.fa-4x{font-size:4em}.fa-5x{font-size:5em}.fa-fw{width:1.28571429em;text-align:center}.fa-ul{padding-left:0;margin-left:2.14285714em;list-style-type:none}.fa-ul>li{position:relative}.fa-li{position:absolute;left:-2.14285714em;width:2.14285714em;top:.14285714em;text-align:center}.fa-li.fa-lg{left:-1.85714286em}.fa-border{padding:.2em .25em .15em;border:solid .08em #eee;border-radius:.1em}.fa-pull-left{float:left}.fa-pull-right{float:right}.fa.fa-pull-left{margin-right:.3em}.fa.fa-pull-right{margin-left:.3em}.pull-right{float:right}.pull-left{float:left}.fa.pull-left{margin-right:.3em}.fa.pull-right{margin-left:.3em}.fa-spin{-webkit-animation:fa-spin 2s infinite linear;animation:fa-spin 2s infinite linear}.fa-pulse{-webkit-animation:fa-spin 1s infinite steps(8);animation:fa-spin 1s infinite steps(8)}@-webkit-keyframes fa-spin{0%{-webkit-transform:rotate(0deg);transform:rotate(0deg)}100%{-webkit-transform:rotate(359deg);transform:rotate(359deg)}}@keyframes fa-spin{0%{-webkit-transform:rotate(0deg);transform:rotate(0deg)}100%{-webkit-transform:rotate(359deg);transform:rotate(359deg)}}.fa-rotate-90{-ms-filter:"progid:DXImageTransform.Microsoft.BasicImage(rotation=1)";-webkit-transform:rotate(90deg);-ms-transform:rotate(90deg);transform:rotate(90deg)}.fa-rotate-180{-ms-filter:"progid:DXImageTransform.Microsoft.BasicImage(rotation=2)";-webkit-transform:rotate(180deg);-ms-transform:rotate(180deg);transform:rotate(180deg)}.fa-rotate-270{-ms-filter:"progid:DXImageTransform.Microsoft.BasicImage(rotation=3)";-webkit-transform:rotate(270deg);-ms-transform:rotate(270deg);transform:rotate(270deg)}.fa-flip-horizontal{-ms-filter:"progid:DXImageTransform.Microsoft.BasicImage(rotation=0, mirror=1)";-webkit-transform:scale(-1,1);-ms-transform:scale(-1,1);transform:scale(-1,1)}.fa-flip-vertical{-ms-filter:"progid:DXImageTransform.Microsoft.BasicImage(rotation=2, mirror=1)";-webkit-transform:scale(1,-1);-ms-transform:scale(1,-1);transform:scale(1,-1)}:root .fa-rotate-90,:root .fa-rotate-180,:root .fa-rotate-270,:root .fa-flip-horizontal,:root .fa-flip-vertical{filter:none}.fa-stack{position:relative;display:inline-block;width:2em;height:2em;line-height:2em;vertical-align:middle}.fa-stack-1x,.fa-stack-2x{position:absolute;left:0;width:100%;text-align:center}.fa-stack-1x{line-height:inherit}.fa-stack-2x{font-size:2em}.fa-inverse{color:#fff}.fa-glass:before{content:"\f000"}.fa-music:before{content:"\f001"}.fa-search:before{content:"\f002"}.fa-envelope-o:before{content:"\f003"}.fa-heart:before{content:"\f004"}.fa-star:before{content:"\f005"}.fa-star-o:before{content:"\f006"}.fa-user:before{content:"\f007"}.fa-film:before{content:"\f008"}.fa-th-large:before{content:"\f009"}.fa-th:before{content:"\f00a"}.fa-th-list:before{content:"\f00b"}.fa-check:before{content:"\f00c"}.fa-remove:before,.fa-close:before,.fa-times:before{content:"\f00d"}.fa-search-plus:before{content:"\f00e"}.fa-search-minus:before{content:"\f010"}.fa-power-off:before{content:"\f011"}.fa-signal:before{content:"\f012"}.fa-gear:before,.fa-cog:before{content:"\f013"}.fa-trash-o:before{content:"\f014"}.fa-home:before{content:"\f015"}.fa-file-o:before{content:"\f016"}.fa-clock-o:before{content:"\f017"}.fa-road:before{content:"\f018"}.fa-download:before{content:"\f019"}.fa-arrow-circle-o-down:before{content:"\f01a"}.fa-arrow-circle-o-up:before{content:"\f01b"}.fa-inbox:before{content:"\f01c"}.fa-play-circle-o:before{content:"\f01d"}.fa-rotate-right:before,.fa-repeat:before{content:"\f01e"}.fa-refresh:before{content:"\f021"}.fa-list-alt:before{content:"\f022"}.fa-lock:before{content:"\f023"}.fa-flag:before{content:"\f024"}.fa-headphones:before{content:"\f025"}.fa-volume-off:before{content:"\f026"}.fa-volume-down:before{content:"\f027"}.fa-volume-up:before{content:"\f028"}.fa-qrcode:before{content:"\f029"}.fa-barcode:before{content:"\f02a"}.fa-tag:before{content:"\f02b"}.fa-tags:before{content:"\f02c"}.fa-book:before{content:"\f02d"}.fa-bookmark:before{content:"\f02e"}.fa-print:before{content:"\f02f"}.fa-camera:before{content:"\f030"}.fa-font:before{content:"\f031"}.fa-bold:before{content:"\f032"}.fa-italic:before{content:"\f033"}.fa-text-height:before{content:"\f034"}.fa-text-width:before{content:"\f035"}.fa-align-left:before{content:"\f036"}.fa-align-center:before{content:"\f037"}.fa-align-right:before{content:"\f038"}.fa-align-justify:before{content:"\f039"}.fa-list:before{content:"\f03a"}.fa-dedent:before,.fa-outdent:before{content:"\f03b"}.fa-indent:before{content:"\f03c"}.fa-video-camera:before{content:"\f03d"}.fa-photo:before,.fa-image:before,.fa-picture-o:before{content:"\f03e"}.fa-pencil:before{content:"\f040"}.fa-map-marker:before{content:"\f041"}.fa-adjust:before{content:"\f042"}.fa-tint:before{content:"\f043"}.fa-edit:before,.fa-pencil-square-o:before{content:"\f044"}.fa-share-square-o:before{content:"\f045"}.fa-check-square-o:before{content:"\f046"}.fa-arrows:before{content:"\f047"}.fa-step-backward:before{content:"\f048"}.fa-fast-backward:before{content:"\f049"}.fa-backward:before{content:"\f04a"}.fa-play:before{content:"\f04b"}.fa-pause:before{content:"\f04c"}.fa-stop:before{content:"\f04d"}.fa-forward:before{content:"\f04e"}.fa-fast-forward:before{content:"\f050"}.fa-step-forward:before{content:"\f051"}.fa-eject:before{content:"\f052"}.fa-chevron-left:before{content:"\f053"}.fa-chevron-right:before{content:"\f054"}.fa-plus-circle:before{content:"\f055"}.fa-minus-circle:before{content:"\f056"}.fa-times-circle:before{content:"\f057"}.fa-check-circle:before{content:"\f058"}.fa-question-circle:before{content:"\f059"}.fa-info-circle:before{content:"\f05a"}.fa-crosshairs:before{content:"\f05b"}.fa-times-circle-o:before{content:"\f05c"}.fa-check-circle-o:before{content:"\f05d"}.fa-ban:before{content:"\f05e"}.fa-arrow-left:before{content:"\f060"}.fa-arrow-right:before{content:"\f061"}.fa-arrow-up:before{content:"\f062"}.fa-arrow-down:before{content:"\f063"}.fa-mail-forward:before,.fa-share:before{content:"\f064"}.fa-expand:before{content:"\f065"}.fa-compress:before{content:"\f066"}.fa-plus:before{content:"\f067"}.fa-minus:before{content:"\f068"}.fa-asterisk:before{content:"\f069"}.fa-exclamation-circle:before{content:"\f06a"}.fa-gift:before{content:"\f06b"}.fa-leaf:before{content:"\f06c"}.fa-fire:before{content:"\f06d"}.fa-eye:before{content:"\f06e"}.fa-eye-slash:before{content:"\f070"}.fa-warning:before,.fa-exclamation-triangle:before{content:"\f071"}.fa-plane:before{content:"\f072"}.fa-calendar:before{content:"\f073"}.fa-random:before{content:"\f074"}.fa-comment:before{content:"\f075"}.fa-magnet:before{content:"\f076"}.fa-chevron-up:before{content:"\f077"}.fa-chevron-down:before{content:"\f078"}.fa-retweet:before{content:"\f079"}.fa-shopping-cart:before{content:"\f07a"}.fa-folder:before{content:"\f07b"}.fa-folder-open:before{content:"\f07c"}.fa-arrows-v:before{content:"\f07d"}.fa-arrows-h:before{content:"\f07e"}.fa-bar-chart-o:before,.fa-bar-chart:before{content:"\f080"}.fa-twitter-square:before{content:"\f081"}.fa-facebook-square:before{content:"\f082"}.fa-camera-retro:before{content:"\f083"}.fa-key:before{content:"\f084"}.fa-gears:before,.fa-cogs:before{content:"\f085"}.fa-comments:before{content:"\f086"}.fa-thumbs-o-up:before{content:"\f087"}.fa-thumbs-o-down:before{content:"\f088"}.fa-star-half:before{content:"\f089"}.fa-heart-o:before{content:"\f08a"}.fa-sign-out:before{content:"\f08b"}.fa-linkedin-square:before{content:"\f08c"}.fa-thumb-tack:before{content:"\f08d"}.fa-external-link:before{content:"\f08e"}.fa-sign-in:before{content:"\f090"}.fa-trophy:before{content:"\f091"}.fa-github-square:before{content:"\f092"}.fa-upload:before{content:"\f093"}.fa-lemon-o:before{content:"\f094"}.fa-phone:before{content:"\f095"}.fa-square-o:before{content:"\f096"}.fa-bookmark-o:before{content:"\f097"}.fa-phone-square:before{content:"\f098"}.fa-twitter:before{content:"\f099"}.fa-facebook-f:before,.fa-facebook:before{content:"\f09a"}.fa-github:before{content:"\f09b"}.fa-unlock:before{content:"\f09c"}.fa-credit-card:before{content:"\f09d"}.fa-feed:before,.fa-rss:before{content:"\f09e"}.fa-hdd-o:before{content:"\f0a0"}.fa-bullhorn:before{content:"\f0a1"}.fa-bell:before{content:"\f0f3"}.fa-certificate:before{content:"\f0a3"}.fa-hand-o-right:before{content:"\f0a4"}.fa-hand-o-left:before{content:"\f0a5"}.fa-hand-o-up:before{content:"\f0a6"}.fa-hand-o-down:before{content:"\f0a7"}.fa-arrow-circle-left:before{content:"\f0a8"}.fa-arrow-circle-right:before{content:"\f0a9"}.fa-arrow-circle-up:before{content:"\f0aa"}.fa-arrow-circle-down:before{content:"\f0ab"}.fa-globe:before{content:"\f0ac"}.fa-wrench:before{content:"\f0ad"}.fa-tasks:before{content:"\f0ae"}.fa-filter:before{content:"\f0b0"}.fa-briefcase:before{content:"\f0b1"}.fa-arrows-alt:before{content:"\f0b2"}.fa-group:before,.fa-users:before{content:"\f0c0"}.fa-chain:before,.fa-link:before{content:"\f0c1"}.fa-cloud:before{content:"\f0c2"}.fa-flask:before{content:"\f0c3"}.fa-cut:before,.fa-scissors:before{content:"\f0c4"}.fa-copy:before,.fa-files-o:before{content:"\f0c5"}.fa-paperclip:before{content:"\f0c6"}.fa-save:before,.fa-floppy-o:before{content:"\f0c7"}.fa-square:before{content:"\f0c8"}.fa-navicon:before,.fa-reorder:before,.fa-bars:before{content:"\f0c9"}.fa-list-ul:before{content:"\f0ca"}.fa-list-ol:before{content:"\f0cb"}.fa-strikethrough:before{content:"\f0cc"}.fa-underline:before{content:"\f0cd"}.fa-table:before{content:"\f0ce"}.fa-magic:before{content:"\f0d0"}.fa-truck:before{content:"\f0d1"}.fa-pinterest:before{content:"\f0d2"}.fa-pinterest-square:before{content:"\f0d3"}.fa-google-plus-square:before{content:"\f0d4"}.fa-google-plus:before{content:"\f0d5"}.fa-money:before{content:"\f0d6"}.fa-caret-down:before{content:"\f0d7"}.fa-caret-up:before{content:"\f0d8"}.fa-caret-left:before{content:"\f0d9"}.fa-caret-right:before{content:"\f0da"}.fa-columns:before{content:"\f0db"}.fa-unsorted:before,.fa-sort:before{content:"\f0dc"}.fa-sort-down:before,.fa-sort-desc:before{content:"\f0dd"}.fa-sort-up:before,.fa-sort-asc:before{content:"\f0de"}.fa-envelope:before{content:"\f0e0"}.fa-linkedin:before{content:"\f0e1"}.fa-rotate-left:before,.fa-undo:before{content:"\f0e2"}.fa-legal:before,.fa-gavel:before{content:"\f0e3"}.fa-dashboard:before,.fa-tachometer:before{content:"\f0e4"}.fa-comment-o:before{content:"\f0e5"}.fa-comments-o:before{content:"\f0e6"}.fa-flash:before,.fa-bolt:before{content:"\f0e7"}.fa-sitemap:before{content:"\f0e8"}.fa-umbrella:before{content:"\f0e9"}.fa-paste:before,.fa-clipboard:before{content:"\f0ea"}.fa-lightbulb-o:before{content:"\f0eb"}.fa-exchange:before{content:"\f0ec"}.fa-cloud-download:before{content:"\f0ed"}.fa-cloud-upload:before{content:"\f0ee"}.fa-user-md:before{content:"\f0f0"}.fa-stethoscope:before{content:"\f0f1"}.fa-suitcase:before{content:"\f0f2"}.fa-bell-o:before{content:"\f0a2"}.fa-coffee:before{content:"\f0f4"}.fa-cutlery:before{content:"\f0f5"}.fa-file-text-o:before{content:"\f0f6"}.fa-building-o:before{content:"\f0f7"}.fa-hospital-o:before{content:"\f0f8"}.fa-ambulance:before{content:"\f0f9"}.fa-medkit:before{content:"\f0fa"}.fa-fighter-jet:before{content:"\f0fb"}.fa-beer:before{content:"\f0fc"}.fa-h-square:before{content:"\f0fd"}.fa-plus-square:before{content:"\f0fe"}.fa-angle-double-left:before{content:"\f100"}.fa-angle-double-right:before{content:"\f101"}.fa-angle-double-up:before{content:"\f102"}.fa-angle-double-down:before{content:"\f103"}.fa-angle-left:before{content:"\f104"}.fa-angle-right:before{content:"\f105"}.fa-angle-up:before{content:"\f106"}.fa-angle-down:before{content:"\f107"}.fa-desktop:before{content:"\f108"}.fa-laptop:before{content:"\f109"}.fa-tablet:before{content:"\f10a"}.fa-mobile-phone:before,.fa-mobile:before{content:"\f10b"}.fa-circle-o:before{content:"\f10c"}.fa-quote-left:before{content:"\f10d"}.fa-quote-right:before{content:"\f10e"}.fa-spinner:before{content:"\f110"}.fa-circle:before{content:"\f111"}.fa-mail-reply:before,.fa-reply:before{content:"\f112"}.fa-github-alt:before{content:"\f113"}.fa-folder-o:before{content:"\f114"}.fa-folder-open-o:before{content:"\f115"}.fa-smile-o:before{content:"\f118"}.fa-frown-o:before{content:"\f119"}.fa-meh-o:before{content:"\f11a"}.fa-gamepad:before{content:"\f11b"}.fa-keyboard-o:before{content:"\f11c"}.fa-flag-o:before{content:"\f11d"}.fa-flag-checkered:before{content:"\f11e"}.fa-terminal:before{content:"\f120"}.fa-code:before{content:"\f121"}.fa-mail-reply-all:before,.fa-reply-all:before{content:"\f122"}.fa-star-half-empty:before,.fa-star-half-full:before,.fa-star-half-o:before{content:"\f123"}.fa-location-arrow:before{content:"\f124"}.fa-crop:before{content:"\f125"}.fa-code-fork:before{content:"\f126"}.fa-unlink:before,.fa-chain-broken:before{content:"\f127"}.fa-question:before{content:"\f128"}.fa-info:before{content:"\f129"}.fa-exclamation:before{content:"\f12a"}.fa-superscript:before{content:"\f12b"}.fa-subscript:before{content:"\f12c"}.fa-eraser:before{content:"\f12d"}.fa-puzzle-piece:before{content:"\f12e"}.fa-microphone:before{content:"\f130"}.fa-microphone-slash:before{content:"\f131"}.fa-shield:before{content:"\f132"}.fa-calendar-o:before{content:"\f133"}.fa-fire-extinguisher:before{content:"\f134"}.fa-rocket:before{content:"\f135"}.fa-maxcdn:before{content:"\f136"}.fa-chevron-circle-left:before{content:"\f137"}.fa-chevron-circle-right:before{content:"\f138"}.fa-chevron-circle-up:before{content:"\f139"}.fa-chevron-circle-down:before{content:"\f13a"}.fa-html5:before{content:"\f13b"}.fa-css3:before{content:"\f13c"}.fa-anchor:before{content:"\f13d"}.fa-unlock-alt:before{content:"\f13e"}.fa-bullseye:before{content:"\f140"}.fa-ellipsis-h:before{content:"\f141"}.fa-ellipsis-v:before{content:"\f142"}.fa-rss-square:before{content:"\f143"}.fa-play-circle:before{content:"\f144"}.fa-ticket:before{content:"\f145"}.fa-minus-square:before{content:"\f146"}.fa-minus-square-o:before{content:"\f147"}.fa-level-up:before{content:"\f148"}.fa-level-down:before{content:"\f149"}.fa-check-square:before{content:"\f14a"}.fa-pencil-square:before{content:"\f14b"}.fa-external-link-square:before{content:"\f14c"}.fa-share-square:before{content:"\f14d"}.fa-compass:before{content:"\f14e"}.fa-toggle-down:before,.fa-caret-square-o-down:before{content:"\f150"}.fa-toggle-up:before,.fa-caret-square-o-up:before{content:"\f151"}.fa-toggle-right:before,.fa-caret-square-o-right:before{content:"\f152"}.fa-euro:before,.fa-eur:before{content:"\f153"}.fa-gbp:before{content:"\f154"}.fa-dollar:before,.fa-usd:before{content:"\f155"}.fa-rupee:before,.fa-inr:before{content:"\f156"}.fa-cny:before,.fa-rmb:before,.fa-yen:before,.fa-jpy:before{content:"\f157"}.fa-ruble:before,.fa-rouble:before,.fa-rub:before{content:"\f158"}.fa-won:before,.fa-krw:before{content:"\f159"}.fa-bitcoin:before,.fa-btc:before{content:"\f15a"}.fa-file:before{content:"\f15b"}.fa-file-text:before{content:"\f15c"}.fa-sort-alpha-asc:before{content:"\f15d"}.fa-sort-alpha-desc:before{content:"\f15e"}.fa-sort-amount-asc:before{content:"\f160"}.fa-sort-amount-desc:before{content:"\f161"}.fa-sort-numeric-asc:before{content:"\f162"}.fa-sort-numeric-desc:before{content:"\f163"}.fa-thumbs-up:before{content:"\f164"}.fa-thumbs-down:before{content:"\f165"}.fa-youtube-square:before{content:"\f166"}.fa-youtube:before{content:"\f167"}.fa-xing:before{content:"\f168"}.fa-xing-square:before{content:"\f169"}.fa-youtube-play:before{content:"\f16a"}.fa-dropbox:before{content:"\f16b"}.fa-stack-overflow:before{content:"\f16c"}.fa-instagram:before{content:"\f16d"}.fa-flickr:before{content:"\f16e"}.fa-adn:before{content:"\f170"}.fa-bitbucket:before{content:"\f171"}.fa-bitbucket-square:before{content:"\f172"}.fa-tumblr:before{content:"\f173"}.fa-tumblr-square:before{content:"\f174"}.fa-long-arrow-down:before{content:"\f175"}.fa-long-arrow-up:before{content:"\f176"}.fa-long-arrow-left:before{content:"\f177"}.fa-long-arrow-right:before{content:"\f178"}.fa-apple:before{content:"\f179"}.fa-windows:before{content:"\f17a"}.fa-android:before{content:"\f17b"}.fa-linux:before{content:"\f17c"}.fa-dribbble:before{content:"\f17d"}.fa-skype:before{content:"\f17e"}.fa-foursquare:before{content:"\f180"}.fa-trello:before{content:"\f181"}.fa-female:before{content:"\f182"}.fa-male:before{content:"\f183"}.fa-gittip:before,.fa-gratipay:before{content:"\f184"}.fa-sun-o:before{content:"\f185"}.fa-moon-o:before{content:"\f186"}.fa-archive:before{content:"\f187"}.fa-bug:before{content:"\f188"}.fa-vk:before{content:"\f189"}.fa-weibo:before{content:"\f18a"}.fa-renren:before{content:"\f18b"}.fa-pagelines:before{content:"\f18c"}.fa-stack-exchange:before{content:"\f18d"}.fa-arrow-circle-o-right:before{content:"\f18e"}.fa-arrow-circle-o-left:before{content:"\f190"}.fa-toggle-left:before,.fa-caret-square-o-left:before{content:"\f191"}.fa-dot-circle-o:before{content:"\f192"}.fa-wheelchair:before{content:"\f193"}.fa-vimeo-square:before{content:"\f194"}.fa-turkish-lira:before,.fa-try:before{content:"\f195"}.fa-plus-square-o:before{content:"\f196"}.fa-space-shuttle:before{content:"\f197"}.fa-slack:before{content:"\f198"}.fa-envelope-square:before{content:"\f199"}.fa-wordpress:before{content:"\f19a"}.fa-openid:before{content:"\f19b"}.fa-institution:before,.fa-bank:before,.fa-university:before{content:"\f19c"}.fa-mortar-board:before,.fa-graduation-cap:before{content:"\f19d"}.fa-yahoo:before{content:"\f19e"}.fa-google:before{content:"\f1a0"}.fa-reddit:before{content:"\f1a1"}.fa-reddit-square:before{content:"\f1a2"}.fa-stumbleupon-circle:before{content:"\f1a3"}.fa-stumbleupon:before{content:"\f1a4"}.fa-delicious:before{content:"\f1a5"}.fa-digg:before{content:"\f1a6"}.fa-pied-piper-pp:before{content:"\f1a7"}.fa-pied-piper-alt:before{content:"\f1a8"}.fa-drupal:before{content:"\f1a9"}.fa-joomla:before{content:"\f1aa"}.fa-language:before{content:"\f1ab"}.fa-fax:before{content:"\f1ac"}.fa-building:before{content:"\f1ad"}.fa-child:before{content:"\f1ae"}.fa-paw:before{content:"\f1b0"}.fa-spoon:before{content:"\f1b1"}.fa-cube:before{content:"\f1b2"}.fa-cubes:before{content:"\f1b3"}.fa-behance:before{content:"\f1b4"}.fa-behance-square:before{content:"\f1b5"}.fa-steam:before{content:"\f1b6"}.fa-steam-square:before{content:"\f1b7"}.fa-recycle:before{content:"\f1b8"}.fa-automobile:before,.fa-car:before{content:"\f1b9"}.fa-cab:before,.fa-taxi:before{content:"\f1ba"}.fa-tree:before{content:"\f1bb"}.fa-spotify:before{content:"\f1bc"}.fa-deviantart:before{content:"\f1bd"}.fa-soundcloud:before{content:"\f1be"}.fa-database:before{content:"\f1c0"}.fa-file-pdf-o:before{content:"\f1c1"}.fa-file-word-o:before{content:"\f1c2"}.fa-file-excel-o:before{content:"\f1c3"}.fa-file-powerpoint-o:before{content:"\f1c4"}.fa-file-photo-o:before,.fa-file-picture-o:before,.fa-file-image-o:before{content:"\f1c5"}.fa-file-zip-o:before,.fa-file-archive-o:before{content:"\f1c6"}.fa-file-sound-o:before,.fa-file-audio-o:before{content:"\f1c7"}.fa-file-movie-o:before,.fa-file-video-o:before{content:"\f1c8"}.fa-file-code-o:before{content:"\f1c9"}.fa-vine:before{content:"\f1ca"}.fa-codepen:before{content:"\f1cb"}.fa-jsfiddle:before{content:"\f1cc"}.fa-life-bouy:before,.fa-life-buoy:before,.fa-life-saver:before,.fa-support:before,.fa-life-ring:before{content:"\f1cd"}.fa-circle-o-notch:before{content:"\f1ce"}.fa-ra:before,.fa-resistance:before,.fa-rebel:before{content:"\f1d0"}.fa-ge:before,.fa-empire:before{content:"\f1d1"}.fa-git-square:before{content:"\f1d2"}.fa-git:before{content:"\f1d3"}.fa-y-combinator-square:before,.fa-yc-square:before,.fa-hacker-news:before{content:"\f1d4"}.fa-tencent-weibo:before{content:"\f1d5"}.fa-qq:before{content:"\f1d6"}.fa-wechat:before,.fa-weixin:before{content:"\f1d7"}.fa-send:before,.fa-paper-plane:before{content:"\f1d8"}.fa-send-o:before,.fa-paper-plane-o:before{content:"\f1d9"}.fa-history:before{content:"\f1da"}.fa-circle-thin:before{content:"\f1db"}.fa-header:before{content:"\f1dc"}.fa-paragraph:before{content:"\f1dd"}.fa-sliders:before{content:"\f1de"}.fa-share-alt:before{content:"\f1e0"}.fa-share-alt-square:before{content:"\f1e1"}.fa-bomb:before{content:"\f1e2"}.fa-soccer-ball-o:before,.fa-futbol-o:before{content:"\f1e3"}.fa-tty:before{content:"\f1e4"}.fa-binoculars:before{content:"\f1e5"}.fa-plug:before{content:"\f1e6"}.fa-slideshare:before{content:"\f1e7"}.fa-twitch:before{content:"\f1e8"}.fa-yelp:before{content:"\f1e9"}.fa-newspaper-o:before{content:"\f1ea"}.fa-wifi:before{content:"\f1eb"}.fa-calculator:before{content:"\f1ec"}.fa-paypal:before{content:"\f1ed"}.fa-google-wallet:before{content:"\f1ee"}.fa-cc-visa:before{content:"\f1f0"}.fa-cc-mastercard:before{content:"\f1f1"}.fa-cc-discover:before{content:"\f1f2"}.fa-cc-amex:before{content:"\f1f3"}.fa-cc-paypal:before{content:"\f1f4"}.fa-cc-stripe:before{content:"\f1f5"}.fa-bell-slash:before{content:"\f1f6"}.fa-bell-slash-o:before{content:"\f1f7"}.fa-trash:before{content:"\f1f8"}.fa-copyright:before{content:"\f1f9"}.fa-at:before{content:"\f1fa"}.fa-eyedropper:before{content:"\f1fb"}.fa-paint-brush:before{content:"\f1fc"}.fa-birthday-cake:before{content:"\f1fd"}.fa-area-chart:before{content:"\f1fe"}.fa-pie-chart:before{content:"\f200"}.fa-line-chart:before{content:"\f201"}.fa-lastfm:before{content:"\f202"}.fa-lastfm-square:before{content:"\f203"}.fa-toggle-off:before{content:"\f204"}.fa-toggle-on:before{content:"\f205"}.fa-bicycle:before{content:"\f206"}.fa-bus:before{content:"\f207"}.fa-ioxhost:before{content:"\f208"}.fa-angellist:before{content:"\f209"}.fa-cc:before{content:"\f20a"}.fa-shekel:before,.fa-sheqel:before,.fa-ils:before{content:"\f20b"}.fa-meanpath:before{content:"\f20c"}.fa-buysellads:before{content:"\f20d"}.fa-connectdevelop:before{content:"\f20e"}.fa-dashcube:before{content:"\f210"}.fa-forumbee:before{content:"\f211"}.fa-leanpub:before{content:"\f212"}.fa-sellsy:before{content:"\f213"}.fa-shirtsinbulk:before{content:"\f214"}.fa-simplybuilt:before{content:"\f215"}.fa-skyatlas:before{content:"\f216"}.fa-cart-plus:before{content:"\f217"}.fa-cart-arrow-down:before{content:"\f218"}.fa-diamond:before{content:"\f219"}.fa-ship:before{content:"\f21a"}.fa-user-secret:before{content:"\f21b"}.fa-motorcycle:before{content:"\f21c"}.fa-street-view:before{content:"\f21d"}.fa-heartbeat:before{content:"\f21e"}.fa-venus:before{content:"\f221"}.fa-mars:before{content:"\f222"}.fa-mercury:before{content:"\f223"}.fa-intersex:before,.fa-transgender:before{content:"\f224"}.fa-transgender-alt:before{content:"\f225"}.fa-venus-double:before{content:"\f226"}.fa-mars-double:before{content:"\f227"}.fa-venus-mars:before{content:"\f228"}.fa-mars-stroke:before{content:"\f229"}.fa-mars-stroke-v:before{content:"\f22a"}.fa-mars-stroke-h:before{content:"\f22b"}.fa-neuter:before{content:"\f22c"}.fa-genderless:before{content:"\f22d"}.fa-facebook-official:before{content:"\f230"}.fa-pinterest-p:before{content:"\f231"}.fa-whatsapp:before{content:"\f232"}.fa-server:before{content:"\f233"}.fa-user-plus:before{content:"\f234"}.fa-user-times:before{content:"\f235"}.fa-hotel:before,.fa-bed:before{content:"\f236"}.fa-viacoin:before{content:"\f237"}.fa-train:before{content:"\f238"}.fa-subway:before{content:"\f239"}.fa-medium:before{content:"\f23a"}.fa-yc:before,.fa-y-combinator:before{content:"\f23b"}.fa-optin-monster:before{content:"\f23c"}.fa-opencart:before{content:"\f23d"}.fa-expeditedssl:before{content:"\f23e"}.fa-battery-4:before,.fa-battery:before,.fa-battery-full:before{content:"\f240"}.fa-battery-3:before,.fa-battery-three-quarters:before{content:"\f241"}.fa-battery-2:before,.fa-battery-half:before{content:"\f242"}.fa-battery-1:before,.fa-battery-quarter:before{content:"\f243"}.fa-battery-0:before,.fa-battery-empty:before{content:"\f244"}.fa-mouse-pointer:before{content:"\f245"}.fa-i-cursor:before{content:"\f246"}.fa-object-group:before{content:"\f247"}.fa-object-ungroup:before{content:"\f248"}.fa-sticky-note:before{content:"\f249"}.fa-sticky-note-o:before{content:"\f24a"}.fa-cc-jcb:before{content:"\f24b"}.fa-cc-diners-club:before{content:"\f24c"}.fa-clone:before{content:"\f24d"}.fa-balance-scale:before{content:"\f24e"}.fa-hourglass-o:before{content:"\f250"}.fa-hourglass-1:before,.fa-hourglass-start:before{content:"\f251"}.fa-hourglass-2:before,.fa-hourglass-half:before{content:"\f252"}.fa-hourglass-3:before,.fa-hourglass-end:before{content:"\f253"}.fa-hourglass:before{content:"\f254"}.fa-hand-grab-o:before,.fa-hand-rock-o:before{content:"\f255"}.fa-hand-stop-o:before,.fa-hand-paper-o:before{content:"\f256"}.fa-hand-scissors-o:before{content:"\f257"}.fa-hand-lizard-o:before{content:"\f258"}.fa-hand-spock-o:before{content:"\f259"}.fa-hand-pointer-o:before{content:"\f25a"}.fa-hand-peace-o:before{content:"\f25b"}.fa-trademark:before{content:"\f25c"}.fa-registered:before{content:"\f25d"}.fa-creative-commons:before{content:"\f25e"}.fa-gg:before{content:"\f260"}.fa-gg-circle:before{content:"\f261"}.fa-tripadvisor:before{content:"\f262"}.fa-odnoklassniki:before{content:"\f263"}.fa-odnoklassniki-square:before{content:"\f264"}.fa-get-pocket:before{content:"\f265"}.fa-wikipedia-w:before{content:"\f266"}.fa-safari:before{content:"\f267"}.fa-chrome:before{content:"\f268"}.fa-firefox:before{content:"\f269"}.fa-opera:before{content:"\f26a"}.fa-internet-explorer:before{content:"\f26b"}.fa-tv:before,.fa-television:before{content:"\f26c"}.fa-contao:before{content:"\f26d"}.fa-500px:before{content:"\f26e"}.fa-amazon:before{content:"\f270"}.fa-calendar-plus-o:before{content:"\f271"}.fa-calendar-minus-o:before{content:"\f272"}.fa-calendar-times-o:before{content:"\f273"}.fa-calendar-check-o:before{content:"\f274"}.fa-industry:before{content:"\f275"}.fa-map-pin:before{content:"\f276"}.fa-map-signs:before{content:"\f277"}.fa-map-o:before{content:"\f278"}.fa-map:before{content:"\f279"}.fa-commenting:before{content:"\f27a"}.fa-commenting-o:before{content:"\f27b"}.fa-houzz:before{content:"\f27c"}.fa-vimeo:before{content:"\f27d"}.fa-black-tie:before{content:"\f27e"}.fa-fonticons:before{content:"\f280"}.fa-reddit-alien:before{content:"\f281"}.fa-edge:before{content:"\f282"}.fa-credit-card-alt:before{content:"\f283"}.fa-codiepie:before{content:"\f284"}.fa-modx:before{content:"\f285"}.fa-fort-awesome:before{content:"\f286"}.fa-usb:before{content:"\f287"}.fa-product-hunt:before{content:"\f288"}.fa-mixcloud:before{content:"\f289"}.fa-scribd:before{content:"\f28a"}.fa-pause-circle:before{content:"\f28b"}.fa-pause-circle-o:before{content:"\f28c"}.fa-stop-circle:before{content:"\f28d"}.fa-stop-circle-o:before{content:"\f28e"}.fa-shopping-bag:before{content:"\f290"}.fa-shopping-basket:before{content:"\f291"}.fa-hashtag:before{content:"\f292"}.fa-bluetooth:before{content:"\f293"}.fa-bluetooth-b:before{content:"\f294"}.fa-percent:before{content:"\f295"}.fa-gitlab:before{content:"\f296"}.fa-wpbeginner:before{content:"\f297"}.fa-wpforms:before{content:"\f298"}.fa-envira:before{content:"\f299"}.fa-universal-access:before{content:"\f29a"}.fa-wheelchair-alt:before{content:"\f29b"}.fa-question-circle-o:before{content:"\f29c"}.fa-blind:before{content:"\f29d"}.fa-audio-description:before{content:"\f29e"}.fa-volume-control-phone:before{content:"\f2a0"}.fa-braille:before{content:"\f2a1"}.fa-assistive-listening-systems:before{content:"\f2a2"}.fa-asl-interpreting:before,.fa-american-sign-language-interpreting:before{content:"\f2a3"}.fa-deafness:before,.fa-hard-of-hearing:before,.fa-deaf:before{content:"\f2a4"}.fa-glide:before{content:"\f2a5"}.fa-glide-g:before{content:"\f2a6"}.fa-signing:before,.fa-sign-language:before{content:"\f2a7"}.fa-low-vision:before{content:"\f2a8"}.fa-viadeo:before{content:"\f2a9"}.fa-viadeo-square:before{content:"\f2aa"}.fa-snapchat:before{content:"\f2ab"}.fa-snapchat-ghost:before{content:"\f2ac"}.fa-snapchat-square:before{content:"\f2ad"}.fa-pied-piper:before{content:"\f2ae"}.fa-first-order:before{content:"\f2b0"}.fa-yoast:before{content:"\f2b1"}.fa-themeisle:before{content:"\f2b2"}.fa-google-plus-circle:before,.fa-google-plus-official:before{content:"\f2b3"}.fa-fa:before,.fa-font-awesome:before{content:"\f2b4"}.fa-handshake-o:before{content:"\f2b5"}.fa-envelope-open:before{content:"\f2b6"}.fa-envelope-open-o:before{content:"\f2b7"}.fa-linode:before{content:"\f2b8"}.fa-address-book:before{content:"\f2b9"}.fa-address-book-o:before{content:"\f2ba"}.fa-vcard:before,.fa-address-card:before{content:"\f2bb"}.fa-vcard-o:before,.fa-address-card-o:before{content:"\f2bc"}.fa-user-circle:before{content:"\f2bd"}.fa-user-circle-o:before{content:"\f2be"}.fa-user-o:before{content:"\f2c0"}.fa-id-badge:before{content:"\f2c1"}.fa-drivers-license:before,.fa-id-card:before{content:"\f2c2"}.fa-drivers-license-o:before,.fa-id-card-o:before{content:"\f2c3"}.fa-quora:before{content:"\f2c4"}.fa-free-code-camp:before{content:"\f2c5"}.fa-telegram:before{content:"\f2c6"}.fa-thermometer-4:before,.fa-thermometer:before,.fa-thermometer-full:before{content:"\f2c7"}.fa-thermometer-3:before,.fa-thermometer-three-quarters:before{content:"\f2c8"}.fa-thermometer-2:before,.fa-thermometer-half:before{content:"\f2c9"}.fa-thermometer-1:before,.fa-thermometer-quarter:before{content:"\f2ca"}.fa-thermometer-0:before,.fa-thermometer-empty:before{content:"\f2cb"}.fa-shower:before{content:"\f2cc"}.fa-bathtub:before,.fa-s15:before,.fa-bath:before{content:"\f2cd"}.fa-podcast:before{content:"\f2ce"}.fa-window-maximize:before{content:"\f2d0"}.fa-window-minimize:before{content:"\f2d1"}.fa-window-restore:before{content:"\f2d2"}.fa-times-rectangle:before,.fa-window-close:before{content:"\f2d3"}.fa-times-rectangle-o:before,.fa-window-close-o:before{content:"\f2d4"}.fa-bandcamp:before{content:"\f2d5"}.fa-grav:before{content:"\f2d6"}.fa-etsy:before{content:"\f2d7"}.fa-imdb:before{content:"\f2d8"}.fa-ravelry:before{content:"\f2d9"}.fa-eercast:before{content:"\f2da"}.fa-microchip:before{content:"\f2db"}.fa-snowflake-o:before{content:"\f2dc"}.fa-superpowers:before{content:"\f2dd"}.fa-wpexplorer:before{content:"\f2de"}.fa-meetup:before{content:"\f2e0"}.sr-only{position:absolute;width:1px;height:1px;padding:0;margin:-1px;overflow:hidden;clip:rect(0,0,0,0);border:0}.sr-only-focusable:active,.sr-only-focusable:focus{position:static;width:auto;height:auto;margin:0;overflow:visible;clip:auto}svg{touch-action:auto}.jvectormap-container{width:100%;height:100%;position:relative;overflow:hidden;touch-action:auto}.jvectormap-tip{position:absolute;display:none;border-radius:3px;background:#292929;background:rgba(41,41,41,.8);color:#fff;font-family:sans-serif,Verdana;font-size:smaller;padding:3px;z-index:2147483647}.jvectormap-zoomin,.jvectormap-zoomout,.jvectormap-goback{position:absolute;left:10px;border-radius:3px;background:#292929;padding:2px;color:#fff;cursor:pointer;line-height:10px;text-align:center;box-sizing:content-box}.jvectormap-zoomin,.jvectormap-zoomout{width:12px;height:11px;font-size:12px}.jvectormap-zoomin{top:10px}.jvectormap-zoomout{top:30px}.jvectormap-goback{bottom:10px;z-index:1000;padding:6px}.jvectormap-spinner{position:absolute;left:0;top:0;right:0;bottom:0;background:center no-repeat url(data:image/gif;base64,R0lGODlhIAAgAPMAAP///wAAAMbGxoSEhLa2tpqamjY2NlZWVtjY2OTk5Ly8vB4eHgQEBAAAAAAAAAAAACH/C05FVFNDQVBFMi4wAwEAAAAh/hpDcmVhdGVkIHdpdGggYWpheGxvYWQuaW5mbwAh+QQJCgAAACwAAAAAIAAgAAAE5xDISWlhperN52JLhSSdRgwVo1ICQZRUsiwHpTJT4iowNS8vyW2icCF6k8HMMBkCEDskxTBDAZwuAkkqIfxIQyhBQBFvAQSDITM5VDW6XNE4KagNh6Bgwe60smQUB3d4Rz1ZBApnFASDd0hihh12BkE9kjAJVlycXIg7CQIFA6SlnJ87paqbSKiKoqusnbMdmDC2tXQlkUhziYtyWTxIfy6BE8WJt5YJvpJivxNaGmLHT0VnOgSYf0dZXS7APdpB309RnHOG5gDqXGLDaC457D1zZ/V/nmOM82XiHRLYKhKP1oZmADdEAAAh+QQJCgAAACwAAAAAIAAgAAAE6hDISWlZpOrNp1lGNRSdRpDUolIGw5RUYhhHukqFu8DsrEyqnWThGvAmhVlteBvojpTDDBUEIFwMFBRAmBkSgOrBFZogCASwBDEY/CZSg7GSE0gSCjQBMVG023xWBhklAnoEdhQEfyNqMIcKjhRsjEdnezB+A4k8gTwJhFuiW4dokXiloUepBAp5qaKpp6+Ho7aWW54wl7obvEe0kRuoplCGepwSx2jJvqHEmGt6whJpGpfJCHmOoNHKaHx61WiSR92E4lbFoq+B6QDtuetcaBPnW6+O7wDHpIiK9SaVK5GgV543tzjgGcghAgAh+QQJCgAAACwAAAAAIAAgAAAE7hDISSkxpOrN5zFHNWRdhSiVoVLHspRUMoyUakyEe8PTPCATW9A14E0UvuAKMNAZKYUZCiBMuBakSQKG8G2FzUWox2AUtAQFcBKlVQoLgQReZhQlCIJesQXI5B0CBnUMOxMCenoCfTCEWBsJColTMANldx15BGs8B5wlCZ9Po6OJkwmRpnqkqnuSrayqfKmqpLajoiW5HJq7FL1Gr2mMMcKUMIiJgIemy7xZtJsTmsM4xHiKv5KMCXqfyUCJEonXPN2rAOIAmsfB3uPoAK++G+w48edZPK+M6hLJpQg484enXIdQFSS1u6UhksENEQAAIfkECQoAAAAsAAAAACAAIAAABOcQyEmpGKLqzWcZRVUQnZYg1aBSh2GUVEIQ2aQOE+G+cD4ntpWkZQj1JIiZIogDFFyHI0UxQwFugMSOFIPJftfVAEoZLBbcLEFhlQiqGp1Vd140AUklUN3eCA51C1EWMzMCezCBBmkxVIVHBWd3HHl9JQOIJSdSnJ0TDKChCwUJjoWMPaGqDKannasMo6WnM562R5YluZRwur0wpgqZE7NKUm+FNRPIhjBJxKZteWuIBMN4zRMIVIhffcgojwCF117i4nlLnY5ztRLsnOk+aV+oJY7V7m76PdkS4trKcdg0Zc0tTcKkRAAAIfkECQoAAAAsAAAAACAAIAAABO4QyEkpKqjqzScpRaVkXZWQEximw1BSCUEIlDohrft6cpKCk5xid5MNJTaAIkekKGQkWyKHkvhKsR7ARmitkAYDYRIbUQRQjWBwJRzChi9CRlBcY1UN4g0/VNB0AlcvcAYHRyZPdEQFYV8ccwR5HWxEJ02YmRMLnJ1xCYp0Y5idpQuhopmmC2KgojKasUQDk5BNAwwMOh2RtRq5uQuPZKGIJQIGwAwGf6I0JXMpC8C7kXWDBINFMxS4DKMAWVWAGYsAdNqW5uaRxkSKJOZKaU3tPOBZ4DuK2LATgJhkPJMgTwKCdFjyPHEnKxFCDhEAACH5BAkKAAAALAAAAAAgACAAAATzEMhJaVKp6s2nIkolIJ2WkBShpkVRWqqQrhLSEu9MZJKK9y1ZrqYK9WiClmvoUaF8gIQSNeF1Er4MNFn4SRSDARWroAIETg1iVwuHjYB1kYc1mwruwXKC9gmsJXliGxc+XiUCby9ydh1sOSdMkpMTBpaXBzsfhoc5l58Gm5yToAaZhaOUqjkDgCWNHAULCwOLaTmzswadEqggQwgHuQsHIoZCHQMMQgQGubVEcxOPFAcMDAYUA85eWARmfSRQCdcMe0zeP1AAygwLlJtPNAAL19DARdPzBOWSm1brJBi45soRAWQAAkrQIykShQ9wVhHCwCQCACH5BAkKAAAALAAAAAAgACAAAATrEMhJaVKp6s2nIkqFZF2VIBWhUsJaTokqUCoBq+E71SRQeyqUToLA7VxF0JDyIQh/MVVPMt1ECZlfcjZJ9mIKoaTl1MRIl5o4CUKXOwmyrCInCKqcWtvadL2SYhyASyNDJ0uIiRMDjI0Fd30/iI2UA5GSS5UDj2l6NoqgOgN4gksEBgYFf0FDqKgHnyZ9OX8HrgYHdHpcHQULXAS2qKpENRg7eAMLC7kTBaixUYFkKAzWAAnLC7FLVxLWDBLKCwaKTULgEwbLA4hJtOkSBNqITT3xEgfLpBtzE/jiuL04RGEBgwWhShRgQExHBAAh+QQJCgAAACwAAAAAIAAgAAAE7xDISWlSqerNpyJKhWRdlSAVoVLCWk6JKlAqAavhO9UkUHsqlE6CwO1cRdCQ8iEIfzFVTzLdRAmZX3I2SfZiCqGk5dTESJeaOAlClzsJsqwiJwiqnFrb2nS9kmIcgEsjQydLiIlHehhpejaIjzh9eomSjZR+ipslWIRLAgMDOR2DOqKogTB9pCUJBagDBXR6XB0EBkIIsaRsGGMMAxoDBgYHTKJiUYEGDAzHC9EACcUGkIgFzgwZ0QsSBcXHiQvOwgDdEwfFs0sDzt4S6BK4xYjkDOzn0unFeBzOBijIm1Dgmg5YFQwsCMjp1oJ8LyIAACH5BAkKAAAALAAAAAAgACAAAATwEMhJaVKp6s2nIkqFZF2VIBWhUsJaTokqUCoBq+E71SRQeyqUToLA7VxF0JDyIQh/MVVPMt1ECZlfcjZJ9mIKoaTl1MRIl5o4CUKXOwmyrCInCKqcWtvadL2SYhyASyNDJ0uIiUd6GGl6NoiPOH16iZKNlH6KmyWFOggHhEEvAwwMA0N9GBsEC6amhnVcEwavDAazGwIDaH1ipaYLBUTCGgQDA8NdHz0FpqgTBwsLqAbWAAnIA4FWKdMLGdYGEgraigbT0OITBcg5QwPT4xLrROZL6AuQAPUS7bxLpoWidY0JtxLHKhwwMJBTHgPKdEQAACH5BAkKAAAALAAAAAAgACAAAATrEMhJaVKp6s2nIkqFZF2VIBWhUsJaTokqUCoBq+E71SRQeyqUToLA7VxF0JDyIQh/MVVPMt1ECZlfcjZJ9mIKoaTl1MRIl5o4CUKXOwmyrCInCKqcWtvadL2SYhyASyNDJ0uIiUd6GAULDJCRiXo1CpGXDJOUjY+Yip9DhToJA4RBLwMLCwVDfRgbBAaqqoZ1XBMHswsHtxtFaH1iqaoGNgAIxRpbFAgfPQSqpbgGBqUD1wBXeCYp1AYZ19JJOYgH1KwA4UBvQwXUBxPqVD9L3sbp2BNk2xvvFPJd+MFCN6HAAIKgNggY0KtEBAAh+QQJCgAAACwAAAAAIAAgAAAE6BDISWlSqerNpyJKhWRdlSAVoVLCWk6JKlAqAavhO9UkUHsqlE6CwO1cRdCQ8iEIfzFVTzLdRAmZX3I2SfYIDMaAFdTESJeaEDAIMxYFqrOUaNW4E4ObYcCXaiBVEgULe0NJaxxtYksjh2NLkZISgDgJhHthkpU4mW6blRiYmZOlh4JWkDqILwUGBnE6TYEbCgevr0N1gH4At7gHiRpFaLNrrq8HNgAJA70AWxQIH1+vsYMDAzZQPC9VCNkDWUhGkuE5PxJNwiUK4UfLzOlD4WvzAHaoG9nxPi5d+jYUqfAhhykOFwJWiAAAIfkECQoAAAAsAAAAACAAIAAABPAQyElpUqnqzaciSoVkXVUMFaFSwlpOCcMYlErAavhOMnNLNo8KsZsMZItJEIDIFSkLGQoQTNhIsFehRww2CQLKF0tYGKYSg+ygsZIuNqJksKgbfgIGepNo2cIUB3V1B3IvNiBYNQaDSTtfhhx0CwVPI0UJe0+bm4g5VgcGoqOcnjmjqDSdnhgEoamcsZuXO1aWQy8KAwOAuTYYGwi7w5h+Kr0SJ8MFihpNbx+4Erq7BYBuzsdiH1jCAzoSfl0rVirNbRXlBBlLX+BP0XJLAPGzTkAuAOqb0WT5AH7OcdCm5B8TgRwSRKIHQtaLCwg1RAAAOwAAAAAAAAAAAA==)}.jvectormap-legend-title{font-weight:700;font-size:14px;text-align:center}.jvectormap-legend-cnt{position:absolute}.jvectormap-legend-cnt-h{bottom:0;right:0}.jvectormap-legend-cnt-v{top:0;right:0}.jvectormap-legend{background:#000;color:#fff;border-radius:3px}.jvectormap-legend-cnt-h .jvectormap-legend{float:left;margin:0 10px 10px 0;padding:3px 3px 1px}.jvectormap-legend-cnt-h .jvectormap-legend .jvectormap-legend-tick{float:left}.jvectormap-legend-cnt-v .jvectormap-legend{margin:10px 10px 0 0;padding:3px}.jvectormap-legend-cnt-h .jvectormap-legend-tick{width:40px}.jvectormap-legend-cnt-h .jvectormap-legend-tick-sample{height:15px}.jvectormap-legend-cnt-v .jvectormap-legend-tick-sample{height:20px;width:20px;display:inline-block;vertical-align:middle}.jvectormap-legend-tick-text{font-size:12px}.jvectormap-legend-cnt-h .jvectormap-legend-tick-text{text-align:center}.jvectormap-legend-cnt-v .jvectormap-legend-tick-text{display:inline-block;vertical-align:middle;line-height:20px;padding-left:3px}.rvm-map-container{position:relative}.rvm-card-container{background:rgba(0,0,0,.5);color:#fff;padding:10px 30px 10px;box-sizing:border-box}.rvm-default-card-container{position:absolute;height:100%;width:100%;z-index:1;overflow-y:auto}.rvm-hide-card-container{display:none}.rvm-close-default-card-container{position:absolute;right:10px;top:10px;background:#83c464;color:#fff;line-height:18px;text-align:center;border-radius:50%;width:24px;height:24px;border:2px solid #fff;font-family:Arial,sans-serif;font-size:14px}.rvm-close-default-card-container:hover{cursor:pointer}.jvectormap-marker{-webkit-transition-duration:.6s;-moz-transition-duration:.6s;-o-transition-duration:.6s;transition-duration:.6s}.jvectormap-container{overflow-x:hidden}.rvm_show_markers_effect{-webkit-transform:translateY(-100%);-moz-transform:translateY(-100%);-o-transform:translateY(-100%);transform:translateY(-100%)}@font-face{font-family:'rt-icons-2';src:url(//alphatowtruckservices.com/wp-content/themes/towy/css/../fonts/rt-icons-2.eot?wz19bt);src:url(//alphatowtruckservices.com/wp-content/themes/towy/css/../fonts/rt-icons-2.eot?#iefixwz19bt) format('embedded-opentype'),url(//alphatowtruckservices.com/wp-content/themes/towy/css/../fonts/rt-icons-2.ttf?wz19bt) format('truetype'),url(//alphatowtruckservices.com/wp-content/themes/towy/css/../fonts/rt-icons-2.woff?wz19bt) format('woff'),url(//alphatowtruckservices.com/wp-content/themes/towy/css/../fonts/rt-icons-2.svg?wz19bt#rt-icons-2) format('svg');font-weight:400;font-style:normal}[class^=rt-icon2-],[class*=" rt-icon2-"]{font-family:'rt-icons-2' !important;speak:none;font-style:normal;font-weight:400;font-variant:normal;text-transform:none;line-height:1;-webkit-font-smoothing:antialiased;-moz-osx-font-smoothing:grayscale}.rt-icon2-mobile2:before{content:"\e000"}.rt-icon2-laptop2:before{content:"\e001"}.rt-icon2-desktop2:before{content:"\e002"}.rt-icon2-tablet2:before{content:"\e003"}.rt-icon2-phone2:before{content:"\e004"}.rt-icon2-document:before{content:"\e005"}.rt-icon2-calendar:before{content:"\e00d"}.rt-icon2-picture:before{content:"\e00f"}.rt-icon2-pictures:before{content:"\e010"}.rt-icon2-video:before{content:"\e011"}.rt-icon2-camera:before{content:"\e012"}.rt-icon2-printer:before{content:"\e013"}.rt-icon2-toolbox:before{content:"\e014"}.rt-icon2-wallet:before{content:"\e016"}.rt-icon2-gift:before{content:"\e017"}.rt-icon2-hourglass:before{content:"\e01f"}.rt-icon2-lock:before{content:"\e020"}.rt-icon2-megaphone:before{content:"\e021"}.rt-icon2-telescope:before{content:"\e02a"}.rt-icon2-gears:before{content:"\e02b"}.rt-icon2-key:before{content:"\e02c"}.rt-icon2-attachment:before{content:"\e02e"}.rt-icon2-pricetags:before{content:"\e02f"}.rt-icon2-lightbulb:before{content:"\e030"}.rt-icon2-layers:before{content:"\e031"}.rt-icon2-pencil:before{content:"\e032"}.rt-icon2-tools:before{content:"\e033"}.rt-icon2-tools-2:before{content:"\e034"}.rt-icon2-paintbrush:before{content:"\e036"}.rt-icon2-magnifying-glass:before{content:"\e037"}.rt-icon2-beaker:before{content:"\e03c"}.rt-icon2-wine:before{content:"\e043"}.rt-icon2-globe:before{content:"\e045"}.rt-icon2-map-pin:before{content:"\e047"}.rt-icon2-upload:before{content:"\e04c"}.rt-icon2-download:before{content:"\e04d"}.rt-icon2-global:before{content:"\e052"}.rt-icon2-compass:before{content:"\e053"}.rt-icon2-quote:before{content:"\e600"}.rt-icon2-quote2:before{content:"\e601"}.rt-icon2-tag:before{content:"\e602"}.rt-icon2-link:before{content:"\e603"}.rt-icon2-cabinet:before{content:"\e604"}.rt-icon2-calendar2:before{content:"\e605"}.rt-icon2-calendar3:before{content:"\e606"}.rt-icon2-file:before{content:"\e607"}.rt-icon2-phone3:before{content:"\e608"}.rt-icon2-tablet3:before{content:"\e609"}.rt-icon2-window:before{content:"\e60a"}.rt-icon2-monitor:before{content:"\e60b"}.rt-icon2-ipod:before{content:"\e60c"}.rt-icon2-tv:before{content:"\e60d"}.rt-icon2-film2:before{content:"\e60e"}.rt-icon2-microphone:before{content:"\e60f"}.rt-icon2-drink:before{content:"\e610"}.rt-icon2-drink2:before{content:"\e611"}.rt-icon2-drink3:before{content:"\e612"}.rt-icon2-coffee2:before{content:"\e613"}.rt-icon2-mug:before{content:"\e614"}.rt-icon2-icecream:before{content:"\e615"}.rt-icon2-cake2:before{content:"\e616"}.rt-icon2-checkmark:before{content:"\e617"}.rt-icon2-cancel:before{content:"\e618"}.rt-icon2-plus:before{content:"\e619"}.rt-icon2-minus:before{content:"\e61a"}.rt-icon2-cog2:before{content:"\e61b"}.rt-icon2-health:before{content:"\e61c"}.rt-icon2-suitcase2:before{content:"\e61d"}.rt-icon2-suitcase3:before{content:"\e61e"}.rt-icon2-picture2:before{content:"\e61f"}.rt-icon2-time:before{content:"\e620"}.rt-icon2-checkmark2:before{content:"\e621"}.rt-icon2-cancel2:before{content:"\e622"}.rt-icon2-upload2:before{content:"\e623"}.rt-icon2-location:before{content:"\e624"}.rt-icon2-download2:before{content:"\e625"}.rt-icon2-basket:before{content:"\e626"}.rt-icon2-gamepad:before{content:"\e627"}.rt-icon2-phone4:before{content:"\e628"}.rt-icon2-image:before{content:"\e629"}.rt-icon2-map:before{content:"\e62a"}.rt-icon2-trashcan:before{content:"\e62b"}.rt-icon2-graduate:before{content:"\e62c"}.rt-icon2-lab:before{content:"\e62d"}.rt-icon2-tie:before{content:"\e62e"}.rt-icon2-football:before{content:"\e62f"}.rt-icon2-eightball:before{content:"\e630"}.rt-icon2-bowling:before{content:"\e631"}.rt-icon2-bowlingpin:before{content:"\e632"}.rt-icon2-baseball:before{content:"\e633"}.rt-icon2-soccer:before{content:"\e634"}.rt-icon2-3dglasses:before{content:"\e635"}.rt-icon2-microwave:before{content:"\e636"}.rt-icon2-refrigerator:before{content:"\e637"}.rt-icon2-oven:before{content:"\e638"}.rt-icon2-washingmachine:before{content:"\e639"}.rt-icon2-mouse:before{content:"\e63a"}.rt-icon2-medal:before{content:"\e63b"}.rt-icon2-magnifier:before{content:"\e63c"}.rt-icon2-stack:before{content:"\e63d"}.rt-icon2-stack2:before{content:"\e63e"}.rt-icon2-stack3:before{content:"\e63f"}.rt-icon2-pil:before{content:"\e640"}.rt-icon2-injection:before{content:"\e641"}.rt-icon2-thermometer:before{content:"\e642"}.rt-icon2-library:before{content:"\e643"}.rt-icon2-auction:before{content:"\e644"}.rt-icon2-justice:before{content:"\e645"}.rt-icon2-pencil2:before{content:"\e646"}.rt-icon2-male:before{content:"\e647"}.rt-icon2-female:before{content:"\e648"}.rt-icon2-pictures2:before{content:"\e649"}.rt-icon2-compass2:before{content:"\e64a"}.rt-icon2-clipboard:before{content:"\e64b"}.rt-icon2-ruler:before{content:"\e64c"}.rt-icon2-heart:before{content:"\e64d"}.rt-icon2-cloud:before{content:"\e64e"}.rt-icon2-star:before{content:"\e64f"}.rt-icon2-tv2:before{content:"\e650"}.rt-icon2-sound:before{content:"\e651"}.rt-icon2-video2:before{content:"\e652"}.rt-icon2-trash:before{content:"\e653"}.rt-icon2-user:before{content:"\e654"}.rt-icon2-key2:before{content:"\e655"}.rt-icon2-search2:before{content:"\e656"}.rt-icon2-settings:before{content:"\e657"}.rt-icon2-camera2:before{content:"\e658"}.rt-icon2-tag2:before{content:"\e659"}.rt-icon2-lock2:before{content:"\e65a"}.rt-icon2-bulb:before{content:"\e65b"}.rt-icon2-pen:before{content:"\e65c"}.rt-icon2-diamond2:before{content:"\e65d"}.rt-icon2-display:before{content:"\e65e"}.rt-icon2-location2:before{content:"\e65f"}.rt-icon2-eye:before{content:"\e660"}.rt-icon2-bubble:before{content:"\e661"}.rt-icon2-stack4:before{content:"\e662"}.rt-icon2-cup:before{content:"\e663"}.rt-icon2-phone5:before{content:"\e664"}.rt-icon2-news:before{content:"\e665"}.rt-icon2-mail:before{content:"\e666"}.rt-icon2-like:before{content:"\e667"}.rt-icon2-photo:before{content:"\e668"}.rt-icon2-note:before{content:"\e669"}.rt-icon2-clock:before{content:"\e66a"}.rt-icon2-paperplane:before{content:"\e66b"}.rt-icon2-params:before{content:"\e66c"}.rt-icon2-banknote:before{content:"\e66d"}.rt-icon2-data:before{content:"\e66e"}.rt-icon2-music:before{content:"\e66f"}.rt-icon2-megaphone2:before{content:"\e670"}.rt-icon2-study:before{content:"\e671"}.rt-icon2-lab2:before{content:"\e672"}.rt-icon2-food:before{content:"\e673"}.rt-icon2-t-shirt:before{content:"\e674"}.rt-icon2-fire:before{content:"\e675"}.rt-icon2-clip:before{content:"\e676"}.rt-icon2-shop:before{content:"\e677"}.rt-icon2-calendar4:before{content:"\e678"}.rt-icon2-wallet2:before{content:"\e679"}.rt-icon2-vynil:before{content:"\e67a"}.rt-icon2-truck:before{content:"\e67b"}.rt-icon2-world:before{content:"\e67c"}.rt-icon2-sun:before{content:"\e67d"}.rt-icon2-moon:before{content:"\e67e"}.rt-icon2-cloudy:before{content:"\e67f"}.rt-icon2-lightning:before{content:"\e680"}.rt-icon2-rainy:before{content:"\e681"}.rt-icon2-rainy2:before{content:"\e682"}.rt-icon2-snowy:before{content:"\e683"}.rt-icon2-snowy2:before{content:"\e684"}.rt-icon2-weather:before{content:"\e685"}.rt-icon2-store:before{content:"\e686"}.rt-icon2-out:before{content:"\e687"}.rt-icon2-in:before{content:"\e688"}.rt-icon2-in-alt:before{content:"\e689"}.rt-icon2-home:before{content:"\e68a"}.rt-icon2-lightbulb2:before{content:"\e68b"}.rt-icon2-anchor:before{content:"\e68c"}.rt-icon2-feather:before{content:"\e68d"}.rt-icon2-expand:before{content:"\e68e"}.rt-icon2-maximize:before{content:"\e68f"}.rt-icon2-search3:before{content:"\e690"}.rt-icon2-add:before{content:"\e691"}.rt-icon2-subtract:before{content:"\e692"}.rt-icon2-close2:before{content:"\e693"}.rt-icon2-book:before{content:"\e694"}.rt-icon2-spinner:before{content:"\e695"}.rt-icon2-play:before{content:"\e696"}.rt-icon2-stop:before{content:"\e697"}.rt-icon2-pause:before{content:"\e698"}.rt-icon2-forward:before{content:"\e699"}.rt-icon2-rewind:before{content:"\e69a"}.rt-icon2-sound2:before{content:"\e69b"}.rt-icon2-sound-alt:before{content:"\e69c"}.rt-icon2-soundoff:before{content:"\e69d"}.rt-icon2-inbox:before{content:"\e69e"}.rt-icon2-inbox-alt:before{content:"\e69f"}.rt-icon2-envelope:before{content:"\e6a0"}.rt-icon2-compose:before{content:"\e6a1"}.rt-icon2-newspaper-alt:before{content:"\e6a2"}.rt-icon2-calendar5:before{content:"\e6a3"}.rt-icon2-hyperlink:before{content:"\e6a4"}.rt-icon2-trash2:before{content:"\e6a5"}.rt-icon2-menu:before{content:"\e6a6"}.rt-icon2-gallery:before{content:"\e6a7"}.rt-icon2-calculator:before{content:"\e6a8"}.rt-icon2-clock2:before{content:"\e6a9"}.rt-icon2-portfolio:before{content:"\e6aa"}.rt-icon2-user2:before{content:"\e6ab"}.rt-icon2-users:before{content:"\e6ac"}.rt-icon2-heart2:before{content:"\e6ad"}.rt-icon2-chat:before{content:"\e6ae"}.rt-icon2-comments:before{content:"\e6af"}.rt-icon2-screen:before{content:"\e6b0"}.rt-icon2-iphone:before{content:"\e6b1"}.rt-icon2-instagram:before{content:"\e6b2"}.rt-icon2-pin-alt:before{content:"\e6b3"}.rt-icon2-camera3:before{content:"\e6b4"}.rt-icon2-chevron-down:before{content:"\f0a3"}.rt-icon2-chevron-left:before{content:"\f0a4"}.rt-icon2-chevron-right:before{content:"\f078"}.rt-icon2-chevron-up:before{content:"\f0a2"}.rt-icon2-quote3:before{content:"\f063"}.rt-icon2-search4:before{content:"\f02e"}.rt-icon2-triangle-down:before{content:"\f05b"}.rt-icon2-triangle-left:before{content:"\f044"}.rt-icon2-triangle-right:before{content:"\f05a"}.rt-icon2-triangle-up:before{content:"\f0aa"}.rt-icon2-file-empty:before{content:"\e924"}.rt-icon2-files-empty:before{content:"\e925"}.rt-icon2-file-text2:before{content:"\e926"}.rt-icon2-file-picture:before{content:"\e927"}.rt-icon2-file-music:before{content:"\e928"}.rt-icon2-file-play:before{content:"\e929"}.rt-icon2-file-video:before{content:"\e92a"}.rt-icon2-file-zip:before{content:"\e92b"}.rt-icon2-phone6:before{content:"\e942"}.rt-icon2-quotes-left:before{content:"\e977"}.rt-icon2-quotes-right:before{content:"\e978"}.rt-icon2-spinner6:before{content:"\e97f"}.rt-icon2-magnet:before{content:"\e9ab"}.rt-icon2-google:before{content:"\ea87"}.rt-icon2-google-plus:before{content:"\ea88"}.rt-icon2-google-plus2:before{content:"\ea89"}.rt-icon2-google-plus3:before{content:"\ea8a"}.rt-icon2-google-drive:before{content:"\ea8b"}.rt-icon2-facebook:before{content:"\ea8c"}.rt-icon2-facebook2:before{content:"\ea8d"}.rt-icon2-facebook3:before{content:"\ea8e"}.rt-icon2-instagram2:before{content:"\ea90"}.rt-icon2-twitter:before{content:"\ea91"}.rt-icon2-twitter2:before{content:"\ea92"}.rt-icon2-twitter3:before{content:"\ea93"}.rt-icon2-feed2:before{content:"\ea94"}.rt-icon2-feed3:before{content:"\ea95"}.rt-icon2-feed4:before{content:"\ea96"}.rt-icon2-youtube5:before{content:"\ea97"}.rt-icon2-youtube2:before{content:"\ea98"}.rt-icon2-youtube3:before{content:"\ea99"}.rt-icon2-youtube4:before{content:"\ea9a"}.rt-icon2-vimeo:before{content:"\ea9c"}.rt-icon2-vimeo2:before{content:"\ea9d"}.rt-icon2-vimeo3:before{content:"\ea9e"}.rt-icon2-lanyrd:before{content:"\ea9f"}.rt-icon2-flickr:before{content:"\eaa0"}.rt-icon2-flickr2:before{content:"\eaa1"}.rt-icon2-flickr3:before{content:"\eaa2"}.rt-icon2-flickr4:before{content:"\eaa3"}.rt-icon2-picassa:before{content:"\eaa4"}.rt-icon2-picassa2:before{content:"\eaa5"}.rt-icon2-dribbble:before{content:"\eaa6"}.rt-icon2-dribbble2:before{content:"\eaa7"}.rt-icon2-dribbble3:before{content:"\eaa8"}.rt-icon2-dropbox:before{content:"\eaaf"}.rt-icon2-github3:before{content:"\eab3"}.rt-icon2-wordpress:before{content:"\eab6"}.rt-icon2-wordpress2:before{content:"\eab7"}.rt-icon2-joomla:before{content:"\eab8"}.rt-icon2-blogger:before{content:"\eab9"}.rt-icon2-blogger2:before{content:"\eaba"}.rt-icon2-tumblr:before{content:"\eabb"}.rt-icon2-tumblr2:before{content:"\eabc"}.rt-icon2-apple:before{content:"\eabf"}.rt-icon2-android:before{content:"\eac1"}.rt-icon2-windows:before{content:"\eac2"}.rt-icon2-windows8:before{content:"\eac3"}.rt-icon2-skype:before{content:"\eac6"}.rt-icon2-reddit:before{content:"\eac7"}.rt-icon2-linkedin:before{content:"\eac8"}.rt-icon2-linkedin2:before{content:"\eac9"}.rt-icon2-lastfm:before{content:"\eaca"}.rt-icon2-lastfm2:before{content:"\eacb"}.rt-icon2-delicious:before{content:"\eacc"}.rt-icon2-stumbleupon:before{content:"\eacd"}.rt-icon2-stumbleupon2:before{content:"\eace"}.rt-icon2-pinterest:before{content:"\ead0"}.rt-icon2-pinterest2:before{content:"\ead1"}.rt-icon2-html5:before{content:"\eadf"}.rt-icon2-html52:before{content:"\eae0"}.rt-icon2-css3:before{content:"\eae1"}.rt-icon2-chrome:before{content:"\eae5"}.rt-icon2-firefox:before{content:"\eae6"}.rt-icon2-IE:before{content:"\eae7"}.rt-icon2-opera:before{content:"\eae8"}.rt-icon2-safari:before{content:"\eae9"}.rt-icon2-times2:before{content:"\e6b5"}.rt-icon2-tick:before{content:"\e6b6"}.rt-icon2-plus2:before{content:"\e6b7"}.rt-icon2-minus2:before{content:"\e6b8"}.rt-icon2-equals:before{content:"\e6b9"}.rt-icon2-divide:before{content:"\e6ba"}.rt-icon2-chevron-right2:before{content:"\e6bb"}.rt-icon2-chevron-left2:before{content:"\e6bc"}.rt-icon2-arrow-right-thick:before{content:"\e6bd"}.rt-icon2-arrow-left-thick:before{content:"\e6be"}.rt-icon2-home2:before{content:"\e6bf"}.rt-icon2-arrow-forward:before{content:"\e6c0"}.rt-icon2-arrow-back:before{content:"\e6c1"}.rt-icon2-link2:before{content:"\e6c2"}.rt-icon2-image2:before{content:"\e6c3"}.rt-icon2-delete-outline:before{content:"\e6c4"}.rt-icon2-cloud-storage:before{content:"\e6c5"}.rt-icon2-heart3:before{content:"\e6c6"}.rt-icon2-attachment2:before{content:"\e6c7"}.rt-icon2-media-pause:before{content:"\e6c8"}.rt-icon2-group:before{content:"\e6c9"}.rt-icon2-chart-pie:before{content:"\e6ca"}.rt-icon2-chart-line:before{content:"\e6cb"}.rt-icon2-chart-bar:before{content:"\e6cc"}.rt-icon2-chart-area:before{content:"\e6cd"}.rt-icon2-globe2:before{content:"\e6ce"}.rt-icon2-eye2:before{content:"\e6cf"}.rt-icon2-cog3:before{content:"\e6d0"}.rt-icon2-camera4:before{content:"\e6d1"}.rt-icon2-refresh:before{content:"\e6d2"}.rt-icon2-info-large:before{content:"\e6d3"}.rt-icon2-zoom:before{content:"\e6d4"}.rt-icon2-zoom-out:before{content:"\e6d5"}.rt-icon2-zoom-in:before{content:"\e6d6"}.rt-icon2-sort-numerically:before{content:"\e6d7"}.rt-icon2-sort-alphabetically:before{content:"\e6d8"}.rt-icon2-input-checked:before{content:"\e6d9"}.rt-icon2-calender:before{content:"\e6da"}.rt-icon2-spanner:before{content:"\e6db"}.rt-icon2-phone7:before{content:"\e6dc"}.rt-icon2-media-rewind:before{content:"\e6dd"}.rt-icon2-adjust-brightness:before{content:"\e6de"}.rt-icon2-waves:before{content:"\e6df"}.rt-icon2-social-twitter:before{content:"\e6e0"}.rt-icon2-social-facebook:before{content:"\e6e1"}.rt-icon2-social-dribbble:before{content:"\e6e2"}.rt-icon2-media-stop:before{content:"\e6e3"}.rt-icon2-media-record:before{content:"\e6e4"}.rt-icon2-media-play:before{content:"\e6e5"}.rt-icon2-media-fast-forward:before{content:"\e6e6"}.rt-icon2-media-eject:before{content:"\e6e7"}.rt-icon2-social-vimeo:before{content:"\e6e8"}.rt-icon2-social-tumbler:before{content:"\e6e9"}.rt-icon2-social-skype:before{content:"\e6ea"}.rt-icon2-social-pinterest:before{content:"\e6eb"}.rt-icon2-social-linkedin:before{content:"\e6ec"}.rt-icon2-social-last-fm:before{content:"\e6ed"}.rt-icon2-social-github:before{content:"\e6ee"}.rt-icon2-social-flickr:before{content:"\e6ef"}.rt-icon2-at:before{content:"\e6f0"}.rt-icon2-times-outline:before{content:"\e6f1"}.rt-icon2-plus-outline:before{content:"\e6f2"}.rt-icon2-minus-outline:before{content:"\e6f3"}.rt-icon2-tick-outline:before{content:"\e6f4"}.rt-icon2-th-large-outline:before{content:"\e6f5"}.rt-icon2-equals-outline:before{content:"\e6f6"}.rt-icon2-divide-outline:before{content:"\e6f7"}.rt-icon2-chevron-right-outline:before{content:"\e6f8"}.rt-icon2-chevron-left-outline:before{content:"\e6f9"}.rt-icon2-arrow-right-outline:before{content:"\e6fa"}.rt-icon2-arrow-left-outline:before{content:"\e6fb"}.rt-icon2-th-small-outline:before{content:"\e6fc"}.rt-icon2-th-menu-outline:before{content:"\e6fd"}.rt-icon2-th-list-outline:before{content:"\e6fe"}.rt-icon2-home-outline:before{content:"\e6ff"}.rt-icon2-arrow-up-outline:before{content:"\e700"}.rt-icon2-arrow-forward-outline:before{content:"\e701"}.rt-icon2-arrow-down-outline:before{content:"\e702"}.rt-icon2-arrow-back-outline:before{content:"\e703"}.rt-icon2-trash3:before{content:"\e704"}.rt-icon2-rss-outline:before{content:"\e705"}.rt-icon2-message:before{content:"\e706"}.rt-icon2-location-outline:before{content:"\e707"}.rt-icon2-link-outline:before{content:"\e708"}.rt-icon2-image-outline:before{content:"\e709"}.rt-icon2-export-outline:before{content:"\e70a"}.rt-icon2-cross:before{content:"\e70b"}.rt-icon2-wi-fi-outline:before{content:"\e70c"}.rt-icon2-star-outline:before{content:"\e70d"}.rt-icon2-media-pause-outline:before{content:"\e70e"}.rt-icon2-mail2:before{content:"\e70f"}.rt-icon2-heart-outline:before{content:"\e710"}.rt-icon2-flash-outline:before{content:"\e711"}.rt-icon2-cancel-outline:before{content:"\e712"}.rt-icon2-arrow-move-outline:before{content:"\e713"}.rt-icon2-watch:before{content:"\e714"}.rt-icon2-warning-outline:before{content:"\e715"}.rt-icon2-time2:before{content:"\e716"}.rt-icon2-radar-outline:before{content:"\e717"}.rt-icon2-lock-open-outline:before{content:"\e718"}.rt-icon2-location-arrow-outline:before{content:"\e719"}.rt-icon2-info-outline:before{content:"\e71a"}.rt-icon2-backspace-outline:before{content:"\e71b"}.rt-icon2-attachment-outline:before{content:"\e71c"}.rt-icon2-user-outline:before{content:"\e71d"}.rt-icon2-user-delete-outline:before{content:"\e71e"}.rt-icon2-user-add-outline:before{content:"\e71f"}.rt-icon2-lock-closed-outline:before{content:"\e720"}.rt-icon2-group-outline:before{content:"\e721"}.rt-icon2-chart-pie-outline:before{content:"\e722"}.rt-icon2-chart-line-outline:before{content:"\e723"}.rt-icon2-chart-bar-outline:before{content:"\e724"}.rt-icon2-chart-area-outline:before{content:"\e725"}.rt-icon2-video-outline:before{content:"\e726"}.rt-icon2-point-of-interest-outline:before{content:"\e727"}.rt-icon2-map2:before{content:"\e728"}.rt-icon2-key-outline:before{content:"\e729"}.rt-icon2-infinity-outline:before{content:"\e72a"}.rt-icon2-globe-outline:before{content:"\e72b"}.rt-icon2-eye-outline:before{content:"\e72c"}.rt-icon2-cog-outline:before{content:"\e72d"}.rt-icon2-camera-outline:before{content:"\e72e"}.rt-icon2-support:before{content:"\e72f"}.rt-icon2-scissors-outline:before{content:"\e730"}.rt-icon2-refresh-outline:before{content:"\e731"}.rt-icon2-info-large-outline:before{content:"\e732"}.rt-icon2-download-outline:before{content:"\e733"}.rt-icon2-battery-low:before{content:"\e734"}.rt-icon2-zoom-outline:before{content:"\e735"}.rt-icon2-zoom-out-outline:before{content:"\e736"}.rt-icon2-zoom-in-outline:before{content:"\e737"}.rt-icon2-tag3:before{content:"\e738"}.rt-icon2-tabs-outline:before{content:"\e739"}.rt-icon2-pin-outline:before{content:"\e73a"}.rt-icon2-message-typing:before{content:"\e73b"}.rt-icon2-directions:before{content:"\e73c"}.rt-icon2-battery-full:before{content:"\e73d"}.rt-icon2-battery-charge:before{content:"\e73e"}.rt-icon2-pencil3:before{content:"\e73f"}.rt-icon2-folder:before{content:"\e740"}.rt-icon2-folder-delete:before{content:"\e741"}.rt-icon2-folder-add:before{content:"\e742"}.rt-icon2-edit:before{content:"\e743"}.rt-icon2-document2:before{content:"\e744"}.rt-icon2-document-delete:before{content:"\e745"}.rt-icon2-document-add:before{content:"\e746"}.rt-icon2-brush:before{content:"\e747"}.rt-icon2-thumbs-up:before{content:"\e748"}.rt-icon2-thumbs-down:before{content:"\e749"}.rt-icon2-pen2:before{content:"\e74a"}.rt-icon2-sort-numerically-outline:before{content:"\e74b"}.rt-icon2-sort-alphabetically-outline:before{content:"\e74c"}.rt-icon2-social-last-fm-circular:before{content:"\e74d"}.rt-icon2-social-github-circular:before{content:"\e74e"}.rt-icon2-compass3:before{content:"\e74f"}.rt-icon2-code-outline:before{content:"\e750"}.rt-icon2-calender-outline:before{content:"\e751"}.rt-icon2-business-card:before{content:"\e752"}.rt-icon2-arrow-up:before{content:"\e753"}.rt-icon2-arrow-right:before{content:"\e754"}.rt-icon2-arrow-left:before{content:"\e755"}.rt-icon2-document-text:before{content:"\e756"}.rt-icon2-clipboard2:before{content:"\e757"}.rt-icon2-calculator2:before{content:"\e758"}.rt-icon2-arrow-minimise-outline:before{content:"\e759"}.rt-icon2-arrow-maximise-outline:before{content:"\e75a"}.rt-icon2-arrow-down:before{content:"\e75b"}.rt-icon2-gift2:before{content:"\e75c"}.rt-icon2-film3:before{content:"\e75d"}.rt-icon2-bell:before{content:"\e75e"}.rt-icon2-anchor-outline:before{content:"\e75f"}.rt-icon2-world-outline:before{content:"\e760"}.rt-icon2-shopping-bag:before{content:"\e761"}.rt-icon2-power-outline:before{content:"\e762"}.rt-icon2-notes-outline:before{content:"\e763"}.rt-icon2-device-tablet:before{content:"\e764"}.rt-icon2-device-phone:before{content:"\e765"}.rt-icon2-device-laptop:before{content:"\e766"}.rt-icon2-device-desktop:before{content:"\e767"}.rt-icon2-briefcase:before{content:"\e768"}.rt-icon2-stopwatch:before{content:"\e769"}.rt-icon2-spanner-outline:before{content:"\e76a"}.rt-icon2-puzzle-outline:before{content:"\e76b"}.rt-icon2-printer2:before{content:"\e76c"}.rt-icon2-lightbulb3:before{content:"\e76d"}.rt-icon2-flag-outline:before{content:"\e76e"}.rt-icon2-contacts:before{content:"\e76f"}.rt-icon2-weather-stormy:before{content:"\e770"}.rt-icon2-weather-shower:before{content:"\e771"}.rt-icon2-weather-partly-sunny:before{content:"\e772"}.rt-icon2-weather-downpour:before{content:"\e773"}.rt-icon2-weather-cloudy:before{content:"\e774"}.rt-icon2-plane-outline:before{content:"\e775"}.rt-icon2-phone-outline:before{content:"\e776"}.rt-icon2-microphone-outline:before{content:"\e777"}.rt-icon2-weather-windy:before{content:"\e778"}.rt-icon2-weather-windy-cloudy:before{content:"\e779"}.rt-icon2-weather-sunny:before{content:"\e77a"}.rt-icon2-weather-snow:before{content:"\e77b"}.rt-icon2-weather-night:before{content:"\e77c"}.rt-icon2-media-stop-outline:before{content:"\e77d"}.rt-icon2-media-rewind-outline:before{content:"\e77e"}.rt-icon2-media-record-outline:before{content:"\e77f"}.rt-icon2-media-play-outline:before{content:"\e780"}.rt-icon2-media-fast-forward-outline:before{content:"\e781"}.rt-icon2-media-eject-outline:before{content:"\e782"}.rt-icon2-wine2:before{content:"\e783"}.rt-icon2-waves-outline:before{content:"\e784"}.rt-icon2-ticket:before{content:"\e785"}.rt-icon2-tags2:before{content:"\e786"}.rt-icon2-plug:before{content:"\e787"}.rt-icon2-headphones:before{content:"\e788"}.rt-icon2-credit-card:before{content:"\e789"}.rt-icon2-coffee3:before{content:"\e78a"}.rt-icon2-book2:before{content:"\e78b"}.rt-icon2-beer:before{content:"\e78c"}.rt-icon2-volume:before{content:"\e78d"}.rt-icon2-volume-up:before{content:"\e78e"}.rt-icon2-volume-mute:before{content:"\e78f"}.rt-icon2-volume-down:before{content:"\e790"}.rt-icon2-social-vimeo-circular:before{content:"\e791"}.rt-icon2-social-twitter-circular:before{content:"\e792"}.rt-icon2-social-pinterest-circular:before{content:"\e793"}.rt-icon2-social-linkedin-circular:before{content:"\e794"}.rt-icon2-social-facebook-circular:before{content:"\e795"}.rt-icon2-social-dribbble-circular:before{content:"\e796"}.rt-icon2-tree:before{content:"\e797"}.rt-icon2-thermometer2:before{content:"\e798"}.rt-icon2-social-tumbler-circular:before{content:"\e799"}.rt-icon2-social-skype-outline:before{content:"\e79a"}.rt-icon2-social-flickr-circular:before{content:"\e79b"}.rt-icon2-social-at-circular:before{content:"\e79c"}.rt-icon2-shopping-cart:before{content:"\e79d"}.rt-icon2-messages:before{content:"\e79e"}.rt-icon2-leaf:before{content:"\e79f"}.rt-icon2-feather2:before{content:"\e7a0"}.rt-icon2-keyboard_arrow_down:before{content:"\e10f"}.rt-icon2-keyboard_arrow_left:before{content:"\e110"}.rt-icon2-keyboard_arrow_right:before{content:"\e111"}.rt-icon2-keyboard_arrow_up:before{content:"\e112"}.rt-icon2-directions_bus:before{content:"\e1ca"}.rt-icon2-directions_car:before{content:"\e1cb"}.rt-icon2-directions_ferry:before{content:"\e1cc"}.rt-icon2-directions_subway:before{content:"\e1cd"}.rt-icon2-directions_railway:before{content:"\e1ce"}.rt-icon2-directions_walk:before{content:"\e1d0"}.rt-icon2-flight:before{content:"\e1d1"}.rt-icon2-restaurant_menu:before{content:"\e1f9"}.rt-icon2-wifi:before{content:"\e242"}.rt-icon2-cake:before{content:"\e243"}.rt-icon2-favorite_outline:before{content:"\e292"}.rt-icon2-lock_open:before{content:"\e2ac"}.rt-icon2-lock_outline:before{content:"\e2ad"}.rt-icon2-perm_identity:before{content:"\e2ba"}.rt-icon2-search:before{content:"\e2ca"}.rt-icon2-eye3:before{content:"\e006"}.rt-icon2-paper-clip:before{content:"\e007"}.rt-icon2-mail3:before{content:"\e008"}.rt-icon2-image3:before{content:"\e015"}.rt-icon2-clock3:before{content:"\e018"}.rt-icon2-watch2:before{content:"\e019"}.rt-icon2-camera5:before{content:"\e01a"}.rt-icon2-video3:before{content:"\e01b"}.rt-icon2-monitor2:before{content:"\e022"}.rt-icon2-cog4:before{content:"\e023"}.rt-icon2-heart4:before{content:"\e024"}.rt-icon2-layers2:before{content:"\e035"}.rt-icon2-paper:before{content:"\e038"}.rt-icon2-search5:before{content:"\e039"}.rt-icon2-microphone2:before{content:"\e048"}.rt-icon2-umbrella2:before{content:"\e060"}.rt-icon2-moon2:before{content:"\e061"}.rt-icon2-thermometer3:before{content:"\e062"}.rt-icon2-drop:before{content:"\e063"}.rt-icon2-sun2:before{content:"\e064"}.rt-icon2-cloud2:before{content:"\e065"}.rt-icon2-map3:before{content:"\e072"}.rt-icon2-head:before{content:"\e074"}.rt-icon2-briefcase2:before{content:"\e075"}.rt-icon2-speech-bubble:before{content:"\e076"}.rt-icon2-globe3:before{content:"\e078"}.rt-icon2-tag4:before{content:"\e085"}.rt-icon2-star2:before{content:"\e093"}.rt-icon2-plus3:before{content:"\e114"}.rt-icon2-minus3:before{content:"\e115"}.rt-icon2-check2:before{content:"\e116"}.rt-icon2-cross2:before{content:"\e117"}.rt-icon2-help:before{content:"\e127"}.rt-icon2-files:before{content:"\e7a1"}.rt-icon2-file2:before{content:"\e7a2"}.rt-icon2-browser:before{content:"\e7a3"}.rt-icon2-wifi-full:before{content:"\e7a4"}.rt-icon2-microphone3:before{content:"\e7a5"}.rt-icon2-trashcan2:before{content:"\e7a6"}.rt-icon2-search6:before{content:"\e7a7"}.rt-icon2-calendar6:before{content:"\e7a8"}.rt-icon2-heart5:before{content:"\e7a9"}.rt-icon2-star3:before{content:"\e7aa"}.rt-icon2-clock4:before{content:"\e7ab"}.rt-icon2-users2:before{content:"\e7ac"}.rt-icon2-user3:before{content:"\e7ad"}.rt-icon2-creditcards:before{content:"\e7ae"}.rt-icon2-calculator3:before{content:"\e7af"}.rt-icon2-bag:before{content:"\e7b0"}.rt-icon2-diamond3:before{content:"\e7b1"}.rt-icon2-drink4:before{content:"\e7b2"}.rt-icon2-shorts:before{content:"\e7b3"}.rt-icon2-coffee4:before{content:"\e7b4"}.rt-icon2-map4:before{content:"\e7b5"}.rt-icon2-syringe:before{content:"\e7b6"}.rt-icon2-pill:before{content:"\e7b7"}.rt-icon2-lab3:before{content:"\e7b8"}.rt-icon2-mug2:before{content:"\e7b9"}.rt-icon2-chart:before{content:"\e7ba"}.rt-icon2-pencil4:before{content:"\e7bb"}.rt-icon2-envelope-o:before{content:"\f003"}.rt-icon2-star-o:before{content:"\f006"}.rt-icon2-film:before{content:"\f008"}.rt-icon2-check:before{content:"\f00c"}.rt-icon2-close:before{content:"\f00d"}.rt-icon2-remove:before{content:"\f00d"}.rt-icon2-times:before{content:"\f00d"}.rt-icon2-cog:before{content:"\f013"}.rt-icon2-gear:before{content:"\f013"}.rt-icon2-trash-o:before{content:"\f014"}.rt-icon2-file-o:before{content:"\f016"}.rt-icon2-clock-o:before{content:"\f017"}.rt-icon2-tags:before{content:"\f02c"}.rt-icon2-thumbs-o-up:before{content:"\f087"}.rt-icon2-thumbs-o-down:before{content:"\f088"}.rt-icon2-heart-o:before{content:"\f08a"}.rt-icon2-phone:before{content:"\f095"}.rt-icon2-umbrella:before{content:"\f0e9"}.rt-icon2-lightbulb-o:before{content:"\f0eb"}.rt-icon2-user-md:before{content:"\f0f0"}.rt-icon2-stethoscope:before{content:"\f0f1"}.rt-icon2-suitcase:before{content:"\f0f2"}.rt-icon2-coffee:before{content:"\f0f4"}.rt-icon2-cutlery:before{content:"\f0f5"}.rt-icon2-file-text-o:before{content:"\f0f6"}.rt-icon2-building-o:before{content:"\f0f7"}.rt-icon2-hospital-o:before{content:"\f0f8"}.rt-icon2-ambulance:before{content:"\f0f9"}.rt-icon2-medkit:before{content:"\f0fa"}.rt-icon2-angle-left:before{content:"\f104"}.rt-icon2-angle-right:before{content:"\f105"}.rt-icon2-angle-up:before{content:"\f106"}.rt-icon2-angle-down:before{content:"\f107"}.rt-icon2-desktop:before{content:"\f108"}.rt-icon2-laptop:before{content:"\f109"}.rt-icon2-tablet:before{content:"\f10a"}.rt-icon2-mobile:before{content:"\f10b"}.rt-icon2-mobile-phone:before{content:"\f10b"}.rt-icon2-quote-left:before{content:"\f10d"}.rt-icon2-quote-right:before{content:"\f10e"}.rt-icon2-youtube:before{content:"\f167"}.rt-icon2-file-pdf-o:before{content:"\f1c1"}.rt-icon2-file-word-o:before{content:"\f1c2"}.rt-icon2-file-excel-o:before{content:"\f1c3"}.rt-icon2-file-powerpoint-o:before{content:"\f1c4"}.rt-icon2-file-image-o:before{content:"\f1c5"}.rt-icon2-file-photo-o:before{content:"\f1c5"}.rt-icon2-file-picture-o:before{content:"\f1c5"}.rt-icon2-file-archive-o:before{content:"\f1c6"}.rt-icon2-file-zip-o:before{content:"\f1c6"}.rt-icon2-file-audio-o:before{content:"\f1c7"}.rt-icon2-file-sound-o:before{content:"\f1c7"}.rt-icon2-file-movie-o:before{content:"\f1c8"}.rt-icon2-file-video-o:before{content:"\f1c8"}.rt-icon2-file-code-o:before{content:"\f1c9"}.rt-icon2-paper-plane-o:before{content:"\f1d9"}.rt-icon2-send-o:before{content:"\f1d9"}.rt-icon2-futbol-o:before{content:"\f1e3"}.rt-icon2-soccer-ball-o:before{content:"\f1e3"}.rt-icon2-birthday-cake:before{content:"\f1fd"}.rt-icon2-diamond:before{content:"\f219"}.rt-icon2-whatsapp:before{content:"\f232"}.rt-icon2-chevron-down2:before{content:"\e7bc"}.rt-icon2-chevron-left3:before{content:"\e7bd"}.rt-icon2-chevron-right3:before{content:"\e7be"}.rt-icon2-chevron-small-down:before{content:"\e7bf"}.rt-icon2-chevron-small-left:before{content:"\e7c0"}.rt-icon2-chevron-small-right:before{content:"\e7c1"}.rt-icon2-chevron-small-up:before{content:"\e7c2"}.rt-icon2-chevron-thin-down:before{content:"\e7c3"}.rt-icon2-chevron-thin-left:before{content:"\e7c4"}.rt-icon2-chevron-thin-right:before{content:"\e7c5"}.rt-icon2-chevron-thin-up:before{content:"\e7c6"}.rt-icon2-chevron-up2:before{content:"\e7c7"}.rt-icon2-code:before{content:"\e7c8"}.rt-icon2-light-bulb:before{content:"\e7c9"}.rt-icon2-magnifying-glass2:before{content:"\e7ca"}.rt-icon2-map5:before{content:"\e7cb"}.rt-icon2-scissors:before{content:"\e7cc"}.rt-icon2-tools2:before{content:"\e7cd"}.rt-icon2-box:before{content:"\e7ce"}.rt-icon2-write:before{content:"\e7cf"}.rt-icon2-clock5:before{content:"\e7d0"}.rt-icon2-search7:before{content:"\e7d1"}.rt-icon2-trash4:before{content:"\e7d2"}.rt-icon2-envelope2:before{content:"\e7d3"}.rt-icon2-bubble2:before{content:"\e7d4"}.rt-icon2-camera6:before{content:"\e7d5"}.rt-icon2-image4:before{content:"\e7d6"}.rt-icon2-tag5:before{content:"\e7d7"}.rt-icon2-heart6:before{content:"\e7d8"}.rt-icon2-video-camera:before{content:"\e7d9"}.rt-icon2-cart:before{content:"\e7da"}.rt-icon2-film4:before{content:"\e7db"}.rt-icon2-home3:before{content:"\e7dc"}@font-face{font-family:'socicon';src:url(//alphatowtruckservices.com/wp-content/themes/towy/css/../fonts/socicon.eot);src:url(//alphatowtruckservices.com/wp-content/themes/towy/css/../fonts/socicon.eot?#iefix) format('embedded-opentype'),url(//alphatowtruckservices.com/wp-content/themes/towy/css/../fonts/socicon.woff) format('woff'),url(//alphatowtruckservices.com/wp-content/themes/towy/css/../fonts/socicon.woff2) format('woff2'),url(//alphatowtruckservices.com/wp-content/themes/towy/css/../fonts/socicon.ttf) format('truetype'),url(//alphatowtruckservices.com/wp-content/themes/towy/css/../fonts/socicon.svg#sociconregular) format('svg');font-weight:400;font-style:normal;text-transform:initial}.social-icon:before{font-family:'socicon';font-style:normal}.soc-modelmayhem:before{content:"\e000"}.soc-mixcloud:before{content:"\e001"}.soc-drupal:before{content:"\e002"}.soc-swarm:before{content:"\e003"}.soc-istock:before{content:"\e004"}.soc-yammer:before{content:"\e005"}.soc-ello:before{content:"\e006"}.soc-stackoverflow:before{content:"\e007"}.soc-persona:before{content:"\e008"}.soc-triplej:before{content:"\e009"}.soc-houzz:before{content:"\e00a"}.soc-rss:before{content:"\e00b"}.soc-paypal:before{content:"\e00c"}.soc-odnoklassniki:before{content:"\e00d"}.soc-airbnb:before{content:"\e00e"}.soc-periscope:before{content:"\e00f"}.soc-outlook:before{content:"\e010"}.soc-coderwall:before{content:"\e011"}.soc-tripadvisor:before{content:"\e012"}.soc-appnet:before{content:"\e013"}.soc-goodreads:before{content:"\e014"}.soc-tripit:before{content:"\e015"}.soc-lanyrd:before{content:"\e016"}.soc-slideshare:before{content:"\e017"}.soc-buffer:before{content:"\e018"}.soc-disqus:before{content:"\e019"}.soc-vkontakte:before{content:"\e01a"}.soc-whatsapp:before{content:"\e01b"}.soc-patreon:before{content:"\e01c"}.soc-storehouse:before{content:"\e01d"}.soc-pocket:before{content:"\e01e"}.soc-mail:before{content:"\e01f"}.soc-blogger:before{content:"\e020"}.soc-technorati:before{content:"\e021"}.soc-reddit:before{content:"\e022"}.soc-dribbble:before{content:"\e023"}.soc-stumbleupon:before{content:"\e024"}.soc-digg:before{content:"\e025"}.soc-envato:before{content:"\e026"}.soc-behance:before{content:"\e027"}.soc-delicious:before{content:"\e028"}.soc-deviantart:before{content:"\e029"}.soc-forrst:before{content:"\e02a"}.soc-play:before{content:"\e02b"}.soc-zerply:before{content:"\e02c"}.soc-wikipedia:before{content:"\e02d"}.soc-apple:before{content:"\e02e"}.soc-flattr:before{content:"\e02f"}.soc-github:before{content:"\e030"}.soc-renren:before{content:"\e031"}.soc-friendfeed:before{content:"\e032"}.soc-newsvine:before{content:"\e033"}.soc-identica:before{content:"\e034"}.soc-bebo:before{content:"\e035"}.soc-zynga:before{content:"\e036"}.soc-steam:before{content:"\e037"}.soc-xbox:before{content:"\e038"}.soc-windows:before{content:"\e039"}.soc-qq:before{content:"\e03a"}.soc-douban:before{content:"\e03b"}.soc-meetup:before{content:"\e03c"}.soc-playstation:before{content:"\e03d"}.soc-android:before{content:"\e03e"}.soc-snapchat:before{content:"\e03f"}.soc-twitter:before{content:"\e040"}.soc-facebook:before{content:"\e041"}.soc-googleplus:before{content:"\e042"}.soc-pinterest:before{content:"\e043"}.soc-foursquare:before{content:"\e044"}.soc-yahoo:before{content:"\e045"}.soc-skype:before{content:"\e046"}.soc-yelp:before{content:"\e047"}.soc-feedburner:before{content:"\e048"}.soc-linkedin:before{content:"\e049"}.soc-viadeo:before{content:"\e04a"}.soc-xing:before{content:"\e04b"}.soc-myspace:before{content:"\e04c"}.soc-soundcloud:before{content:"\e04d"}.soc-spotify:before{content:"\e04e"}.soc-grooveshark:before{content:"\e04f"}.soc-lastfm:before{content:"\e050"}.soc-youtube:before{content:"\e051"}.soc-vimeo:before{content:"\e052"}.soc-dailymotion:before{content:"\e053"}.soc-vine:before{content:"\e054"}.soc-flickr:before{content:"\e055"}.soc-500px:before{content:"\e056"}.soc-wordpress:before{content:"\e058"}.soc-tumblr:before{content:"\e059"}.soc-twitch:before{content:"\e05a"}.soc-8tracks:before{content:"\e05b"}.soc-amazon:before{content:"\e05c"}.soc-icq:before{content:"\e05d"}.soc-smugmug:before{content:"\e05e"}.soc-ravelry:before{content:"\e05f"}.soc-weibo:before{content:"\e060"}.soc-baidu:before{content:"\e061"}.soc-angellist:before{content:"\e062"}.soc-ebay:before{content:"\e063"}.soc-imdb:before{content:"\e064"}.soc-stayfriends:before{content:"\e065"}.soc-residentadvisor:before{content:"\e066"}.soc-google:before{content:"\e067"}.soc-yandex:before{content:"\e068"}.soc-sharethis:before{content:"\e069"}.soc-bandcamp:before{content:"\e06a"}.soc-itunes:before{content:"\e06b"}.soc-deezer:before{content:"\e06c"}.soc-telegram:before{content:"\e06e"}.soc-openid:before{content:"\e06f"}.soc-amplement:before{content:"\e070"}.soc-viber:before{content:"\e071"}.soc-zomato:before{content:"\e072"}.soc-draugiem:before{content:"\e074"}.soc-endomodo:before{content:"\e075"}.soc-filmweb:before{content:"\e076"}.soc-stackexchange:before{content:"\e077"}.soc-wykop:before{content:"\e078"}.soc-teamspeak:before{content:"\e079"}.soc-teamviewer:before{content:"\e07a"}.soc-ventrilo:before{content:"\e07b"}.soc-younow:before{content:"\e07c"}.soc-raidcall:before{content:"\e07d"}.soc-mumble:before{content:"\e07e"}.soc-medium:before{content:"\e06d"}.soc-bebee:before{content:"\e07f"}.soc-hitbox:before{content:"\e080"}.soc-reverbnation:before{content:"\e081"}.soc-formulr:before{content:"\e082"}.soc-instagram:before{content:"\e057"}.soc-battlenet:before{content:"\e083"}.soc-chrome:before{content:"\e084"}.soc-discord:before{content:"\e086"}.soc-issuu:before{content:"\e087"}.soc-macos:before{content:"\e088"}.soc-firefox:before{content:"\e089"}.soc-opera:before{content:"\e08d"}.soc-keybase:before{content:"\e090"}.soc-alliance:before{content:"\e091"}.soc-livejournal:before{content:"\e092"}.soc-googlephotos:before{content:"\e093"}.soc-horde:before{content:"\e094"}.soc-etsy:before{content:"\e095"}.soc-zapier:before{content:"\e096"}.soc-google-scholar:before{content:"\e097"}.soc-researchgate:before{content:"\e098"}.soc-wechat:before{content:"\e099"}.soc-strava:before{content:"\e09a"}.soc-line:before{content:"\e09b"}.soc-lyft:before{content:"\e09c"}.soc-uber:before{content:"\e09d"}.soc-songkick:before{content:"\e09e"}.soc-viewbug:before{content:"\e09f"}.soc-googlegroups:before{content:"\e0a0"}.soc-quora:before{content:"\e073"}.soc-diablo:before{content:"\e085"}.soc-blizzard:before{content:"\e0a1"}.soc-hearthstone:before{content:"\e08b"}.soc-heroes:before{content:"\e08a"}.soc-overwatch:before{content:"\e08c"}.soc-warcraft:before{content:"\e08e"}.soc-starcraft:before{content:"\e08f"}.soc-beam:before{content:"\e0a2"}.soc-curse:before{content:"\e0a3"}.soc-player:before{content:"\e0a4"}.soc-streamjar:before{content:"\e0a5"}.soc-nintendo:before{content:"\e0a6"}.soc-hellocoton:before{content:"\e0a7"} /*! * Font Awesome 4.6.3 by @davegandy - http://fontawesome.io - @fontawesome * License - http://fontawesome.io/license (Font: SIL OFL 1.1, CSS: MIT License) */ @font-face{font-family:'FontAwesome';src:url(//alphatowtruckservices.com/wp-content/themes/towy/css/../fonts/fontawesome-webfont.eot?v=4.6.3);src:url(//alphatowtruckservices.com/wp-content/themes/towy/css/../fonts/fontawesome-webfont.eot?#iefix&v=4.6.3) format('embedded-opentype'),url(//alphatowtruckservices.com/wp-content/themes/towy/css/../fonts/fontawesome-webfont.woff2?v=4.6.3) format('woff2'),url(//alphatowtruckservices.com/wp-content/themes/towy/css/../fonts/fontawesome-webfont.woff?v=4.6.3) format('woff'),url(//alphatowtruckservices.com/wp-content/themes/towy/css/../fonts/fontawesome-webfont.ttf?v=4.6.3) format('truetype'),url(//alphatowtruckservices.com/wp-content/themes/towy/css/../fonts/fontawesome-webfont.svg?v=4.6.3#fontawesomeregular) format('svg');font-weight:400;font-style:normal}.fa{display:inline-block;font:normal normal normal 14px/1 FontAwesome;font-size:inherit;text-rendering:auto;-webkit-font-smoothing:antialiased;-moz-osx-font-smoothing:grayscale}.fa-lg{font-size:1.33333333em;line-height:.75em;vertical-align:-15%}.fa-2x{font-size:2em}.fa-3x{font-size:3em}.fa-4x{font-size:4em}.fa-5x{font-size:5em}.fa-fw{width:1.28571429em;text-align:center}.fa-ul{padding-left:0;margin-left:2.14285714em;list-style-type:none}.fa-ul>li{position:relative}.fa-li{position:absolute;left:-2.14285714em;width:2.14285714em;top:.14285714em;text-align:center}.fa-li.fa-lg{left:-1.85714286em}.fa-border{padding:.2em .25em .15em;border:solid .08em #eee;border-radius:.1em}.fa-pull-left{float:left}.fa-pull-right{float:right}.fa.fa-pull-left{margin-right:.3em}.fa.fa-pull-right{margin-left:.3em}.pull-right{float:right}.pull-left{float:left}.fa.pull-left{margin-right:.3em}.fa.pull-right{margin-left:.3em}.fa-spin{-webkit-animation:fa-spin 2s infinite linear;animation:fa-spin 2s infinite linear}.fa-pulse{-webkit-animation:fa-spin 1s infinite steps(8);animation:fa-spin 1s infinite steps(8)}@-webkit-keyframes fa-spin{0%{-webkit-transform:rotate(0deg);transform:rotate(0deg)}100%{-webkit-transform:rotate(359deg);transform:rotate(359deg)}}@keyframes fa-spin{0%{-webkit-transform:rotate(0deg);transform:rotate(0deg)}100%{-webkit-transform:rotate(359deg);transform:rotate(359deg)}}.fa-rotate-90{-ms-filter:"progid:DXImageTransform.Microsoft.BasicImage(rotation=1)";-webkit-transform:rotate(90deg);-ms-transform:rotate(90deg);transform:rotate(90deg)}.fa-rotate-180{-ms-filter:"progid:DXImageTransform.Microsoft.BasicImage(rotation=2)";-webkit-transform:rotate(180deg);-ms-transform:rotate(180deg);transform:rotate(180deg)}.fa-rotate-270{-ms-filter:"progid:DXImageTransform.Microsoft.BasicImage(rotation=3)";-webkit-transform:rotate(270deg);-ms-transform:rotate(270deg);transform:rotate(270deg)}.fa-flip-horizontal{-ms-filter:"progid:DXImageTransform.Microsoft.BasicImage(rotation=0, mirror=1)";-webkit-transform:scale(-1,1);-ms-transform:scale(-1,1);transform:scale(-1,1)}.fa-flip-vertical{-ms-filter:"progid:DXImageTransform.Microsoft.BasicImage(rotation=2, mirror=1)";-webkit-transform:scale(1,-1);-ms-transform:scale(1,-1);transform:scale(1,-1)}:root .fa-rotate-90,:root .fa-rotate-180,:root .fa-rotate-270,:root .fa-flip-horizontal,:root .fa-flip-vertical{filter:none}.fa-stack{position:relative;display:inline-block;width:2em;height:2em;line-height:2em;vertical-align:middle}.fa-stack-1x,.fa-stack-2x{position:absolute;left:0;width:100%;text-align:center}.fa-stack-1x{line-height:inherit}.fa-stack-2x{font-size:2em}.fa-inverse{color:#fff}.fa-glass:before{content:"\f000"}.fa-music:before{content:"\f001"}.fa-search:before{content:"\f002"}.fa-envelope-o:before{content:"\f003"}.fa-heart:before{content:"\f004"}.fa-star:before{content:"\f005"}.fa-star-o:before{content:"\f006"}.fa-user:before{content:"\f007"}.fa-film:before{content:"\f008"}.fa-th-large:before{content:"\f009"}.fa-th:before{content:"\f00a"}.fa-th-list:before{content:"\f00b"}.fa-check:before{content:"\f00c"}.fa-remove:before,.fa-close:before,.fa-times:before{content:"\f00d"}.fa-search-plus:before{content:"\f00e"}.fa-search-minus:before{content:"\f010"}.fa-power-off:before{content:"\f011"}.fa-signal:before{content:"\f012"}.fa-gear:before,.fa-cog:before{content:"\f013"}.fa-trash-o:before{content:"\f014"}.fa-home:before{content:"\f015"}.fa-file-o:before{content:"\f016"}.fa-clock-o:before{content:"\f017"}.fa-road:before{content:"\f018"}.fa-download:before{content:"\f019"}.fa-arrow-circle-o-down:before{content:"\f01a"}.fa-arrow-circle-o-up:before{content:"\f01b"}.fa-inbox:before{content:"\f01c"}.fa-play-circle-o:before{content:"\f01d"}.fa-rotate-right:before,.fa-repeat:before{content:"\f01e"}.fa-refresh:before{content:"\f021"}.fa-list-alt:before{content:"\f022"}.fa-lock:before{content:"\f023"}.fa-flag:before{content:"\f024"}.fa-headphones:before{content:"\f025"}.fa-volume-off:before{content:"\f026"}.fa-volume-down:before{content:"\f027"}.fa-volume-up:before{content:"\f028"}.fa-qrcode:before{content:"\f029"}.fa-barcode:before{content:"\f02a"}.fa-tag:before{content:"\f02b"}.fa-tags:before{content:"\f02c"}.fa-book:before{content:"\f02d"}.fa-bookmark:before{content:"\f02e"}.fa-print:before{content:"\f02f"}.fa-camera:before{content:"\f030"}.fa-font:before{content:"\f031"}.fa-bold:before{content:"\f032"}.fa-italic:before{content:"\f033"}.fa-text-height:before{content:"\f034"}.fa-text-width:before{content:"\f035"}.fa-align-left:before{content:"\f036"}.fa-align-center:before{content:"\f037"}.fa-align-right:before{content:"\f038"}.fa-align-justify:before{content:"\f039"}.fa-list:before{content:"\f03a"}.fa-dedent:before,.fa-outdent:before{content:"\f03b"}.fa-indent:before{content:"\f03c"}.fa-video-camera:before{content:"\f03d"}.fa-photo:before,.fa-image:before,.fa-picture-o:before{content:"\f03e"}.fa-pencil:before{content:"\f040"}.fa-map-marker:before{content:"\f041"}.fa-adjust:before{content:"\f042"}.fa-tint:before{content:"\f043"}.fa-edit:before,.fa-pencil-square-o:before{content:"\f044"}.fa-share-square-o:before{content:"\f045"}.fa-check-square-o:before{content:"\f046"}.fa-arrows:before{content:"\f047"}.fa-step-backward:before{content:"\f048"}.fa-fast-backward:before{content:"\f049"}.fa-backward:before{content:"\f04a"}.fa-play:before{content:"\f04b"}.fa-pause:before{content:"\f04c"}.fa-stop:before{content:"\f04d"}.fa-forward:before{content:"\f04e"}.fa-fast-forward:before{content:"\f050"}.fa-step-forward:before{content:"\f051"}.fa-eject:before{content:"\f052"}.fa-chevron-left:before{content:"\f053"}.fa-chevron-right:before{content:"\f054"}.fa-plus-circle:before{content:"\f055"}.fa-minus-circle:before{content:"\f056"}.fa-times-circle:before{content:"\f057"}.fa-check-circle:before{content:"\f058"}.fa-question-circle:before{content:"\f059"}.fa-info-circle:before{content:"\f05a"}.fa-crosshairs:before{content:"\f05b"}.fa-times-circle-o:before{content:"\f05c"}.fa-check-circle-o:before{content:"\f05d"}.fa-ban:before{content:"\f05e"}.fa-arrow-left:before{content:"\f060"}.fa-arrow-right:before{content:"\f061"}.fa-arrow-up:before{content:"\f062"}.fa-arrow-down:before{content:"\f063"}.fa-mail-forward:before,.fa-share:before{content:"\f064"}.fa-expand:before{content:"\f065"}.fa-compress:before{content:"\f066"}.fa-plus:before{content:"\f067"}.fa-minus:before{content:"\f068"}.fa-asterisk:before{content:"\f069"}.fa-exclamation-circle:before{content:"\f06a"}.fa-gift:before{content:"\f06b"}.fa-leaf:before{content:"\f06c"}.fa-fire:before{content:"\f06d"}.fa-eye:before{content:"\f06e"}.fa-eye-slash:before{content:"\f070"}.fa-warning:before,.fa-exclamation-triangle:before{content:"\f071"}.fa-plane:before{content:"\f072"}.fa-calendar:before{content:"\f073"}.fa-random:before{content:"\f074"}.fa-comment:before{content:"\f075"}.fa-magnet:before{content:"\f076"}.fa-chevron-up:before{content:"\f077"}.fa-chevron-down:before{content:"\f078"}.fa-retweet:before{content:"\f079"}.fa-shopping-cart:before{content:"\f07a"}.fa-folder:before{content:"\f07b"}.fa-folder-open:before{content:"\f07c"}.fa-arrows-v:before{content:"\f07d"}.fa-arrows-h:before{content:"\f07e"}.fa-bar-chart-o:before,.fa-bar-chart:before{content:"\f080"}.fa-twitter-square:before{content:"\f081"}.fa-facebook-square:before{content:"\f082"}.fa-camera-retro:before{content:"\f083"}.fa-key:before{content:"\f084"}.fa-gears:before,.fa-cogs:before{content:"\f085"}.fa-comments:before{content:"\f086"}.fa-thumbs-o-up:before{content:"\f087"}.fa-thumbs-o-down:before{content:"\f088"}.fa-star-half:before{content:"\f089"}.fa-heart-o:before{content:"\f08a"}.fa-sign-out:before{content:"\f08b"}.fa-linkedin-square:before{content:"\f08c"}.fa-thumb-tack:before{content:"\f08d"}.fa-external-link:before{content:"\f08e"}.fa-sign-in:before{content:"\f090"}.fa-trophy:before{content:"\f091"}.fa-github-square:before{content:"\f092"}.fa-upload:before{content:"\f093"}.fa-lemon-o:before{content:"\f094"}.fa-phone:before{content:"\f095"}.fa-square-o:before{content:"\f096"}.fa-bookmark-o:before{content:"\f097"}.fa-phone-square:before{content:"\f098"}.fa-twitter:before{content:"\f099"}.fa-facebook-f:before,.fa-facebook:before{content:"\f09a"}.fa-github:before{content:"\f09b"}.fa-unlock:before{content:"\f09c"}.fa-credit-card:before{content:"\f09d"}.fa-feed:before,.fa-rss:before{content:"\f09e"}.fa-hdd-o:before{content:"\f0a0"}.fa-bullhorn:before{content:"\f0a1"}.fa-bell:before{content:"\f0f3"}.fa-certificate:before{content:"\f0a3"}.fa-hand-o-right:before{content:"\f0a4"}.fa-hand-o-left:before{content:"\f0a5"}.fa-hand-o-up:before{content:"\f0a6"}.fa-hand-o-down:before{content:"\f0a7"}.fa-arrow-circle-left:before{content:"\f0a8"}.fa-arrow-circle-right:before{content:"\f0a9"}.fa-arrow-circle-up:before{content:"\f0aa"}.fa-arrow-circle-down:before{content:"\f0ab"}.fa-globe:before{content:"\f0ac"}.fa-wrench:before{content:"\f0ad"}.fa-tasks:before{content:"\f0ae"}.fa-filter:before{content:"\f0b0"}.fa-briefcase:before{content:"\f0b1"}.fa-arrows-alt:before{content:"\f0b2"}.fa-group:before,.fa-users:before{content:"\f0c0"}.fa-chain:before,.fa-link:before{content:"\f0c1"}.fa-cloud:before{content:"\f0c2"}.fa-flask:before{content:"\f0c3"}.fa-cut:before,.fa-scissors:before{content:"\f0c4"}.fa-copy:before,.fa-files-o:before{content:"\f0c5"}.fa-paperclip:before{content:"\f0c6"}.fa-save:before,.fa-floppy-o:before{content:"\f0c7"}.fa-square:before{content:"\f0c8"}.fa-navicon:before,.fa-reorder:before,.fa-bars:before{content:"\f0c9"}.fa-list-ul:before{content:"\f0ca"}.fa-list-ol:before{content:"\f0cb"}.fa-strikethrough:before{content:"\f0cc"}.fa-underline:before{content:"\f0cd"}.fa-table:before{content:"\f0ce"}.fa-magic:before{content:"\f0d0"}.fa-truck:before{content:"\f0d1"}.fa-pinterest:before{content:"\f0d2"}.fa-pinterest-square:before{content:"\f0d3"}.fa-google-plus-square:before{content:"\f0d4"}.fa-google-plus:before{content:"\f0d5"}.fa-money:before{content:"\f0d6"}.fa-caret-down:before{content:"\f0d7"}.fa-caret-up:before{content:"\f0d8"}.fa-caret-left:before{content:"\f0d9"}.fa-caret-right:before{content:"\f0da"}.fa-columns:before{content:"\f0db"}.fa-unsorted:before,.fa-sort:before{content:"\f0dc"}.fa-sort-down:before,.fa-sort-desc:before{content:"\f0dd"}.fa-sort-up:before,.fa-sort-asc:before{content:"\f0de"}.fa-envelope:before{content:"\f0e0"}.fa-linkedin:before{content:"\f0e1"}.fa-rotate-left:before,.fa-undo:before{content:"\f0e2"}.fa-legal:before,.fa-gavel:before{content:"\f0e3"}.fa-dashboard:before,.fa-tachometer:before{content:"\f0e4"}.fa-comment-o:before{content:"\f0e5"}.fa-comments-o:before{content:"\f0e6"}.fa-flash:before,.fa-bolt:before{content:"\f0e7"}.fa-sitemap:before{content:"\f0e8"}.fa-umbrella:before{content:"\f0e9"}.fa-paste:before,.fa-clipboard:before{content:"\f0ea"}.fa-lightbulb-o:before{content:"\f0eb"}.fa-exchange:before{content:"\f0ec"}.fa-cloud-download:before{content:"\f0ed"}.fa-cloud-upload:before{content:"\f0ee"}.fa-user-md:before{content:"\f0f0"}.fa-stethoscope:before{content:"\f0f1"}.fa-suitcase:before{content:"\f0f2"}.fa-bell-o:before{content:"\f0a2"}.fa-coffee:before{content:"\f0f4"}.fa-cutlery:before{content:"\f0f5"}.fa-file-text-o:before{content:"\f0f6"}.fa-building-o:before{content:"\f0f7"}.fa-hospital-o:before{content:"\f0f8"}.fa-ambulance:before{content:"\f0f9"}.fa-medkit:before{content:"\f0fa"}.fa-fighter-jet:before{content:"\f0fb"}.fa-beer:before{content:"\f0fc"}.fa-h-square:before{content:"\f0fd"}.fa-plus-square:before{content:"\f0fe"}.fa-angle-double-left:before{content:"\f100"}.fa-angle-double-right:before{content:"\f101"}.fa-angle-double-up:before{content:"\f102"}.fa-angle-double-down:before{content:"\f103"}.fa-angle-left:before{content:"\f104"}.fa-angle-right:before{content:"\f105"}.fa-angle-up:before{content:"\f106"}.fa-angle-down:before{content:"\f107"}.fa-desktop:before{content:"\f108"}.fa-laptop:before{content:"\f109"}.fa-tablet:before{content:"\f10a"}.fa-mobile-phone:before,.fa-mobile:before{content:"\f10b"}.fa-circle-o:before{content:"\f10c"}.fa-quote-left:before{content:"\f10d"}.fa-quote-right:before{content:"\f10e"}.fa-spinner:before{content:"\f110"}.fa-circle:before{content:"\f111"}.fa-mail-reply:before,.fa-reply:before{content:"\f112"}.fa-github-alt:before{content:"\f113"}.fa-folder-o:before{content:"\f114"}.fa-folder-open-o:before{content:"\f115"}.fa-smile-o:before{content:"\f118"}.fa-frown-o:before{content:"\f119"}.fa-meh-o:before{content:"\f11a"}.fa-gamepad:before{content:"\f11b"}.fa-keyboard-o:before{content:"\f11c"}.fa-flag-o:before{content:"\f11d"}.fa-flag-checkered:before{content:"\f11e"}.fa-terminal:before{content:"\f120"}.fa-code:before{content:"\f121"}.fa-mail-reply-all:before,.fa-reply-all:before{content:"\f122"}.fa-star-half-empty:before,.fa-star-half-full:before,.fa-star-half-o:before{content:"\f123"}.fa-location-arrow:before{content:"\f124"}.fa-crop:before{content:"\f125"}.fa-code-fork:before{content:"\f126"}.fa-unlink:before,.fa-chain-broken:before{content:"\f127"}.fa-question:before{content:"\f128"}.fa-info:before{content:"\f129"}.fa-exclamation:before{content:"\f12a"}.fa-superscript:before{content:"\f12b"}.fa-subscript:before{content:"\f12c"}.fa-eraser:before{content:"\f12d"}.fa-puzzle-piece:before{content:"\f12e"}.fa-microphone:before{content:"\f130"}.fa-microphone-slash:before{content:"\f131"}.fa-shield:before{content:"\f132"}.fa-calendar-o:before{content:"\f133"}.fa-fire-extinguisher:before{content:"\f134"}.fa-rocket:before{content:"\f135"}.fa-maxcdn:before{content:"\f136"}.fa-chevron-circle-left:before{content:"\f137"}.fa-chevron-circle-right:before{content:"\f138"}.fa-chevron-circle-up:before{content:"\f139"}.fa-chevron-circle-down:before{content:"\f13a"}.fa-html5:before{content:"\f13b"}.fa-css3:before{content:"\f13c"}.fa-anchor:before{content:"\f13d"}.fa-unlock-alt:before{content:"\f13e"}.fa-bullseye:before{content:"\f140"}.fa-ellipsis-h:before{content:"\f141"}.fa-ellipsis-v:before{content:"\f142"}.fa-rss-square:before{content:"\f143"}.fa-play-circle:before{content:"\f144"}.fa-ticket:before{content:"\f145"}.fa-minus-square:before{content:"\f146"}.fa-minus-square-o:before{content:"\f147"}.fa-level-up:before{content:"\f148"}.fa-level-down:before{content:"\f149"}.fa-check-square:before{content:"\f14a"}.fa-pencil-square:before{content:"\f14b"}.fa-external-link-square:before{content:"\f14c"}.fa-share-square:before{content:"\f14d"}.fa-compass:before{content:"\f14e"}.fa-toggle-down:before,.fa-caret-square-o-down:before{content:"\f150"}.fa-toggle-up:before,.fa-caret-square-o-up:before{content:"\f151"}.fa-toggle-right:before,.fa-caret-square-o-right:before{content:"\f152"}.fa-euro:before,.fa-eur:before{content:"\f153"}.fa-gbp:before{content:"\f154"}.fa-dollar:before,.fa-usd:before{content:"\f155"}.fa-rupee:before,.fa-inr:before{content:"\f156"}.fa-cny:before,.fa-rmb:before,.fa-yen:before,.fa-jpy:before{content:"\f157"}.fa-ruble:before,.fa-rouble:before,.fa-rub:before{content:"\f158"}.fa-won:before,.fa-krw:before{content:"\f159"}.fa-bitcoin:before,.fa-btc:before{content:"\f15a"}.fa-file:before{content:"\f15b"}.fa-file-text:before{content:"\f15c"}.fa-sort-alpha-asc:before{content:"\f15d"}.fa-sort-alpha-desc:before{content:"\f15e"}.fa-sort-amount-asc:before{content:"\f160"}.fa-sort-amount-desc:before{content:"\f161"}.fa-sort-numeric-asc:before{content:"\f162"}.fa-sort-numeric-desc:before{content:"\f163"}.fa-thumbs-up:before{content:"\f164"}.fa-thumbs-down:before{content:"\f165"}.fa-youtube-square:before{content:"\f166"}.fa-youtube:before{content:"\f167"}.fa-xing:before{content:"\f168"}.fa-xing-square:before{content:"\f169"}.fa-youtube-play:before{content:"\f16a"}.fa-dropbox:before{content:"\f16b"}.fa-stack-overflow:before{content:"\f16c"}.fa-instagram:before{content:"\f16d"}.fa-flickr:before{content:"\f16e"}.fa-adn:before{content:"\f170"}.fa-bitbucket:before{content:"\f171"}.fa-bitbucket-square:before{content:"\f172"}.fa-tumblr:before{content:"\f173"}.fa-tumblr-square:before{content:"\f174"}.fa-long-arrow-down:before{content:"\f175"}.fa-long-arrow-up:before{content:"\f176"}.fa-long-arrow-left:before{content:"\f177"}.fa-long-arrow-right:before{content:"\f178"}.fa-apple:before{content:"\f179"}.fa-windows:before{content:"\f17a"}.fa-android:before{content:"\f17b"}.fa-linux:before{content:"\f17c"}.fa-dribbble:before{content:"\f17d"}.fa-skype:before{content:"\f17e"}.fa-foursquare:before{content:"\f180"}.fa-trello:before{content:"\f181"}.fa-female:before{content:"\f182"}.fa-male:before{content:"\f183"}.fa-gittip:before,.fa-gratipay:before{content:"\f184"}.fa-sun-o:before{content:"\f185"}.fa-moon-o:before{content:"\f186"}.fa-archive:before{content:"\f187"}.fa-bug:before{content:"\f188"}.fa-vk:before{content:"\f189"}.fa-weibo:before{content:"\f18a"}.fa-renren:before{content:"\f18b"}.fa-pagelines:before{content:"\f18c"}.fa-stack-exchange:before{content:"\f18d"}.fa-arrow-circle-o-right:before{content:"\f18e"}.fa-arrow-circle-o-left:before{content:"\f190"}.fa-toggle-left:before,.fa-caret-square-o-left:before{content:"\f191"}.fa-dot-circle-o:before{content:"\f192"}.fa-wheelchair:before{content:"\f193"}.fa-vimeo-square:before{content:"\f194"}.fa-turkish-lira:before,.fa-try:before{content:"\f195"}.fa-plus-square-o:before{content:"\f196"}.fa-space-shuttle:before{content:"\f197"}.fa-slack:before{content:"\f198"}.fa-envelope-square:before{content:"\f199"}.fa-wordpress:before{content:"\f19a"}.fa-openid:before{content:"\f19b"}.fa-institution:before,.fa-bank:before,.fa-university:before{content:"\f19c"}.fa-mortar-board:before,.fa-graduation-cap:before{content:"\f19d"}.fa-yahoo:before{content:"\f19e"}.fa-google:before{content:"\f1a0"}.fa-reddit:before{content:"\f1a1"}.fa-reddit-square:before{content:"\f1a2"}.fa-stumbleupon-circle:before{content:"\f1a3"}.fa-stumbleupon:before{content:"\f1a4"}.fa-delicious:before{content:"\f1a5"}.fa-digg:before{content:"\f1a6"}.fa-pied-piper-pp:before{content:"\f1a7"}.fa-pied-piper-alt:before{content:"\f1a8"}.fa-drupal:before{content:"\f1a9"}.fa-joomla:before{content:"\f1aa"}.fa-language:before{content:"\f1ab"}.fa-fax:before{content:"\f1ac"}.fa-building:before{content:"\f1ad"}.fa-child:before{content:"\f1ae"}.fa-paw:before{content:"\f1b0"}.fa-spoon:before{content:"\f1b1"}.fa-cube:before{content:"\f1b2"}.fa-cubes:before{content:"\f1b3"}.fa-behance:before{content:"\f1b4"}.fa-behance-square:before{content:"\f1b5"}.fa-steam:before{content:"\f1b6"}.fa-steam-square:before{content:"\f1b7"}.fa-recycle:before{content:"\f1b8"}.fa-automobile:before,.fa-car:before{content:"\f1b9"}.fa-cab:before,.fa-taxi:before{content:"\f1ba"}.fa-tree:before{content:"\f1bb"}.fa-spotify:before{content:"\f1bc"}.fa-deviantart:before{content:"\f1bd"}.fa-soundcloud:before{content:"\f1be"}.fa-database:before{content:"\f1c0"}.fa-file-pdf-o:before{content:"\f1c1"}.fa-file-word-o:before{content:"\f1c2"}.fa-file-excel-o:before{content:"\f1c3"}.fa-file-powerpoint-o:before{content:"\f1c4"}.fa-file-photo-o:before,.fa-file-picture-o:before,.fa-file-image-o:before{content:"\f1c5"}.fa-file-zip-o:before,.fa-file-archive-o:before{content:"\f1c6"}.fa-file-sound-o:before,.fa-file-audio-o:before{content:"\f1c7"}.fa-file-movie-o:before,.fa-file-video-o:before{content:"\f1c8"}.fa-file-code-o:before{content:"\f1c9"}.fa-vine:before{content:"\f1ca"}.fa-codepen:before{content:"\f1cb"}.fa-jsfiddle:before{content:"\f1cc"}.fa-life-bouy:before,.fa-life-buoy:before,.fa-life-saver:before,.fa-support:before,.fa-life-ring:before{content:"\f1cd"}.fa-circle-o-notch:before{content:"\f1ce"}.fa-ra:before,.fa-resistance:before,.fa-rebel:before{content:"\f1d0"}.fa-ge:before,.fa-empire:before{content:"\f1d1"}.fa-git-square:before{content:"\f1d2"}.fa-git:before{content:"\f1d3"}.fa-y-combinator-square:before,.fa-yc-square:before,.fa-hacker-news:before{content:"\f1d4"}.fa-tencent-weibo:before{content:"\f1d5"}.fa-qq:before{content:"\f1d6"}.fa-wechat:before,.fa-weixin:before{content:"\f1d7"}.fa-send:before,.fa-paper-plane:before{content:"\f1d8"}.fa-send-o:before,.fa-paper-plane-o:before{content:"\f1d9"}.fa-history:before{content:"\f1da"}.fa-circle-thin:before{content:"\f1db"}.fa-header:before{content:"\f1dc"}.fa-paragraph:before{content:"\f1dd"}.fa-sliders:before{content:"\f1de"}.fa-share-alt:before{content:"\f1e0"}.fa-share-alt-square:before{content:"\f1e1"}.fa-bomb:before{content:"\f1e2"}.fa-soccer-ball-o:before,.fa-futbol-o:before{content:"\f1e3"}.fa-tty:before{content:"\f1e4"}.fa-binoculars:before{content:"\f1e5"}.fa-plug:before{content:"\f1e6"}.fa-slideshare:before{content:"\f1e7"}.fa-twitch:before{content:"\f1e8"}.fa-yelp:before{content:"\f1e9"}.fa-newspaper-o:before{content:"\f1ea"}.fa-wifi:before{content:"\f1eb"}.fa-calculator:before{content:"\f1ec"}.fa-paypal:before{content:"\f1ed"}.fa-google-wallet:before{content:"\f1ee"}.fa-cc-visa:before{content:"\f1f0"}.fa-cc-mastercard:before{content:"\f1f1"}.fa-cc-discover:before{content:"\f1f2"}.fa-cc-amex:before{content:"\f1f3"}.fa-cc-paypal:before{content:"\f1f4"}.fa-cc-stripe:before{content:"\f1f5"}.fa-bell-slash:before{content:"\f1f6"}.fa-bell-slash-o:before{content:"\f1f7"}.fa-trash:before{content:"\f1f8"}.fa-copyright:before{content:"\f1f9"}.fa-at:before{content:"\f1fa"}.fa-eyedropper:before{content:"\f1fb"}.fa-paint-brush:before{content:"\f1fc"}.fa-birthday-cake:before{content:"\f1fd"}.fa-area-chart:before{content:"\f1fe"}.fa-pie-chart:before{content:"\f200"}.fa-line-chart:before{content:"\f201"}.fa-lastfm:before{content:"\f202"}.fa-lastfm-square:before{content:"\f203"}.fa-toggle-off:before{content:"\f204"}.fa-toggle-on:before{content:"\f205"}.fa-bicycle:before{content:"\f206"}.fa-bus:before{content:"\f207"}.fa-ioxhost:before{content:"\f208"}.fa-angellist:before{content:"\f209"}.fa-cc:before{content:"\f20a"}.fa-shekel:before,.fa-sheqel:before,.fa-ils:before{content:"\f20b"}.fa-meanpath:before{content:"\f20c"}.fa-buysellads:before{content:"\f20d"}.fa-connectdevelop:before{content:"\f20e"}.fa-dashcube:before{content:"\f210"}.fa-forumbee:before{content:"\f211"}.fa-leanpub:before{content:"\f212"}.fa-sellsy:before{content:"\f213"}.fa-shirtsinbulk:before{content:"\f214"}.fa-simplybuilt:before{content:"\f215"}.fa-skyatlas:before{content:"\f216"}.fa-cart-plus:before{content:"\f217"}.fa-cart-arrow-down:before{content:"\f218"}.fa-diamond:before{content:"\f219"}.fa-ship:before{content:"\f21a"}.fa-user-secret:before{content:"\f21b"}.fa-motorcycle:before{content:"\f21c"}.fa-street-view:before{content:"\f21d"}.fa-heartbeat:before{content:"\f21e"}.fa-venus:before{content:"\f221"}.fa-mars:before{content:"\f222"}.fa-mercury:before{content:"\f223"}.fa-intersex:before,.fa-transgender:before{content:"\f224"}.fa-transgender-alt:before{content:"\f225"}.fa-venus-double:before{content:"\f226"}.fa-mars-double:before{content:"\f227"}.fa-venus-mars:before{content:"\f228"}.fa-mars-stroke:before{content:"\f229"}.fa-mars-stroke-v:before{content:"\f22a"}.fa-mars-stroke-h:before{content:"\f22b"}.fa-neuter:before{content:"\f22c"}.fa-genderless:before{content:"\f22d"}.fa-facebook-official:before{content:"\f230"}.fa-pinterest-p:before{content:"\f231"}.fa-whatsapp:before{content:"\f232"}.fa-server:before{content:"\f233"}.fa-user-plus:before{content:"\f234"}.fa-user-times:before{content:"\f235"}.fa-hotel:before,.fa-bed:before{content:"\f236"}.fa-viacoin:before{content:"\f237"}.fa-train:before{content:"\f238"}.fa-subway:before{content:"\f239"}.fa-medium:before{content:"\f23a"}.fa-yc:before,.fa-y-combinator:before{content:"\f23b"}.fa-optin-monster:before{content:"\f23c"}.fa-opencart:before{content:"\f23d"}.fa-expeditedssl:before{content:"\f23e"}.fa-battery-4:before,.fa-battery-full:before{content:"\f240"}.fa-battery-3:before,.fa-battery-three-quarters:before{content:"\f241"}.fa-battery-2:before,.fa-battery-half:before{content:"\f242"}.fa-battery-1:before,.fa-battery-quarter:before{content:"\f243"}.fa-battery-0:before,.fa-battery-empty:before{content:"\f244"}.fa-mouse-pointer:before{content:"\f245"}.fa-i-cursor:before{content:"\f246"}.fa-object-group:before{content:"\f247"}.fa-object-ungroup:before{content:"\f248"}.fa-sticky-note:before{content:"\f249"}.fa-sticky-note-o:before{content:"\f24a"}.fa-cc-jcb:before{content:"\f24b"}.fa-cc-diners-club:before{content:"\f24c"}.fa-clone:before{content:"\f24d"}.fa-balance-scale:before{content:"\f24e"}.fa-hourglass-o:before{content:"\f250"}.fa-hourglass-1:before,.fa-hourglass-start:before{content:"\f251"}.fa-hourglass-2:before,.fa-hourglass-half:before{content:"\f252"}.fa-hourglass-3:before,.fa-hourglass-end:before{content:"\f253"}.fa-hourglass:before{content:"\f254"}.fa-hand-grab-o:before,.fa-hand-rock-o:before{content:"\f255"}.fa-hand-stop-o:before,.fa-hand-paper-o:before{content:"\f256"}.fa-hand-scissors-o:before{content:"\f257"}.fa-hand-lizard-o:before{content:"\f258"}.fa-hand-spock-o:before{content:"\f259"}.fa-hand-pointer-o:before{content:"\f25a"}.fa-hand-peace-o:before{content:"\f25b"}.fa-trademark:before{content:"\f25c"}.fa-registered:before{content:"\f25d"}.fa-creative-commons:before{content:"\f25e"}.fa-gg:before{content:"\f260"}.fa-gg-circle:before{content:"\f261"}.fa-tripadvisor:before{content:"\f262"}.fa-odnoklassniki:before{content:"\f263"}.fa-odnoklassniki-square:before{content:"\f264"}.fa-get-pocket:before{content:"\f265"}.fa-wikipedia-w:before{content:"\f266"}.fa-safari:before{content:"\f267"}.fa-chrome:before{content:"\f268"}.fa-firefox:before{content:"\f269"}.fa-opera:before{content:"\f26a"}.fa-internet-explorer:before{content:"\f26b"}.fa-tv:before,.fa-television:before{content:"\f26c"}.fa-contao:before{content:"\f26d"}.fa-500px:before{content:"\f26e"}.fa-amazon:before{content:"\f270"}.fa-calendar-plus-o:before{content:"\f271"}.fa-calendar-minus-o:before{content:"\f272"}.fa-calendar-times-o:before{content:"\f273"}.fa-calendar-check-o:before{content:"\f274"}.fa-industry:before{content:"\f275"}.fa-map-pin:before{content:"\f276"}.fa-map-signs:before{content:"\f277"}.fa-map-o:before{content:"\f278"}.fa-map:before{content:"\f279"}.fa-commenting:before{content:"\f27a"}.fa-commenting-o:before{content:"\f27b"}.fa-houzz:before{content:"\f27c"}.fa-vimeo:before{content:"\f27d"}.fa-black-tie:before{content:"\f27e"}.fa-fonticons:before{content:"\f280"}.fa-reddit-alien:before{content:"\f281"}.fa-edge:before{content:"\f282"}.fa-credit-card-alt:before{content:"\f283"}.fa-codiepie:before{content:"\f284"}.fa-modx:before{content:"\f285"}.fa-fort-awesome:before{content:"\f286"}.fa-usb:before{content:"\f287"}.fa-product-hunt:before{content:"\f288"}.fa-mixcloud:before{content:"\f289"}.fa-scribd:before{content:"\f28a"}.fa-pause-circle:before{content:"\f28b"}.fa-pause-circle-o:before{content:"\f28c"}.fa-stop-circle:before{content:"\f28d"}.fa-stop-circle-o:before{content:"\f28e"}.fa-shopping-bag:before{content:"\f290"}.fa-shopping-basket:before{content:"\f291"}.fa-hashtag:before{content:"\f292"}.fa-bluetooth:before{content:"\f293"}.fa-bluetooth-b:before{content:"\f294"}.fa-percent:before{content:"\f295"}.fa-gitlab:before{content:"\f296"}.fa-wpbeginner:before{content:"\f297"}.fa-wpforms:before{content:"\f298"}.fa-envira:before{content:"\f299"}.fa-universal-access:before{content:"\f29a"}.fa-wheelchair-alt:before{content:"\f29b"}.fa-question-circle-o:before{content:"\f29c"}.fa-blind:before{content:"\f29d"}.fa-audio-description:before{content:"\f29e"}.fa-volume-control-phone:before{content:"\f2a0"}.fa-braille:before{content:"\f2a1"}.fa-assistive-listening-systems:before{content:"\f2a2"}.fa-asl-interpreting:before,.fa-american-sign-language-interpreting:before{content:"\f2a3"}.fa-deafness:before,.fa-hard-of-hearing:before,.fa-deaf:before{content:"\f2a4"}.fa-glide:before{content:"\f2a5"}.fa-glide-g:before{content:"\f2a6"}.fa-signing:before,.fa-sign-language:before{content:"\f2a7"}.fa-low-vision:before{content:"\f2a8"}.fa-viadeo:before{content:"\f2a9"}.fa-viadeo-square:before{content:"\f2aa"}.fa-snapchat:before{content:"\f2ab"}.fa-snapchat-ghost:before{content:"\f2ac"}.fa-snapchat-square:before{content:"\f2ad"}.fa-pied-piper:before{content:"\f2ae"}.fa-first-order:before{content:"\f2b0"}.fa-yoast:before{content:"\f2b1"}.fa-themeisle:before{content:"\f2b2"}.fa-google-plus-circle:before,.fa-google-plus-official:before{content:"\f2b3"}.fa-fa:before,.fa-font-awesome:before{content:"\f2b4"}.sr-only{position:absolute;width:1px;height:1px;padding:0;margin:-1px;overflow:hidden;clip:rect(0,0,0,0);border:0}.sr-only-focusable:active,.sr-only-focusable:focus{position:static;width:auto;height:auto;margin:0;overflow:visible;clip:auto}@font-face{font-family:'toyicon';src:url(//alphatowtruckservices.com/wp-content/themes/towy/css/../fonts/toy.eot?o9thu9);src:url(//alphatowtruckservices.com/wp-content/themes/towy/css/../fonts/toy.eot?o9thu9#iefix) format('embedded-opentype'),url(//alphatowtruckservices.com/wp-content/themes/towy/css/../fonts/toy.ttf?o9thu9) format('truetype'),url(//alphatowtruckservices.com/wp-content/themes/towy/css/../fonts/toy.woff?o9thu9) format('woff'),url(//alphatowtruckservices.com/wp-content/themes/towy/css/../fonts/toy.svg?o9thu9#towy) format('svg');font-weight:400;font-style:normal}[class^=toyicon-],[class*=" toyicon-"]{font-family:'toyicon' !important;speak:none;font-style:normal;font-weight:400;font-variant:normal;text-transform:none;line-height:1;-webkit-font-smoothing:antialiased;-moz-osx-font-smoothing:grayscale}.toyicon-group:before{content:"\e900"}.toyicon-phone:before{content:"\e901"}.toyicon-clock:before{content:"\e902"}.toyicon-mouse:before{content:"\e903"}.toyicon-newspaper:before{content:"\e904"}.toyicon-star:before{content:"\e905"}.toyicon-buildings:before{content:"\e906"}.toyicon-truck:before{content:"\e907"}.apsc-theme-1 .apsc-each-profile{float:left;min-height:80px;text-align:center;width:80px;margin:5px}.apsc-each-profile a{font-weight:400;color:#fff;text-decoration:none}.apsc-each-profile a:hover{color:#fff;text-decoration:none}.apsc-theme-1 .apsc-each-profile a{padding:9px;display:block;color:#fff;position:relative;border-radius:5px;-ms-filter:"progid:DXImageTransform.Microsoft.Shadow(Strength=2, Direction=135, Color=#b3b3b3)";-moz-box-shadow:1px 1px 2px #b3b3b3;-webkit-box-shadow:1px 1px 2px #b3b3b3;box-shadow:1px 1px 2px #b3b3b3;filter:progid:DXImageTransform.Microsoft.Shadow(Strength=2,Direction=135,Color=#b3b3b3);transition:all .5s ease-in-out;-webkit-transition:all .5s ease-in-out;-moz-transition:all .5s ease-in-out;-o-transition:all .5s ease-in-out;-ms-transition:all .5s ease-in-out}.entry-content .apsc-each-profile a{border:none}.site-footer .widget .apsc-each-profile a{color:#fff;text-decoration:none}.social-icon{display:block}.apsc-theme-1 .media-name{display:none}.apsc-theme-1 .apsc-count{font-size:16px;display:block;line-height:15px;padding:2px 0 0}.entry-content .apsc-each-profile a,.entry-content .apsc-each-profile a:hover,.entry-content .apsc-each-profile a:focus{color:#fff;text-decoration:none}.apsc-theme-1 .apsc-each-profile a:before{background:radial-gradient(ellipse at center center,rgba(0,0,0,.35) 0%,rgba(0,0,0,0) 80%) repeat scroll 0 0 rgba(0,0,0,0);content:"";height:10px;left:5%;opacity:0;pointer-events:none;position:absolute;top:100%;transition-duration:.3s;-webkit-transition-duration:.3s;transition-property:transform,opacity;-webkit-transition-property:transform,opacity;width:90%;z-index:-1}.apsc-theme-1 .apsc-each-profile a:hover:before{opacity:1;transform:translateY(6px);-webkit-transform:translateY(6px);-ms-transform:translateY(6px)}.apsc-theme-1 .apsc-each-profile a:hover{transform:translateY(-6px);-webkit-transform:translateY(-6px);-ms-transform:translateY(-6px)}.apsc-theme-1 .social-icon .fa{font-size:45px}.apsc-facebook-icon{background-color:#3b5998}.apsc-twitter-icon{background-color:#1dcaff}.apsc-youtube-icon{background-color:#e52d27}.apsc-soundcloud-icon{background-color:#f80}.apsc-dribble-icon{background-color:#ea4c89}.apsc-comment-icon{background-color:#464646}.apsc-edit-icon{background-color:#837d7d}.apsc-google-plus-icon{background-color:#dd4b39}.apsc-instagram-icon{background-color:#3f729b}.apsc-theme-1 .apsc-media-type{display:none}.apsc-theme-2 .apsc-each-profile{width:108px}.apsc-theme-2 .apsc-each-profile a{color:#fff !important}.apsc-theme-2 .apsc-each-profile a:hover{color:#fff !important;text-decoration:none !important}.apsc-theme-2 .apsc-each-profile{float:left;margin:3px}.apsc-theme-2 .social-icon{display:inline-block;position:relative;transition:all .5s ease-in-out;-webkit-transition:all .5s ease-in-out;-moz-transition:all .5s ease-in-out;-o-transition:all .5s ease-in-out;-ms-transition:all .5s ease-in-out}.apsc-theme-2 .apsc-each-profile a{padding:18px 15px;font-size:14px;line-height:1;text-transform:uppercase;display:block;color:#fff;position:relative;text-align:center}.apsc-theme-2 .apsc-each-profile a:hover{opacity:.8}.apsc-theme-2 .apsc-each-profile a .fa{vertical-align:top;text-align:center;font-size:36px;display:block;transform:none;-webkit-transform:none;-ms-transform:none;transition:all .5s ease-in-out;-webkit-transition:all .5s ease-in-out;-moz-transition:all .5s ease-in-out;-o-transition:all .5s ease-in-out;-ms-transition:all .5s ease-in-out}.apsc-theme-2 .apsc-each-profile a:hover .fa{transform:none;-webkit-transform:snone;-ms-transform:none}.apsc-theme-2 .media-name{display:none}.apsc-theme-2 .apsc-count{border-radius:0;color:#fff;display:block;font-size:inherit;text-align:center;position:relative;font-size:20px;font-weight:700;transition:all .5s ease-in-out;-webkit-transition:all .5s ease-in-out;-moz-transition:all .5s ease-in-out;-o-transition:all .5s ease-in-out;-ms-transition:all .5s ease-in-out}.apsc-theme-2 .apsc-media-type{display:inline-block}.apsc-theme-3 .apsc-each-profile{float:left;margin:5px}.apsc-theme-3 .social-icon{display:table-cell;min-width:97px;padding:0 0 0 4px;vertical-align:middle;position:relative;transition:all .5s ease-in-out;-webkit-transition:all .5s ease-in-out;-moz-transition:all .5s ease-in-out;-o-transition:all .5s ease-in-out;-ms-transition:all .5s ease-in-out}.apsc-theme-3 .apsc-each-profile a{border-radius:4px;color:#fff;display:block;font-weight:400;padding:1px;position:relative;text-shadow:none}.apsc-theme-3 .apsc-count{background-color:#fff}.apsc-theme-3 .social-icon .fa{display:table-cell;font-size:18px;vertical-align:middle}.apsc-theme-3 .media-name{display:table-cell;font-size:14px;padding:0 13px 0 5px;text-transform:capitalize;vertical-align:middle;min-width:77px}.apsc-theme-3 .apsc-count{border-bottom-right-radius:4px;border-top-right-radius:4px;color:#666;display:table-cell;font-size:16px;min-width:52px;padding:3px 10px;text-align:center;position:relative;opacity:1;transition:all .5s ease-in-out;-webkit-transition:all .5s ease-in-out;-moz-transition:all .5s ease-in-out;-o-transition:all .5s ease-in-out;-ms-transition:all .5s ease-in-out}.apsc-theme-3 .apsc-count:before{border-bottom:4px solid transparent;border-right:4px solid #fff;border-top:4px solid transparent;content:"";left:-4px;margin-top:-3px;position:absolute;top:50%}.apsc-theme-3 .apsc-each-profile a:hover .social-icon{background-color:#fff;border-top-left-radius:4px;border-bottom-left-radius:4px}.apsc-theme-3 .apsc-each-profile a:hover .apsc-count{color:#fff}.apsc-theme-3 .apsc-each-profile a:hover .social-icon:after{border-bottom:4px solid transparent;border-left:4px solid #fff;border-top:4px solid transparent;content:"";margin-top:-3px;position:absolute;right:-4px;top:50%;z-index:2}.apsc-theme-3 .apsc-media-type{display:none}.apsc-theme-3 .apsc-each-profile a.apsc-youtube-icon:hover .social-icon{color:#e52d27}.apsc-theme-3 .apsc-each-profile a.apsc-youtube-icon:hover .apsc-count{background-color:#e52d27}.apsc-theme-3 .apsc-each-profile a.apsc-soundcloud-icon:hover .social-icon{color:#f80}.apsc-theme-3 .apsc-each-profile a.apsc-soundcloud-icon:hover .apsc-count{background-color:#f80}.apsc-theme-3 .apsc-each-profile a.apsc-dribble-icon:hover .social-icon{color:#ea4c89}.apsc-theme-3 .apsc-each-profile a.apsc-dribble-icon:hover .apsc-count{background-color:#ea4c89}.apsc-theme-3 .apsc-each-profile a.apsc-comment-icon:hover .social-icon{color:#464646}.apsc-theme-3 .apsc-each-profile a.apsc-comment-icon:hover .apsc-count{background-color:#464646}.apsc-theme-3 .apsc-each-profile a.apsc-twitter-icon:hover .social-icon{color:#1dcaff}.apsc-theme-3 .apsc-each-profile a.apsc-twitter-icon:hover .apsc-count{background-color:#1dcaff}.apsc-theme-3 .apsc-each-profile a.apsc-instagram-icon:hover .social-icon{color:#3f729b}.apsc-theme-3 .apsc-each-profile a.apsc-instagram-icon:hover .apsc-count{background-color:#3f729b}.apsc-theme-3 .apsc-each-profile a.apsc-facebook-icon:hover .social-icon{color:#3b5998}.apsc-theme-3 .apsc-each-profile a.apsc-facebook-icon:hover .apsc-count{background-color:#3b5998}.apsc-theme-3 .apsc-each-profile a.apsc-google-plus-icon:hover .social-icon{color:#dd4b39}.apsc-theme-3 .apsc-each-profile a.apsc-google-plus-icon:hover .apsc-count{background-color:#dd4b39}.apsc-theme-3 .apsc-each-profile a.apsc-edit-icon:hover .social-icon{color:#837d7d}.apsc-theme-3 .apsc-each-profile a.apsc-edit-icon:hover .apsc-count{background-color:#837d7d}.apsc-theme-4 .apsc-each-profile{float:left;margin:5px}.apsc-theme-4 .social-icon{display:inline-block;position:relative;transition:all .5s ease-in-out;-webkit-transition:all .5s ease-in-out;-moz-transition:all .5s ease-in-out;-o-transition:all .5s ease-in-out;-ms-transition:all .5s ease-in-out}.apsc-theme-4 .apsc-each-profile a{padding:2px 9px 2px 6px;display:block;color:#fff;position:relative;border-radius:4px}.apsc-theme-4 .apsc-each-profile a .fa{transform:translateZ(0px);-webkit-transform:translateZ(0px);-ms-transform:translateZ(0px);transition:all .5s ease-in-out;-webkit-transition:all .5s ease-in-out;-moz-transition:all .5s ease-in-out;-o-transition:all .5s ease-in-out;-ms-transition:all .5s ease-in-out}.apsc-theme-4 .apsc-each-profile a:hover .fa{transform:scale(1.3) translateZ(0px);-webkit-transform:scale(1.3) translateZ(0px);-ms-transform:scale(1.3) translateZ(0px)}.apsc-theme-4 .social-icon .fa{display:inline-block;font-size:18px;vertical-align:middle}.apsc-theme-4 .media-name{display:inline-block;font-size:14px;padding:0 6px 0 5px;text-transform:capitalize}.apsc-theme-4 .apsc-count{border-bottom-right-radius:4px;border-top-right-radius:4px;color:#fff;display:inline-block;font-size:14px;text-align:center;position:relative;font-family:'MyriadPro-Bold';transition:all .5s ease-in-out;-webkit-transition:all .5s ease-in-out;-moz-transition:all .5s ease-in-out;-o-transition:all .5s ease-in-out;-ms-transition:all .5s ease-in-out}.apsc-theme-4 .apsc-media-type{display:none}.apsc-theme-5 .apsc-each-profile{min-height:60px;text-align:center;width:60px;margin:5px}.apsc-theme-5 .apsc-each-profile a{padding:6px;display:block;color:#fff;position:relative;border-radius:5px;transform:translateZ(0px);-webkit-transform:translateZ(0px);-ms-transform:translateZ(0px);-ms-filter:"progid:DXImageTransform.Microsoft.Shadow(Strength=2, Direction=135, Color=#b3b3b3)";-moz-box-shadow:1px 1px 2px #b3b3b3;-webkit-box-shadow:1px 1px 2px #b3b3b3;box-shadow:1px 1px 2px #b3b3b3;filter:progid:DXImageTransform.Microsoft.Shadow(Strength=2,Direction=135,Color=#b3b3b3);transition:all .5s ease-in-out;-webkit-transition:all .5s ease-in-out;-moz-transition:all .5s ease-in-out;-o-transition:all .5s ease-in-out;-ms-transition:all .5s ease-in-out}.entry-content .apsc-each-profile a{border:none}.social-icon{display:block}.apsc-theme-5 .apsc-count{font-size:12px;display:block;line-height:12px;padding:3px 0 0}.apsc-theme-5 .social-icon .fa{font-size:34px}.apsc-theme-5 .social-icon{height:34px}.apsc-theme-5 .media-name{display:none}.apsc-theme-5 .apsc-media-type{display:none}.apsc-theme-5 .apsc-each-profile a:hover{box-shadow:0 10px 10px -10px rgba(0,0,0,.5);transform:scale(.8);-webkit-transform:scale(.8);-ms-transform:scale(.8)}@media screen and (max-width:479px){.apsc-theme-4 .apsc-each-profile a,.apsc-theme-3 .apsc-each-profile a{display:inline-block}.apsc-theme-4 .apsc-each-profile,.apsc-theme-3 .apsc-each-profile{float:none}}.alignnone{margin:5px 20px 20px 0}.aligncenter,div.aligncenter{display:block;margin:5px auto 5px auto}.alignright{float:right;margin:5px 0 20px 20px}.alignleft{float:left;margin:5px 20px 20px 0}a img.alignright{float:right;margin:5px 0 20px 20px}a img.alignnone{margin:5px 20px 20px 0}a img.alignleft{float:left;margin:5px 20px 20px 0}a img.aligncenter{display:block;margin-left:auto;margin-right:auto}.wp-caption{background:#fff;border:1px solid #f0f0f0;max-width:96%;padding:5px 3px 10px;text-align:center}.wp-caption.alignnone{margin:5px 20px 20px 0}.wp-caption.alignleft{margin:5px 20px 20px 0}.wp-caption.alignright{margin:5px 0 20px 20px}.wp-caption img{border:0 none;height:auto;margin:0;max-width:98.5%;padding:0;width:auto}.wp-caption p.wp-caption-text{font-size:11px;line-height:17px;margin:0;padding:0 4px 5px}.screen-reader-text,.screen-reader-text span{clip:rect(1px,1px,1px,1px) !important;position:absolute !important;height:1px !important;width:1px !important;overflow:hidden !important;word-wrap:normal !important}.screen-reader-text:focus{background-color:#f1f1f1;border-radius:3px;box-shadow:0 0 2px 2px rgba(0,0,0,.6);clip:auto !important;color:#21759b;display:block;font-size:14px;font-size:.875rem;font-weight:700;height:auto;left:5px;line-height:normal;padding:15px 23px 14px;text-decoration:none;top:5px;width:auto;z-index:100000}#content[tabindex="-1"]:focus{outline:0 !important}.sticky,.bypostauthor{position:relative}p[class*=-font-size],p[style*=font-size]{line-height:1.3em}.wp-block-quote cite,.wp-block-pullquote cite{margin-top:.5em}.wp-block-quote cite:before,.wp-block-pullquote cite:before{margin-top:0}.wp-block-button{margin-bottom:10px}.wp-block-button:not(.is-style-outline) a.wp-block-button__link:hover{color:#fff !important}.wp-block-cover-image-text,.wp-block-cover-text,section.wp-block-cover-image h2{color:#fff !important}.wp-block-columns.alignwide blockquote.wp-block-quote{padding-top:0;padding-bottom:0;margin-top:0;margin-bottom:0}footer.ds .widget_calendar thead{border:1px solid #fff;border-top:0}.ls aside .widget_calendar tbody{border:1px solid}.wp-block-table.is-style-stripes td,.wp-block-table.is-style-stripes th{border-color:grey !important}.blog .entry-content ul ul,.blog .entry-content ol ul,.blog .entry-content ul ol{margin-bottom:0}.wp-block-pullquote cite,.wp-block-quote cite{color:#fff}.gallery-item{padding:3px;word-break:break-all}.gallery-columns-6 .gallery-caption,.gallery-columns-7 .gallery-caption,.gallery-columns-8 .gallery-caption,.gallery-columns-9 .gallery-caption{display:block !important} /*! * Bootstrap v3.3.7 (http://getbootstrap.com) * Copyright 2011-2016 Twitter, Inc. * Licensed under MIT (https://github.com/twbs/bootstrap/blob/master/LICENSE) */ /*! normalize.css v3.0.3 | MIT License | github.com/necolas/normalize.css */ html{font-family:sans-serif;-webkit-text-size-adjust:100%;-ms-text-size-adjust:100%}body{margin:0}article,aside,details,figcaption,figure,footer,header,hgroup,main,menu,nav,section,summary{display:block}audio,canvas,progress,video{display:inline-block;vertical-align:baseline}audio:not([controls]){display:none;height:0}[hidden],template{display:none}a{background-color:transparent}a:active,a:hover{outline:0}abbr[title]{border-bottom:1px dotted}b,strong{font-weight:700}dfn{font-style:italic}h1{margin:.67em 0;font-size:2em}mark{color:#000;background:#ff0}small{font-size:80%}sub,sup{position:relative;font-size:75%;line-height:0;vertical-align:baseline}sup{top:-.5em}sub{bottom:-.25em}img{border:0}svg:not(:root){overflow:hidden}figure{margin:1em 40px}hr{height:0;-webkit-box-sizing:content-box;-moz-box-sizing:content-box;box-sizing:content-box}pre{overflow:auto}code,kbd,pre,samp{font-family:monospace,monospace;font-size:1em}button,input,optgroup,select,textarea{margin:0;font:inherit;color:inherit}button{overflow:visible}button,select{text-transform:none}button,html input[type=button],input[type=reset],input[type=submit]{-webkit-appearance:button;cursor:pointer}button[disabled],html input[disabled]{cursor:default}button::-moz-focus-inner,input::-moz-focus-inner{padding:0;border:0}input{line-height:normal}input[type=checkbox],input[type=radio]{-webkit-box-sizing:border-box;-moz-box-sizing:border-box;box-sizing:border-box;padding:0}input[type=number]::-webkit-inner-spin-button,input[type=number]::-webkit-outer-spin-button{height:auto}input[type=search]{-webkit-box-sizing:content-box;-moz-box-sizing:content-box;box-sizing:content-box;-webkit-appearance:textfield}input[type=search]::-webkit-search-cancel-button,input[type=search]::-webkit-search-decoration{-webkit-appearance:none}fieldset{padding:.35em .625em .75em;margin:0 2px;border:1px solid silver}legend{padding:0;border:0}textarea{overflow:auto}optgroup{font-weight:700}table{border-spacing:0;border-collapse:collapse}td,th{padding:0} /*! Source: https://github.com/h5bp/html5-boilerplate/blob/master/src/css/main.css */ @media print{*,:after,:before{color:#000!important;text-shadow:none!important;background:0 0!important;-webkit-box-shadow:none!important;box-shadow:none!important}a,a:visited{text-decoration:underline}a[href]:after{content:" (" attr(href) ")"}abbr[title]:after{content:" (" attr(title) ")"}a[href^="javascript:"]:after,a[href^="#"]:after{content:""}blockquote,pre{border:1px solid #999;page-break-inside:avoid}thead{display:table-header-group}img,tr{page-break-inside:avoid}img{max-width:100%!important}h2,h3,p{orphans:3;widows:3}h2,h3{page-break-after:avoid}.navbar{display:none}.btn>.caret,.dropup>.btn>.caret{border-top-color:#000!important}.label{border:1px solid #000}.table{border-collapse:collapse!important}.table td,.table th{background-color:#fff!important}.table-bordered td,.table-bordered th{border:1px solid #ddd!important}}@font-face{font-family:'Glyphicons Halflings';src:url(//alphatowtruckservices.com/wp-content/themes/towy/css/../fonts/glyphicons-halflings-regular.eot);src:url(//alphatowtruckservices.com/wp-content/themes/towy/css/../fonts/glyphicons-halflings-regular.eot?#iefix) format('embedded-opentype'),url(//alphatowtruckservices.com/wp-content/themes/towy/css/../fonts/glyphicons-halflings-regular.woff2) format('woff2'),url(//alphatowtruckservices.com/wp-content/themes/towy/css/../fonts/glyphicons-halflings-regular.woff) format('woff'),url(//alphatowtruckservices.com/wp-content/themes/towy/css/../fonts/glyphicons-halflings-regular.ttf) format('truetype'),url(//alphatowtruckservices.com/wp-content/themes/towy/css/../fonts/glyphicons-halflings-regular.svg#glyphicons_halflingsregular) format('svg')}.glyphicon{position:relative;top:1px;display:inline-block;font-family:'Glyphicons Halflings';font-style:normal;font-weight:400;line-height:1;-webkit-font-smoothing:antialiased;-moz-osx-font-smoothing:grayscale}.glyphicon-asterisk:before{content:"\002a"}.glyphicon-plus:before{content:"\002b"}.glyphicon-eur:before,.glyphicon-euro:before{content:"\20ac"}.glyphicon-minus:before{content:"\2212"}.glyphicon-cloud:before{content:"\2601"}.glyphicon-envelope:before{content:"\2709"}.glyphicon-pencil:before{content:"\270f"}.glyphicon-glass:before{content:"\e001"}.glyphicon-music:before{content:"\e002"}.glyphicon-search:before{content:"\e003"}.glyphicon-heart:before{content:"\e005"}.glyphicon-star:before{content:"\e006"}.glyphicon-star-empty:before{content:"\e007"}.glyphicon-user:before{content:"\e008"}.glyphicon-film:before{content:"\e009"}.glyphicon-th-large:before{content:"\e010"}.glyphicon-th:before{content:"\e011"}.glyphicon-th-list:before{content:"\e012"}.glyphicon-ok:before{content:"\e013"}.glyphicon-remove:before{content:"\e014"}.glyphicon-zoom-in:before{content:"\e015"}.glyphicon-zoom-out:before{content:"\e016"}.glyphicon-off:before{content:"\e017"}.glyphicon-signal:before{content:"\e018"}.glyphicon-cog:before{content:"\e019"}.glyphicon-trash:before{content:"\e020"}.glyphicon-home:before{content:"\e021"}.glyphicon-file:before{content:"\e022"}.glyphicon-time:before{content:"\e023"}.glyphicon-road:before{content:"\e024"}.glyphicon-download-alt:before{content:"\e025"}.glyphicon-download:before{content:"\e026"}.glyphicon-upload:before{content:"\e027"}.glyphicon-inbox:before{content:"\e028"}.glyphicon-play-circle:before{content:"\e029"}.glyphicon-repeat:before{content:"\e030"}.glyphicon-refresh:before{content:"\e031"}.glyphicon-list-alt:before{content:"\e032"}.glyphicon-lock:before{content:"\e033"}.glyphicon-flag:before{content:"\e034"}.glyphicon-headphones:before{content:"\e035"}.glyphicon-volume-off:before{content:"\e036"}.glyphicon-volume-down:before{content:"\e037"}.glyphicon-volume-up:before{content:"\e038"}.glyphicon-qrcode:before{content:"\e039"}.glyphicon-barcode:before{content:"\e040"}.glyphicon-tag:before{content:"\e041"}.glyphicon-tags:before{content:"\e042"}.glyphicon-book:before{content:"\e043"}.glyphicon-bookmark:before{content:"\e044"}.glyphicon-print:before{content:"\e045"}.glyphicon-camera:before{content:"\e046"}.glyphicon-font:before{content:"\e047"}.glyphicon-bold:before{content:"\e048"}.glyphicon-italic:before{content:"\e049"}.glyphicon-text-height:before{content:"\e050"}.glyphicon-text-width:before{content:"\e051"}.glyphicon-align-left:before{content:"\e052"}.glyphicon-align-center:before{content:"\e053"}.glyphicon-align-right:before{content:"\e054"}.glyphicon-align-justify:before{content:"\e055"}.glyphicon-list:before{content:"\e056"}.glyphicon-indent-left:before{content:"\e057"}.glyphicon-indent-right:before{content:"\e058"}.glyphicon-facetime-video:before{content:"\e059"}.glyphicon-picture:before{content:"\e060"}.glyphicon-map-marker:before{content:"\e062"}.glyphicon-adjust:before{content:"\e063"}.glyphicon-tint:before{content:"\e064"}.glyphicon-edit:before{content:"\e065"}.glyphicon-share:before{content:"\e066"}.glyphicon-check:before{content:"\e067"}.glyphicon-move:before{content:"\e068"}.glyphicon-step-backward:before{content:"\e069"}.glyphicon-fast-backward:before{content:"\e070"}.glyphicon-backward:before{content:"\e071"}.glyphicon-play:before{content:"\e072"}.glyphicon-pause:before{content:"\e073"}.glyphicon-stop:before{content:"\e074"}.glyphicon-forward:before{content:"\e075"}.glyphicon-fast-forward:before{content:"\e076"}.glyphicon-step-forward:before{content:"\e077"}.glyphicon-eject:before{content:"\e078"}.glyphicon-chevron-left:before{content:"\e079"}.glyphicon-chevron-right:before{content:"\e080"}.glyphicon-plus-sign:before{content:"\e081"}.glyphicon-minus-sign:before{content:"\e082"}.glyphicon-remove-sign:before{content:"\e083"}.glyphicon-ok-sign:before{content:"\e084"}.glyphicon-question-sign:before{content:"\e085"}.glyphicon-info-sign:before{content:"\e086"}.glyphicon-screenshot:before{content:"\e087"}.glyphicon-remove-circle:before{content:"\e088"}.glyphicon-ok-circle:before{content:"\e089"}.glyphicon-ban-circle:before{content:"\e090"}.glyphicon-arrow-left:before{content:"\e091"}.glyphicon-arrow-right:before{content:"\e092"}.glyphicon-arrow-up:before{content:"\e093"}.glyphicon-arrow-down:before{content:"\e094"}.glyphicon-share-alt:before{content:"\e095"}.glyphicon-resize-full:before{content:"\e096"}.glyphicon-resize-small:before{content:"\e097"}.glyphicon-exclamation-sign:before{content:"\e101"}.glyphicon-gift:before{content:"\e102"}.glyphicon-leaf:before{content:"\e103"}.glyphicon-fire:before{content:"\e104"}.glyphicon-eye-open:before{content:"\e105"}.glyphicon-eye-close:before{content:"\e106"}.glyphicon-warning-sign:before{content:"\e107"}.glyphicon-plane:before{content:"\e108"}.glyphicon-calendar:before{content:"\e109"}.glyphicon-random:before{content:"\e110"}.glyphicon-comment:before{content:"\e111"}.glyphicon-magnet:before{content:"\e112"}.glyphicon-chevron-up:before{content:"\e113"}.glyphicon-chevron-down:before{content:"\e114"}.glyphicon-retweet:before{content:"\e115"}.glyphicon-shopping-cart:before{content:"\e116"}.glyphicon-folder-close:before{content:"\e117"}.glyphicon-folder-open:before{content:"\e118"}.glyphicon-resize-vertical:before{content:"\e119"}.glyphicon-resize-horizontal:before{content:"\e120"}.glyphicon-hdd:before{content:"\e121"}.glyphicon-bullhorn:before{content:"\e122"}.glyphicon-bell:before{content:"\e123"}.glyphicon-certificate:before{content:"\e124"}.glyphicon-thumbs-up:before{content:"\e125"}.glyphicon-thumbs-down:before{content:"\e126"}.glyphicon-hand-right:before{content:"\e127"}.glyphicon-hand-left:before{content:"\e128"}.glyphicon-hand-up:before{content:"\e129"}.glyphicon-hand-down:before{content:"\e130"}.glyphicon-circle-arrow-right:before{content:"\e131"}.glyphicon-circle-arrow-left:before{content:"\e132"}.glyphicon-circle-arrow-up:before{content:"\e133"}.glyphicon-circle-arrow-down:before{content:"\e134"}.glyphicon-globe:before{content:"\e135"}.glyphicon-wrench:before{content:"\e136"}.glyphicon-tasks:before{content:"\e137"}.glyphicon-filter:before{content:"\e138"}.glyphicon-briefcase:before{content:"\e139"}.glyphicon-fullscreen:before{content:"\e140"}.glyphicon-dashboard:before{content:"\e141"}.glyphicon-paperclip:before{content:"\e142"}.glyphicon-heart-empty:before{content:"\e143"}.glyphicon-link:before{content:"\e144"}.glyphicon-phone:before{content:"\e145"}.glyphicon-pushpin:before{content:"\e146"}.glyphicon-usd:before{content:"\e148"}.glyphicon-gbp:before{content:"\e149"}.glyphicon-sort:before{content:"\e150"}.glyphicon-sort-by-alphabet:before{content:"\e151"}.glyphicon-sort-by-alphabet-alt:before{content:"\e152"}.glyphicon-sort-by-order:before{content:"\e153"}.glyphicon-sort-by-order-alt:before{content:"\e154"}.glyphicon-sort-by-attributes:before{content:"\e155"}.glyphicon-sort-by-attributes-alt:before{content:"\e156"}.glyphicon-unchecked:before{content:"\e157"}.glyphicon-expand:before{content:"\e158"}.glyphicon-collapse-down:before{content:"\e159"}.glyphicon-collapse-up:before{content:"\e160"}.glyphicon-log-in:before{content:"\e161"}.glyphicon-flash:before{content:"\e162"}.glyphicon-log-out:before{content:"\e163"}.glyphicon-new-window:before{content:"\e164"}.glyphicon-record:before{content:"\e165"}.glyphicon-save:before{content:"\e166"}.glyphicon-open:before{content:"\e167"}.glyphicon-saved:before{content:"\e168"}.glyphicon-import:before{content:"\e169"}.glyphicon-export:before{content:"\e170"}.glyphicon-send:before{content:"\e171"}.glyphicon-floppy-disk:before{content:"\e172"}.glyphicon-floppy-saved:before{content:"\e173"}.glyphicon-floppy-remove:before{content:"\e174"}.glyphicon-floppy-save:before{content:"\e175"}.glyphicon-floppy-open:before{content:"\e176"}.glyphicon-credit-card:before{content:"\e177"}.glyphicon-transfer:before{content:"\e178"}.glyphicon-cutlery:before{content:"\e179"}.glyphicon-header:before{content:"\e180"}.glyphicon-compressed:before{content:"\e181"}.glyphicon-earphone:before{content:"\e182"}.glyphicon-phone-alt:before{content:"\e183"}.glyphicon-tower:before{content:"\e184"}.glyphicon-stats:before{content:"\e185"}.glyphicon-sd-video:before{content:"\e186"}.glyphicon-hd-video:before{content:"\e187"}.glyphicon-subtitles:before{content:"\e188"}.glyphicon-sound-stereo:before{content:"\e189"}.glyphicon-sound-dolby:before{content:"\e190"}.glyphicon-sound-5-1:before{content:"\e191"}.glyphicon-sound-6-1:before{content:"\e192"}.glyphicon-sound-7-1:before{content:"\e193"}.glyphicon-copyright-mark:before{content:"\e194"}.glyphicon-registration-mark:before{content:"\e195"}.glyphicon-cloud-download:before{content:"\e197"}.glyphicon-cloud-upload:before{content:"\e198"}.glyphicon-tree-conifer:before{content:"\e199"}.glyphicon-tree-deciduous:before{content:"\e200"}.glyphicon-cd:before{content:"\e201"}.glyphicon-save-file:before{content:"\e202"}.glyphicon-open-file:before{content:"\e203"}.glyphicon-level-up:before{content:"\e204"}.glyphicon-copy:before{content:"\e205"}.glyphicon-paste:before{content:"\e206"}.glyphicon-alert:before{content:"\e209"}.glyphicon-equalizer:before{content:"\e210"}.glyphicon-king:before{content:"\e211"}.glyphicon-queen:before{content:"\e212"}.glyphicon-pawn:before{content:"\e213"}.glyphicon-bishop:before{content:"\e214"}.glyphicon-knight:before{content:"\e215"}.glyphicon-baby-formula:before{content:"\e216"}.glyphicon-tent:before{content:"\26fa"}.glyphicon-blackboard:before{content:"\e218"}.glyphicon-bed:before{content:"\e219"}.glyphicon-apple:before{content:"\f8ff"}.glyphicon-erase:before{content:"\e221"}.glyphicon-hourglass:before{content:"\231b"}.glyphicon-lamp:before{content:"\e223"}.glyphicon-duplicate:before{content:"\e224"}.glyphicon-piggy-bank:before{content:"\e225"}.glyphicon-scissors:before{content:"\e226"}.glyphicon-bitcoin:before{content:"\e227"}.glyphicon-btc:before{content:"\e227"}.glyphicon-xbt:before{content:"\e227"}.glyphicon-yen:before{content:"\00a5"}.glyphicon-jpy:before{content:"\00a5"}.glyphicon-ruble:before{content:"\20bd"}.glyphicon-rub:before{content:"\20bd"}.glyphicon-scale:before{content:"\e230"}.glyphicon-ice-lolly:before{content:"\e231"}.glyphicon-ice-lolly-tasted:before{content:"\e232"}.glyphicon-education:before{content:"\e233"}.glyphicon-option-horizontal:before{content:"\e234"}.glyphicon-option-vertical:before{content:"\e235"}.glyphicon-menu-hamburger:before{content:"\e236"}.glyphicon-modal-window:before{content:"\e237"}.glyphicon-oil:before{content:"\e238"}.glyphicon-grain:before{content:"\e239"}.glyphicon-sunglasses:before{content:"\e240"}.glyphicon-text-size:before{content:"\e241"}.glyphicon-text-color:before{content:"\e242"}.glyphicon-text-background:before{content:"\e243"}.glyphicon-object-align-top:before{content:"\e244"}.glyphicon-object-align-bottom:before{content:"\e245"}.glyphicon-object-align-horizontal:before{content:"\e246"}.glyphicon-object-align-left:before{content:"\e247"}.glyphicon-object-align-vertical:before{content:"\e248"}.glyphicon-object-align-right:before{content:"\e249"}.glyphicon-triangle-right:before{content:"\e250"}.glyphicon-triangle-left:before{content:"\e251"}.glyphicon-triangle-bottom:before{content:"\e252"}.glyphicon-triangle-top:before{content:"\e253"}.glyphicon-console:before{content:"\e254"}.glyphicon-superscript:before{content:"\e255"}.glyphicon-subscript:before{content:"\e256"}.glyphicon-menu-left:before{content:"\e257"}.glyphicon-menu-right:before{content:"\e258"}.glyphicon-menu-down:before{content:"\e259"}.glyphicon-menu-up:before{content:"\e260"}*{-webkit-box-sizing:border-box;-moz-box-sizing:border-box;box-sizing:border-box}:after,:before{-webkit-box-sizing:border-box;-moz-box-sizing:border-box;box-sizing:border-box}html{font-size:10px;-webkit-tap-highlight-color:rgba(0,0,0,0)}body{font-family:"Helvetica Neue",Helvetica,Arial,sans-serif;font-size:14px;line-height:1.42857143;color:#333;background-color:#fff}button,input,select,textarea{font-family:inherit;font-size:inherit;line-height:inherit}a{color:#337ab7;text-decoration:none}a:focus,a:hover{color:#23527c;text-decoration:underline}a:focus{outline:5px auto -webkit-focus-ring-color;outline-offset:-2px}figure{margin:0}img{vertical-align:middle}.carousel-inner>.item>a>img,.carousel-inner>.item>img,.img-responsive,.thumbnail a>img,.thumbnail>img{display:block;max-width:100%;height:auto}.img-rounded{border-radius:6px}.img-thumbnail{display:inline-block;max-width:100%;height:auto;padding:4px;line-height:1.42857143;background-color:#fff;border:1px solid #ddd;border-radius:4px;-webkit-transition:all .2s ease-in-out;-o-transition:all .2s ease-in-out;transition:all .2s ease-in-out}.img-circle{border-radius:50%}hr{margin-top:20px;margin-bottom:20px;border:0;border-top:1px solid #eee}.sr-only{position:absolute;width:1px;height:1px;padding:0;margin:-1px;overflow:hidden;clip:rect(0,0,0,0);border:0}.sr-only-focusable:active,.sr-only-focusable:focus{position:static;width:auto;height:auto;margin:0;overflow:visible;clip:auto}[role=button]{cursor:pointer}.h1,.h2,.h3,.h4,.h5,.h6,h1,h2,h3,h4,h5,h6{font-family:inherit;font-weight:500;line-height:1.1;color:inherit}.h1 .small,.h1 small,.h2 .small,.h2 small,.h3 .small,.h3 small,.h4 .small,.h4 small,.h5 .small,.h5 small,.h6 .small,.h6 small,h1 .small,h1 small,h2 .small,h2 small,h3 .small,h3 small,h4 .small,h4 small,h5 .small,h5 small,h6 .small,h6 small{font-weight:400;line-height:1;color:#777}.h1,.h2,.h3,h1,h2,h3{margin-top:20px;margin-bottom:10px}.h1 .small,.h1 small,.h2 .small,.h2 small,.h3 .small,.h3 small,h1 .small,h1 small,h2 .small,h2 small,h3 .small,h3 small{font-size:65%}.h4,.h5,.h6,h4,h5,h6{margin-top:10px;margin-bottom:10px}.h4 .small,.h4 small,.h5 .small,.h5 small,.h6 .small,.h6 small,h4 .small,h4 small,h5 .small,h5 small,h6 .small,h6 small{font-size:75%}.h1,h1{font-size:36px}.h2,h2{font-size:30px}.h3,h3{font-size:24px}.h4,h4{font-size:18px}.h5,h5{font-size:14px}.h6,h6{font-size:12px}p{margin:0 0 10px}.lead{margin-bottom:20px;font-size:16px;font-weight:300;line-height:1.4}@media (min-width:768px){.lead{font-size:21px}}.small,small{font-size:85%}.mark,mark{padding:.2em;background-color:#fcf8e3}.text-left{text-align:left}.text-right{text-align:right}.text-center{text-align:center}.text-justify{text-align:justify}.text-nowrap{white-space:nowrap}.text-lowercase{text-transform:lowercase}.text-uppercase{text-transform:uppercase}.text-capitalize{text-transform:capitalize}.text-muted{color:#777}.text-primary{color:#337ab7}a.text-primary:focus,a.text-primary:hover{color:#286090}.text-success{color:#3c763d}a.text-success:focus,a.text-success:hover{color:#2b542c}.text-info{color:#31708f}a.text-info:focus,a.text-info:hover{color:#245269}.text-warning{color:#8a6d3b}a.text-warning:focus,a.text-warning:hover{color:#66512c}.text-danger{color:#a94442}a.text-danger:focus,a.text-danger:hover{color:#843534}.bg-primary{color:#fff;background-color:#337ab7}a.bg-primary:focus,a.bg-primary:hover{background-color:#286090}.bg-success{background-color:#dff0d8}a.bg-success:focus,a.bg-success:hover{background-color:#c1e2b3}.bg-info{background-color:#d9edf7}a.bg-info:focus,a.bg-info:hover{background-color:#afd9ee}.bg-warning{background-color:#fcf8e3}a.bg-warning:focus,a.bg-warning:hover{background-color:#f7ecb5}.bg-danger{background-color:#f2dede}a.bg-danger:focus,a.bg-danger:hover{background-color:#e4b9b9}.page-header{padding-bottom:9px;margin:40px 0 20px;border-bottom:1px solid #eee}ol,ul{margin-top:0;margin-bottom:10px}ol ol,ol ul,ul ol,ul ul{margin-bottom:0}.list-unstyled{padding-left:0;list-style:none}.list-inline{padding-left:0;margin-left:-5px;list-style:none}.list-inline>li{display:inline-block;padding-right:5px;padding-left:5px}dl{margin-top:0;margin-bottom:20px}dd,dt{line-height:1.42857143}dt{font-weight:700}dd{margin-left:0}@media (min-width:768px){.dl-horizontal dt{float:left;width:160px;overflow:hidden;clear:left;text-align:right;text-overflow:ellipsis;white-space:nowrap}.dl-horizontal dd{margin-left:180px}}abbr[data-original-title],abbr[title]{cursor:help;border-bottom:1px dotted #777}.initialism{font-size:90%;text-transform:uppercase}blockquote{padding:10px 20px;margin:0 0 20px;font-size:17.5px;border-left:5px solid #eee}blockquote ol:last-child,blockquote p:last-child,blockquote ul:last-child{margin-bottom:0}blockquote .small,blockquote footer,blockquote small{display:block;font-size:80%;line-height:1.42857143;color:#777}blockquote .small:before,blockquote footer:before,blockquote small:before{content:'\2014 \00A0'}.blockquote-reverse,blockquote.pull-right{padding-right:15px;padding-left:0;text-align:right;border-right:5px solid #eee;border-left:0}.blockquote-reverse .small:before,.blockquote-reverse footer:before,.blockquote-reverse small:before,blockquote.pull-right .small:before,blockquote.pull-right footer:before,blockquote.pull-right small:before{content:''}.blockquote-reverse .small:after,.blockquote-reverse footer:after,.blockquote-reverse small:after,blockquote.pull-right .small:after,blockquote.pull-right footer:after,blockquote.pull-right small:after{content:'\00A0 \2014'}address{margin-bottom:20px;font-style:normal;line-height:1.42857143}code,kbd,pre,samp{font-family:Menlo,Monaco,Consolas,"Courier New",monospace}code{padding:2px 4px;font-size:90%;color:#c7254e;background-color:#f9f2f4;border-radius:4px}kbd{padding:2px 4px;font-size:90%;color:#fff;background-color:#333;border-radius:3px;-webkit-box-shadow:inset 0 -1px 0 rgba(0,0,0,.25);box-shadow:inset 0 -1px 0 rgba(0,0,0,.25)}kbd kbd{padding:0;font-size:100%;font-weight:700;-webkit-box-shadow:none;box-shadow:none}pre{display:block;padding:9.5px;margin:0 0 10px;font-size:13px;line-height:1.42857143;color:#333;word-break:break-all;word-wrap:break-word;background-color:#f5f5f5;border:1px solid #ccc;border-radius:4px}pre code{padding:0;font-size:inherit;color:inherit;white-space:pre-wrap;background-color:transparent;border-radius:0}.pre-scrollable{max-height:340px;overflow-y:scroll}.container{padding-right:15px;padding-left:15px;margin-right:auto;margin-left:auto}@media (min-width:768px){.container{width:750px}}@media (min-width:992px){.container{width:970px}}@media (min-width:1200px){.container{width:1170px}}.container-fluid{padding-right:15px;padding-left:15px;margin-right:auto;margin-left:auto}.row{margin-right:-15px;margin-left:-15px}.col-lg-1,.col-lg-10,.col-lg-11,.col-lg-12,.col-lg-2,.col-lg-3,.col-lg-4,.col-lg-5,.col-lg-6,.col-lg-7,.col-lg-8,.col-lg-9,.col-md-1,.col-md-10,.col-md-11,.col-md-12,.col-md-2,.col-md-3,.col-md-4,.col-md-5,.col-md-6,.col-md-7,.col-md-8,.col-md-9,.col-sm-1,.col-sm-10,.col-sm-11,.col-sm-12,.col-sm-2,.col-sm-3,.col-sm-4,.col-sm-5,.col-sm-6,.col-sm-7,.col-sm-8,.col-sm-9,.col-xs-1,.col-xs-10,.col-xs-11,.col-xs-12,.col-xs-2,.col-xs-3,.col-xs-4,.col-xs-5,.col-xs-6,.col-xs-7,.col-xs-8,.col-xs-9{position:relative;min-height:1px;padding-right:15px;padding-left:15px}.col-xs-1,.col-xs-10,.col-xs-11,.col-xs-12,.col-xs-2,.col-xs-3,.col-xs-4,.col-xs-5,.col-xs-6,.col-xs-7,.col-xs-8,.col-xs-9{float:left}.col-xs-12{width:100%}.col-xs-11{width:91.66666667%}.col-xs-10{width:83.33333333%}.col-xs-9{width:75%}.col-xs-8{width:66.66666667%}.col-xs-7{width:58.33333333%}.col-xs-6{width:50%}.col-xs-5{width:41.66666667%}.col-xs-4{width:33.33333333%}.col-xs-3{width:25%}.col-xs-2{width:16.66666667%}.col-xs-1{width:8.33333333%}.col-xs-pull-12{right:100%}.col-xs-pull-11{right:91.66666667%}.col-xs-pull-10{right:83.33333333%}.col-xs-pull-9{right:75%}.col-xs-pull-8{right:66.66666667%}.col-xs-pull-7{right:58.33333333%}.col-xs-pull-6{right:50%}.col-xs-pull-5{right:41.66666667%}.col-xs-pull-4{right:33.33333333%}.col-xs-pull-3{right:25%}.col-xs-pull-2{right:16.66666667%}.col-xs-pull-1{right:8.33333333%}.col-xs-pull-0{right:auto}.col-xs-push-12{left:100%}.col-xs-push-11{left:91.66666667%}.col-xs-push-10{left:83.33333333%}.col-xs-push-9{left:75%}.col-xs-push-8{left:66.66666667%}.col-xs-push-7{left:58.33333333%}.col-xs-push-6{left:50%}.col-xs-push-5{left:41.66666667%}.col-xs-push-4{left:33.33333333%}.col-xs-push-3{left:25%}.col-xs-push-2{left:16.66666667%}.col-xs-push-1{left:8.33333333%}.col-xs-push-0{left:auto}.col-xs-offset-12{margin-left:100%}.col-xs-offset-11{margin-left:91.66666667%}.col-xs-offset-10{margin-left:83.33333333%}.col-xs-offset-9{margin-left:75%}.col-xs-offset-8{margin-left:66.66666667%}.col-xs-offset-7{margin-left:58.33333333%}.col-xs-offset-6{margin-left:50%}.col-xs-offset-5{margin-left:41.66666667%}.col-xs-offset-4{margin-left:33.33333333%}.col-xs-offset-3{margin-left:25%}.col-xs-offset-2{margin-left:16.66666667%}.col-xs-offset-1{margin-left:8.33333333%}.col-xs-offset-0{margin-left:0}@media (min-width:768px){.col-sm-1,.col-sm-10,.col-sm-11,.col-sm-12,.col-sm-2,.col-sm-3,.col-sm-4,.col-sm-5,.col-sm-6,.col-sm-7,.col-sm-8,.col-sm-9{float:left}.col-sm-12{width:100%}.col-sm-11{width:91.66666667%}.col-sm-10{width:83.33333333%}.col-sm-9{width:75%}.col-sm-8{width:66.66666667%}.col-sm-7{width:58.33333333%}.col-sm-6{width:50%}.col-sm-5{width:41.66666667%}.col-sm-4{width:33.33333333%}.col-sm-3{width:25%}.col-sm-2{width:16.66666667%}.col-sm-1{width:8.33333333%}.col-sm-pull-12{right:100%}.col-sm-pull-11{right:91.66666667%}.col-sm-pull-10{right:83.33333333%}.col-sm-pull-9{right:75%}.col-sm-pull-8{right:66.66666667%}.col-sm-pull-7{right:58.33333333%}.col-sm-pull-6{right:50%}.col-sm-pull-5{right:41.66666667%}.col-sm-pull-4{right:33.33333333%}.col-sm-pull-3{right:25%}.col-sm-pull-2{right:16.66666667%}.col-sm-pull-1{right:8.33333333%}.col-sm-pull-0{right:auto}.col-sm-push-12{left:100%}.col-sm-push-11{left:91.66666667%}.col-sm-push-10{left:83.33333333%}.col-sm-push-9{left:75%}.col-sm-push-8{left:66.66666667%}.col-sm-push-7{left:58.33333333%}.col-sm-push-6{left:50%}.col-sm-push-5{left:41.66666667%}.col-sm-push-4{left:33.33333333%}.col-sm-push-3{left:25%}.col-sm-push-2{left:16.66666667%}.col-sm-push-1{left:8.33333333%}.col-sm-push-0{left:auto}.col-sm-offset-12{margin-left:100%}.col-sm-offset-11{margin-left:91.66666667%}.col-sm-offset-10{margin-left:83.33333333%}.col-sm-offset-9{margin-left:75%}.col-sm-offset-8{margin-left:66.66666667%}.col-sm-offset-7{margin-left:58.33333333%}.col-sm-offset-6{margin-left:50%}.col-sm-offset-5{margin-left:41.66666667%}.col-sm-offset-4{margin-left:33.33333333%}.col-sm-offset-3{margin-left:25%}.col-sm-offset-2{margin-left:16.66666667%}.col-sm-offset-1{margin-left:8.33333333%}.col-sm-offset-0{margin-left:0}}@media (min-width:992px){.col-md-1,.col-md-10,.col-md-11,.col-md-12,.col-md-2,.col-md-3,.col-md-4,.col-md-5,.col-md-6,.col-md-7,.col-md-8,.col-md-9{float:left}.col-md-12{width:100%}.col-md-11{width:91.66666667%}.col-md-10{width:83.33333333%}.col-md-9{width:75%}.col-md-8{width:66.66666667%}.col-md-7{width:58.33333333%}.col-md-6{width:50%}.col-md-5{width:41.66666667%}.col-md-4{width:33.33333333%}.col-md-3{width:25%}.col-md-2{width:16.66666667%}.col-md-1{width:8.33333333%}.col-md-pull-12{right:100%}.col-md-pull-11{right:91.66666667%}.col-md-pull-10{right:83.33333333%}.col-md-pull-9{right:75%}.col-md-pull-8{right:66.66666667%}.col-md-pull-7{right:58.33333333%}.col-md-pull-6{right:50%}.col-md-pull-5{right:41.66666667%}.col-md-pull-4{right:33.33333333%}.col-md-pull-3{right:25%}.col-md-pull-2{right:16.66666667%}.col-md-pull-1{right:8.33333333%}.col-md-pull-0{right:auto}.col-md-push-12{left:100%}.col-md-push-11{left:91.66666667%}.col-md-push-10{left:83.33333333%}.col-md-push-9{left:75%}.col-md-push-8{left:66.66666667%}.col-md-push-7{left:58.33333333%}.col-md-push-6{left:50%}.col-md-push-5{left:41.66666667%}.col-md-push-4{left:33.33333333%}.col-md-push-3{left:25%}.col-md-push-2{left:16.66666667%}.col-md-push-1{left:8.33333333%}.col-md-push-0{left:auto}.col-md-offset-12{margin-left:100%}.col-md-offset-11{margin-left:91.66666667%}.col-md-offset-10{margin-left:83.33333333%}.col-md-offset-9{margin-left:75%}.col-md-offset-8{margin-left:66.66666667%}.col-md-offset-7{margin-left:58.33333333%}.col-md-offset-6{margin-left:50%}.col-md-offset-5{margin-left:41.66666667%}.col-md-offset-4{margin-left:33.33333333%}.col-md-offset-3{margin-left:25%}.col-md-offset-2{margin-left:16.66666667%}.col-md-offset-1{margin-left:8.33333333%}.col-md-offset-0{margin-left:0}}@media (min-width:1200px){.col-lg-1,.col-lg-10,.col-lg-11,.col-lg-12,.col-lg-2,.col-lg-3,.col-lg-4,.col-lg-5,.col-lg-6,.col-lg-7,.col-lg-8,.col-lg-9{float:left}.col-lg-12{width:100%}.col-lg-11{width:91.66666667%}.col-lg-10{width:83.33333333%}.col-lg-9{width:75%}.col-lg-8{width:66.66666667%}.col-lg-7{width:58.33333333%}.col-lg-6{width:50%}.col-lg-5{width:41.66666667%}.col-lg-4{width:33.33333333%}.col-lg-3{width:25%}.col-lg-2{width:16.66666667%}.col-lg-1{width:8.33333333%}.col-lg-pull-12{right:100%}.col-lg-pull-11{right:91.66666667%}.col-lg-pull-10{right:83.33333333%}.col-lg-pull-9{right:75%}.col-lg-pull-8{right:66.66666667%}.col-lg-pull-7{right:58.33333333%}.col-lg-pull-6{right:50%}.col-lg-pull-5{right:41.66666667%}.col-lg-pull-4{right:33.33333333%}.col-lg-pull-3{right:25%}.col-lg-pull-2{right:16.66666667%}.col-lg-pull-1{right:8.33333333%}.col-lg-pull-0{right:auto}.col-lg-push-12{left:100%}.col-lg-push-11{left:91.66666667%}.col-lg-push-10{left:83.33333333%}.col-lg-push-9{left:75%}.col-lg-push-8{left:66.66666667%}.col-lg-push-7{left:58.33333333%}.col-lg-push-6{left:50%}.col-lg-push-5{left:41.66666667%}.col-lg-push-4{left:33.33333333%}.col-lg-push-3{left:25%}.col-lg-push-2{left:16.66666667%}.col-lg-push-1{left:8.33333333%}.col-lg-push-0{left:auto}.col-lg-offset-12{margin-left:100%}.col-lg-offset-11{margin-left:91.66666667%}.col-lg-offset-10{margin-left:83.33333333%}.col-lg-offset-9{margin-left:75%}.col-lg-offset-8{margin-left:66.66666667%}.col-lg-offset-7{margin-left:58.33333333%}.col-lg-offset-6{margin-left:50%}.col-lg-offset-5{margin-left:41.66666667%}.col-lg-offset-4{margin-left:33.33333333%}.col-lg-offset-3{margin-left:25%}.col-lg-offset-2{margin-left:16.66666667%}.col-lg-offset-1{margin-left:8.33333333%}.col-lg-offset-0{margin-left:0}}table{background-color:transparent}caption{padding-top:8px;padding-bottom:8px;color:#777;text-align:left}th{text-align:left}.table{width:100%;max-width:100%;margin-bottom:20px}.table>tbody>tr>td,.table>tbody>tr>th,.table>tfoot>tr>td,.table>tfoot>tr>th,.table>thead>tr>td,.table>thead>tr>th{padding:8px;line-height:1.42857143;vertical-align:top;border-top:1px solid #ddd}.table>thead>tr>th{vertical-align:bottom;border-bottom:2px solid #ddd}.table>caption+thead>tr:first-child>td,.table>caption+thead>tr:first-child>th,.table>colgroup+thead>tr:first-child>td,.table>colgroup+thead>tr:first-child>th,.table>thead:first-child>tr:first-child>td,.table>thead:first-child>tr:first-child>th{border-top:0}.table>tbody+tbody{border-top:2px solid #ddd}.table .table{background-color:#fff}.table-condensed>tbody>tr>td,.table-condensed>tbody>tr>th,.table-condensed>tfoot>tr>td,.table-condensed>tfoot>tr>th,.table-condensed>thead>tr>td,.table-condensed>thead>tr>th{padding:5px}.table-bordered{border:1px solid #ddd}.table-bordered>tbody>tr>td,.table-bordered>tbody>tr>th,.table-bordered>tfoot>tr>td,.table-bordered>tfoot>tr>th,.table-bordered>thead>tr>td,.table-bordered>thead>tr>th{border:1px solid #ddd}.table-bordered>thead>tr>td,.table-bordered>thead>tr>th{border-bottom-width:2px}.table-striped>tbody>tr:nth-of-type(odd){background-color:#f9f9f9}.table-hover>tbody>tr:hover{background-color:#f5f5f5}table col[class*=col-]{position:static;display:table-column;float:none}table td[class*=col-],table th[class*=col-]{position:static;display:table-cell;float:none}.table>tbody>tr.active>td,.table>tbody>tr.active>th,.table>tbody>tr>td.active,.table>tbody>tr>th.active,.table>tfoot>tr.active>td,.table>tfoot>tr.active>th,.table>tfoot>tr>td.active,.table>tfoot>tr>th.active,.table>thead>tr.active>td,.table>thead>tr.active>th,.table>thead>tr>td.active,.table>thead>tr>th.active{background-color:#f5f5f5}.table-hover>tbody>tr.active:hover>td,.table-hover>tbody>tr.active:hover>th,.table-hover>tbody>tr:hover>.active,.table-hover>tbody>tr>td.active:hover,.table-hover>tbody>tr>th.active:hover{background-color:#e8e8e8}.table>tbody>tr.success>td,.table>tbody>tr.success>th,.table>tbody>tr>td.success,.table>tbody>tr>th.success,.table>tfoot>tr.success>td,.table>tfoot>tr.success>th,.table>tfoot>tr>td.success,.table>tfoot>tr>th.success,.table>thead>tr.success>td,.table>thead>tr.success>th,.table>thead>tr>td.success,.table>thead>tr>th.success{background-color:#dff0d8}.table-hover>tbody>tr.success:hover>td,.table-hover>tbody>tr.success:hover>th,.table-hover>tbody>tr:hover>.success,.table-hover>tbody>tr>td.success:hover,.table-hover>tbody>tr>th.success:hover{background-color:#d0e9c6}.table>tbody>tr.info>td,.table>tbody>tr.info>th,.table>tbody>tr>td.info,.table>tbody>tr>th.info,.table>tfoot>tr.info>td,.table>tfoot>tr.info>th,.table>tfoot>tr>td.info,.table>tfoot>tr>th.info,.table>thead>tr.info>td,.table>thead>tr.info>th,.table>thead>tr>td.info,.table>thead>tr>th.info{background-color:#d9edf7}.table-hover>tbody>tr.info:hover>td,.table-hover>tbody>tr.info:hover>th,.table-hover>tbody>tr:hover>.info,.table-hover>tbody>tr>td.info:hover,.table-hover>tbody>tr>th.info:hover{background-color:#c4e3f3}.table>tbody>tr.warning>td,.table>tbody>tr.warning>th,.table>tbody>tr>td.warning,.table>tbody>tr>th.warning,.table>tfoot>tr.warning>td,.table>tfoot>tr.warning>th,.table>tfoot>tr>td.warning,.table>tfoot>tr>th.warning,.table>thead>tr.warning>td,.table>thead>tr.warning>th,.table>thead>tr>td.warning,.table>thead>tr>th.warning{background-color:#fcf8e3}.table-hover>tbody>tr.warning:hover>td,.table-hover>tbody>tr.warning:hover>th,.table-hover>tbody>tr:hover>.warning,.table-hover>tbody>tr>td.warning:hover,.table-hover>tbody>tr>th.warning:hover{background-color:#faf2cc}.table>tbody>tr.danger>td,.table>tbody>tr.danger>th,.table>tbody>tr>td.danger,.table>tbody>tr>th.danger,.table>tfoot>tr.danger>td,.table>tfoot>tr.danger>th,.table>tfoot>tr>td.danger,.table>tfoot>tr>th.danger,.table>thead>tr.danger>td,.table>thead>tr.danger>th,.table>thead>tr>td.danger,.table>thead>tr>th.danger{background-color:#f2dede}.table-hover>tbody>tr.danger:hover>td,.table-hover>tbody>tr.danger:hover>th,.table-hover>tbody>tr:hover>.danger,.table-hover>tbody>tr>td.danger:hover,.table-hover>tbody>tr>th.danger:hover{background-color:#ebcccc}.table-responsive{min-height:.01%;overflow-x:auto}@media screen and (max-width:767px){.table-responsive{width:100%;margin-bottom:15px;overflow-y:hidden;-ms-overflow-style:-ms-autohiding-scrollbar;border:1px solid #ddd}.table-responsive>.table{margin-bottom:0}.table-responsive>.table>tbody>tr>td,.table-responsive>.table>tbody>tr>th,.table-responsive>.table>tfoot>tr>td,.table-responsive>.table>tfoot>tr>th,.table-responsive>.table>thead>tr>td,.table-responsive>.table>thead>tr>th{white-space:nowrap}.table-responsive>.table-bordered{border:0}.table-responsive>.table-bordered>tbody>tr>td:first-child,.table-responsive>.table-bordered>tbody>tr>th:first-child,.table-responsive>.table-bordered>tfoot>tr>td:first-child,.table-responsive>.table-bordered>tfoot>tr>th:first-child,.table-responsive>.table-bordered>thead>tr>td:first-child,.table-responsive>.table-bordered>thead>tr>th:first-child{border-left:0}.table-responsive>.table-bordered>tbody>tr>td:last-child,.table-responsive>.table-bordered>tbody>tr>th:last-child,.table-responsive>.table-bordered>tfoot>tr>td:last-child,.table-responsive>.table-bordered>tfoot>tr>th:last-child,.table-responsive>.table-bordered>thead>tr>td:last-child,.table-responsive>.table-bordered>thead>tr>th:last-child{border-right:0}.table-responsive>.table-bordered>tbody>tr:last-child>td,.table-responsive>.table-bordered>tbody>tr:last-child>th,.table-responsive>.table-bordered>tfoot>tr:last-child>td,.table-responsive>.table-bordered>tfoot>tr:last-child>th{border-bottom:0}}fieldset{min-width:0;padding:0;margin:0;border:0}legend{display:block;width:100%;padding:0;margin-bottom:20px;font-size:21px;line-height:inherit;color:#333;border:0;border-bottom:1px solid #e5e5e5}label{display:inline-block;max-width:100%;margin-bottom:5px;font-weight:700}input[type=search]{-webkit-box-sizing:border-box;-moz-box-sizing:border-box;box-sizing:border-box}input[type=checkbox],input[type=radio]{margin:4px 0 0;margin-top:1px\9;line-height:normal}input[type=file]{display:block}input[type=range]{display:block;width:100%}select[multiple],select[size]{height:auto}input[type=file]:focus,input[type=checkbox]:focus,input[type=radio]:focus{outline:5px auto -webkit-focus-ring-color;outline-offset:-2px}output{display:block;padding-top:7px;font-size:14px;line-height:1.42857143;color:#555}.form-control{display:block;width:100%;height:34px;padding:6px 12px;font-size:14px;line-height:1.42857143;color:#555;background-color:#fff;background-image:none;border:1px solid #ccc;border-radius:4px;-webkit-box-shadow:inset 0 1px 1px rgba(0,0,0,.075);box-shadow:inset 0 1px 1px rgba(0,0,0,.075);-webkit-transition:border-color ease-in-out .15s,-webkit-box-shadow ease-in-out .15s;-o-transition:border-color ease-in-out .15s,box-shadow ease-in-out .15s;transition:border-color ease-in-out .15s,box-shadow ease-in-out .15s}.form-control:focus{border-color:#66afe9;outline:0;-webkit-box-shadow:inset 0 1px 1px rgba(0,0,0,.075),0 0 8px rgba(102,175,233,.6);box-shadow:inset 0 1px 1px rgba(0,0,0,.075),0 0 8px rgba(102,175,233,.6)}.form-control::-moz-placeholder{color:#999;opacity:1}.form-control:-ms-input-placeholder{color:#999}.form-control::-webkit-input-placeholder{color:#999}.form-control::-ms-expand{background-color:transparent;border:0}.form-control[disabled],.form-control[readonly],fieldset[disabled] .form-control{background-color:#eee;opacity:1}.form-control[disabled],fieldset[disabled] .form-control{cursor:not-allowed}textarea.form-control{height:auto}input[type=search]{-webkit-appearance:none}@media screen and (-webkit-min-device-pixel-ratio:0){input[type=date].form-control,input[type=time].form-control,input[type=datetime-local].form-control,input[type=month].form-control{line-height:34px}.input-group-sm input[type=date],.input-group-sm input[type=time],.input-group-sm input[type=datetime-local],.input-group-sm input[type=month],input[type=date].input-sm,input[type=time].input-sm,input[type=datetime-local].input-sm,input[type=month].input-sm{line-height:30px}.input-group-lg input[type=date],.input-group-lg input[type=time],.input-group-lg input[type=datetime-local],.input-group-lg input[type=month],input[type=date].input-lg,input[type=time].input-lg,input[type=datetime-local].input-lg,input[type=month].input-lg{line-height:46px}}.form-group{margin-bottom:15px}.checkbox,.radio{position:relative;display:block;margin-top:10px;margin-bottom:10px}.checkbox label,.radio label{min-height:20px;padding-left:20px;margin-bottom:0;font-weight:400;cursor:pointer}.checkbox input[type=checkbox],.checkbox-inline input[type=checkbox],.radio input[type=radio],.radio-inline input[type=radio]{position:absolute;margin-top:4px\9;margin-left:-20px}.checkbox+.checkbox,.radio+.radio{margin-top:-5px}.checkbox-inline,.radio-inline{position:relative;display:inline-block;padding-left:20px;margin-bottom:0;font-weight:400;vertical-align:middle;cursor:pointer}.checkbox-inline+.checkbox-inline,.radio-inline+.radio-inline{margin-top:0;margin-left:10px}fieldset[disabled] input[type=checkbox],fieldset[disabled] input[type=radio],input[type=checkbox].disabled,input[type=checkbox][disabled],input[type=radio].disabled,input[type=radio][disabled]{cursor:not-allowed}.checkbox-inline.disabled,.radio-inline.disabled,fieldset[disabled] .checkbox-inline,fieldset[disabled] .radio-inline{cursor:not-allowed}.checkbox.disabled label,.radio.disabled label,fieldset[disabled] .checkbox label,fieldset[disabled] .radio label{cursor:not-allowed}.form-control-static{min-height:34px;padding-top:7px;padding-bottom:7px;margin-bottom:0}.form-control-static.input-lg,.form-control-static.input-sm{padding-right:0;padding-left:0}.input-sm{height:30px;padding:5px 10px;font-size:12px;line-height:1.5;border-radius:3px}select.input-sm{height:30px;line-height:30px}select[multiple].input-sm,textarea.input-sm{height:auto}.form-group-sm .form-control{height:30px;padding:5px 10px;font-size:12px;line-height:1.5;border-radius:3px}.form-group-sm select.form-control{height:30px;line-height:30px}.form-group-sm select[multiple].form-control,.form-group-sm textarea.form-control{height:auto}.form-group-sm .form-control-static{height:30px;min-height:32px;padding:6px 10px;font-size:12px;line-height:1.5}.input-lg{height:46px;padding:10px 16px;font-size:18px;line-height:1.3333333;border-radius:6px}select.input-lg{height:46px;line-height:46px}select[multiple].input-lg,textarea.input-lg{height:auto}.form-group-lg .form-control{height:46px;padding:10px 16px;font-size:18px;line-height:1.3333333;border-radius:6px}.form-group-lg select.form-control{height:46px;line-height:46px}.form-group-lg select[multiple].form-control,.form-group-lg textarea.form-control{height:auto}.form-group-lg .form-control-static{height:46px;min-height:38px;padding:11px 16px;font-size:18px;line-height:1.3333333}.has-feedback{position:relative}.has-feedback .form-control{padding-right:42.5px}.form-control-feedback{position:absolute;top:0;right:0;z-index:2;display:block;width:34px;height:34px;line-height:34px;text-align:center;pointer-events:none}.form-group-lg .form-control+.form-control-feedback,.input-group-lg+.form-control-feedback,.input-lg+.form-control-feedback{width:46px;height:46px;line-height:46px}.form-group-sm .form-control+.form-control-feedback,.input-group-sm+.form-control-feedback,.input-sm+.form-control-feedback{width:30px;height:30px;line-height:30px}.has-success .checkbox,.has-success .checkbox-inline,.has-success .control-label,.has-success .help-block,.has-success .radio,.has-success .radio-inline,.has-success.checkbox label,.has-success.checkbox-inline label,.has-success.radio label,.has-success.radio-inline label{color:#3c763d}.has-success .form-control{border-color:#3c763d;-webkit-box-shadow:inset 0 1px 1px rgba(0,0,0,.075);box-shadow:inset 0 1px 1px rgba(0,0,0,.075)}.has-success .form-control:focus{border-color:#2b542c;-webkit-box-shadow:inset 0 1px 1px rgba(0,0,0,.075),0 0 6px #67b168;box-shadow:inset 0 1px 1px rgba(0,0,0,.075),0 0 6px #67b168}.has-success .input-group-addon{color:#3c763d;background-color:#dff0d8;border-color:#3c763d}.has-success .form-control-feedback{color:#3c763d}.has-warning .checkbox,.has-warning .checkbox-inline,.has-warning .control-label,.has-warning .help-block,.has-warning .radio,.has-warning .radio-inline,.has-warning.checkbox label,.has-warning.checkbox-inline label,.has-warning.radio label,.has-warning.radio-inline label{color:#8a6d3b}.has-warning .form-control{border-color:#8a6d3b;-webkit-box-shadow:inset 0 1px 1px rgba(0,0,0,.075);box-shadow:inset 0 1px 1px rgba(0,0,0,.075)}.has-warning .form-control:focus{border-color:#66512c;-webkit-box-shadow:inset 0 1px 1px rgba(0,0,0,.075),0 0 6px #c0a16b;box-shadow:inset 0 1px 1px rgba(0,0,0,.075),0 0 6px #c0a16b}.has-warning .input-group-addon{color:#8a6d3b;background-color:#fcf8e3;border-color:#8a6d3b}.has-warning .form-control-feedback{color:#8a6d3b}.has-error .checkbox,.has-error .checkbox-inline,.has-error .control-label,.has-error .help-block,.has-error .radio,.has-error .radio-inline,.has-error.checkbox label,.has-error.checkbox-inline label,.has-error.radio label,.has-error.radio-inline label{color:#a94442}.has-error .form-control{border-color:#a94442;-webkit-box-shadow:inset 0 1px 1px rgba(0,0,0,.075);box-shadow:inset 0 1px 1px rgba(0,0,0,.075)}.has-error .form-control:focus{border-color:#843534;-webkit-box-shadow:inset 0 1px 1px rgba(0,0,0,.075),0 0 6px #ce8483;box-shadow:inset 0 1px 1px rgba(0,0,0,.075),0 0 6px #ce8483}.has-error .input-group-addon{color:#a94442;background-color:#f2dede;border-color:#a94442}.has-error .form-control-feedback{color:#a94442}.has-feedback label~.form-control-feedback{top:25px}.has-feedback label.sr-only~.form-control-feedback{top:0}.help-block{display:block;margin-top:5px;margin-bottom:10px;color:#737373}@media (min-width:768px){.form-inline .form-group{display:inline-block;margin-bottom:0;vertical-align:middle}.form-inline .form-control{display:inline-block;width:auto;vertical-align:middle}.form-inline .form-control-static{display:inline-block}.form-inline .input-group{display:inline-table;vertical-align:middle}.form-inline .input-group .form-control,.form-inline .input-group .input-group-addon,.form-inline .input-group .input-group-btn{width:auto}.form-inline .input-group>.form-control{width:100%}.form-inline .control-label{margin-bottom:0;vertical-align:middle}.form-inline .checkbox,.form-inline .radio{display:inline-block;margin-top:0;margin-bottom:0;vertical-align:middle}.form-inline .checkbox label,.form-inline .radio label{padding-left:0}.form-inline .checkbox input[type=checkbox],.form-inline .radio input[type=radio]{position:relative;margin-left:0}.form-inline .has-feedback .form-control-feedback{top:0}}.form-horizontal .checkbox,.form-horizontal .checkbox-inline,.form-horizontal .radio,.form-horizontal .radio-inline{padding-top:7px;margin-top:0;margin-bottom:0}.form-horizontal .checkbox,.form-horizontal .radio{min-height:27px}.form-horizontal .form-group{margin-right:-15px;margin-left:-15px}@media (min-width:768px){.form-horizontal .control-label{padding-top:7px;margin-bottom:0;text-align:right}}.form-horizontal .has-feedback .form-control-feedback{right:15px}@media (min-width:768px){.form-horizontal .form-group-lg .control-label{padding-top:11px;font-size:18px}}@media (min-width:768px){.form-horizontal .form-group-sm .control-label{padding-top:6px;font-size:12px}}.btn{display:inline-block;padding:6px 12px;margin-bottom:0;font-size:14px;font-weight:400;line-height:1.42857143;text-align:center;white-space:nowrap;vertical-align:middle;-ms-touch-action:manipulation;touch-action:manipulation;cursor:pointer;-webkit-user-select:none;-moz-user-select:none;-ms-user-select:none;user-select:none;background-image:none;border:1px solid transparent;border-radius:4px}.btn.active.focus,.btn.active:focus,.btn.focus,.btn:active.focus,.btn:active:focus,.btn:focus{outline:5px auto -webkit-focus-ring-color;outline-offset:-2px}.btn.focus,.btn:focus,.btn:hover{color:#333;text-decoration:none}.btn.active,.btn:active{background-image:none;outline:0;-webkit-box-shadow:inset 0 3px 5px rgba(0,0,0,.125);box-shadow:inset 0 3px 5px rgba(0,0,0,.125)}.btn.disabled,.btn[disabled],fieldset[disabled] .btn{cursor:not-allowed;filter:alpha(opacity=65);-webkit-box-shadow:none;box-shadow:none;opacity:.65}a.btn.disabled,fieldset[disabled] a.btn{pointer-events:none}.btn-default{color:#333;background-color:#fff;border-color:#ccc}.btn-default.focus,.btn-default:focus{color:#333;background-color:#e6e6e6;border-color:#8c8c8c}.btn-default:hover{color:#333;background-color:#e6e6e6;border-color:#adadad}.btn-default.active,.btn-default:active,.open>.dropdown-toggle.btn-default{color:#333;background-color:#e6e6e6;border-color:#adadad}.btn-default.active.focus,.btn-default.active:focus,.btn-default.active:hover,.btn-default:active.focus,.btn-default:active:focus,.btn-default:active:hover,.open>.dropdown-toggle.btn-default.focus,.open>.dropdown-toggle.btn-default:focus,.open>.dropdown-toggle.btn-default:hover{color:#333;background-color:#d4d4d4;border-color:#8c8c8c}.btn-default.active,.btn-default:active,.open>.dropdown-toggle.btn-default{background-image:none}.btn-default.disabled.focus,.btn-default.disabled:focus,.btn-default.disabled:hover,.btn-default[disabled].focus,.btn-default[disabled]:focus,.btn-default[disabled]:hover,fieldset[disabled] .btn-default.focus,fieldset[disabled] .btn-default:focus,fieldset[disabled] .btn-default:hover{background-color:#fff;border-color:#ccc}.btn-default .badge{color:#fff;background-color:#333}.btn-primary{color:#fff;background-color:#337ab7;border-color:#2e6da4}.btn-primary.focus,.btn-primary:focus{color:#fff;background-color:#286090;border-color:#122b40}.btn-primary:hover{color:#fff;background-color:#286090;border-color:#204d74}.btn-primary.active,.btn-primary:active,.open>.dropdown-toggle.btn-primary{color:#fff;background-color:#286090;border-color:#204d74}.btn-primary.active.focus,.btn-primary.active:focus,.btn-primary.active:hover,.btn-primary:active.focus,.btn-primary:active:focus,.btn-primary:active:hover,.open>.dropdown-toggle.btn-primary.focus,.open>.dropdown-toggle.btn-primary:focus,.open>.dropdown-toggle.btn-primary:hover{color:#fff;background-color:#204d74;border-color:#122b40}.btn-primary.active,.btn-primary:active,.open>.dropdown-toggle.btn-primary{background-image:none}.btn-primary.disabled.focus,.btn-primary.disabled:focus,.btn-primary.disabled:hover,.btn-primary[disabled].focus,.btn-primary[disabled]:focus,.btn-primary[disabled]:hover,fieldset[disabled] .btn-primary.focus,fieldset[disabled] .btn-primary:focus,fieldset[disabled] .btn-primary:hover{background-color:#337ab7;border-color:#2e6da4}.btn-primary .badge{color:#337ab7;background-color:#fff}.btn-success{color:#fff;background-color:#5cb85c;border-color:#4cae4c}.btn-success.focus,.btn-success:focus{color:#fff;background-color:#449d44;border-color:#255625}.btn-success:hover{color:#fff;background-color:#449d44;border-color:#398439}.btn-success.active,.btn-success:active,.open>.dropdown-toggle.btn-success{color:#fff;background-color:#449d44;border-color:#398439}.btn-success.active.focus,.btn-success.active:focus,.btn-success.active:hover,.btn-success:active.focus,.btn-success:active:focus,.btn-success:active:hover,.open>.dropdown-toggle.btn-success.focus,.open>.dropdown-toggle.btn-success:focus,.open>.dropdown-toggle.btn-success:hover{color:#fff;background-color:#398439;border-color:#255625}.btn-success.active,.btn-success:active,.open>.dropdown-toggle.btn-success{background-image:none}.btn-success.disabled.focus,.btn-success.disabled:focus,.btn-success.disabled:hover,.btn-success[disabled].focus,.btn-success[disabled]:focus,.btn-success[disabled]:hover,fieldset[disabled] .btn-success.focus,fieldset[disabled] .btn-success:focus,fieldset[disabled] .btn-success:hover{background-color:#5cb85c;border-color:#4cae4c}.btn-success .badge{color:#5cb85c;background-color:#fff}.btn-info{color:#fff;background-color:#5bc0de;border-color:#46b8da}.btn-info.focus,.btn-info:focus{color:#fff;background-color:#31b0d5;border-color:#1b6d85}.btn-info:hover{color:#fff;background-color:#31b0d5;border-color:#269abc}.btn-info.active,.btn-info:active,.open>.dropdown-toggle.btn-info{color:#fff;background-color:#31b0d5;border-color:#269abc}.btn-info.active.focus,.btn-info.active:focus,.btn-info.active:hover,.btn-info:active.focus,.btn-info:active:focus,.btn-info:active:hover,.open>.dropdown-toggle.btn-info.focus,.open>.dropdown-toggle.btn-info:focus,.open>.dropdown-toggle.btn-info:hover{color:#fff;background-color:#269abc;border-color:#1b6d85}.btn-info.active,.btn-info:active,.open>.dropdown-toggle.btn-info{background-image:none}.btn-info.disabled.focus,.btn-info.disabled:focus,.btn-info.disabled:hover,.btn-info[disabled].focus,.btn-info[disabled]:focus,.btn-info[disabled]:hover,fieldset[disabled] .btn-info.focus,fieldset[disabled] .btn-info:focus,fieldset[disabled] .btn-info:hover{background-color:#5bc0de;border-color:#46b8da}.btn-info .badge{color:#5bc0de;background-color:#fff}.btn-warning{color:#fff;background-color:#f0ad4e;border-color:#eea236}.btn-warning.focus,.btn-warning:focus{color:#fff;background-color:#ec971f;border-color:#985f0d}.btn-warning:hover{color:#fff;background-color:#ec971f;border-color:#d58512}.btn-warning.active,.btn-warning:active,.open>.dropdown-toggle.btn-warning{color:#fff;background-color:#ec971f;border-color:#d58512}.btn-warning.active.focus,.btn-warning.active:focus,.btn-warning.active:hover,.btn-warning:active.focus,.btn-warning:active:focus,.btn-warning:active:hover,.open>.dropdown-toggle.btn-warning.focus,.open>.dropdown-toggle.btn-warning:focus,.open>.dropdown-toggle.btn-warning:hover{color:#fff;background-color:#d58512;border-color:#985f0d}.btn-warning.active,.btn-warning:active,.open>.dropdown-toggle.btn-warning{background-image:none}.btn-warning.disabled.focus,.btn-warning.disabled:focus,.btn-warning.disabled:hover,.btn-warning[disabled].focus,.btn-warning[disabled]:focus,.btn-warning[disabled]:hover,fieldset[disabled] .btn-warning.focus,fieldset[disabled] .btn-warning:focus,fieldset[disabled] .btn-warning:hover{background-color:#f0ad4e;border-color:#eea236}.btn-warning .badge{color:#f0ad4e;background-color:#fff}.btn-danger{color:#fff;background-color:#d9534f;border-color:#d43f3a}.btn-danger.focus,.btn-danger:focus{color:#fff;background-color:#c9302c;border-color:#761c19}.btn-danger:hover{color:#fff;background-color:#c9302c;border-color:#ac2925}.btn-danger.active,.btn-danger:active,.open>.dropdown-toggle.btn-danger{color:#fff;background-color:#c9302c;border-color:#ac2925}.btn-danger.active.focus,.btn-danger.active:focus,.btn-danger.active:hover,.btn-danger:active.focus,.btn-danger:active:focus,.btn-danger:active:hover,.open>.dropdown-toggle.btn-danger.focus,.open>.dropdown-toggle.btn-danger:focus,.open>.dropdown-toggle.btn-danger:hover{color:#fff;background-color:#ac2925;border-color:#761c19}.btn-danger.active,.btn-danger:active,.open>.dropdown-toggle.btn-danger{background-image:none}.btn-danger.disabled.focus,.btn-danger.disabled:focus,.btn-danger.disabled:hover,.btn-danger[disabled].focus,.btn-danger[disabled]:focus,.btn-danger[disabled]:hover,fieldset[disabled] .btn-danger.focus,fieldset[disabled] .btn-danger:focus,fieldset[disabled] .btn-danger:hover{background-color:#d9534f;border-color:#d43f3a}.btn-danger .badge{color:#d9534f;background-color:#fff}.btn-link{font-weight:400;color:#337ab7;border-radius:0}.btn-link,.btn-link.active,.btn-link:active,.btn-link[disabled],fieldset[disabled] .btn-link{background-color:transparent;-webkit-box-shadow:none;box-shadow:none}.btn-link,.btn-link:active,.btn-link:focus,.btn-link:hover{border-color:transparent}.btn-link:focus,.btn-link:hover{color:#23527c;text-decoration:underline;background-color:transparent}.btn-link[disabled]:focus,.btn-link[disabled]:hover,fieldset[disabled] .btn-link:focus,fieldset[disabled] .btn-link:hover{color:#777;text-decoration:none}.btn-group-lg>.btn,.btn-lg{padding:10px 16px;font-size:18px;line-height:1.3333333;border-radius:6px}.btn-group-sm>.btn,.btn-sm{padding:5px 10px;font-size:12px;line-height:1.5;border-radius:3px}.btn-group-xs>.btn,.btn-xs{padding:1px 5px;font-size:12px;line-height:1.5;border-radius:3px}.btn-block{display:block;width:100%}.btn-block+.btn-block{margin-top:5px}input[type=button].btn-block,input[type=reset].btn-block,input[type=submit].btn-block{width:100%}.fade{opacity:0;-webkit-transition:opacity .15s linear;-o-transition:opacity .15s linear;transition:opacity .15s linear}.fade.in{opacity:1}.collapse{display:none}.collapse.in{display:block}tr.collapse.in{display:table-row}tbody.collapse.in{display:table-row-group}.collapsing{position:relative;height:0;overflow:hidden;-webkit-transition-timing-function:ease;-o-transition-timing-function:ease;transition-timing-function:ease;-webkit-transition-duration:.35s;-o-transition-duration:.35s;transition-duration:.35s;-webkit-transition-property:height,visibility;-o-transition-property:height,visibility;transition-property:height,visibility}.caret{display:inline-block;width:0;height:0;margin-left:2px;vertical-align:middle;border-top:4px dashed;border-top:4px solid\9;border-right:4px solid transparent;border-left:4px solid transparent}.dropdown,.dropup{position:relative}.dropdown-toggle:focus{outline:0}.dropdown-menu{position:absolute;top:100%;left:0;z-index:1000;display:none;float:left;min-width:160px;padding:5px 0;margin:2px 0 0;font-size:14px;text-align:left;list-style:none;background-color:#fff;-webkit-background-clip:padding-box;background-clip:padding-box;border:1px solid #ccc;border:1px solid rgba(0,0,0,.15);border-radius:4px;-webkit-box-shadow:0 6px 12px rgba(0,0,0,.175);box-shadow:0 6px 12px rgba(0,0,0,.175)}.dropdown-menu.pull-right{right:0;left:auto}.dropdown-menu .divider{height:1px;margin:9px 0;overflow:hidden;background-color:#e5e5e5}.dropdown-menu>li>a{display:block;padding:3px 20px;clear:both;font-weight:400;line-height:1.42857143;color:#333;white-space:nowrap}.dropdown-menu>li>a:focus,.dropdown-menu>li>a:hover{color:#262626;text-decoration:none;background-color:#f5f5f5}.dropdown-menu>.active>a,.dropdown-menu>.active>a:focus,.dropdown-menu>.active>a:hover{color:#fff;text-decoration:none;background-color:#337ab7;outline:0}.dropdown-menu>.disabled>a,.dropdown-menu>.disabled>a:focus,.dropdown-menu>.disabled>a:hover{color:#777}.dropdown-menu>.disabled>a:focus,.dropdown-menu>.disabled>a:hover{text-decoration:none;cursor:not-allowed;background-color:transparent;background-image:none;filter:progid:DXImageTransform.Microsoft.gradient(enabled=false)}.open>.dropdown-menu{display:block}.open>a{outline:0}.dropdown-menu-right{right:0;left:auto}.dropdown-menu-left{right:auto;left:0}.dropdown-header{display:block;padding:3px 20px;font-size:12px;line-height:1.42857143;color:#777;white-space:nowrap}.dropdown-backdrop{position:fixed;top:0;right:0;bottom:0;left:0;z-index:990}.pull-right>.dropdown-menu{right:0;left:auto}.dropup .caret,.navbar-fixed-bottom .dropdown .caret{content:"";border-top:0;border-bottom:4px dashed;border-bottom:4px solid\9}.dropup .dropdown-menu,.navbar-fixed-bottom .dropdown .dropdown-menu{top:auto;bottom:100%;margin-bottom:2px}@media (min-width:768px){.navbar-right .dropdown-menu{right:0;left:auto}.navbar-right .dropdown-menu-left{right:auto;left:0}}.btn-group,.btn-group-vertical{position:relative;display:inline-block;vertical-align:middle}.btn-group-vertical>.btn,.btn-group>.btn{position:relative;float:left}.btn-group-vertical>.btn.active,.btn-group-vertical>.btn:active,.btn-group-vertical>.btn:focus,.btn-group-vertical>.btn:hover,.btn-group>.btn.active,.btn-group>.btn:active,.btn-group>.btn:focus,.btn-group>.btn:hover{z-index:2}.btn-group .btn+.btn,.btn-group .btn+.btn-group,.btn-group .btn-group+.btn,.btn-group .btn-group+.btn-group{margin-left:-1px}.btn-toolbar{margin-left:-5px}.btn-toolbar .btn,.btn-toolbar .btn-group,.btn-toolbar .input-group{float:left}.btn-toolbar>.btn,.btn-toolbar>.btn-group,.btn-toolbar>.input-group{margin-left:5px}.btn-group>.btn:not(:first-child):not(:last-child):not(.dropdown-toggle){border-radius:0}.btn-group>.btn:first-child{margin-left:0}.btn-group>.btn:first-child:not(:last-child):not(.dropdown-toggle){border-top-right-radius:0;border-bottom-right-radius:0}.btn-group>.btn:last-child:not(:first-child),.btn-group>.dropdown-toggle:not(:first-child){border-top-left-radius:0;border-bottom-left-radius:0}.btn-group>.btn-group{float:left}.btn-group>.btn-group:not(:first-child):not(:last-child)>.btn{border-radius:0}.btn-group>.btn-group:first-child:not(:last-child)>.btn:last-child,.btn-group>.btn-group:first-child:not(:last-child)>.dropdown-toggle{border-top-right-radius:0;border-bottom-right-radius:0}.btn-group>.btn-group:last-child:not(:first-child)>.btn:first-child{border-top-left-radius:0;border-bottom-left-radius:0}.btn-group .dropdown-toggle:active,.btn-group.open .dropdown-toggle{outline:0}.btn-group>.btn+.dropdown-toggle{padding-right:8px;padding-left:8px}.btn-group>.btn-lg+.dropdown-toggle{padding-right:12px;padding-left:12px}.btn-group.open .dropdown-toggle{-webkit-box-shadow:inset 0 3px 5px rgba(0,0,0,.125);box-shadow:inset 0 3px 5px rgba(0,0,0,.125)}.btn-group.open .dropdown-toggle.btn-link{-webkit-box-shadow:none;box-shadow:none}.btn .caret{margin-left:0}.btn-lg .caret{border-width:5px 5px 0;border-bottom-width:0}.dropup .btn-lg .caret{border-width:0 5px 5px}.btn-group-vertical>.btn,.btn-group-vertical>.btn-group,.btn-group-vertical>.btn-group>.btn{display:block;float:none;width:100%;max-width:100%}.btn-group-vertical>.btn-group>.btn{float:none}.btn-group-vertical>.btn+.btn,.btn-group-vertical>.btn+.btn-group,.btn-group-vertical>.btn-group+.btn,.btn-group-vertical>.btn-group+.btn-group{margin-top:-1px;margin-left:0}.btn-group-vertical>.btn:not(:first-child):not(:last-child){border-radius:0}.btn-group-vertical>.btn:first-child:not(:last-child){border-top-left-radius:4px;border-top-right-radius:4px;border-bottom-right-radius:0;border-bottom-left-radius:0}.btn-group-vertical>.btn:last-child:not(:first-child){border-top-left-radius:0;border-top-right-radius:0;border-bottom-right-radius:4px;border-bottom-left-radius:4px}.btn-group-vertical>.btn-group:not(:first-child):not(:last-child)>.btn{border-radius:0}.btn-group-vertical>.btn-group:first-child:not(:last-child)>.btn:last-child,.btn-group-vertical>.btn-group:first-child:not(:last-child)>.dropdown-toggle{border-bottom-right-radius:0;border-bottom-left-radius:0}.btn-group-vertical>.btn-group:last-child:not(:first-child)>.btn:first-child{border-top-left-radius:0;border-top-right-radius:0}.btn-group-justified{display:table;width:100%;table-layout:fixed;border-collapse:separate}.btn-group-justified>.btn,.btn-group-justified>.btn-group{display:table-cell;float:none;width:1%}.btn-group-justified>.btn-group .btn{width:100%}.btn-group-justified>.btn-group .dropdown-menu{left:auto}[data-toggle=buttons]>.btn input[type=checkbox],[data-toggle=buttons]>.btn input[type=radio],[data-toggle=buttons]>.btn-group>.btn input[type=checkbox],[data-toggle=buttons]>.btn-group>.btn input[type=radio]{position:absolute;clip:rect(0,0,0,0);pointer-events:none}.input-group{position:relative;display:table;border-collapse:separate}.input-group[class*=col-]{float:none;padding-right:0;padding-left:0}.input-group .form-control{position:relative;z-index:2;float:left;width:100%;margin-bottom:0}.input-group .form-control:focus{z-index:3}.input-group-lg>.form-control,.input-group-lg>.input-group-addon,.input-group-lg>.input-group-btn>.btn{height:46px;padding:10px 16px;font-size:18px;line-height:1.3333333;border-radius:6px}select.input-group-lg>.form-control,select.input-group-lg>.input-group-addon,select.input-group-lg>.input-group-btn>.btn{height:46px;line-height:46px}select[multiple].input-group-lg>.form-control,select[multiple].input-group-lg>.input-group-addon,select[multiple].input-group-lg>.input-group-btn>.btn,textarea.input-group-lg>.form-control,textarea.input-group-lg>.input-group-addon,textarea.input-group-lg>.input-group-btn>.btn{height:auto}.input-group-sm>.form-control,.input-group-sm>.input-group-addon,.input-group-sm>.input-group-btn>.btn{height:30px;padding:5px 10px;font-size:12px;line-height:1.5;border-radius:3px}select.input-group-sm>.form-control,select.input-group-sm>.input-group-addon,select.input-group-sm>.input-group-btn>.btn{height:30px;line-height:30px}select[multiple].input-group-sm>.form-control,select[multiple].input-group-sm>.input-group-addon,select[multiple].input-group-sm>.input-group-btn>.btn,textarea.input-group-sm>.form-control,textarea.input-group-sm>.input-group-addon,textarea.input-group-sm>.input-group-btn>.btn{height:auto}.input-group .form-control,.input-group-addon,.input-group-btn{display:table-cell}.input-group .form-control:not(:first-child):not(:last-child),.input-group-addon:not(:first-child):not(:last-child),.input-group-btn:not(:first-child):not(:last-child){border-radius:0}.input-group-addon,.input-group-btn{width:1%;white-space:nowrap;vertical-align:middle}.input-group-addon{padding:6px 12px;font-size:14px;font-weight:400;line-height:1;color:#555;text-align:center;background-color:#eee;border:1px solid #ccc;border-radius:4px}.input-group-addon.input-sm{padding:5px 10px;font-size:12px;border-radius:3px}.input-group-addon.input-lg{padding:10px 16px;font-size:18px;border-radius:6px}.input-group-addon input[type=checkbox],.input-group-addon input[type=radio]{margin-top:0}.input-group .form-control:first-child,.input-group-addon:first-child,.input-group-btn:first-child>.btn,.input-group-btn:first-child>.btn-group>.btn,.input-group-btn:first-child>.dropdown-toggle,.input-group-btn:last-child>.btn-group:not(:last-child)>.btn,.input-group-btn:last-child>.btn:not(:last-child):not(.dropdown-toggle){border-top-right-radius:0;border-bottom-right-radius:0}.input-group-addon:first-child{border-right:0}.input-group .form-control:last-child,.input-group-addon:last-child,.input-group-btn:first-child>.btn-group:not(:first-child)>.btn,.input-group-btn:first-child>.btn:not(:first-child),.input-group-btn:last-child>.btn,.input-group-btn:last-child>.btn-group>.btn,.input-group-btn:last-child>.dropdown-toggle{border-top-left-radius:0;border-bottom-left-radius:0}.input-group-addon:last-child{border-left:0}.input-group-btn{position:relative;font-size:0;white-space:nowrap}.input-group-btn>.btn{position:relative}.input-group-btn>.btn+.btn{margin-left:-1px}.input-group-btn>.btn:active,.input-group-btn>.btn:focus,.input-group-btn>.btn:hover{z-index:2}.input-group-btn:first-child>.btn,.input-group-btn:first-child>.btn-group{margin-right:-1px}.input-group-btn:last-child>.btn,.input-group-btn:last-child>.btn-group{z-index:2;margin-left:-1px}.nav{padding-left:0;margin-bottom:0;list-style:none}.nav>li{position:relative;display:block}.nav>li>a{position:relative;display:block;padding:10px 15px}.nav>li>a:focus,.nav>li>a:hover{text-decoration:none;background-color:#eee}.nav>li.disabled>a{color:#777}.nav>li.disabled>a:focus,.nav>li.disabled>a:hover{color:#777;text-decoration:none;cursor:not-allowed;background-color:transparent}.nav .open>a,.nav .open>a:focus,.nav .open>a:hover{background-color:#eee;border-color:#337ab7}.nav .nav-divider{height:1px;margin:9px 0;overflow:hidden;background-color:#e5e5e5}.nav>li>a>img{max-width:none}.nav-tabs{border-bottom:1px solid #ddd}.nav-tabs>li{float:left;margin-bottom:-1px}.nav-tabs>li>a{margin-right:2px;line-height:1.42857143;border:1px solid transparent;border-radius:4px 4px 0 0}.nav-tabs>li>a:hover{border-color:#eee #eee #ddd}.nav-tabs>li.active>a,.nav-tabs>li.active>a:focus,.nav-tabs>li.active>a:hover{color:#555;cursor:default;background-color:#fff;border:1px solid #ddd;border-bottom-color:transparent}.nav-tabs.nav-justified{width:100%;border-bottom:0}.nav-tabs.nav-justified>li{float:none}.nav-tabs.nav-justified>li>a{margin-bottom:5px;text-align:center}.nav-tabs.nav-justified>.dropdown .dropdown-menu{top:auto;left:auto}@media (min-width:768px){.nav-tabs.nav-justified>li{display:table-cell;width:1%}.nav-tabs.nav-justified>li>a{margin-bottom:0}}.nav-tabs.nav-justified>li>a{margin-right:0;border-radius:4px}.nav-tabs.nav-justified>.active>a,.nav-tabs.nav-justified>.active>a:focus,.nav-tabs.nav-justified>.active>a:hover{border:1px solid #ddd}@media (min-width:768px){.nav-tabs.nav-justified>li>a{border-bottom:1px solid #ddd;border-radius:4px 4px 0 0}.nav-tabs.nav-justified>.active>a,.nav-tabs.nav-justified>.active>a:focus,.nav-tabs.nav-justified>.active>a:hover{border-bottom-color:#fff}}.nav-pills>li{float:left}.nav-pills>li>a{border-radius:4px}.nav-pills>li+li{margin-left:2px}.nav-pills>li.active>a,.nav-pills>li.active>a:focus,.nav-pills>li.active>a:hover{color:#fff;background-color:#337ab7}.nav-stacked>li{float:none}.nav-stacked>li+li{margin-top:2px;margin-left:0}.nav-justified{width:100%}.nav-justified>li{float:none}.nav-justified>li>a{margin-bottom:5px;text-align:center}.nav-justified>.dropdown .dropdown-menu{top:auto;left:auto}@media (min-width:768px){.nav-justified>li{display:table-cell;width:1%}.nav-justified>li>a{margin-bottom:0}}.nav-tabs-justified{border-bottom:0}.nav-tabs-justified>li>a{margin-right:0;border-radius:4px}.nav-tabs-justified>.active>a,.nav-tabs-justified>.active>a:focus,.nav-tabs-justified>.active>a:hover{border:1px solid #ddd}@media (min-width:768px){.nav-tabs-justified>li>a{border-bottom:1px solid #ddd;border-radius:4px 4px 0 0}.nav-tabs-justified>.active>a,.nav-tabs-justified>.active>a:focus,.nav-tabs-justified>.active>a:hover{border-bottom-color:#fff}}.tab-content>.tab-pane{display:none}.tab-content>.active{display:block}.nav-tabs .dropdown-menu{margin-top:-1px;border-top-left-radius:0;border-top-right-radius:0}.navbar{position:relative;min-height:50px;margin-bottom:20px;border:1px solid transparent}@media (min-width:768px){.navbar{border-radius:4px}}@media (min-width:768px){.navbar-header{float:left}}.navbar-collapse{padding-right:15px;padding-left:15px;overflow-x:visible;-webkit-overflow-scrolling:touch;border-top:1px solid transparent;-webkit-box-shadow:inset 0 1px 0 rgba(255,255,255,.1);box-shadow:inset 0 1px 0 rgba(255,255,255,.1)}.navbar-collapse.in{overflow-y:auto}@media (min-width:768px){.navbar-collapse{width:auto;border-top:0;-webkit-box-shadow:none;box-shadow:none}.navbar-collapse.collapse{display:block!important;height:auto!important;padding-bottom:0;overflow:visible!important}.navbar-collapse.in{overflow-y:visible}.navbar-fixed-bottom .navbar-collapse,.navbar-fixed-top .navbar-collapse,.navbar-static-top .navbar-collapse{padding-right:0;padding-left:0}}.navbar-fixed-bottom .navbar-collapse,.navbar-fixed-top .navbar-collapse{max-height:340px}@media (max-device-width:480px) and (orientation:landscape){.navbar-fixed-bottom .navbar-collapse,.navbar-fixed-top .navbar-collapse{max-height:200px}}.container-fluid>.navbar-collapse,.container-fluid>.navbar-header,.container>.navbar-collapse,.container>.navbar-header{margin-right:-15px;margin-left:-15px}@media (min-width:768px){.container-fluid>.navbar-collapse,.container-fluid>.navbar-header,.container>.navbar-collapse,.container>.navbar-header{margin-right:0;margin-left:0}}.navbar-static-top{z-index:1000;border-width:0 0 1px}@media (min-width:768px){.navbar-static-top{border-radius:0}}.navbar-fixed-bottom,.navbar-fixed-top{position:fixed;right:0;left:0;z-index:1030}@media (min-width:768px){.navbar-fixed-bottom,.navbar-fixed-top{border-radius:0}}.navbar-fixed-top{top:0;border-width:0 0 1px}.navbar-fixed-bottom{bottom:0;margin-bottom:0;border-width:1px 0 0}.navbar-brand{float:left;height:50px;padding:15px;font-size:18px;line-height:20px}.navbar-brand:focus,.navbar-brand:hover{text-decoration:none}.navbar-brand>img{display:block}@media (min-width:768px){.navbar>.container .navbar-brand,.navbar>.container-fluid .navbar-brand{margin-left:-15px}}.navbar-toggle{position:relative;float:right;padding:9px 10px;margin-top:8px;margin-right:15px;margin-bottom:8px;background-color:transparent;background-image:none;border:1px solid transparent;border-radius:4px}.navbar-toggle:focus{outline:0}.navbar-toggle .icon-bar{display:block;width:22px;height:2px;border-radius:1px}.navbar-toggle .icon-bar+.icon-bar{margin-top:4px}@media (min-width:768px){.navbar-toggle{display:none}}.navbar-nav{margin:7.5px -15px}.navbar-nav>li>a{padding-top:10px;padding-bottom:10px;line-height:20px}@media (max-width:767px){.navbar-nav .open .dropdown-menu{position:static;float:none;width:auto;margin-top:0;background-color:transparent;border:0;-webkit-box-shadow:none;box-shadow:none}.navbar-nav .open .dropdown-menu .dropdown-header,.navbar-nav .open .dropdown-menu>li>a{padding:5px 15px 5px 25px}.navbar-nav .open .dropdown-menu>li>a{line-height:20px}.navbar-nav .open .dropdown-menu>li>a:focus,.navbar-nav .open .dropdown-menu>li>a:hover{background-image:none}}@media (min-width:768px){.navbar-nav{float:left;margin:0}.navbar-nav>li{float:left}.navbar-nav>li>a{padding-top:15px;padding-bottom:15px}}.navbar-form{padding:10px 15px;margin-top:8px;margin-right:-15px;margin-bottom:8px;margin-left:-15px;border-top:1px solid transparent;border-bottom:1px solid transparent;-webkit-box-shadow:inset 0 1px 0 rgba(255,255,255,.1),0 1px 0 rgba(255,255,255,.1);box-shadow:inset 0 1px 0 rgba(255,255,255,.1),0 1px 0 rgba(255,255,255,.1)}@media (min-width:768px){.navbar-form .form-group{display:inline-block;margin-bottom:0;vertical-align:middle}.navbar-form .form-control{display:inline-block;width:auto;vertical-align:middle}.navbar-form .form-control-static{display:inline-block}.navbar-form .input-group{display:inline-table;vertical-align:middle}.navbar-form .input-group .form-control,.navbar-form .input-group .input-group-addon,.navbar-form .input-group .input-group-btn{width:auto}.navbar-form .input-group>.form-control{width:100%}.navbar-form .control-label{margin-bottom:0;vertical-align:middle}.navbar-form .checkbox,.navbar-form .radio{display:inline-block;margin-top:0;margin-bottom:0;vertical-align:middle}.navbar-form .checkbox label,.navbar-form .radio label{padding-left:0}.navbar-form .checkbox input[type=checkbox],.navbar-form .radio input[type=radio]{position:relative;margin-left:0}.navbar-form .has-feedback .form-control-feedback{top:0}}@media (max-width:767px){.navbar-form .form-group{margin-bottom:5px}.navbar-form .form-group:last-child{margin-bottom:0}}@media (min-width:768px){.navbar-form{width:auto;padding-top:0;padding-bottom:0;margin-right:0;margin-left:0;border:0;-webkit-box-shadow:none;box-shadow:none}}.navbar-nav>li>.dropdown-menu{margin-top:0;border-top-left-radius:0;border-top-right-radius:0}.navbar-fixed-bottom .navbar-nav>li>.dropdown-menu{margin-bottom:0;border-top-left-radius:4px;border-top-right-radius:4px;border-bottom-right-radius:0;border-bottom-left-radius:0}.navbar-btn{margin-top:8px;margin-bottom:8px}.navbar-btn.btn-sm{margin-top:10px;margin-bottom:10px}.navbar-btn.btn-xs{margin-top:14px;margin-bottom:14px}.navbar-text{margin-top:15px;margin-bottom:15px}@media (min-width:768px){.navbar-text{float:left;margin-right:15px;margin-left:15px}}@media (min-width:768px){.navbar-left{float:left!important}.navbar-right{float:right!important;margin-right:-15px}.navbar-right~.navbar-right{margin-right:0}}.navbar-default{background-color:#f8f8f8;border-color:#e7e7e7}.navbar-default .navbar-brand{color:#777}.navbar-default .navbar-brand:focus,.navbar-default .navbar-brand:hover{color:#5e5e5e;background-color:transparent}.navbar-default .navbar-text{color:#777}.navbar-default .navbar-nav>li>a{color:#777}.navbar-default .navbar-nav>li>a:focus,.navbar-default .navbar-nav>li>a:hover{color:#333;background-color:transparent}.navbar-default .navbar-nav>.active>a,.navbar-default .navbar-nav>.active>a:focus,.navbar-default .navbar-nav>.active>a:hover{color:#555;background-color:#e7e7e7}.navbar-default .navbar-nav>.disabled>a,.navbar-default .navbar-nav>.disabled>a:focus,.navbar-default .navbar-nav>.disabled>a:hover{color:#ccc;background-color:transparent}.navbar-default .navbar-toggle{border-color:#ddd}.navbar-default .navbar-toggle:focus,.navbar-default .navbar-toggle:hover{background-color:#ddd}.navbar-default .navbar-toggle .icon-bar{background-color:#888}.navbar-default .navbar-collapse,.navbar-default .navbar-form{border-color:#e7e7e7}.navbar-default .navbar-nav>.open>a,.navbar-default .navbar-nav>.open>a:focus,.navbar-default .navbar-nav>.open>a:hover{color:#555;background-color:#e7e7e7}@media (max-width:767px){.navbar-default .navbar-nav .open .dropdown-menu>li>a{color:#777}.navbar-default .navbar-nav .open .dropdown-menu>li>a:focus,.navbar-default .navbar-nav .open .dropdown-menu>li>a:hover{color:#333;background-color:transparent}.navbar-default .navbar-nav .open .dropdown-menu>.active>a,.navbar-default .navbar-nav .open .dropdown-menu>.active>a:focus,.navbar-default .navbar-nav .open .dropdown-menu>.active>a:hover{color:#555;background-color:#e7e7e7}.navbar-default .navbar-nav .open .dropdown-menu>.disabled>a,.navbar-default .navbar-nav .open .dropdown-menu>.disabled>a:focus,.navbar-default .navbar-nav .open .dropdown-menu>.disabled>a:hover{color:#ccc;background-color:transparent}}.navbar-default .navbar-link{color:#777}.navbar-default .navbar-link:hover{color:#333}.navbar-default .btn-link{color:#777}.navbar-default .btn-link:focus,.navbar-default .btn-link:hover{color:#333}.navbar-default .btn-link[disabled]:focus,.navbar-default .btn-link[disabled]:hover,fieldset[disabled] .navbar-default .btn-link:focus,fieldset[disabled] .navbar-default .btn-link:hover{color:#ccc}.navbar-inverse{background-color:#222;border-color:#080808}.navbar-inverse .navbar-brand{color:#9d9d9d}.navbar-inverse .navbar-brand:focus,.navbar-inverse .navbar-brand:hover{color:#fff;background-color:transparent}.navbar-inverse .navbar-text{color:#9d9d9d}.navbar-inverse .navbar-nav>li>a{color:#9d9d9d}.navbar-inverse .navbar-nav>li>a:focus,.navbar-inverse .navbar-nav>li>a:hover{color:#fff;background-color:transparent}.navbar-inverse .navbar-nav>.active>a,.navbar-inverse .navbar-nav>.active>a:focus,.navbar-inverse .navbar-nav>.active>a:hover{color:#fff;background-color:#080808}.navbar-inverse .navbar-nav>.disabled>a,.navbar-inverse .navbar-nav>.disabled>a:focus,.navbar-inverse .navbar-nav>.disabled>a:hover{color:#444;background-color:transparent}.navbar-inverse .navbar-toggle{border-color:#333}.navbar-inverse .navbar-toggle:focus,.navbar-inverse .navbar-toggle:hover{background-color:#333}.navbar-inverse .navbar-toggle .icon-bar{background-color:#fff}.navbar-inverse .navbar-collapse,.navbar-inverse .navbar-form{border-color:#101010}.navbar-inverse .navbar-nav>.open>a,.navbar-inverse .navbar-nav>.open>a:focus,.navbar-inverse .navbar-nav>.open>a:hover{color:#fff;background-color:#080808}@media (max-width:767px){.navbar-inverse .navbar-nav .open .dropdown-menu>.dropdown-header{border-color:#080808}.navbar-inverse .navbar-nav .open .dropdown-menu .divider{background-color:#080808}.navbar-inverse .navbar-nav .open .dropdown-menu>li>a{color:#9d9d9d}.navbar-inverse .navbar-nav .open .dropdown-menu>li>a:focus,.navbar-inverse .navbar-nav .open .dropdown-menu>li>a:hover{color:#fff;background-color:transparent}.navbar-inverse .navbar-nav .open .dropdown-menu>.active>a,.navbar-inverse .navbar-nav .open .dropdown-menu>.active>a:focus,.navbar-inverse .navbar-nav .open .dropdown-menu>.active>a:hover{color:#fff;background-color:#080808}.navbar-inverse .navbar-nav .open .dropdown-menu>.disabled>a,.navbar-inverse .navbar-nav .open .dropdown-menu>.disabled>a:focus,.navbar-inverse .navbar-nav .open .dropdown-menu>.disabled>a:hover{color:#444;background-color:transparent}}.navbar-inverse .navbar-link{color:#9d9d9d}.navbar-inverse .navbar-link:hover{color:#fff}.navbar-inverse .btn-link{color:#9d9d9d}.navbar-inverse .btn-link:focus,.navbar-inverse .btn-link:hover{color:#fff}.navbar-inverse .btn-link[disabled]:focus,.navbar-inverse .btn-link[disabled]:hover,fieldset[disabled] .navbar-inverse .btn-link:focus,fieldset[disabled] .navbar-inverse .btn-link:hover{color:#444}.breadcrumb{padding:8px 15px;margin-bottom:20px;list-style:none;background-color:#f5f5f5;border-radius:4px}.breadcrumb>li{display:inline-block}.breadcrumb>li+li:before{padding:0 5px;color:#ccc;content:"/\00a0"}.breadcrumb>.active{color:#777}.pagination{display:inline-block;padding-left:0;margin:20px 0;border-radius:4px}.pagination>li{display:inline}.pagination>li>a,.pagination>li>span{position:relative;float:left;padding:6px 12px;margin-left:-1px;line-height:1.42857143;color:#337ab7;text-decoration:none;background-color:#fff;border:1px solid #ddd}.pagination>li:first-child>a,.pagination>li:first-child>span{margin-left:0;border-top-left-radius:4px;border-bottom-left-radius:4px}.pagination>li:last-child>a,.pagination>li:last-child>span{border-top-right-radius:4px;border-bottom-right-radius:4px}.pagination>li>a:focus,.pagination>li>a:hover,.pagination>li>span:focus,.pagination>li>span:hover{z-index:2;color:#23527c;background-color:#eee;border-color:#ddd}.pagination>.active>a,.pagination>.active>a:focus,.pagination>.active>a:hover,.pagination>.active>span,.pagination>.active>span:focus,.pagination>.active>span:hover{z-index:3;color:#fff;cursor:default;background-color:#337ab7;border-color:#337ab7}.pagination>.disabled>a,.pagination>.disabled>a:focus,.pagination>.disabled>a:hover,.pagination>.disabled>span,.pagination>.disabled>span:focus,.pagination>.disabled>span:hover{color:#777;cursor:not-allowed;background-color:#fff;border-color:#ddd}.pagination-lg>li>a,.pagination-lg>li>span{padding:10px 16px;font-size:18px;line-height:1.3333333}.pagination-lg>li:first-child>a,.pagination-lg>li:first-child>span{border-top-left-radius:6px;border-bottom-left-radius:6px}.pagination-lg>li:last-child>a,.pagination-lg>li:last-child>span{border-top-right-radius:6px;border-bottom-right-radius:6px}.pagination-sm>li>a,.pagination-sm>li>span{padding:5px 10px;font-size:12px;line-height:1.5}.pagination-sm>li:first-child>a,.pagination-sm>li:first-child>span{border-top-left-radius:3px;border-bottom-left-radius:3px}.pagination-sm>li:last-child>a,.pagination-sm>li:last-child>span{border-top-right-radius:3px;border-bottom-right-radius:3px}.pager{padding-left:0;margin:20px 0;text-align:center;list-style:none}.pager li{display:inline}.pager li>a,.pager li>span{display:inline-block;padding:5px 14px;background-color:#fff;border:1px solid #ddd;border-radius:15px}.pager li>a:focus,.pager li>a:hover{text-decoration:none;background-color:#eee}.pager .next>a,.pager .next>span{float:right}.pager .previous>a,.pager .previous>span{float:left}.pager .disabled>a,.pager .disabled>a:focus,.pager .disabled>a:hover,.pager .disabled>span{color:#777;cursor:not-allowed;background-color:#fff}.label{display:inline;padding:.2em .6em .3em;font-size:75%;font-weight:700;line-height:1;color:#fff;text-align:center;white-space:nowrap;vertical-align:baseline;border-radius:.25em}a.label:focus,a.label:hover{color:#fff;text-decoration:none;cursor:pointer}.label:empty{display:none}.btn .label{position:relative;top:-1px}.label-default{background-color:#777}.label-default[href]:focus,.label-default[href]:hover{background-color:#5e5e5e}.label-primary{background-color:#337ab7}.label-primary[href]:focus,.label-primary[href]:hover{background-color:#286090}.label-success{background-color:#5cb85c}.label-success[href]:focus,.label-success[href]:hover{background-color:#449d44}.label-info{background-color:#5bc0de}.label-info[href]:focus,.label-info[href]:hover{background-color:#31b0d5}.label-warning{background-color:#f0ad4e}.label-warning[href]:focus,.label-warning[href]:hover{background-color:#ec971f}.label-danger{background-color:#d9534f}.label-danger[href]:focus,.label-danger[href]:hover{background-color:#c9302c}.badge{display:inline-block;min-width:10px;padding:3px 7px;font-size:12px;font-weight:700;line-height:1;color:#fff;text-align:center;white-space:nowrap;vertical-align:middle;background-color:#777;border-radius:10px}.badge:empty{display:none}.btn .badge{position:relative;top:-1px}.btn-group-xs>.btn .badge,.btn-xs .badge{top:0;padding:1px 5px}a.badge:focus,a.badge:hover{color:#fff;text-decoration:none;cursor:pointer}.list-group-item.active>.badge,.nav-pills>.active>a>.badge{color:#337ab7;background-color:#fff}.list-group-item>.badge{float:right}.list-group-item>.badge+.badge{margin-right:5px}.nav-pills>li>a>.badge{margin-left:3px}.jumbotron{padding-top:30px;padding-bottom:30px;margin-bottom:30px;color:inherit;background-color:#eee}.jumbotron .h1,.jumbotron h1{color:inherit}.jumbotron p{margin-bottom:15px;font-size:21px;font-weight:200}.jumbotron>hr{border-top-color:#d5d5d5}.container .jumbotron,.container-fluid .jumbotron{padding-right:15px;padding-left:15px;border-radius:6px}.jumbotron .container{max-width:100%}@media screen and (min-width:768px){.jumbotron{padding-top:48px;padding-bottom:48px}.container .jumbotron,.container-fluid .jumbotron{padding-right:60px;padding-left:60px}.jumbotron .h1,.jumbotron h1{font-size:63px}}.thumbnail{display:block;padding:4px;margin-bottom:20px;line-height:1.42857143;background-color:#fff;border:1px solid #ddd;border-radius:4px;-webkit-transition:border .2s ease-in-out;-o-transition:border .2s ease-in-out;transition:border .2s ease-in-out}.thumbnail a>img,.thumbnail>img{margin-right:auto;margin-left:auto}a.thumbnail.active,a.thumbnail:focus,a.thumbnail:hover{border-color:#337ab7}.thumbnail .caption{padding:9px;color:#333}.alert{padding:15px;margin-bottom:20px;border:1px solid transparent;border-radius:4px}.alert h4{margin-top:0;color:inherit}.alert .alert-link{font-weight:700}.alert>p,.alert>ul{margin-bottom:0}.alert>p+p{margin-top:5px}.alert-dismissable,.alert-dismissible{padding-right:35px}.alert-dismissable .close,.alert-dismissible .close{position:relative;top:-2px;right:-21px;color:inherit}.alert-success{color:#3c763d;background-color:#dff0d8;border-color:#d6e9c6}.alert-success hr{border-top-color:#c9e2b3}.alert-success .alert-link{color:#2b542c}.alert-info{color:#31708f;background-color:#d9edf7;border-color:#bce8f1}.alert-info hr{border-top-color:#a6e1ec}.alert-info .alert-link{color:#245269}.alert-warning{color:#8a6d3b;background-color:#fcf8e3;border-color:#faebcc}.alert-warning hr{border-top-color:#f7e1b5}.alert-warning .alert-link{color:#66512c}.alert-danger{color:#a94442;background-color:#f2dede;border-color:#ebccd1}.alert-danger hr{border-top-color:#e4b9c0}.alert-danger .alert-link{color:#843534}@-webkit-keyframes progress-bar-stripes{from{background-position:40px 0}to{background-position:0 0}}@-o-keyframes progress-bar-stripes{from{background-position:40px 0}to{background-position:0 0}}@keyframes progress-bar-stripes{from{background-position:40px 0}to{background-position:0 0}}.progress{height:20px;margin-bottom:20px;overflow:hidden;background-color:#f5f5f5;border-radius:4px;-webkit-box-shadow:inset 0 1px 2px rgba(0,0,0,.1);box-shadow:inset 0 1px 2px rgba(0,0,0,.1)}.progress-bar{float:left;width:0;height:100%;font-size:12px;line-height:20px;color:#fff;text-align:center;background-color:#337ab7;-webkit-box-shadow:inset 0 -1px 0 rgba(0,0,0,.15);box-shadow:inset 0 -1px 0 rgba(0,0,0,.15);-webkit-transition:width .6s ease;-o-transition:width .6s ease;transition:width .6s ease}.progress-bar-striped,.progress-striped .progress-bar{background-image:-webkit-linear-gradient(45deg,rgba(255,255,255,.15) 25%,transparent 25%,transparent 50%,rgba(255,255,255,.15) 50%,rgba(255,255,255,.15) 75%,transparent 75%,transparent);background-image:-o-linear-gradient(45deg,rgba(255,255,255,.15) 25%,transparent 25%,transparent 50%,rgba(255,255,255,.15) 50%,rgba(255,255,255,.15) 75%,transparent 75%,transparent);background-image:linear-gradient(45deg,rgba(255,255,255,.15) 25%,transparent 25%,transparent 50%,rgba(255,255,255,.15) 50%,rgba(255,255,255,.15) 75%,transparent 75%,transparent);-webkit-background-size:40px 40px;background-size:40px 40px}.progress-bar.active,.progress.active .progress-bar{-webkit-animation:progress-bar-stripes 2s linear infinite;-o-animation:progress-bar-stripes 2s linear infinite;animation:progress-bar-stripes 2s linear infinite}.progress-bar-success{background-color:#5cb85c}.progress-striped .progress-bar-success{background-image:-webkit-linear-gradient(45deg,rgba(255,255,255,.15) 25%,transparent 25%,transparent 50%,rgba(255,255,255,.15) 50%,rgba(255,255,255,.15) 75%,transparent 75%,transparent);background-image:-o-linear-gradient(45deg,rgba(255,255,255,.15) 25%,transparent 25%,transparent 50%,rgba(255,255,255,.15) 50%,rgba(255,255,255,.15) 75%,transparent 75%,transparent);background-image:linear-gradient(45deg,rgba(255,255,255,.15) 25%,transparent 25%,transparent 50%,rgba(255,255,255,.15) 50%,rgba(255,255,255,.15) 75%,transparent 75%,transparent)}.progress-bar-info{background-color:#5bc0de}.progress-striped .progress-bar-info{background-image:-webkit-linear-gradient(45deg,rgba(255,255,255,.15) 25%,transparent 25%,transparent 50%,rgba(255,255,255,.15) 50%,rgba(255,255,255,.15) 75%,transparent 75%,transparent);background-image:-o-linear-gradient(45deg,rgba(255,255,255,.15) 25%,transparent 25%,transparent 50%,rgba(255,255,255,.15) 50%,rgba(255,255,255,.15) 75%,transparent 75%,transparent);background-image:linear-gradient(45deg,rgba(255,255,255,.15) 25%,transparent 25%,transparent 50%,rgba(255,255,255,.15) 50%,rgba(255,255,255,.15) 75%,transparent 75%,transparent)}.progress-bar-warning{background-color:#f0ad4e}.progress-striped .progress-bar-warning{background-image:-webkit-linear-gradient(45deg,rgba(255,255,255,.15) 25%,transparent 25%,transparent 50%,rgba(255,255,255,.15) 50%,rgba(255,255,255,.15) 75%,transparent 75%,transparent);background-image:-o-linear-gradient(45deg,rgba(255,255,255,.15) 25%,transparent 25%,transparent 50%,rgba(255,255,255,.15) 50%,rgba(255,255,255,.15) 75%,transparent 75%,transparent);background-image:linear-gradient(45deg,rgba(255,255,255,.15) 25%,transparent 25%,transparent 50%,rgba(255,255,255,.15) 50%,rgba(255,255,255,.15) 75%,transparent 75%,transparent)}.progress-bar-danger{background-color:#d9534f}.progress-striped .progress-bar-danger{background-image:-webkit-linear-gradient(45deg,rgba(255,255,255,.15) 25%,transparent 25%,transparent 50%,rgba(255,255,255,.15) 50%,rgba(255,255,255,.15) 75%,transparent 75%,transparent);background-image:-o-linear-gradient(45deg,rgba(255,255,255,.15) 25%,transparent 25%,transparent 50%,rgba(255,255,255,.15) 50%,rgba(255,255,255,.15) 75%,transparent 75%,transparent);background-image:linear-gradient(45deg,rgba(255,255,255,.15) 25%,transparent 25%,transparent 50%,rgba(255,255,255,.15) 50%,rgba(255,255,255,.15) 75%,transparent 75%,transparent)}.media{margin-top:15px}.media:first-child{margin-top:0}.media,.media-body{overflow:hidden;zoom:1}.media-body{width:10000px}.media-object{display:block}.media-object.img-thumbnail{max-width:none}.media-right,.media>.pull-right{padding-left:10px}.media-left,.media>.pull-left{padding-right:10px}.media-body,.media-left,.media-right{display:table-cell;vertical-align:top}.media-middle{vertical-align:middle}.media-bottom{vertical-align:bottom}.media-heading{margin-top:0;margin-bottom:5px}.media-list{padding-left:0;list-style:none}.list-group{padding-left:0;margin-bottom:20px}.list-group-item{position:relative;display:block;padding:10px 15px;margin-bottom:-1px;background-color:#fff;border:1px solid #ddd}.list-group-item:first-child{border-top-left-radius:4px;border-top-right-radius:4px}.list-group-item:last-child{margin-bottom:0;border-bottom-right-radius:4px;border-bottom-left-radius:4px}a.list-group-item,button.list-group-item{color:#555}a.list-group-item .list-group-item-heading,button.list-group-item .list-group-item-heading{color:#333}a.list-group-item:focus,a.list-group-item:hover,button.list-group-item:focus,button.list-group-item:hover{color:#555;text-decoration:none;background-color:#f5f5f5}button.list-group-item{width:100%;text-align:left}.list-group-item.disabled,.list-group-item.disabled:focus,.list-group-item.disabled:hover{color:#777;cursor:not-allowed;background-color:#eee}.list-group-item.disabled .list-group-item-heading,.list-group-item.disabled:focus .list-group-item-heading,.list-group-item.disabled:hover .list-group-item-heading{color:inherit}.list-group-item.disabled .list-group-item-text,.list-group-item.disabled:focus .list-group-item-text,.list-group-item.disabled:hover .list-group-item-text{color:#777}.list-group-item.active,.list-group-item.active:focus,.list-group-item.active:hover{z-index:2;color:#fff;background-color:#337ab7;border-color:#337ab7}.list-group-item.active .list-group-item-heading,.list-group-item.active .list-group-item-heading>.small,.list-group-item.active .list-group-item-heading>small,.list-group-item.active:focus .list-group-item-heading,.list-group-item.active:focus .list-group-item-heading>.small,.list-group-item.active:focus .list-group-item-heading>small,.list-group-item.active:hover .list-group-item-heading,.list-group-item.active:hover .list-group-item-heading>.small,.list-group-item.active:hover .list-group-item-heading>small{color:inherit}.list-group-item.active .list-group-item-text,.list-group-item.active:focus .list-group-item-text,.list-group-item.active:hover .list-group-item-text{color:#c7ddef}.list-group-item-success{color:#3c763d;background-color:#dff0d8}a.list-group-item-success,button.list-group-item-success{color:#3c763d}a.list-group-item-success .list-group-item-heading,button.list-group-item-success .list-group-item-heading{color:inherit}a.list-group-item-success:focus,a.list-group-item-success:hover,button.list-group-item-success:focus,button.list-group-item-success:hover{color:#3c763d;background-color:#d0e9c6}a.list-group-item-success.active,a.list-group-item-success.active:focus,a.list-group-item-success.active:hover,button.list-group-item-success.active,button.list-group-item-success.active:focus,button.list-group-item-success.active:hover{color:#fff;background-color:#3c763d;border-color:#3c763d}.list-group-item-info{color:#31708f;background-color:#d9edf7}a.list-group-item-info,button.list-group-item-info{color:#31708f}a.list-group-item-info .list-group-item-heading,button.list-group-item-info .list-group-item-heading{color:inherit}a.list-group-item-info:focus,a.list-group-item-info:hover,button.list-group-item-info:focus,button.list-group-item-info:hover{color:#31708f;background-color:#c4e3f3}a.list-group-item-info.active,a.list-group-item-info.active:focus,a.list-group-item-info.active:hover,button.list-group-item-info.active,button.list-group-item-info.active:focus,button.list-group-item-info.active:hover{color:#fff;background-color:#31708f;border-color:#31708f}.list-group-item-warning{color:#8a6d3b;background-color:#fcf8e3}a.list-group-item-warning,button.list-group-item-warning{color:#8a6d3b}a.list-group-item-warning .list-group-item-heading,button.list-group-item-warning .list-group-item-heading{color:inherit}a.list-group-item-warning:focus,a.list-group-item-warning:hover,button.list-group-item-warning:focus,button.list-group-item-warning:hover{color:#8a6d3b;background-color:#faf2cc}a.list-group-item-warning.active,a.list-group-item-warning.active:focus,a.list-group-item-warning.active:hover,button.list-group-item-warning.active,button.list-group-item-warning.active:focus,button.list-group-item-warning.active:hover{color:#fff;background-color:#8a6d3b;border-color:#8a6d3b}.list-group-item-danger{color:#a94442;background-color:#f2dede}a.list-group-item-danger,button.list-group-item-danger{color:#a94442}a.list-group-item-danger .list-group-item-heading,button.list-group-item-danger .list-group-item-heading{color:inherit}a.list-group-item-danger:focus,a.list-group-item-danger:hover,button.list-group-item-danger:focus,button.list-group-item-danger:hover{color:#a94442;background-color:#ebcccc}a.list-group-item-danger.active,a.list-group-item-danger.active:focus,a.list-group-item-danger.active:hover,button.list-group-item-danger.active,button.list-group-item-danger.active:focus,button.list-group-item-danger.active:hover{color:#fff;background-color:#a94442;border-color:#a94442}.list-group-item-heading{margin-top:0;margin-bottom:5px}.list-group-item-text{margin-bottom:0;line-height:1.3}.panel{margin-bottom:20px;background-color:#fff;border:1px solid transparent;border-radius:4px;-webkit-box-shadow:0 1px 1px rgba(0,0,0,.05);box-shadow:0 1px 1px rgba(0,0,0,.05)}.panel-body{padding:15px}.panel-heading{padding:10px 15px;border-bottom:1px solid transparent;border-top-left-radius:3px;border-top-right-radius:3px}.panel-heading>.dropdown .dropdown-toggle{color:inherit}.panel-title{margin-top:0;margin-bottom:0;font-size:16px;color:inherit}.panel-title>.small,.panel-title>.small>a,.panel-title>a,.panel-title>small,.panel-title>small>a{color:inherit}.panel-footer{padding:10px 15px;background-color:#f5f5f5;border-top:1px solid #ddd;border-bottom-right-radius:3px;border-bottom-left-radius:3px}.panel>.list-group,.panel>.panel-collapse>.list-group{margin-bottom:0}.panel>.list-group .list-group-item,.panel>.panel-collapse>.list-group .list-group-item{border-width:1px 0;border-radius:0}.panel>.list-group:first-child .list-group-item:first-child,.panel>.panel-collapse>.list-group:first-child .list-group-item:first-child{border-top:0;border-top-left-radius:3px;border-top-right-radius:3px}.panel>.list-group:last-child .list-group-item:last-child,.panel>.panel-collapse>.list-group:last-child .list-group-item:last-child{border-bottom:0;border-bottom-right-radius:3px;border-bottom-left-radius:3px}.panel>.panel-heading+.panel-collapse>.list-group .list-group-item:first-child{border-top-left-radius:0;border-top-right-radius:0}.panel-heading+.list-group .list-group-item:first-child{border-top-width:0}.list-group+.panel-footer{border-top-width:0}.panel>.panel-collapse>.table,.panel>.table,.panel>.table-responsive>.table{margin-bottom:0}.panel>.panel-collapse>.table caption,.panel>.table caption,.panel>.table-responsive>.table caption{padding-right:15px;padding-left:15px}.panel>.table-responsive:first-child>.table:first-child,.panel>.table:first-child{border-top-left-radius:3px;border-top-right-radius:3px}.panel>.table-responsive:first-child>.table:first-child>tbody:first-child>tr:first-child,.panel>.table-responsive:first-child>.table:first-child>thead:first-child>tr:first-child,.panel>.table:first-child>tbody:first-child>tr:first-child,.panel>.table:first-child>thead:first-child>tr:first-child{border-top-left-radius:3px;border-top-right-radius:3px}.panel>.table-responsive:first-child>.table:first-child>tbody:first-child>tr:first-child td:first-child,.panel>.table-responsive:first-child>.table:first-child>tbody:first-child>tr:first-child th:first-child,.panel>.table-responsive:first-child>.table:first-child>thead:first-child>tr:first-child td:first-child,.panel>.table-responsive:first-child>.table:first-child>thead:first-child>tr:first-child th:first-child,.panel>.table:first-child>tbody:first-child>tr:first-child td:first-child,.panel>.table:first-child>tbody:first-child>tr:first-child th:first-child,.panel>.table:first-child>thead:first-child>tr:first-child td:first-child,.panel>.table:first-child>thead:first-child>tr:first-child th:first-child{border-top-left-radius:3px}.panel>.table-responsive:first-child>.table:first-child>tbody:first-child>tr:first-child td:last-child,.panel>.table-responsive:first-child>.table:first-child>tbody:first-child>tr:first-child th:last-child,.panel>.table-responsive:first-child>.table:first-child>thead:first-child>tr:first-child td:last-child,.panel>.table-responsive:first-child>.table:first-child>thead:first-child>tr:first-child th:last-child,.panel>.table:first-child>tbody:first-child>tr:first-child td:last-child,.panel>.table:first-child>tbody:first-child>tr:first-child th:last-child,.panel>.table:first-child>thead:first-child>tr:first-child td:last-child,.panel>.table:first-child>thead:first-child>tr:first-child th:last-child{border-top-right-radius:3px}.panel>.table-responsive:last-child>.table:last-child,.panel>.table:last-child{border-bottom-right-radius:3px;border-bottom-left-radius:3px}.panel>.table-responsive:last-child>.table:last-child>tbody:last-child>tr:last-child,.panel>.table-responsive:last-child>.table:last-child>tfoot:last-child>tr:last-child,.panel>.table:last-child>tbody:last-child>tr:last-child,.panel>.table:last-child>tfoot:last-child>tr:last-child{border-bottom-right-radius:3px;border-bottom-left-radius:3px}.panel>.table-responsive:last-child>.table:last-child>tbody:last-child>tr:last-child td:first-child,.panel>.table-responsive:last-child>.table:last-child>tbody:last-child>tr:last-child th:first-child,.panel>.table-responsive:last-child>.table:last-child>tfoot:last-child>tr:last-child td:first-child,.panel>.table-responsive:last-child>.table:last-child>tfoot:last-child>tr:last-child th:first-child,.panel>.table:last-child>tbody:last-child>tr:last-child td:first-child,.panel>.table:last-child>tbody:last-child>tr:last-child th:first-child,.panel>.table:last-child>tfoot:last-child>tr:last-child td:first-child,.panel>.table:last-child>tfoot:last-child>tr:last-child th:first-child{border-bottom-left-radius:3px}.panel>.table-responsive:last-child>.table:last-child>tbody:last-child>tr:last-child td:last-child,.panel>.table-responsive:last-child>.table:last-child>tbody:last-child>tr:last-child th:last-child,.panel>.table-responsive:last-child>.table:last-child>tfoot:last-child>tr:last-child td:last-child,.panel>.table-responsive:last-child>.table:last-child>tfoot:last-child>tr:last-child th:last-child,.panel>.table:last-child>tbody:last-child>tr:last-child td:last-child,.panel>.table:last-child>tbody:last-child>tr:last-child th:last-child,.panel>.table:last-child>tfoot:last-child>tr:last-child td:last-child,.panel>.table:last-child>tfoot:last-child>tr:last-child th:last-child{border-bottom-right-radius:3px}.panel>.panel-body+.table,.panel>.panel-body+.table-responsive,.panel>.table+.panel-body,.panel>.table-responsive+.panel-body{border-top:1px solid #ddd}.panel>.table>tbody:first-child>tr:first-child td,.panel>.table>tbody:first-child>tr:first-child th{border-top:0}.panel>.table-bordered,.panel>.table-responsive>.table-bordered{border:0}.panel>.table-bordered>tbody>tr>td:first-child,.panel>.table-bordered>tbody>tr>th:first-child,.panel>.table-bordered>tfoot>tr>td:first-child,.panel>.table-bordered>tfoot>tr>th:first-child,.panel>.table-bordered>thead>tr>td:first-child,.panel>.table-bordered>thead>tr>th:first-child,.panel>.table-responsive>.table-bordered>tbody>tr>td:first-child,.panel>.table-responsive>.table-bordered>tbody>tr>th:first-child,.panel>.table-responsive>.table-bordered>tfoot>tr>td:first-child,.panel>.table-responsive>.table-bordered>tfoot>tr>th:first-child,.panel>.table-responsive>.table-bordered>thead>tr>td:first-child,.panel>.table-responsive>.table-bordered>thead>tr>th:first-child{border-left:0}.panel>.table-bordered>tbody>tr>td:last-child,.panel>.table-bordered>tbody>tr>th:last-child,.panel>.table-bordered>tfoot>tr>td:last-child,.panel>.table-bordered>tfoot>tr>th:last-child,.panel>.table-bordered>thead>tr>td:last-child,.panel>.table-bordered>thead>tr>th:last-child,.panel>.table-responsive>.table-bordered>tbody>tr>td:last-child,.panel>.table-responsive>.table-bordered>tbody>tr>th:last-child,.panel>.table-responsive>.table-bordered>tfoot>tr>td:last-child,.panel>.table-responsive>.table-bordered>tfoot>tr>th:last-child,.panel>.table-responsive>.table-bordered>thead>tr>td:last-child,.panel>.table-responsive>.table-bordered>thead>tr>th:last-child{border-right:0}.panel>.table-bordered>tbody>tr:first-child>td,.panel>.table-bordered>tbody>tr:first-child>th,.panel>.table-bordered>thead>tr:first-child>td,.panel>.table-bordered>thead>tr:first-child>th,.panel>.table-responsive>.table-bordered>tbody>tr:first-child>td,.panel>.table-responsive>.table-bordered>tbody>tr:first-child>th,.panel>.table-responsive>.table-bordered>thead>tr:first-child>td,.panel>.table-responsive>.table-bordered>thead>tr:first-child>th{border-bottom:0}.panel>.table-bordered>tbody>tr:last-child>td,.panel>.table-bordered>tbody>tr:last-child>th,.panel>.table-bordered>tfoot>tr:last-child>td,.panel>.table-bordered>tfoot>tr:last-child>th,.panel>.table-responsive>.table-bordered>tbody>tr:last-child>td,.panel>.table-responsive>.table-bordered>tbody>tr:last-child>th,.panel>.table-responsive>.table-bordered>tfoot>tr:last-child>td,.panel>.table-responsive>.table-bordered>tfoot>tr:last-child>th{border-bottom:0}.panel>.table-responsive{margin-bottom:0;border:0}.panel-group{margin-bottom:20px}.panel-group .panel{margin-bottom:0;border-radius:4px}.panel-group .panel+.panel{margin-top:5px}.panel-group .panel-heading{border-bottom:0}.panel-group .panel-heading+.panel-collapse>.list-group,.panel-group .panel-heading+.panel-collapse>.panel-body{border-top:1px solid #ddd}.panel-group .panel-footer{border-top:0}.panel-group .panel-footer+.panel-collapse .panel-body{border-bottom:1px solid #ddd}.panel-default{border-color:#ddd}.panel-default>.panel-heading{color:#333;background-color:#f5f5f5;border-color:#ddd}.panel-default>.panel-heading+.panel-collapse>.panel-body{border-top-color:#ddd}.panel-default>.panel-heading .badge{color:#f5f5f5;background-color:#333}.panel-default>.panel-footer+.panel-collapse>.panel-body{border-bottom-color:#ddd}.panel-primary{border-color:#337ab7}.panel-primary>.panel-heading{color:#fff;background-color:#337ab7;border-color:#337ab7}.panel-primary>.panel-heading+.panel-collapse>.panel-body{border-top-color:#337ab7}.panel-primary>.panel-heading .badge{color:#337ab7;background-color:#fff}.panel-primary>.panel-footer+.panel-collapse>.panel-body{border-bottom-color:#337ab7}.panel-success{border-color:#d6e9c6}.panel-success>.panel-heading{color:#3c763d;background-color:#dff0d8;border-color:#d6e9c6}.panel-success>.panel-heading+.panel-collapse>.panel-body{border-top-color:#d6e9c6}.panel-success>.panel-heading .badge{color:#dff0d8;background-color:#3c763d}.panel-success>.panel-footer+.panel-collapse>.panel-body{border-bottom-color:#d6e9c6}.panel-info{border-color:#bce8f1}.panel-info>.panel-heading{color:#31708f;background-color:#d9edf7;border-color:#bce8f1}.panel-info>.panel-heading+.panel-collapse>.panel-body{border-top-color:#bce8f1}.panel-info>.panel-heading .badge{color:#d9edf7;background-color:#31708f}.panel-info>.panel-footer+.panel-collapse>.panel-body{border-bottom-color:#bce8f1}.panel-warning{border-color:#faebcc}.panel-warning>.panel-heading{color:#8a6d3b;background-color:#fcf8e3;border-color:#faebcc}.panel-warning>.panel-heading+.panel-collapse>.panel-body{border-top-color:#faebcc}.panel-warning>.panel-heading .badge{color:#fcf8e3;background-color:#8a6d3b}.panel-warning>.panel-footer+.panel-collapse>.panel-body{border-bottom-color:#faebcc}.panel-danger{border-color:#ebccd1}.panel-danger>.panel-heading{color:#a94442;background-color:#f2dede;border-color:#ebccd1}.panel-danger>.panel-heading+.panel-collapse>.panel-body{border-top-color:#ebccd1}.panel-danger>.panel-heading .badge{color:#f2dede;background-color:#a94442}.panel-danger>.panel-footer+.panel-collapse>.panel-body{border-bottom-color:#ebccd1}.embed-responsive{position:relative;display:block;height:0;padding:0;overflow:hidden}.embed-responsive .embed-responsive-item,.embed-responsive embed,.embed-responsive iframe,.embed-responsive object,.embed-responsive video{position:absolute;top:0;bottom:0;left:0;width:100%;height:100%;border:0}.embed-responsive-16by9{padding-bottom:56.25%}.embed-responsive-4by3{padding-bottom:75%}.well{min-height:20px;padding:19px;margin-bottom:20px;background-color:#f5f5f5;border:1px solid #e3e3e3;border-radius:4px;-webkit-box-shadow:inset 0 1px 1px rgba(0,0,0,.05);box-shadow:inset 0 1px 1px rgba(0,0,0,.05)}.well blockquote{border-color:#ddd;border-color:rgba(0,0,0,.15)}.well-lg{padding:24px;border-radius:6px}.well-sm{padding:9px;border-radius:3px}.close{float:right;font-size:21px;font-weight:700;line-height:1;color:#000;text-shadow:0 1px 0 #fff;filter:alpha(opacity=20);opacity:.2}.close:focus,.close:hover{color:#000;text-decoration:none;cursor:pointer;filter:alpha(opacity=50);opacity:.5}button.close{-webkit-appearance:none;padding:0;cursor:pointer;background:0 0;border:0}.modal-open{overflow:hidden}.modal{position:fixed;top:0;right:0;bottom:0;left:0;z-index:1050;display:none;overflow:hidden;-webkit-overflow-scrolling:touch;outline:0}.modal.fade .modal-dialog{-webkit-transition:-webkit-transform .3s ease-out;-o-transition:-o-transform .3s ease-out;transition:transform .3s ease-out;-webkit-transform:translate(0,-25%);-ms-transform:translate(0,-25%);-o-transform:translate(0,-25%);transform:translate(0,-25%)}.modal.in .modal-dialog{-webkit-transform:translate(0,0);-ms-transform:translate(0,0);-o-transform:translate(0,0);transform:translate(0,0)}.modal-open .modal{overflow-x:hidden;overflow-y:auto}.modal-dialog{position:relative;width:auto;margin:10px}.modal-content{position:relative;background-color:#fff;-webkit-background-clip:padding-box;background-clip:padding-box;border:1px solid #999;border:1px solid rgba(0,0,0,.2);border-radius:6px;outline:0;-webkit-box-shadow:0 3px 9px rgba(0,0,0,.5);box-shadow:0 3px 9px rgba(0,0,0,.5)}.modal-backdrop{position:fixed;top:0;right:0;bottom:0;left:0;z-index:1040;background-color:#000}.modal-backdrop.fade{filter:alpha(opacity=0);opacity:0}.modal-backdrop.in{filter:alpha(opacity=50);opacity:.5}.modal-header{padding:15px;border-bottom:1px solid #e5e5e5}.modal-header .close{margin-top:-2px}.modal-title{margin:0;line-height:1.42857143}.modal-body{position:relative;padding:15px}.modal-footer{padding:15px;text-align:right;border-top:1px solid #e5e5e5}.modal-footer .btn+.btn{margin-bottom:0;margin-left:5px}.modal-footer .btn-group .btn+.btn{margin-left:-1px}.modal-footer .btn-block+.btn-block{margin-left:0}.modal-scrollbar-measure{position:absolute;top:-9999px;width:50px;height:50px;overflow:scroll}@media (min-width:768px){.modal-dialog{width:600px;margin:30px auto}.modal-content{-webkit-box-shadow:0 5px 15px rgba(0,0,0,.5);box-shadow:0 5px 15px rgba(0,0,0,.5)}.modal-sm{width:300px}}@media (min-width:992px){.modal-lg{width:900px}}.tooltip{position:absolute;z-index:1070;display:block;font-family:"Helvetica Neue",Helvetica,Arial,sans-serif;font-size:12px;font-style:normal;font-weight:400;line-height:1.42857143;text-align:left;text-align:start;text-decoration:none;text-shadow:none;text-transform:none;letter-spacing:normal;word-break:normal;word-spacing:normal;word-wrap:normal;white-space:normal;filter:alpha(opacity=0);opacity:0;line-break:auto}.tooltip.in{filter:alpha(opacity=90);opacity:.9}.tooltip.top{padding:5px 0;margin-top:-3px}.tooltip.right{padding:0 5px;margin-left:3px}.tooltip.bottom{padding:5px 0;margin-top:3px}.tooltip.left{padding:0 5px;margin-left:-3px}.tooltip-inner{max-width:200px;padding:3px 8px;color:#fff;text-align:center;background-color:#000;border-radius:4px}.tooltip-arrow{position:absolute;width:0;height:0;border-color:transparent;border-style:solid}.tooltip.top .tooltip-arrow{bottom:0;left:50%;margin-left:-5px;border-width:5px 5px 0;border-top-color:#000}.tooltip.top-left .tooltip-arrow{right:5px;bottom:0;margin-bottom:-5px;border-width:5px 5px 0;border-top-color:#000}.tooltip.top-right .tooltip-arrow{bottom:0;left:5px;margin-bottom:-5px;border-width:5px 5px 0;border-top-color:#000}.tooltip.right .tooltip-arrow{top:50%;left:0;margin-top:-5px;border-width:5px 5px 5px 0;border-right-color:#000}.tooltip.left .tooltip-arrow{top:50%;right:0;margin-top:-5px;border-width:5px 0 5px 5px;border-left-color:#000}.tooltip.bottom .tooltip-arrow{top:0;left:50%;margin-left:-5px;border-width:0 5px 5px;border-bottom-color:#000}.tooltip.bottom-left .tooltip-arrow{top:0;right:5px;margin-top:-5px;border-width:0 5px 5px;border-bottom-color:#000}.tooltip.bottom-right .tooltip-arrow{top:0;left:5px;margin-top:-5px;border-width:0 5px 5px;border-bottom-color:#000}.popover{position:absolute;top:0;left:0;z-index:1060;display:none;max-width:276px;padding:1px;font-family:"Helvetica Neue",Helvetica,Arial,sans-serif;font-size:14px;font-style:normal;font-weight:400;line-height:1.42857143;text-align:left;text-align:start;text-decoration:none;text-shadow:none;text-transform:none;letter-spacing:normal;word-break:normal;word-spacing:normal;word-wrap:normal;white-space:normal;background-color:#fff;-webkit-background-clip:padding-box;background-clip:padding-box;border:1px solid #ccc;border:1px solid rgba(0,0,0,.2);border-radius:6px;-webkit-box-shadow:0 5px 10px rgba(0,0,0,.2);box-shadow:0 5px 10px rgba(0,0,0,.2);line-break:auto}.popover.top{margin-top:-10px}.popover.right{margin-left:10px}.popover.bottom{margin-top:10px}.popover.left{margin-left:-10px}.popover-title{padding:8px 14px;margin:0;font-size:14px;background-color:#f7f7f7;border-bottom:1px solid #ebebeb;border-radius:5px 5px 0 0}.popover-content{padding:9px 14px}.popover>.arrow,.popover>.arrow:after{position:absolute;display:block;width:0;height:0;border-color:transparent;border-style:solid}.popover>.arrow{border-width:11px}.popover>.arrow:after{content:"";border-width:10px}.popover.top>.arrow{bottom:-11px;left:50%;margin-left:-11px;border-top-color:#999;border-top-color:rgba(0,0,0,.25);border-bottom-width:0}.popover.top>.arrow:after{bottom:1px;margin-left:-10px;content:" ";border-top-color:#fff;border-bottom-width:0}.popover.right>.arrow{top:50%;left:-11px;margin-top:-11px;border-right-color:#999;border-right-color:rgba(0,0,0,.25);border-left-width:0}.popover.right>.arrow:after{bottom:-10px;left:1px;content:" ";border-right-color:#fff;border-left-width:0}.popover.bottom>.arrow{top:-11px;left:50%;margin-left:-11px;border-top-width:0;border-bottom-color:#999;border-bottom-color:rgba(0,0,0,.25)}.popover.bottom>.arrow:after{top:1px;margin-left:-10px;content:" ";border-top-width:0;border-bottom-color:#fff}.popover.left>.arrow{top:50%;right:-11px;margin-top:-11px;border-right-width:0;border-left-color:#999;border-left-color:rgba(0,0,0,.25)}.popover.left>.arrow:after{right:1px;bottom:-10px;content:" ";border-right-width:0;border-left-color:#fff}.carousel{position:relative}.carousel-inner{position:relative;width:100%;overflow:hidden}.carousel-inner>.item{position:relative;display:none;-webkit-transition:.6s ease-in-out left;-o-transition:.6s ease-in-out left;transition:.6s ease-in-out left}.carousel-inner>.item>a>img,.carousel-inner>.item>img{line-height:1}@media all and (transform-3d),(-webkit-transform-3d){.carousel-inner>.item{-webkit-transition:-webkit-transform .6s ease-in-out;-o-transition:-o-transform .6s ease-in-out;transition:transform .6s ease-in-out;-webkit-backface-visibility:hidden;backface-visibility:hidden;-webkit-perspective:1000px;perspective:1000px}.carousel-inner>.item.active.right,.carousel-inner>.item.next{left:0;-webkit-transform:translate3d(100%,0,0);transform:translate3d(100%,0,0)}.carousel-inner>.item.active.left,.carousel-inner>.item.prev{left:0;-webkit-transform:translate3d(-100%,0,0);transform:translate3d(-100%,0,0)}.carousel-inner>.item.active,.carousel-inner>.item.next.left,.carousel-inner>.item.prev.right{left:0;-webkit-transform:translate3d(0,0,0);transform:translate3d(0,0,0)}}.carousel-inner>.active,.carousel-inner>.next,.carousel-inner>.prev{display:block}.carousel-inner>.active{left:0}.carousel-inner>.next,.carousel-inner>.prev{position:absolute;top:0;width:100%}.carousel-inner>.next{left:100%}.carousel-inner>.prev{left:-100%}.carousel-inner>.next.left,.carousel-inner>.prev.right{left:0}.carousel-inner>.active.left{left:-100%}.carousel-inner>.active.right{left:100%}.carousel-control{position:absolute;top:0;bottom:0;left:0;width:15%;font-size:20px;color:#fff;text-align:center;text-shadow:0 1px 2px rgba(0,0,0,.6);background-color:rgba(0,0,0,0);filter:alpha(opacity=50);opacity:.5}.carousel-control.left{background-image:-webkit-linear-gradient(left,rgba(0,0,0,.5) 0,rgba(0,0,0,.0001) 100%);background-image:-o-linear-gradient(left,rgba(0,0,0,.5) 0,rgba(0,0,0,.0001) 100%);background-image:-webkit-gradient(linear,left top,right top,from(rgba(0,0,0,.5)),to(rgba(0,0,0,.0001)));background-image:linear-gradient(to right,rgba(0,0,0,.5) 0,rgba(0,0,0,.0001) 100%);filter:progid:DXImageTransform.Microsoft.gradient(startColorstr='#80000000',endColorstr='#00000000',GradientType=1);background-repeat:repeat-x}.carousel-control.right{right:0;left:auto;background-image:-webkit-linear-gradient(left,rgba(0,0,0,.0001) 0,rgba(0,0,0,.5) 100%);background-image:-o-linear-gradient(left,rgba(0,0,0,.0001) 0,rgba(0,0,0,.5) 100%);background-image:-webkit-gradient(linear,left top,right top,from(rgba(0,0,0,.0001)),to(rgba(0,0,0,.5)));background-image:linear-gradient(to right,rgba(0,0,0,.0001) 0,rgba(0,0,0,.5) 100%);filter:progid:DXImageTransform.Microsoft.gradient(startColorstr='#00000000',endColorstr='#80000000',GradientType=1);background-repeat:repeat-x}.carousel-control:focus,.carousel-control:hover{color:#fff;text-decoration:none;filter:alpha(opacity=90);outline:0;opacity:.9}.carousel-control .glyphicon-chevron-left,.carousel-control .glyphicon-chevron-right,.carousel-control .icon-next,.carousel-control .icon-prev{position:absolute;top:50%;z-index:5;display:inline-block;margin-top:-10px}.carousel-control .glyphicon-chevron-left,.carousel-control .icon-prev{left:50%;margin-left:-10px}.carousel-control .glyphicon-chevron-right,.carousel-control .icon-next{right:50%;margin-right:-10px}.carousel-control .icon-next,.carousel-control .icon-prev{width:20px;height:20px;font-family:serif;line-height:1}.carousel-control .icon-prev:before{content:'\2039'}.carousel-control .icon-next:before{content:'\203a'}.carousel-indicators{position:absolute;bottom:10px;left:50%;z-index:15;width:60%;padding-left:0;margin-left:-30%;text-align:center;list-style:none}.carousel-indicators li{display:inline-block;width:10px;height:10px;margin:1px;text-indent:-999px;cursor:pointer;background-color:#000\9;background-color:rgba(0,0,0,0);border:1px solid #fff;border-radius:10px}.carousel-indicators .active{width:12px;height:12px;margin:0;background-color:#fff}.carousel-caption{position:absolute;right:15%;bottom:20px;left:15%;z-index:10;padding-top:20px;padding-bottom:20px;color:#fff;text-align:center;text-shadow:0 1px 2px rgba(0,0,0,.6)}.carousel-caption .btn{text-shadow:none}@media screen and (min-width:768px){.carousel-control .glyphicon-chevron-left,.carousel-control .glyphicon-chevron-right,.carousel-control .icon-next,.carousel-control .icon-prev{width:30px;height:30px;margin-top:-10px;font-size:30px}.carousel-control .glyphicon-chevron-left,.carousel-control .icon-prev{margin-left:-10px}.carousel-control .glyphicon-chevron-right,.carousel-control .icon-next{margin-right:-10px}.carousel-caption{right:20%;left:20%;padding-bottom:30px}.carousel-indicators{bottom:20px}}.btn-group-vertical>.btn-group:after,.btn-group-vertical>.btn-group:before,.btn-toolbar:after,.btn-toolbar:before,.clearfix:after,.clearfix:before,.container-fluid:after,.container-fluid:before,.container:after,.container:before,.dl-horizontal dd:after,.dl-horizontal dd:before,.form-horizontal .form-group:after,.form-horizontal .form-group:before,.modal-footer:after,.modal-footer:before,.modal-header:after,.modal-header:before,.nav:after,.nav:before,.navbar-collapse:after,.navbar-collapse:before,.navbar-header:after,.navbar-header:before,.navbar:after,.navbar:before,.pager:after,.pager:before,.panel-body:after,.panel-body:before,.row:after,.row:before{display:table;content:" "}.btn-group-vertical>.btn-group:after,.btn-toolbar:after,.clearfix:after,.container-fluid:after,.container:after,.dl-horizontal dd:after,.form-horizontal .form-group:after,.modal-footer:after,.modal-header:after,.nav:after,.navbar-collapse:after,.navbar-header:after,.navbar:after,.pager:after,.panel-body:after,.row:after{clear:both}.center-block{display:block;margin-right:auto;margin-left:auto}.pull-right{float:right!important}.pull-left{float:left!important}.hide{display:none!important}.show{display:block!important}.invisible{visibility:hidden}.text-hide{font:0/0 a;color:transparent;text-shadow:none;background-color:transparent;border:0}.hidden{display:none!important}.affix{position:fixed}@-ms-viewport{width:device-width}.visible-lg,.visible-md,.visible-sm,.visible-xs{display:none!important}.visible-lg-block,.visible-lg-inline,.visible-lg-inline-block,.visible-md-block,.visible-md-inline,.visible-md-inline-block,.visible-sm-block,.visible-sm-inline,.visible-sm-inline-block,.visible-xs-block,.visible-xs-inline,.visible-xs-inline-block{display:none!important}@media (max-width:767px){.visible-xs{display:block!important}table.visible-xs{display:table!important}tr.visible-xs{display:table-row!important}td.visible-xs,th.visible-xs{display:table-cell!important}}@media (max-width:767px){.visible-xs-block{display:block!important}}@media (max-width:767px){.visible-xs-inline{display:inline!important}}@media (max-width:767px){.visible-xs-inline-block{display:inline-block!important}}@media (min-width:768px) and (max-width:991px){.visible-sm{display:block!important}table.visible-sm{display:table!important}tr.visible-sm{display:table-row!important}td.visible-sm,th.visible-sm{display:table-cell!important}}@media (min-width:768px) and (max-width:991px){.visible-sm-block{display:block!important}}@media (min-width:768px) and (max-width:991px){.visible-sm-inline{display:inline!important}}@media (min-width:768px) and (max-width:991px){.visible-sm-inline-block{display:inline-block!important}}@media (min-width:992px) and (max-width:1199px){.visible-md{display:block!important}table.visible-md{display:table!important}tr.visible-md{display:table-row!important}td.visible-md,th.visible-md{display:table-cell!important}}@media (min-width:992px) and (max-width:1199px){.visible-md-block{display:block!important}}@media (min-width:992px) and (max-width:1199px){.visible-md-inline{display:inline!important}}@media (min-width:992px) and (max-width:1199px){.visible-md-inline-block{display:inline-block!important}}@media (min-width:1200px){.visible-lg{display:block!important}table.visible-lg{display:table!important}tr.visible-lg{display:table-row!important}td.visible-lg,th.visible-lg{display:table-cell!important}}@media (min-width:1200px){.visible-lg-block{display:block!important}}@media (min-width:1200px){.visible-lg-inline{display:inline!important}}@media (min-width:1200px){.visible-lg-inline-block{display:inline-block!important}}@media (max-width:767px){.hidden-xs{display:none!important}}@media (min-width:768px) and (max-width:991px){.hidden-sm{display:none!important}}@media (min-width:992px) and (max-width:1199px){.hidden-md{display:none!important}}@media (min-width:1200px){.hidden-lg{display:none!important}}.visible-print{display:none!important}@media print{.visible-print{display:block!important}table.visible-print{display:table!important}tr.visible-print{display:table-row!important}td.visible-print,th.visible-print{display:table-cell!important}}.visible-print-block{display:none!important}@media print{.visible-print-block{display:block!important}}.visible-print-inline{display:none!important}@media print{.visible-print-inline{display:inline!important}}.visible-print-inline-block{display:none!important}@media print{.visible-print-inline-block{display:inline-block!important}}@media print{.hidden-print{display:none!important}}.slideDown{animation-name:slideDown;-webkit-animation-name:slideDown;animation-duration:1s;-webkit-animation-duration:1s;animation-timing-function:ease;-webkit-animation-timing-function:ease;visibility:visible}@keyframes slideDown{0%{transform:translateY(-100%)}50%{transform:translateY(8%)}65%{transform:translateY(-4%)}80%{transform:translateY(4%)}95%{transform:translateY(-2%)}100%{transform:translateY(0%)}}@-webkit-keyframes slideDown{0%{-webkit-transform:translateY(-100%)}50%{-webkit-transform:translateY(8%)}65%{-webkit-transform:translateY(-4%)}80%{-webkit-transform:translateY(4%)}95%{-webkit-transform:translateY(-2%)}100%{-webkit-transform:translateY(0%)}}.slideUp{animation-name:slideUp;-webkit-animation-name:slideUp;animation-duration:1s;-webkit-animation-duration:1s;animation-timing-function:ease;-webkit-animation-timing-function:ease;visibility:visible}@keyframes slideUp{0%{transform:translateY(100%)}50%{transform:translateY(-8%)}65%{transform:translateY(4%)}80%{transform:translateY(-4%)}95%{transform:translateY(2%)}100%{transform:translateY(0%)}}@-webkit-keyframes slideUp{0%{-webkit-transform:translateY(100%)}50%{-webkit-transform:translateY(-8%)}65%{-webkit-transform:translateY(4%)}80%{-webkit-transform:translateY(-4%)}95%{-webkit-transform:translateY(2%)}100%{-webkit-transform:translateY(0%)}}.slideLeft{animation-name:slideLeft;-webkit-animation-name:slideLeft;animation-duration:1s;-webkit-animation-duration:1s;animation-timing-function:ease-in-out;-webkit-animation-timing-function:ease-in-out;visibility:visible}@keyframes slideLeft{0%{transform:translateX(150%)}50%{transform:translateX(-8%)}65%{transform:translateX(4%)}80%{transform:translateX(-4%)}95%{transform:translateX(2%)}100%{transform:translateX(0%)}}@-webkit-keyframes slideLeft{0%{-webkit-transform:translateX(150%)}50%{-webkit-transform:translateX(-8%)}65%{-webkit-transform:translateX(4%)}80%{-webkit-transform:translateX(-4%)}95%{-webkit-transform:translateX(2%)}100%{-webkit-transform:translateX(0%)}}.slideRight{animation-name:slideRight;-webkit-animation-name:slideRight;animation-duration:1s;-webkit-animation-duration:1s;animation-timing-function:ease-in-out;-webkit-animation-timing-function:ease-in-out;visibility:visible}@keyframes slideRight{0%{transform:translateX(-150%)}50%{transform:translateX(8%)}65%{transform:translateX(-4%)}80%{transform:translateX(4%)}95%{transform:translateX(-2%)}100%{transform:translateX(0%)}}@-webkit-keyframes slideRight{0%{-webkit-transform:translateX(-150%)}50%{-webkit-transform:translateX(8%)}65%{-webkit-transform:translateX(-4%)}80%{-webkit-transform:translateX(4%)}95%{-webkit-transform:translateX(-2%)}100%{-webkit-transform:translateX(0%)}}.slideExpandUp{animation-name:slideExpandUp;-webkit-animation-name:slideExpandUp;animation-duration:1.6s;-webkit-animation-duration:1.6s;animation-timing-function:ease-out;-webkit-animation-timing-function:ease -out;visibility:visible}@keyframes slideExpandUp{0%{transform:translateY(100%) scaleX(.5)}30%{transform:translateY(-8%) scaleX(.5)}40%{transform:translateY(2%) scaleX(.5)}50%{transform:translateY(0%) scaleX(1.1)}60%{transform:translateY(0%) scaleX(.9)}70%{transform:translateY(0%) scaleX(1.05)}80%{transform:translateY(0%) scaleX(.95)}90%{transform:translateY(0%) scaleX(1.02)}100%{transform:translateY(0%) scaleX(1)}}@-webkit-keyframes slideExpandUp{0%{-webkit-transform:translateY(100%) scaleX(.5)}30%{-webkit-transform:translateY(-8%) scaleX(.5)}40%{-webkit-transform:translateY(2%) scaleX(.5)}50%{-webkit-transform:translateY(0%) scaleX(1.1)}60%{-webkit-transform:translateY(0%) scaleX(.9)}70%{-webkit-transform:translateY(0%) scaleX(1.05)}80%{-webkit-transform:translateY(0%) scaleX(.95)}90%{-webkit-transform:translateY(0%) scaleX(1.02)}100%{-webkit-transform:translateY(0%) scaleX(1)}}.expandUp{animation-name:expandUp;-webkit-animation-name:expandUp;animation-duration:.7s;-webkit-animation-duration:.7s;animation-timing-function:ease;-webkit-animation-timing-function:ease;visibility:visible}@keyframes expandUp{0%{transform:translateY(100%) scale(.6) scaleY(.5)}60%{transform:translateY(-7%) scaleY(1.12)}75%{transform:translateY(3%)}100%{transform:translateY(0%) scale(1) scaleY(1)}}@-webkit-keyframes expandUp{0%{-webkit-transform:translateY(100%) scale(.6) scaleY(.5)}60%{-webkit-transform:translateY(-7%) scaleY(1.12)}75%{-webkit-transform:translateY(3%)}100%{-webkit-transform:translateY(0%) scale(1) scaleY(1)}}.fadeIn{animation-name:fadeIn;-webkit-animation-name:fadeIn;animation-duration:1.5s;-webkit-animation-duration:1.5s;animation-timing-function:ease-in-out;-webkit-animation-timing-function:ease-in-out;visibility:visible}@keyframes fadeIn{0%{transform:scale(0);opacity:.0}60%{transform:scale(1.1)}80%{transform:scale(.9);opacity:1}100%{transform:scale(1);opacity:1}}@-webkit-keyframes fadeIn{0%{-webkit-transform:scale(0);opacity:.0}60%{-webkit-transform:scale(1.1)}80%{-webkit-transform:scale(.9);opacity:1}100%{-webkit-transform:scale(1);opacity:1}}.expandOpen{animation-name:expandOpen;-webkit-animation-name:expandOpen;animation-duration:1.2s;-webkit-animation-duration:1.2s;animation-timing-function:ease-out;-webkit-animation-timing-function:ease-out;visibility:visible}@keyframes expandOpen{0%{transform:scale(1.8)}50%{transform:scale(.95)}80%{transform:scale(1.05)}90%{transform:scale(.98)}100%{transform:scale(1)}}@-webkit-keyframes expandOpen{0%{-webkit-transform:scale(1.8)}50%{-webkit-transform:scale(.95)}80%{-webkit-transform:scale(1.05)}90%{-webkit-transform:scale(.98)}100%{-webkit-transform:scale(1)}}.bigEntrance{animation-name:bigEntrance;-webkit-animation-name:bigEntrance;animation-duration:1.6s;-webkit-animation-duration:1.6s;animation-timing-function:ease-out;-webkit-animation-timing-function:ease-out;visibility:visible}@keyframes bigEntrance{0%{transform:scale(.3) rotate(6deg) translateX(-30%) translateY(30%);opacity:.2}30%{transform:scale(1.03) rotate(-2deg) translateX(2%) translateY(-2%);opacity:1}45%{transform:scale(.98) rotate(1deg) translateX(0%) translateY(0%);opacity:1}60%{transform:scale(1.01) rotate(-1deg) translateX(0%) translateY(0%);opacity:1}75%{transform:scale(.99) rotate(1deg) translateX(0%) translateY(0%);opacity:1}90%{transform:scale(1.01) rotate(0deg) translateX(0%) translateY(0%);opacity:1}100%{transform:scale(1) rotate(0deg) translateX(0%) translateY(0%);opacity:1}}@-webkit-keyframes bigEntrance{0%{-webkit-transform:scale(.3) rotate(6deg) translateX(-30%) translateY(30%);opacity:.2}30%{-webkit-transform:scale(1.03) rotate(-2deg) translateX(2%) translateY(-2%);opacity:1}45%{-webkit-transform:scale(.98) rotate(1deg) translateX(0%) translateY(0%);opacity:1}60%{-webkit-transform:scale(1.01) rotate(-1deg) translateX(0%) translateY(0%);opacity:1}75%{-webkit-transform:scale(.99) rotate(1deg) translateX(0%) translateY(0%);opacity:1}90%{-webkit-transform:scale(1.01) rotate(0deg) translateX(0%) translateY(0%);opacity:1}100%{-webkit-transform:scale(1) rotate(0deg) translateX(0%) translateY(0%);opacity:1}}.hatch{animation-name:hatch;-webkit-animation-name:hatch;animation-duration:2s;-webkit-animation-duration:2s;animation-timing-function:ease-in-out;-webkit-animation-timing-function:ease-in-out;transform-origin:50% 100%;-ms-transform-origin:50% 100%;-webkit-transform-origin:50% 100%;visibility:visible}@keyframes hatch{0%{transform:rotate(0deg) scaleY(.6)}20%{transform:rotate(-2deg) scaleY(1.05)}35%{transform:rotate(2deg) scaleY(1)}50%{transform:rotate(-2deg)}65%{transform:rotate(1deg)}80%{transform:rotate(-1deg)}100%{transform:rotate(0deg)}}@-webkit-keyframes hatch{0%{-webkit-transform:rotate(0deg) scaleY(.6)}20%{-webkit-transform:rotate(-2deg) scaleY(1.05)}35%{-webkit-transform:rotate(2deg) scaleY(1)}50%{-webkit-transform:rotate(-2deg)}65%{-webkit-transform:rotate(1deg)}80%{-webkit-transform:rotate(-1deg)}100%{-webkit-transform:rotate(0deg)}}.bounce{animation-name:bounce;-webkit-animation-name:bounce;animation-duration:1.6s;-webkit-animation-duration:1.6s;animation-timing-function:ease;-webkit-animation-timing-function:ease;transform-origin:50% 100%;-ms-transform-origin:50% 100%;-webkit-transform-origin:50% 100%}@keyframes bounce{0%{transform:translateY(0%) scaleY(.6)}60%{transform:translateY(-100%) scaleY(1.1)}70%{transform:translateY(0%) scaleY(.95) scaleX(1.05)}80%{transform:translateY(0%) scaleY(1.05) scaleX(1)}90%{transform:translateY(0%) scaleY(.95) scaleX(1)}100%{transform:translateY(0%) scaleY(1) scaleX(1)}}@-webkit-keyframes bounce{0%{-webkit-transform:translateY(0%) scaleY(.6)}60%{-webkit-transform:translateY(-100%) scaleY(1.1)}70%{-webkit-transform:translateY(0%) scaleY(.95) scaleX(1.05)}80%{-webkit-transform:translateY(0%) scaleY(1.05) scaleX(1)}90%{-webkit-transform:translateY(0%) scaleY(.95) scaleX(1)}100%{-webkit-transform:translateY(0%) scaleY(1) scaleX(1)}}.pulse{animation-name:pulse;-webkit-animation-name:pulse;animation-duration:1.5s;-webkit-animation-duration:1.5s;animation-iteration-count:infinite;-webkit-animation-iteration-count:infinite}@keyframes pulse{0%{transform:scale(.95);opacity:.7}50%{transform:scale(1);opacity:1}100%{transform:scale(.95);opacity:.7}}@-webkit-keyframes pulse{0%{-webkit-transform:scale(.95);opacity:.7}50%{-webkit-transform:scale(1);opacity:1}100%{-webkit-transform:scale(.95);opacity:.7}}.floating{animation-name:floating;-webkit-animation-name:floating;animation-duration:1.5s;-webkit-animation-duration:1.5s;animation-iteration-count:infinite;-webkit-animation-iteration-count:infinite}@keyframes floating{0%{transform:translateY(0%)}50%{transform:translateY(8%)}100%{transform:translateY(0%)}}@-webkit-keyframes floating{0%{-webkit-transform:translateY(0%)}50%{-webkit-transform:translateY(8%)}100%{-webkit-transform:translateY(0%)}}.tossing{animation-name:tossing;-webkit-animation-name:tossing;animation-duration:2.5s;-webkit-animation-duration:2.5s;animation-iteration-count:infinite;-webkit-animation-iteration-count:infinite}@keyframes tossing{0%{transform:rotate(-4deg)}50%{transform:rotate(4deg)}100%{transform:rotate(-4deg)}}@-webkit-keyframes tossing{0%{-webkit-transform:rotate(-4deg)}50%{-webkit-transform:rotate(4deg)}100%{-webkit-transform:rotate(-4deg)}}.pullUp{animation-name:pullUp;-webkit-animation-name:pullUp;animation-duration:1.1s;-webkit-animation-duration:1.1s;animation-timing-function:ease-out;-webkit-animation-timing-function:ease-out;transform-origin:50% 100%;-ms-transform-origin:50% 100%;-webkit-transform-origin:50% 100%}@keyframes pullUp{0%{transform:scaleY(.1)}40%{transform:scaleY(1.02)}60%{transform:scaleY(.98)}80%{transform:scaleY(1.01)}100%{transform:scaleY(.98)}80%{transform:scaleY(1.01)}100%{transform:scaleY(1)}}@-webkit-keyframes pullUp{0%{-webkit-transform:scaleY(.1)}40%{-webkit-transform:scaleY(1.02)}60%{-webkit-transform:scaleY(.98)}80%{-webkit-transform:scaleY(1.01)}100%{-webkit-transform:scaleY(.98)}80%{-webkit-transform:scaleY(1.01)}100%{-webkit-transform:scaleY(1)}}.pullDown{animation-name:pullDown;-webkit-animation-name:pullDown;animation-duration:1.1s;-webkit-animation-duration:1.1s;animation-timing-function:ease-out;-webkit-animation-timing-function:ease-out;transform-origin:50% 0%;-ms-transform-origin:50% 0%;-webkit-transform-origin:50% 0%}@keyframes pullDown{0%{transform:scaleY(.1)}40%{transform:scaleY(1.02)}60%{transform:scaleY(.98)}80%{transform:scaleY(1.01)}100%{transform:scaleY(.98)}80%{transform:scaleY(1.01)}100%{transform:scaleY(1)}}@-webkit-keyframes pullDown{0%{-webkit-transform:scaleY(.1)}40%{-webkit-transform:scaleY(1.02)}60%{-webkit-transform:scaleY(.98)}80%{-webkit-transform:scaleY(1.01)}100%{-webkit-transform:scaleY(.98)}80%{-webkit-transform:scaleY(1.01)}100%{-webkit-transform:scaleY(1)}}.stretchLeft{animation-name:stretchLeft;-webkit-animation-name:stretchLeft;animation-duration:1.5s;-webkit-animation-duration:1.5s;animation-timing-function:ease-out;-webkit-animation-timing-function:ease-out;transform-origin:100% 0%;-ms-transform-origin:100% 0%;-webkit-transform-origin:100% 0%}@keyframes stretchLeft{0%{transform:scaleX(.3)}40%{transform:scaleX(1.02)}60%{transform:scaleX(.98)}80%{transform:scaleX(1.01)}100%{transform:scaleX(.98)}80%{transform:scaleX(1.01)}100%{transform:scaleX(1)}}@-webkit-keyframes stretchLeft{0%{-webkit-transform:scaleX(.3)}40%{-webkit-transform:scaleX(1.02)}60%{-webkit-transform:scaleX(.98)}80%{-webkit-transform:scaleX(1.01)}100%{-webkit-transform:scaleX(.98)}80%{-webkit-transform:scaleX(1.01)}100%{-webkit-transform:scaleX(1)}}.stretchRight{animation-name:stretchRight;-webkit-animation-name:stretchRight;animation-duration:1.5s;-webkit-animation-duration:1.5s;animation-timing-function:ease-out;-webkit-animation-timing-function:ease-out;transform-origin:0% 0%;-ms-transform-origin:0% 0%;-webkit-transform-origin:0% 0%}@keyframes stretchRight{0%{transform:scaleX(.3)}40%{transform:scaleX(1.02)}60%{transform:scaleX(.98)}80%{transform:scaleX(1.01)}100%{transform:scaleX(.98)}80%{transform:scaleX(1.01)}100%{transform:scaleX(1)}}@-webkit-keyframes stretchRight{0%{-webkit-transform:scaleX(.3)}40%{-webkit-transform:scaleX(1.02)}60%{-webkit-transform:scaleX(.98)}80%{-webkit-transform:scaleX(1.01)}100%{-webkit-transform:scaleX(.98)}80%{-webkit-transform:scaleX(1.01)}100%{-webkit-transform:scaleX(1)}}.animated{-webkit-animation-fill-mode:both;-moz-animation-fill-mode:both;-ms-animation-fill-mode:both;-o-animation-fill-mode:both;animation-fill-mode:both;-webkit-animation-duration:1s;-moz-animation-duration:1s;-ms-animation-duration:1s;-o-animation-duration:1s;animation-duration:1s}.animated.hinge{-webkit-animation-duration:1s;-moz-animation-duration:1s;-ms-animation-duration:1s;-o-animation-duration:1s;animation-duration:1s}@-webkit-keyframes fadeIn{0%{opacity:0}100%{opacity:1}}@-webkit-keyframes fadeInUp{0%{opacity:0;-webkit-transform:translateY(20px)}100%{opacity:1;-webkit-transform:translateY(0)}}@-moz-keyframes fadeInUp{0%{opacity:0;-moz-transform:translateY(20px)}100%{opacity:1;-moz-transform:translateY(0)}}@-o-keyframes fadeInUp{0%{opacity:0;-o-transform:translateY(20px)}100%{opacity:1;-o-transform:translateY(0)}}@keyframes fadeInUp{0%{opacity:0;transform:translateY(20px)}100%{opacity:1;transform:translateY(0)}}.fadeInUp{-webkit-animation-name:fadeInUp;-moz-animation-name:fadeInUp;-o-animation-name:fadeInUp;animation-name:fadeInUp}@-webkit-keyframes fadeInDown{0%{opacity:0;-webkit-transform:translateY(-20px)}100%{opacity:1;-webkit-transform:translateY(0)}}@-moz-keyframes fadeInDown{0%{opacity:0;-moz-transform:translateY(-20px)}100%{opacity:1;-moz-transform:translateY(0)}}@-o-keyframes fadeInDown{0%{opacity:0;-o-transform:translateY(-20px)}100%{opacity:1;-o-transform:translateY(0)}}@keyframes fadeInDown{0%{opacity:0;transform:translateY(-20px)}100%{opacity:1;transform:translateY(0)}}.fadeInDown{-webkit-animation-name:fadeInDown;-moz-animation-name:fadeInDown;-o-animation-name:fadeInDown;animation-name:fadeInDown}@-webkit-keyframes fadeInLeft{0%{opacity:0;-webkit-transform:translateX(-20px)}100%{opacity:1;-webkit-transform:translateX(0)}}@-moz-keyframes fadeInLeft{0%{opacity:0;-moz-transform:translateX(-20px)}100%{opacity:1;-moz-transform:translateX(0)}}@-o-keyframes fadeInLeft{0%{opacity:0;-o-transform:translateX(-20px)}100%{opacity:1;-o-transform:translateX(0)}}@keyframes fadeInLeft{0%{opacity:0;transform:translateX(-20px)}100%{opacity:1;transform:translateX(0)}}.fadeInLeft{-webkit-animation-name:fadeInLeft;-moz-animation-name:fadeInLeft;-o-animation-name:fadeInLeft;animation-name:fadeInLeft}@-webkit-keyframes fadeInRight{0%{opacity:0;-webkit-transform:translateX(20px)}100%{opacity:1;-webkit-transform:translateX(0)}}@-moz-keyframes fadeInRight{0%{opacity:0;-moz-transform:translateX(20px)}100%{opacity:1;-moz-transform:translateX(0)}}@-o-keyframes fadeInRight{0%{opacity:0;-o-transform:translateX(20px)}100%{opacity:1;-o-transform:translateX(0)}}@keyframes fadeInRight{0%{opacity:0;transform:translateX(20px)}100%{opacity:1;transform:translateX(0)}}.fadeInRight{-webkit-animation-name:fadeInRight;-moz-animation-name:fadeInRight;-o-animation-name:fadeInRight;animation-name:fadeInRight}@-webkit-keyframes fadeInUpBig{0%{opacity:0;-webkit-transform:translateY(2000px)}100%{opacity:1;-webkit-transform:translateY(0)}}@-moz-keyframes fadeInUpBig{0%{opacity:0;-moz-transform:translateY(2000px)}100%{opacity:1;-moz-transform:translateY(0)}}@-o-keyframes fadeInUpBig{0%{opacity:0;-o-transform:translateY(2000px)}100%{opacity:1;-o-transform:translateY(0)}}@keyframes fadeInUpBig{0%{opacity:0;transform:translateY(2000px)}100%{opacity:1;transform:translateY(0)}}.fadeInUpBig{-webkit-animation-name:fadeInUpBig;-moz-animation-name:fadeInUpBig;-o-animation-name:fadeInUpBig;animation-name:fadeInUpBig}@-webkit-keyframes fadeInDownBig{0%{opacity:0;-webkit-transform:translateY(-2000px)}100%{opacity:1;-webkit-transform:translateY(0)}}@-moz-keyframes fadeInDownBig{0%{opacity:0;-moz-transform:translateY(-2000px)}100%{opacity:1;-moz-transform:translateY(0)}}@-o-keyframes fadeInDownBig{0%{opacity:0;-o-transform:translateY(-2000px)}100%{opacity:1;-o-transform:translateY(0)}}@keyframes fadeInDownBig{0%{opacity:0;transform:translateY(-2000px)}100%{opacity:1;transform:translateY(0)}}.fadeInDownBig{-webkit-animation-name:fadeInDownBig;-moz-animation-name:fadeInDownBig;-o-animation-name:fadeInDownBig;animation-name:fadeInDownBig}@-webkit-keyframes fadeInLeftBig{0%{opacity:0;-webkit-transform:translateX(-2000px)}100%{opacity:1;-webkit-transform:translateX(0)}}@-moz-keyframes fadeInLeftBig{0%{opacity:0;-moz-transform:translateX(-2000px)}100%{opacity:1;-moz-transform:translateX(0)}}@-o-keyframes fadeInLeftBig{0%{opacity:0;-o-transform:translateX(-2000px)}100%{opacity:1;-o-transform:translateX(0)}}@keyframes fadeInLeftBig{0%{opacity:0;transform:translateX(-2000px)}100%{opacity:1;transform:translateX(0)}}.fadeInLeftBig{-webkit-animation-name:fadeInLeftBig;-moz-animation-name:fadeInLeftBig;-o-animation-name:fadeInLeftBig;animation-name:fadeInLeftBig}@-webkit-keyframes fadeInRightBig{0%{opacity:0;-webkit-transform:translateX(2000px)}100%{opacity:1;-webkit-transform:translateX(0)}}@-moz-keyframes fadeInRightBig{0%{opacity:0;-moz-transform:translateX(2000px)}100%{opacity:1;-moz-transform:translateX(0)}}@-o-keyframes fadeInRightBig{0%{opacity:0;-o-transform:translateX(2000px)}100%{opacity:1;-o-transform:translateX(0)}}@keyframes fadeInRightBig{0%{opacity:0;transform:translateX(2000px)}100%{opacity:1;transform:translateX(0)}}.fadeInRightBig{-webkit-animation-name:fadeInRightBig;-moz-animation-name:fadeInRightBig;-o-animation-name:fadeInRightBig;animation-name:fadeInRightBig}@-webkit-keyframes fadeOut{0%{opacity:1}100%{opacity:0}}@-moz-keyframes fadeOut{0%{opacity:1}100%{opacity:0}}@-o-keyframes fadeOut{0%{opacity:1}100%{opacity:0}}@keyframes fadeOut{0%{opacity:1}100%{opacity:0}}.fadeOut{-webkit-animation-name:fadeOut;-moz-animation-name:fadeOut;-o-animation-name:fadeOut;animation-name:fadeOut}@-webkit-keyframes fadeOutUp{0%{opacity:1;-webkit-transform:translateY(0)}100%{opacity:0;-webkit-transform:translateY(-20px)}}@-moz-keyframes fadeOutUp{0%{opacity:1;-moz-transform:translateY(0)}100%{opacity:0;-moz-transform:translateY(-20px)}}@-o-keyframes fadeOutUp{0%{opacity:1;-o-transform:translateY(0)}100%{opacity:0;-o-transform:translateY(-20px)}}@keyframes fadeOutUp{0%{opacity:1;transform:translateY(0)}100%{opacity:0;transform:translateY(-20px)}}.fadeOutUp{-webkit-animation-name:fadeOutUp;-moz-animation-name:fadeOutUp;-o-animation-name:fadeOutUp;animation-name:fadeOutUp}@-webkit-keyframes fadeOutDown{0%{opacity:1;-webkit-transform:translateY(0)}100%{opacity:0;-webkit-transform:translateY(20px)}}@-moz-keyframes fadeOutDown{0%{opacity:1;-moz-transform:translateY(0)}100%{opacity:0;-moz-transform:translateY(20px)}}@-o-keyframes fadeOutDown{0%{opacity:1;-o-transform:translateY(0)}100%{opacity:0;-o-transform:translateY(20px)}}@keyframes fadeOutDown{0%{opacity:1;transform:translateY(0)}100%{opacity:0;transform:translateY(20px)}}.fadeOutDown{-webkit-animation-name:fadeOutDown;-moz-animation-name:fadeOutDown;-o-animation-name:fadeOutDown;animation-name:fadeOutDown}@-webkit-keyframes fadeOutLeft{0%{opacity:1;-webkit-transform:translateX(0)}100%{opacity:0;-webkit-transform:translateX(-20px)}}@-moz-keyframes fadeOutLeft{0%{opacity:1;-moz-transform:translateX(0)}100%{opacity:0;-moz-transform:translateX(-20px)}}@-o-keyframes fadeOutLeft{0%{opacity:1;-o-transform:translateX(0)}100%{opacity:0;-o-transform:translateX(-20px)}}@keyframes fadeOutLeft{0%{opacity:1;transform:translateX(0)}100%{opacity:0;transform:translateX(-20px)}}.fadeOutLeft{-webkit-animation-name:fadeOutLeft;-moz-animation-name:fadeOutLeft;-o-animation-name:fadeOutLeft;animation-name:fadeOutLeft}@-webkit-keyframes fadeOutRight{0%{opacity:1;-webkit-transform:translateX(0)}100%{opacity:0;-webkit-transform:translateX(20px)}}@-moz-keyframes fadeOutRight{0%{opacity:1;-moz-transform:translateX(0)}100%{opacity:0;-moz-transform:translateX(20px)}}@-o-keyframes fadeOutRight{0%{opacity:1;-o-transform:translateX(0)}100%{opacity:0;-o-transform:translateX(20px)}}@keyframes fadeOutRight{0%{opacity:1;transform:translateX(0)}100%{opacity:0;transform:translateX(20px)}}.fadeOutRight{-webkit-animation-name:fadeOutRight;-moz-animation-name:fadeOutRight;-o-animation-name:fadeOutRight;animation-name:fadeOutRight}@-webkit-keyframes fadeOutUpBig{0%{opacity:1;-webkit-transform:translateY(0)}100%{opacity:0;-webkit-transform:translateY(-2000px)}}@-moz-keyframes fadeOutUpBig{0%{opacity:1;-moz-transform:translateY(0)}100%{opacity:0;-moz-transform:translateY(-2000px)}}@-o-keyframes fadeOutUpBig{0%{opacity:1;-o-transform:translateY(0)}100%{opacity:0;-o-transform:translateY(-2000px)}}@keyframes fadeOutUpBig{0%{opacity:1;transform:translateY(0)}100%{opacity:0;transform:translateY(-2000px)}}.fadeOutUpBig{-webkit-animation-name:fadeOutUpBig;-moz-animation-name:fadeOutUpBig;-o-animation-name:fadeOutUpBig;animation-name:fadeOutUpBig}@-webkit-keyframes fadeOutDownBig{0%{opacity:1;-webkit-transform:translateY(0)}100%{opacity:0;-webkit-transform:translateY(2000px)}}@-moz-keyframes fadeOutDownBig{0%{opacity:1;-moz-transform:translateY(0)}100%{opacity:0;-moz-transform:translateY(2000px)}}@-o-keyframes fadeOutDownBig{0%{opacity:1;-o-transform:translateY(0)}100%{opacity:0;-o-transform:translateY(2000px)}}@keyframes fadeOutDownBig{0%{opacity:1;transform:translateY(0)}100%{opacity:0;transform:translateY(2000px)}}.fadeOutDownBig{-webkit-animation-name:fadeOutDownBig;-moz-animation-name:fadeOutDownBig;-o-animation-name:fadeOutDownBig;animation-name:fadeOutDownBig}@-webkit-keyframes fadeOutLeftBig{0%{opacity:1;-webkit-transform:translateX(0)}100%{opacity:0;-webkit-transform:translateX(-2000px)}}@-moz-keyframes fadeOutLeftBig{0%{opacity:1;-moz-transform:translateX(0)}100%{opacity:0;-moz-transform:translateX(-2000px)}}@-o-keyframes fadeOutLeftBig{0%{opacity:1;-o-transform:translateX(0)}100%{opacity:0;-o-transform:translateX(-2000px)}}@keyframes fadeOutLeftBig{0%{opacity:1;transform:translateX(0)}100%{opacity:0;transform:translateX(-2000px)}}.fadeOutLeftBig{-webkit-animation-name:fadeOutLeftBig;-moz-animation-name:fadeOutLeftBig;-o-animation-name:fadeOutLeftBig;animation-name:fadeOutLeftBig}@-webkit-keyframes fadeOutRightBig{0%{opacity:1;-webkit-transform:translateX(0)}100%{opacity:0;-webkit-transform:translateX(2000px)}}@-moz-keyframes fadeOutRightBig{0%{opacity:1;-moz-transform:translateX(0)}100%{opacity:0;-moz-transform:translateX(2000px)}}@-o-keyframes fadeOutRightBig{0%{opacity:1;-o-transform:translateX(0)}100%{opacity:0;-o-transform:translateX(2000px)}}@keyframes fadeOutRightBig{0%{opacity:1;transform:translateX(0)}100%{opacity:0;transform:translateX(2000px)}}.fadeOutRightBig{-webkit-animation-name:fadeOutRightBig;-moz-animation-name:fadeOutRightBig;-o-animation-name:fadeOutRightBig;animation-name:fadeOutRightBig}@-webkit-keyframes slideInDown{0%{opacity:0;-webkit-transform:translateY(-2000px)}100%{-webkit-transform:translateY(0)}}@-moz-keyframes slideInDown{0%{opacity:0;-moz-transform:translateY(-2000px)}100%{-moz-transform:translateY(0)}}@-o-keyframes slideInDown{0%{opacity:0;-o-transform:translateY(-2000px)}100%{-o-transform:translateY(0)}}@keyframes slideInDown{0%{opacity:0;transform:translateY(-2000px)}100%{transform:translateY(0)}}.slideInDown{-webkit-animation-name:slideInDown;-moz-animation-name:slideInDown;-o-animation-name:slideInDown;animation-name:slideInDown}@-webkit-keyframes slideInLeft{0%{opacity:0;-webkit-transform:translateX(-100%)}100%{-webkit-transform:translateX(0)}}@-moz-keyframes slideInLeft{0%{opacity:0;-moz-transform:translateX(-100%)}100%{-moz-transform:translateX(0)}}@-o-keyframes slideInLeft{0%{opacity:0;-o-transform:translateX(-100%)}100%{-o-transform:translateX(0)}}@keyframes slideInLeft{0%{opacity:0;transform:translateX(-100%)}100%{transform:translateX(0)}}.slideInLeft{-webkit-animation-name:slideInLeft;-moz-animation-name:slideInLeft;-o-animation-name:slideInLeft;animation-name:slideInLeft}@-webkit-keyframes slideInRight{0%{opacity:0;-webkit-transform:translateX(100%)}100%{-webkit-transform:translateX(0)}}@-moz-keyframes slideInRight{0%{opacity:0;-moz-transform:translateX(100%)}100%{-moz-transform:translateX(0)}}@-o-keyframes slideInRight{0%{opacity:0;-o-transform:translateX(100%)}100%{-o-transform:translateX(0)}}@keyframes slideInRight{0%{opacity:0;transform:translateX(100%)}100%{transform:translateX(0)}}.slideInRight{-webkit-animation-name:slideInRight;-moz-animation-name:slideInRight;-o-animation-name:slideInRight;animation-name:slideInRight}@-webkit-keyframes slideOutUp{0%{-webkit-transform:translateY(0)}100%{opacity:0;-webkit-transform:translateY(-2000px)}}@-moz-keyframes slideOutUp{0%{-moz-transform:translateY(0)}100%{opacity:0;-moz-transform:translateY(-2000px)}}@-o-keyframes slideOutUp{0%{-o-transform:translateY(0)}100%{opacity:0;-o-transform:translateY(-2000px)}}@keyframes slideOutUp{0%{transform:translateY(0)}100%{opacity:0;transform:translateY(-2000px)}}.slideOutUp{-webkit-animation-name:slideOutUp;-moz-animation-name:slideOutUp;-o-animation-name:slideOutUp;animation-name:slideOutUp}@-webkit-keyframes slideOutLeft{0%{-webkit-transform:translateX(0)}100%{opacity:0;-webkit-transform:translateX(-2000px)}}@-moz-keyframes slideOutLeft{0%{-moz-transform:translateX(0)}100%{opacity:0;-moz-transform:translateX(-2000px)}}@-o-keyframes slideOutLeft{0%{-o-transform:translateX(0)}100%{opacity:0;-o-transform:translateX(-2000px)}}@keyframes slideOutLeft{0%{transform:translateX(0)}100%{opacity:0;transform:translateX(-2000px)}}.slideOutLeft{-webkit-animation-name:slideOutLeft;-moz-animation-name:slideOutLeft;-o-animation-name:slideOutLeft;animation-name:slideOutLeft}@-webkit-keyframes slideOutRight{0%{-webkit-transform:translateX(0)}100%{opacity:0;-webkit-transform:translateX(2000px)}}@-moz-keyframes slideOutRight{0%{-moz-transform:translateX(0)}100%{opacity:0;-moz-transform:translateX(2000px)}}@-o-keyframes slideOutRight{0%{-o-transform:translateX(0)}100%{opacity:0;-o-transform:translateX(2000px)}}@keyframes slideOutRight{0%{transform:translateX(0)}100%{opacity:0;transform:translateX(2000px)}}.slideOutRight{-webkit-animation-name:slideOutRight;-moz-animation-name:slideOutRight;-o-animation-name:slideOutRight;animation-name:slideOutRight}@-webkit-keyframes moveFromLeft{from{-webkit-transform:translateX(-100%)}to{-webkit-transform:translateX(0%)}}@-moz-keyframes moveFromLeft{from{-moz-transform:translateX(-100%)}to{-moz-transform:translateX(0%)}}@-ms-keyframes moveFromLeft{from{-ms-transform:translateX(-100%)}to{-ms-transform:translateX(0%)}}@-o-keyframes moveFromLeft{from{-o-transform:translateX(-100%)}to{-o-transform:translateX(0%)}}@keyframes moveFromLeft{from{transform:translateX(-100%)}to{transform:translateX(0%)}}.moveFromLeft{-webkit-animation:moveFromLeft .4s ease;-moz-animation:moveFromLeft .4s ease;-ms-animation:moveFromLeft .4s ease;-o-animation:moveFromLeft .4s ease;animation:moveFromLeft .4s ease}@-webkit-keyframes moveFromRight{from{-webkit-transform:translateX(100%)}to{-webkit-transform:translateX(0%)}}@-moz-keyframes moveFromRight{from{-moz-transform:translateX(100%)}to{-moz-transform:translateX(0%)}}@-ms-keyframes moveFromRight{from{-ms-transform:translateX(100%)}to{-ms-transform:translateX(0%)}}@-o-keyframes moveFromRight{from{-o-transform:translateX(100%)}to{-o-transform:translateX(0%)}}@keyframes moveFromRight{from{transform:translateX(100%)}to{transform:translateX(0%)}}.moveFromRight{-webkit-animation:moveFromRight .4s ease;-moz-animation:moveFromRight .4s ease;-ms-animation:moveFromRight .4s ease;-o-animation:moveFromRight .4s ease;animation:moveFromRight .4s ease}@-webkit-keyframes moveFromBottom{from{-webkit-transform:translateY(100%)}to{-webkit-transform:translateY(0%)}}@-moz-keyframes moveFromBottom{from{-moz-transform:translateY(100%)}to{-moz-transform:translateY(0%)}}@-ms-keyframes moveFromBottom{from{-ms-transform:translateY(100%)}to{-ms-transform:translateY(0%)}}@-o-keyframes moveFromBottom{from{-o-transform:translateY(100%)}to{-o-transform:translateY(0%)}}@keyframes moveFromBottom{from{transform:translateY(100%)}to{transform:translateY(0%)}}.moveFromBottom{-webkit-animation:moveFromBottom .4s ease;-moz-animation:moveFromBottom .4s ease;-ms-animation:moveFromBottom .4s ease;-o-animation:moveFromBottom .4s ease;animation:moveFromBottom .4s ease}@-webkit-keyframes scaleDisappear{0%{opacity:1;-webkit-transform:scale(1)}60%{opacity:0;-webkit-transform:scale(1.3)}100%{opacity:1;-webkit-transform:scale(1)}}@-moz-keyframes scaleDisappear{0%{opacity:1;-moz-transform:scale(1)}60%{opacity:0;-moz-transform:scale(1.3)}100%{opacity:1;-moz-transform:scale(1)}}@-ms-keyframes scaleDisappear{0%{opacity:1;-ms-transform:scale(1)}60%{opacity:0;-ms-transform:scale(1.3)}100%{opacity:1;-ms-transform:scale(1)}}@-o-keyframes scaleDisappear{0%{opacity:1;-o-transform:scale(1)}60%{opacity:0;-o-transform:scale(1.3)}100%{opacity:1;-o-transform:scale(1)}}@keyframes scaleDisappear{0%{opacity:1;transform:scale(1)}60%{opacity:0;transform:scale(1.3)}100%{opacity:1;transform:scale(1)}}.scaleDisappear{-webkit-animation:scaleDisappear .35s ease-in-out;-moz-animation:scaleDisappear .35s ease-in-out;-ms-animation:scaleDisappear .35s ease-in-out;-o-animation:scaleDisappear .35s ease-in-out;animation:scaleDisappear .35s ease-in-out}@-webkit-keyframes scaleAppear{0%{opacity:0;-webkit-transform:scale(0)}100%{opacity:1;-webkit-transform:scale(1)}}@-moz-keyframes scaleAppear{0%{opacity:0;-moz-transform:scale(0)}100%{opacity:1;-moz-transform:scale(1)}}@-ms-keyframes scaleAppear{0%{opacity:0;-ms-transform:scale(0)}100%{opacity:1;-ms-transform:scale(1)}}@-o-keyframes scaleAppear{0%{opacity:0;-o-transform:scale(0)}100%{opacity:1;-o-transform:scale(1)}}@keyframes scaleAppear{0%{opacity:0;transform:scale(0)}100%{opacity:1;transform:scale(1)}}.scaleAppear{-webkit-animation:scaleAppear .75s ease;-moz-animation:scaleAppear .75s ease;-ms-animation:scaleAppear .75s ease;-o-animation:scaleAppear .75s ease;animation:scaleAppear .75s ease}.animate-spin{-moz-animation:spin 2s infinite linear;-o-animation:spin 2s infinite linear;-webkit-animation:spin 2s infinite linear;animation:spin 2s infinite linear;display:inline-block}@-moz-keyframes spin{0%{-moz-transform:rotate(0deg);-o-transform:rotate(0deg);-webkit-transform:rotate(0deg);transform:rotate(0deg)}100%{-moz-transform:rotate(359deg);-o-transform:rotate(359deg);-webkit-transform:rotate(359deg);transform:rotate(359deg)}}@-webkit-keyframes spin{0%{-moz-transform:rotate(0deg);-o-transform:rotate(0deg);-webkit-transform:rotate(0deg);transform:rotate(0deg)}100%{-moz-transform:rotate(359deg);-o-transform:rotate(359deg);-webkit-transform:rotate(359deg);transform:rotate(359deg)}}@-o-keyframes spin{0%{-moz-transform:rotate(0deg);-o-transform:rotate(0deg);-webkit-transform:rotate(0deg);transform:rotate(0deg)}100%{-moz-transform:rotate(359deg);-o-transform:rotate(359deg);-webkit-transform:rotate(359deg);transform:rotate(359deg)}}@-ms-keyframes spin{0%{-moz-transform:rotate(0deg);-o-transform:rotate(0deg);-webkit-transform:rotate(0deg);transform:rotate(0deg)}100%{-moz-transform:rotate(359deg);-o-transform:rotate(359deg);-webkit-transform:rotate(359deg);transform:rotate(359deg)}}@keyframes spin{0%{-moz-transform:rotate(0deg);-o-transform:rotate(0deg);-webkit-transform:rotate(0deg);transform:rotate(0deg)}100%{-moz-transform:rotate(359deg);-o-transform:rotate(359deg);-webkit-transform:rotate(359deg);transform:rotate(359deg)}}.modal-backdrop.in{filter:alpha(opacity=80);opacity:.8}.breadcrumb{margin:0;padding:0;background-color:transparent;border-radius:0;text-transform:none;color:inherit;font-size:18px;line-height:1.7;font-weight:400}.breadcrumb>.active{color:inherit;opacity:.9}.breadcrumb li{display:inline-block}.breadcrumb li a{color:#232323}.breadcrumb>li+li:before{padding:0;margin:0 19px 0 15px;content:"";display:inline-block;width:3px;height:10px;background-color:#232323;-webkit-transform:skewX(-45deg);transform:skewX(-45deg)}.pagination{margin:0}.pagination>li{display:inline-block}.pagination>li a.prev,.pagination>li span.prev{font-size:0}.pagination>li a.prev:before,.pagination>li span.prev:before{font-size:20px;font-family:FontAwesome;content:"";position:relative;top:1px}.pagination>li a.next,.pagination>li span.next{font-size:0}.pagination>li a.next:before,.pagination>li span.next:before{font-size:20px;font-family:FontAwesome;content:"";position:relative;top:1px}.pagination>li>a,.pagination>li>span{text-align:center;padding:10px 0;border:none;font-size:18px;margin-left:6px;margin-bottom:10px;min-width:30px}.pagination>li:first-child>a,.pagination>li:first-child>span{border-radius:0;padding:10px 26px}.pagination>li:last-child>a,.pagination>li:last-child>span{border-radius:0;padding:10px 26px}input[type=text],input[type=email],input[type=url],input[type=password],input[type=search],input[type=tel],input[type=number],textarea,select,.form-control{height:50px;border-width:1px;border-style:solid;border-color:#b4b4b4;background-color:transparent;border-radius:0;color:#787878;padding-left:20px;padding-right:20px;padding-top:9px;padding-bottom:9px;font-size:16px;font-weight:600}textarea{height:auto}.form-control option{color:#232323;background-color:#fff}.form-control,.form-control:focus{-webkit-box-shadow:none;box-shadow:none}.form-control.invalid{-webkit-box-shadow:0 0 0 2px #ffc326;box-shadow:0 0 0 2px #ffc326}.form-control:focus{border-color:#ffc326}.form-control:-moz-placeholder{color:#b4b4b4;font-weight:600;opacity:1}.form-control::-moz-placeholder{font-style:normal;font-weight:600;color:#b4b4b4;opacity:1}.form-control:-ms-input-placeholder{font-style:normal;color:#b4b4b4;font-weight:600}.form-control::-webkit-input-placeholder{font-style:normal;color:#b4b4b4;font-weight:600}select.form-control:focus{color:#ffc326}input.form-control:focus{color:#ffc326}input.form-control:focus:-moz-placeholder{color:#ffc326}input.form-control:focus::-moz-placeholder{color:#ffc326}input.form-control:focus:-ms-input-placeholder{color:#ffc326}input.form-control:focus::-webkit-input-placeholder{color:#ffc326}form label+[class*=icon2-]{position:absolute;font-size:24px;color:#787878;left:10px;top:19px}form label+[class*=icon2-]+.form-control{padding-left:50px}label{font-weight:400}.form-control+[class*=icon2-]{position:absolute;font-size:24px;left:20px;top:50%;color:#ffc326}.form-wrapper.with_background,.form-wrapper.muted_background,.form-wrapper.cs,.form-wrapper.ds,.form-wrapper.ls{padding:35px}.wrap-forms .form-builder-item{margin-bottom:15px !important}.carousel{overflow:hidden}.carousel-indicators li{width:10px;height:10px;border-width:0;background-color:#232323;margin:0 3px;-webkit-transition:all .2s ease-in-out 0s;-moz-transition:all .2s ease-in-out 0s;-o-transition:all .2s ease-in-out 0s;-ms-transition:all .2s ease-in-out 0s;transition:all .2s ease-in-out 0s}.carousel-indicators li:hover{opacity:.8}.carousel-indicators .active{width:10px;height:10px;margin:0 3px;background-color:#ffc326}.carousel-control.left,.carousel-control.right{border:1px solid #fff;color:#fff;border-radius:0;width:50px;height:50px;left:-50px;top:50%;margin-top:-25px;text-shadow:none;opacity:1;background-image:none;filter:alpha(opacity=100);text-align:center}.carousel-control.right{right:-50px}.carousel:hover .carousel-control{left:50px}.carousel:hover .carousel-control.right{left:auto;right:50px}.carousel-control.left span,.carousel-control.right span{font-family:"rt-icons-2";width:50px;height:50px;margin:0;font-size:16px;left:0;top:0;line-height:50px}.carousel-control .icon-prev:before{content:""}.carousel-control .icon-next:before{content:""}.panel-heading .panel-title{font-size:inherit;letter-spacing:0;padding:0;position:relative}.panel-heading .panel-title>a{line-height:1;font-size:16px;font-weight:700;display:block;padding:18px 50px 18px 20px;background-color:#ffc326;color:#fff;border:1px solid #ffc326;border-radius:0;word-wrap:break-word}.panel-heading .panel-title>a:hover{color:#fff}.panel-heading .panel-title>a.collapsed:hover{color:#fff}.panel-heading .panel-title>a.collapsed{background-color:#fff;color:#787878}.panel-heading .panel-title>a.collapsed:hover{background-color:#ffc326}.panel-heading .panel-title>a:after{color:#fff;content:"-";position:absolute;line-height:54px;font-weight:400;text-align:center;font-size:26px;right:0;top:0;bottom:0;width:60px;letter-spacing:0}.panel-heading .panel-title>a.collapsed:after{content:"+";color:#ffc326}.panel-heading .panel-title>a.collapsed:hover:after{color:#fff}.panel-heading .panel-title>a>i{position:relative;top:1px;padding-right:12px}.panel{box-shadow:none}.panel-group .panel{border-radius:0;background-color:#fff}.panel-default>.panel-heading{background-color:#fff;color:inherit;position:relative;border:none;border-radius:0;padding:0}.panel-default{border-color:#fff}.panel-group .panel+.panel{margin-top:10px}.panel-body{border:1px solid transparent;border-top:none !important}.panel-body .media-left{padding-right:28px}.panel-body .media-left .img-circle{max-width:50px}.panel-body .media-left img{max-width:80px}.panel-group .panel-heading+.panel-collapse .panel-body{padding:23px 30px 11px;border-radius:0}.bootstrap-datetimepicker-widget td.active,.bootstrap-datetimepicker-widget td.active:hover{background-color:#ffc326 !important;color:#fff !important;text-shadow:0 -1px 0 rgba(0,0,0,.25)}p+.progress{margin-top:-10px}.progress{overflow:hidden;height:40px;position:relative;border-radius:0;-webkit-box-shadow:none;box-shadow:none;border:none}.progress-bar{background-color:#ffc326;color:inherit;-webkit-box-shadow:none;box-shadow:none;height:40px}.progress-bar span{position:relative;color:#fff;top:10px;font-size:.9em}.progress-bar-info{background-color:#8aa5ec}.progress-bar-warning{background-color:#f0ad4e}.progress-bar-danger{background-color:#d9534f}.alert{border-radius:0;border-width:0 0 0 4px;padding:30px;margin-bottom:40px}.media{margin-top:16px}.media .media-object{max-width:100px}.nav>li>a{color:#232323}.nav>li>a:hover,.nav>li>a:focus{background-color:inherit}.tab-content{border-radius:0;padding:30px;border:1px solid rgba(0,0,0,.06)}.tab-content.no-border{padding:36px 0 0;border:none}.tab-content.top-color-border{position:relative}.tab-content.top-color-border:before{content:"";position:absolute;left:0;right:0;top:-1px;height:6px;background-color:#ffc326}.tab-content .featured-tab-image{margin:-30px -31px 24px}.nav-tabs>li.active>a,.nav-tabs>li.active>a:hover,.nav-tabs>li.active>a:focus{border:1px solid rgba(0,0,0,.06)}.nav-tabs{border-bottom-color:transparent;margin-top:0;margin-bottom:-1px}.nav-tabs>li>a{font-size:14px;padding:19px 40px;margin-right:1px;margin-top:0;border:none;border:1px solid #232323;background-color:#232323;color:#fff;border-radius:0}.small-tabs .nav-tabs>li>a{padding:10px 15px}.nav-tabs>li.active>a,.nav-tabs>li.active>a:hover,.nav-tabs>li.active>a:focus{border-color:transparent;background-color:#ffc326;color:#fff}.nav-tabs>li>a:hover,.nav-tabs>li>a:focus,.nav-tabs.nav-justified>.active>a{border-color:#232323;background-color:#232323;color:#ffc326}.vertical-tabs .tab-content.no-border{padding-top:0}.vertical-tabs .nav>li>a{background-color:#232323;color:#fff;padding:18px 60px 18px 40px;margin-bottom:10px;position:relative}.vertical-tabs .nav>li>a i{position:relative;top:1px;padding-right:12px}.vertical-tabs .nav>li>a:after{color:rgba(255,255,255,.8);font-family:"rt-icons-2";content:"";position:absolute;font-size:12px;line-height:58px;text-align:center;right:0;top:0;bottom:0;width:60px;border-left:1px solid rgba(255,255,255,.1);letter-spacing:0}.vertical-tabs .nav>li.active a,.vertical-tabs .nav>li>a:hover{background-color:#ffc326}@media (min-width:768px){.vertical-tabs .nav>li.active{position:relative;z-index:2}}.table>tbody>tr>td,.table>tbody>tr>th,.table>tfoot>tr>td,.table>tfoot>tr>th,.table>thead>tr>td,.table>thead>tr>th{padding:13px 8px;border-color:#b4b4b4}.table{border-top:1px solid #b4b4b4;border-bottom:1px solid #b4b4b4}.table td+th,.table th+td,.table th+th,.table td+td{border-left:1px solid #b4b4b4}.table-bordered>thead>tr>td,.table-bordered>thead>tr>th{border-bottom-width:1px}.table-responsive{border:none}.btn{padding:18px 30px;text-transform:uppercase;margin:0 2px 6px 0;border:none;border-radius:0;outline:none;-webkit-transition:all .3s ease-in-out 0s;-moz-transition:all .3s ease-in-out 0s;-o-transition:all .3s ease-in-out 0s;-ms-transition:all .3s ease-in-out 0s;transition:all .3s ease-in-out 0s}.btn:hover,.btn:focus{outline:none}li.media:before,li.media:after{display:block;content:"";clear:both}.dropdown-menu{-webkit-box-shadow:none;box-shadow:none;border-radius:0;border-color:rgba(0,0,0,.06);z-index:1001;font-size:16px;margin-top:0}[class*=right] .dropdown-menu{right:0;left:auto;padding:30px;margin-top:25px;border:none;min-width:280px}.dropdown-menu>li>a:focus,.dropdown-menu>li>a:hover{color:#232323;background-color:transparent}.well{-webkit-box-shadow:none;box-shadow:none;border:none;border-radius:0}.embed-responsive-3by2{padding-bottom:66.666%}.embed-placeholder:after{-webkit-transition:all .2s ease-in-out 0s;-moz-transition:all .2s ease-in-out 0s;-o-transition:all .2s ease-in-out 0s;-ms-transition:all .2s ease-in-out 0s;transition:all .2s ease-in-out 0s;content:"";font-family:"rt-icons-2";position:absolute;color:#fff;font-size:30px;left:50%;top:50%;margin-left:-20px;margin-top:-5px}.embed-placeholder:hover:after{opacity:.4}html{width:100%;height:100%;position:relative;overflow:visible}::selection{color:#fff;background-color:#ffc326}::-moz-selection{color:#fff;background-color:#ffc326}body{font-family:"Roboto",sans-serif;font-size:16px;font-weight:300;line-height:24px;background-color:#fff;overflow:visible;overflow-x:hidden}h1,h2,h3,h4,h5,h6{font-weight:300;line-height:1.3;word-break:break-word;margin-top:1.5em;margin-bottom:1em}h4{font-size:24px}h5{font-size:17px}h6{font-size:15px}h1:first-child,h2:first-child,h3:first-child,h4:first-child,h5:first-child,h6:first-child{margin-top:0}p{margin-bottom:20px}blockquote{position:relative;margin:0;padding:10px 10px 30px;border:0;font-size:18px;font-weight:300;line-height:30px;font-style:italic}blockquote p{margin-bottom:45px}blockquote .media{font-size:14px;font-style:normal;margin:0 0 6px;padding-top:10px}blockquote .media img{min-width:40px;max-width:40px;border-radius:50%}blockquote .item-meta{margin-top:10px;font-style:normal;opacity:.7}blockquote footer{font-weight:600;font-style:normal;font-size:15px;text-transform:uppercase;color:#ffc326}blockquote footer:before{display:none}blockquote cite,blockquote cite a{font-style:normal;text-transform:none;font-weight:300;color:#b4b4b4;display:block;width:100%;font-size:16px}img,figure{max-width:100%;height:auto}figcaption,.entry-caption{padding:2px 0 12px}figcaption p,.entry-caption p{margin-bottom:0}label{color:#232323}a{text-decoration:none;-webkit-transition:all .3s ease-in-out 0s;-moz-transition:all .3s ease-in-out 0s;-o-transition:all .3s ease-in-out 0s;-ms-transition:all .3s ease-in-out 0s;transition:all .3s ease-in-out 0s}a:hover{color:#ffc326;text-decoration:none;-webkit-transition:all .15s linear 0s;-moz-transition:all .15s linear 0s;-o-transition:all .15s linear 0s;-ms-transition:all .15s linear 0s;transition:all .15s linear 0s}input:focus,button:focus,select:focus,textarea:focus,a:focus{outline:medium none;text-decoration:none}a>img{-webkit-transition:all .15s ease-in-out 0s;-moz-transition:all .15s ease-in-out 0s;-o-transition:all .15s ease-in-out 0s;-ms-transition:all .15s ease-in-out 0s;transition:all .15s ease-in-out 0s}a:hover>img{opacity:.8}hr{border:none;height:1px;background-color:#ddd;margin-top:5px;margin-bottom:5px}iframe{border:none;max-width:100%}input[type=number]{-moz-appearance:textfield}input::-webkit-outer-spin-button,input::-webkit-inner-spin-button{-webkit-appearance:none}table{width:100%;max-width:100%;margin:10px 0}table td,table th{padding:13px 8px;line-height:1.42857143;vertical-align:top;border:1px solid #b4b4b4}table th{color:#232323;font-weight:400}.table_template thead{background-color:#ffc326;color:#232323}.table_template thead.light{background-color:#fff}.table_template th{font-weight:700}.table_template td,.table_template th{padding:18px 30px}.table_template tbody tr:nth-of-type(odd){background-color:rgba(238,238,238,.1)}.table_template tbody tr:nth-of-type(even){background-color:rgba(17,17,17,.05)}ul,ol{padding-left:30px}.list1 ul,ul.list1{list-style:none;padding:0;margin:25px 0}.padding_30 .list1 ul,.padding_30 ul.list1{margin:0}.list1 li{position:relative;padding:9px 0 10px 30px;border-bottom:1px solid rgba(0,0,0,.06)}.muted_background .list1 li{border-color:rgba(255,255,255,.4)}.list1 li>.media{margin:3px 0 0}.list1.no-bullets li{padding-left:0}.list1.no-bullets li:before{display:none}.list1 li:first-child{border-top:1px solid rgba(0,0,0,.06)}.list1.no-top-border li:first-child{border-top:none;margin-top:0;padding-top:0}.list1.no-bottom-border li:last-child{border-bottom:none;margin-bottom:0;padding-bottom:0}.list1 li:before{content:"";display:block;position:absolute;border:1px solid #ffc326;left:10px;top:17px;width:7px;height:7px;border-radius:50%}.list2 ul,ul.list2{list-style:none;padding-left:20px;margin-bottom:20px}.list2 li{position:relative;padding:3px 0 3px 5px;font-size:16px;color:#232323}.list2 li:first-child{padding-top:0}.list2 li:first-child:before{top:0}.ds .list2 li{color:#fff}.list2 li:before{font-family:"FontAwesome";font-size:16px;color:#ffc326;content:"";position:absolute;left:-21px;top:4px}.list3 ol,ol.list3{counter-reset:li;list-style:none outside none;padding:0}.list3 li{position:relative;padding:8px 0 8px 42px}.list3 li:after{content:counter(li,decimal-leading-zero);counter-increment:li;position:absolute;left:2px;top:50%;margin-top:-15px;font-weight:700;color:inherit;width:30px;height:30px;text-align:center;line-height:30px;color:#fff;background-color:#ffc326;border-radius:100%}.theme_buttons a,.theme_button,.wc-proceed-to-checkout .checkout-button,.buttons a,button,input[type=submit]{font-size:16px;font-weight:700;padding:15px 25px 15px;text-transform:uppercase;margin-bottom:4px;line-height:1;display:inline-block;min-width:8.5em;text-align:center;color:#fff;border:3px solid #232323;background-color:#232323;-webkit-border-radius:1px;border-radius:1px;position:relative;-webkit-transition:all .4s linear 0s;-moz-transition:all .4s linear 0s;-o-transition:all .4s linear 0s;-ms-transition:all .4s linear 0s;transition:all .4s linear 0s}.theme_button[type=reset]{display:none}.simple_link{font-size:13px;text-transform:uppercase;font-weight:700}.theme_buttons.color1 a,.theme_button.color1,.button.alt,.wc-proceed-to-checkout .checkout-button,.widget_price_filter button,.form-submit [type=submit]{background-color:#ffc326;border-color:#ffc326;color:#fff}.theme_buttons.color1 a:active,.theme_buttons.color1 a:hover,.theme_buttons.color1 a:focus,.theme_button.color1:active,.theme_button.color1:hover,.theme_button.color1:focus{background-color:transparent;border-color:#ffc326;color:#ffc326}.theme_buttons.color2 a,.theme_button.color2{background-color:#232323;border-color:#232323;color:#ffc326}.theme_buttons.color2 a:active,.theme_buttons.color2 a:hover,.theme_buttons.color2 a:focus,.theme_button.color2:active,.theme_button.color2:hover,.theme_button.color2:focus{background-color:transparent;border-color:#232323;color:#232323}.ds .theme_buttons.color2 a,.ds .theme_button.color2{background-color:#787878;border-color:#787878;color:#ffc326}.ds .theme_buttons.color2 a:active,.ds .theme_buttons.color2 a:hover,.ds .theme_buttons.color2 a:focus,.ds .theme_button.color2:active,.ds .theme_button.color2:hover,.ds .theme_button.color2:focus{background-color:transparent;border-color:#787878;color:#787878}.cs .theme_buttons.color2 a,.cs .theme_button.color2{background-color:#232323;border-color:#232323;color:#ffc326}.cs .theme_buttons.color2 a:active,.cs .theme_buttons.color2 a:hover,.cs .theme_buttons.color2 a:focus,.cs .theme_button.color2:active,.cs .theme_button.color2:hover,.cs .theme_button.color2:focus{background-color:transparent;border-color:#232323;color:#232323}.theme_buttons a:active,.theme_buttons a:hover,.theme_buttons a:focus,.theme_button:active,.theme_button:hover,.theme_button:focus{color:rgba(255,255,255,.7);opacity:1;text-decoration:none;outline:none;-webkit-transition:all .05s linear 0s;-moz-transition:all .05s linear 0s;-o-transition:all .05s linear 0s;-ms-transition:all .05s linear 0s;transition:all .05s linear 0s}.buttons a:active,.buttons a:hover,.buttons a:focus{color:#fff !important}.theme_buttons a:active,.theme_button:active{top:1px}.theme_buttons.inverse a,.theme_button.inverse{color:#232323;background-color:transparent;border:3px solid #232323}.muted_buttons a,.muted_button{opacity:.2}.small_buttons a,.small_button{padding:2px 7px 0;text-transform:uppercase;font-weight:100;min-width:auto}.square_buttons a,.square_button{padding-left:10px;padding-right:10px;min-width:auto}.wide_buttons a,.wide_button{padding-left:50px;padding-right:50px}.block_buttons a,.block_button{display:block;width:100%;text-align:center}h1>[class*=rt-icon],h2>[class*=rt-icon],h3>[class*=rt-icon],h4>[class*=rt-icon],h5>[class*=rt-icon],h6>[class*=rt-icon]{font-size:1.2em;position:relative;top:.17em;line-height:0;padding-right:.1em}p>[class*=rt-icon]{font-size:1.1em;position:relative;top:.1em;line-height:0;padding:0 .2em}p>[class*=rt-icon]+[class*=rt-icon]{margin-left:-.75em}.theme_buttons a>[class*=rt-icon],.theme_button>[class*=rt-icon]{font-size:1.8em;line-height:0;position:relative;top:5px;padding:0 3px}.theme_buttons a>[class*=glyphicon],.theme_buttons a>[class*=fa-],.theme_button>[class*=glyphicon],.theme_button>[class*=fa-]{font-size:1.5em;position:relative;top:3px;line-height:0}.section_padding_0>[class*=container]{padding-top:0;padding-bottom:0}.section_padding_15>[class*=container]{padding-top:15px;padding-bottom:15px}.section_padding_25>[class*=container]{padding-top:25px;padding-bottom:25px}.section_padding_40>[class*=container]{padding-top:40px;padding-bottom:40px}.section_padding_50>[class*=container]{padding-top:50px;padding-bottom:50px}.section_padding_75>[class*=container]{padding-top:75px;padding-bottom:75px}.section_padding_100>[class*=container]{padding-top:100px;padding-bottom:100px}.section_padding_top_0>[class*=container]{padding-top:0}.section_padding_top_5>[class*=container]{padding-top:5px}.section_padding_top_15>[class*=container]{padding-top:15px}.section_padding_top_25>[class*=container]{padding-top:25px}.section_padding_top_30>[class*=container]{padding-top:30px}.section_padding_top_40>[class*=container]{padding-top:40px}.section_padding_top_50>[class*=container]{padding-top:50px}.section_padding_top_65>[class*=container]{padding-top:65px}.section_padding_top_75>[class*=container]{padding-top:75px}.section_padding_top_100>[class*=container]{padding-top:100px}.section_padding_top_120>[class*=container]{padding-top:120px}.section_padding_top_130>[class*=container]{padding-top:130px}.section_padding_top_140>[class*=container]{padding-top:140px}.section_padding_top_145>[class*=container]{padding-top:145px}.section_padding_top_150>[class*=container]{padding-top:150px}.section_padding_top_155>[class*=container]{padding-top:155px}.section_padding_top_160>[class*=container]{padding-top:160px}.section_padding_top_215>[class*=container]{padding-top:215px}.section_padding_bottom_0>[class*=container]{padding-bottom:0}.section_padding_bottom_5>[class*=container]{padding-bottom:5px}.section_padding_bottom_15>[class*=container]{padding-bottom:15px}.section_padding_bottom_25>[class*=container]{padding-bottom:25px}.section_padding_bottom_30>[class*=container]{padding-bottom:30px}.section_padding_bottom_40>[class*=container]{padding-bottom:40px}.section_padding_bottom_50>[class*=container]{padding-bottom:50px}.section_padding_bottom_65>[class*=container]{padding-bottom:65px}.section_padding_bottom_75>[class*=container]{padding-bottom:75px}.section_padding_bottom_100>[class*=container]{padding-bottom:100px}.section_padding_bottom_120>[class*=container]{padding-bottom:120px}.section_padding_bottom_130>[class*=container]{padding-bottom:130px}.section_padding_bottom_140>[class*=container]{padding-bottom:140px}.section_padding_bottom_145>[class*=container]{padding-bottom:145px}.section_padding_bottom_150>[class*=container]{padding-bottom:150px}.section_padding_bottom_155>[class*=container]{padding-bottom:155px}.section_padding_bottom_160>[class*=container]{padding-bottom:160px}.section_padding_bottom_215>[class*=container]{padding-bottom:215px}@media (max-width:1199px){.section_padding_100>[class*=container],.section_padding_top_100>[class*=container],.section_padding_top_120>[class*=container],.section_padding_top_130>[class*=container],.section_padding_top_140>[class*=container],.section_padding_top_145>[class*=container],.section_padding_top_150>[class*=container],.section_padding_top_155>[class*=container],.section_padding_top_215>[class*=container],.section_padding_top_160>[class*=container]{padding-top:75px}.section_padding_100>[class*=container],.section_padding_bottom_100>[class*=container],.section_padding_bottom_120>[class*=container],.section_padding_bottom_130>[class*=container],.section_padding_bottom_140>[class*=container],.section_padding_bottom_145>[class*=container],.section_padding_bottom_150>[class*=container],.section_padding_bottom_155>[class*=container],.section_padding_bottom_215>[class*=container],.section_padding_bottom_160>[class*=container]{padding-bottom:75px}}@media (max-width:479px){.section_padding_100>[class*=container],.section_padding_top_100>[class*=container],.section_padding_top_120>[class*=container],.section_padding_top_130>[class*=container],.section_padding_top_140>[class*=container],.section_padding_top_145>[class*=container],.section_padding_top_150>[class*=container],.section_padding_top_155>[class*=container],.section_padding_top_215>[class*=container],.section_padding_top_160>[class*=container]{padding-top:50px}.section_padding_100>[class*=container],.section_padding_bottom_100>[class*=container],.section_padding_bottom_120>[class*=container],.section_padding_bottom_130>[class*=container],.section_padding_bottom_140>[class*=container],.section_padding_bottom_145>[class*=container],.section_padding_bottom_150>[class*=container],.section_padding_bottom_155>[class*=container],.section_padding_bottom_215>[class*=container],.section_padding_bottom_160>[class*=container]{padding-bottom:50px}}[class*=col-]{margin-top:15px;margin-bottom:15px}form [class*=col-]{margin-top:0}[class*=col-]>.checkbox,[class*=col-]>.radio{margin:0}[class*=_0] [class*=col-],header [class*=col-]{margin-top:0;margin-bottom:0;min-height:0}.columns_padding_1 [class*=col-]{margin-top:0;margin-bottom:1px}.columns_padding_2 [class*=col-]{margin-top:1px;margin-bottom:1px}.columns_padding_5 [class*=col-]{margin-top:5px;margin-bottom:5px}.columns_padding_0 [class*=col-]{padding:0}.columns_padding_1 [class*=col-]{padding-left:0;padding-right:1px}.columns_padding_2 [class*=col-]{padding-left:1px;padding-right:1px}.columns_padding_5 [class*=col-]{padding-left:5px;padding-right:5px}.columns_padding_0>.container,.columns_padding_1>.container,.columns_padding_2>.container{padding-left:15px;padding-right:15px}.columns_padding_5>.container{padding-left:25px;padding-right:25px}.row.columns_padding_0,.columns_padding_0 .row{margin:0}.row.columns_padding_1,.columns_padding_1 .row{margin-left:0;margin-right:-1px}.row.columns_padding_2,.columns_padding_2 .row{margin-left:-1px;margin-right:-1px}.row.columns_padding_5,.columns_padding_5 .row{margin-left:-5px;margin-right:-5px}@media (min-width:500px){.columns_padding_25>[class*=container]>.row{margin-right:-25px;margin-left:-25px}.columns_padding_25>[class*=container]>.row>[class*=col-]{padding-left:25px;padding-right:25px}.row.columns_padding_25{margin-left:-25px;margin-right:-25px}}.columns_margin_top_0 [class*=col-],.row.columns_margin_top_0 [class*=col-]{margin-top:0}.columns_margin_top_5 [class*=col-],.row.columns_margin_top_5 [class*=col-]{margin-top:5px}.columns_margin_top_10 [class*=col-],.row.columns_margin_top_10 [class*=col-]{margin-top:10px}.columns_margin_top_15 [class*=col-],.row.columns_margin_top_15 [class*=col-]{margin-top:15px}.columns_margin_top_20 [class*=col-],.row.columns_margin_top_20 [class*=col-]{margin-top:20px}.columns_margin_top_30 [class*=col-],.row.columns_margin_top_30 [class*=col-]{margin-top:30px}.columns_margin_bottom_0 [class*=col-],.row.columns_margin_bottom_0 [class*=col-]{margin-bottom:0}.columns_margin_bottom_5 [class*=col-],.row.columns_margin_bottom_5 [class*=col-]{margin-bottom:5px}.columns_margin_bottom_10 [class*=col-],.row.columns_margin_bottom_10 [class*=col-]{margin-bottom:10px}.columns_margin_bottom_15 [class*=col-],.row.columns_margin_bottom_15 [class*=col-]{margin-bottom:15px}.columns_margin_bottom_20 [class*=col-],.row.columns_margin_bottom_20 [class*=col-]{margin-bottom:20px}.columns_margin_bottom_30 [class*=col-],.row.columns_margin_bottom_30 [class*=col-]{margin-bottom:30px}.table_section [class*=container]{height:100%;padding-left:0;padding-right:0}.table_section .row{display:table;min-width:100%;height:100%;margin-left:0;margin-right:0}.table_section [class*=col-]{display:table-cell;vertical-align:middle;float:none}@media screen and (max-width:767px){.table_section .row,.table_section [class*=col-]{display:block;width:auto}}@media screen and (max-width:991px){.table_section.table_section_md .row,.table_section.table_section_md [class*=col-]{display:block;width:auto}}@media screen and (max-width:1199px){.table_section.table_section_lg .row,.table_section.table_section_lg [class*=col-]{display:block;width:auto}}@media screen and (min-width:1200px){.top-overlap{margin-top:-170px}.top-overlap-small{margin-top:-100px}}@media (max-width:767px){.container{max-width:500px}}.fullwidth-section .container-fluid{padding-right:0;padding-left:0}.container_px_120 .container-fluid{padding-right:15px !important;padding-left:15px !important}@media (min-width:1200px){.container_px_120 .container-fluid{padding-right:120px !important;padding-left:120px !important}}@media (min-width:992px){.section_flex>.container>.row,.section_flex>.container-fluid>.row{display:flex}.section_flex>.container>.row>[class*=col-],.section_flex>.container-fluid>.row>[class*=col-]{flex:1}}.background_cover{-webkit-background-size:cover;-moz-background-size:cover;-o-background-size:cover;background-size:cover}.parallax{background-attachment:fixed;-webkit-background-size:cover;-moz-background-size:cover;-o-background-size:cover;background-size:cover;background-position:50% 0;background-repeat:no-repeat;position:relative}.parallax [class*=col-].cs{background-color:rgba(255,195,38,.95)}.parallax [class*=col-].ds{background-color:rgba(35,35,35,.95)}.section-overlay,.column-overlay{position:absolute !important;top:0;left:0;right:0;bottom:0;width:100%;height:100%;background-repeat:repeat !important;z-index:1}.fw-column .fw-column-inner{z-index:2;position:relative}.fw-column.width-1 .fw-column-inner{padding:45px 20px;display:flex;justify-content:center}.fw-column.width-1 .fw-column-inner h3{margin-bottom:0;font-size:30px}@media (max-width:575px){.fw-column.width-1 .fw-column-inner{padding:36px 20px}}@media (min-width:992px){.fw-column.width-1 .fw-column-inner{display:flex;height:100%;align-items:center;margin-left:auto;max-width:560px;justify-content:flex-start}}@media (min-width:1200px){.fw-column.width-1.skew_column_right{transform:skew(-32deg) translateX(-52px)}.fw-column.width-1.skew_column_right>*{transform:skew(32deg) translateX(5px)}}.fw-column.width-2 .fw-column-inner{padding:36px 20px;justify-content:center;display:flex}@media (max-width:575px){.fw-column.width-2 .fw-column-inner{padding:36px 20px}}.fw-column.width-2 .shortcode-widget-area{width:80%}@media (min-width:992px){.fw-column.width-2 .fw-column-inner{display:flex;height:100%;align-items:center;margin-right:auto;max-width:585px}.fw-column.width-2 .shortcode-widget-area{width:100%}}@media (max-width:767px){.parallax{-webkit-background-size:auto auto;-moz-background-size:auto auto;-o-background-size:auto auto;background-size:auto auto}}.section_overlay.ls:after{background-color:#fff;-ms-filter:"progid: DXImageTransform.Microsoft.Alpha(Opacity=92)";filter:alpha(opacity=92);opacity:.92}.section_overlay.ls.ms:after{background-color:#f2f2f2;-ms-filter:"progid: DXImageTransform.Microsoft.Alpha(Opacity=88)";filter:alpha(opacity=88);opacity:.88}.section_overlay.cs:after{background-color:#ffc326;-ms-filter:"progid: DXImageTransform.Microsoft.Alpha(Opacity=95)";filter:alpha(opacity=95);opacity:.95}.section_overlay.cs:before{display:none}.section_overlay.cs.main_color2:after{background-color:#ee20ea}.section_overlay.cs.main_color3:after{background-color:red}.section_overlay.ds:after{background-color:#181818;opacity:.85}.texture_bg{-webkit-background-size:cover;-moz-background-size:cover;-o-background-size:cover;background-size:cover;background-position:50% 0;background-repeat:no-repeat;position:relative}.muted_section:before{background-color:rgba(35,35,35,.1);opacity:1}.parallax>*,.muted_section>*,.radial_gradient>*,.gradient>*,.vertical_gradient>*,.darken_gradient>*,.diagonal_section>*,.section_overlay>*{z-index:4;position:relative}.radial_gradient{position:relative;overflow:hidden}.gradient,.muted_section,.vertical_gradient,.darken_gradient,.section_overlay{position:relative}.muted_section:before,.muted_section:after,.section_overlay:before,.section_overlay:after,.gradient:before,.gradient:after,.vertical_gradient:before,.vertical_gradient:after,.darken_gradient:before,.darken_gradient:after{content:"";display:block;position:absolute;top:0;left:0;right:0;bottom:0;z-index:3}@media (min-width:992px){.section_mobile_overlay.section_overlay:after{display:none}}.muted_section:before,.muted_section:after,.section_overlay:before,.section_overlay:after{opacity:.8}.header_gradient,.gradient:before,.dark_gradient:before{background:#ffc326;background:-moz-linear-gradient(left,#ffc326 0%,#ee20ea 100%);background:-webkit-gradient(linear,left top,right top,color-stop(0%,#ffc326),color-stop(100%,#ee20ea));background:-webkit-linear-gradient(left,#ffc326 0%,#ee20ea 100%);background:-o-linear-gradient(left,#ffc326 0%,#ee20ea 100%);background:-ms-linear-gradient(left,#ffc326 0%,#ee20ea 100%);background:linear-gradient(to right,#ffc326 0%,#ee20ea 100%);filter:progid:DXImageTransform.Microsoft.gradient(startColorstr="$mainColor",endColorstr="$mainColor2",GradientType=1)}.vertical_gradient:before{background:#ffc326;background:-moz-linear-gradient(top,#ffc326 0%,#ee20ea 100%);background:-webkit-linear-gradient(top,#ffc326 0%,#ee20ea 100%);background:-o-linear-gradient(top,#ffc326 0%,#ee20ea 100%);background:-ms-linear-gradient(top,#ffc326 0%,#ee20ea 100%);background:linear-gradient(to bottom,#ffc326 0%,#ee20ea 100%);filter:progid:DXImageTransform.Microsoft.gradient(startColorstr="$mainColor",endColorstr="$mainColor2",GradientType=0)}.darken_gradient:before{background:-moz-linear-gradient(top,rgba(0,0,0,0) 0%,rgba(55,52,47,.65) 100%);background:-webkit-linear-gradient(top,rgba(0,0,0,0) 0%,rgba(55,52,47,.65) 100%);background:-o-linear-gradient(top,rgba(0,0,0,0) 0%,rgba(55,52,47,.65) 100%);background:-ms-linear-gradient(top,rgba(0,0,0,0) 0%,rgba(55,52,47,.65) 100%);background:linear-gradient(to bottom,rgba(0,0,0,0) 0%,rgba(55,52,47,.65) 100%);filter:progid:DXImageTransform.Microsoft.gradient(startColorstr="#00000000",endColorstr="#a637342f",GradientType=0)}.with_top_border,.with_bottom_border{position:relative}.with_top_border:before,.with_bottom_border:after{content:"";display:block;position:absolute;height:1px;left:0;right:0;top:0;background-color:#b4b4b4}.with_bottom_border:after{top:auto;bottom:0}.bg_image,.bg_image:after{background-image:url(//alphatowtruckservices.com/wp-content/themes/towy/css/../img/background_section.png)}h2.section_header{margin:0 0 20px;font-size:40px;line-height:42px;position:relative;word-wrap:break-word}h3.section_header{margin:0 0 20px;font-size:35px;position:relative;word-wrap:break-word}h3.section_header.big{font-size:100px;font-weight:700;margin-bottom:30px}h3.section_header.small{font-size:42px;text-transform:none;font-weight:300}h4.section_header{margin:0 0 15px;position:relative;word-wrap:break-word}h4.section_header.big{font-size:100px;font-weight:700;margin-bottom:30px}h4.section_header.small{font-size:42px;text-transform:none;font-weight:300}h3+.section_header,.big+.section_header{margin-top:-17px}.section_header+h3{margin:-22px 0 44px;font-size:30px}.section_header+p{font-size:15px;margin-top:-27px}.section_header.big+p{margin-bottom:30px}.text-center .section_header+p,.section_header.text-center+p{max-width:80%;margin-left:auto;margin-right:auto;text-align:center}@media (max-width:991px){.section_header{font-size:30px;margin-top:0}.section_header.text-center+p,.text-center .section_header+p{max-width:100%}.section_header+p{font-size:1.1em;letter-spacing:0}}@media (max-width:767px){.section_header.big{font-size:36px;margin-top:0}}.preloader{position:fixed;top:0;left:0;right:0;bottom:0;background:#fff;z-index:13000;height:100%}.lt-ie9 .preloader{display:none}.preloader_image{width:200px;height:200px;position:absolute;left:50%;top:50%;background:url(//alphatowtruckservices.com/wp-content/themes/towy/css/../img/preloader.gif) no-repeat 50% 50% transparent;margin:-100px 0 0 -100px}.to_animate{visibility:hidden}.lt-ie10 .to_animate,.lt-ie9 .to_animate{visibility:visible}.animated{visibility:visible !important}#box_wrapper,#canvas{overflow:visible;position:relative}#box_wrapper>section,#box_wrapper>div>section{clear:both}#canvas.boxed{padding:1px 0}#box_wrapper.container,#box_wrapper>section,#box_wrapper>div>section{overflow:hidden}body.boxed{position:static;width:auto;height:auto}.pattern1{background-image:url(//alphatowtruckservices.com/wp-content/themes/towy/css/../img/pattern1.png)}.pattern2{background-image:url(data:image/png;base64,iVBORw0KGgoAAAANSUhEUgAAAEYAAABGCAMAAABG8BK2AAAAIVBMVEUlJSUoKCgrKysnJycpKSkqKiosLCwmJiYtLS0vLy8uLi6o6UXmAAACy0lEQVR42o1YW3LjMAwTRNBMev8D73Q7NqignCk+Gj0gEaJAO81a2PGAGUl1d6wOUG1indgbAkEI1+7EyvKOQlADJ4LZ5TDOyd5ZeQ8YirHy+9PW2a65sFbGIEbp0DJN50ei6hmwVCgFMM2EmOeAs5CiepxTp3MkMeMWYwCUNCedISJrPPfPlFKrpt8n0fPrJLAP+GUrBZp2yWdCOPsedEvo0gnL6GD1JNYAJC3tU+HFi3hAsvde4S44pQlktaoPPRKKXOPdWCqKXXQXzhqcMvteOq1CXI6byH0f1LCDg+81FhRTIi3mHCKjmzJYelQYgDFE5KGT0E04shSiLMvS+d3UpoaYfV95OBTQpg4Q8xQPdSeTHch3ggPeG42532xYdQAbNQBX9m5enfnp+vnEDEbPYnFNIMb8g4dPMg5nuDlMjnxPdFePwnP2JiCD3w1g0K2CMTHaTJ8up8WK9NkMUTpzOQg13N1qSK8aLqa3fCBDIk6m7wxafm+bVVZl3V3LskJ47upqFbKZuxXPJea50nPHC3OF0H0hEH3PomJY8YQl0fvyfQ2mjPToArrv5wo5l8ap2n0f/L3oxRxsBErW8PgOiqm++78Uq9IZz1Sob4i0CjG9atRY8IT5fq6QdIJ4SokHA7rwDMuviMG5Qg6/fBdMTchdHxfjT6D7b158kJtXqnvBbKI9vS46EfQZP0d5PoEjRIZFdyYw2khvBtftFTKYWiGI0ZTg5EWpl+9LSwT5XoIFLST81ebCddkOuO+l24RLp8v5eDMEa2Ba0mbfsxAjE1iO+MG+ogFXxoS9w7HwH3F9oeNrY8LrBcfje8YffyoQ08GoHL+81mn5nkW3AzD8C2k+Zoxiut+CvaLcqHOIw/2M0apEZ3qIZ2HdpEpnRpYWeIibdHAAZ4aO7WLE6qs9ZrAzPYQ27GdB+mNCp/PzPmBW8ulF/vknsn90xBYctU4L7wAAAABJRU5ErkJggg==)}.pattern3{background-image:url(//alphatowtruckservices.com/wp-content/themes/towy/css/../img/pattern3.png)}.pattern4{background-image:url(data:image/png;base64,iVBORw0KGgoAAAANSUhEUgAAAGQAAABkCAYAAABw4pVUAAAOYUlEQVR42u2dWW7sug5FPZzze/q+mf+k8sACFkAs1DblOBevCvAH47DcSaLEXvT25cuXl4JPnz69vHv37uXjx48vnz9/7nj9X8cb/v37d+CGf/jw4eX9+/d1vOFfv36t+zl/O/748QP89v+3b98KCq931z233/vzf/78Wfjt+OvXL87Xswvc3jpynjbzPp7HecDX+zzPBwqnrwX0P+K0v95ffej9Aae/NQaFbwx2DUz9UDi/NZwG10DWzQVuAAQBuN4DXv+D17FfXw2lE5yHiGnAIBDt7ecZjDr6fl0vXASZCGC8CAcBIAL479+/b8c+gek/K6Sgz5jeQGYQM5oZvkoQZik47/OAg6cZ5RWSZjx94H31jHpu6p/vhwheISNBzDGYEEUA2s+EA/d4bPXngseBjeVcwIxsLAX5AgXNQz1jOV9Hz8g9GVDw6hkJsMLoU2MRBaxgeDb9K5wVWv97xfYVzrPr6PfzPNj0q1bUxgvhacIhRoEfyHmWvc+bpSSWwW9neDZ4DXy1v470h0HuBKE/HsA6ZxZrgiEX/H4T0DJljSC8jBcwA+iAtTA/UDLIDWA17PHsgv78MysEecOAMLnAIQY4xKgjeEEnGOPROcjeCrEWCpjDGL9kyCPCVpQ5odaxPD0jYRnMwD21kxXRr6+ZBo5d09VEZjSzG9wsyiwJ+dDVcFaV1fxBTY4smj7taa1RZm7th7TEChKB4KkQAP7ahSgDkuwGoPP4PuAAA2y1urMg3885roc9W4h3wxEWbZZ6iCBmycb7eGeCHF8hzDA6ZMvUhqQ7ZDsHAnIent95PESxpQvO+U5QG6a0D2J0gkCUaYAtlCdPQNIygUuGPCJsTS9PM9A8HNUOHJ7M/eDW2jpLA+f5wfIfXDWDL2rwTU1qqHFrRfSPVdb7bxZKfzkXzYhNPJ4HdJbBSzpulmHfVCcI9/cG0QF4fGyg2qfzs9C1UB2UmMO47TZNcKvVmAhRLd5kqVqL4eHmyQygDS3OWeuxJ8Ba0rRCQgc04BKaYYWcIYBxVjzt83jAcarPqb+XHfKowAqp2TNZ4mYBYQZKD39bFjGyNHDzcGYpKx585unZbup4Hr/5eR7PbXKNiGA8YM85mNW6tycIKqp9T2YZnUWCWwb6+Q6AgZtF4u/bUxIKrPaa5S4RhJdxQ2qQKX4+4pZx6/0MKgOcZBzn7atCpk0zOuKModqXxjM975IhjwibKMby9xK3L6h+sxprS577UwzeK8zxF82guELPuu9pj0POuPOJ+nXXTVejkSuWYX7+knd4a0kMds6Bc5OFJOdxncw83izL8RTHX+aQre+HGHVcjUcAvb/djnII2EoAbbDdsfQ+J3lsbYbZ8gb3ijBBCAqtxksAEwAcsNZ23NnnCTATyIatY+LYYda6urOV89OKNAEvGfKw8RBgcBdP7uNphYBPMiHh/XrHT6IdUkf8TWbJszc7x8ztCgHPEdLZl2aCJCHpB6YBcocSQQA3eNk5aBYD2Jnn8ADX5xDsjKPk9OejBB2Pf5iFra+QtYhXjqn3vK41AswrJCXeMWMRygSlnJWyKnMA+6YckZwscbf/8mU9A2zKfbXdYLvAM8LxD/5PWpUz94hnW88ParJkxlpEjt/EMg6rxbb0o5qPpmW1GZwxvyeTNtzHO3lLsBwbTh2XIRlcCUpcUx6VhXLqMB0AB2a1+HyaEWMTEwctU3DN19GJiJ5gnSBdzwa6YUcHWAEhe13J0yGRjVkjGeCkhSW9XYZtNiSz4QjMSR4OQGVDmPMpHsR487wrt/dp7JABh50UZeMMNItj1vQlDS5vs0K6cT9JYGlLWhO/mSWfDRGfDTccJohDuKnBgHlqJ6gT5zqBnCjnRDeuGVwTy/GUKBPWwwvg53OTt1HLyDHuyXAzAZKhyIYhXw8B1mXUcRwN0ivEBJHWdjCrZV6xBZcMedR4CFqH84rMY/uMcgTOaq/xlD1e16F1TXq/87iSd5gV7C1jzhGYLX3LNGuhTkVlBWTXzsyylMppoWseW0d4qnk8OAAOm3EaUMeDIRjzwMBpe7/eBAFs6FppMIEs05y3NsWDvKVvnSAFbYUwo7wijFvI00APCJ3ulmoBOOcTQaxEsGIgSFYimOFZq3MSBPfSfhvCnE8TzEoF5+6tkMuX9Wx2iNP9pdZFtTaFLH2/dzCl+IV59CoPTs+nT3tpOX0b+EpaU3i/LHOt2FmNnglC40JQX9sFhrSXkGoJEegQv9kXtOoeByzkp2Rt2julok4BLG8YgiiRIIAJwoBZz54KCTADVnJvHbN3B+y8QwtbXSFMjqBV6fqJAF5Bsy8MeVNHa4lpPPntkiFPIUO8b93xC12/skLQzOZaJXNE0tnj4GaJiUXBnvr1loHJjqC/xnlf3D9CyKFn6YDbrNhCAMnu4j2CpDQcG5YmQMrLykLUiXp2x2fnowsZBENyiH+EtKiJoCTbeQOT32+COPl4xZKGGGEApPdrhQy7Vh1Qst2Q9gSmDTEmuO2KZEfwvo6HiKneF/Y0Mp7alHrJkEeEragL1QZ3++S+BgcmNc8sIb8/syD7kuiL03SC3TPvCmb1myWC21ttGeb2WwtzbZUNgb3DQxNB7PtaDegAk1LA+T2CkSDRk6MhUPJt8Vs0DAvAh02x9u1xbbSr6ui8Ltrr4jPusBuUhHaKj0wyg/vz8+csFozGLjRNEBu60wQCUoST36y0pPpglsmA88QuGfKIsN0JyWbflff0WYYcX0GotC6tUZAilLRnLwumIFX/YUZa7bZdMWfr2zMwZ71wLtc6abVBkpCzWop7paeGDjJmOSnCMov7TdDkukFgmufb/V9Hs1Du53kpKcIECa6RcVNsJgggClrrMM+3lrGyB9B2gJ9vIe4BtWHJ+b2IH9c4HkP7cjZ9LthmrSon7mUCXbVOnqbm4r9//17+/PljnjrHP/KuVFvCKSLnLXOWCVYbLeOYrcYDy9OKCDj9VXzjcKbjfL21PhMk6+VH7A4TxO5wWIbjKdgRNuy8xw9IPJ029Pfvpe1EIWxn5vEainOemJNKtiJEDcDfv39X6/Yi2JPMYZXYMLPQdH0re5ttZ9g5mDwFice7vZ6AyXDN2e7nE/Vo32WHPCpsmjHazzDo0UPmn2bg0fjHtAdwrrVu73VOVbUMszfXavNKeMK4ZaTPR4KwFdgEccjTPHy1KKQT296qNoonFDIJSM5B5JpZrAsp2DXiLXOeMKn0+D5BVBWUF1QHknPQBFktpDzh855F47OzkWgnA8Zq6DIC8P4Ux8STN5l3TDLEBL9yex8f5qqk9paaB4N3HlvgLXJ7VUnT+6a0Hfue0rboVMFtqrQ9+7asxc3VkmZLXdsHBoJIDRSuXF3fn1wnwFTSL7FMq9HONQaf6mHNds4cr6F/k92TfVmKWQ/xEOn9titc+8S5tbaMTRCvwEwQe4fdnjpOAzoN4JSZad/eJCMvX9Yzwqba6k5rYfYm/7/jD66GYxZGjtIKT/YMN8sz/l9/DiPu8LL32CFfV2HtEVCvwK2VG0ohz5S+n17IPV3t7DJlSpvh+b7edswubqE62zlzOSe7jmgfdhu4CQLukoKWmZ0gfYWkiKADQrMl7K+kuTrPXK/K3lbaMtVG8fkjBDHuLBfej+FJn3r7zDHSV+o4f/myHrpuLzC4s4/mXZ13hfgrbXaFsEJzFgjszzzclvmKe32qW7wa/9hNnd004HIWRhbhBzpG/pa1RZwbS8zEMifFQ/L3RCxUZxaWC6zNBEkBwFhIORWhJGY+79M2ngt2HVkhEKWvEGQSWo2TLlxPCwI4CQJ5txIRdP/PrJCrbu+z+bK62pvqX1nrSV/STPGOeUVZhuV6WK+raTizJO8XsRng8/jiwi7g2Tdn7/KmDrrcEv/b0OkhV8BCKg3YOkHmEKtxBlilzQ+VDgFSsjbnky/unp2SPpHEeIogmedC7WCniCBhhSxoZSFGLmfcfD/EWDf8ctVRW+YpF9nf0LISBBETQa56WY8M25Cdzv+vszO8H8MsKX8PfaXMaprRdl2wgnt7VrQiZ9OnXGHeebpur2u/HxWaqwRx2pCXtGXOqqHpGo8WkuD+RhSQWJoJkr6Na19e8p0dcm5uwTt6JgYO+CNYNjxTXVs6lc4D6Sto4N7EaiE9EcS7blNtF66ZlJarbu+z1+1N+znu1R5xfITrUyUFuz78rdxUk7Ha5Rma0v+Pl4k9nvrpnAH7vuyKwatQsPQNrY0OK14xfSYvfJdPSzyryebJKWbvABAsIidNgJ93dppAju+YIN4karMgEgQg2bpT0DF0jJq9TY/pI1zWQrynLgW4HHGEINaq/i/eZ1YHK3wo3sO1aYUw2S875FFhu+PLccU0KGy1cm8/SahfpRkbPAFAYFnWolh1tNc7tqY9kIBzCKZdxdYKz+Ymx9IaHhD4JudXvidiV0IdrRamTZ73ik6GAJO/DzJv6vQEVPgB/EhI2Js46x2vVhq2yZdjLcExYDdQVU61iVPX2/mWP3ackh4gSMcd4wZWvxIHTNn71vJWY/ZXzcVngk3bkp01wYqZarU7T6vj1rKAtE3ZqaBmeZ6xbr/b4xnvur3W8pLM6rjrAods+nlFWEYRoEq5tXYfW0jSgVhW1SxIdo8NLcsQ3t/xtCm1T4DVPYi2k4y7/WaJEMSl0cGXQ7oFXiGpeg0zKnXQQjdpTemDJ+6gN8wAyfJ2opzbx28W2nv9Bad/Nmyr3cmwzbnJOYvliqk/R16W7YLsHoeHc+20w8rPL3DJvvlzGOb5VmuP6/2znbGe1pRqw2Q7bP58t2VGNnzAvWTdARGcJT35rpJrBPnTCXJiC5zsoikHYI5ncH+cgCa4ca8QBOpULGa2xLPMcQ1DCGqtxkIPmeMVDBz1TSU7IlSeHj9+nDgC/XV855IhzwD/A3I+u8n88KU/AAAAAElFTkSuQmCC)}.pattern5{background-image:url(//alphatowtruckservices.com/wp-content/themes/towy/css/../img/pattern5.png)}.pattern6{background-image:url(//alphatowtruckservices.com/wp-content/themes/towy/css/../img/pattern6.png)}.pattern7{background-image:url(data:image/png;base64,iVBORw0KGgoAAAANSUhEUgAAAPwAAADmCAYAAADx5uiaAAAEXklEQVR42uzcW26sMBREUfOY/4zBN0hp6Q7ApVDqtaT8Wo3xJvBztjHG8fO3j/WuxettP3/34jWPwHU/eznt59L9vAv2M3Hfj8RmAl9C8CB4QPCA4AHBA4IHBA8IHhA8IHhA8IDgQfCA4AHBA4IHBA/8qe03+i2w7gysOUp+Z8Oaj7vkHjXc9zkKRoadIzMvLPUQGQU3qWVWXMIdethtgfM5QudppWuUXDjgGx4QPCB4QPCA4AHBA4IHwQOCBwQPCB4QPCB4QPCA4AHBA4IHBA9f65lpl5gV1zIzLDEvbQvt6Qj8zr3kHs2C/ZwN9+j8b+GGDV09HDJ14GfBmolr30MHv2HCbOqh7JUeEDwgeEDwIHhA8IDgAcEDggcEDwgeEDwgeEDwgOBB8IDgAcEDggfe7PyNfvXsrGfNu2QPEteeWDNx3ffL9/Kz5iy4R4+rIfjEjZqhw9QwvTT1EGkZDjkK1kw+nF79EPFKD77hAcEDggcEDwgeEDwgeEDwgOABwQOCB8EDggcEDwgeEDwgeEDwwGKfmXaJIYHn4jUTQxf30JozcO2JNfeS37naLNnP5dd//h74hsmtW+jmNxym5x5dgXvUMHTyHpmBqKvXPLzSA4IHBA8IHhA8IHhA8IDgQfCA4AHBA4IHBA8IHhA8IHhA8IDgAcHDFzpHZrZZYlZaYqZdy4DElMT13yX3/Si5P/vq4BMD/e7AoT9CG5p42DUMnEzFfpUEn3C9/cx7pQff8IDgAcEDggcEDwgeEDwgeEDwgOABwYPgAcEDggcEDwgeEDwgeGCxz0y71bOzEoMcU4MxR8G6qbluiYGTidmDDUNBE9d+JIJPbebqda+Sg7SNDncg+H10TMJN/EM6Qg/lufoGAb7hAcEDggcEDwgeEDwgeEDwgOABwQOCB8EDggcEDwgeEDwgeEDwwELJmXYtwwwb5tq1zMnbStZMef1ZeoK/R8dAv8SGJq49MWG2ZdDoLAl0C52l++1nySs9+IYHBA8IHhA8IHhA8IDgAcEDggcEDwgeBA8IHhA8IHhA8IDgAcEDiz0z7Z75c1fBb91CD6iWwZiJ/Vw9aHQvufbEb9xHwfDSc2SGLo7AQ+QI3aQ7sO4dOKDfOmh0Bs5S6sG0vf0seaUH3/CA4AHBA4IHBA8IHhA8IHhA8IDgAcGD4AHBA4IHBA8IHhA8IHhgsTMY/ur5XokZZHfouo/Atc+C/dxC5zQxHDKx5v32/TxHx5TRT5yz4Man3ppWX/tV8BuTD5HE+Xz98FKv9OAbHhA8IHhA8IDgAcEDggcEDwgeEDwgeBA8IHhA8IDgAcEDggcEDyx2Bh8kiVlkiSGBDTP9UrPi9oLfOkvuUcV+nqENTQS/lcQ0R2Ya7vji/UwM8PzK4aVe6cE3PCB4QPCA4AHBA4IHBA8IHhA8IHhA8CB4QPCA4AHBA4IHBA8IHljsmWl3hB4kiYGTiTl5DfP8HlfBeWoZjJlaM7GfS/v8J8AAysqoHvFyqLkAAAAASUVORK5CYII=)}.pattern8{background-image:url(//alphatowtruckservices.com/wp-content/themes/towy/css/../img/pattern8.png)}.pattern9{background-image:url(//alphatowtruckservices.com/wp-content/themes/towy/css/../img/pattern9.png)}.pattern10{background-image:url(//alphatowtruckservices.com/wp-content/themes/towy/css/../img/pattern10.png)}.pattern11{background-image:url(//alphatowtruckservices.com/wp-content/themes/towy/css/../img/pattern11.png)}.boxed .container{max-width:100%;padding-left:50px;padding-right:50px}@media (max-width:500px){.boxed .container{padding-left:10px;padding-right:10px}}.boxed #box_wrapper.container{padding:0;-webkit-box-shadow:0 0 10px 0 rgba(0,0,0,.2);box-shadow:0 0 10px 0 rgba(0,0,0,.2);margin-top:59px}.boxed #box_wrapper.container.top-bottom-margins{margin-top:80px;margin-bottom:80px}.clear,.clearfix{clear:both}.media_padding{padding:65px 25px !important}.alignleft{float:left;margin:5px 30px 15px 0;max-width:50%}.alignright{float:right;margin:5px 0 15px 30px;max-width:50%}.round{border-radius:50%}.inline-block{display:inline-block;max-width:100%}.with_padding{padding:30px 35px}.small_padding{padding:22px 20px}.with_background{background-color:#f5f5f5}.muted_background{background-color:rgba(35,35,35,.06)}.with_border{border:2px solid rgba(0,0,0,.06)}.bordertop{border-top:2px solid rgba(0,0,0,.06)}.borderbottom{border-bottom:2px solid rgba(0,0,0,.06)}.with_border.sticky.post{border:2px solid #ffc326}.top-zebra-border{position:relative}.top-zebra-border:before{content:"";display:block;position:absolute;top:0;height:5px;left:0;right:0;background-color:#ffc326;background-image:-webkit-linear-gradient(135deg,#232323 15%,#ffc326 15%,#ffc326 50%,#232323 50%,#232323 65%,#ffc326 65%,#ffc326);background-image:linear-gradient(-45deg,#232323 15%,#ffc326 15%,#ffc326 50%,#232323 50%,#232323 65%,#ffc326 65%,#ffc326);background-size:8px 8px}.with_border .top-zebra-border:before{top:-2px;left:-2px;right:-2px}.with_border .item-media+.top-zebra-border:before{top:-1px;left:-2px;right:-2px}.content-justify{display:-webkit-box;display:-ms-flexbox;display:flex;-webkit-box-pack:justify;-ms-flex-pack:justify;justify-content:space-between;-ms-flex-wrap:wrap;flex-wrap:wrap}.bottom-border{position:relative}.bottom-border:after{content:"";position:absolute;left:0;right:0;bottom:0;height:2px;background-color:rgba(0,0,0,.1)}.border-paragraphs{margin:25px 0 25px}.border-paragraphs p{padding:9px 0 10px;margin:0;border-bottom:1px solid rgba(0,0,0,.06)}.border-paragraphs p:first-child{border-top:1px solid rgba(0,0,0,.06)}.table_section_content{padding:30px 50px}.table_section_content h3{font-size:42px;font-weight:300;margin:0 0 32px}.before_cover,.after_cover,.before_cover>*,.after_cover>*{position:relative;z-index:2}.before_cover:before,.after_cover:after{content:"";display:block;position:absolute;top:0;right:0;bottom:0;left:0}.top-corner{position:absolute;top:0;left:0;line-height:1}.big{font-size:42px;line-height:.9}.response,.highlight{color:#ffc326;border-color:#ffc326}.highlight-i{color:#ffc326 !important}.highlight2{color:#ee20ea;border-color:#ee20ea}.red,.required{color:#fa5c5d}.black{color:#181818;border-color:#181818}.lightfont{color:#b4b4b4}.grey{color:#232323;border-color:#232323}.greylinks a{color:#787878}.darklinks a{color:#232323}.thin{font-weight:300}.bold{font-weight:700}.regular{font-weight:500}.quotesign{position:relative;display:inline-block;width:50px;height:50px;line-height:1}.quotesign:before{font-size:150px;font-family:"PT Sans",sans-serif;content:"''";position:absolute;left:0;top:0;line-height:1}.light_bg_color{background-color:#fff}.main_bg_color{color:#fff;background-color:#ffc326}.main_bg_color2{color:#fff;background-color:#ee20ea}.dark_bg_color{color:#fff;background-color:#181818}.dark_bg_color h1,.dark_bg_color h2,.dark_bg_color h3,.dark_bg_color h4,.dark_bg_color h5,.dark_bg_color h6{color:#fff}.darkgrey_bg_color{color:#fff;background-color:#232323}.darkgrey_bg_color h1,.darkgrey_bg_color h2,.darkgrey_bg_color h3,.darkgrey_bg_color h4,.darkgrey_bg_color h5,.darkgrey_bg_color h6{color:#fff}.divider_20{margin:20px 0}.divider_30{margin:30px 0}.divider_40{margin:40px 0}.margin_0{margin:0}.topmargin_0{margin-top:0}.topmargin_1{margin-top:1px}.topmargin_10{margin-top:10px}.topmargin_20{margin-top:20px}.topmargin_30{margin-top:30px}.topmargin_40{margin-top:40px}.topmargin_50{margin-top:50px}.topmargin_60{margin-top:60px}.bottommargin_0{margin-bottom:0}.bottommargin_10{margin-bottom:10px}.bottommargin_20{margin-bottom:20px}.bottommargin_30{margin-bottom:30px}.bottommargin_40{margin-bottom:40px}.bottommargin_60{margin-bottom:60px}.leftmargin_10{margin-left:10px}.leftmargin_20{margin-left:20px}.leftmargin_30{margin-left:30px}.leftmargin_40{margin-left:40px}.leftmargin_50{margin-left:50px}.leftmargin_60{margin-left:60px}.rightmargin_10{margin-right:10px}.rightmargin_20{margin-right:20px}.rightmargin_30{margin-right:30px}.rightmargin_40{margin-right:40px}.rightmargin_50{margin-right:50px}.rightmargin_60{margin-right:60px}.padding_0{padding:0}.padding_10{padding:10px}.padding_20{padding:20px}.padding_30{padding:30px}.padding_40{padding:40px}.padding_65{padding:65px}@media (max-width:1200px){.padding_0{padding:0}.padding_10{padding:10px 15px}.padding_20{padding:20px 15px}.padding_30{padding:30px 15px}.padding_40{padding:40px 15px}}.toppadding_10{padding-top:10px}.toppadding_20{padding-top:20px}.toppadding_30{padding-top:30px}.toppadding_40{padding-top:40px}.toppadding_50{padding-top:50px}.toppadding_60{padding-top:60px}.bottompadding_10{padding-bottom:10px}.bottompadding_20{padding-bottom:20px}.bottompadding_30{padding-bottom:30px}.bottompadding_40{padding-bottom:40px}.bottompadding_50{padding-bottom:50px}.bottompadding_60{padding-bottom:60px}.leftpadding_10{padding-left:10px}.leftpadding_20{padding-left:20px}.leftpadding_30{padding-left:30px}.leftpadding_40{padding-left:40px}.leftpadding_50{padding-left:50px}.leftpadding_60{padding-left:60px}.rightpadding_10{padding-right:10px}.rightpadding_20{padding-right:20px}.rightpadding_30{padding-right:30px}.rightpadding_40{padding-right:40px}.rightpadding_50{padding-right:50px}.rightpadding_60{padding-right:60px}.fontsize_16{font-size:16px}.fontsize_18{font-size:18px}.fontsize_20{font-size:20px}.fontsize_24{font-size:24px}.fontsize_30{font-size:30px}.fontsize_32{font-size:32px}.display_table{display:table;min-width:100%;height:100%;margin:auto;border-collapse:collapse}.display_table_cell{display:table-cell;vertical-align:middle;float:none;overflow:hidden;zoom:1;-webkit-box-sizing:border-box;-moz-box-sizing:border-box;box-sizing:border-box}@media (min-width:1200px){.text-lg-right{text-align:right}.text-lg-left{text-align:left}.text-lg-center{text-align:center}.display_table_lg{display:table;min-width:100%;height:100%;margin:auto;border-collapse:collapse}.display_table_cell_lg{display:table-cell;vertical-align:middle;float:none;overflow:hidden;zoom:1;-webkit-box-sizing:border-box;-moz-box-sizing:border-box;box-sizing:border-box}}@media (min-width:992px){.text-md-right{text-align:right}.text-md-left{text-align:left}.text-md-center{text-align:center}.display_inline_md{display:inline}.display_table_md{display:table;min-width:100%;height:100%;margin:auto;border-collapse:collapse}.display_table_cell_md{display:table-cell;vertical-align:middle;float:none;overflow:hidden;zoom:1;-webkit-box-sizing:border-box;-moz-box-sizing:border-box;box-sizing:border-box}}@media (min-width:768px){.text-sm-right{text-align:right}.text-sm-left{text-align:left}.text-sm-center{text-align:center}.display_table_sm{display:table;min-width:100%;height:100%;margin:auto;border-collapse:collapse}.display_table_cell_sm{display:table-cell;vertical-align:middle;float:none;overflow:hidden;zoom:1;-webkit-box-sizing:border-box;-moz-box-sizing:border-box;box-sizing:border-box}}@media (max-width:767px){.text-xs-right{text-align:right}.text-xs-left{text-align:left}.text-xs-center{text-align:center}.not_found{font-size:130px}}@media (max-width:500px){.hidden-xxs{display:none}}.inline-dropdown{list-style:none;margin:0;padding:0}.inline-dropdown>li{display:inline-block;margin:0 -2px}.small-text{font-size:13px}.entry-date{font-weight:700;font-size:13px;text-transform:uppercase}.entry-author{font-size:13px;margin-bottom:20px}.entry-author a{color:#ffc326}.entry-author a:hover{color:#232323}.with_border .item-media{margin:-2px -2px 0 !important;z-index:1}.with_border.full-padding .item-media{margin:0}.full-padding{padding:40px}.content-padding .item-content{padding:30px 40px 30px}@media (max-width:992px){.full-padding{padding:30px}.content-padding .item-content{padding:30px 30px 20px}}.side-item .row{margin:0}.side-item .row [class*=col-]{padding:0;margin:0}.side-item .item-title+.item-content{padding-top:20px}.side-item [class*=col-]>.item-title{padding:15px 30px}.side-item [class*=col-]>.item-title h2,.side-item [class*=col-]>.item-title h3,.side-item [class*=col-]>.item-title h4{margin:0}.side-item.with_border [class*=col-]>.item-title{margin:-1px}@media (max-width:767px){.no-content-padding [class*=col-xs-] .item-content,.full-padding [class*=col-xs-] .item-content{padding-left:30px}.no-content-padding [class*=col-xs-][class*=col-xs-pull] .item-content,.full-padding [class*=col-xs-][class*=col-xs-pull] .item-content{padding-left:0;padding-right:30px}.no-content-padding .col-xs-12 .item-content,.full-padding .col-xs-12 .item-content{padding-top:30px;padding-left:0;padding-right:0}}@media (min-width:768px){.no-content-padding [class*=col-sm-] .item-content,.full-padding [class*=col-sm-] .item-content{padding-left:30px}.no-content-padding [class*=col-sm-][class*=col-sm-pull] .item-content,.full-padding [class*=col-sm-][class*=col-sm-pull] .item-content{padding-left:0;padding-right:30px}.no-content-padding .col-sm-12 .item-content,.full-padding .col-sm-12 .item-content{padding-top:30px;padding-left:0;padding-right:0}}@media (min-width:992px){.no-content-padding [class*=col-md-] .item-content,.full-padding [class*=col-md-] .item-content{padding-left:30px}.no-content-padding [class*=col-md-][class*=col-md-pull] .item-content,.full-padding [class*=col-md-][class*=col-md-pull] .item-content{padding-left:0;padding-right:30px}.no-content-padding .col-md-12 .item-content,.full-padding .col-md-12 .item-content{padding-top:30px;padding-left:0;padding-right:0}}@media (min-width:1200px){.no-content-padding [class*=col-lg-] .item-content,.full-padding [class*=col-lg-] .item-content{padding-left:30px}.no-content-padding [class*=col-lg-][class*=col-lg-pull] .item-content,.full-padding [class*=col-lg-][class*=col-lg-pull] .item-content{padding-left:0;padding-right:30px}.no-content-padding .col-lg-12 .item-content,.full-padding .col-lg-12 .item-content{padding-top:30px;padding-left:0;padding-right:0}}.vertical-item h3{font-size:20px;font-weight:500;line-height:1.1}.vertical-item .item-media+.item-content{padding-top:30px}.vertical-item .list1{text-align:left;margin:0}.vertical-item .list1+.social-icons{margin-top:30px}.vertical-item.content-padding .item-content{padding:55px 35px 50px}.vertical-item.content-absolute{position:relative}.vertical-item.content-absolute .item-content{position:absolute;bottom:0;left:0;right:0;padding:0 30px 20px}.vertical-item.content-absolute.vertical-center .item-content{top:0;line-height:1.1}.vertical-item+.item-title{padding:10px 30px}.vertical-item+.item-title h2,.vertical-item+.item-title h3,.vertical-item+.item-title h4{margin:0}.item-meta{margin-bottom:10px}.item-meta i{position:relative;font-size:20px;top:3px;padding:0;margin:0}.item-media{position:relative;overflow:hidden}.item-media img{max-width:100%;width:auto}.media-links{text-align:center;position:absolute;top:0;right:0;bottom:0;left:0}.media-links div{position:absolute;top:50%;width:100%;margin-top:-25px;z-index:4}.media-links:before{content:"";position:absolute;top:0;left:0;right:0;bottom:0;background-color:rgba(35,35,35,.5);filter:alpha(opacity=0);opacity:0;-webkit-transition:all .2s linear;-moz-transition:all .2s linear;-o-transition:all .2s linear;-ms-transition:all .2s linear;transition:all .2s linear}[class*=item]:hover .media-links:before{filter:alpha(opacity=80);opacity:.8}.media-links a.abs-link{position:absolute;top:0;right:0;bottom:0;left:0;opacity:0}[class*=item]:hover .media-links a.abs-link{opacity:1}.links-wrap a{position:relative;width:50px;height:50px;line-height:50px;top:-100px;display:inline-block;z-index:5;font-size:24px;text-align:center;filter:alpha(opacity=0);opacity:0;transition:all .6s cubic-bezier(.175,.885,.32,1.275) 0s;-moz-transition:all .6s cubic-bezier(.175,.885,.32,1.275) 0s;-ms-transition:all .6s cubic-bezier(.175,.885,.32,1.275) 0s;-o-transition:all .6s cubic-bezier(.175,.885,.32,1.275) 0s;-webkit-transition:all .6s cubic-bezier(.175,.885,.32,1.275) 0s;border:1px solid #ffc326;background-color:#ffc326}.links-wrap a:hover{color:rgba(255,255,255,.6)}.links-wrap a.p-view{color:#fff}.links-wrap a.p-link{background-color:transparent;color:#fff;border-color:#fff;transition:all .6s cubic-bezier(.175,.885,.32,1.275) .1s;-moz-transition:all .6s cubic-bezier(.175,.885,.32,1.275) .1s;-ms-transition:all .6s cubic-bezier(.175,.885,.32,1.275) .1s;-o-transition:all .6s cubic-bezier(.175,.885,.32,1.275) .1s;-webkit-transition:all .6s cubic-bezier(.175,.885,.32,1.275) .1s}.links-wrap a:before{font-family:"rt-icons-2";content:""}.links-wrap a.p-link:before{content:""}[class*=item]:hover .links-wrap a{top:0;filter:alpha(opacity=100);opacity:1}[class*=item]:hover .media-links div{filter:alpha(opacity=100);opacity:1}.item-icons{display:table;width:100%;border-top:1px solid rgba(128,128,128,.1)}.item-icons i{display:block;font-size:16px}.item-icons>div{padding:22px 10px 18px;display:table-cell;width:400px}.item-icons>div+div{border-left:1px solid rgba(128,128,128,.1)}.item-icons [data-id]{display:none}.ls{background-color:#fff;color:#787878}.ls h1,.ls h2,.ls h3,.ls h4,.ls h5,.ls h6{color:#232323}.ls h1 a,.ls h2 a,.ls h3 a,.ls h4 a,.ls h5 a,.ls h6 a{color:inherit}.ls h1 a:hover,.ls h2 a:hover,.ls h3 a:hover,.ls h4 a:hover,.ls h5 a:hover,.ls h6 a:hover{color:#ffc326}.ls a{color:#ffc326}.ls a:hover{color:#232323}.ls .theme_button.inverse a,.ls .theme_button.inverse{color:#232323}.ls .theme_button.inverse a:hover,.ls .theme_button.inverse a:focus,.ls .theme_button.inverse:hover,.ls .theme_button.inverse:focus{color:rgba(35,35,35,.7)}.ls .theme_button.inverse a i,.ls .theme_button.inverse i{color:#232323}.ls .small_buttons a,.ls .small_button{color:#ffc326}.ls .small_buttons a:hover,.ls .small_button:hover{color:#fff}.ls .tag-links a,.ls .categories-links a{background-color:#ffc326;color:#fff;-webkit-transition:all .4s linear 0s;-moz-transition:all .4s linear 0s;-o-transition:all .4s linear 0s;-ms-transition:all .4s linear 0s;transition:all .4s linear 0s}.ls .tag-links a:hover,.ls .tag-links a:focus,.ls .categories-links a:hover,.ls .categories-links a:focus{background-color:#ffc326;opacity:.6}.ls .color-icon.bg-icon{background-color:#f8f8f8}.ls .highlight{color:#ffc326}.ls .highlight2{color:#ffc326}.ls .greylinks a{color:#787878}.ls .greylinks a:hover{color:#ffc326}.ls .darklinks a{color:#232323}.ls .darklinks a:hover{color:#ffc326}.ls .pagination>li>a,.ls .pagination>li>span{background-color:transparents;color:#787878}.ls .pagination>li.active>a,.ls .pagination>li.active>span,.ls .pagination>li>a:hover,.ls .pagination>li>span:hover,.ls .pagination>li>a:focus,.ls .pagination>li>span:focus{background-color:transparent;color:#ffc326}.ls .widget_mwt_twitter .tweet_time,.ls .widget_towy_twitter .tweet_time{color:#ffc326}.ls.ms{background-color:#f2f2f2}.ls.ms .greylinks a{color:#5f5f5f}.ls.ms .greylinks a:hover{color:#232323}.ls.ms .with_background{background-color:#fff}.ls.ms hr{background-color:#fff}.ls.ms input[type=text],.ls.ms input[type=email],.ls.ms input[type=url],.ls.ms input[type=password],.ls.ms input[type=search],.ls.ms input[type=tel],.ls.ms input[type=number],.ls.ms textarea,.ls.ms select,.ls.ms .form-control{border-color:transparent;background-color:#fff}.ls.ms .ls:not(.ms) input[type=text],.ls.ms .ls:not(.ms) input[type=email],.ls.ms .ls:not(.ms) input[type=url],.ls.ms .ls:not(.ms) input[type=password],.ls.ms .ls:not(.ms) input[type=search],.ls.ms .ls:not(.ms) input[type=tel],.ls.ms .ls:not(.ms) input[type=number],.ls.ms .ls:not(.ms) textarea,.ls.ms .ls:not(.ms) select,.ls.ms .ls:not(.ms) .form-control,.ls.ms .with_background input[type=text],.ls.ms .with_background input[type=email],.ls.ms .with_background input[type=url],.ls.ms .with_background input[type=password],.ls.ms .with_background input[type=search],.ls.ms .with_background input[type=tel],.ls.ms .with_background input[type=number],.ls.ms .with_background textarea,.ls.ms .with_background select,.ls.ms .with_background .form-control{border-color:#b4b4b4}.ls.ms .panel-title>a{background-color:#ffc326}.ls.ms .panel-title>a:hover{background-color:#ffc326}.ls.ms .panel-title>a.collapsed{background-color:#fff}.ls.ms .panel-title>a.collapsed:hover{background-color:#ffc326}.ls.ms .pagination a,.ls.ms .pagination span{background-color:#fff}.ls.ms .breadcrumb{color:#787878}.ls.ms .breadcrumb a{color:#5f5f5f}.ls.ms .breadcrumb a:hover{color:#ffc326}.ds{background-color:#232323;color:#787878}.ds.ms{background-color:#181818}.ds.ms .ds.ms{background-color:#131313}.ds h1,.ds h2,.ds h3,.ds h4,.ds h5,.ds h6{color:#fff}.ds h1 a,.ds h2 a,.ds h3 a,.ds h4 a,.ds h5 a,.ds h6 a{color:#fff}.ds h1 a:hover,.ds h2 a:hover,.ds h3 a:hover,.ds h4 a:hover,.ds h5 a:hover,.ds h6 a:hover{color:#ffc326}.ds .ls{background-color:#fff;color:#787878}.ds .ls h1,.ds .ls h2,.ds .ls h3,.ds .ls h4,.ds .ls h5,.ds .ls h6{color:#232323}.ds .ls h1 a,.ds .ls h2 a,.ds .ls h3 a,.ds .ls h4 a,.ds .ls h5 a,.ds .ls h6 a{color:inherit}.ds .ls h1 a:hover,.ds .ls h2 a:hover,.ds .ls h3 a:hover,.ds .ls h4 a:hover,.ds .ls h5 a:hover,.ds .ls h6 a:hover{color:#ffc326}.ds .ls a{color:#ffc326}.ds .ls a:hover{color:#232323}.ds label{color:#fff}.ds a{color:#787878}.ds a:hover{color:#fff}.ds hr{border-color:#303030}.ds blockquote,.ds .blockquote{color:#fff}.ds blockquote .author-job,.ds .blockquote .author-job{color:#b4b4b4}.ds blockquote .quote_symbols,.ds .blockquote .quote_symbols{color:#fff;opacity:.8}.ds .blockquote-big:before,.ds .blockquote-big:after{color:#2c2c2c}.ds .theme_buttons a:after,.ds .theme_button:after{content:"";position:absolute;top:0;bottom:0;left:0;right:0;background-color:rgba(255,255,255,.02)}.ds .theme_buttons a i,.ds .theme_button i{color:#fff}.ds .theme_buttons.inverse a,.ds .theme_button.inverse{border-color:#fff;background-color:transparent;color:#fff}.ds .theme_buttons.inverse a:after,.ds .theme_button.inverse:after{display:none}.ds .theme_buttons.inverse a:hover,.ds .theme_buttons.inverse a:focus,.ds .theme_button.inverse:hover,.ds .theme_button.inverse:focus{color:rgba(255,255,255,.5)}.ds .theme_buttons.inverse a.color1,.ds .theme_button.inverse.color1{border-color:#ffc326}.ds .theme_buttons.inverse a.color1:hover,.ds .theme_button.inverse.color1:hover{color:#ffc326}.ds .tag-links a,.ds .categories-links a{background-color:#ffc326 !important;color:#fff !important;-webkit-transition:all .4s linear 0s;-moz-transition:all .4s linear 0s;-o-transition:all .4s linear 0s;-ms-transition:all .4s linear 0s;transition:all .4s linear 0s}.ds .tag-links a:hover,.ds .tag-links a:focus,.ds .categories-links a:hover,.ds .categories-links a:focus{background-color:#ffc326;opacity:.6}.ds .small_buttons a,.ds .small_button{background-color:rgba(255,255,255,.06);color:#ffc326}.ds .small_buttons a:hover,.ds .small_button:hover{color:#fff}.ds .social-icon.color-icon:hover{color:#fff}.ds .muted_background,.ds .with_background,.ds .well{background-color:rgba(255,255,255,.06)}.ds.muted_section:before{background-color:rgba(255,255,255,.06)}.ds .with_border{border-color:#303030}.ds .bordertop{border-color:#303030}.ds .borderbottom{border-color:#303030}.ds .highlight{color:#ffc326}.ds .highlight2{color:#ffc326}.ds .grey,.ds .black{color:#787878;border-color:#fff}.ds .highlightlinks a{color:#ffc326}.ds .highlightlinks a:hover{opacity:.5}.ds .greylinks a{color:#b4b4b4}.ds .greylinks a:hover{color:#ffc326}.ds .darklinks a{color:#fff}.ds .darklinks a:hover{color:#ffc326}.ds.with_top_border:before,.ds.with_bottom_border:after{background-color:#303030}.ds .section_header+p{color:inherit}.ds form label+[class*=icon-]{color:#fff}.ds .form-group-select:before{border-color:#303030}.ds .form-control:-moz-placeholder{color:#787878;opacity:1}.ds .form-control::-moz-placeholder{color:#787878;opacity:1}.ds .form-control:-ms-input-placeholder{color:#787878}.ds .form-control::-webkit-input-placeholder{color:#787878}.ds .contact-form.transparent-background .form-control{border-color:#303030}.ds .border-paragraphs p{color:#fff;border-color:#303030}.ds .table,.ds .table-bordered,.ds .table th,.ds .table td,.ds table th,.ds table td{border-color:#303030}.ds table th{color:#fff}.ds .table_template th,.ds .table_template td{border-color:transparent}.ds .table_template th{color:inherit}.ds .table-striped>tbody>tr:nth-child(odd),.ds .table-striped>tbody>tr:nth-child(odd)>td,.ds .table-striped>tbody>tr:nth-child(odd)>th{border-color:#303030;background-color:rgba(255,255,255,.06)}.ds .color-icon.bg-icon{background-color:#fff}.ds .color-icon.bg-icon:hover{color:#fff}.ds .color-bg-icon:hover{background-color:#ffc326}.ds .tab-content,.ds .nav-tabs>li>a{background-color:rgba(255,255,255,.06)}.ds .nav-tabs>li.active>a,.ds .nav-tabs>li.active>a:hover,.ds .nav-tabs>li.active>a:focus{border-color:#ffc326;border-bottom-color:transparent;background-color:#ffc326;color:#fff}.ds .price-table.style2{background-color:rgba(255,255,255,.06)}.ds .plan-name{background-color:rgba(255,255,255,.06)}.ds .plan-price p{color:#fff}.ds .features-list .disabled:before{color:#fff}.ds ul.list1{color:#fff}.ds ul.list1 li{border-color:#303030}.ds .owl-theme .owl-dots .owl-dot span{border-color:#fff}.ds .testimonials-carousel .media+p{background-color:rgba(255,255,255,.06)}.ds .side-item{border-color:#303030}.ds .entry-excerpt{color:#fff}.ds .comment-meta{color:#fff}.ds .comment-meta .author_url{color:#fff}.ds .comment-list article:after{background-color:#303030}.ds .comment-respond{border-color:#303030}.ds .entry-tags{border-color:#303030}.ds .widget-socials a{color:#fff}.ds .widget-socials a:hover{color:#ffc326}.ds .widget_shopping_cart .cart_list,.ds .widget_recent_entries li,.ds .widget_recent_comments li,.ds .widget_archive li,.ds .widget_categories li,.ds .widget_meta li,.ds .widget_nav_menu li,.ds .widget_pages li,.ds .widget_popular_entries li{border-color:#303030}.ds .widget_nav_menu ul ul{border-color:#303030}.ds .widget_popular_entries .media-heading{color:#fff}.ds .tweet_list li+li .tweet_right{border-color:#303030}.ds .widget_tag_cloud a{color:#fff}.ds .widget_shopping_cart li a+a{color:#fff}.ds .widget_shopping_cart li a+a:hover{color:#ffc326}.ds .summary .price{color:#fff;border-color:#303030}.ds .summary .product_meta{border-color:#303030}.ds .widget_price_filter .price_label{color:#fff}.ds #calendar_wrap{border-color:#303030}.ds .widget_calendar table{background-color:rgba(255,255,255,.06);border-color:#303030}.ds .widget_calendar tfoot td a{border-color:#303030}.ds .widget_calendar caption,.ds .widget_calendar thead,.ds .widget_calendar th{color:#fff}.ds .widget_calendar tbody td a:hover{color:#fff}.ds .grid-view h3:before,.ds .grid-view h3:after{background-color:#303030}.ds .owl-carousel.product-thumbnails .owl-nav>div:after{color:#fff}.ds .ui-slider{background-color:rgba(255,255,255,.06)}.ds .ui-slider .ui-slider-handle{background-color:#fff}.ds #sort_view{border-color:#303030;color:#fff}.ds #toggle_shop_view.grid-view:after,.ds #toggle_shop_view:before{background-color:rgba(247,247,247,.06)}.ds .widget_layered_nav .color-filters a:before{border-color:#303030}.ds .pagination>li>a,.ds .pagination>li>span{color:#fff;background-color:rgba(255,255,255,.06)}.ds .pagination>li.active>a,.ds .pagination>li.active>span,.ds .pagination>li>a:hover,.ds .pagination>li>span:hover,.ds .pagination>li>a:focus,.ds .pagination>li>span:focus{background-color:#ffc326}.ds .thumbnail{background-color:transparent}.ds .thumbnail h3 a{color:#fff}.ds .thumbnail .caption{border-color:transparent;background-color:rgba(252,252,252,.06)}.ds .progress{background-color:#303030}.ds .panel-group .panel-heading+.panel-collapse .panel-body{border-color:#303030}.ds .vertical-tabs .nav>li>a{background-color:rgba(255,255,255,.06)}.ds .vertical-tabs .nav>li.active>a,.ds .vertical-tabs .nav>li>a:hover{background-color:#ffc326}.ds .entry-meta .comments-link a{color:#fff}.ds #timetable tbody th,.ds #timetable tbody td{border-color:#303030}.ds div .fw-shortcode-calendar-wrapper .page-header h3,.ds div .btn-group button[data-calendar-nav],.ds div .btn-group button[data-calendar-nav*=today]{color:#fff}.ds .simple_link{color:#ffc326}.cs.main_color2{background-color:#ee20ea}.cs.main_color2 .highlight{color:#ffc326}.cs{background-color:#ffc326;color:#181818}.cs h1,.cs h2,.cs h3,.cs h4,.cs h5,.cs h6{color:#181818}.cs h1 a,.cs h2 a,.cs h3 a,.cs h4 a,.cs h5 a,.cs h6 a{color:#fff}.cs h1 a:hover,.cs h2 a:hover,.cs h3 a:hover,.cs h4 a:hover,.cs h5 a:hover,.cs h6 a:hover{color:rgba(255,255,255,.6)}.cs a{color:#fff}.cs a:hover{color:#ffedbf}.cs blockquote,.cs .blockquote{border-color:#ffd159}.cs blockquote .author-job,.cs .blockquote .author-job{color:#232323}.cs blockquote .quote_symbols,.cs .blockquote .quote_symbols{color:#181818;opacity:.8}.cs .theme_buttons a.color1,.cs .theme_button.color1{background-color:#fff;border-color:#fff;color:#232323}.cs .theme_buttons a.color1:hover,.cs .theme_button.color1:hover{color:rgba(35,35,35,.7)}.cs .theme_buttons a.color1 i,.cs .theme_button.color1 i{color:#232323}.cs .theme_buttons a:hover,.cs .theme_buttons a:focus,.cs .theme_button:hover,.cs .theme_button:focus{color:rgba(255,255,255,.5)}.cs .theme_buttons a i,.cs .theme_button i{color:#fff}.cs .theme_buttons.inverse a,.cs .theme_button.inverse{background-color:transparent;border-color:#fff;color:#fff}.cs .theme_buttons.inverse a:hover,.cs .theme_buttons.inverse a:focus,.cs .theme_button.inverse:hover,.cs .theme_button.inverse:focus{color:rgba(255,255,255,.5)}section .cs .theme_buttons a,section .cs .theme_button{color:#ffc326;background-color:#232323;border-color:#232323}section .cs .theme_buttons a:hover,section .cs .theme_button:hover{background-color:transparent;border-color:#232323;color:#232323}.cs .with_background{background-color:rgba(255,255,255,.1)}.cs .with_border{border-color:rgba(255,255,255,.1)}.cs .highlight{color:#181818}.cs.with_top_border .container:before,.cs.with_bottom_border .container:after{background-color:#ffd159}.cs .section_header:before{background-color:#ffd159}.cs .greylinks a{color:#fff;opacity:.9}.cs .greylinks a:hover{opacity:1;color:#fff}.cs .black{border-color:#fff;color:#fff}.cs .grey{border-color:#232323;color:#232323}.cs .response{color:#fff}.cs.page_copyright i{color:#fff}.cs ul.list1 li{border-color:rgba(255,255,255,.1)}.cs [class*=soc-]{color:#fff;border-color:#fff}.cs .color-icon.bg-icon{background-color:#fff}.cs a.social-icon.color-bg-icon:hover{background-color:#232323}.cs .pagination>li>a,.cs .pagination>li>span{color:#fff;background-color:rgba(255,255,255,.1)}.cs .pagination>li.active>a,.cs .pagination>li.active>span,.cs .pagination>li>a:hover,.cs .pagination>li>span:hover,.cs .pagination>li>a:focus,.cs .pagination>li>span:focus{background-color:#fff;color:#232323}.cs .widget_recent_entries li+li,.cs .widget_recent_comments li+li,.cs .widget_archive li+li,.cs .widget_categories li+li,.cs .widget_meta li+li,.cs .widget_popular_entries li+li,.cs .widget_nav_menu li+li,.cs .widget_pages li+li{border-top-color:rgba(255,255,255,.1)}@media (min-width:992px){.fw-main-row.сargo-hook{position:relative}.fw-main-row.сargo-hook .container:after,.fw-main-row.сargo-hook .container-fluid:after{display:block;width:110px;height:146px;margin-left:-55px;position:absolute;top:0;left:50%;background-image:url(//alphatowtruckservices.com/wp-content/themes/towy/css/../img/hook.png);background-repeat:no-repeat;background-size:cover;z-index:5}}@media (min-width:1200px){.skew_bg_right,.skew_bg_left{position:relative}.skew_bg_right>*,.skew_bg_left>*{z-index:3;position:relative}.skew_bg_right:after,.skew_bg_left:before{content:"";position:absolute;top:0;background:#ffc326;bottom:0;width:100px;height:100%;z-index:1;-webkit-transform:skewX(-30deg);transform:skewX(-30deg)}.skew_bg_right:after{right:-32px}.skew_bg_left:before{left:-32px}}.skew_bg_right .shortcode-icon,.skew_bg_left .shortcode-icon{display:table;max-width:100%;position:relative;margin:0 auto}.skew_bg_right .shortcode-icon .media-body,.skew_bg_left .shortcode-icon .media-body{display:table-cell;vertical-align:middle;width:auto;line-height:26px;font-size:22px;font-weight:400;text-transform:uppercase}.skew_bg_right .shortcode-icon .media-left,.skew_bg_right .shortcode-icon .media-right,.skew_bg_left .shortcode-icon .media-left,.skew_bg_left .shortcode-icon .media-right{display:table-cell;vertical-align:middle}.skew_bg_right .shortcode-icon .media-left .icon-wrap,.skew_bg_right .shortcode-icon .media-right .icon-wrap,.skew_bg_left .shortcode-icon .media-left .icon-wrap,.skew_bg_left .shortcode-icon .media-right .icon-wrap{display:block;line-height:50px;width:50px;height:50px;text-align:center;border:0;padding:0;overflow:visible;border-radius:50%;background-color:rgba(35,35,35,.1)}.skew_bg_right .shortcode-icon .media-left .icon-wrap i,.skew_bg_right .shortcode-icon .media-right .icon-wrap i,.skew_bg_left .shortcode-icon .media-left .icon-wrap i,.skew_bg_left .shortcode-icon .media-right .icon-wrap i{text-shadow:0 2px 0 rgba(35,35,35,.1);font-size:24px}.skew_bg_right .shortcode-icon .media-left,.skew_bg_left .shortcode-icon .media-left{margin-right:15px}.skew_bg_right .shortcode-icon .media-right,.skew_bg_left .shortcode-icon .media-right{margin-left:15px}.skew_bg_right h4,.skew_bg_left h4{font-size:24px}.skew_bg .teaser.media{display:table;max-width:440px;margin:0 auto}.skew_bg .teaser.media .teaser_icon{border:2px solid #ffc326}.skew_bg .teaser.media .teaser_icon i{line-height:39px}.skew_bg .teaser.media .media-body{vertical-align:middle;text-align:left}.skew_bg .teaser.media .media-body h4{text-transform:uppercase;margin-bottom:0;font-size:24px;line-height:1.3}.skew_bg .teaser.media .media-body h4 a{color:#ffc326}.skew_bg .teaser.media .media-left{margin-right:15px}.skew_bg .teaser.media .media-right{margin-left:15px;margin-right:15px}.skew_bg .teaser.media:hover .teaser_icon{background:0 0;border:2px solid #ffc326}.skew_bg .section_header .highlight a{color:#ffc326}.skew_bg .section_header .highlight a:hover,.skew_bg .section_header .highlight a:active{color:#fff}@media (max-width:479px){.skew_bg h4,.skew_bg_right h4,.skew_bg_left h4{font-size:19px !important}.skew_bg .teaser{padding:0 15px}}.mini-text .text-block{margin:0 auto;max-width:520px}.mini-form .form-wrapper{max-width:720px;margin:0 auto}.with-slider .page_header_wrapper{position:absolute;width:100%;left:0;right:0}.with-slider .home-4{position:absolute;width:100%;left:0;right:0}@media (max-width:1200px){.with-slider .home-4{position:static}}.with-slider .home-4 .page_header_wrapper{position:static}@media (min-width:1199px){.with-slider .topline-1.ds{background-color:rgba(35,35,35,.6)}}.topline-1 .row{display:flex;align-items:center}@media (max-width:768px){.topline-1 .row{flex-direction:column}}.topline-1.topline_transparent .top-includes{color:#fff}@media (max-width:1200px){.topline-1.topline_transparent{background:#181818}}.topline-1 .top-includes{margin:0;font-size:14px;font-weight:500}.topline-1 .top-includes li{display:inline-block;padding:0}.topline-1 .top-includes li i{margin-right:7px;color:#ffc326}.topline-1 .top-includes li+li{margin-left:30px}.topline-1 .top-includes.without-border li{border:none;font-weight:300}.topline-1 [class*=col-]{margin-top:10px;margin-bottom:10px}.topline-1 .social-icons a.social-icon{color:#ffc326}.topline-1 .social-icons a.social-icon+a.social-icon{margin-left:22px}@media (min-width:992px){.nav-narrow .sf-menu>li>a:before{background-color:transparent;background-image:linear-gradient(-45deg,transparent 10%,#ffc326 10%,#ffc326 50%,transparent 50%,transparent 60%,#ffc326 60%,#ffc326);background-size:7px 7px;content:"";height:3px;left:50%;width:0;position:absolute;right:50%;top:0;z-index:1;transition:.3s ease-in-out}.nav-narrow .sf-menu>li>a:hover:before,.nav-narrow .sf-menu>li.active>a:before{left:0;right:0;width:100%}.nav-narrow .sf-menu>li:last-child a{margin-right:0}.nav-narrow .sf-menu>li>a{padding-top:50px;padding-bottom:50px}.nav-narrow.affix .sf-menu>li>a{padding-top:25px;padding-bottom:25px}.nav-narrow .row{display:flex;align-items:center}}.header-5 .toggle_menu{top:-25px;margin-left:0}.header-5 .toggle_menu span,.header-5 .toggle_menu span:before,.header-5 .toggle_menu span:after{background:#181818}.header-5 .top-includes{margin:0;display:flex;justify-content:flex-end}.header-5 .top-includes li{border:none}.header-5 .top-includes li+li{margin-left:10px}.header-5 .top-includes li i{padding:10px;display:flex;align-items:center;justify-content:center;background:#ffc326;color:#fff;width:40px;height:40px;border-radius:50%}.header-5 .row{display:flex;align-items:center}.page_header_wrapper .page_header .container-fluid{padding:0}.header_white{color:#787878;background-color:#fff}.header_white.affix{box-shadow:0px 2px 3px rgba(0,0,0,.1)}.header_white a.logo{color:#232323}.header_transparent{background-color:#232323}.header_transparent.affix{background-color:rgba(35,35,35,.8)}.with-slider .header_transparent{background-color:transparent}.with-slider .header_transparent.affix{background-color:rgba(35,35,35,.8)}@media (max-width:1200px){.with-slider .header_transparent.ds{background:#181818}}.header_darkgrey{background-color:#232323}.header_darkgrey a[class*=soc-]{color:#fff}.header_darkgrey .logo-meta,.header_darkgrey .grey{color:#fff}.with-slider .header_darkgrey{background-color:rgba(35,35,35,.8)}.currency-dropdown .dropdown-menu{min-width:0;padding:20px 10px}.currency-dropdown .dropdown-menu>li>a{color:inherit;padding:5px 20px}.currency-dropdown .dropdown-menu>li>a:hover,.currency-dropdown .dropdown-menu>li.active-currency{color:#232323}.login-dropdown .dropdown-menu{min-width:400px;padding:30px}.login-dropdown .dropdown-menu .form-control{border-color:rgba(0,0,0,.06)}.dropdown-account label{display:none}.dropdown-account .checkbox label{display:block}.cart-dropdown .dropdown-menu{min-width:400px;padding:20px 30px}.cart-dropdown .cart-products-number{position:absolute;font-size:8px;color:#232323;background-color:#ffc326;border-radius:50%;line-height:1;padding:1px 3px;top:25px;left:50%;margin-left:2px;font-weight:700}@media (max-width:767px){.login-dropdown,.cart-dropdown{position:static}.login-dropdown .dropdown-menu,.cart-dropdown .dropdown-menu{margin-left:0;margin-right:0;right:0;left:0;min-width:0}}@media (max-width:992px){.page_header_wrapper .col-sm-12{min-height:0}.header_right_buttons{float:right;margin-right:10px}}a.logo{display:inline-block;word-break:break-word;text-transform:uppercase;position:relative;padding:13px 0;z-index:2}@media (min-width:1200px){a.logo{padding:20px 0}}a.logo img{display:inline-block;vertical-align:top}a.logo .logo_text{padding:5px 15px;display:inline-block;vertical-align:middle;font-size:30px;line-height:1;text-transform:uppercase;font-weight:900;letter-spacing:-.04em}a.logo .logo_text .logo_subtext{display:block;width:100%;font-size:10px;letter-spacing:.43em;text-transform:uppercase;font-weight:300}.header_transparent a.logo .logo_subtext,.header_darkgrey a.logo .logo_subtext{color:#fff}.header_white a.logo .logo_subtext{color:#b4b4b4}a.logo.logo_text_only{margin-left:30px;line-height:54px}.header_gradient a.logo,.header_darkgrey a.logo{color:#fff}a.logo.bottom_logo{padding:0;font-size:28px}a.logo.bottom_logo img{max-width:65px}.floating_logo a.logo{float:left;margin-right:30px}a.logo.vertical_logo{padding:0}a.logo.vertical_logo img{margin:0 0 10px}.header_logo_center a.logo{margin:0 20px;margin-left:30px}@media (min-width:992px){.header_logo_center .logo_wrapper{position:absolute;left:0;right:0;text-align:center}}.logo-meta{line-height:1.2;display:inline-block;padding:20px 0}@media (max-width:1400px){.logo+.logo-meta{display:none}}.logo-meta strong{font-size:20px}.boxed .page_header .logo-meta{display:none}.page_header_side .logo-meta{display:block !important}.lt-ie9 .page_header_wrapper{height:auto !important}.lt-ie9 .page_header_wrapper .md-hidden{display:inline-block}.page_header{-webkit-transition:background .2s ease-in-out 0s;-moz-transition:background .2s ease-in-out 0s;-o-transition:background .2s ease-in-out 0s;-ms-transition:background .2s ease-in-out 0s;transition:background .2s ease-in-out 0s;top:0;left:0;right:0;position:relative;z-index:1000}.page_header.mobile-active{z-index:1002}.page_header.affix{position:fixed}.page_header.affix-bottom{top:0 !important;position:fixed}.page_header a.header-button{display:inline-block;color:#787878;padding:0 10px;line-height:60px;position:relative}@media (min-width:1400px){.page_header a.header-button{line-height:80px;border-left:1px solid rgba(120,120,120,.2);padding:0 31px}}.boxed .page_header a.header-button{padding:0 10px;line-height:60px;border:none}.page_header a.header-button i{font-size:1.2em;opacity:.7}.page_header .social-icon:last-child{margin-right:20px}@media (min-width:992px){.page_header .container-fluid{padding:0}}.modal-open .page_header_wrapper,.modal-open .page_header.affix{right:16px}#search_modal{color:#fff}#search_modal .search-form{margin:0 0 0 40px}#search_modal a{color:#fff;opacity:.6;font-size:12px;text-transform:uppercase}#search_modal a:hover{color:#ffc326;opacity:1}#search_modal .searchform-respond{width:300px;margin:20px auto}#search_modal .form-control{border:none;background-color:transparent;height:40px;color:#fff;width:100%}#search_modal .form-control:-moz-placeholder{color:rgba(255,255,255,.8);opacity:1}#search_modal .form-control::-moz-placeholder{color:rgba(255,255,255,.8);opacity:1}#search_modal .form-control:-ms-input-placeholder{color:rgba(255,255,255,.8)}#search_modal .form-control::-webkit-input-placeholder{color:rgba(255,255,255,.8)}#search_modal .close{padding:9px 10px 8px;position:absolute;min-width:0;color:#fff;text-shadow:none;opacity:1}.page_header:before,.page_header:after{content:"";display:block;clear:both}@media (min-width:992px){.page_header{height:auto}.header_left_logo{white-space:nowrap}.header_mainmenu{text-align:center;overflow:visible}.header_right_buttons{white-space:nowrap;text-align:right;overflow:visible}}body{position:relative;left:0}body:after{content:"";position:fixed;top:0;left:0;right:0;bottom:0;background-color:rgba(0,0,0,.5);z-index:1001;visibility:hidden;opacity:0}body,body:after,.page_header_side{transition:all .8s ease-in-out}body{-webkit-transition-property:left,right;-moz-transition-property:left,right;-ms-transition-property:left,right;-o-transition-property:left,right;transition-property:left,right}body.active-side-header{left:270px}body.active-side-header .page_header_side{left:0}body.active-side-header:after{visibility:visible;opacity:1}.page_header_side{z-index:1002;position:fixed;width:270px;left:-270px;top:0;bottom:0}.page_header_side.active-slide-side-header{box-shadow:0px 0px 3px 3px rgba(50,50,50,.15)}.page_header_side.page_header_side_special{z-index:5555}.page_header_side.page_header_side_special .close-wrapper{position:absolute;top:3%;right:10%}.page_header_side.page_header_side_special .close-wrapper a{font-size:24px;color:#fff}.page_header_side.page_header_side_special .header-side-menu ul.sf-menu-side li{list-style:none;padding:5px 0}.page_header_side.page_header_side_special .header-side-menu ul.sf-menu-side li a{color:#fff;font-weight:500}.side_header_inner{padding:60px 30px}.toggle_menu_side{position:absolute;top:15px;right:-65px;background-color:#fff;width:50px;height:50px;text-align:center;line-height:50px;cursor:pointer;box-shadow:0 0 4px 0 rgba(50,50,50,.5)}.toggle_menu_side:before{font-family:"FontAwesome";content:""}.active-slide-side-header .toggle_menu_side:before,.active-side-header .toggle_menu_side:before{content:""}.ds .toggle_menu_side{background-color:#232323;color:#fff}@media (max-width:350px){.toggle_menu_side{top:5px;right:-55px}}.page_header_side.active-slide-side-header{left:0}.page_header_side.header_side_right{left:auto;right:-270px}.page_header_side.header_side_right.active-slide-side-header{right:0}.page_header_side.header_side_right .toggle_menu_side{right:auto;left:-65px}@media (max-width:350px){.page_header_side.header_side_right .toggle_menu_side{left:-50px}}body.active-side-header.slide-right{left:-270px}body.active-side-header.slide-right .page_header_side{left:auto;right:0}.mainmenu_side_wrapper ul ul,.mainmenu_side_wrapper .mega-menu{height:0;overflow:hidden}.mainmenu_side_wrapper ul li.sfHover>.mega-menu ul{display:block;height:100%}.mainmenu_side_wrapper .mega-menu>ul{height:auto}.menu-side-click{padding:0}.menu-side-click li{position:relative;list-style:none}.menu-side-click li a{margin-right:25px}.menu-side-click li .activate_submenu{cursor:pointer;position:absolute;right:0;top:11px;font-size:16px;color:#ffc326;text-align:center;width:25px}.menu-side-click li .activate_submenu:before{content:"+"}.menu-side-click li.active-submenu>.activate_submenu:before{content:"-"}.menu-side-click ul{padding-left:20px;opacity:0;height:0;overflow:hidden;transition:opacity .05s,height .05s ease}.menu-side-click .active-submenu>div{height:auto}.menu-side-click .active-submenu>ul,.menu-side-click .active-submenu>div>ul{display:block;opacity:1;height:auto;transition:opacity .6s,height .6s ease}.scroll-wrapper{overflow:hidden;padding:0;position:relative;height:100%}.scroll-wrapper>.scroll-content{border:none;box-sizing:content-box;height:auto;left:0;margin:0;max-height:none;max-width:none;overflow:scroll;padding:0;position:relative;top:0;width:auto}.scroll-wrapper>.scroll-content::-webkit-scrollbar{height:0;width:0}.scroll-wrapper.scroll--rtl{direction:rtl}.scroll-element{box-sizing:content-box;display:none}.scroll-element div{box-sizing:content-box}.scroll-element .scroll-bar,.scroll-element .scroll-arrow{cursor:default}.scroll-element.scroll-x.scroll-scrollx_visible,.scroll-element.scroll-y.scroll-scrolly_visible{display:block}.scrollbar-macosx>.scroll-element,.scrollbar-macosx>.scroll-element div{background:0 0;border:none;margin:0;padding:0;position:absolute;z-index:10}.scrollbar-macosx>.scroll-element div{display:block;height:100%;left:0;top:0;width:100%}.scrollbar-macosx>.scroll-element .scroll-element_track{display:none}.scrollbar-macosx>.scroll-element .scroll-bar{background-color:rgba(127,127,127,.4);display:block;-ms-filter:"alpha(opacity=0)";filter:alpha(opacity=0);opacity:0;-webkit-border-radius:7px;-moz-border-radius:7px;border-radius:7px;-webkit-transition:opacity .2s linear;-moz-transition:opacity .2s linear;-o-transition:opacity .2s linear;-ms-transition:opacity .2s linear;transition:opacity .2s linear}.scrollbar-macosx:hover>.scroll-element .scroll-bar,.scrollbar-macosx>.scroll-element.scroll-draggable .scroll-bar{-ms-filter:"alpha(opacity=70)";filter:alpha(opacity=70);opacity:.7}.scrollbar-macosx>.scroll-element.scroll-x{bottom:0;height:0;left:0;min-width:100%;overflow:visible;width:100%}.scrollbar-macosx>.scroll-element.scroll-y{height:100%;min-height:100%;right:0;top:0;width:0}.scrollbar-macosx>.scroll-element.scroll-x .scroll-bar{height:7px;min-width:10px;top:-9px}.scrollbar-macosx>.scroll-element.scroll-y .scroll-bar{left:-9px;min-height:10px;width:7px}.scrollbar-macosx>.scroll-element.scroll-x .scroll-element_outer{left:2px}.scrollbar-macosx>.scroll-element.scroll-x .scroll-element_size{left:-4px}.scrollbar-macosx>.scroll-element.scroll-y .scroll-element_outer{top:2px}.scrollbar-macosx>.scroll-element.scroll-y .scroll-element_size{top:-4px}.scrollbar-macosx>.scroll-element.scroll-x.scroll-scrolly_visible .scroll-element_size{left:-11px}.scrollbar-macosx>.scroll-element.scroll-y.scroll-scrollx_visible .scroll-element_size{top:-11px}.page_topline{position:relative;z-index:1001}.page_topline [class*=rt-icon]{font-size:18px;top:.16em;position:relative;padding-right:6px;line-height:inherit}@media (min-width:768px){.page_topline [class*=col-]>span{padding-left:33px}.page_topline [class*=col-]>span:first-child{padding-left:0}}@media (max-width:767px){.page_topline [class*=col-]>span{display:block}}@media (min-width:992px){.page_toplogo{white-space:nowrap}}@media (max-width:991px){.page_toplogo .logo{margin-bottom:20px}}.page_mainslider .flex-custom-nav{opacity:0}.page_breadcrumbs .breadcrumbs_logo{margin:-17px 0}.page_breadcrumbs .breadcrumbs_logo img{opacity:.2}.page_breadcrumbs h2{display:inline;font-size:56px;text-transform:uppercase;word-wrap:break-word;line-height:1}.page_breadcrumbs h2.small{font-size:32px}@media (max-width:991px){.page_breadcrumbs h2{font-size:32px}}@media screen and (min-width:992px){.page_breadcrumbs .display_table_md{width:auto;min-width:0}.page_breadcrumbs h2.display_table_cell_md{padding-right:20px}.page_breadcrumbs .breadcrumb.display_table_cell_md{border-left:1px solid rgba(255,255,255,.1);padding-left:25px}}.page_breadcrumbs .bottom_breadcrumbs{text-align:center;float:right;padding:0 20px;margin:0 0 -26px;background-color:rgba(24,24,24,.035)}.page_portfolio{overflow:hidden}.page_content+.page_portfolio{margin-top:-75px}.section_subscribe .form-control{width:350px;max-width:100%;display:inline-block}.page_breadcrumbs.parallax{background-image:url(//alphatowtruckservices.com/wp-content/themes/towy/css/../img/parallax/breadcrumbs.jpg)}.page_testimonials{overflow:hidden}.page_copyright p{margin:0}.page_copyright i{padding:0 10px}.page_copyright.table_section .bottom_logo img{margin-bottom:0}.page_contact.parallax{background-image:url(//alphatowtruckservices.com/wp-content/themes/towy/css/../img/parallax/map.jpg)}.page_copyright.parallax,.page_footer.parallax{background-image:url(//alphatowtruckservices.com/wp-content/themes/towy/css/../img/parallax/bottom.jpg)}.ds.ms+.page_footer.ds.ms{background-color:#131313}@media (min-width:768px) and (max-width:992px){.page_footer .row{display:-webkit-box;display:-ms-flexbox;display:flex;-ms-flex-wrap:wrap;flex-wrap:wrap}.page_footer .row>[class*=col-]{-webkit-box-flex:1;-ms-flex:1 1 auto;flex:1 1 auto}}#featured{background:url(//alphatowtruckservices.com/wp-content/themes/towy/css/../img/parallax/featured.jpg) no-repeat 50% 50%;background-size:cover}#table.parallax{background-image:url(//alphatowtruckservices.com/wp-content/themes/towy/css/../img/parallax/table.jpg)}#map,.page_map{height:500px}#map img,.page_map img{max-width:inherit}#map p,.page_map p{line-height:1.3;margin-bottom:0}#map .map_marker_description,.page_map .map_marker_description{padding:10px 5px 5px}#map .map_marker_icon,.page_map .map_marker_icon{display:none}section .intro_section .slide_description_wrapper{padding-left:60px;padding-right:60px;right:30px}@media (max-width:600px){section .intro_section .slide_description_wrapper{padding-left:5px;padding-right:5px}}.muted_background .pagination{margin:40px 40px 20px}.owl-carousel.owl-loaded{margin-bottom:0}.intro_section.page_mainslider{position:relative;overflow:hidden;clear:both}.intro_section.page_mainslider>img{width:100%}.intro_section.page_mainslider .flexslider img{opacity:.2}.intro_section.page_mainslider .flexslider .flex-direction-nav a{opacity:0}.intro_section.page_mainslider .flexslider .flex-direction-nav a:before{font-family:"FontAwesome";font-size:40px;content:"";color:#ffc326;position:absolute;top:5px;left:12px;-webkit-transition:all .3s ease-in-out 0s;transition:all .3s ease-in-out 0s}.intro_section.page_mainslider .flexslider .flex-direction-nav a.flex-next:before{content:"";left:14px}.intro_section.page_mainslider .flexslider .flex-direction-nav a:hover:before{color:#fff}.intro_section.page_mainslider .flexslider:before,.intro_section.page_mainslider .flexslider:after{content:"";display:block;clear:both}.intro_section.page_mainslider .flexslider:hover .flex-direction-nav a{opacity:1}.intro_section.page_mainslider .container{position:absolute;top:0;bottom:0;left:0;right:0;margin-left:auto;margin-right:auto}.intro_section.page_mainslider [class*=col-]{position:static}.intro_section.page_mainslider .scroll-icon{position:absolute;bottom:9%;left:50%;-webkit-transform:translateX(-50%);transform:translateX(-50%);font-size:15px;text-transform:uppercase;text-align:center;z-index:10}.intro_section.page_mainslider .scroll-icon i{font-size:32px;display:block;margin:0 auto 10px;color:#fff}.intro_section.page_mainslider .scroll-icon a{color:#787878}.intro_section.page_mainslider .scroll-icon a:hover{color:#fff}@media (max-width:991px){.intro_section.page_mainslider .scroll-icon{display:none}}.intro_section.page_mainslider .slide_description_wrapper{position:absolute;top:0;bottom:0;right:0;left:0;height:100%;z-index:5;padding:55px 0 20px}.intro_section.page_mainslider .slide_description_wrapper:before,.intro_section.page_mainslider .slide_description{display:inline-block;vertical-align:middle}.intro_section.page_mainslider .slide_description_wrapper:before{content:"";display:inline-block;width:0;height:100%;vertical-align:middle}.intro_section.page_mainslider .slide_description>div{margin:0}.intro_section.page_mainslider p{line-height:24px}.intro_section.page_mainslider .big{font-size:22px}.intro_section.page_mainslider .grey{color:#b4b4b4}.intro_section.page_mainslider h2{font-size:30px;margin-bottom:0;line-height:1}@media (min-width:768px){.intro_section.page_mainslider h2{font-size:40px}}@media (min-width:1200px){.intro_section.page_mainslider h2{font-size:60px}}.intro_section.page_mainslider h3{font-size:40px;line-height:.9;margin:0 0 10px}.intro_section.page_mainslider h3 .bold{font-weight:700}.intro_section.page_mainslider .top-corner{max-width:120px}.intro_section.page_mainslider .top-corner div{margin-top:-3px;text-transform:uppercase;padding:20px}.intro_section.page_mainslider .flex-control-nav{text-align:left}@media (min-width:992px){.intro_section.page_mainslider .container{width:750px}}@media (min-width:1200px){.intro_section.page_mainslider .container{width:970px}.intro_section.page_mainslider .big{font-size:28px}.intro_section.page_mainslider p{font-size:18px}}@media (min-width:1450px){.intro_section.page_mainslider .container{width:1170px}.intro_section.page_mainslider h3{font-size:90px}.intro_section.page_mainslider .big{font-size:40px;font-weight:100}.intro_section.page_mainslider p{font-size:20px}}@media (max-width:992px){.intro_section.page_mainslider{line-height:1;text-align:center}.intro_section.page_mainslider p{font-size:20px}.intro_section.page_mainslider .nav-container{padding:0}.intro_section.page_mainslider .flex-control-nav,.intro_section.page_mainslider .flex-custom-nav{bottom:13px;text-align:center}.intro_section.page_mainslider .container{position:static;width:auto;max-width:100%}.intro_section.page_mainslider .slide_description_wrapper:before{display:none}.intro_section.page_mainslider .slide_description{display:block}.intro_section.page_mainslider .slide_description_wrapper{position:static;padding:30px 20px 30px;display:block}.intro_section.page_mainslider .flex-direction-nav .flex-prev{top:40%}.intro_section.page_mainslider .flex-direction-nav .flex-next{top:40%}.intro_section.page_mainslider .flex-control-nav{position:absolute;left:auto;right:auto;text-align:center;z-index:10;transform:none;width:100%;bottom:24px}}@media (max-width:768px){.intro_section.page_mainslider .flex-direction-nav .flex-prev{top:30%}.intro_section.page_mainslider .flex-direction-nav .flex-next{top:30%}}@media (max-width:479px){.intro_section.page_mainslider .slide_description_wrapper{position:static;padding:20px 0;display:block}.intro_section.page_mainslider .flex-direction-nav .flex-prev{top:30%}.intro_section.page_mainslider .flex-direction-nav .flex-next{top:30%}}@media (min-width:992px){.mainmenu_wrapper{position:relative}.sf-menu,.sf-menu ul{margin:0;padding:0;list-style:none}.sf-menu li{position:relative}.sf-menu li>ul{position:absolute;display:none;top:100%;z-index:99;margin-top:0 !important}.sf-menu .sub-menu{padding-right:30px;padding-left:30px}.sf-menu .sub-menu:after{content:"";position:absolute;bottom:-3px;left:0;right:0;height:3px;background-color:#ffc326;background-image:-webkit-linear-gradient(135deg,#232323 20%,#ffc326 20%,#ffc326 50%,#232323 50%,#232323 70%,#ffc326 70%,#ffc326);background-image:linear-gradient(-45deg,#232323 20%,#ffc326 20%,#ffc326 50%,#232323 50%,#232323 70%,#ffc326 70%,#ffc326);background-size:8px 8px}.sf-menu .sub-menu li a{padding:10px 0 10px;border-bottom:1px solid rgba(0,0,0,.06);font-size:16px;font-weight:400}.sf-menu .sub-menu li:last-child a{border-bottom:0}.sf-menu .sub-menu>li>a:before{content:"";font-family:FontAwesome;padding-right:15px;font-size:12px;position:relative;top:-1px;color:rgba(35,35,35,.1);-webkit-transition:all .3s ease-in-out 0s;transition:all .3s ease-in-out 0s}.sf-menu .sub-menu>li:hover>a,.sf-menu .sub-menu>li:hover>a:before{color:#ffc326}.sf-menu li:hover>ul,.sf-menu li.sfHover>ul{display:block}.sf-menu a{display:block;position:relative}.sf-menu li>ul>li>ul{top:-10px;left:100%}.sf-menu a{text-decoration:none;zoom:1;-webkit-transition-property:color,background-color,border-color;-moz-transition-property:color,background-color,border-color;-ms-transition-property:color,background-color,border-color;-o-transition-property:color,background-color,border-color;transition-property:color,background-color,border-color}.sf-menu li{white-space:nowrap;*white-space:normal;-webkit-transition:background .2s;transition:background .2s}.sf-menu>li{display:inline-block;position:relative;margin:0 -2px}.sf-menu>li:first-child>a{margin-left:0 !important}.sf-menu>li>a{font-size:18px;font-weight:600;padding-top:27px;padding-bottom:28px;padding-left:0;padding-right:0}.sf-menu>li>a:hover,.sf-menu>li.active>a{color:#ffc326}.bordered_items .sf-menu{text-align:center}.bordered_items .sf-menu>li{padding:0}.bordered_items .sf-menu>li+li:before{content:"";width:1px;position:absolute;left:0;top:0;bottom:0;background-color:#303030}.header_white .sf-menu>li>a{color:#232323}.header_white .sf-menu>li>a:hover,.header_white .sf-menu>li.active>a{color:#ffc326}.header_white .sf-menu>li+li:before{background-color:#b4b4b4}.header_transparent .sf-menu>li>a,.header_darkgrey .sf-menu>li>a{color:#fff}.header_transparent .sf-menu>li>a:hover,.header_transparent .sf-menu>li.current-menu-item>a,.header_darkgrey .sf-menu>li>a:hover,.header_darkgrey .sf-menu>li.current-menu-item>a{color:#ffc326}.header_transparent .sf-menu>li.current-menu-item>a:hover,.header_darkgrey .sf-menu>li.current-menu-item>a:hover{color:#fff}.header_gradient .sf-menu>li>a{color:#fff}.header_gradient .sf-menu>li>a:hover,.header_gradient .sf-menu>li.active>a{color:#232323}.sf-menu li:hover,.sf-menu li.sfHover{-webkit-transition:none;transition:none}.sf-menu>li .mega-menu,.sf-menu li>ul{margin-top:10px;text-align:left;list-style:none;padding:10px 0;background-color:#fff;box-shadow:0 2px 3px rgba(0,0,0,.1);min-width:15em;*width:14em;}.sf-menu ul a{color:#232323}.sf-menu .mega-menu ul{box-shadow:none;padding:0}.sf-menu .mega-menu ul a{padding-left:0;padding-right:0}.sf-menu ul a:hover,.sf-menu ul li.active>a{color:#ffc326}.sf-menu ul ul{margin-top:0;margin-left:31px}.sf-arrows .sf-with-ul:after{font-family:"FontAwesome";content:"";padding-left:5px;font-size:16px;font-weight:400}.sf-arrows ul .sf-with-ul:after{content:""}}@media (min-width:992px){.sf-menu>li>a{padding-left:2px;padding-right:0}.bordered_items .sf-menu>li>a{padding-right:40px;padding-left:44px}}@media (min-width:992px) and (max-width:1199px){.sf-menu>li>a{padding-left:9px;padding-right:8px}.bordered_items .sf-menu>li>a{padding-right:20px;padding-left:24px}}@media (min-width:992px){.sf-menu>li>a{margin-right:14px;margin-left:14px}}@media (min-width:1200px){.sf-menu>li>a{padding-left:0;padding-right:0;padding-top:35px;padding-bottom:35px;margin-left:28px;margin-right:28px}.boxed .col-md-6 .sf-menu>li>a{padding-left:0;padding-right:0}}@media (min-width:1600px){.header_logo_center .sf-menu>li>a{margin-right:60px;margin-left:60px}}@media (min-width:1800px){.header_logo_center .sf-menu>li>a{margin-right:80px;margin-left:80px}}.sf-menu i[class]{padding-right:7px;font-size:1.1em}@media (min-width:992px){.sf-menu .sf-md-hidden{display:none !important}}@media (max-width:991px){.sf-more-li{display:none}}.toggle_menu{position:absolute;top:10px;left:auto;right:0;margin-left:-30px;display:none;width:60px;height:60px;cursor:pointer;z-index:1001;visibility:visible}.toggle_menu.toggle_menu_side_special{display:block;display:flex;align-items:center;justify-content:center;background:#ffc326;color:#fff;width:40px;height:40px;position:static;margin-left:0;box-shadow:none;border-radius:50%}.header_white .toggle_menu span,.header_white .toggle_menu span:before,.header_white .toggle_menu span:after{background-color:#232323}.page_toplogo .toggle_menu{position:fixed;top:0;left:auto;right:0;background-color:#232323;margin:0}.header_logo_center .toggle_menu{right:30px;left:auto}.toggle_menu:hover span:before{top:-7px}.toggle_menu:hover span:after{top:7px}.toggle_menu span,.toggle_menu span:before,.toggle_menu span:after{display:block;width:24px;height:2px;position:absolute;background-color:#fff;content:"";left:0;-webkit-transition:all .2s ease-in-out 0s;-moz-transition:all .2s ease-in-out 0s;-o-transition:all .2s ease-in-out 0s;-ms-transition:all .2s ease-in-out 0s;transition:all .2s ease-in-out 0s}.toggle_menu span{left:18px;top:50%;margin-top:-1px}.toggle_menu span:before{top:-6px}.toggle_menu span:after{top:6px}@media (max-width:991px){.mainmenu_wrapper{position:fixed;visibility:hidden;z-index:10;top:0;left:0;bottom:0;right:0;background-color:transparent;opacity:0;-webkit-transition:all .3s ease 0s;-moz-transition:all .3s ease 0s;-o-transition:all .3s ease 0s;-ms-transition:all .3s ease 0s;transition:all .3s ease 0s}.mobile-active .mainmenu_wrapper{visibility:visible;opacity:1;background-color:#111;background-color:rgba(0,0,0,.9)}.toggle_menu{display:block}.toggle_menu.mobile-active{background-color:#232323;border:none;left:auto;top:0;right:0;position:fixed;margin:0;z-index:3000}.toggle_menu.mobile-active:after{position:absolute;top:14px;left:10px;font-family:"rt-icons-2";content:"";font-size:40px;color:#fff}.toggle_menu.mobile-active span{display:none}.nav-justified>li>a{text-align:left}.sf-menu{position:fixed;overflow:auto;background-color:#232323;padding:10px 20px 10px 10px;top:0;left:0;bottom:0;right:100%;font-size:1.1em;text-transform:uppercase;font-weight:400;word-wrap:break-word;text-align:left;-webkit-transition:all .4s ease-out 0s;-moz-transition:all .4s ease-out 0s;-o-transition:all .4s ease-out 0s;-ms-transition:all .4s ease-out 0s;transition:all .4s ease-out 0s;opacity:0}.mobile-active .sf-menu{opacity:1;right:20px}.sf-menu>li>a,.sf-menu a{color:#fff}.sf-menu ul{list-style:none;padding-left:10px}.sf-menu ul li a{display:block;padding:10px;font-weight:300;font-size:16px;text-transform:none}.sf-menu ul li a:before{content:"-";padding-right:5px}.sf-menu ul ul li a:before{content:"--";padding-right:5px}.sf-arrows .sf-with-ul{padding-right:2.5em;*padding-right:1em;}.sf-arrows .sf-with-ul:after{font-family:"FontAwesome";content:"";position:absolute;right:1.44em;height:0;width:0;font-size:20px}}@media screen and (min-width:992px){.mainmenu_wrapper ul .mega-menu ul{min-width:auto}.mainmenu_wrapper .menu-item-has-mega-menu{position:relative}.mainmenu_wrapper .mega-menu{display:none;position:absolute;width:940px;top:100%;z-index:10}.mainmenu_wrapper .menu-item-has-mega-menu:hover .mega-menu{display:block}.mainmenu_wrapper .mega-menu-row{position:static;display:table;table-layout:fixed}.mainmenu_wrapper .mega-menu-row ul{position:static;display:block}.mainmenu_wrapper .mega-menu-col{display:table-cell;width:2000px;padding:0 20px;border-left:1px solid #b4b4b4}.mainmenu_wrapper .mega-menu-col>a{text-transform:uppercase;font-weight:700}.mainmenu_wrapper .mega-menu-col:first-child{border-left:none}.mainmenu_wrapper ul ul .mega-menu{width:auto;top:-20px;margin-left:1px;display:block;width:auto}.mainmenu_wrapper ul ul .mega-menu li{display:block;width:auto;border:none}}@media screen and (min-width:1200px){.mainmenu_wrapper .mega-menu{width:1140px}.mainmenu_wrapper ul .mega-menu ul{min-width:12em}}@media screen and (max-width:991px){.mainmenu_wrapper .mega-menu{position:static}}.edit-link{text-align:right;display:block}.not_found{font-size:280px;font-weight:700;line-height:.8}.not_found+h2{font-size:42px;margin:0 0 26px}.not_found+h2+p{margin:0 0 15px}.not_found+h2+p+.widget_search{max-width:370px;margin:auto}.about-content{padding:10px 10px 20px}.page-meta{padding:9px 40px 30px}.page-meta h5{font-size:14px;font-weight:300}.page-meta i{line-height:.6;padding-right:8px}.page-meta .media{position:relative;padding:28px 0 0;margin-bottom:20px}.page-meta .media+.media:before{content:"";position:absolute;height:1px;width:100%;top:0;background-color:rgba(150,150,150,.1)}.page-meta .media-left{padding-right:8px}article iframe{margin-bottom:-8px}h1.entry-title{font-size:42px;margin:0 0 5px}@media (max-width:991px){h1.entry-title{font-size:32px}}article.post+article.post,.search article+article,.archive article+article{margin-top:60px}.mosaic-post p{margin-bottom:0}.mosaic-post .post-social-links{margin:-1px;padding:18px 40px 17px}h3.entry-title{font-size:28px;margin:0 0 14px}h3.entry-title+.date{display:inline-block;text-transform:uppercase;line-height:1;padding:4px 14px;margin-bottom:22px}h4.entry-title{margin:0 0 20px;font-size:26px;font-weight:400}h2.search-title{margin:0 0 30px;font-size:40px}.item-meta{opacity:.8;font-weight:300}.item-meta+.entry-title{margin-bottom:20px}.single .item-meta+.entry-title{font-size:20px;font-weight:400;margin-bottom:20px}.entry-tags{margin-top:30px}.entry-tags .theme_button{margin-right:6px}.entry-tags span+span{margin-left:14px}.entry-tags i{font-size:14px;margin-right:5px}.entry-meta:before,.entry-meta:after,.comment-meta:before,.comment-meta:after,.item-meta:before,.item-meta:after,.post-adds:before,.post-adds:after{display:block;clear:both;content:"";width:0;height:0}.entry-thumbnail{text-align:center;position:relative}.entry-thumbnail[class*=col-]{margin-bottom:0}.post-adds{margin:22px 0 33px}.post-adds span,.post-adds a{display:inline-block}.post-adds .item-likes{padding-left:20px;padding-right:20px}.post-adds .votes_count,.post-adds .views-count{padding:0 20px;line-height:40px}.post-adds .views-count{padding:0 30px}.post-adds .item-views-count{font-weight:700}.post-adds .theme_button{padding:10px 6px;min-width:0;margin-bottom:0}.post-adds .theme_button>i{font-size:18px;top:3px}.post-adds .theme_button:hover>i{opacity:.7}.post-adds .theme_button.inverse,.post-adds .like_button{border-color:transparent rgba(55,52,47,.1) transparent transparent;border-width:1px;border-style:solid;line-height:38px}.post-adds .theme_button.inverse>i,.post-adds .like_button>i{padding:0 12px 0 10px;color:#ffc326}.share_buttons{min-width:300px}.post-adds .dropdown-menu{margin:1px 0 0;padding:0;border:none;background-color:transparent}.entry-meta-corner{display:none;position:absolute;z-index:2;text-align:center;color:#fff;background-color:#ffc326}.entry-meta-corner a{color:#fff}.entry-meta-corner a:hover{color:#ffc326}.entry-meta-corner .date{color:#232323;display:block;min-width:60px;padding:0 3px;text-transform:uppercase}.entry-meta-corner .date strong{color:#fff;display:block;font-size:42px;font-weight:100;padding:12px 0 0}.entry-meta-corner .comments-link{line-height:1;display:block;padding:2px 5px;background-color:#232323}.entry-meta-corner .comments-link i{position:relative;top:1px}.categories-links a{margin-right:6px;margin-bottom:6px}.entry-content p.big-first-letter:first-letter {font-size:60px;line-height:60px;font-weight:700;color:#ffc326;float:left;margin-right:10px}.entry-excerpt{font-size:20px;line-height:30px;margin:8px 0 30px}.entry-excerpt p{margin-bottom:16px}.blog .more-link,.archive .more-link,.search .more-link,.single-post .more-link{display:none}.blog .owl-carousel.owl-loaded,.archive .owl-carousel.owl-loaded,.search .owl-carousel.owl-loaded,.single-post .owl-carousel.owl-loaded{margin-bottom:0}.blog .entry-content ul,.archive .entry-content ul,.search .entry-content ul,.single-post .entry-content ul{margin-bottom:20px}.blog .side-item .item-media img,.archive .side-item .item-media img,.search .side-item .item-media img{width:100%}.blog .page-links,.archive .page-links,.search .page-links{margin-bottom:10px}.blog .format-quote,.archive .format-quote,.search .format-quote{background-color:rgba(35,35,35,.9)}.blog .format-quote .entry-title,.archive .format-quote .entry-title,.search .format-quote .entry-title{color:#fff}.blog .format-quote.vertical-item.content-padding .item-content,.archive .format-quote.vertical-item.content-padding .item-content,.search .format-quote.vertical-item.content-padding .item-content{padding:45px 35px 30px}.blog .format-status,.archive .format-status,.search .format-status{background-color:rgba(35,35,35,.9)}.blog .format-status .entry-title,.archive .format-status .entry-title,.search .format-status .entry-title{color:#fff}.blog .format-status.vertical-item.content-padding .item-content,.archive .format-status.vertical-item.content-padding .item-content,.search .format-status.vertical-item.content-padding .item-content{padding:60px 35px 30px}.blog .format-status .entry-avatar,.archive .format-status .entry-avatar,.search .format-status .entry-avatar{margin-bottom:25px}.blog .format-status .entry-avatar img,.archive .format-status .entry-avatar img,.search .format-status .entry-avatar img{margin:0;border:4px solid #ffc326;border-radius:50%}.blog .format-status .entry-content,.archive .format-status .entry-content,.search .format-status .entry-content{font-size:20px;font-weight:400;color:#fff}.blog .format-status .entry-date,.archive .format-status .entry-date,.search .format-status .entry-date{text-transform:uppercase}.blog .format-status .entry-date a,.archive .format-status .entry-date a,.search .format-status .entry-date a{color:#fff}.blog .format-status .entry-date a:hover,.archive .format-status .entry-date a:hover,.search .format-status .entry-date a:hover{color:#ffc326}.blog .format-status .entry-author a,.archive .format-status .entry-author a,.search .format-status .entry-author a{color:#ffc326;font-size:13px;font-weight:400}.page-links>*+*{display:inline-block;margin-left:8px}.format-chat p{margin:0;padding:10px 0}.format-chat p:first-of-type{padding:0 0 6px}.format-chat p:nth-child(even){background:#f0f0f0;padding:10px 10px 10px 20px}.blog-more-toggle{display:block;text-transform:uppercase;padding:9px 0;margin:32px 0 80px;background-color:rgba(128,128,128,.05)}.blog-more-toggle .blog-more-visible{display:inline}.blog-more-toggle .blog-more-hidden{display:none}.blog-more-toggle.collapsed .blog-more-visible{display:none}.blog-more-toggle.collapsed .blog-more-hidden{display:inline}.format-image dl.wp-caption{background-color:transparent;margin:0;padding:0;border:0 none}.item-cats{margin:0 0 20px}.st_facebook_hcount,.st_twitter_hcount,.st_googleplus_hcount{position:relative;text-align:right}.st_facebook_hcount span,.st_twitter_hcount span,.st_googleplus_hcount span{-webkit-box-sizing:content-box;-moz-box-sizing:content-box;-ms-box-sizing:content-box;box-sizing:content-box}.author-meta{margin-top:60px}.author-meta .author-name{font-weight:600;font-size:24px;text-transform:uppercase;margin:0;position:relative}.author-meta .fw-divider-zebra hr{margin-top:10px;margin-bottom:20px}.author-meta img{margin:0}.author-meta .item-content{padding:34px 35px}.author-meta .author-social{position:relative;left:0;bottom:0}.author-meta .author-social a{display:inline-block;margin:0}.author-meta .author-social a.social-icon+a.social-icon.color-bg-icon{margin:0}.ds .author-meta .item-content{background-color:#ffc326}.single-post article>.entry-thumbnail{margin-bottom:0}.single-post .video-entry-thumbnail [class*=col-]{margin-top:0;margin-bottom:0}.single-post .video-entry-thumbnail .entry-thumbnail{margin-bottom:0}.single-post footer.entry-meta{margin:30px 0 0}.single-post blockquote{position:relative;margin:60px 0 60px;padding:55px 40px 50px;background-image:url(//alphatowtruckservices.com/wp-content/themes/towy/css/../img/qoute.jpg);background-size:cover;background-repeat:no-repeat;background-position:center;border:0;font-size:18px;font-weight:300;line-height:30px;font-style:italic;text-align:center}@media (max-width:768px){.single-post blockquote{margin:30px 0 30px}}.single-post blockquote p{color:#fff;margin-bottom:25px}.single-post .ls blockquote a:hover,.single-post .ls blockquote a:active,.single-post .ls blockquote a:focus{color:#fff}.fw-event .event-thumbnail{position:relative}.fw-event .event-thumbnail a .thumbnail-overlay{position:absolute;top:0;right:0;left:0;bottom:0;width:100%;background:rgba(0,0,0,.6);z-index:1;display:block;-webkit-transition:all .3s linear;-moz-transition:all .3s linear;-o-transition:all .3s linear;-ms-transition:all .3s linear;transition:all .3s linear}.fw-event .event-thumbnail a:hover .thumbnail-overlay{background:rgba(255,195,38,.6)}.fw-event .item-content{padding:45px 40px}.single-fw-event .event-single .item-media:before{display:none}.comments-area{margin-top:60px}.comments-area form [class*=col-sm-4]{margin-bottom:30px}.comments-area li.comment{list-style:none;padding-top:5px}.comments-area .media{position:relative}.comments-area .media-left{display:block;float:left;padding-right:0}.comments-area .media-left img{max-width:70px;border:4px solid #ffc326;border-radius:50%;margin-right:0 !important}.comments-area .media-object{max-width:70px}.comments-area .media-body{display:block;float:left;width:100%;width:calc(100% - 70px);padding:10px 30px}.comments-area .media-body .comment-content p{margin-bottom:10px}.comments-area .media-body .comment-metadata{display:block;margin:0 0 10px;line-height:1}.comments-area .media-body .comment-metadata a{text-transform:uppercase;font-size:13px;font-weight:700}.comment-list{margin:0;padding:0;position:relative;list-style:none}.comment-list ol.comment-list{padding-left:15px}@media (min-width:992px){.comment-list ol.comment-list{padding-left:70px}}.comment-meta{line-height:1;margin-bottom:0;padding-bottom:12px}.comment-meta .comment-date{display:block;margin:7px 0 10px}.comment-meta .author_url{font-size:16px;font-weight:600;text-transform:uppercase}.reply a{position:absolute;right:-1px;top:-1px;padding:7px 4px 13px;color:#787878;font-size:16px}.reply a:hover{color:#232323}.comment-respond{margin-top:20px;margin-bottom:20px}.comment-respond h3{font-size:42px;margin:0 0 24px}.comment-respond p{margin-bottom:10px;position:relative}.comment-form.muted_background{padding:30px 30px 20px}.comment-form p{margin-bottom:0}.comment-form .form-submit{margin-top:25px;margin-bottom:35px}.comment-form label[for]{display:none}.comment-form .theme_button{margin-right:10px}@media (max-width:500px){.comment-respond i.pull-left{display:none}.comment-respond .comment-form{margin-left:0}}.comment-navigation{margin-top:40px}.comment-navigation .pagination>li>a,.comment-navigation .pagination>li>span{padding:5px 10px}.post-password-form input[type=password].form-control{border-color:rgba(0,0,0,.1)}.post-password-form .theme_button{padding:15px 10px 13px}#isotope_filters,.filters{margin:0 0 47px;padding:0;list-style:none}#isotope_filters li,.filters li{display:inline-block;margin:0;padding:0}#isotope_filters a,.filters a{padding:11px 20px;margin:0 3px 10px;display:inline-block;text-transform:uppercase;color:#232323;background-color:#fff}#isotope_filters a:hover,#isotope_filters a.selected,#isotope_filters a.active,.filters a:hover,.filters a.selected,.filters a.active{background-color:#ffc326;border-color:#ffc326;color:#fff}.gallery-item{overflow:hidden;position:relative}.gallery-item .item-content{padding:0 40px 5px}.gallery-item h4.item-meta{font-weight:300;z-index:5;-webkit-transition:all .15s ease-in-out;-moz-transition:all .15s ease-in-out;-o-transition:all .15s ease-in-out;-ms-transition:all .15s ease-in-out;transition:all .15s ease-in-out;-ms-filter:"progid: DXImageTransform.Microsoft.Alpha(Opacity=0)";filter:alpha(opacity=0);opacity:0;-webkit-transform:scale(0);-moz-transform:scale(0);-o-transform:scale(0);-ms-transform:scale(0);transform:scale(0)}.gallery-item:hover h4.item-meta{-webkit-transform:scale(1);-moz-transform:scale(1);-o-transform:scale(1);-ms-transform:scale(1);transform:scale(1);-ms-filter:"progid: DXImageTransform.Microsoft.Alpha(Opacity=100)";filter:alpha(opacity=100);opacity:1}.gallery-item .post-adds{margin-bottom:0}.gallery-title-item+.item-title{padding:30px 0}.gallery-title-item+.item-title h3{font-size:28px;margin-bottom:5px}i.loadmore_spinner{font-size:30px;opacity:.3;margin:10px 0 20px}.gallery-single-title{margin:12px 0 0}@media (min-width:768px){.gallery-single-title{font-size:60px}}.gallery-single-title+.block-header{margin-bottom:40px}.share-gallery-single{margin:40px 0 16px}.items-nav{padding:30px 23px}.items-nav[class*=display_table_]{margin-top:40px}.items-nav h4{margin:-5px 0 0}.items-nav .media{position:relative;padding:10px 0}.items-nav .next-item img{max-width:none;padding:0 30px 0 0}.items-nav .next-item i{right:0}.items-nav .prev-item img{max-width:none;padding:0 0 0 30px}.items-nav a{position:relative}.items-nav a i{top:50%;margin-top:-14px;font-size:20px}.items-nav a i.position-absolute{position:absolute}.loop-pagination{margin-top:60px}.muted_background .loop-pagination{margin-top:0}.owl-carousel.hover-scale{margin-bottom:50px}@media (min-width:768px){.owl-carousel.hover-scale .owl-stage-outer{overflow:visible}.owl-carousel.hover-scale .vertical-item{-webkit-transition:all .2s ease-in;-moz-transition:all .2s ease-in;-ms-transition:all .2s ease-in;-o-transition:all .2s ease-in;transition:all .2s ease-in}.owl-carousel.hover-scale .owl-item:hover .vertical-item,.owl-carousel.hover-scale .owl-item.center .vertical-item{-moz-transform:scale(1.1);-webkit-transform:scale(1.1);-o-transform:scale(1.1);-ms-transform:scale(1.1);transform:scale(1.1);z-index:4;overflow:hidden}}.owl-carousel.related-photos-carousel{margin-bottom:0}.error404 .page_content{background-image:url(//alphatowtruckservices.com/wp-content/themes/towy/css/../img/404.jpg);background-size:cover;background-repeat:no-repeat;background-position:center}.error404 .page_content:after{background-color:#232323;opacity:.65;content:"";display:block;position:absolute;top:0;left:0;right:0;bottom:0}.error404 .page_content .not_found_wrapper{position:relative;z-index:1;margin-bottom:35px}.error404 .page_content .not_found_wrapper .not_found{position:relative;font-size:130px;font-weight:700;line-height:.8;margin-bottom:45px}@media (min-width:768px){.error404 .page_content .not_found_wrapper .not_found{font-size:300px}}.error404 .page_content .not_found_wrapper .not_found .oops{position:absolute;color:#fff;top:50%;left:50%;-webkit-transform:translate(-50%,-50%) rotate(90deg);transform:translate(-50%,-50%) rotate(90deg);font-size:14px;margin-left:-2px;text-transform:uppercase}@media (min-width:768px){.error404 .page_content .not_found_wrapper .not_found .oops{font-size:35px}}.error404 .page_content .not_found_wrapper h2{text-transform:uppercase;font-weight:700;font-size:35px;margin:0 0 30px;color:#fff}.error404 .page_content .not_found_wrapper .theme_buttons a.color1:hover,.error404 .page_content .not_found_wrapper .theme_buttons a.color1:focus,.error404 .page_content .not_found_wrapper .theme_button.color1:hover,.error404 .page_content .not_found_wrapper .theme_button.color1:focus{color:#ffc326;background-color:transparent}body.search #content>article.page .entry-title{margin-bottom:0}body.search #content>article.page .entry-header+.entry-summary{margin-top:20px}.navigation.post-navigation{padding:0;margin-top:80px;margin-bottom:40px}@media (max-width:767px){.navigation.post-navigation{margin-top:40px;margin-bottom:40px}}.navigation.post-navigation a{display:inline-block;width:49%;position:relative;text-align:center;overflow:hidden;padding:0;font-weight:400;font-size:14px}.navigation.post-navigation a[rel=next]{float:right}.navigation.post-navigation a .media{background-position:center;background-size:cover;padding:0;height:130px;display:table;width:100%}.navigation.post-navigation a .media .nav-overlay{position:absolute;top:0;left:0;right:0;bottom:0;width:100%;display:block;background:rgba(0,0,0,.7);z-index:1}.navigation.post-navigation a .media .nav-middle{display:table-cell;vertical-align:middle;position:relative;z-index:2;padding:0 15px}.navigation.post-navigation a .media .nav-middle .nav{font-family:"Roboto","sans-serif";font-size:14px;text-transform:uppercase;font-weight:400;color:#ffc326}@media (max-width:479px){.navigation.post-navigation a .media .nav-middle .nav{font-size:16px}}.navigation.post-navigation a .media .nav-middle .title{font-size:20px;font-weight:400;color:#fff;word-break:break-word}.navigation.post-navigation a .media .nav-middle .title:hover{opacity:.8}@media (max-width:479px){.navigation.post-navigation a .media .nav-middle .title{display:none}}.fw-portfolio .categories-links{display:none}.single-fw-portfolio .gallery-single-title{margin-bottom:20px}.single-fw-portfolio .owl-carousel.owl-loaded{margin-bottom:0}.post-type-archive-fw-portfolio .item-button,.post-type-archive-fw-portfolio .cat-links,.tax-fw-portfolio-category .item-button,.tax-fw-portfolio-category .cat-links{display:none}.post-type-archive-fw-portfolio .extended .item-content p,.tax-fw-portfolio-category .extended .item-content p{margin-bottom:0}.post-type-archive-fw-portfolio .extended .item-title,.tax-fw-portfolio-category .extended .item-title{height:45px;overflow:hidden;margin-bottom:10px}@media (min-width:1200px){.post-type-archive-fw-portfolio .gallery_fluid_section .container-fluid,.tax-fw-portfolio-category .gallery_fluid_section .container-fluid{padding-left:0;padding-right:0}}.post-type-archive-fw-portfolio .gallery_fluid_section .container-fluid .item-title,.tax-fw-portfolio-category .gallery_fluid_section .container-fluid .item-title{height:40px;overflow:hidden;margin-bottom:40px}.post-type-archive-fw-portfolio .gallery_fluid_section .container-fluid .item-title h3,.tax-fw-portfolio-category .gallery_fluid_section .container-fluid .item-title h3{font-size:20px;line-height:1.3;font-weight:700}aside .widget-title,.before-content-area .widget-title{text-align:center;position:relative;padding-bottom:22px;display:block;overflow:hidden;font-weight:700}aside .widget-title .first-word,.before-content-area .widget-title .first-word{font-weight:300}aside .widget-title .zebra_title,.before-content-area .widget-title .zebra_title{position:absolute;bottom:0;left:50%;margin-left:-15px;width:30px;height:3px;background-color:transparent;background-image:-webkit-linear-gradient(135deg,transparent 10%,#ffc326 10%,#ffc326 50%,transparent 50%,transparent 60%,#ffc326 60%,#ffc326);background-image:linear-gradient(-45deg,transparent 10%,#ffc326 10%,#ffc326 50%,transparent 50%,transparent 60%,#ffc326 60%,#ffc326);background-size:7px 7px}aside>div+div,.before-content-area>div+div{margin-top:10px}aside>div+div>.widget-title,aside>div+div.widget_no_background .widget-title,.before-content-area>div+div>.widget-title,.before-content-area>div+div.widget_no_background .widget-title{margin-top:22px}aside .widget+.widget,.before-content-area .widget+.widget{margin-top:50px}aside input[type=text],aside input[type=email],aside input[type=url],aside input[type=password],aside input[type=search],aside input[type=tel],aside input[type=number],aside textarea,aside select,aside .form-control,.before-content-area input[type=text],.before-content-area input[type=email],.before-content-area input[type=url],.before-content-area input[type=password],.before-content-area input[type=search],.before-content-area input[type=tel],.before-content-area input[type=number],.before-content-area textarea,.before-content-area select,.before-content-area .form-control{border-color:#ffc326}aside input[type=text]:focus,aside input[type=email]:focus,aside input[type=url]:focus,aside input[type=password]:focus,aside input[type=search]:focus,aside input[type=tel]:focus,aside input[type=number]:focus,aside textarea:focus,aside select:focus,aside .form-control:focus,.before-content-area input[type=text]:focus,.before-content-area input[type=email]:focus,.before-content-area input[type=url]:focus,.before-content-area input[type=password]:focus,.before-content-area input[type=search]:focus,.before-content-area input[type=tel]:focus,.before-content-area input[type=number]:focus,.before-content-area textarea:focus,.before-content-area select:focus,.before-content-area .form-control:focus{border-color:#b4b4b4}.before-content-area .widget{margin-top:30px;margin-bottom:30px;display:block;overflow:hidden}.before-content-area .widget .widget-title{margin-top:40px;margin-bottom:55px}.before-content-area .widget.widget-first{margin-top:0}.widget-theme-wrapper.with_background,.widget-theme-wrapper.muted_background,.widget-theme-wrapper.cs,.widget-theme-wrapper.ds,.widget-theme-wrapper.ls{padding:35px}.affix-aside{position:relative}.affix-aside.affix{position:fixed;top:50px}@media (max-width:767px){.affix-aside,.affix-aside.affix,.affix-aside.affix-bottom{position:static;width:inherit !important}}.module-header{margin:0 0 38px;text-transform:capitalize;font-size:40px}.page_footer .module-header{font-size:28px}.widget>h3,.widget-title{font-size:21px;margin:-3px 0 25px;position:relative;line-height:1;text-transform:uppercase}.widget:before,.widget:after{display:block;content:"";clear:both}.widget ul{list-style:none;padding:0;margin:0}.widget ul ul li{padding-left:20px}.widget li{position:relative}.widget .vertical-item h4{font-size:20px;margin:17px 0 0}.widget .vertical-item+.widget .vertical-item{margin-top:16px}.widget select{width:100%;max-width:100%;height:50px;padding-left:20px;padding-right:40px;padding-top:9px;padding-bottom:9px;font-size:16px;border:1px solid #ffc326}.sidebar-column .widget-first-visible{margin-top:0 !important}.sidebar-column .widget-first-visible .widget-title{margin-top:-3px !important}.sidebar-column.col-md-3 .widget>h3,.sidebar-column.col-md-3 .widget-title,.sidebar-column.col-lg-3 .widget>h3,.sidebar-column.col-lg-3 .widget-title{font-size:21px}.sidebar-column.col-md-3 .widget-title,.sidebar-column.col-lg-3 .widget-title{text-align:left}.sidebar-column.col-md-3 .widget-title .zebra_title,.sidebar-column.col-lg-3 .widget-title .zebra_title{left:0;margin-left:0}.sidebar-column.col-md-3 input[type=text],.sidebar-column.col-md-3 input[type=email],.sidebar-column.col-md-3 input[type=url],.sidebar-column.col-md-3 input[type=password],.sidebar-column.col-md-3 input[type=search],.sidebar-column.col-md-3 input[type=tel],.sidebar-column.col-md-3 input[type=number],.sidebar-column.col-md-3 select,.sidebar-column.col-md-3 .form-control,.sidebar-column.col-lg-3 input[type=text],.sidebar-column.col-lg-3 input[type=email],.sidebar-column.col-lg-3 input[type=url],.sidebar-column.col-lg-3 input[type=password],.sidebar-column.col-lg-3 input[type=search],.sidebar-column.col-lg-3 input[type=tel],.sidebar-column.col-lg-3 input[type=number],.sidebar-column.col-lg-3 select,.sidebar-column.col-lg-3 .form-control{height:40px}.sidebar-column.col-md-3 .widget_search .form-inline .theme_button,.sidebar-column.col-md-3 .widget_product_search [type=submit],.sidebar-column.col-md-3 .widget_mailchimp .form-inline .theme_button,.sidebar-column.col-lg-3 .widget_search .form-inline .theme_button,.sidebar-column.col-lg-3 .widget_product_search [type=submit],.sidebar-column.col-lg-3 .widget_mailchimp .form-inline .theme_button{width:40px;height:40px;padding:2px}.page_footer .widget+.widget{margin-top:40px}.page_footer .widget li,.page_footer .widget ul{border:none}.page_footer .widget-title{font-size:15px;line-height:20px;text-transform:uppercase;padding-bottom:10px;margin-top:1px;margin-bottom:25px;position:relative;display:block}.page_footer .widget-title .last-word{font-weight:700}.page_footer .widget-title .zebra_title{position:absolute;bottom:0;left:0;width:30px;height:3px;background-color:transparent;background-image:-webkit-linear-gradient(135deg,transparent 10%,#ffc326 10%,#ffc326 50%,transparent 50%,transparent 60%,#ffc326 60%,#ffc326);background-image:linear-gradient(-45deg,transparent 10%,#ffc326 10%,#ffc326 50%,transparent 50%,transparent 60%,#ffc326 60%,#ffc326);background-size:7px 7px}.page_footer .widget_banner{margin-bottom:12px}.page_footer .widget_text{margin-bottom:20px}.page_footer .widget_mwt_twitter ul.tweet_list,.page_footer .widget_towy_twitter ul.tweet_list{padding-top:5px;overflow:hidden}.widget+.widget.no-gap-widget{margin-top:0 !important}#sb_instagram{margin-left:-5px !important}.widget_text p{line-height:21px}.widget_mailchimp{overflow:hidden}.widget_mailchimp p{padding-top:10px}.widget_search .form-inline,.widget_product_search form,.widget_mailchimp .form-inline{position:relative}.widget_search .form-inline .form-control,.widget_product_search form .form-control,.widget_mailchimp .form-inline .form-control{width:100%;margin:0}.widget_search .form-inline label,.widget_product_search form label,.widget_mailchimp .form-inline label{display:block}.widget_search .form-inline label[for],.widget_product_search form label[for],.widget_mailchimp .form-inline label[for]{display:none}.widget_search .form-inline .form-group,.widget_mailchimp .form-inline .form-group{display:block;vertical-align:top;position:relative}.widget_search .form-inline [type=text],.widget_product_search [type=search],.widget_mailchimp .form-inline [type=email]{padding-right:50px;display:block;width:100%}@media (min-width:768px){.widget_search .form-group.inline-block,.widget_mailchimp .form-group.inline-block{min-width:370px;margin-right:5px}}.widget_search .form-inline .theme_button,.widget_product_search [type=submit],.widget_mailchimp .form-inline .theme_button{font-size:0;padding:12px;margin:0;position:absolute;right:0;top:0;height:50px;width:50px;border:none;background:0 0;color:#ffc326}.widget_search .form-inline .theme_button:before,.widget_product_search [type=submit]:before,.widget_mailchimp .form-inline .theme_button:before{font-size:18px;content:"";font-family:FontAwesome}.widget_search .form-inline .theme_button:hover,.widget_product_search [type=submit]:hover,.widget_mailchimp .form-inline .theme_button:hover{opacity:.5}.widget_mailchimp .form-inline .theme_button:before{content:""}.widget_mc4wp_form_widget label{display:none}.widget_mc4wp_form_widget .mc4wp-form-inner{position:relative}.widget_mc4wp_form_widget .mc4wp-form-fields{position:relative}.widget_mc4wp_form_widget [type*=email]{width:100%;padding-right:60px;border-width:1px;border-style:solid}.widget_mc4wp_form_widget [type*=submit]{position:absolute;right:0;bottom:0;height:50px;width:50px;font-size:0;padding:0;margin-bottom:0;border:none;background-color:transparent;color:#ffc326}.widget_mc4wp_form_widget [type*=submit]:before{font-size:18px;content:"";font-family:"FontAwesome"}.widget_mc4wp_form_widget [type*=submit]:hover{opacity:.5}.shortcode-widget-area .widget_mc4wp_form_widget .widget-title{display:none}.shortcode-widget-area .widget_mc4wp_form_widget .mc4wp-form-inner{margin-bottom:0}.shortcode-widget-area .widget_mc4wp_form_widget .mc4wp-form-inner+p{display:none}.widget_recent_comments li{padding:15px 0}.widget_recent_comments li:first-child{padding-top:0}.widget_recent_comments li:before{font-family:"rt-icons-2";content:"";font-size:16px;line-height:1;position:relative;top:4px;padding-right:10px;color:#ffc326}.widget_recent_entries li{padding:15px 0 15px 36px}.widget_recent_entries p{margin-bottom:0}.widget_recent_entries li:first-child{padding-top:0}.widget_recent_entries li:before{font-family:"rt-icons-2";content:"";font-size:16px;line-height:1;position:absolute;top:18px;left:0;padding-right:10px;color:#ffc326}.widget_recent_entries li:first-child:before{top:5px}.widget_recent_entries li,.widget_recent_comments li,.widget_popular_entries li{border-top:1px solid rgba(0,0,0,.06)}.widget_recent_entries>ul>li:first-child,.widget_recent_comments>ul>li:first-child,.widget_archive>ul>li:first-child,.widget_categories>ul>li:first-child,.widget_meta>ul>li:first-child,.widget_popular_entries>ul>li:first-child,.widget_nav_menu>ul>li:first-child,.widget_pages>ul>li:first-child{border-top:none;margin-top:0}.widget_popular_entries>ul>li:first-child{margin-top:0}.widget_archive li,.widget_categories li,.widget_meta li,.widget_nav_menu li,.widget_pages li{padding-left:0}.widget_archive li span,.widget_categories li span,.widget_meta li span,.widget_nav_menu li span,.widget_pages li span{position:absolute;right:0;top:10px}.widget_archive a,.widget_categories a,.widget_meta a,.widget_nav_menu a,.widget_pages a{display:inline-block;padding:10px 0 8px 22px;position:relative;width:100%;border-top:1px solid rgba(0,0,0,.06)}footer .widget_archive a,footer .widget_categories a,footer .widget_meta a,footer .widget_nav_menu a,footer .widget_pages a{border-color:rgba(255,255,255,.06)}.widget_archive a:empty,.widget_categories a:empty,.widget_meta a:empty,.widget_nav_menu a:empty,.widget_pages a:empty{min-height:37px}.widget_archive>ul>li:first-of-type>a,.widget_categories>ul>li:first-of-type>a,.widget_meta>ul>li:first-of-type>a,.widget_nav_menu>ul>li:first-of-type>a,.widget_pages>ul>li:first-of-type>a{border-top:0 none}.widget_archive a:before,.widget_categories a:before,.widget_meta a:before,.widget_nav_menu a:before,.widget_pages a:before{font-family:"rt-icons-2";content:"";font-size:18px;color:#ffc326;position:absolute;left:-3px}.widget_nav_menu a i{padding-right:7px}@media (min-width:768px){.page_copyright .widget_nav_menu li,.page_topline .widget_nav_menu li{display:inline-block;position:relative;border:none;padding-right:5px}.page_copyright .widget_nav_menu li:before,.page_topline .widget_nav_menu li:before{content:"";position:absolute;padding:0;left:-5px;top:5px;bottom:5px;width:1px;background-color:rgba(0,0,0,.06);opacity:.3;display:block}.page_copyright .widget_nav_menu li:first-child:before,.page_topline .widget_nav_menu li:first-child:before{display:none}.page_copyright .widget_nav_menu a,.page_topline .widget_nav_menu a{padding:0 10px}.page_copyright .widget_nav_menu a:before,.page_topline .widget_nav_menu a:before{display:none}}footer .widget ul ul li{padding-left:17px}.nav-menu-columns ul li{display:inline-block;width:48%}.nav-menu-columns ul li a{border-top:0 none;padding-top:7px;padding-bottom:7px}.widget_tag_cloud a{border:1px solid #b4b4b4;padding:4px 20px;margin:0 4px 10px 0;font-size:inherit !important;display:inline-block}aside .widget_tag_cloud a{color:#232323}aside .widget_tag_cloud a:hover{color:#fff}.widget_tag_cloud a:hover{background-color:#ffc326;border-color:#ffc326;color:#fff}.widget_popular_entries h4{margin-bottom:10px}.widget_popular_entries p{padding-top:6px;margin-bottom:10px}.widget_popular_entries .media-body{overflow:visible}.widget_popular_entries .media-left{padding-right:20px}.widget_popular_entries a img,.widget_popular_entries .media-object{max-width:100px}@media (min-width:768px) and (max-width:1199px){.widget_popular_entries .media-object{max-width:40px}}.widget_popular_entries li{margin-top:2px;padding:20px 0 18px}.widget_popular_entries li:first-child{padding-top:0}.widget_popular_entries li:last-child{padding-bottom:0}#calendar_wrap{width:100%;margin-bottom:0;-webkit-overflow-scrolling:touch;-ms-overflow-style:-ms-autohiding-scrollbar}@media (min-width:768px) and (max-width:992px){#calendar_wrap{overflow-x:auto;overflow-y:hidden}}.widget_calendar table{width:100%;margin:0;position:relative;text-align:center;background-color:#fff}.widget_calendar caption{line-height:1;font-size:24px;padding:18px 0 18px;text-align:center;color:#fff;background-color:#ffc326}.widget_calendar thead{background-color:#232323;border:1px solid #232323;border-width:7px 1px;color:#fff}.widget_calendar thead th{font-weight:300}.widget_calendar thead th:first-child{padding-left:30px}.widget_calendar thead th:last-child{padding-right:30px}.widget_calendar tbody{font-weight:300}.widget_calendar tbody tr:first-child td{padding-top:29px}.widget_calendar tbody tr:last-child td{padding-bottom:30px}.widget_calendar tbody td{border:none;padding:3px 4px;position:relative}.widget_calendar tbody td:first-child{padding-left:30px}.widget_calendar tbody td:last-child{padding-right:30px}.widget_calendar tbody td a{font-weight:700;color:#ffc326}.widget_calendar tbody td a:hover{color:#ffc326}.widget_calendar th{text-align:center;border:0;color:inherit}.widget_calendar td{border:0}.widget_calendar tfoot{position:absolute;top:-3px;right:0;left:0}.widget_calendar tfoot td{position:absolute;top:0}.widget_calendar tfoot td a{color:#fff;text-align:center;font-size:0;width:60px;height:60px;line-height:60px;display:inline-block}.widget_calendar tfoot td a:hover{color:#fff;background-color:#ffc326;border-color:#ffc326}.widget_calendar tfoot #prev{left:0;padding:0}.widget_calendar tfoot #prev a{border-right:1px solid rgba(255,255,255,.2)}.widget_calendar tfoot #prev a:before{font-size:14px;font-family:"rt-icons-2";content:""}.widget_calendar tfoot #next{right:0;padding:0}.widget_calendar tfoot #next a{border-left:1px solid rgba(255,255,255,.2)}.widget_calendar tfoot #next a:after{font-size:14px;font-family:"rt-icons-2";content:""}.widget_banner{overflow:hidden;line-height:1}.widget_banner .item-content{padding:20px}.widget_banner .item-content h3{margin:0;padding:8px 0;font-size:28px}.widget_banner .item-content span{display:inline-block;text-transform:uppercase;padding:4px 10px 1px;min-width:120px}.widget_banner .small-text{margin-bottom:0}.widget_socials ul li{display:inline;margin-left:13px}.widget_socials ul li:first-of-type{margin-left:0}.widget_icons_list ul{display:block;overflow:hidden}.widget_icons_list ul li{margin-top:7px;margin-bottom:14px}.widget_icons_list ul li:last-of-type{margin-bottom:0}.widget_icons_list .media-body,.widget_icons_list .media-left{display:table-cell;vertical-align:top}.widget_icons_list .media-left{padding-right:15px}.widget_icons_list .media-left i{display:inline-block;width:18px;text-align:center}.widget.widget_theme_post_slider h3.widget_title{z-index:1}.widget.widget_theme_post_slider .owl-post-slider{position:relative;overflow:hidden}.widget.widget_theme_post_slider .owl-post-slider .post-slider-image{position:relative;max-height:600px}.widget.widget_theme_post_slider .owl-post-slider .post-slider-image img{height:100%}.widget.widget_theme_post_slider .owl-post-slider .post-slider-image .post-slider-overlay{position:absolute;top:0;left:0;right:0;bottom:0;width:100%;display:block;background-color:#232323;opacity:.8;z-index:1}.widget.widget_theme_post_slider .owl-post-slider .post-slider-content{top:0;line-height:1.1;position:absolute;bottom:0;left:0;right:0;padding:0 30px 20px;z-index:2}.widget.widget_theme_post_slider .owl-post-slider .post-slider-content .post-slider-title{font-size:60px;font-weight:300;color:#fff;text-transform:uppercase;padding:0 20px;line-height:1.1;margin-bottom:0}.widget.widget_theme_post_slider .owl-post-slider .post-slider-content .post-slider-title a{color:#fff;display:block}.widget.widget_theme_post_slider .owl-post-slider .post-slider-content .post-slider-title a:hover{opacity:.6}.widget.widget_theme_post_slider .owl-post-slider .post-slider-content .post-slider-title span{font-weight:700;display:block;width:100%;color:#ffc326}@media (max-width:479px){.widget.widget_theme_post_slider .owl-post-slider .post-slider-content .post-slider-title{font-size:24px;font-weight:400}}.widget.widget_theme_post_slider .owl-post-slider .owl-dots{position:absolute;margin-top:20px;bottom:40px;text-align:center;width:100%}.widget.widget_theme_post_slider .owl-post-slider .owl-dots .owl-dot span{border:2px solid #fff}.widget.widget_theme_post_slider .owl-post-slider .owl-dots .owl-dot.active span,.widget.widget_theme_post_slider .owl-post-slider .owl-dots .owl-dot:hover span{border:2px solid #ffc326}.widget_slider .owl-carousel{margin-bottom:0}.widget_slider .owl-carousel:hover .owl-nav{top:-43px}.widget_slider .owl-carousel .owl-nav{opacity:1;top:-43px}.widget_slider .owl-carousel .owl-nav>div{width:auto;height:auto;right:0;background-color:transparent}.widget_slider .owl-carousel .owl-nav>div:first-child{left:auto;right:22px}.widget_slider .owl-carousel .owl-nav>div:after{font-size:12px;color:inherit;color:#181818}.widget_flickr li{display:inline-block;margin:0 10px 10px 0}.widget_flickr img{max-width:70px;border-radius:1px}.widget_mwt_twitter .tweet_avatar,.widget_towy_twitter .tweet_avatar{display:none}.widget_mwt_twitter .tweet_text,.widget_towy_twitter .tweet_text{font-size:16px;font-style:italic;color:#787878}.widget_mwt_twitter .tweet_text a,.widget_towy_twitter .tweet_text a{display:none}.widget_mwt_twitter .tweet_time,.widget_towy_twitter .tweet_time{display:block;font-size:14px;color:#fff}.widget_mwt_twitter .tweet_right,.widget_towy_twitter .tweet_right{overflow:hidden;position:relative;zoom:1;padding-left:25px}.widget_mwt_twitter .tweet_right:before,.widget_towy_twitter .tweet_right:before{font-family:FontAwesome;content:"";font-size:18px;color:#ffc326;position:absolute;top:0;left:0}.widget_mwt_twitter .tweet_list li+li,.widget_towy_twitter .tweet_list li+li{margin-top:10px;clear:both}.widget_theme_posts .sub-title{overflow:hidden;display:block;width:100%;font-size:15px;font-weight:300;margin-top:10px}.widget-posts .item-media{max-height:240px;overflow:hidden;display:block}.widget-posts .item-content .item-title{display:block;height:46px;overflow:hidden;margin-bottom:10px}.widget-posts .item-content .author{display:block;margin-top:-3px;font-size:13px;font-weight:400}.widget_recent_entries li.theme-rp-item{margin:0 0 20px;padding:25px 0 0}.widget_recent_entries li.theme-rp-item:first-child{padding:0}.widget_recent_entries li.theme-rp-item:before{display:none}.widget_recent_entries li.theme-rp-item .theme-rp-inner{position:relative;overflow:hidden}.widget_recent_entries li.theme-rp-item .theme-rp-inner .theme-rp-title{font-size:20px;font-weight:400;line-height:1.4;margin-bottom:10px}.widget_recent_entries li.theme-rp-item .theme-rp-inner .theme-rp-content{position:relative;overflow:hidden;height:46px;margin-bottom:10px}.widget_recent_entries li.theme-rp-item .theme-rp-inner .theme-rp-meta .theme-rp-date{font-weight:700;font-size:13px;text-transform:uppercase;color:#787878}.widget_recent_entries li.theme-rp-item .theme-rp-inner .theme-rp-meta .author{font-size:13px}.widget_schedule ul{margin:0}.widget_theme_post_tabs .nav-tabs>li>a{padding:10px 15px}.widget_theme_post_tabs .item-likes-word{display:none}.widget_theme_post_tabs [class*=rt-icon]{line-height:0}.widget_theme_post_tabs .vertical-item{margin-bottom:15px}.widget_theme_post_tabs .pull-right{margin-left:10px}.widget_rss li{margin-bottom:15px}.widget_rss li .rsswidget{font-size:1.1em}.widget_rss .rss-date{display:block;font-weight:700}.widget_rss cite{display:block;text-align:right;font-weight:700}.small-teaser{line-height:20px}.small-teaser i{line-height:inherit}.teaser{position:relative;overflow:visible}.teaser.ls{transition:.3s ease-in-out}.teaser.ls:hover{box-shadow:inset 0 0 0 4px #ffc326}.teaser.small_padding{margin-top:0;display:flex;align-items:center}.teaser.small_padding .media-left{padding-right:35px}@media (max-width:991px){.teaser.small_padding:first-child{margin-top:-2px}}.teaser.layout-2{display:flex;justify-content:center;align-items:center}.teaser.layout-2 .media-left{padding-right:20px;padding-top:0}.teaser.layout-2 .media-left.big-image{padding-top:0}.teaser.layout-2 .media-left .teaser_image img{max-width:60px}.teaser.layout-2 .media-body{width:auto;margin-top:5px}.teaser.layout-2 .media-body .media-heading{font-size:14px;color:#ffc326;text-transform:uppercase;line-height:1;margin-bottom:9px}.teaser.layout-2 .media-body p{font-size:35px;line-height:1;color:#fff;margin-bottom:0;text-transform:uppercase;margin-top:0}.teaser[class*=_bg_color],.teaser[class*=with_]{padding:36px 55px}@media (max-width:500px){.teaser[class*=_bg_color],.teaser[class*=with_]{padding:16px 20px}}.teaser [class*=_bg_color]{width:2em;height:2em;text-align:center;vertical-align:bottom}.teaser [class*=_bg_color]+h4{margin-top:24px}.teaser [class*=_bg_color] i{line-height:2em}.teaser .border_icon{width:2em;height:2em;border-width:3px;border-style:solid}.teaser .border_icon i{line-height:2em;display:block;margin:-3px 0 0}.teaser i{text-align:center;vertical-align:middle;display:inline-block}.teaser h2{font-size:50px;font-weight:400;margin-bottom:33px;position:relative;padding-bottom:10px}.teaser h2:after{content:"";position:absolute;width:50px;margin-left:-25px;height:1px;background-color:rgba(204,204,204,.2);bottom:-12px;left:50%}.teaser h3{margin-bottom:16px;font-size:24px}.teaser h4{font-size:20px;margin-bottom:18px;font-weight:500}.teaser p{color:#b4b4b4;margin-bottom:0;margin-top:20px}@media (max-width:991px){.teaser.media.text-right{display:flex;flex-direction:row-reverse}.teaser.media.text-right .media-body{text-align:left}.teaser.media.text-right .media-right{padding-left:0;padding-right:20px;padding-top:5px}}.teaser .media-right .teaser_image img{max-width:unset;height:65px}.teaser .media-left{padding-right:45px;flex-shrink:0}.teaser .media-left.big-image{padding-right:20px;padding-top:5px}.teaser .media-left.big-image .teaser_image img{max-width:unset;height:65px}.teaser .media-left .teaser_image img{max-width:unset;height:35px}@media (max-width:500px){.teaser .media-left{padding-right:20px}}.teaser .media-body h3{margin-bottom:20px;font-size:28px}.teaser .media-body h4{margin-bottom:0}@media (max-width:500px){.teaser h2,.teaser h3,.teaser h4{font-size:1.4em}.teaser h2 span,.teaser h3 span,.teaser h4 span{font-size:1.2em}}.teaser [class*=count]{font-size:40px;font-weight:700;margin:17px 0 6px}.teaser [class*=count]+p{margin:0}.teaser .theme_button{margin:22px 0 0}.section_padding_bottom_0 .teaser{margin-bottom:0}.teaser .wide_button{width:100%}.teaser_icon{display:inline-block;line-height:1;-webkit-transition:all .2s ease-in-out 0s;-moz-transition:all .2s ease-in-out 0s;-o-transition:all .2s ease-in-out 0s;-ms-transition:all .2s ease-in-out 0s;transition:all .2s ease-in-out 0s}.teaser_icon+p{margin-top:27px}.teaser:hover .teaser_icon{-webkit-animation:scaleDisappear .5s;-moz-animation:scaleDisappear .5s;-ms-animation:scaleDisappear .5s;-o-animation:scaleDisappear .5s;animation:scaleDisappear .5s}@media (min-width:1200px){.borders-angle{position:relative}.borders-angle:before,.borders-angle:after{content:"";position:absolute;width:1px;top:-30px;bottom:28px;left:-1px;background-color:rgba(24,24,24,.1);-moz-transform:rotate(15deg);-webkit-transform:rotate(15deg);-o-transform:rotate(15deg);-ms-transform:rotate(15deg);transform:rotate(15deg)}.borders-angle:after{left:auto;right:-5px}}.size_big{font-size:56px}.size_normal{font-size:42px}.size_small{font-size:23px}.teaser.table_section{margin-top:26px}.teaser.table_section+.teaser.table_section{margin-top:70px}@media (min-width:768px){.teaser.table_section [class*=col-]>*{margin:0;top:0}}@media (max-width:767px){.teaser.table_section [class*=col-] *{text-align:center}}.bg_teaser{-webkit-background-size:cover;-moz-background-size:cover;-o-background-size:cover;background-size:cover;background-repeat:no-repeat;background-position:50% 0;position:relative;color:#fff;overflow:hidden}.bg_teaser .bg_overlay{position:absolute;width:100%;height:1000px}.bg_teaser .highlight{color:#fff}.bg_teaser h4+h3{margin-top:-14px;font-size:50px}.bg_teaser.rectangular .teaser_content{padding:200px 30px 50px}.bg_teaser.rectangular .teaser_content h3{font-size:40px}.bg_teaser>img{display:none;visibility:hidden}.bg_teaser .teaser_content{margin:0;padding:40px 40px 35px;z-index:2}.bg_teaser .teaser_content>.media-left{padding-right:35px}.bg_teaser .teaser_content.media{padding:75px 40px 60px}.color_bg_1 .bg_overlay{background-color:rgba(255,195,38,.85)}.color_bg_2 .bg_overlay{background-color:rgba(255,0,0,.9)}.color_bg_3 .bg_overlay{background-color:rgba(238,32,234,.9)}.darkgrey_bg .bg_overlay{background-color:rgba(35,35,35,.8)}.square_teaser .item-media:after{content:"";position:absolute;top:0;left:0;right:0;bottom:0;background-color:rgba(35,35,35,.8)}.square_teaser .item-content{top:0;margin:30px 0 80px;overflow:hidden}.square_teaser .teaser_icon{color:#ffc326;position:absolute;bottom:30px;left:30px}.square_teaser .item-media:after,.square_teaser .teaser_icon,.square_teaser h4,.square_teaser p{-webkit-transition:all .2s ease-in-out 0s;-moz-transition:all .2s ease-in-out 0s;-o-transition:all .2s ease-in-out 0s;-ms-transition:all .2s ease-in-out 0s;transition:all .2s ease-in-out 0s}.square_teaser h4{color:#fff;font-size:28px;font-weight:700}.square_teaser p{color:#fff;opacity:0}.square_teaser:hover h4,.square_teaser:hover .teaser_icon{color:#232323}.square_teaser:hover p{opacity:1}.square_teaser:hover .item-media:after{background-color:#ffc326}.square_teaser.no-image .item-content{margin:0}.square_teaser.no-image .teaser_icon{position:static}.square_teaser.no-image p{opacity:1}@media (max-width:991px){[class*=col-] .square_teaser .item-media img{width:100%}}.teaser_icon.border_icon a{color:#787878}.cs .teaser_icon.border_icon a{color:#181818}.teaser_icon.black a{color:#181818}.ds .teaser_icon.black a,.cs .teaser_icon.black a{color:#fff}.teaser_icon.highlight a{color:#ffc326}.cs .teaser_icon.highlight a{color:#181818}.teaser_icon.main_bg_color a,.teaser_icon.dark_bg_color a{color:#fff}@media (max-width:991px){.shortcode-teasers-row [class*=col-]{margin-bottom:0}}.blockquote-big{max-width:82%;margin-top:30px;margin-left:auto;margin-right:auto;margin-bottom:30px;color:inherit;font-size:18px;text-align:center;line-height:30px;padding:0 40px;border:none}.flexslider .blockquote-big{padding-bottom:0}.blockquote-big h3{font-size:16px;letter-spacing:.09em;text-transform:uppercase;color:inherit;margin-top:30px}.blockquote-big img{display:block;max-width:75px;border-radius:50%;margin:0 auto 55px;border:4px solid #ffc326}.blockquote-big .blockqoute-meta{font-weight:400;font-size:16px;margin-top:50px;margin-bottom:0;font-style:normal}.blockquote-big .blockqoute-meta .author-name{text-transform:uppercase;font-size:15px;display:block;width:100%;line-height:1}.blockquote-big .blockqoute-meta .author-job{margin-top:0;font-weight:300;display:block}@media (min-width:1200px){.flexslider.testimonials-slider .flex-direction-nav .flex-prev{left:0}.flexslider.testimonials-slider .flex-direction-nav .flex-next{right:0}}@media (max-width:600px){.blockquote-big{font-size:18px;max-width:100%;padding-left:40px;padding-right:40px}}.testimonials-carousel{padding:0 0 20px}.testimonials-carousel .item>p{font-style:italic;padding-left:40px;margin-bottom:40px;position:relative}.testimonials-carousel .item>p:before{font-family:"PT Sans",sans-serif;font-size:100px;font-style:normal;content:""";position:absolute;left:-3px;top:30px;z-index:10}.testimonials-carousel h4{margin:0}.testimonials-carousel h4+p{margin-bottom:0}.testimonials-carousel .carousel-indicators{bottom:-16px;display:none}.testimonials-carousel .carousel-control{display:none}.testimonials-carousel .media+p{position:relative;padding:10px 16px;background-color:#f5f5f5}.testimonials-carousel .media:after{content:"";display:block;clear:both}.testimonials-carousel .media+p:before,.testimonials-carousel .media+p:after{content:"";position:absolute;left:0;top:auto;bottom:-18px;border-style:solid;border-width:18px 0 0 18px;border-color:rgba(0,0,0,.06) transparent transparent transparent}.testimonials-carousel .media+p:after{left:auto;right:0;border-style:solid;border-width:18px 18px 0 0}.testimonials-carousel .media-object{max-width:50px;border-radius:50%;margin-bottom:10px}.testimonials-carousel .carousel-indicators li{border-color:#ffc326}.testimonials-carousel .carousel-indicators li.active{background-color:#ffc326}.testimonials-control{font-size:22px}.fw-testimonial-single .blockquote{max-width:87%;margin-top:0;margin-left:auto;margin-right:auto;margin-bottom:42px;color:inherit;font-size:18px;text-align:center;line-height:30px;padding:0;border:none}.fw-testimonial-single .blockquote h3{font-size:16px;letter-spacing:.09em;text-transform:uppercase;color:inherit;margin-top:30px}.fw-testimonial-single .blockquote img{display:block;max-width:75px;border-radius:50%;margin:0 auto 55px;border:4px solid #ffc326}.fw-testimonial-single .blockquote .blockqoute-meta{font-weight:400;font-size:16px;margin-top:50px;margin-bottom:0;font-style:normal}.fw-testimonial-single .blockquote .blockqoute-meta .author-name{text-transform:uppercase;font-size:15px;display:block;width:100%;line-height:1}.fw-testimonial-single .blockquote .blockqoute-meta .author-job{margin-top:0;font-weight:300;display:block}.fw-column.has-bg-color .fw-testimonial-single .blockquote,.fw-column-inner.has-bg-color .fw-testimonial-single .blockquote{margin-bottom:0;padding-top:25px;padding-bottom:25px}.fw-column.has-bg-color .fw-testimonial-single .blockquote img,.fw-column-inner.has-bg-color .fw-testimonial-single .blockquote img{margin-bottom:30px}.fw-column.has-bg-color .fw-testimonial-single .blockquote .blockqoute-meta,.fw-column-inner.has-bg-color .fw-testimonial-single .blockquote .blockqoute-meta{margin-top:37px}@media (max-width:600px){.fw-testimonial-single .blockquote{font-size:18px;max-width:100%;padding-left:20px;padding-right:20px}}.blockquote-big .quote_symbols,.fw-testimonial-single .quote_symbols{width:75px;height:75px;margin:0 auto 55px;display:flex;justify-content:center;align-items:center;opacity:.3}.blockquote-big .quote_symbols:before,.blockquote-big .quote_symbols:after,.fw-testimonial-single .quote_symbols:before,.fw-testimonial-single .quote_symbols:after{content:"";font-family:"rt-icons-2";font-size:34px;font-style:normal}.blockquote-big .quote_symbols:after,.fw-testimonial-single .quote_symbols:after{content:"";margin-left:5px}.thumbnail{position:relative;text-align:center;border-radius:0;padding:0;border:none;overflow:hidden;background-color:#fff}.isotope-item .thumbnail{margin-bottom:30px}.thumbnail h3{font-size:20px;margin-bottom:2px}.thumbnail h3 a{color:inherit}.thumbnail h3+p{color:#ffc326;margin-bottom:10px}.thumbnail .caption{color:#787878;background-color:#fff;padding:16px 20px 26px}.price-table,.price-table ul{margin:0;padding:0;list-style:none;text-align:center}.price-table{margin:0}.bg_teaser .plan-name{background-color:#fefefe}.bg_teaser .plan-price{background-color:rgba(255,255,255,.1)}.bg_teaser.color_bg_1 .plan-name h3{color:#ffc326}.bg_teaser.color_bg_2 .plan-name h3{color:red}.bg_teaser.color_bg_3 .plan-name h3{color:#ee20ea}.bg_teaser .features-list li+li{border-top:1px solid rgba(255,255,255,.1)}.plan-name{padding:30px 0;margin-bottom:20px}.plan-name h3{font-size:32px;margin:0}.plan-price{padding:35px 0 25px;position:relative}.plan-price span:first-child{font-size:28px;font-weight:300}.plan-price span+span{font-size:60px;font-weight:700}.plan-price p{display:inline;font-size:28px;font-weight:300}.features-list{margin-top:20px}.features-list li{margin:10px 40px;padding-top:10px}.features-list .enabled:before,.features-list .disabled:before{font-family:"rt-icons-2";font-size:24px;line-height:1;position:relative;top:5px;right:4px;content:"";padding-right:8px;color:#232323}.features-list .disabled:before{content:""}.call-to-action{padding:20px 40px 38px}.price-table.style1{border:1px solid rgba(0,0,0,.06)}.price-table.style1 .features-list li+li{border-top:1px solid rgba(0,0,0,.06)}.price-table.style1 .plan-price{background-color:#ffc326;color:#fff;margin:1px -1px}.price-table.style2{background-color:#f5f5f5}.price-table.style2 .plan-name{background-color:#ffc326;padding:30px 0}.price-table.style2 .plan-name h3{color:#fff}.price-table.style2 .plan-price{padding-bottom:0;color:#232323}.price-table.style2 .enabled:before,.price-table.style2 .disabled:before{font-family:"rt-icons-2";content:"";padding-right:13px;color:#ffc326}.price-table.style2 .disabled:before{color:#232323;content:""}.fw-package.price-table hr{margin-left:30px;margin-right:30px;opacity:.15}.fw-switch-row{display:inline-block;font-size:24px;position:relative;top:4px;margin-right:4px}.fw-switch-row+.fw-default-row{display:inline-block}.desc-col .fw-default-row{margin:20px 0}.fw-divider-zebra .divider_left{margin-left:0;text-align:left}.fw-divider-zebra .divider_right{margin-right:0;text-align:right}.fw-divider-zebra .zebra_bg{margin-top:20px;margin-bottom:20px;width:30px;height:3px;background-color:transparent;background-image:-webkit-linear-gradient(135deg,transparent 10%,#ffc326 10%,#ffc326 50%,transparent 50%,transparent 60%,#ffc326 60%,#ffc326);background-image:linear-gradient(-45deg,transparent 10%,#ffc326 10%,#ffc326 50%,transparent 50%,transparent 60%,#ffc326 60%,#ffc326);background-size:7px 7px}.cs .fw-divider-zebra .zebra_bg{background-image:-webkit-linear-gradient(135deg,transparent 10%,#232323 10%,#232323 50%,transparent 50%,transparent 60%,#232323 60%,#232323);background-image:linear-gradient(-45deg,transparent 10%,#232323 10%,#232323 50%,transparent 50%,transparent 60%,#232323 60%,#232323)}.bg_icon{font-size:75px;color:rgba(35,35,35,.05);-webkit-transform:translateY(-50%);transform:translateY(-50%)}@media (min-width:992px){.bg_icon{position:absolute;top:50%;right:-30px}}@media (min-width:1200px){.bg_icon{font-size:150px}}.bg_icon.icon_center{left:50%;top:50%;z-index:-5;transform:translateX(-55%) translateY(-50%)}.bg_icon.icon_center i.highlight{color:rgba(255,195,38,.1)}@media (min-width:1200px){.bg_icon.icon_center{font-size:230px}}.icons-list ul{margin:5px 0}.icons-list i{display:inline-block;width:18px;text-align:center}.icons-list .list1.without-border li{border:0;padding:8px 0 9px}@media (max-width:991px){.icons-list .list1.without-border li:empty{display:none}}.ls .icons-list a{color:#787878}.ls .icons-list a:hover{color:#ffc326}.ls .icons-list .list1.with-border{color:#232323}.ds .icons-list .list1.with-border{color:#fff}.shortcode-posts .grayscale-img img{-webkit-filter:grayscale(100%);filter:grayscale(100%)}.shortcode-posts .item-content .item-title{display:block;height:46px;overflow:hidden}.shortcode-posts .item-content .author{display:block;margin-top:-3px;font-size:13px;font-weight:400}.shortcode-posts .item-content p{margin-bottom:0}.shortcode-posts .item-content .greylinks.entry-date{margin-top:30px;display:inline-block}.shortcode-posts .owl-carousel.owl-loaded .item-media{max-height:240px;overflow:hidden;display:block}.shortcode-posts.tiled-layout{display:flex;flex-wrap:wrap;justify-content:flex-start;flex-direction:row}@media (min-width:1200px){.shortcode-posts.tiled-layout{margin:0 -30px}}.shortcode-posts.tiled-layout .post+.post{margin-top:30px}.shortcode-posts.tiled-layout .bigitem .vertical-item .item-title{font-size:30px;height:auto;font-weight:700;margin-bottom:15px}.shortcode-posts.tiled-layout .bigitem .vertical-item .item-content{padding:55px 35px 45px}.shortcode-posts.tiled-layout .bigitem .vertical-item p{overflow:hidden;margin-bottom:0}.shortcode-posts.tiled-layout .bigitem .vertical-item .entry-date{margin-top:16px}.shortcode-posts.tiled-layout .item-content .post-meta{text-transform:uppercase;color:#ffc326;line-height:1.2}.shortcode-posts.tiled-layout .item-content .post-meta a{color:#ffc326}.shortcode-posts.tiled-layout .item-content .post-meta a:hover{opacity:.8}.shortcode-posts.tiled-layout .item-content .comments-link{margin-right:8px}.shortcode-posts.tiled-layout .item-content .comments-link:after{color:#232323;top:-1px}.shortcode-posts.tiled-layout .smallitem .item-title{font-size:20px;height:auto;font-weight:700;margin-bottom:15px}@media (max-width:575px){.shortcode-posts.tiled-layout .smallitem .side-item .item-content{padding:30px}.shortcode-posts.tiled-layout .smallitem .side-item .item-content p{height:auto;overflow:hidden}}@media (min-width:575px){.shortcode-posts.tiled-layout .smallitem .side-item{display:flex;flex-flow:wrap}.shortcode-posts.tiled-layout .smallitem .side-item .item-media-wrap{flex:0 0 50%;flex-direction:column;justify-content:flex-start}.shortcode-posts.tiled-layout .smallitem .side-item .item-content{padding:0 0 0 30px;flex:0 0 50%;text-align:left;display:flex;flex-direction:column;justify-content:center}.shortcode-posts.tiled-layout .smallitem .side-item .item-content p{height:45px;overflow:hidden}.shortcode-posts.tiled-layout .smallitem .side-item .item-content>span{display:inline-block;width:auto}.shortcode-posts.tiled-layout .smallitem .side-item .item-content .entry-date{margin-top:18px}}#box_wrapper{counter-reset:number}#box_wrapper .numbered-header{position:relative;z-index:1}#box_wrapper .numbered-header:before{content:counter(number,decimal-leading-zero);counter-increment:number;position:absolute;top:20px;width:100%;font-size:130px;font-weight:400;opacity:.05;z-index:-1}#box_wrapper .text-center.numbered-header:before{left:50%;-webkit-transform:translateX(-50%);transform:translateX(-50%)}.paragraph{margin-bottom:5px;letter-spacing:-.5px}.contact-form{position:relative;z-index:3}.contact-form.ls{background-color:#fafafa}.contact-form.ls.ms{background-color:#efefef}.contact-form label[for]{display:none}.contact-form textarea{max-height:140px}.contact-form.parallax{padding:50px 50px 35px;background-image:url(//alphatowtruckservices.com/wp-content/themes/towy/css/../img/parallax/progress.jpg)}.contact-form-respond{display:block;font-weight:800}.contact-form-respond:before{font-family:"rt-icons-2";content:"";padding-right:10px}.contact-form p{margin-bottom:10px;position:relative}.contact-form-submit .theme_button{margin-right:6px}.contact-form.transparent-background .form-control{background-color:transparent}.contact-email{font-size:40px;text-transform:uppercase}@media (max-width:767px){.contact-email{font-size:20px;margin-bottom:6px}.contact-form.parallax{padding-left:20px;padding-right:20px;padding-bottom:40px}}.wrap-forms .form-group p{margin:10px 0 0}.wrap-forms .form-group textarea{min-height:150px}.wrap-forms .form-group.has-placeholder label{display:none}.wrap-forms .field-select label{display:inline}#messages_modal .fw-messages-wrap{position:absolute;left:50%;top:10%;margin-left:-150px;width:300px}#messages_modal ul{margin-bottom:0}.owl-carousel.partners-carousel{margin-bottom:0}.light-partner-image a{display:block;position:relative}.light-partner-image a:before{content:"";position:absolute;top:1px;left:1px;right:1px;bottom:1px;background-color:#787878;-webkit-transition:all .2s ease-in-out 0s;-moz-transition:all .2s ease-in-out 0s;-o-transition:all .2s ease-in-out 0s;-ms-transition:all .2s ease-in-out 0s;transition:all .2s ease-in-out 0s}.light-partner-image a:hover:before{background-color:#ffc326}.highlight-partner-image a{display:block;background-color:#ffc326}.highlight-partner-image a:hover{background-color:#232323}div .fw-shortcode-calendar-wrapper .page-header h3,div .btn-group button[data-calendar-nav],div .btn-group button[data-calendar-nav*=today],div #cal-slide-content a.event-item{color:#232323}div #cal-day-box .time-col,div #cal-day-box .cal-row-head,div #cal-day-box .cal-day-hour,div #cal-day-box .cal-day-hour .cal-day-hour-part,div .cal-week-box .cal-column,div .cal-row-fluid.cal-row-head [class*=cal-cell],div .cal-week-box .cal-row-head [class*=cal-cell] small,div .cal-year-box [class*=span],div .cal-month-box [class*=cal-cell],div .cal-year-box .row-fluid,div .cal-month-box .cal-row-fluid{border-color:#b4b4b4}div .fw-shortcode-calendar .cal-week-box hr{background-color:#b4b4b4}div .cal-day-today,div .cal-day-today.event-day{background-color:#ffc326}div .cal-month-day.event-day{background-color:#ffdf8c}div .cal-year-box [class*=span]:hover,div .cal-month-box [class*=cal-cell]:hover{background-color:#ffdf8c}div #cal-slide-tick{border-top-color:#ffdf8c}div .cal-week-box .cal-day-today span[data-cal-date],div .cal-week-box .cal-day-today.event-day span[data-cal-date],div .cal-month-box [class*=cal-cell]:hover span[data-cal-date],div .cal-month-day.event-day span[data-cal-date]{color:#181818}.widget_portfolio-item-extended .cat-links{margin-top:-12px;margin-bottom:8px}@media (min-width:1200px){.hide-thumbnail-hover-buttons .shortcode-posts .item-layout-item-regular article .links-wrap,.hide-thumbnail-hover-buttons .item-layout-item-title .gallery-title-item .links-wrap,.hide-thumbnail-hover-buttons .widget_portfolio-item-regular .links-wrap,.hide-thumbnail-hover-buttons .item-layout-item-title .widget_portfolio-item .links-wrap{display:none}.hide-thumbnail-hover-buttons .shortcode-posts .item-layout-item-regular article .item-content,.hide-thumbnail-hover-buttons .item-layout-item-title .gallery-title-item .item-content,.hide-thumbnail-hover-buttons .widget_portfolio-item-regular .item-content,.hide-thumbnail-hover-buttons .item-layout-item-title .widget_portfolio-item .item-content{top:0;padding:5px;display:flex;justify-content:center;align-items:center}.hide-thumbnail-hover-buttons .shortcode-posts .item-layout-item-regular article .item-content .item-meta,.hide-thumbnail-hover-buttons .item-layout-item-title .gallery-title-item .item-content .item-meta,.hide-thumbnail-hover-buttons .widget_portfolio-item-regular .item-content .item-meta,.hide-thumbnail-hover-buttons .item-layout-item-title .widget_portfolio-item .item-content .item-meta{margin-bottom:0}}@media (max-width:991px){.col-xs-12.col-sm-6 .shortcode-media-image,.col-xs-12.col-md-6 .shortcode-media-image,.col-xs-12.col-lg-6 .shortcode-media-image{width:100%}}.shortcode-media-image.shadow-image{box-shadow:20px 20px 0 0 rgba(24,24,24,.1)}.fw-theme-steps .fw-theme-step-wrap{display:block;width:auto;text-align:center;margin:0 auto}.fw-theme-steps .fw-theme-step-wrap>*{position:relative;display:block;width:auto;margin:0 auto}.fw-theme-steps .fw-theme-step-wrap .fw-step-left-part{text-align:center;max-width:400px;display:flex;align-items:flex-end}@media (min-width:992px){.fw-theme-steps .fw-theme-step-wrap .fw-step-left-part{height:140px}}.fw-theme-steps .fw-theme-step-wrap .fw-step-left-part .step-title{width:100%}.fw-theme-steps .fw-theme-step-wrap .fw-step-right-part{margin-top:20px;max-width:400px}.ds .fw-theme-steps .fw-theme-step-wrap .fw-step-right-part{color:rgba(255,255,255,.7)}.fw-theme-steps .fw-theme-step-wrap .fw-step-center-part{perspective:1200px}.fw-theme-steps .fw-theme-step-wrap .fw-step-center-part:hover img{transform:translateX(-100%) rotateY(-180deg)}.fw-theme-steps .fw-theme-step-wrap .fw-step-center-part img{transform-style:preserve-3d;transform-origin:right center;transition:transform .6s;max-width:300px;border:10px solid rgba(255,255,255,.1);border-radius:50%}.ls .fw-theme-steps .fw-theme-step-wrap .fw-step-center-part img{border:10px solid #fff}@media (min-width:992px){.fw-theme-steps .fw-theme-step-wrap:nth-child(odd) .step-title{text-align:right}}.fw-theme-steps .fw-theme-step-wrap:nth-child(odd) .step-title:before{left:0}@media (min-width:992px){.fw-theme-steps .fw-theme-step-wrap:nth-child(odd) .step-title:before{text-align:right}}@media (min-width:992px){.fw-theme-steps .fw-theme-step-wrap:nth-child(even) .step-title{text-align:left}}.fw-theme-steps .fw-theme-step-wrap:nth-child(even) .step-title:before{right:0}@media (min-width:992px){.fw-theme-steps .fw-theme-step-wrap:nth-child(even) .step-title:before{text-align:left}}.fw-theme-steps{counter-reset:number}.fw-theme-steps .step-title{position:relative;z-index:1}.fw-theme-steps .step-title:before{content:counter(number,decimal-leading-zero);counter-increment:number;position:absolute;top:-25px;width:100%;font-size:90px;font-weight:600;z-index:-1}@media (max-width:991px){.fw-theme-steps .step-title:before{top:-40px}}.fw-theme-steps .step-title.color1:before{color:#ffc326}.fw-theme-steps .step-title.color2:before{color:#ee20ea}.fw-theme-steps .step-title.color3:before{color:red}.fw-theme-steps .step-title.color4:before{color:#ffc326}.fw-theme-steps .step-title.greyColor:before{color:#b4b4b4}.fw-theme-step-wrap+.fw-theme-step-wrap{margin-top:30px}@media (max-width:991px){.fw-theme-step-wrap+.fw-theme-step-wrap{margin-top:50px}}@media (min-width:992px){.fw-theme-steps .step-title{margin-bottom:0;font-size:40px}.fw-theme-steps .step-title:before{top:-118px;width:100%;font-size:160px}.fw-theme-steps .fw-theme-step-wrap{display:flex;justify-content:center;align-items:center}.fw-theme-steps .fw-theme-step-wrap .fw-step-right-part{margin-top:0;text-align:left;max-width:100%}.fw-theme-steps .fw-theme-step-wrap .fw-step-right-part p{font-size:20px;margin-bottom:0;line-height:1.4}.fw-theme-steps .fw-theme-step-wrap .fw-step-center-part{position:relative}.fw-theme-steps .fw-theme-step-wrap .fw-step-center-part:after{content:"";background-image:url(data:image/png;base64,iVBORw0KGgoAAAANSUhEUgAAABsAAACSCAYAAAC0a7FFAAAAGXRFWHRTb2Z0d2FyZQBBZG9iZSBJbWFnZVJlYWR5ccllPAAAAyZpVFh0WE1MOmNvbS5hZG9iZS54bXAAAAAAADw/eHBhY2tldCBiZWdpbj0i77u/IiBpZD0iVzVNME1wQ2VoaUh6cmVTek5UY3prYzlkIj8+IDx4OnhtcG1ldGEgeG1sbnM6eD0iYWRvYmU6bnM6bWV0YS8iIHg6eG1wdGs9IkFkb2JlIFhNUCBDb3JlIDUuNi1jMDY3IDc5LjE1Nzc0NywgMjAxNS8wMy8zMC0yMzo0MDo0MiAgICAgICAgIj4gPHJkZjpSREYgeG1sbnM6cmRmPSJodHRwOi8vd3d3LnczLm9yZy8xOTk5LzAyLzIyLXJkZi1zeW50YXgtbnMjIj4gPHJkZjpEZXNjcmlwdGlvbiByZGY6YWJvdXQ9IiIgeG1sbnM6eG1wPSJodHRwOi8vbnMuYWRvYmUuY29tL3hhcC8xLjAvIiB4bWxuczp4bXBNTT0iaHR0cDovL25zLmFkb2JlLmNvbS94YXAvMS4wL21tLyIgeG1sbnM6c3RSZWY9Imh0dHA6Ly9ucy5hZG9iZS5jb20veGFwLzEuMC9zVHlwZS9SZXNvdXJjZVJlZiMiIHhtcDpDcmVhdG9yVG9vbD0iQWRvYmUgUGhvdG9zaG9wIENDIDIwMTUgKFdpbmRvd3MpIiB4bXBNTTpJbnN0YW5jZUlEPSJ4bXAuaWlkOjcwNEMzQjQxNjRFMTExRTk4MTE4RDgwMEI1QjU0QjY4IiB4bXBNTTpEb2N1bWVudElEPSJ4bXAuZGlkOjcwNEMzQjQyNjRFMTExRTk4MTE4RDgwMEI1QjU0QjY4Ij4gPHhtcE1NOkRlcml2ZWRGcm9tIHN0UmVmOmluc3RhbmNlSUQ9InhtcC5paWQ6NzA0QzNCM0Y2NEUxMTFFOTgxMThEODAwQjVCNTRCNjgiIHN0UmVmOmRvY3VtZW50SUQ9InhtcC5kaWQ6NzA0QzNCNDA2NEUxMTFFOTgxMThEODAwQjVCNTRCNjgiLz4gPC9yZGY6RGVzY3JpcHRpb24+IDwvcmRmOlJERj4gPC94OnhtcG1ldGE+IDw/eHBhY2tldCBlbmQ9InIiPz5dcbMRAAAEfElEQVR42uybaUhVQRTH56lZVlZgka2QLVa220bZhyCsKGgPWi2pD+0RlUVBRStE0QIJfbANIgra9ygizcQyA02zHU2oiGwzTTP7H++59RKXl75z0kcDP+aCyI+Ze+bMzJ15juLYTgYlEOSAb6a6JSyj3D95gTngCdhqhAvJEsB1DZkPSAVjjULxMoqltKwe2AG2SHWjc+kGlvDzeRAv2bJ7YDvwBodAA+l3th6kgA5gk7SMBnYE+A4Wgb7S0ZgMdnF37i/j3bo99Kk7X4DeYIxENDqXXBAJ/ME5aRmVmx6TQSoqI8AR4JCWURqLAdPBFGlZPljHzxuBr3Q3HgDpIAjMlpZRRlnDz1TXlY7G0+ABaMPLCVFZMWcWKqs5cNw2qMsqZ8EdkMSyfEkZtW4w1yoZpFg6GssrflqyKJAFBmrImoAAsFRDFg2KwDjeL4jKMnnJ5+tKCnNHgERzPbey6ccdsmvgFWgHhkrLfoDD/ByhsSw4yCnspokLdmu6KqvQZnJQrV3wuF7K6Up3y0aBK2CChoyaFA4macjO/FpjxgXXkZY9A2mgMX0R0QgQexMyXEN2jetwDdltkAd64r01k5bRaisWfAUhEumqdKGE/I5X0eKy1/8mNzqlLkkZ9Vov0FZDto0/cczUkCVz3UdDlsR1qIbsMfhS8s7iggOkZbQQSuXnrhqhn851iIYsjesuGrJE3oenSKYru9xilJdySFuq60YfBcfQkonUmAsasvlgIk07Gt2YzXWghsyeSFtoyN5w3VxDlmN/WdCQffgXssYaoU+fLzaDLAcfsNbinWdNkPkoeWhZZ7TeWbFHvjN/TZnt+Kghq6/ZMvsTRZ6GzD6zKdAYZ2+N9Uk3/39urDW5kc5IR4MTGi0bAKaCIA1Za3uVpSFryXWWZssyvRSyRytjHQ5lS8uCeHhlmrCMQmlZe6fPFOLj7AborzWo6QPnXY/LjQ5T6vBOUtaRNxXH7TuPkjK6r9XION0dkZT14zpJUyYejZSmQnnZnSgto1bR9Y2HCI730rIhXMdqhL4vh/2tPwae4FLOu4SwjAKN3FgEUZFHrRsXGuvgwCG9buwM9tJeDNBBXaFky+wj44u0DJDuxolcn5J+ZzSGehjrtu5laZlzF36Wlk3m+qh06LfjLqQWXZDeMtF94+6GTpPCMvI09mep5vcRlmdsc+lEwk9DRsfCV8FzV4TVlS3g906TZJ6kjFoSyc+7pbtxBmhqrPPoeEkZ/d8Kft4mHY2U3ek3GC/BSWnZLK7plybfXf2nqmaQ8ca6oHDkb/6pqjK6OrO/Jm0GqyWjXtjBM7K4jAbwMmNdePWSlDUEG/iZfpHwQ1K23Fj3hGljd0yyG2nKX8kbu8WmipfMXZXt5KRLN2oTJKNxpLF+T/gJrKpu6Fc2qJ8a65eSl0w5t8TcKaMru8N4Y6c2qIukZLQfniexKy1LRoN2X0XLaHfJ6Ep1FHfbHkkZHRce4mCgsRUnKYvmqf4+WCs5xUxjcrkukJDZEUc7xRj+/PNIavL8KcAAJ3TegcOjOcQAAAAASUVORK5CYII=);background-repeat:no-repeat;position:absolute;display:block;width:34px;height:160px;z-index:4;bottom:-100px;right:-6px}.ls .fw-theme-steps .fw-theme-step-wrap .fw-step-center-part:after{background-image:url(data:image/png;base64,iVBORw0KGgoAAAANSUhEUgAAABsAAACSCAYAAAC0a7FFAAAAGXRFWHRTb2Z0d2FyZQBBZG9iZSBJbWFnZVJlYWR5ccllPAAAAyZpVFh0WE1MOmNvbS5hZG9iZS54bXAAAAAAADw/eHBhY2tldCBiZWdpbj0i77u/IiBpZD0iVzVNME1wQ2VoaUh6cmVTek5UY3prYzlkIj8+IDx4OnhtcG1ldGEgeG1sbnM6eD0iYWRvYmU6bnM6bWV0YS8iIHg6eG1wdGs9IkFkb2JlIFhNUCBDb3JlIDUuNi1jMDY3IDc5LjE1Nzc0NywgMjAxNS8wMy8zMC0yMzo0MDo0MiAgICAgICAgIj4gPHJkZjpSREYgeG1sbnM6cmRmPSJodHRwOi8vd3d3LnczLm9yZy8xOTk5LzAyLzIyLXJkZi1zeW50YXgtbnMjIj4gPHJkZjpEZXNjcmlwdGlvbiByZGY6YWJvdXQ9IiIgeG1sbnM6eG1wPSJodHRwOi8vbnMuYWRvYmUuY29tL3hhcC8xLjAvIiB4bWxuczp4bXBNTT0iaHR0cDovL25zLmFkb2JlLmNvbS94YXAvMS4wL21tLyIgeG1sbnM6c3RSZWY9Imh0dHA6Ly9ucy5hZG9iZS5jb20veGFwLzEuMC9zVHlwZS9SZXNvdXJjZVJlZiMiIHhtcDpDcmVhdG9yVG9vbD0iQWRvYmUgUGhvdG9zaG9wIENDIDIwMTUgKFdpbmRvd3MpIiB4bXBNTTpJbnN0YW5jZUlEPSJ4bXAuaWlkOjcwNEMzQjQxNjRFMTExRTk4MTE4RDgwMEI1QjU0QjY4IiB4bXBNTTpEb2N1bWVudElEPSJ4bXAuZGlkOjcwNEMzQjQyNjRFMTExRTk4MTE4RDgwMEI1QjU0QjY4Ij4gPHhtcE1NOkRlcml2ZWRGcm9tIHN0UmVmOmluc3RhbmNlSUQ9InhtcC5paWQ6NzA0QzNCM0Y2NEUxMTFFOTgxMThEODAwQjVCNTRCNjgiIHN0UmVmOmRvY3VtZW50SUQ9InhtcC5kaWQ6NzA0QzNCNDA2NEUxMTFFOTgxMThEODAwQjVCNTRCNjgiLz4gPC9yZGY6RGVzY3JpcHRpb24+IDwvcmRmOlJERj4gPC94OnhtcG1ldGE+IDw/eHBhY2tldCBlbmQ9InIiPz5dcbMRAAAEfElEQVR42uybaUhVQRTH56lZVlZgka2QLVa220bZhyCsKGgPWi2pD+0RlUVBRStE0QIJfbANIgra9ygizcQyA02zHU2oiGwzTTP7H++59RKXl75z0kcDP+aCyI+Ze+bMzJ15juLYTgYlEOSAb6a6JSyj3D95gTngCdhqhAvJEsB1DZkPSAVjjULxMoqltKwe2AG2SHWjc+kGlvDzeRAv2bJ7YDvwBodAA+l3th6kgA5gk7SMBnYE+A4Wgb7S0ZgMdnF37i/j3bo99Kk7X4DeYIxENDqXXBAJ/ME5aRmVmx6TQSoqI8AR4JCWURqLAdPBFGlZPljHzxuBr3Q3HgDpIAjMlpZRRlnDz1TXlY7G0+ABaMPLCVFZMWcWKqs5cNw2qMsqZ8EdkMSyfEkZtW4w1yoZpFg6GssrflqyKJAFBmrImoAAsFRDFg2KwDjeL4jKMnnJ5+tKCnNHgERzPbey6ccdsmvgFWgHhkrLfoDD/ByhsSw4yCnspokLdmu6KqvQZnJQrV3wuF7K6Up3y0aBK2CChoyaFA4macjO/FpjxgXXkZY9A2mgMX0R0QgQexMyXEN2jetwDdltkAd64r01k5bRaisWfAUhEumqdKGE/I5X0eKy1/8mNzqlLkkZ9Vov0FZDto0/cczUkCVz3UdDlsR1qIbsMfhS8s7iggOkZbQQSuXnrhqhn851iIYsjesuGrJE3oenSKYru9xilJdySFuq60YfBcfQkonUmAsasvlgIk07Gt2YzXWghsyeSFtoyN5w3VxDlmN/WdCQffgXssYaoU+fLzaDLAcfsNbinWdNkPkoeWhZZ7TeWbFHvjN/TZnt+Kghq6/ZMvsTRZ6GzD6zKdAYZ2+N9Uk3/39urDW5kc5IR4MTGi0bAKaCIA1Za3uVpSFryXWWZssyvRSyRytjHQ5lS8uCeHhlmrCMQmlZe6fPFOLj7AborzWo6QPnXY/LjQ5T6vBOUtaRNxXH7TuPkjK6r9XION0dkZT14zpJUyYejZSmQnnZnSgto1bR9Y2HCI730rIhXMdqhL4vh/2tPwae4FLOu4SwjAKN3FgEUZFHrRsXGuvgwCG9buwM9tJeDNBBXaFky+wj44u0DJDuxolcn5J+ZzSGehjrtu5laZlzF36Wlk3m+qh06LfjLqQWXZDeMtF94+6GTpPCMvI09mep5vcRlmdsc+lEwk9DRsfCV8FzV4TVlS3g906TZJ6kjFoSyc+7pbtxBmhqrPPoeEkZ/d8Kft4mHY2U3ek3GC/BSWnZLK7plybfXf2nqmaQ8ca6oHDkb/6pqjK6OrO/Jm0GqyWjXtjBM7K4jAbwMmNdePWSlDUEG/iZfpHwQ1K23Fj3hGljd0yyG2nKX8kbu8WmipfMXZXt5KRLN2oTJKNxpLF+T/gJrKpu6Fc2qJ8a65eSl0w5t8TcKaMru8N4Y6c2qIukZLQfniexKy1LRoN2X0XLaHfJ6Ep1FHfbHkkZHRce4mCgsRUnKYvmqf4+WCs5xUxjcrkukJDZEUc7xRj+/PNIavL8KcAAJ3TegcOjOcQAAAAASUVORK5CYII=)}.fw-theme-steps .fw-theme-step-wrap:nth-child(odd){flex-direction:row}.fw-theme-steps .fw-theme-step-wrap:nth-child(even){flex-direction:row-reverse}.fw-theme-steps .fw-theme-step-wrap:nth-child(even) .fw-step-center-part:after{background-image:url(data:image/png;base64,iVBORw0KGgoAAAANSUhEUgAAABsAAACSCAYAAAC0a7FFAAAAGXRFWHRTb2Z0d2FyZQBBZG9iZSBJbWFnZVJlYWR5ccllPAAAAyZpVFh0WE1MOmNvbS5hZG9iZS54bXAAAAAAADw/eHBhY2tldCBiZWdpbj0i77u/IiBpZD0iVzVNME1wQ2VoaUh6cmVTek5UY3prYzlkIj8+IDx4OnhtcG1ldGEgeG1sbnM6eD0iYWRvYmU6bnM6bWV0YS8iIHg6eG1wdGs9IkFkb2JlIFhNUCBDb3JlIDUuNi1jMDY3IDc5LjE1Nzc0NywgMjAxNS8wMy8zMC0yMzo0MDo0MiAgICAgICAgIj4gPHJkZjpSREYgeG1sbnM6cmRmPSJodHRwOi8vd3d3LnczLm9yZy8xOTk5LzAyLzIyLXJkZi1zeW50YXgtbnMjIj4gPHJkZjpEZXNjcmlwdGlvbiByZGY6YWJvdXQ9IiIgeG1sbnM6eG1wPSJodHRwOi8vbnMuYWRvYmUuY29tL3hhcC8xLjAvIiB4bWxuczp4bXBNTT0iaHR0cDovL25zLmFkb2JlLmNvbS94YXAvMS4wL21tLyIgeG1sbnM6c3RSZWY9Imh0dHA6Ly9ucy5hZG9iZS5jb20veGFwLzEuMC9zVHlwZS9SZXNvdXJjZVJlZiMiIHhtcDpDcmVhdG9yVG9vbD0iQWRvYmUgUGhvdG9zaG9wIENDIDIwMTUgKFdpbmRvd3MpIiB4bXBNTTpJbnN0YW5jZUlEPSJ4bXAuaWlkOjU5MzY0NzUzNjRGNTExRTk4RTJGQkY5OEEzNTk0MzREIiB4bXBNTTpEb2N1bWVudElEPSJ4bXAuZGlkOjU5MzY0NzU0NjRGNTExRTk4RTJGQkY5OEEzNTk0MzREIj4gPHhtcE1NOkRlcml2ZWRGcm9tIHN0UmVmOmluc3RhbmNlSUQ9InhtcC5paWQ6NTkzNjQ3NTE2NEY1MTFFOThFMkZCRjk4QTM1OTQzNEQiIHN0UmVmOmRvY3VtZW50SUQ9InhtcC5kaWQ6NTkzNjQ3NTI2NEY1MTFFOThFMkZCRjk4QTM1OTQzNEQiLz4gPC9yZGY6RGVzY3JpcHRpb24+IDwvcmRmOlJERj4gPC94OnhtcG1ldGE+IDw/eHBhY2tldCBlbmQ9InIiPz7An5OIAAAEX0lEQVR42uybaUhVURDHzzPbLCVLIxOiTUtCigorIiq/tNCCGWV9qMzCKFrJhMI2qg+VtGf1JYNWMIsWDYrULKISSiPLilKEEqIFQ31m9ZrhzsWHPPFuM5W8gT/n8O57/DjLnTtzzzyXpzhaMVtnUCioJkDx2wnQG1AKN2wxaAkIOU8kYGhrQGWBzLApoDmgS4qGx2lNOogLFgly+brgNKwrqAB0BxTW8qLTa7YLFAVyg2o5RxYHWgv6BVoK+sEFwxk6CeoAygSVcK7ZatAI0HvQtta+FODQ7tvhBXVzwsbSNF4B3Wxrru3aZVqjn0YW1gmrMvIlO9MYwP4Dsk6gZ6AMejiywlJAsaAFRtbKDgz93xbqbyWPwQZLpXvrKe1EtjXDUW3yGpWHE5YMigCVtnUD24XhPZlG/T1mR2VlZNtB10A5VrawSyBIZQsLHIH1kYIhqBKUR09iVlgy+b8mM97CCgzjv+XUP8U9jZNBA0DVoHxumJ4YnAH95oQFgRKof5Z7N84GBYMegyqcCi5bsxegLII5Yn53xQYLpMjpkF33ZGSDYDg9HNTRrnsyMrKp1OZLTOM0avO4Yb0pz6oHPeCGxdNnCGrkhk2itlBi60dQe48DFujD+YaDvkrA0D61O3c12qmQzQjsKugjKJobFk45F4Zr77hhsdS+NpO2WoXFUFsusWZDqX0pARssCRsiMY26B7mrtDegFRKwZf5Qzi4sjrKVGAnYPFA2PcvYYWHczzFvWC/qf5GAhVL/swQshPrfJGH1ErAg6tdxw9BdHQd1k5hGf5rrGCydpCTWzOMF9nCPTD8uDJGYxgbJNdM9RycJmOg06ufJwRKw71IjQ994RGnFBpUSsIt+3+gEDBPBY6r5uIoV1gO0EjRfAqYfaA+SgH2gPBpH2JMbhqDqFhko626skJhKHfaW2oESsFfURkmkuTeUVhJTKgGrUgZrOv5r3+iSgCUqrehxvwSslm7qcRKwEgpSR4G6cMPwjXc5hXQjJTbIfWonSsCKqI2XgBXQuo1XJkqczHoQ3WpAZUo7AO9LLowNhoYng24pD+KWuM/+WtyI8chC0HQJGB6yngNtloDh4Woj+clIbhg65Vt0PVFig1ygNkkCdp0SRZzKaG4YJva51F8kcZ9lUztLAlZEazaGyzd6m0d5Ffe32zQXD/RmcE6jbsNAz5X2Or6fsvi+y+jIsCzqkdJON5IlpjGT2vVW19rMj3Ipj8NANoEbhnHJAepnWMkJzE7HaaWVBGD10kxuGO7CvdSfYBZm5RABS7KxqOihhAdpsAL6p92VrwwVz0sLQd0lRpZGGU86NwwfPxuo3Qjqzz2yYgqMMFPdJ7FB0ij0m9tWBO0EDF8h7qT+UdV8rMm29Q9TXofV1OvsPjzbMqxqSqXo+aCT7qr9BTxmDCtAc1SLt0VcsFW0fueV14ESF2y30mqR0atkccPwABD/wVVH6XKSk1vfl+F75xVK+zfDbfzgjwADAEs1zfn+M0h3AAAAAElFTkSuQmCC);right:auto;left:0}.ls .fw-theme-steps .fw-theme-step-wrap:nth-child(even) .fw-step-center-part:after{background-image:url(data:image/png;base64,iVBORw0KGgoAAAANSUhEUgAAABsAAACSCAYAAAC0a7FFAAAAGXRFWHRTb2Z0d2FyZQBBZG9iZSBJbWFnZVJlYWR5ccllPAAAAyZpVFh0WE1MOmNvbS5hZG9iZS54bXAAAAAAADw/eHBhY2tldCBiZWdpbj0i77u/IiBpZD0iVzVNME1wQ2VoaUh6cmVTek5UY3prYzlkIj8+IDx4OnhtcG1ldGEgeG1sbnM6eD0iYWRvYmU6bnM6bWV0YS8iIHg6eG1wdGs9IkFkb2JlIFhNUCBDb3JlIDUuNi1jMDY3IDc5LjE1Nzc0NywgMjAxNS8wMy8zMC0yMzo0MDo0MiAgICAgICAgIj4gPHJkZjpSREYgeG1sbnM6cmRmPSJodHRwOi8vd3d3LnczLm9yZy8xOTk5LzAyLzIyLXJkZi1zeW50YXgtbnMjIj4gPHJkZjpEZXNjcmlwdGlvbiByZGY6YWJvdXQ9IiIgeG1sbnM6eG1wPSJodHRwOi8vbnMuYWRvYmUuY29tL3hhcC8xLjAvIiB4bWxuczp4bXBNTT0iaHR0cDovL25zLmFkb2JlLmNvbS94YXAvMS4wL21tLyIgeG1sbnM6c3RSZWY9Imh0dHA6Ly9ucy5hZG9iZS5jb20veGFwLzEuMC9zVHlwZS9SZXNvdXJjZVJlZiMiIHhtcDpDcmVhdG9yVG9vbD0iQWRvYmUgUGhvdG9zaG9wIENDIDIwMTUgKFdpbmRvd3MpIiB4bXBNTTpJbnN0YW5jZUlEPSJ4bXAuaWlkOjU5MzY0NzUzNjRGNTExRTk4RTJGQkY5OEEzNTk0MzREIiB4bXBNTTpEb2N1bWVudElEPSJ4bXAuZGlkOjU5MzY0NzU0NjRGNTExRTk4RTJGQkY5OEEzNTk0MzREIj4gPHhtcE1NOkRlcml2ZWRGcm9tIHN0UmVmOmluc3RhbmNlSUQ9InhtcC5paWQ6NTkzNjQ3NTE2NEY1MTFFOThFMkZCRjk4QTM1OTQzNEQiIHN0UmVmOmRvY3VtZW50SUQ9InhtcC5kaWQ6NTkzNjQ3NTI2NEY1MTFFOThFMkZCRjk4QTM1OTQzNEQiLz4gPC9yZGY6RGVzY3JpcHRpb24+IDwvcmRmOlJERj4gPC94OnhtcG1ldGE+IDw/eHBhY2tldCBlbmQ9InIiPz7An5OIAAAEX0lEQVR42uybaUhVURDHzzPbLCVLIxOiTUtCigorIiq/tNCCGWV9qMzCKFrJhMI2qg+VtGf1JYNWMIsWDYrULKISSiPLilKEEqIFQ31m9ZrhzsWHPPFuM5W8gT/n8O57/DjLnTtzzzyXpzhaMVtnUCioJkDx2wnQG1AKN2wxaAkIOU8kYGhrQGWBzLApoDmgS4qGx2lNOogLFgly+brgNKwrqAB0BxTW8qLTa7YLFAVyg2o5RxYHWgv6BVoK+sEFwxk6CeoAygSVcK7ZatAI0HvQtta+FODQ7tvhBXVzwsbSNF4B3Wxrru3aZVqjn0YW1gmrMvIlO9MYwP4Dsk6gZ6AMejiywlJAsaAFRtbKDgz93xbqbyWPwQZLpXvrKe1EtjXDUW3yGpWHE5YMigCVtnUD24XhPZlG/T1mR2VlZNtB10A5VrawSyBIZQsLHIH1kYIhqBKUR09iVlgy+b8mM97CCgzjv+XUP8U9jZNBA0DVoHxumJ4YnAH95oQFgRKof5Z7N84GBYMegyqcCi5bsxegLII5Yn53xQYLpMjpkF33ZGSDYDg9HNTRrnsyMrKp1OZLTOM0avO4Yb0pz6oHPeCGxdNnCGrkhk2itlBi60dQe48DFujD+YaDvkrA0D61O3c12qmQzQjsKugjKJobFk45F4Zr77hhsdS+NpO2WoXFUFsusWZDqX0pARssCRsiMY26B7mrtDegFRKwZf5Qzi4sjrKVGAnYPFA2PcvYYWHczzFvWC/qf5GAhVL/swQshPrfJGH1ErAg6tdxw9BdHQd1k5hGf5rrGCydpCTWzOMF9nCPTD8uDJGYxgbJNdM9RycJmOg06ufJwRKw71IjQ994RGnFBpUSsIt+3+gEDBPBY6r5uIoV1gO0EjRfAqYfaA+SgH2gPBpH2JMbhqDqFhko626skJhKHfaW2oESsFfURkmkuTeUVhJTKgGrUgZrOv5r3+iSgCUqrehxvwSslm7qcRKwEgpSR4G6cMPwjXc5hXQjJTbIfWonSsCKqI2XgBXQuo1XJkqczHoQ3WpAZUo7AO9LLowNhoYng24pD+KWuM/+WtyI8chC0HQJGB6yngNtloDh4Woj+clIbhg65Vt0PVFig1ygNkkCdp0SRZzKaG4YJva51F8kcZ9lUztLAlZEazaGyzd6m0d5Ffe32zQXD/RmcE6jbsNAz5X2Or6fsvi+y+jIsCzqkdJON5IlpjGT2vVW19rMj3Ipj8NANoEbhnHJAepnWMkJzE7HaaWVBGD10kxuGO7CvdSfYBZm5RABS7KxqOihhAdpsAL6p92VrwwVz0sLQd0lRpZGGU86NwwfPxuo3Qjqzz2yYgqMMFPdJ7FB0ij0m9tWBO0EDF8h7qT+UdV8rMm29Q9TXofV1OvsPjzbMqxqSqXo+aCT7qr9BTxmDCtAc1SLt0VcsFW0fueV14ESF2y30mqR0atkccPwABD/wVVH6XKSk1vfl+F75xVK+zfDbfzgjwADAEs1zfn+M0h3AAAAAElFTkSuQmCC)}.fw-theme-steps .fw-theme-step-wrap:nth-child(even) .fw-step-right-part{text-align:right}.fw-theme-steps .fw-theme-step-wrap:last-child .fw-step-center-part:after{display:none}.fw-theme-steps .fw-theme-step-wrap .fw-step-left-part{width:33%}.fw-theme-steps .fw-theme-step-wrap .fw-step-right-part{width:33%}.fw-theme-steps .fw-theme-step-wrap .fw-step-center-part{width:33%;max-width:300px;margin:0 45px}}@media (min-width:1200px){.fw-theme-steps .fw-theme-step-wrap .fw-step-center-part{margin:0 65px}.fw-theme-steps .fw-theme-step-wrap .fw-step-center-part:after{right:-6px}.fw-theme-steps .fw-theme-step-wrap:nth-child(even) .fw-step-center-part:after{left:0}}.fw-theme-steps.steps-2{display:flex;flex-wrap:wrap;justify-content:center;align-items:center}.fw-theme-steps.steps-2.layout-4 .fw-theme-step-wrap{margin:0 10px;max-width:300px}.fw-theme-steps.steps-2.layout-4 .fw-theme-step-wrap+.fw-theme-step-wrap{margin:0 10px}.fw-theme-steps.steps-2.layout-4 .fw-step-center-part img{max-width:260px}.fw-theme-steps.steps-2.layout_item2.layout-3 .fw-theme-step-wrap{padding-top:55px}@media (min-width:992px){.fw-theme-steps.steps-2.layout_item2.layout-3 .fw-theme-step-wrap .fw-step-left-part .step-title:before{top:-320px;z-index:-3;font-size:120px}}.fw-theme-steps.steps-2.layout_item2.layout-4 .fw-theme-step-wrap{padding-top:46px}@media (max-width:1700px){.fw-theme-steps.steps-2.layout_item2.layout-4 .fw-theme-step-wrap{margin:0 40px;max-width:280px}.fw-theme-steps.steps-2.layout_item2.layout-4 .fw-theme-step-wrap+.fw-theme-step-wrap{margin:0 40px}}@media (max-width:1460px){.fw-theme-steps.steps-2.layout_item2.layout-4 .fw-theme-step-wrap{margin:0 30px;max-width:236px}.fw-theme-steps.steps-2.layout_item2.layout-4 .fw-theme-step-wrap+.fw-theme-step-wrap{margin:0 30px}.fw-theme-steps.steps-2.layout_item2.layout-4 .fw-theme-step-wrap .fw-step-center-part img{max-width:230px}.fw-theme-steps.steps-2.layout_item2.layout-4 .fw-theme-step-wrap .fw-step-left-part .step-title:before{font-size:80px;top:-250px}}@media (max-width:1200px){.fw-theme-steps.steps-2.layout_item2.layout-4 .fw-theme-step-wrap{max-width:240px}}@media (max-width:991px){.fw-theme-steps.steps-2.layout_item2.layout-4 .fw-theme-step-wrap .fw-step-left-part .step-title:before{top:-25px}}.fw-theme-steps.steps-2.layout_item2 .fw-theme-step-wrap{margin:0 60px}@media (min-width:992px){.fw-theme-steps.steps-2.layout_item2 .fw-theme-step-wrap:nth-child(even) .fw-step-center-part:after{right:-83px;bottom:-22px}}.fw-theme-steps.steps-2.layout_item2 .fw-theme-step-wrap+.fw-theme-step-wrap{margin:0 60px}.fw-theme-steps.steps-2.layout_item2 .fw-theme-step-wrap .fw-step-left-part{margin-top:12px}@media (min-width:992px){.fw-theme-steps.steps-2.layout_item2 .fw-theme-step-wrap .fw-step-left-part .step-title:before{top:-272px;z-index:-3;font-size:120px}}.fw-theme-steps.steps-2.layout_item2 .fw-theme-step-wrap .fw-step-center-part{z-index:10}@media (min-width:992px){.fw-theme-steps.steps-2.layout_item2 .fw-theme-step-wrap .fw-step-center-part:after{right:-82px;top:-31px}}.fw-theme-steps.steps-2 .fw-theme-step-wrap{justify-content:center;align-items:center;flex-direction:column;margin:0 40px;display:flex;max-width:300px}@media (max-width:1200px){.fw-theme-steps.steps-2 .fw-theme-step-wrap{margin:0 40px 40px}}@media (max-width:991px){.fw-theme-steps.steps-2 .fw-theme-step-wrap{margin:0 20px 40px}}.fw-theme-steps.steps-2 .fw-theme-step-wrap+.fw-theme-step-wrap{margin:0 40px}@media (max-width:1200px){.fw-theme-steps.steps-2 .fw-theme-step-wrap+.fw-theme-step-wrap{margin:0 40px 40px}}.fw-theme-steps.steps-2 .fw-theme-step-wrap .fw-step-center-part{margin:0;order:1;width:100%;flex-basis:auto}@media (max-width:1200px){.fw-theme-steps.steps-2 .fw-theme-step-wrap .fw-step-center-part:after{display:none}}.fw-theme-steps.steps-2 .fw-theme-step-wrap .fw-step-left-part{order:2;width:100%;height:auto;margin-top:21px;flex-basis:auto}@media (max-width:991px){.fw-theme-steps.steps-2 .fw-theme-step-wrap .fw-step-left-part{margin-top:30px}.fw-theme-steps.steps-2 .fw-theme-step-wrap .fw-step-left-part h2{margin-bottom:20px}}.fw-theme-steps.steps-2 .fw-theme-step-wrap .fw-step-right-part{order:3;width:100%;height:auto;text-align:center;margin-top:5px;flex-basis:auto}.fw-theme-steps.steps-2 .fw-theme-step-wrap .fw-step-right-part p{margin-bottom:0;font-size:16px}@media (min-width:992px){.fw-theme-steps.steps-2 .step-title{font-size:30px;line-height:60px}.fw-theme-steps.steps-2 .fw-theme-step-wrap:nth-child(odd) .step-title,.fw-theme-steps.steps-2 .fw-theme-step-wrap:nth-child(even) .step-title{text-align:center}.fw-theme-steps.steps-2 .fw-theme-step-wrap:nth-child(odd) .step-title:before,.fw-theme-steps.steps-2 .fw-theme-step-wrap:nth-child(even) .step-title:before{font-size:80px;top:50%;left:50%;transform:translateX(-50%) translateY(-50%);width:auto;text-align:center}.fw-theme-steps.steps-2 .fw-theme-step-wrap .fw-step-center-part:after{transform:rotate(-90deg);right:-64px;top:-46px}.fw-theme-steps.steps-2 .fw-theme-step-wrap:nth-child(even) .fw-step-center-part:after{right:-64px;left:auto;bottom:-39px;top:auto}}.fw-theme-signature{display:flex;flex-wrap:wrap;justify-content:space-between;align-items:center}.fw-theme-signature.type-2{justify-content:flex-start}.fw-theme-signature.type-2 .img-part{margin-right:60px}@media (max-width:575px){.fw-theme-signature.type-2 .img-part{margin-right:20px}}.fw-theme-signature .section_header{font-weight:700;font-size:16px;margin-bottom:0}.fw-theme-signature .desc{font-size:16px;text-transform:none}.fw-theme-signature .img-part{display:flex;align-items:center;justify-content:center}.author-bio-shortcode{text-align:center}.author-bio-shortcode .author_bio_shortcode_wrap{position:relative;max-width:730px;margin:0 auto}.author-bio-shortcode .author_bio_shortcode_wrap .owl-carousel.owl-loaded{margin-bottom:0}.author-bio-shortcode .author_bio_shortcode_wrap .custom-nav{display:none}.author-bio-shortcode .bio-text{color:#fff;font-size:16px;padding:0 15px;position:relative;max-width:730px}.author-bio-shortcode .author-bio-word{position:absolute;width:100%;top:-50%;left:-80px;font-size:240px;text-transform:uppercase;font-weight:900;color:#ffc326;opacity:.1}@media (max-width:1350px){.author-bio-shortcode .author-bio-word{font-size:200px}}@media (max-width:1200px){.author-bio-shortcode .author-bio-word{font-size:150px}}@media (max-width:991px){.author-bio-shortcode .author-bio-word{font-size:120px}}@media (max-width:768px){.author-bio-shortcode .author-bio-word{font-size:100px}}@media (max-width:575px){.author-bio-shortcode .author-bio-word{font-size:80px}}@media (max-width:480px){.author-bio-shortcode .author-bio-word{font-size:50px}}.author-bio-shortcode .owl-carousel-slider{transition:left .5s ease;position:relative;margin-top:94px;margin-bottom:90px;transform:translateX(50%);height:5px;background-color:rgba(255,255,255,.1)}@media (max-width:1200px){.author-bio-shortcode .owl-carousel-slider{margin-bottom:60px}}@media (max-width:991px){.author-bio-shortcode .owl-carousel-slider{margin-bottom:50px}}@media (max-width:768px){.author-bio-shortcode .owl-carousel-slider{margin-bottom:40px}}.author-bio-shortcode .ui-slider-handle{outline:none;display:none}.author-bio-shortcode .ui-slider-range{height:5px;transition:width .5s ease;background-color:#fff;position:absolute;top:0}.author-bio-shortcode .author-bio-flex{position:relative;z-index:2;display:flex;justify-content:space-between}.author-bio-shortcode .author-bio-flex:first-child{margin-left:-15px;margin-right:-15px}.author-bio-shortcode .author-bio-flex:first-child span{transition:background-color .5s ease;margin-top:-5px;cursor:pointer;display:block;width:16px;height:16px;border-radius:50%;background-color:#ffc326;box-shadow:0 0 0 4px rgba(24,24,24,.4)}.author-bio-shortcode .author-bio-flex:first-child span.active{background-color:#ffc326}.author-bio-shortcode .author-bio-flex:first-child+div{margin-left:-2.5em;margin-right:-1em;position:relative;top:-60px}.author-bio-shortcode .author-bio-flex .year-label{transition:color .5s ease;color:#fff;font-size:20px;font-weight:700;text-indent:.2em}.author-bio-shortcode .author-bio-flex .year-label.active{color:#ffc326}.shortcode-team-slider{position:relative;width:100%;display:block;overflow:hidden}.shortcode-team-slider .slider-title{display:none;word-break:unset;text-transform:uppercase;position:absolute;color:rgba(255,195,38,.1);font-size:320px;font-weight:600;letter-spacing:-7.5px;line-height:1;left:-304px;top:50%;text-indent:3.5px;transform:translateY(-50%) rotate(-90deg);margin-top:0;margin-bottom:0;z-index:4}.shortcode-team-slider .menu__item{text-decoration:none;color:#181818;outline:none;opacity:1;margin-bottom:15px;cursor:pointer}.shortcode-team-slider .menu__item:hover,.shortcode-team-slider .menu__item:focus{outline:none;color:#ffc326}.shortcode-team-slider .menu__item:hover span.position,.shortcode-team-slider .menu__item:focus span.position{color:#181818 !important}.shortcode-team-slider .menu__item{font-size:1.5em;line-height:1;font-weight:600;text-transform:capitalize;display:block;-webkit-transition:all .2s ease-in-out 0s;-moz-transition:all .2s ease-in-out 0s;-o-transition:all .2s ease-in-out 0s;-ms-transition:all .2s ease-in-out 0s;transition:all .2s ease-in-out 0s}.shortcode-team-slider .menu__item span{font-weight:300}.shortcode-team-slider .menu__item.flex-active,.shortcode-team-slider .menu__item.flex-active:hover,.shortcode-team-slider .menu__item.flex-active:focus{opacity:1;color:#ffc326}.shortcode-team-slider .menu__item.flex-active span.position,.shortcode-team-slider .menu__item.flex-active:hover span.position,.shortcode-team-slider .menu__item.flex-active:focus span.position{color:#181818}.shortcode-team-slider .flexslider-controls{position:absolute;width:auto;right:0;left:6%;top:50%;transform:translateY(-50%);z-index:4}.shortcode-team-slider .flexslider-controls>ul{padding-left:0}.shortcode-team-slider .team-social-icons{margin-top:0;margin-bottom:20px;z-index:4}.shortcode-team-slider .team-social-icons a.social-icon.color-icon.border-icon.rounded-icon{border-width:3px;border-style:solid;padding:0;margin-bottom:4px;line-height:34px;width:40px;height:40px}.shortcode-team-slider .team-social-icons{display:none;-webkit-transition:all .2s ease-in-out 0s;-moz-transition:all .2s ease-in-out 0s;-o-transition:all .2s ease-in-out 0s;-ms-transition:all .2s ease-in-out 0s;transition:all .2s ease-in-out 0s}.shortcode-team-slider .menu__item.flex-active+.team-social-icons{display:block}@media (min-width:768px){.shortcode-team-slider .menu__item{font-size:30px}.shortcode-team-slider .team-social-icons{margin-bottom:0;position:absolute;right:10px;width:60px;top:50%;transform:translateY(-50%)}.shortcode-team-slider .team-social-icons a.social-icon.color-icon.border-icon.rounded-icon{display:inline-block;margin-left:0;margin-bottom:10px !important}.shortcode-team-slider .team-social-icons a.social-icon.color-icon.border-icon.rounded-icon:last-child{margin-bottom:0 !important}}@media (min-width:1200px){.shortcode-team-slider .team-social-icons{right:40px}.shortcode-team-slider .team-social-icons a.social-icon.color-icon.border-icon.rounded-icon{width:60px;height:60px;line-height:54px}.shortcode-team-slider .menu__item{font-size:40px}}@media (min-width:1600px){.shortcode-team-slider .flexslider-controls{left:20%}.shortcode-team-slider .menu__item{font-size:40px}.shortcode-team-slider .slider-title{display:block}.shortcode-team-slider .team-social-icons{right:80px}}@media (max-width:768px){.shortcode-team-slider .slides img{position:relative;right:87px}.shortcode-team-slider .menu__item span.position:after{display:none}.shortcode-team-slider .flexslider-controls{padding:30px 15px 40px;text-align:center;position:relative;width:100%;right:0;left:0;top:auto;transform:none}.shortcode-team-slider .team-social-icons{margin-top:20px;margin-bottom:20px}}@media (max-width:1200px){.shortcode-team-slider.left-image .slides img{right:auto;left:50%;transform:translateX(0%)}}@media (max-width:991px){.shortcode-team-slider.left-image .slides img{right:auto;left:50%;transform:translateX(0%)}}@media (max-width:768px){.shortcode-team-slider.left-image .slides img{right:auto;left:50%;transform:translateX(-25%)}}.shortcode-team-slider.left-image .slider-title{right:-305px;left:auto;transform:translateY(-50%) rotate(90deg)}.shortcode-team-slider.left-image .flexslider-controls{right:20%;left:auto}@media (max-width:1650px){.shortcode-team-slider.left-image .flexslider-controls{right:17%}}@media (max-width:1599px){.shortcode-team-slider.left-image .flexslider-controls{right:10%}}@media (max-width:1300px){.shortcode-team-slider.left-image .flexslider-controls{right:5%}}@media (max-width:1200px){.shortcode-team-slider.left-image .flexslider-controls{right:10%}}@media (max-width:991px){.shortcode-team-slider.left-image .flexslider-controls{right:5%}.shortcode-team-slider.left-image .flexslider-controls .menu__item{font-size:1.5em}}@media (max-width:768px){.shortcode-team-slider.left-image .flexslider-controls{right:0;left:0}}.ds .shortcode-team-slider .menu__item{color:#ffc326}.ds .shortcode-team-slider .menu__item span.position{color:#fff}.ds .shortcode-team-slider .menu__item.flex-active,.ds .shortcode-team-slider .menu__item:hover{color:#fff}.ds .shortcode-team-slider .menu__item.flex-active span.position,.ds .shortcode-team-slider .menu__item:hover span.position{color:#fff !important}.owl-carousel{display:none;width:100%;-webkit-tap-highlight-color:transparent;position:relative;z-index:1}.owl-carousel .owl-stage{position:relative;-ms-touch-action:pan-Y}.owl-carousel .owl-stage:after{content:".";display:block;clear:both;visibility:hidden;line-height:0;height:0}.owl-carousel .owl-stage-outer{position:relative;overflow:hidden;-webkit-transform:translate3d(0px,0px,0px)}.owl-carousel .owl-item{position:relative;min-height:1px;float:left;-webkit-backface-visibility:hidden;-webkit-tap-highlight-color:transparent;-webkit-touch-callout:none}.owl-carousel .owl-item img{display:block;width:100%;-webkit-transform-style:preserve-3d}.owl-carousel .owl-nav.disabled,.owl-carousel .owl-dots.disabled{display:none}.owl-carousel .owl-nav .owl-prev,.owl-carousel .owl-nav .owl-next,.owl-carousel .owl-dot{cursor:pointer;cursor:hand;-webkit-user-select:none;-khtml-user-select:none;-moz-user-select:none;-ms-user-select:none;user-select:none;-webkit-transition:all .2s ease-in-out 0s;-moz-transition:all .2s ease-in-out 0s;-o-transition:all .2s ease-in-out 0s;-ms-transition:all .2s ease-in-out 0s;transition:all .2s ease-in-out 0s}.owl-carousel.owl-loaded{display:block;margin-bottom:0}.owl-carousel.owl-loading{opacity:0;display:block}.owl-carousel.owl-hidden{opacity:0}.owl-carousel.owl-refresh .owl-item{display:none}.owl-carousel.owl-drag .owl-item{-webkit-user-select:none;-moz-user-select:none;-ms-user-select:none;user-select:none}.owl-carousel.owl-grab{cursor:move;cursor:grab}.owl-carousel.owl-rtl{direction:rtl}.owl-carousel.owl-rtl .owl-item{float:right}.owl-carousel .owl-dots{text-align:center;-webkit-tap-highlight-color:transparent}.owl-carousel .owl-dots .owl-dot{display:inline-block;zoom:1;*display:inline;}.owl-carousel .owl-dots .owl-dot span{width:10px;height:10px;margin:5px 6px;border:2px solid #232323;display:block;-webkit-backface-visibility:visible;-webkit-transition:all .2s ease;-moz-transition:all .2s ease;-ms-transition:all .2s ease;-o-transition:all .2s ease;transition:all .2s ease;-webkit-border-radius:50%;-moz-border-radius:50%;border-radius:50%}.owl-carousel .owl-dots .owl-dot.active span,.owl-carousel .owl-dots .owl-dot:hover span{border-color:#ffc326}.owl-carousel .owl-nav{-webkit-transition:all .6s ease 0s;-moz-transition:all .6s ease 0s;-o-transition:all .6s ease 0s;-ms-transition:all .6s ease 0s;transition:all .6s ease 0s}.owl-carousel .owl-nav>div{color:transparent;font-size:0;display:inline-block;right:10px;text-align:center;width:60px;height:60px;background-color:#fff}.owl-carousel .owl-nav>div.disabled{opacity:.1;cursor:default}.owl-carousel .owl-nav>div:first-child{left:10px;right:auto}.owl-carousel .owl-nav>div:after{-webkit-transition:all .3s ease 0s;-moz-transition:all .3s ease 0s;-o-transition:all .3s ease 0s;-ms-transition:all .3s ease 0s;transition:all .3s ease 0s;font-family:"rt-icons-2";font-size:20px;line-height:60px;content:"";color:#232323}.owl-carousel .owl-nav>div:first-child:after{content:""}.owl-carousel .owl-nav>div:hover:after{color:#ffc326}.top-right-nav .owl-nav{position:absolute;top:-70px;right:0}.top-right-nav .owl-nav>div{background:0 0}.no-js .owl-carousel{display:block}.owl-carousel .animated{animation-duration:1s;animation-fill-mode:both}.owl-carousel .owl-animated-in{z-index:0}.owl-carousel .owl-animated-out{z-index:1}.owl-carousel .fadeOut{animation-name:fadeOut}@keyframes fadeOut{0%{opacity:1}100%{opacity:0}}.owl-height{transition:height .5s ease-in-out}.owl-carousel .owl-item .owl-lazy{opacity:0;transition:opacity .4s ease}.owl-carousel .owl-item img.owl-lazy{transform-style:preserve-3d}.owl-carousel .owl-video-wrapper{position:relative;height:100%;background:#000}.owl-carousel .owl-video-play-icon{position:absolute;height:80px;width:80px;left:50%;top:50%;margin-left:-40px;margin-top:-40px;background:url(//alphatowtruckservices.com/wp-content/themes/towy/css/../img/owl.video.play.png) no-repeat;cursor:pointer;z-index:1;-webkit-backface-visibility:hidden;transition:transform .1s ease}.owl-carousel .owl-video-play-icon:hover{transform:scale(1.3,1.3)}.owl-carousel .owl-video-playing .owl-video-tn,.owl-carousel .owl-video-playing .owl-video-play-icon{display:none}.owl-carousel .owl-video-tn{opacity:0;height:100%;background-position:center center;background-repeat:no-repeat;background-size:contain;transition:opacity .4s ease}.owl-carousel .owl-video-frame{position:relative;z-index:1;height:100%;width:100%}.owl-theme:hover .owl-nav{top:50%;opacity:1}.owl-theme .owl-nav{position:absolute;top:-5%;opacity:0;right:0;left:0;text-align:center;-webkit-tap-highlight-color:transparent}.owl-theme .owl-nav>div{color:transparent;font-size:0;position:absolute;right:10px;text-align:center;margin-top:-30px;width:60px;height:60px;background-color:#fff}.owl-theme .owl-nav .disabled{opacity:.5;cursor:default}.owl-theme .owl-dots{margin-top:40px}.owl-center .owl-nav{top:0;bottom:0;position:static;margin-top:0;opacity:1}.owl-center .owl-nav>div{right:-15px;width:50px;top:0;bottom:0;margin:0;height:auto;background-color:rgba(35,35,35,.6)}.owl-center .owl-nav>div:first-child{left:-15px;right:auto}.owl-center .owl-nav>div:first-child:after{left:13px}.owl-center .owl-nav>div:after{position:absolute;top:50%;margin-top:-10px;color:#fff;font-size:20px;left:17px}.owl-carousel .owl-item{-webkit-transition:opacity .4s ease .2s;-moz-transition:opacity .4s ease .2s;-o-transition:opacity .4s ease .2s;-ms-transition:opacity .4s ease .2s;transition:opacity .4s ease .2s;opacity:0}.owl-carousel .owl-item.active{opacity:1}.owl-center .owl-item{opacity:1}.flex-container a:active,.flexslider a:active,.flex-container a:focus,.flexslider a:focus{outline:none}.slides,.flex-control-nav,.flex-direction-nav{margin:0;padding:0;list-style:none}.flexslider{margin:0;padding:0}.flexslider .slides>li{display:none;-webkit-backface-visibility:hidden}.flexslider .slides img{width:100%;display:block}.flex-pauseplay span{text-transform:capitalize}.slides:after{content:" ";display:block;clear:both;visibility:hidden;line-height:0;height:0}html[xmlns] .slides{display:block}* html .slides{height:1%}.no-js .slides>li:first-child{display:block}.flexslider{margin:0;position:relative;zoom:1}.flex-viewport{max-height:2000px;-webkit-transition:all 1s ease;-moz-transition:all 1s ease;-o-transition:all 1s ease;transition:all 1s ease}.loading .flex-viewport{max-height:300px}.flexslider .slides{zoom:1}.flex-direction-nav{*height:0;}.flex-direction-nav a{text-decoration:none;display:block;width:40px;height:40px;margin:-40px 0 0;position:absolute;top:50%;z-index:10;overflow:hidden;opacity:1;cursor:pointer;font-size:0;color:transparent;text-align:center}.flex-direction-nav .flex-prev{left:40px}.flex-direction-nav .flex-next{right:40px;text-align:right}.flexslider:hover .flex-prev{opacity:1;left:40px}.flexslider:hover .flex-next{opacity:1;right:40px}.flexslider:hover .flex-next:hover,.flexslider:hover .flex-prev:hover{opacity:1}.flex-direction-nav .flex-disabled{opacity:0;filter:alpha(opacity=0);cursor:default}.flex-direction-nav a:before{font-family:"FontAwesome";font-size:40px;content:"";color:#fff;opacity:.5;position:absolute;top:5px;left:12px;-webkit-transition:all .3s ease-in-out 0s;transition:all .3s ease-in-out 0s}.flex-direction-nav a:hover:before{color:#fff;opacity:1}.flex-direction-nav a.flex-next:before{content:"";left:14px}.flex-pauseplay a{display:block;width:20px;height:20px;position:absolute;bottom:5px;left:10px;opacity:.8;z-index:10;overflow:hidden;cursor:pointer;color:#000}.flex-pauseplay a:before{font-family:"rt-icons-2";font-size:20px;display:inline-block;content:""}.flex-pauseplay a:hover{opacity:1}.flex-pauseplay a.flex-play:before{content:""}.flex-control-nav{width:100%;position:absolute;bottom:42px;text-align:center;z-index:10}.flex-control-nav li{text-align:center;display:inline-block;padding:0 4px;zoom:1;*display:inline;}.flex-control-paging li a{width:12px;height:12px;display:block;color:transparent;border:2px solid #232323;cursor:pointer;text-indent:-9999px;-webkit-border-radius:50%;-moz-border-radius:50%;-o-border-radius:50%;border-radius:50%}.ds .flex-control-paging li a,.cs .flex-control-paging li a{border-color:#fff}.flex-control-paging li a:hover{border-color:#ffc326}.flex-control-paging li a.flex-active{border-color:#ffc326}.flex-control-thumbs{margin:5px 0 0;position:static;overflow:hidden}.flex-control-thumbs li{width:25%;float:left;margin:0}.flex-control-thumbs img{width:100%;display:block;opacity:.7;cursor:pointer}.flex-control-thumbs img:hover{opacity:1}.flex-control-thumbs .flex-active{opacity:1;cursor:default}@media screen and (max-width:600px){.flex-direction-nav .flex-prev{top:14%}.flex-direction-nav .flex-next{top:14%}}.flex-custom-nav{text-align:center;position:absolute;bottom:38px;right:0;left:0;z-index:3;line-height:1;-webkit-transition:all .2s ease-in-out 0s;-moz-transition:all .2s ease-in-out 0s;-o-transition:all .2s ease-in-out 0s;-ms-transition:all .2s ease-in-out 0s;transition:all .2s ease-in-out 0s}.flex-custom-nav .flex-control-nav{width:auto;display:inline-block;position:static}.flex-custom-nav .flex-custom-link{font-size:12px;position:relative;bottom:7px;margin:0 8px;color:#232323}.ds .flex-custom-nav .flex-custom-link,.cs .flex-custom-nav .flex-custom-link{color:#fff}.flex-custom-nav .flex-custom-link:hover{color:#ffc326}.intro_section:hover .flex-custom-nav{opacity:1}div.facebook .pp_description{margin:0 37px 0 0}div.pp_pic_holder a:focus{outline:none}div.pp_overlay{background:#000;display:none;left:0;position:absolute;top:0;width:100%;z-index:9500}div.pp_pic_holder{display:none;position:absolute;width:100px;z-index:10000}.pp_content{height:40px;min-width:40px;overflow:hidden}* html .pp_content{width:40px}.pp_content_container{position:relative;text-align:left;width:100%}.pp_content_container .pp_left{padding-left:20px}.pp_content_container .pp_right{padding-right:20px}.pp_content_container .pp_details{float:left;padding:8px 10px;line-height:1;background-color:#fff}.pp_description{display:none;margin:0}.pp_social{float:left;margin:0 0 0 30px}.pp_social .facebook{float:left;margin-left:5px;width:auto;overflow:hidden}.pp_social .twitter{float:left}.pp_nav p{float:left;white-space:nowrap;margin:4px 6px;font-weight:700;opacity:.7}.pp_nav .pp_play,.pp_nav .pp_pause,a.pp_arrow_previous,a.pp_arrow_next{float:left;text-align:center;font-size:0;color:transparent}.pp_nav .pp_play:before,.pp_nav .pp_pause:before,a.pp_arrow_previous:before,a.pp_arrow_next:before{line-height:20px;display:inline-block;width:20px;font-family:"FontAwesome";font-size:12px;color:#232323;opacity:.7;content:""}.pp_nav .pp_play:hover:before,.pp_nav .pp_pause:hover:before,a.pp_arrow_previous:hover:before,a.pp_arrow_next:hover:before{opacity:1}.pp_nav .pp_pause:before{content:""}a.pp_arrow_previous:before{content:""}a.pp_arrow_next:before{content:""}a.pp_arrow_previous.disabled,a.pp_arrow_next.disabled{visibility:hidden;cursor:default}.pp_hoverContainer{position:absolute;top:0;width:100%;z-index:2000}.pp_gallery{display:none;left:50%;margin-top:-50px;position:absolute;z-index:10000}.pp_gallery div{float:left;overflow:hidden;position:relative}.pp_gallery ul{float:left;height:35px;position:relative;white-space:nowrap;margin:0 0 0 5px;padding:0}.pp_gallery ul a{border:1px rgba(0,0,0,.1) solid;display:block;float:left;height:33px;overflow:hidden}.pp_gallery ul a:hover,.pp_gallery ul .selected a{border-color:#ffc326}.pp_gallery ul a img{border:0}.pp_gallery li{display:block;float:left;margin:0 5px 0 0;padding:0}.pp_gallery li.default a{background:url(data:image/gif;base64,R0lGODlhMgAhAMQAAAAAAP///2lpaXt7ewkJCTAwMOHh4VpaWgYGBvPz8zMzMxgYGBISEiEhIZycnMnJyfDw8MDAwPb29khISJmZmdXV1XJych4eHgAAAAAAAAAAAAAAAAAAAAAAAAAAAAAAACH5BAAAAAAALAAAAAAyACEAAAVgICCOZGmeaKqubOu+cCzPdG3feK7vfO//OcUFCBNIBgRiSxAIGA7KFbMZeBSiqCk14FhgS9ptYoD4isLUysR83gYgljIbEKYw5qNp5IrPP/slDUmAhIWGh4iJiouMjYghADs=) 0 0 no-repeat;display:block;height:33px;width:50px}div.facebook .pp_gallery .pp_arrow_previous,div.facebook .pp_gallery .pp_arrow_next{margin-top:7px}a.pp_next,a.pp_previous{position:relative;display:block;float:right;height:100%;width:49%;font-size:0;color:transparent;opacity:0}a.pp_next:before,a.pp_previous:before{line-height:1;background-color:rgba(35,35,35,.3);font-size:18px;padding:10px 15px 10px 18px;color:#fff;font-family:"FontAwesome";content:"";position:absolute;top:50%;margin-top:-3px;right:30px}a.pp_next:hover,a.pp_previous:hover{opacity:1}a.pp_previous{float:left}a.pp_previous:before{content:"";right:auto;padding:10px 18px 10px 15px;left:30px}a.pp_expand,a.pp_contract{cursor:pointer;display:none;position:absolute;right:30px;top:19px;z-index:20000;font-size:0;color:transparent;text-align:center}a.pp_expand:before,a.pp_contract:before{font-size:14px;line-height:20px;color:#fff;font-family:"FontAwesome";content:"";background-color:rgba(35,35,35,.3);padding:12px 13px}a.pp_contract:before{content:""}a.pp_close{display:none;position:absolute;right:-7px;top:-25px;font-size:0;color:transparent}a.pp_close:before{background-color:#181818;padding:6px 8px;font-size:14px;color:#fff;font-family:"FontAwesome";content:""}.pp_loaderIcon{height:50px;width:50px;left:50%;top:50%;position:absolute;margin:-25px 0 0 -25px;text-align:center;-moz-animation:spin 2s infinite linear;-o-animation:spin 2s infinite linear;-webkit-animation:spin 2s infinite linear;animation:spin 2s infinite linear}.pp_loaderIcon:before{display:block;font-family:"FontAwesome";content:"";color:#fff;font-size:50px;line-height:50px;opacity:.6}#pp_full_res{line-height:1}#pp_full_res .pp_inline{text-align:left}#pp_full_res .pp_inline p{margin:0 0 15px}div.ppt{color:#fff;display:none;font-size:18px;z-index:9999;margin:0 0 5px 20px}.pp_top,.pp_bottom{position:relative}* html .pp_top,* html .pp_bottom{padding:0 20px}.pp_top .pp_left,.pp_bottom .pp_left{height:20px;left:0;position:absolute;width:20px}.pp_top .pp_middle,.pp_bottom .pp_middle{height:20px;left:20px;position:absolute;right:20px}* html .pp_top .pp_middle,* html .pp_bottom .pp_middle{left:0;position:static}.pp_top .pp_right,.pp_bottom .pp_right{height:20px;left:auto;position:absolute;right:0;top:0;width:20px}.pp_fade,.pp_gallery li.default a img{display:none}.chart{position:relative;display:inline-block;min-height:150px;min-width:150px;margin-top:20px;margin-bottom:10px;text-align:center}.chart .chart-meta{position:absolute;width:100%;top:50%;margin-top:-30px}.percent{display:inline-block;font-size:70px;font-weight:100;z-index:2;letter-spacing:-.05em}.percent:after{content:"%"}.angular{margin-top:100px}.angular .chart{margin-top:0}#timetable span{display:block}#timetable th,#timetable td{vertical-align:middle;font-weight:400;text-align:center;padding:25px 5px}#timetable thead{color:#fff}#timetable thead th{border:1px solid rgba(255,255,255,.1);border-width:0 1px}#timetable tbody th,#timetable tbody td{border:1px solid #b4b4b4;-webkit-transition:all .2s ease-in-out 0s;-moz-transition:all .2s ease-in-out 0s;-o-transition:all .2s ease-in-out 0s;-ms-transition:all .2s ease-in-out 0s;transition:all .2s ease-in-out 0s}#timetable tbody .current{background-color:#ffc326;border-color:#ffc326}#timetable tbody .current a{color:#fff}#toTop{bottom:0;right:0;display:none;width:60px;height:40px;overflow:hidden;position:fixed;text-decoration:none;z-index:9999;font-size:0;color:transparent;background-color:#ffc326;opacity:.7}#toTop:after{color:#fff;content:"";font-size:16px;line-height:40px;font-family:"FontAwesome";text-align:center;display:block;position:absolute;top:0;right:0;bottom:0;left:0;-webkit-transition:all .2s linear;-moz-transition:all .2s linear;-o-transition:all .2s linear;-ms-transition:all .2s linear;transition:all .2s linear}#toTopHover,#toTop:hover{bottom:3px;opacity:1}#toTop:hover:after{color:#fff}#toTop:active,#toTop:focus{outline:medium none}.modal-open #toTop{visibility:hidden}#comingsoon-countdown{text-align:center}#comingsoon-countdown:before,#comingsoon-countdown:after{clear:both;display:table;content:" "}.countdown-rtl{direction:rtl}.countdown-row{clear:both;display:table;margin:auto;padding:20px 0;margin-bottom:20px;text-align:center}.countdown-section{display:table-cell;padding:10px 30px 20px;text-align:center;border-left:1px solid rgba(255,255,255,.1)}.countdown-section:first-child{border-left-width:0}.countdown-amount{font-size:90px;line-height:1;font-weight:100;color:#ffc326}.countdown-period{display:block;font-size:28px;font-weight:100}.countdown-descr{display:block}@media (max-width:767px){.countdown-section{padding:20px 8px 0}.countdown-amount{font-size:40px}.countdown-period{font-size:16px}}a[class*=soc-]:before{font-family:"socicon";font-size:14px}a.social-icon{display:inline-block;line-height:1;text-align:center;vertical-align:middle}a.social-icon span{opacity:.7;display:block;font-size:14px;text-transform:uppercase}a.social-icon span:first-child{font-size:24px;margin-top:8px;font-weight:700}a.social-icon [class*=rt-icon]+span{font-size:24px;margin-top:8px;font-weight:700}a.social-icon+a.social-icon,a.social-icon .tooltip+a.social-icon{margin-left:16px}a.social-icon.bg-icon+a.social-icon.bg-icon{margin-left:7px}a.social-icon.color-bg-icon+a.social-icon.color-bg-icon{margin-left:1px}a.social-icon.block-icon{width:100%}a[class*=soc-].rounded-icon{-webkit-border-radius:50%;border-radius:50%}a.big-icon{width:112px;height:112px;padding-top:20px;padding-bottom:20px;overflow:hidden}a.big-icon[class*=soc-]:before{font-size:32px}a.big-icon [class*=rt-icon]:before{font-size:32px}a.color-icon.soc-twitter,a[class*=soc-].soc-twitter:hover{color:#00abef;border-color:#00abef}a.color-icon.soc-facebook,a[class*=soc-].soc-facebook:hover{color:#507cbe;border-color:#507cbe}a.color-icon.soc-google,a[class*=soc-].soc-google:hover{color:#d93e2d;border-color:#d93e2d}a.color-icon.soc-pinterest,a[class*=soc-].soc-pinterest:hover{color:#c92619;border-color:#c92619}a.color-icon.soc-foursquare,a[class*=soc-].soc-foursquare:hover{color:#23b7e0;border-color:#23b7e0}a.color-icon.soc-yahoo,a[class*=soc-].soc-yahoo:hover{color:#6e2a85;border-color:#6e2a85}a.color-icon.soc-skype,a[class*=soc-].soc-skype:hover{color:#28abe3;border-color:#28abe3}a.color-icon.soc-yelp,a[class*=soc-].soc-yelp:hover{color:#c83218;border-color:#c83218}a.color-icon.soc-feedburner,a[class*=soc-].soc-feedburner:hover{color:#fc0;border-color:#fc0}a.color-icon.soc-linkedin,a[class*=soc-].soc-linkedin:hover{color:#3371b7;border-color:#3371b7}a.color-icon.soc-viadeo,a[class*=soc-].soc-viadeo:hover{color:#e4a000;border-color:#e4a000}a.color-icon.soc-xing,a[class*=soc-].soc-xing:hover{color:#005a60;border-color:#005a60}a.color-icon.soc-myspace,a[class*=soc-].soc-myspace:hover{color:#323232;border-color:#323232}a.color-icon.soc-soundcloud,a[class*=soc-].soc-soundcloud:hover{color:#fe3801;border-color:#fe3801}a.color-icon.soc-spotify,a[class*=soc-].soc-spotify:hover{color:#7bb342;border-color:#7bb342}a.color-icon.soc-grooveshark,a[class*=soc-].soc-grooveshark:hover{color:#f67e03;border-color:#f67e03}a.color-icon.soc-lastfm,a[class*=soc-].soc-lastfm:hover{color:#d41316;border-color:#d41316}a.color-icon.soc-youtube,a[class*=soc-].soc-youtube:hover{color:#d12121;border-color:#d12121}a.color-icon.soc-vimeo,a[class*=soc-].soc-vimeo:hover{color:#51b5e7;border-color:#51b5e7}a.color-icon.soc-dailymotion,a[class*=soc-].soc-dailymotion:hover{color:#004e72;border-color:#004e72}a.color-icon.soc-vine,a[class*=soc-].soc-vine:hover{color:#00b389;border-color:#00b389}a.color-icon.soc-flickr,a[class*=soc-].soc-flickr:hover{color:#0062dd;border-color:#0062dd}a.color-icon.soc-500px,a[class*=soc-].soc-500px:hover{color:#58a9de;border-color:#58a9de}a.color-icon.soc-instagram,a[class*=soc-].soc-instagram:hover{color:#9c7c6e;border-color:#9c7c6e}a.color-icon.soc-wordpress,a[class*=soc-].soc-wordpress:hover{color:#464646;border-color:#464646}a.color-icon.soc-tumblr,a[class*=soc-].soc-tumblr:hover{color:#45556c;border-color:#45556c}a.color-icon.soc-blogger,a[class*=soc-].soc-blogger:hover{color:#ec661c;border-color:#ec661c}a.color-icon.soc-technorati,a[class*=soc-].soc-technorati:hover{color:#5cb030;border-color:#5cb030}a.color-icon.soc-reddit,a[class*=soc-].soc-reddit:hover{color:#e74a1e;border-color:#e74a1e}a.color-icon.soc-dribbble,a[class*=soc-].soc-dribbble:hover{color:#e84d88;border-color:#e84d88}a.color-icon.soc-stumbleupon,a[class*=soc-].soc-stumbleupon:hover{color:#e64011;border-color:#e64011}a.color-icon.soc-digg,a[class*=soc-].soc-digg:hover{color:#1d1d1b;border-color:#1d1d1b}a.color-icon.soc-envato,a[class*=soc-].soc-envato:hover{color:#597c3a;border-color:#597c3a}a.color-icon.soc-behance,a[class*=soc-].soc-behance:hover{color:#007eff;border-color:#007eff}a.color-icon.soc-delicious,a[class*=soc-].soc-delicious:hover{color:#31a9ff;border-color:#31a9ff}a.color-icon.soc-deviantart,a[class*=soc-].soc-deviantart:hover{color:#c5d200;border-color:#c5d200}a.color-icon.soc-forrst,a[class*=soc-].soc-forrst:hover{color:#5b9a68;border-color:#5b9a68}a.color-icon.soc-play,a[class*=soc-].soc-play:hover{color:#5acdbd;border-color:#5acdbd}a.color-icon.soc-zerply,a[class*=soc-].soc-zerply:hover{color:#9dbc7a;border-color:#9dbc7a}a.color-icon.soc-wikipedia,a[class*=soc-].soc-wikipedia:hover{color:#000;border-color:#000}a.color-icon.soc-apple,a[class*=soc-].soc-apple:hover{color:#b9bfc1;border-color:#b9bfc1}a.color-icon.soc-flattr,a[class*=soc-].soc-flattr:hover{color:#f67c1a;border-color:#f67c1a}a.color-icon.soc-github,a[class*=soc-].soc-github:hover{color:#221e1b;border-color:#221e1b}a.color-icon.soc-chimein,a[class*=soc-].soc-chimein:hover{color:#888688;border-color:#888688}a.color-icon.soc-friendfeed,a[class*=soc-].soc-friendfeed:hover{color:#2f72c4;border-color:#2f72c4}a.color-icon.soc-newsvine,a[class*=soc-].soc-newsvine:hover{color:#075b2f;border-color:#075b2f}a.color-icon.soc-identica,a[class*=soc-].soc-identica:hover{color:#000;border-color:#000}a.color-icon.soc-bebo,a[class*=soc-].soc-bebo:hover{color:#ef1011;border-color:#ef1011}a.color-icon.soc-zynga,a[class*=soc-].soc-zynga:hover{color:#dc0606;border-color:#dc0606}a.color-icon.soc-steam,a[class*=soc-].soc-steam:hover{color:#8f8d8a;border-color:#8f8d8a}a.color-icon.soc-xbox,a[class*=soc-].soc-xbox:hover{color:#92c83e;border-color:#92c83e}a.color-icon.soc-windows,a[class*=soc-].soc-windows:hover{color:#00bdf6;border-color:#00bdf6}a.color-icon.soc-outlook,a[class*=soc-].soc-outlook:hover{color:#0072c6;border-color:#0072c6}a.color-icon.soc-coderwall,a[class*=soc-].soc-coderwall:hover{color:#3e8dcc;border-color:#3e8dcc}a.color-icon.soc-tripadvisor,a[class*=soc-].soc-tripadvisor:hover{color:#000;border-color:#000}a.color-icon.soc-appnet,a[class*=soc-].soc-appnet:hover{color:#494949;border-color:#494949}a.color-icon.soc-goodreads,a[class*=soc-].soc-goodreads:hover{color:#1abc9c;border-color:#1abc9c}a.color-icon.soc-tripit,a[class*=soc-].soc-tripit:hover{color:#1982c3;border-color:#1982c3}a.color-icon.soc-lanyrd,a[class*=soc-].soc-lanyrd:hover{color:#3c80c9;border-color:#3c80c9}a.color-icon.soc-slideshare,a[class*=soc-].soc-slideshare:hover{color:#4ba3a6;border-color:#4ba3a6}a.color-icon.soc-buffer,a[class*=soc-].soc-buffer:hover{color:#000;border-color:#000}a.color-icon.soc-rss,a[class*=soc-].soc-rss:hover{color:#f26109;border-color:#f26109}a.color-icon.soc-vkontakte,a[class*=soc-].soc-vkontakte:hover{color:#5a7fa6;border-color:#5a7fa6}a.color-icon.soc-disqus,a[class*=soc-].soc-disqus:hover{color:#2e9fff;border-color:#2e9fff}a.color-icon.soc-houzz,a[class*=soc-].soc-houzz:hover{color:#7cc04b;border-color:#7cc04b}a.color-icon.soc-mail,a[class*=soc-].soc-mail:hover{color:#000;border-color:#000}a.color-icon.soc-patreon,a[class*=soc-].soc-patreon:hover{color:#e44727;border-color:#e44727}a.color-icon.soc-paypal,a[class*=soc-].soc-paypal:hover{color:#009cde;border-color:#009cde}a.color-icon.soc-playstation,a[class*=soc-].soc-playstation:hover{color:#000;border-color:#000}a.color-icon.soc-smugmug,a[class*=soc-].soc-smugmug:hover{color:#acfd32;border-color:#acfd32}a.color-icon.soc-swarm,a[class*=soc-].soc-swarm:hover{color:#fc9d3c;border-color:#fc9d3c}a.color-icon.soc-triplej,a[class*=soc-].soc-triplej:hover{color:#e53531;border-color:#e53531}a.color-icon.soc-yammer,a[class*=soc-].soc-yammer:hover{color:#1175c4;border-color:#1175c4}a.color-icon.soc-stackoverflow,a[class*=soc-].soc-stackoverflow:hover{color:#fd9827;border-color:#fd9827}a.color-icon.soc-drupal,a[class*=soc-].soc-drupal:hover{color:#00598e;border-color:#00598e}a.color-icon.soc-odnoklassniki,a[class*=soc-].soc-odnoklassniki:hover{color:#f48420;border-color:#f48420}a.color-icon.soc-android,a[class*=soc-].soc-android:hover{color:#8ec047;border-color:#8ec047}a.color-icon.soc-meetup,a[class*=soc-].soc-meetup:hover{color:#e2373c;border-color:#e2373c}a.color-icon.soc-persona,a[class*=soc-].soc-persona:hover{color:#e6753d;border-color:#e6753d}a.color-icon.soc-amazon,a[class*=soc-].soc-amazon:hover{color:#f90;border-color:#f90}a.color-icon.soc-ello,a[class*=soc-].soc-ello:hover{color:#000;border-color:#000}a.color-icon.soc-mixcloud,a[class*=soc-].soc-mixcloud:hover{color:#314359;border-color:#314359}a.color-icon.soc-8tracks,a[class*=soc-].soc-8tracks:hover{color:#122c4b;border-color:#122c4b}a.color-icon.soc-twitch,a[class*=soc-].soc-twitch:hover{color:#6441a5;border-color:#6441a5}a.color-icon.soc-airbnb,a[class*=soc-].soc-airbnb:hover{color:#ff5a5f;border-color:#ff5a5f}a.color-icon.soc-pocket,a[class*=soc-].soc-pocket:hover{color:#ed4055;border-color:#ed4055}.color-bg-icon{color:#fff}.color-bg-icon.soc-twitter,a.soc-twitter.bg-icon:hover,.soc-twitter.color-icon.border-icon:hover{background-color:#00abef}.color-bg-icon.soc-facebook,a.soc-facebook.bg-icon:hover,.soc-facebook.color-icon.border-icon:hover{background-color:#507cbe}.color-bg-icon.soc-google,a.soc-google.bg-icon:hover,.soc-google.color-icon.border-icon:hover{background-color:#d93e2d}.color-bg-icon.soc-pinterest,a.soc-pinterest.bg-icon:hover,.soc-pinterest.color-icon.border-icon:hover{background-color:#c92619}.color-bg-icon.soc-foursquare,a.soc-foursquare.bg-icon:hover,.soc-foursquare.color-icon.border-icon:hover{background-color:#23b7e0}.color-bg-icon.soc-yahoo,a.soc-yahoo.bg-icon:hover,.soc-yahoo.color-icon.border-icon:hover{background-color:#6e2a85}.color-bg-icon.soc-skype,a.soc-skype.bg-icon:hover,.soc-skype.color-icon.border-icon:hover{background-color:#28abe3}.color-bg-icon.soc-yelp,a.soc-yelp.bg-icon:hover,.soc-yelp.color-icon.border-icon:hover{background-color:#c83218}.color-bg-icon.soc-feedburner,a.soc-feedburner.bg-icon:hover,.soc-feedburner.color-icon.border-icon:hover{background-color:#fc0}.color-bg-icon.soc-linkedin,a.soc-linkedin.bg-icon:hover,.soc-linkedin.color-icon.border-icon:hover{background-color:#3371b7}.color-bg-icon.soc-viadeo,a.soc-viadeo.bg-icon:hover,.soc-viadeo.color-icon.border-icon:hover{background-color:#e4a000}.color-bg-icon.soc-xing,a.soc-xing.bg-icon:hover,.soc-xing.color-icon.border-icon:hover{background-color:#005a60}.color-bg-icon.soc-myspace,a.soc-myspace.bg-icon:hover,.soc-myspace.color-icon.border-icon:hover{background-color:#323232}.color-bg-icon.soc-soundcloud,a.soc-soundcloud.bg-icon:hover,.soc-soundcloud.color-icon.border-icon:hover{background-color:#fe3801}.color-bg-icon.soc-spotify,a.soc-spotify.bg-icon:hover,.soc-spotify.color-icon.border-icon:hover{background-color:#7bb342}.color-bg-icon.soc-grooveshark,a.soc-grooveshark.bg-icon:hover,.soc-grooveshark.color-icon.border-icon:hover{background-color:#f67e03}.color-bg-icon.soc-lastfm,a.soc-lastfm.bg-icon:hover,.soc-lastfm.color-icon.border-icon:hover{background-color:#d41316}.color-bg-icon.soc-youtube,a.soc-youtube.bg-icon:hover,.soc-youtube.color-icon.border-icon:hover{background-color:#d12121}.color-bg-icon.soc-vimeo,a.soc-vimeo.bg-icon:hover,.soc-vimeo.color-icon.border-icon:hover{background-color:#51b5e7}.color-bg-icon.soc-dailymotion,a.soc-dailymotion.bg-icon:hover,.soc-dailymotion.color-icon.border-icon:hover{background-color:#004e72}.color-bg-icon.soc-vine,a.soc-vine.bg-icon:hover,.soc-vine.color-icon.border-icon:hover{background-color:#00b389}.color-bg-icon.soc-flickr,a.soc-flickr.bg-icon:hover,.soc-flickr.color-icon.border-icon:hover{background-color:#0062dd}.color-bg-icon.soc-500px,a.soc-500px.bg-icon:hover,.soc-500px.color-icon.border-icon:hover{background-color:#58a9de}.color-bg-icon.soc-instagram,a.soc-instagram.bg-icon:hover,.soc-instagram.color-icon.border-icon:hover{background-color:#9c7c6e}.color-bg-icon.soc-wordpress,a.soc-wordpress.bg-icon:hover,.soc-wordpress.color-icon.border-icon:hover{background-color:#464646}.color-bg-icon.soc-tumblr,a.soc-tumblr.bg-icon:hover,.soc-tumblr.color-icon.border-icon:hover{background-color:#45556c}.color-bg-icon.soc-blogger,a.soc-blogger.bg-icon:hover,.soc-blogger.color-icon.border-icon:hover{background-color:#ec661c}.color-bg-icon.soc-technorati,a.soc-technorati.bg-icon:hover,.soc-technorati.color-icon.border-icon:hover{background-color:#5cb030}.color-bg-icon.soc-reddit,a.soc-reddit.bg-icon:hover,.soc-reddit.color-icon.border-icon:hover{background-color:#e74a1e}.color-bg-icon.soc-dribbble,a.soc-dribbble.bg-icon:hover,.soc-dribbble.color-icon.border-icon:hover{background-color:#e84d88}.color-bg-icon.soc-stumbleupon,a.soc-stumbleupon.bg-icon:hover,.soc-stumbleupon.color-icon.border-icon:hover{background-color:#e64011}.color-bg-icon.soc-digg,a.soc-digg.bg-icon:hover,.soc-digg.color-icon.border-icon:hover{background-color:#1d1d1b}.color-bg-icon.soc-envato,a.soc-envato.bg-icon:hover,.soc-envato.color-icon.border-icon:hover{background-color:#597c3a}.color-bg-icon.soc-behance,a.soc-behance.bg-icon:hover,.soc-behance.color-icon.border-icon:hover{background-color:#007eff}.color-bg-icon.soc-delicious,a.soc-delicious.bg-icon:hover,.soc-delicious.color-icon.border-icon:hover{background-color:#31a9ff}.color-bg-icon.soc-deviantart,a.soc-deviantart.bg-icon:hover,.soc-deviantart.color-icon.border-icon:hover{background-color:#c5d200}.color-bg-icon.soc-forrst,a.soc-forrst.bg-icon:hover,.soc-forrst.color-icon.border-icon:hover{background-color:#5b9a68}.color-bg-icon.soc-play,a.soc-play.bg-icon:hover,.soc-play.color-icon.border-icon:hover{background-color:#5acdbd}.color-bg-icon.soc-zerply,a.soc-zerply.bg-icon:hover,.soc-zerply.color-icon.border-icon:hover{background-color:#9dbc7a}.color-bg-icon.soc-wikipedia,a.soc-wikipedia.bg-icon:hover,.soc-wikipedia.color-icon.border-icon:hover{background-color:#000}.color-bg-icon.soc-apple,a.soc-apple.bg-icon:hover,.soc-apple.color-icon.border-icon:hover{background-color:#b9bfc1}.color-bg-icon.soc-flattr,a.soc-flattr.bg-icon:hover,.soc-flattr.color-icon.border-icon:hover{background-color:#f67c1a}.color-bg-icon.soc-github,a.soc-github.bg-icon:hover,.soc-github.color-icon.border-icon:hover{background-color:#221e1b}.color-bg-icon.soc-chimein,a.soc-chimein.bg-icon:hover,.soc-chimein.color-icon.border-icon:hover{background-color:#888688}.color-bg-icon.soc-friendfeed,a.soc-friendfeed.bg-icon:hover,.soc-friendfeed.color-icon.border-icon:hover{background-color:#2f72c4}.color-bg-icon.soc-newsvine,a.soc-newsvine.bg-icon:hover,.soc-newsvine.color-icon.border-icon:hover{background-color:#075b2f}.color-bg-icon.soc-identica,a.soc-identica.bg-icon:hover,.soc-identica.color-icon.border-icon:hover{background-color:#000}.color-bg-icon.soc-bebo,a.soc-bebo.bg-icon:hover,.soc-bebo.color-icon.border-icon:hover{background-color:#ef1011}.color-bg-icon.soc-zynga,a.soc-zynga.bg-icon:hover,.soc-zynga.color-icon.border-icon:hover{background-color:#dc0606}.color-bg-icon.soc-steam,a.soc-steam.bg-icon:hover,.soc-steam.color-icon.border-icon:hover{background-color:#8f8d8a}.color-bg-icon.soc-xbox,a.soc-xbox.bg-icon:hover,.soc-xbox.color-icon.border-icon:hover{background-color:#92c83e}.color-bg-icon.soc-windows,a.soc-windows.bg-icon:hover,.soc-windows.color-icon.border-icon:hover{background-color:#00bdf6}.color-bg-icon.soc-outlook,a.soc-outlook.bg-icon:hover,.soc-outlook.color-icon.border-icon:hover{background-color:#0072c6}.color-bg-icon.soc-coderwall,a.soc-coderwall.bg-icon:hover,.soc-coderwall.color-icon.border-icon:hover{background-color:#3e8dcc}.color-bg-icon.soc-tripadvisor,a.soc-tripadvisor.bg-icon:hover,.soc-tripadvisor.color-icon.border-icon:hover{background-color:#000}.color-bg-icon.soc-appnet,a.soc-appnet.bg-icon:hover,.soc-appnet.color-icon.border-icon:hover{background-color:#494949}.color-bg-icon.soc-goodreads,a.soc-goodreads.bg-icon:hover,.soc-goodreads.color-icon.border-icon:hover{background-color:#1abc9c}.color-bg-icon.soc-tripit,a.soc-tripit.bg-icon:hover,.soc-tripit.color-icon.border-icon:hover{background-color:#1982c3}.color-bg-icon.soc-lanyrd,a.soc-lanyrd.bg-icon:hover,.soc-lanyrd.color-icon.border-icon:hover{background-color:#3c80c9}.color-bg-icon.soc-slideshare,a.soc-slideshare.bg-icon:hover,.soc-slideshare.color-icon.border-icon:hover{background-color:#4ba3a6}.color-bg-icon.soc-buffer,a.soc-buffer.bg-icon:hover,.soc-buffer.color-icon.border-icon:hover{background-color:#000}.color-bg-icon.soc-rss,a.soc-rss.bg-icon:hover,.soc-rss.color-icon.border-icon:hover{background-color:#f26109}.color-bg-icon.soc-vkontakte,a.soc-vkontakte.bg-icon:hover,.soc-vkontakte.color-icon.border-icon:hover{background-color:#5a7fa6}.color-bg-icon.soc-disqus,a.soc-disqus.bg-icon:hover,.soc-disqus.color-icon.border-icon:hover{background-color:#2e9fff}.color-bg-icon.soc-houzz,a.soc-houzz.bg-icon:hover,.soc-houzz.color-icon.border-icon:hover{background-color:#7cc04b}.color-bg-icon.soc-mail,a.soc-mail.bg-icon:hover,.soc-mail.color-icon.border-icon:hover{background-color:#000}.color-bg-icon.soc-patreon,a.soc-patreon.bg-icon:hover,.soc-patreon.color-icon.border-icon:hover{background-color:#e44727}.color-bg-icon.soc-paypal,a.soc-paypal.bg-icon:hover,.soc-paypal.color-icon.border-icon:hover{background-color:#009cde}.color-bg-icon.soc-playstation,a.soc-playstation.bg-icon:hover,.soc-playstation.color-icon.border-icon:hover{background-color:#000}.color-bg-icon.soc-smugmug,a.soc-smugmug.bg-icon:hover,.soc-smugmug.color-icon.border-icon:hover{background-color:#acfd32}.color-bg-icon.soc-swarm,a.soc-swarm.bg-icon:hover,.soc-swarm.color-icon.border-icon:hover{background-color:#fc9d3c}.color-bg-icon.soc-triplej,a.soc-triplej.bg-icon:hover,.soc-triplej.color-icon.border-icon:hover{background-color:#e53531}.color-bg-icon.soc-yammer,a.soc-yammer.bg-icon:hover,.soc-yammer.color-icon.border-icon:hover{background-color:#1175c4}.color-bg-icon.soc-stackoverflow,a.soc-stackoverflow.bg-icon:hover,.soc-stackoverflow.color-icon.border-icon:hover{background-color:#fd9827}.color-bg-icon.soc-drupal,a.soc-drupal.bg-icon:hover,.soc-drupal.color-icon.border-icon:hover{background-color:#00598e}.color-bg-icon.soc-odnoklassniki,a.soc-odnoklassniki.bg-icon:hover,.soc-odnoklassniki.color-icon.border-icon:hover{background-color:#f48420}.color-bg-icon.soc-android,a.soc-android.bg-icon:hover,.soc-android.color-icon.border-icon:hover{background-color:#8ec047}.color-bg-icon.soc-meetup,a.soc-meetup.bg-icon:hover,.soc-meetup.color-icon.border-icon:hover{background-color:#e2373c}.color-bg-icon.soc-persona,a.soc-persona.bg-icon:hover,.soc-persona.color-icon.border-icon:hover{background-color:#e6753d}.color-bg-icon.soc-amazon,a.soc-amazon.bg-icon:hover,.soc-amazon.color-icon.border-icon:hover{background-color:#f90}.color-bg-icon.soc-ello,a.soc-ello.bg-icon:hover,.soc-ello.color-icon.border-icon:hover{background-color:#000}.color-bg-icon.soc-mixcloud,a.soc-mixcloud.bg-icon:hover,.soc-mixcloud.color-icon.border-icon:hover{background-color:#314359}.color-bg-icon.soc-8tracks,a.soc-8tracks.bg-icon:hover,.soc-8tracks.color-icon.border-icon:hover{background-color:#122c4b}.color-bg-icon.soc-twitch,a.soc-twitch.bg-icon:hover,.soc-twitch.color-icon.border-icon:hover{background-color:#6441a5}.color-bg-icon.soc-airbnb,a.soc-airbnb.bg-icon:hover,.soc-airbnb.color-icon.border-icon:hover{background-color:#ff5a5f}.color-bg-icon.soc-pocket,a.soc-pocket.bg-icon:hover,.soc-pocket.color-icon.border-icon:hover{background-color:#ed4055}a.social-icon{color:#787878}a.border-icon{border:1px solid #787878;border-color:rgba(120,120,120,.4);padding:10px 11px;margin-bottom:4px}a.bg-icon{color:#fff;background-color:#787878;padding:11px 12px;margin-bottom:4px}a.social-icon.color-icon:hover{color:#232323}a.social-icon.bg-icon:hover{color:#fff}a.color-bg-icon{color:#fff;background-color:#232323;margin-bottom:4px;padding:11px 12px}a.social-icon.color-bg-icon:hover{background-color:#ffc326;color:#fff}a.color-icon:hover{color:#232323}a.color-icon.border-icon:hover{color:#fff}.demo-icon{display:inline-block;text-align:center;padding:15px 20px 10px}.demo-icon span{display:block}.demo-icon .name{font-size:1.01em;font-weight:700}.demo-icon a[class*=soc-]{font-size:24px;margin:10px 0 0}.social-icons-demo [class*=col-] a[class*=soc-]{margin:10px}.gallery-item{text-align:center}.gallery-columns-1 .gallery-item{width:100%}.gallery-columns-2 .gallery-item{width:50%}.gallery-columns-3 .gallery-item{width:33.33%}.gallery-columns-4 .gallery-item{width:25%}.gallery-columns-5 .gallery-item{width:20%}.gallery-columns-6 .gallery-item{width:16.66%}.gallery-columns-7 .gallery-item{width:14.28%}.gallery-columns-8 .gallery-item{width:12.5%}.gallery-columns-9 .gallery-item{width:11.11%}.gallery-icon img{display:block;margin:0 auto;width:100%}.gallery-caption{display:block;padding:.5em}.gallery-columns-6 .gallery-caption,.gallery-columns-7 .gallery-caption,.gallery-columns-8 .gallery-caption,.gallery-columns-9 .gallery-caption{display:none}@media (max-width:600px){.gallery-columns-4 .gallery-item,.gallery-columns-5 .gallery-item,.gallery-columns-6 .gallery-item,.gallery-columns-7 .gallery-item,.gallery-columns-8 .gallery-item,.gallery-columns-9 .gallery-item{width:33%}.gallery-columns-4 .gallery-caption,.gallery-columns-5 .gallery-caption,.gallery-columns-6 .gallery-caption,.gallery-columns-7 .gallery-caption,.gallery-columns-8 .gallery-caption,.gallery-columns-9 .gallery-caption{display:none}}.isotope_container{-webkit-transition:height .2s ease-in-out 0s;-moz-transition:height .2s ease-in-out 0s;-o-transition:height .2s ease-in-out 0s;-ms-transition:height .2s ease-in-out 0s;transition:height .2s ease-in-out 0s}.single-post .isotope_container{margin:20px 0;clear:both}#column-37a0fa0.fw-column .column-overlay{background-color:}#column-93cc650.fw-column .column-overlay{background-color:}#column-0b3d8ca.fw-column .column-overlay{background-color:}#column-5e91d33.fw-column .column-overlay{background-color:}#column-846efce.fw-column .column-overlay{background-color:}#column-c5a40f3.fw-column .column-overlay{background-color:}#column-bb31e10.fw-column .column-overlay{background-color:}.no-js img.lazyload{display:none}figure.wp-block-image img.lazyloading{min-width:150px}.lazyload,.lazyloading{opacity:0}.lazyloaded{opacity:1;transition:opacity .4s;transition-delay:0ms}.teaser .border_icon{width:2em;height:2em;border-width:3px;border-style:solid;float:left;margin-right:30px}.entry-header{display:none}.post-template-default #content{width:100%}.blog #content,.sidebar-column{display:none}.wpcf7-form-control-signature-body{border:solid 1px}@media only screen and (max-width:600px){.left{width:100% !important;float:none;margin-bottom:0 !important;margin-top:20px !important}.right{width:100% !important;float:none}input[type=text],input[type=email],input[type=url],input[type=password],input[type=search],input[type=tel],input[type=number],textarea,select,.form-control{height:30px;width:100%}body{margin-left:2%;margin-right:2%}}
Cheap towing company in Crandall, Texas
When you are out on the road, all by yourself, and that too in a place you're not too familiar with, the chances of getting yourself into an unfortunate situation are high. There can be a hundred things that can go wrong and eventually you'll have to stop by the road and ask for help. In such moments of panic and distress, you normally don't have the time or the energy to look for any towing service on the internet or even around you. Therefore, you should always be prepared and have the contact of a renowned towing company on your phone. So that you can simply grab your phone, give them a call, and get out of the mishap safely.
When it comes to roadside assistance and towing services, you always look for a reliable and cheap towing company. A company that takes care of all the safety measures and is always responsive. In such situations, you're already too worried about how much your vehicle is going to cost to get you back on the road. Therefore, you require a service that genuinely cares about helping you out instead of ripping you off. This is exactly why you should call up Alpha Tow Truck Services for all kinds of roadside assistance no matter how bad your situation is.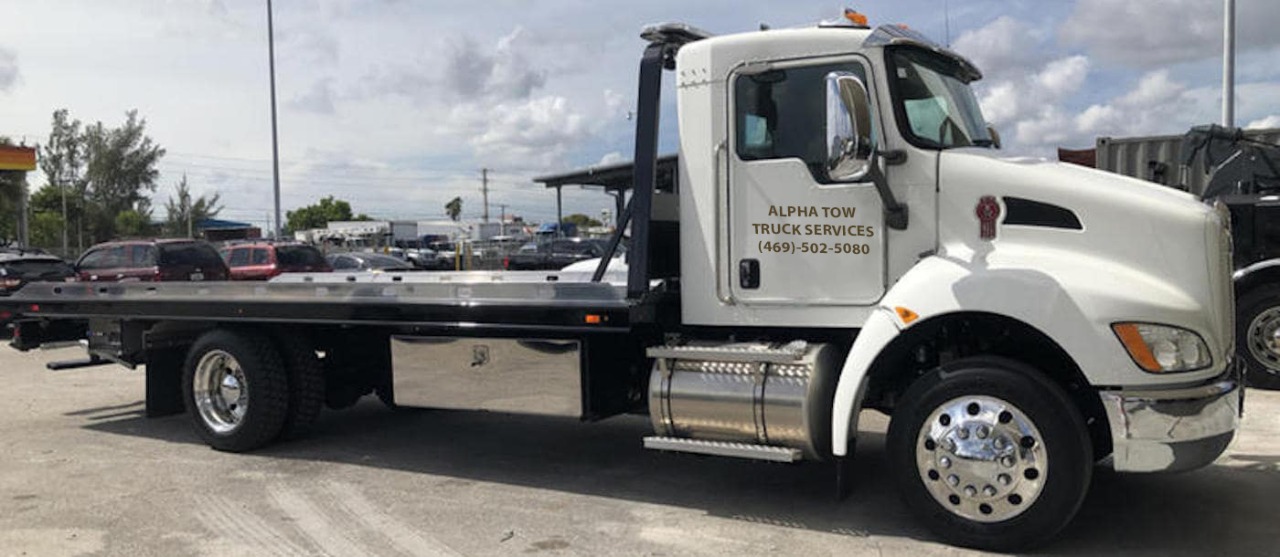 Our Skilled Workers Are Ever-Ready to Serve You
We have a crew of skilled workers and technicians on standby just so they can respond to any emergency situations as early as possible. Every person on our team is fully equipped with all the expertise to handle all types of vehicles. On top of that, all of them are very friendly and cooperative and are ready to go the extra mile just so you can get the highest quality of service.
Alpha Tow Truck Services has been in the market for a long time and has built its name for being a reliable and cheap towing company in Crandall, Texas as well as the Fort Worth area. We have handled a vast variety of roadside emergencies and have always been able to successfully deal with the situation. You can call us if you've been in an accident or simply need towing services. Other than towing services for all kinds of vehicles, we also provide fuel delivery, car jump start, and car unlocking services.
We Serve The Highest Level of Quality When You Need It The Most
Besides the affordability factor and low prices of all our services, one thing we never compromise on is service quality. It does not matter what type of service you require or what make and model your car is. Once you have handed the task over to us, it is our responsibility to handle it in a safe and secure manner. We have operated on almost all types of vehicles including RVs, motorbikes, jeeps, SUVs, cars, and trucks, which has given us the skills and experience to handle anything that comes to us.
If you are in search of the best and the cheapest towing company near you, you don't need to look any further. Alpha Tow Truck Services is here at your disposal. You can get in touch either through our website or by simply calling our contact number. Our experts will understand your situation and recommend the best solution.
When Should You Call a Tow Truck?
When you driving on the road, sometimes your car may develop hitches that will force you to stop driving. On such occasions, you'll need to find a cheap towing company near the place you are to come and pull your car. Alpha Tow Truck Services is a company that offers cheap towing services in the Crandall area. If you encounter a mechanical hitch while on the road, reach out to us and we'll be there within the shortest time possible. In this post, we mention some particular cases when you can request a towing company.
1. Faults or Serious Failures: There are occasions when the vehicle has a severe mechanical failure in its systems, which the technician sent to solve the problem cannot do it on site. In this case, the vehicle must be transferred to the workshop using the tow truck.
2. Traffic Accident: In the event of an accident, you can request a tow truck's service to tow your vehicle and transport it to the destination of your choice.
3. Emergency: If you have reasons beyond your control, must leave the vehicle in a different place from the final destination, it will be necessary to request a tow service. At any moment, your car could suffer an unforeseen event that prevents you from continuing on your way.
4. Loss of Keys: If you have lost your car keys, you will need to hire a towing company to carry to help carry your car to the nearest workshop.
5. Lack of Fuel: If you run out of fuel while in a place far away from a gas station, you will need to call a tow truck to move your car to the nearest filling station.
6. Bottom Line: If you are looking for a cheap towing company in Crandall, calling Alpha Tow Truck Services is your best option. We are a company that operates with great professionalism, but we are not content with that alone. We do our best to maintain our high credibility and continuously improve to offer the lowest possible rates. We provide crane services for light, heavy vehicles, motorcycles, workshop cars, and tire change.
For more info Contact:
Alpha tow truck services
(214) 225-6493
ALPHA TOW Truck Services All Rights Reserved © 2020